Our Bathrooms Through the Houses
One of the most fun things about pouring some love into your home is looking back to see how your style has evolved. The choices I made in our first house are so (so!) different than the choices I'd make today, and I always love to look back at old photos and compare how things were to how they are now.
Now that our bathroom is (mostly) done, I thought it might be fun to dedicate a post to all of the bathrooms we've done. We've taken a variety of approaches in our houses – from a full gut job to just updating things with paint. This house falls somewhere in-between the two extremes, though it still has a ways to go.
So, let's jump right in and compare, shall we?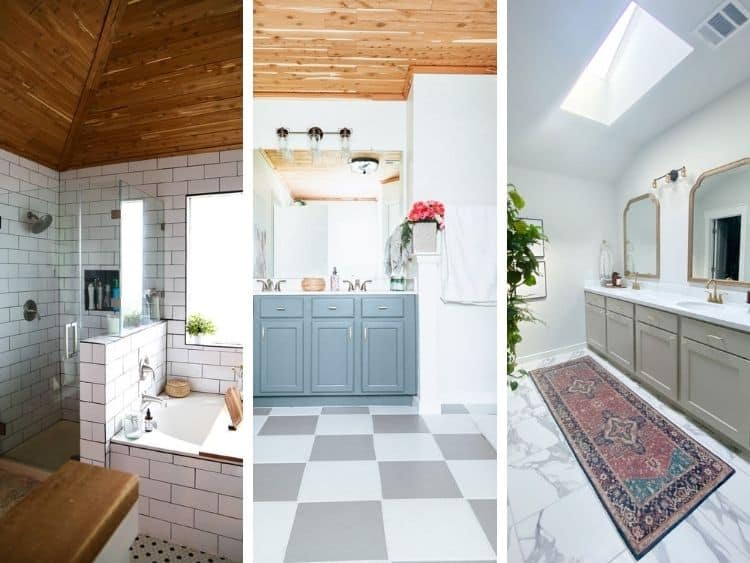 Our first house
The bathroom in our first house was by far the worst "before". It had brown walls, a toilet spotlight, and zero personality. But, despite the terrible finishes, it also has the best bones of any of the bathrooms! I loved the big windows that let in a ton of sunlight, the spacious garden tub, and how open and large it was.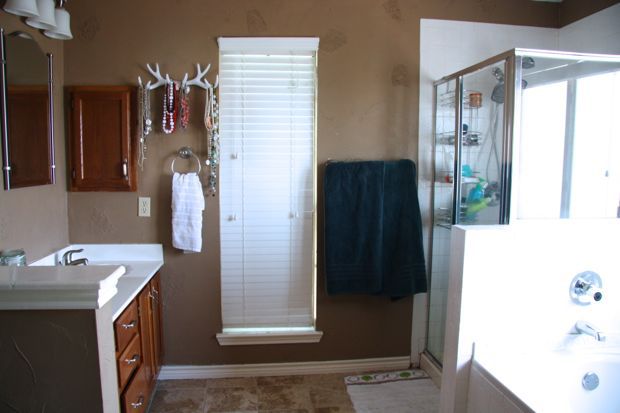 We fully gutted this bathroom and basically started from scratch – it was our first ever large-scale renovation project and, looking back, we probably should have called in some reinforcements. I've talked about this before, but I decided to tackle all of the tiling in this bathroom by myself and I had no idea what I was doing. It was very obviously an amateur tile job and I wish I would have taken my time with it a bit more.
Despite the flaws, this bathroom turned out so so good and I'm still so proud of this space. I definitely would make some different choices if I were designing it today, but overall I'm still in love with it.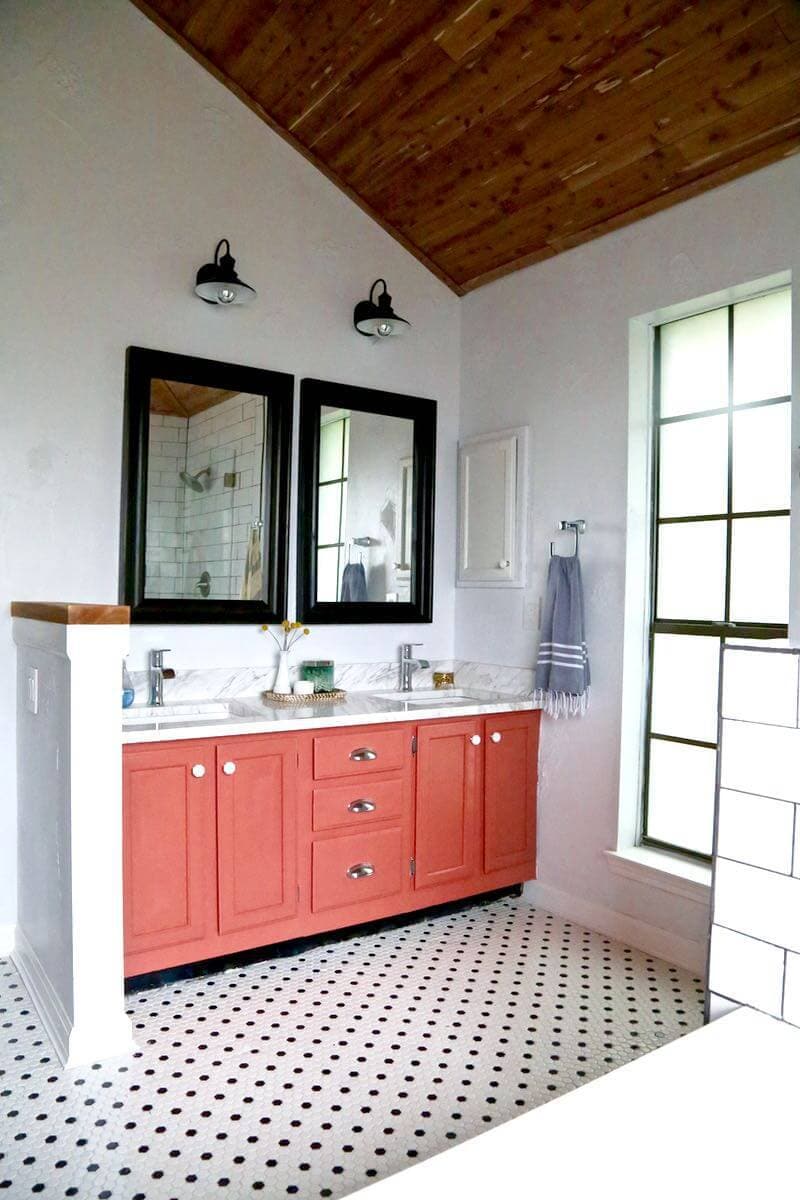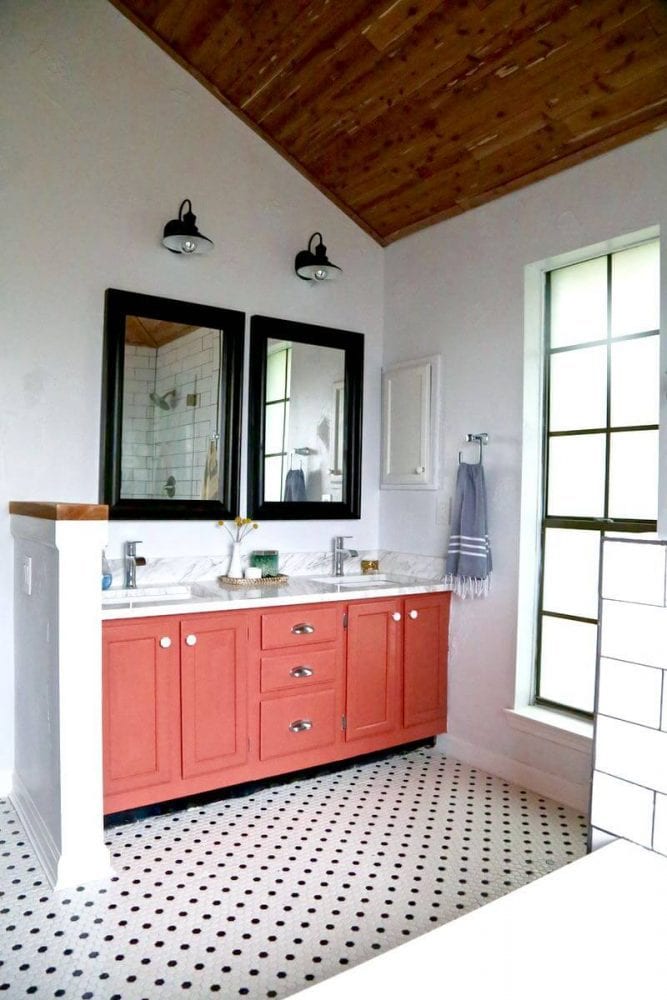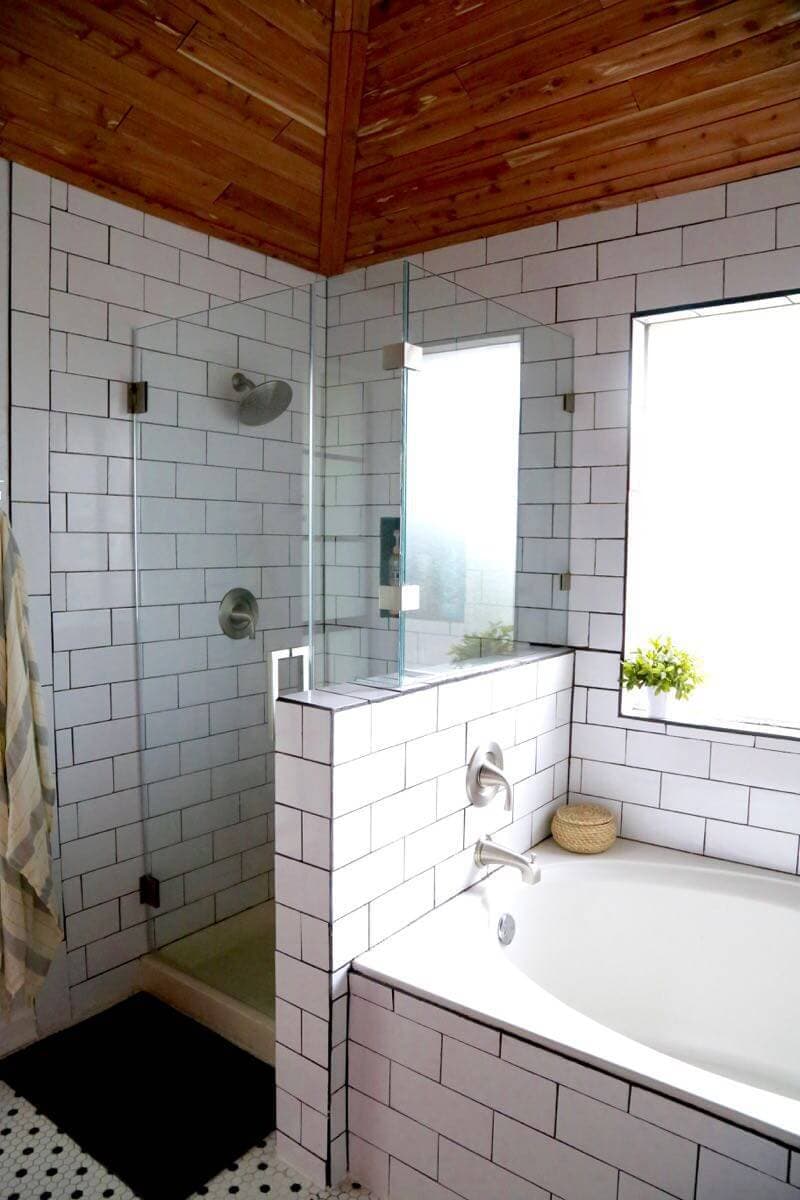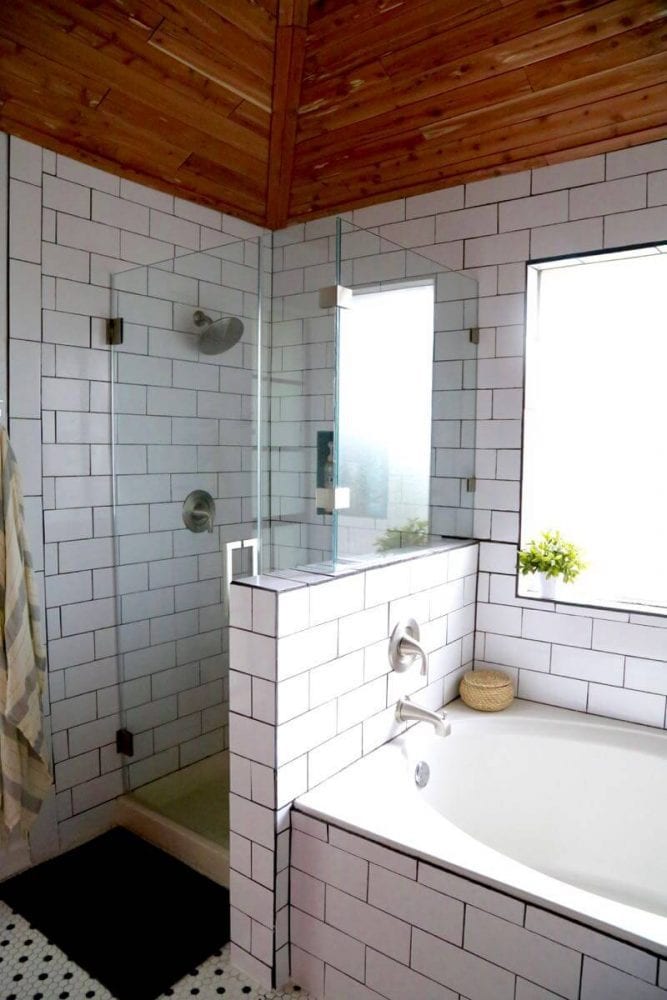 If you want to read more about this bathroom, here's a list of all of the related posts:
Click here for sources from this bathroom.
Our second house
Our second house also had a surprisingly spacious bathroom, but it also was, um, lacking in the looks department.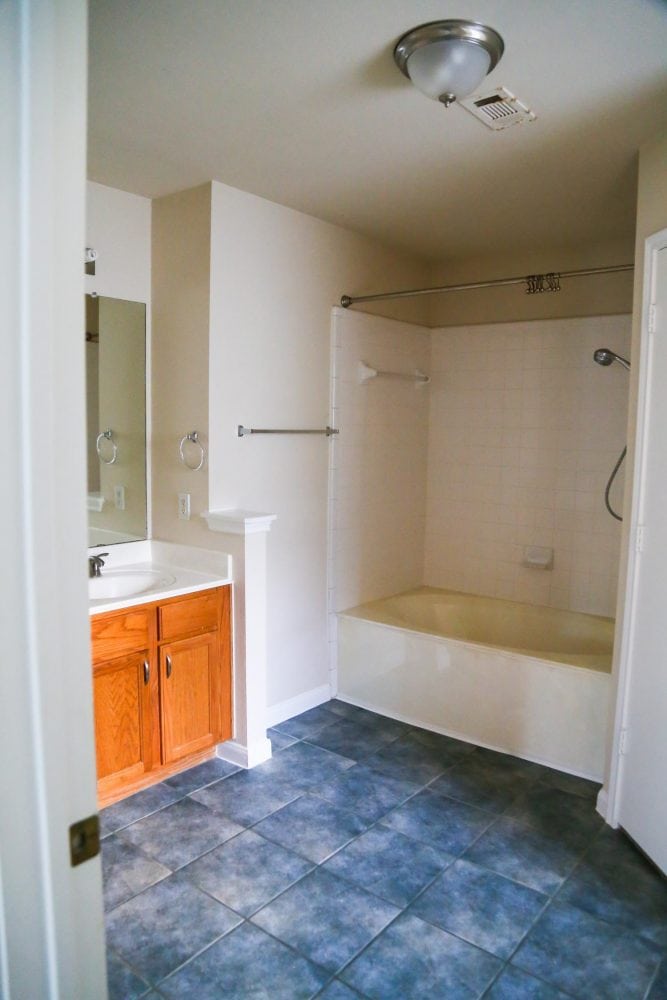 It was mostly fine, but it definitely needed an upgrade. I knew we wouldn't be living in this house long term, so I didn't want to break the bank on a huge renovation. Instead, I decided to see how far I could take this space with just paint. The only two non-painting projects I tackled were adding cedar planks to the ceiling (because I loved it so much in our first house) and adding some shelves above the toilet.
Other than those two projects, everything else I did in here was just paint. And, my goodness, what a difference it made!
I truly loved this bathroom by the time I was done with it, and it was so much fun to see how big of a difference I could make with just some small and simple projects. If we had planned on staying in this house longer, I would have loved to do some larger projects in here – that shower area would have looked so good with a total revamp! But, this quick little makeover was just the ticket to help spruce things up without breaking the bank.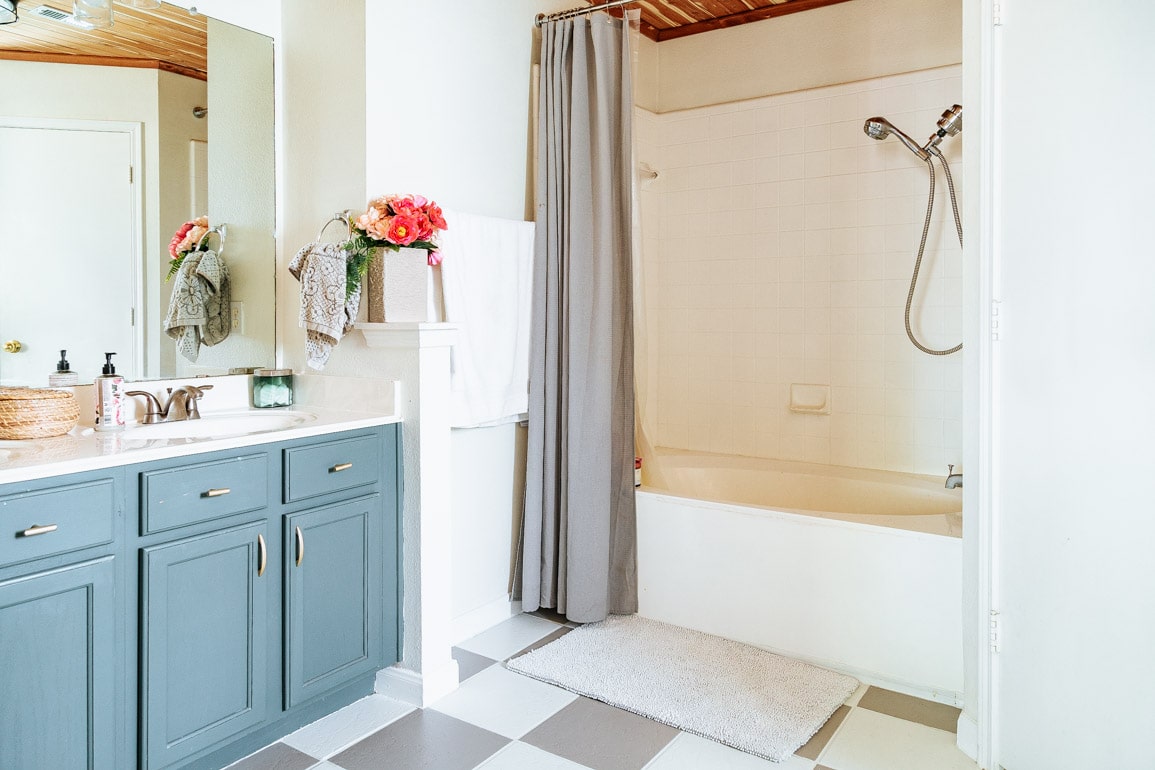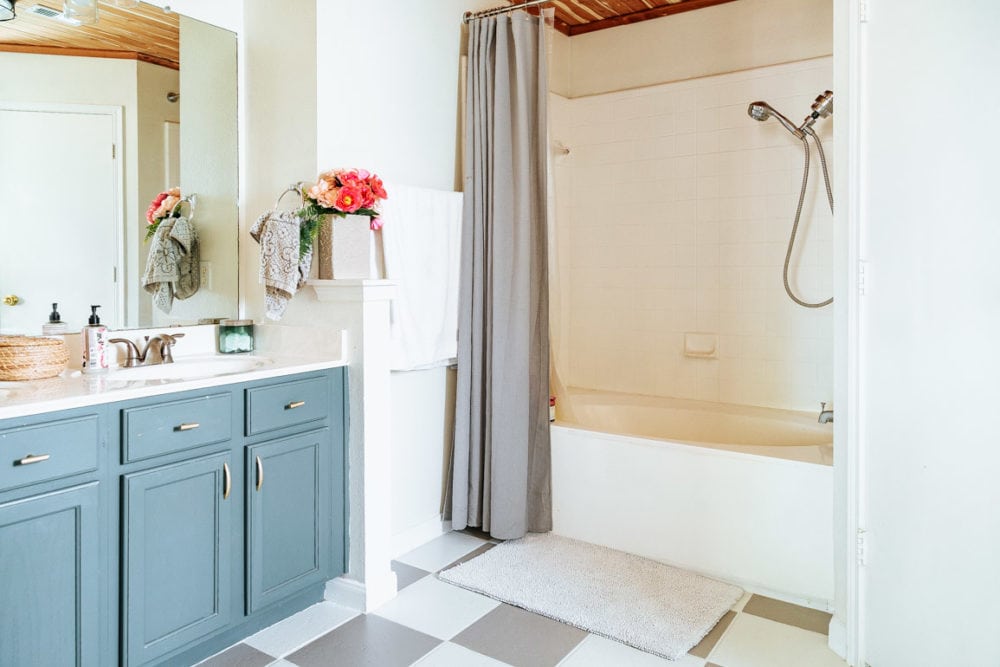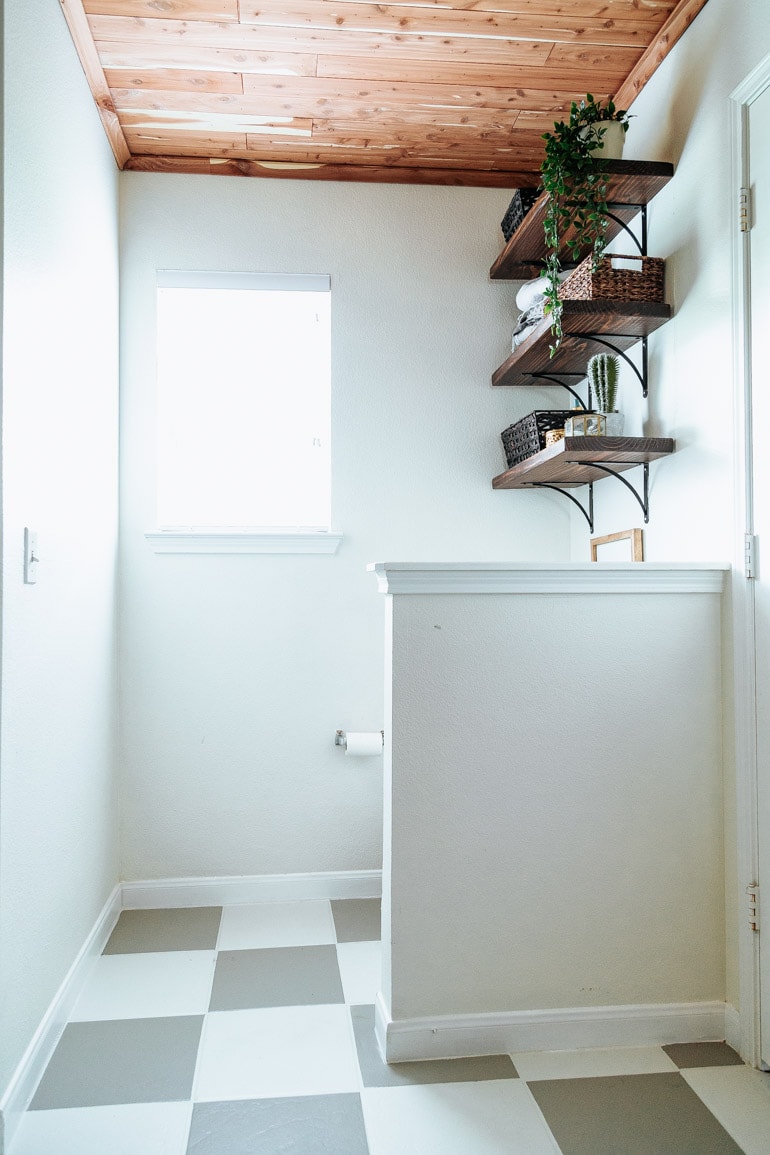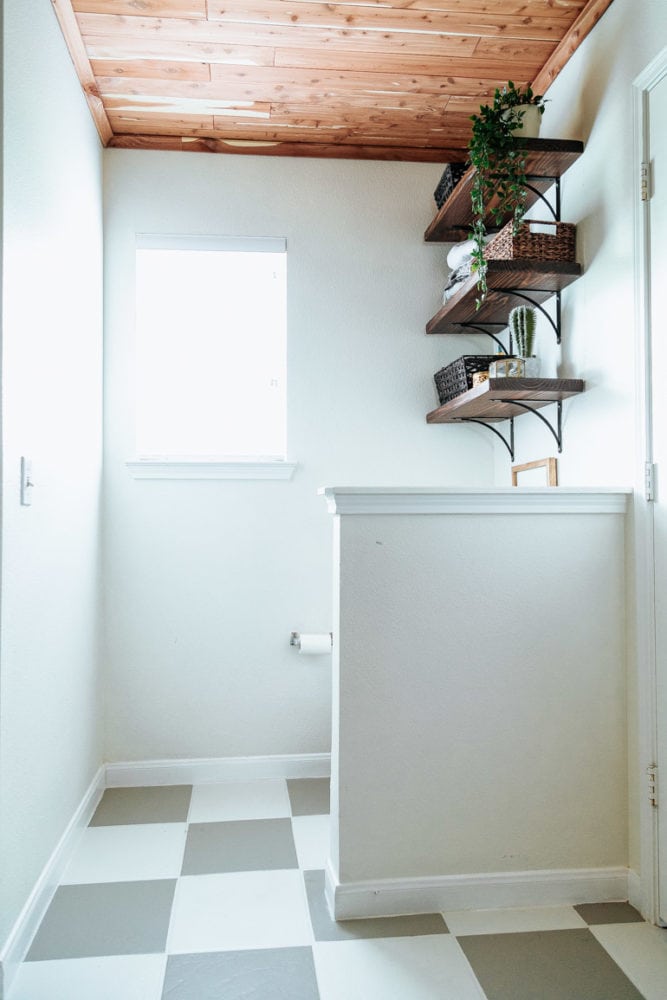 If you want to see more about this bathroom makeover, check out the posts below!
Click here for sources from our second home's bathroom
Our current house
And that brings us to this house! Despite the fact that this house is the largest house we've ever lived in by a large margin, it also has the smallest bathroom yet!
The before of our bathroom in this house was very builder basic. We didn't get to choose most of the finishes or decisions for this space (we are the first ones to live in this house, but it was a spec home so we had very limited say in the design). The only thing we were able to choose ourselves was the flooring – originally, the shower tile was supposed to also be used on the floor. I'm incredibly grateful that we were able to choose the floors, because I love them and have no plans to change them!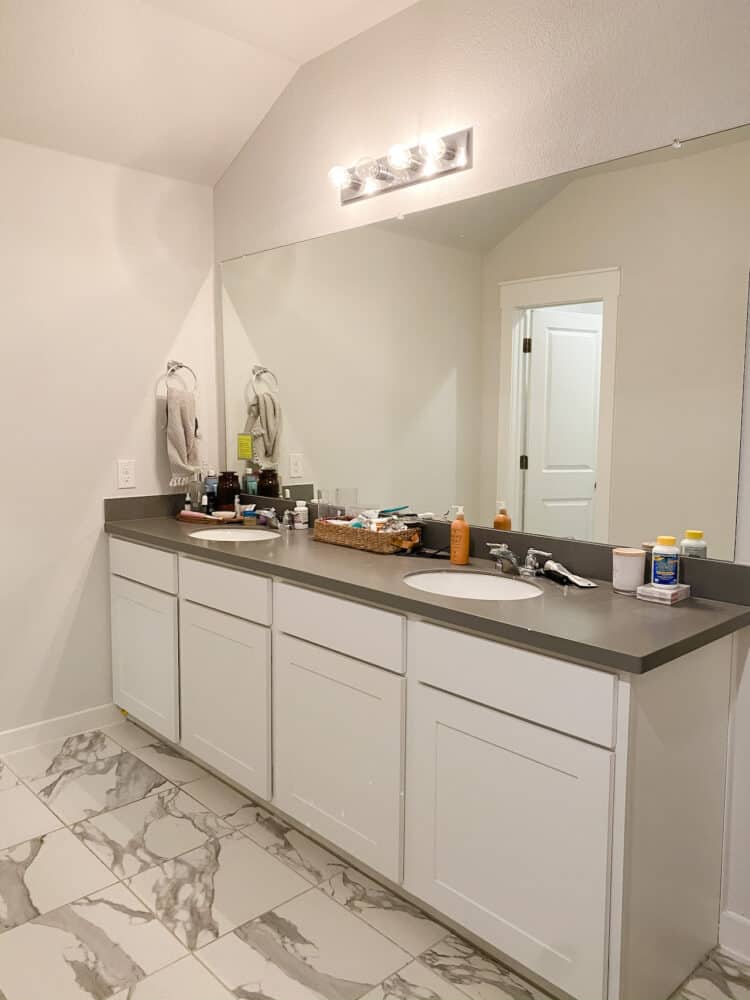 As you know, this bathroom has a mix of smaller and larger projects. We added a skylight and some wallpaper (both bigger, more expensive projects), but we also painted the vanity and countertops rather than replacing them!
I, of course, am totally in love with this bathroom and am so happy with how it turned out. While this isn't my favorite of our bathrooms in terms of the layout and bones of the space (that goes to our first house), it definitely feels the most "me" as of right now.
I still have a few things I'd love to do in here (like eventually ripping out the shower), but this quick phase one makeover feels so, so good and really made me fall in love with the space.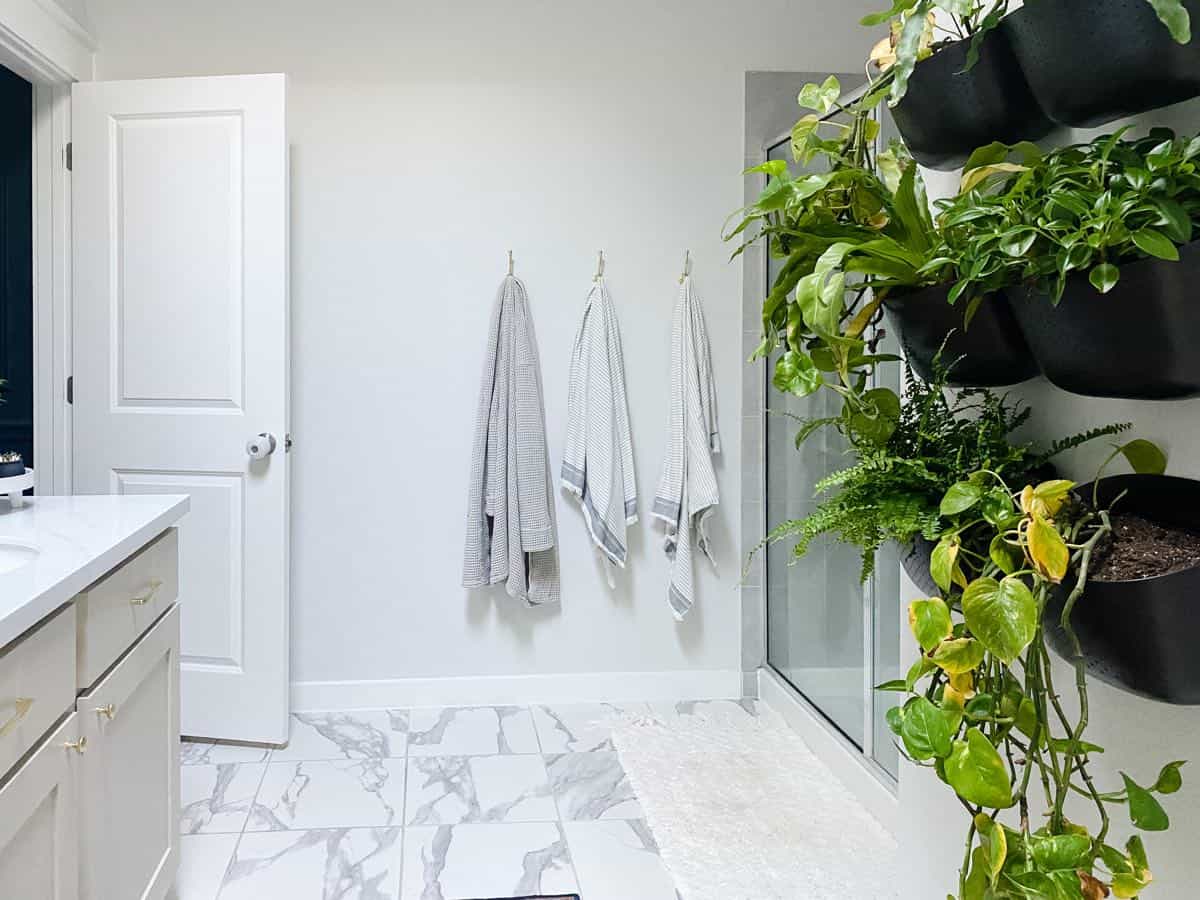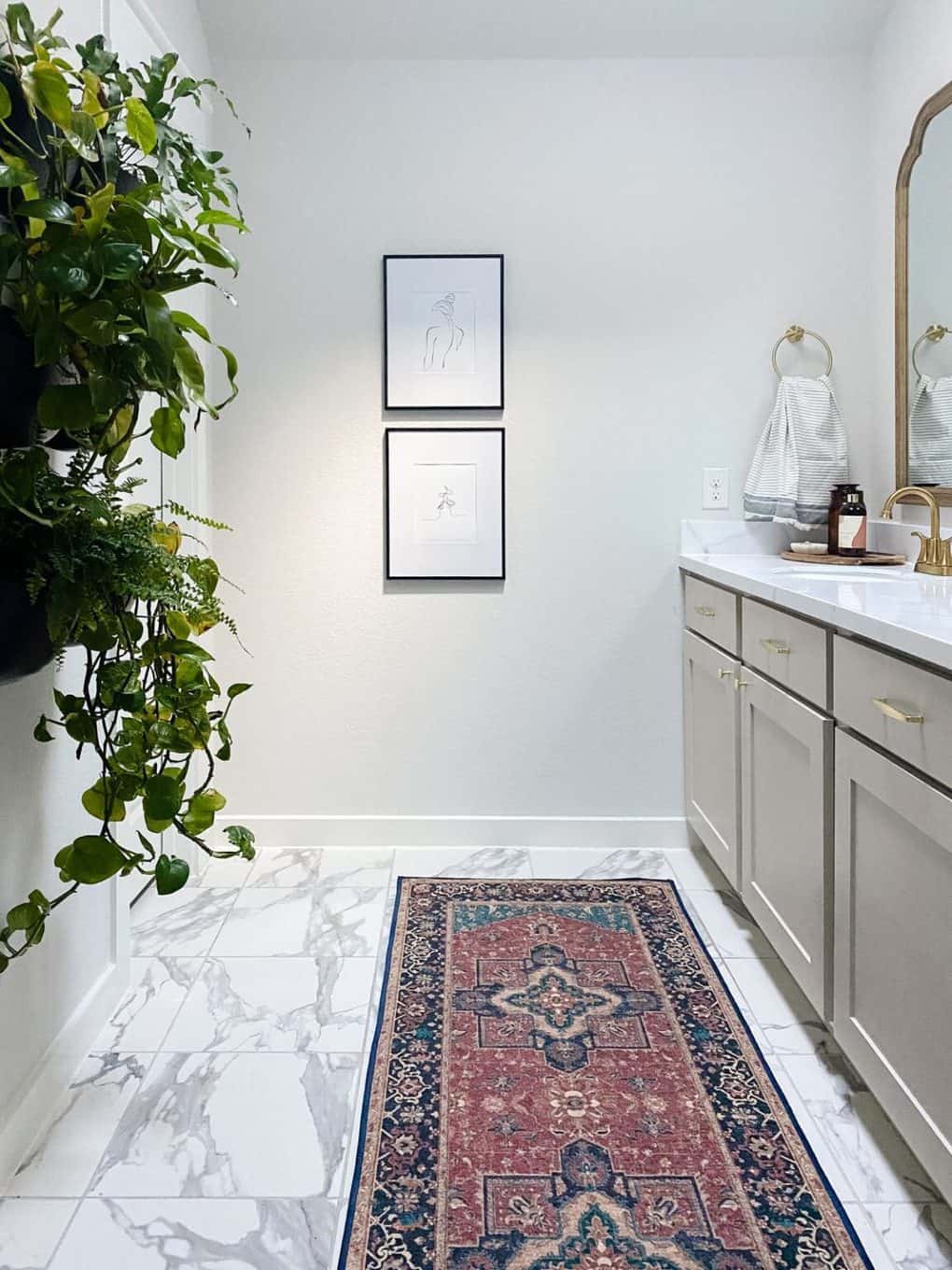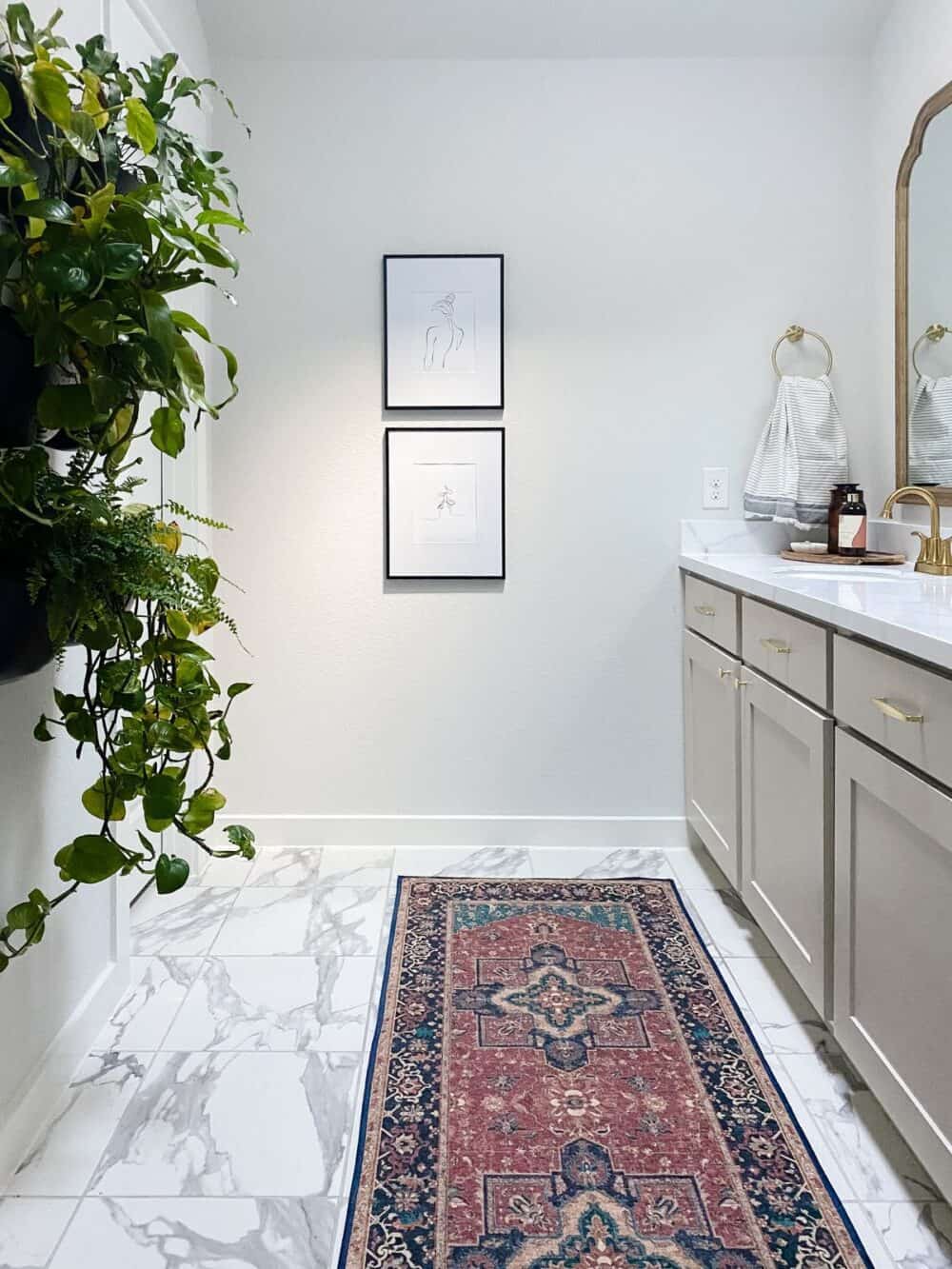 If you missed any of the projects we did in here, catch up below!
Click here for sources from our current home's bathroom!
---
It's so fun to see how our style evolved throughout these spaces. These days, I'm drawn to much more muted colors and patterns, whereas I was obsessed with the bright pink vanity when we did our first house! But, some of the basics are total classics I'd use again and again – the countertop in our first bathroom and the white subway tile with black grout still make my heart sing.
Looking back at things like this always make me curious about how I'll feel about our current design choices in 5 or 10 years – will I still love them, or will I be ready for a major change? Who knows! But, that's half the fun of designing your home, right? It's constantly evolving to fit your needs and preferences, and there's no shame in changing your mind again and again.
Maybe we'll have to make this a regular series? It sure would be fun to look back at a few other spaces from our old houses, too!