The New Grill Cart + Patio Extension
I can finally call our patio area finished now that we've added the new grill cart and mini paver patio! Today, I'm sharing all of the details.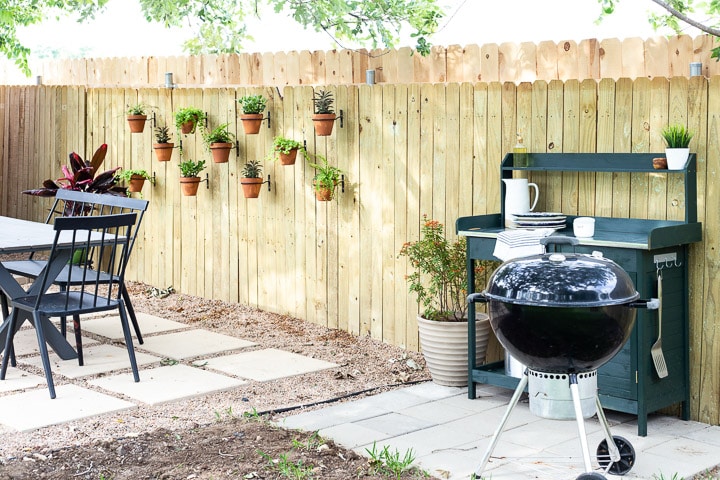 This post is sponsored by Wagner.
One of the most exciting parts of moving our outdoor dining table to our new DIY pea gravel patio was that it meant we could also move our grill away from the house and over to that area.
Our grill has never really had a good home, and it has always felt like such an eyesore sitting over next to the house just hanging out. It's hard to make anything in the backyard look nice when you have a grill that's just floating off to the side with no real home!
It also always drove me a little nutty that when we were using it we had to be extra vigilant when Jackson wanted to go outside because it was right next to the house where he spends most of his time playing. With this new patio extension, though, it's far away from the house and in a designated zone – so I can breathe at least a little easier knowing that he won't accidentally bump into it while Corey's grilling and he's outside playing.
Anything that helps a mom's mind settle just a little is a win in my book.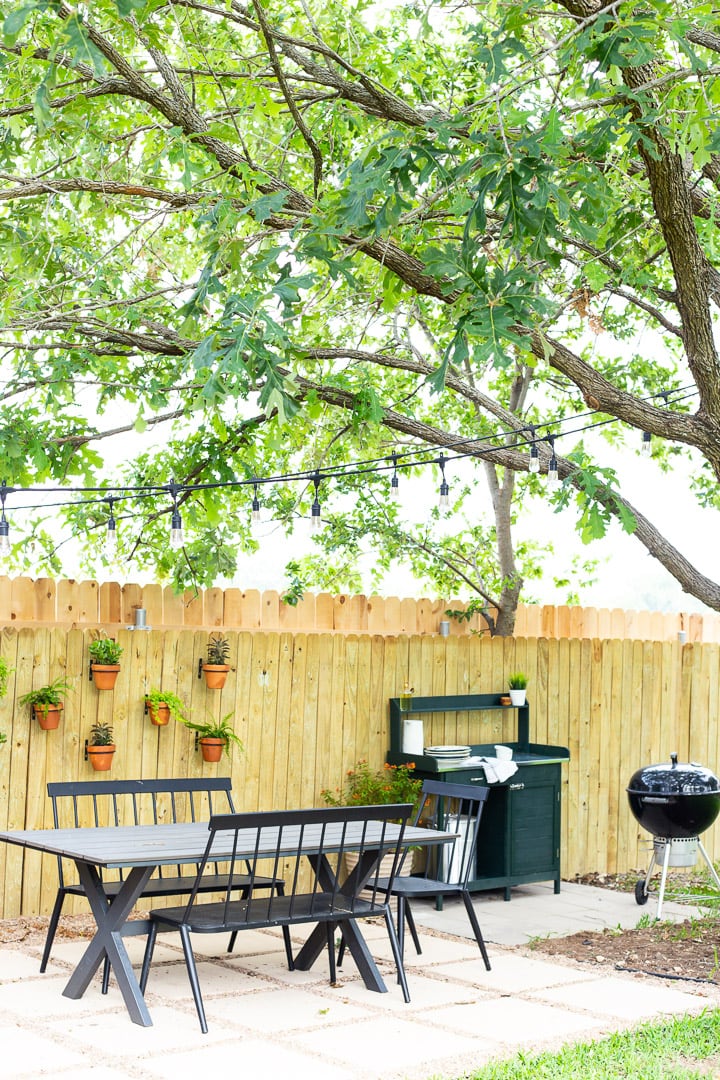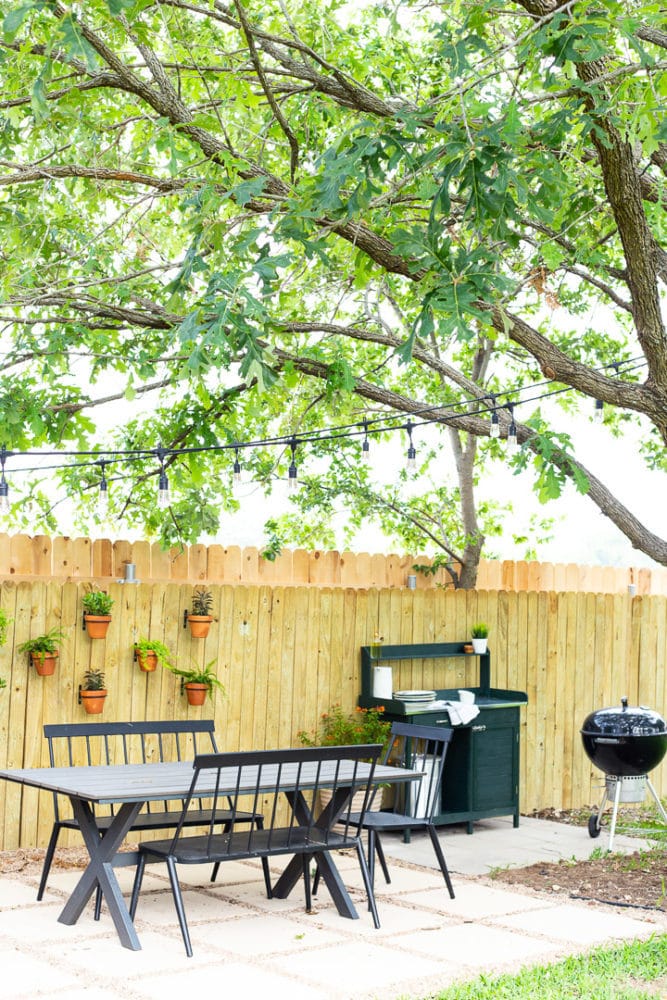 DIY Grill cart + mini patio extension
So, let's chat a little about how we planned this all out. I've had a lot of questions along the way about where exactly this space would be in relation to our patio, and I think maybe the concept was a little confusing for some of you. Basically, we just added a small, 5X6 area of pavers right off the pea gravel patio and that will be the spot where we grill and prep food when we're eating outside.
You might notice that there's no grass growing right next to it – that's the area where Jackson's sand box used to sit, so all of the grass from the patio extension to the big tree is gone. I seeded the area earlier this week and we're already seeing a few sprouts of grass pop up, so we're hoping that by the time next summer rolls around it'll be all filled in again!
We've wanted to add a grill cart or some kind of storage for the grill for years because we've never really had a great spot to store our charcoal or any other outdoor supplies. We usually just end up using the table to set things on when we're grilling, and then we have to clean it all off before we can actually sit down to eat! So, when I found this outdoor garden bench that's technically meant to be a place for potting, I knew it would be a perfect option for the grill.
Of course, if you know me you'll know I couldn't just leave it as it was. Since it's sitting right up against the fence, I wanted to paint it so it would pop a little bit – after putting all that work into the patio there's no way I was going to put just anything next to it!
I grabbed a quart of Jasper by Sherwin Williams to give the cart a new look. I considered black for it, but since it sits right next to our black table (and the black grill!), I wanted it to stand out a little. A deep green felt like the perfect option, and this is the perfect super dark and moody green color.
Could I possibly use the word "perfect" any more?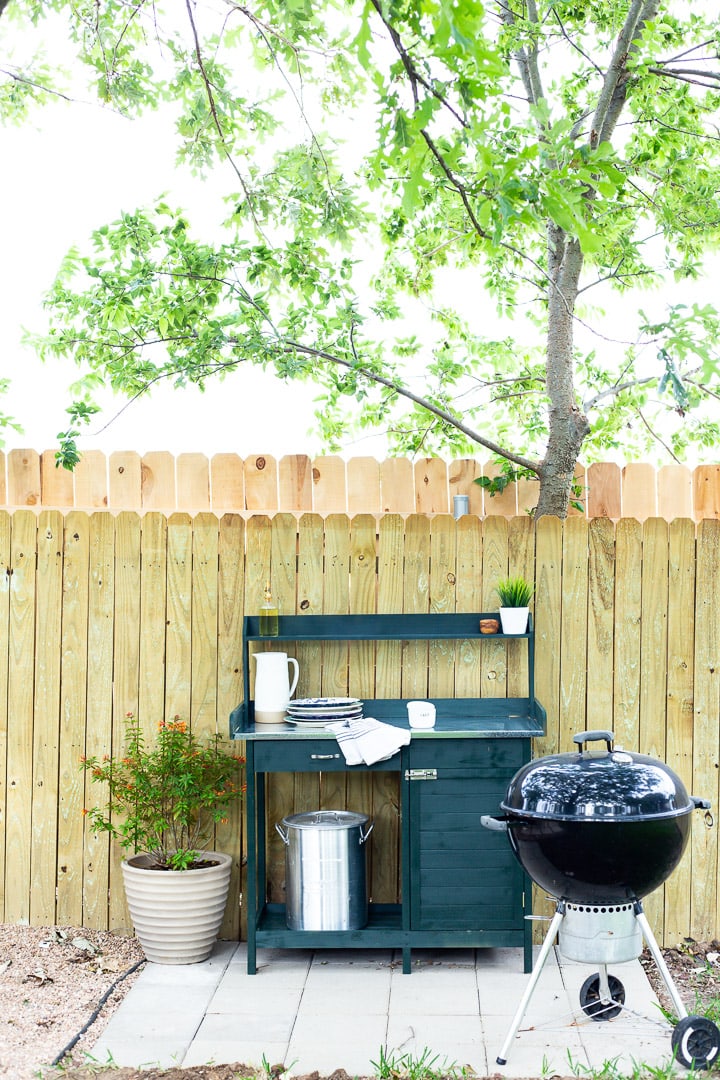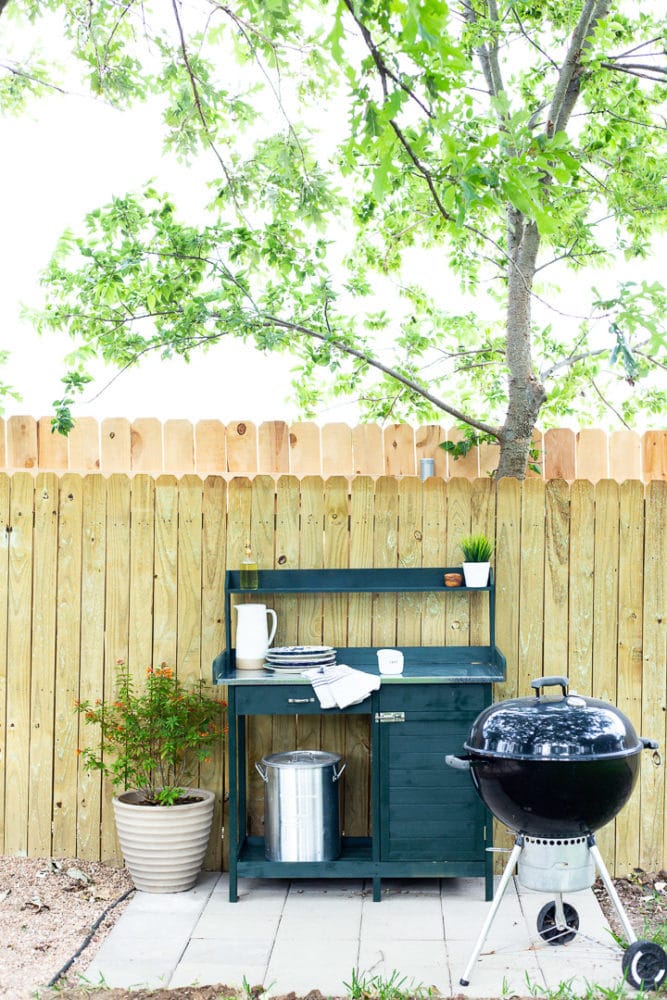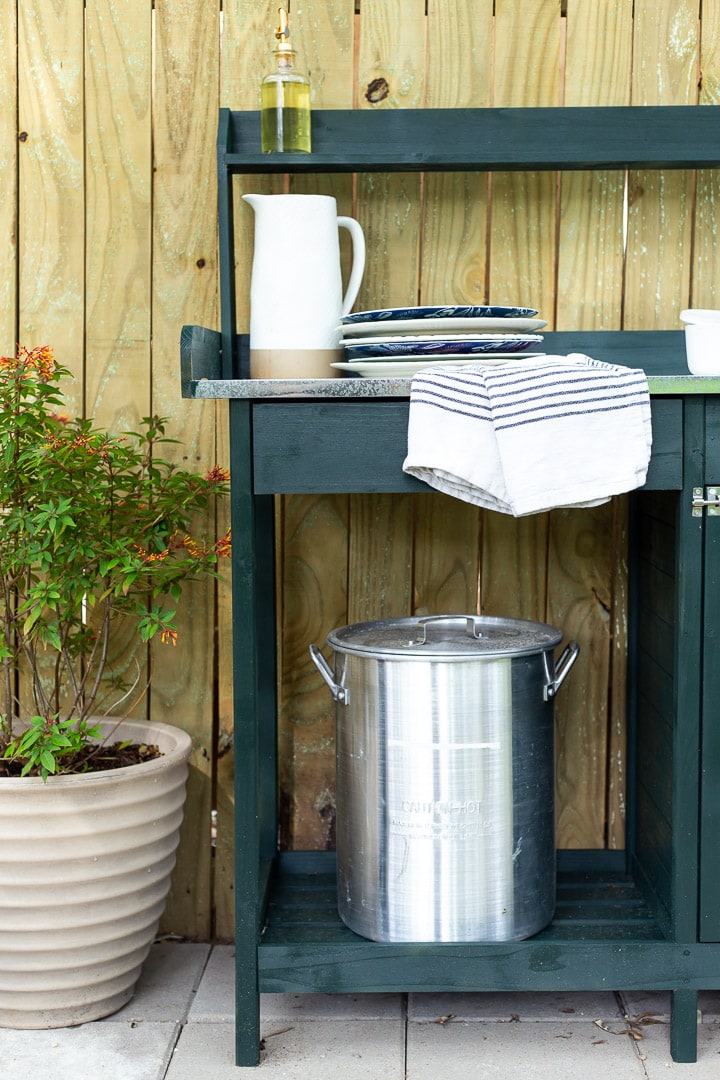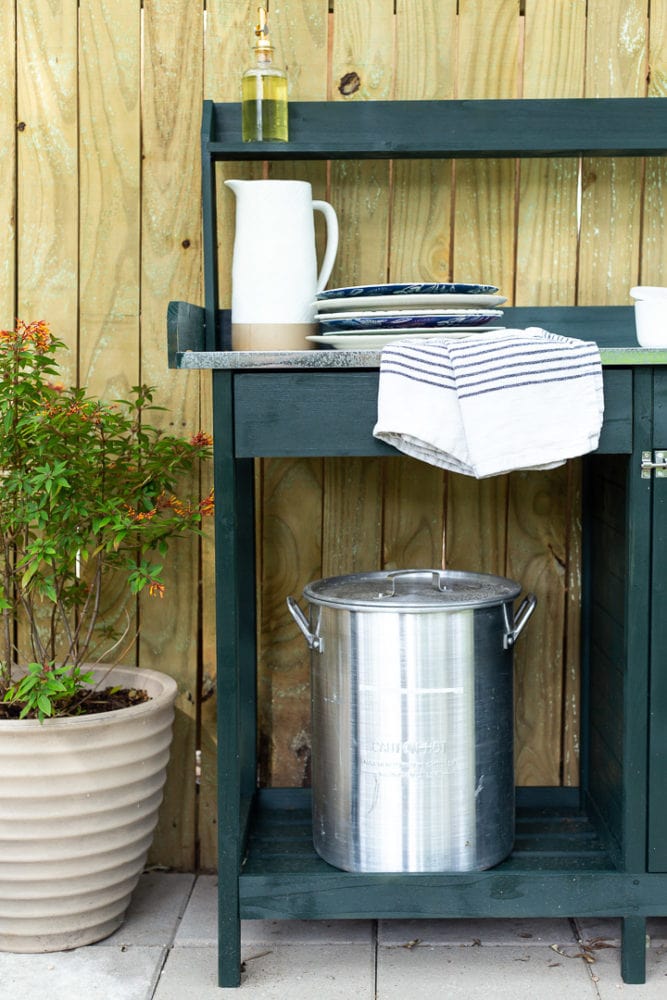 Using the wagner flexio 3000
My friends at Wagner just recently upgraded their FLEXiO line of paint sprayers (which is my favorite!), and they sent me the new FLEXiO 3000 to try for this project. They said that it has a new and improved spray pattern (versus the FLEXiO 590, which has been my go-to for years), and that it has even less overspray and mess than before. And, while I had some doubts that a new sprayer could have even less mess than my old favorite, they were right!
A side note – I gave my old sprayer to my dad when they sent over the new one, and even he raves about how awesome it is. He typically uses a more professional-grade paint sprayer on his projects because he's picky about a good finish, but he was seriously impressed with the quality of the Wagner sprayers and said it would definitely be his new go-to. Generally, any tool that has my dad's stamp of approval is a tool that I know is fantastic!
I set myself up in the backyard to paint the cart, and one of the very first things I noticed was how dramatic the decrease in overspray was. My Wagner sprayers have always been really good about not making a big mess in general, but when I was spraying in the open air I often found at least a minor amount of overspray in the grass surrounding my project. This time, however, the only overspray was in the exact spot on the tarp where each piece was. I even got my foot dangerously close to the sprayer a few times when I was trying to get a difficult angle on the cart and I didn't have any paint on me!
So, I guess what I'm saying is that I now love my paint sprayer even more than before, if that's possible.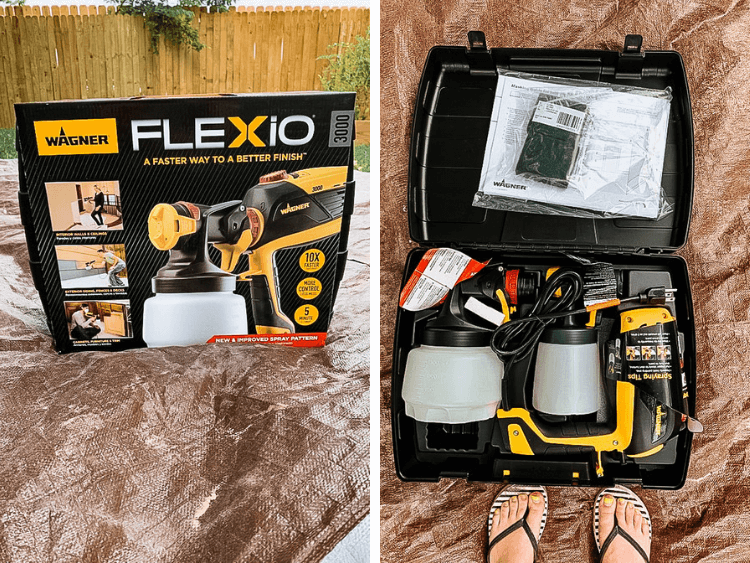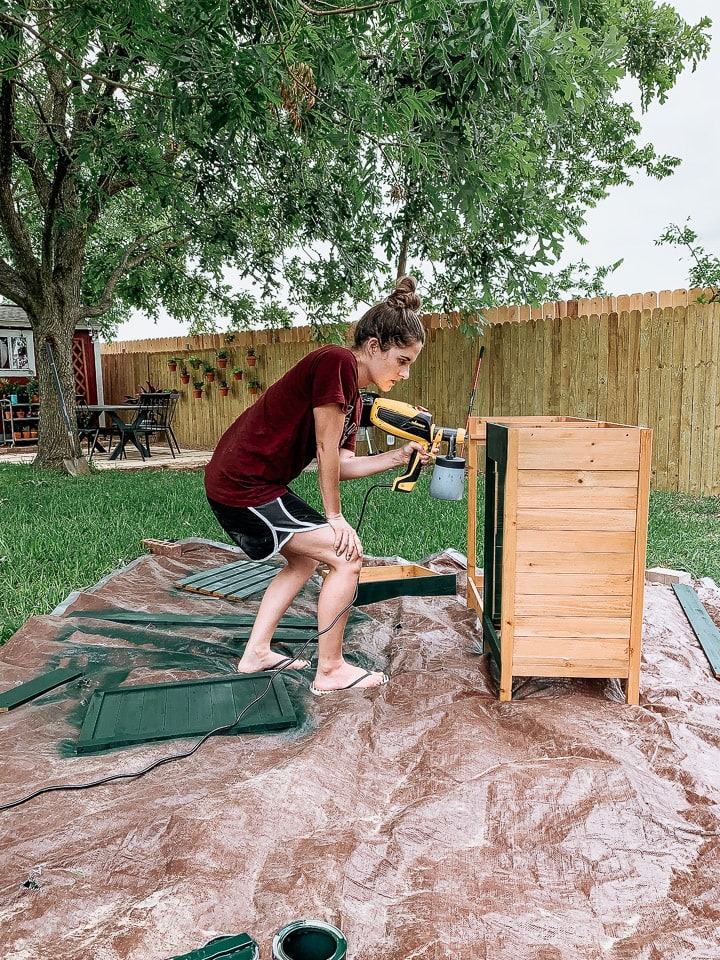 Now that the grill is in place, I imagine you'll be able to find us out here basically every night all summer long. And into the fall. And probably some in the winter too because, let's be real, it never really gets all that cold here.
I can now officially cross this entire patio area off of my to-do list. I have to admit, it still feels a little hard to believe that just a month ago the backyard looked completely different. Let's take a quick look at the before and after, shall we?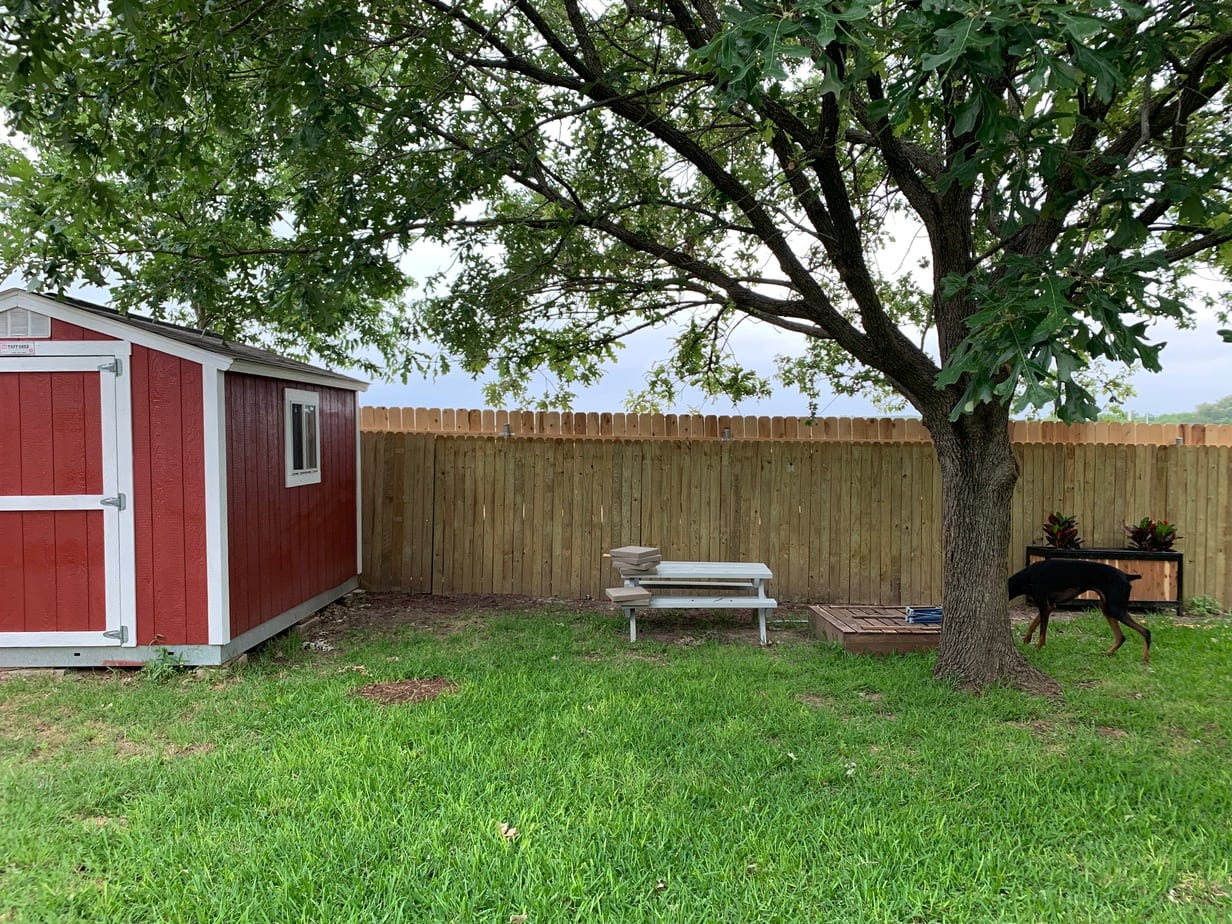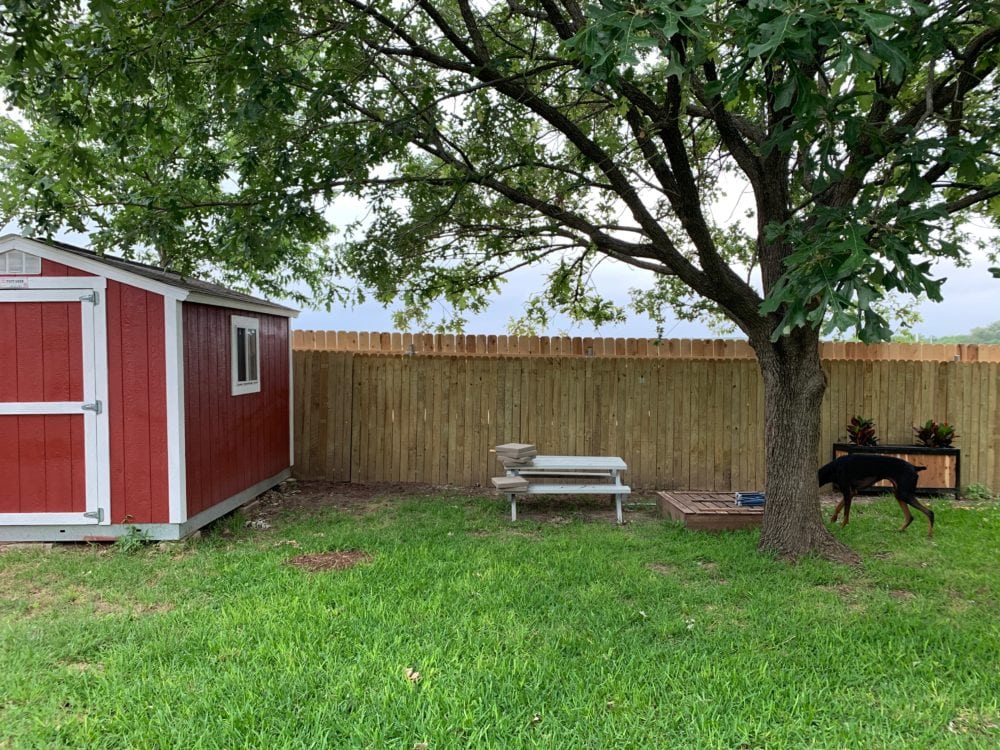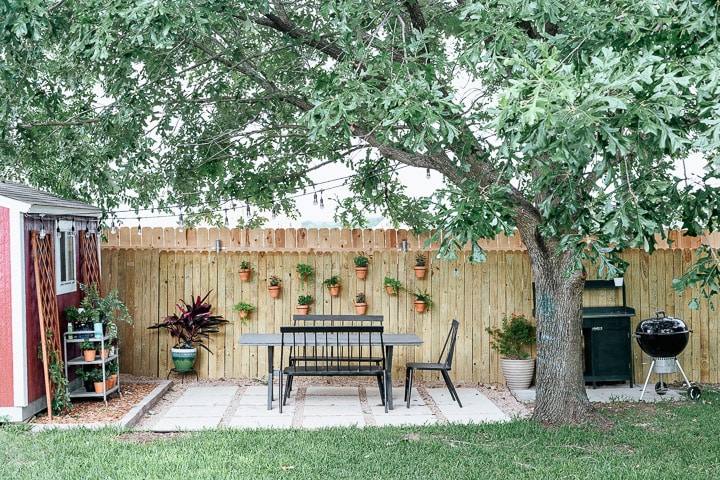 If you've been putting off getting yourself a paint sprayer, I highly recommend that you check out Wagner's new FLEXiO 3000. It's perfect for both beginners and experienced users, because it's so easy (and clean) to use, and leaves you with a beautiful, professional finish.
Plus, it makes painting way easier, which is aaaaaaalways a win if you ask me!
Need to catch up?
If you've missed any of the posts about our backyard so far this summer, let me catch you up:
And that brings us to today! Next month will be really focused on transforming the back porch, so get yourself excited for another major before and after in a few weeks!