20+ No-Building-Required Herb Garden Ideas
Earlier this week, I showed you the DIY leaning herb garden that I built for our backyard. I think I say this every time I try a new herb garden, but I'm so excited and hopeful to see how well I'm able to keep this up. I'm very hit or miss with outdoor plants, but I'm thinking this might be my year. I know that building a DIY herb garden isn't necessarily for everyone, so today I thought I'd share a few other herb garden ideas that don't require picking up a single power tool!
Creating a really cute kitchen herb garden or a backyard herb garden is simple, and it doesn't require power tools or anything fancy. It's so nice to have fresh herbs on hand for salads, adding flavor to your dishes, and of course just to add some beautiful foliage! If you're looking for some great options for beginners who want to get started growing herbs but don't know how, these outdoor and indoor herb garden ideas are perfect for you! Here are more than 20 really great options.
20+ Herb Garden Ideas for Your Kitchen or Backyard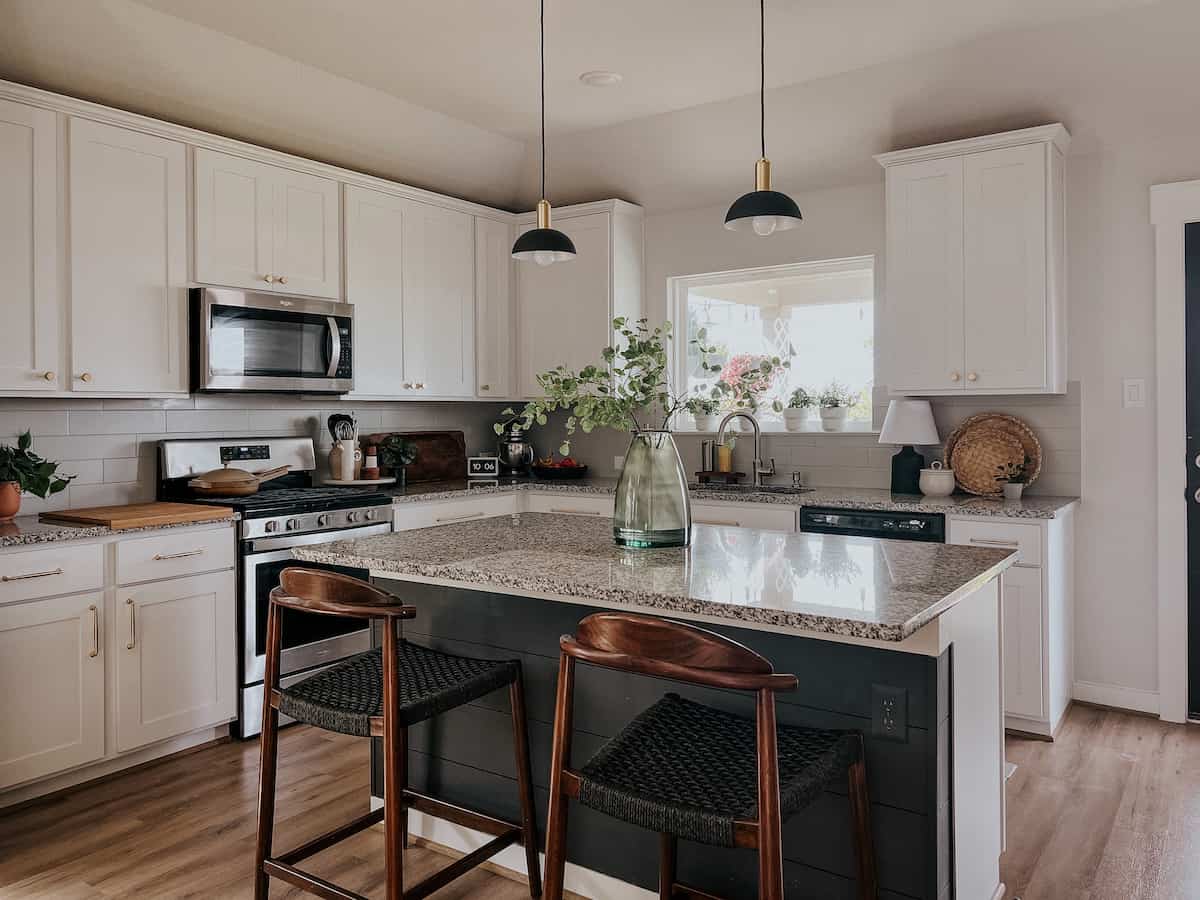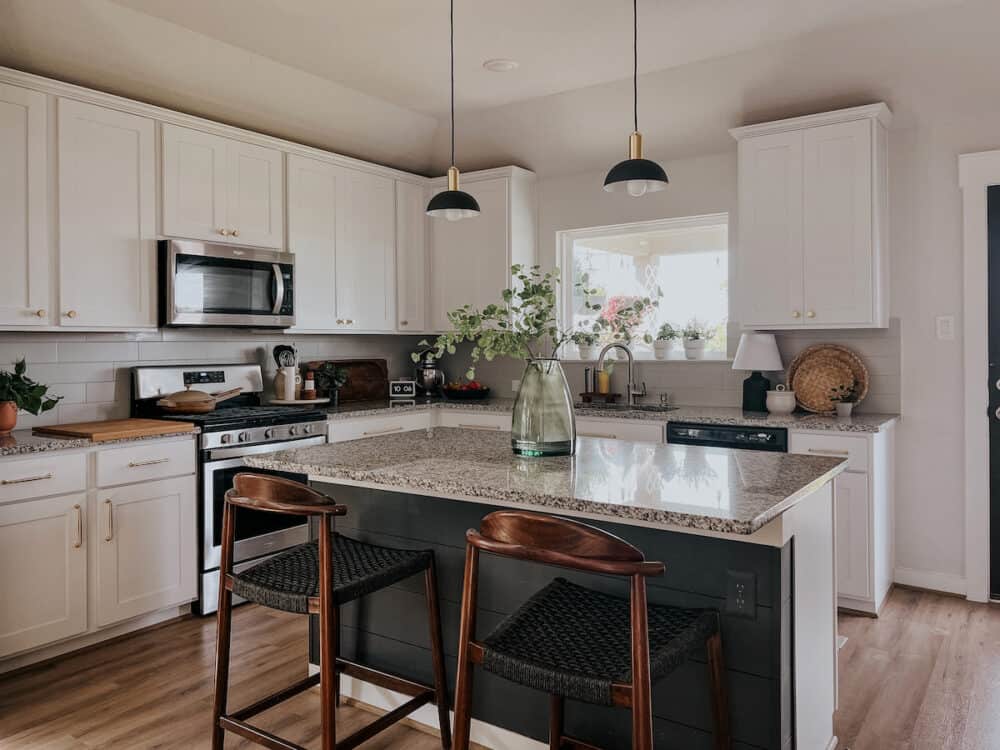 1. Use Windowsill Planters
Something super simple like a kitchen windowsill full of cute planters filled with herbs is always a good go-to. It's affordable and cute, and it's really useful to have them near where you'll be cooking. Be sure to consider what type of planter you choose – herbs like sage, oregano, and rosemary do well in terracotta pots because they like to be a bit drier. But, herbs that need more moisture need a ceramic or plastic pot! No matter what you choose, be sure it has a drainage hole to allow excess moisture out.
2. Plant Herbs in Window Boxes
If you have window boxes on the exterior of your home, they're a fantastic option for some herbs! Be sure to consider what direction the window box faces to ensure they don't get too much or too little sun. Oregano, rosemary, and cilantro enjoy full sun, but plants like chives, parsley, and sage will do better with some shade.
3. Place Them Where You'll Use Them
Listen, it sounds obvious, but here's a simple idea for incorporating live herbs into your home: put them where they'll be used! Cook with a ton of basil? Place a pretty pot right next to the stove. Love to use mint in your mixed drinks? Place a small planter near your cups or bar cart. Being thoughtful about what herbs you use the most and how you use them is a great way to ensure you won't forget them. Plus, it's good to remember you don't have to have them all corralled together!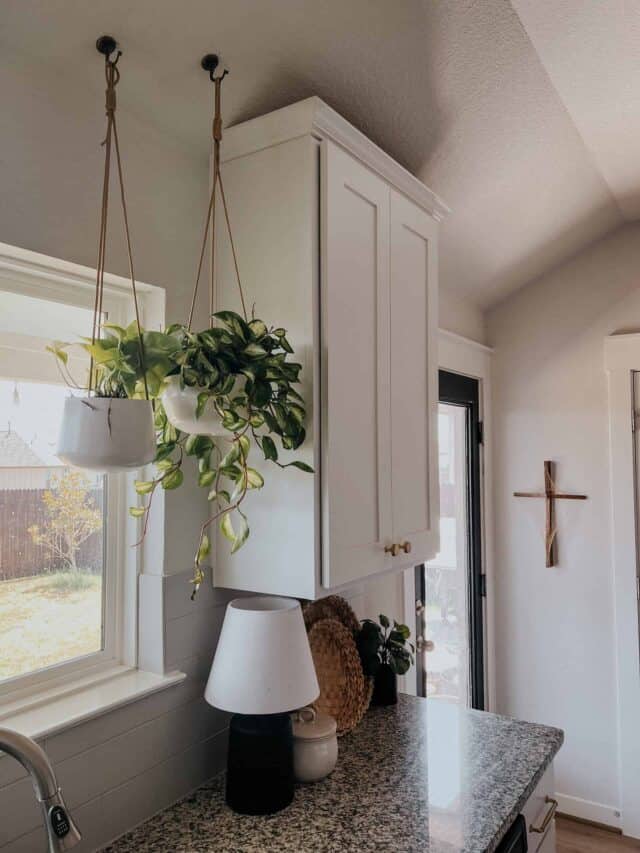 4. Utilize Hanging Planters
I love using hanging planters in my home. I have a couple above the sink in in our kitchen…they're not herbs but it would be the perfect setting for them! Pick herbs that will cascade a bit like mint, creeping rosemary, or parsley. That will ensure they look great and are super functional. You can also use hanging baskets outdoors for a similar vibe!
5. Use a Grow Light
Don't have a great spot where your plants can get enough light? Try a grow light! There are so many different grow light options out there, and they can be used just about anywhere in your home. My personal favorite option is this super simple grow light that can be added to any planter for instant sunlight! This is the perfect choice for a home without a ton of natural light.
6. Use Your Existing Beds or Gardens
I know, it's simple, but I think sometimes when it comes to planning out an herb garden for your home, we can overcomplicate things. If you have raised beds (click here to learn how to build one!) or flower beds around your home, you can plant herbs in those existing beds and let 'em grow wild. Herbs like rosemary, oregano, dill, and thyme are particularly well-suited to existing outdoor beds.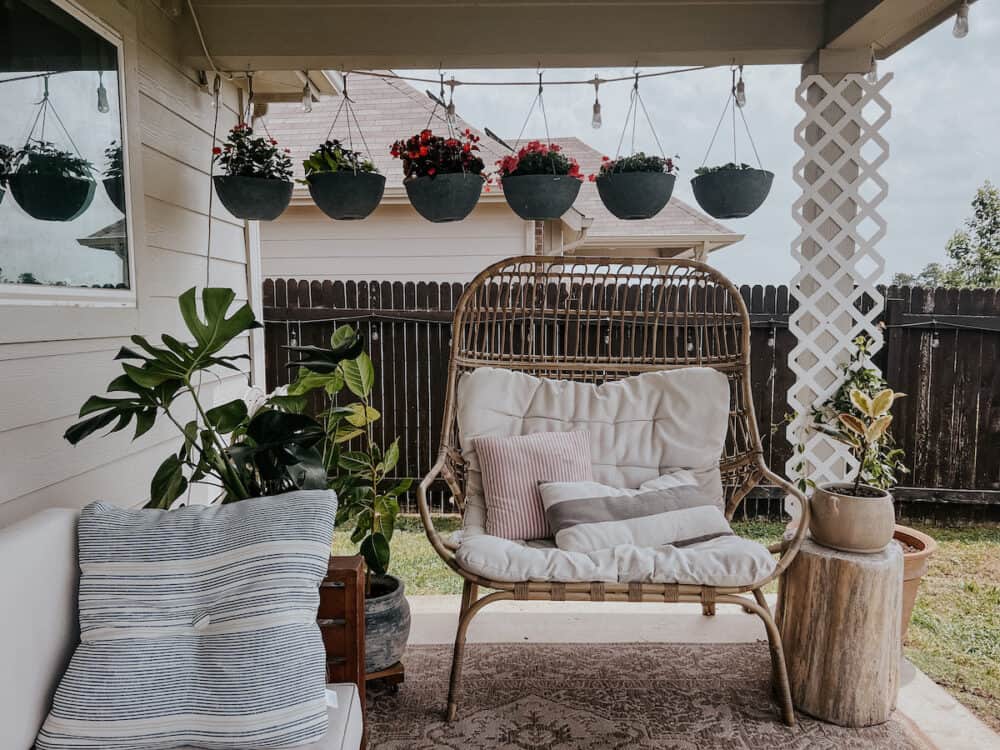 7. Create a Patio Display
If you want to grow herbs outdoors but don't want to commit to a raised bed or in-ground herbs, a collection of planters on the patio is a great option. It's easy to harvest them when they're all collected together, and they'll make a huge impact on the patio! A collection of different herbs, maybe mixed with some annuals and perennials, is always a beautiful display.
8. Go All In
What about going all in on one or two types of herbs? Rosemary can grow into an actual bush and can be so, so beautiful in your landscaping. Instead of trying to create an entire herb garden, you can pick a couple favorite herbs that you love the look and flavor of and use them as bushes in your yard. Bonus points if you pick flowering herbs!
9. Create a Centerpiece
If you want to stick to planters but don't have a great kitchen window or other windowsill to put them in, why not create a centerpiece for your dining room table? Something like this DIY succulent centerpiece that I created years ago is a really simple option but it's beautiful! This is a great example of a simple way to combine form and function in one.
10. Purchase a Ready-to-Go Kit!
And finally, if you want to make it super easy on yourself you can grab a kit where everything has been done for you! Below, you'll find everything from hydroponic planters to vertical gardens to cute herb garden kits. Whether you want to just grow herbs or if you want to add in some tomatoes or other veggies, you'll find something that fits.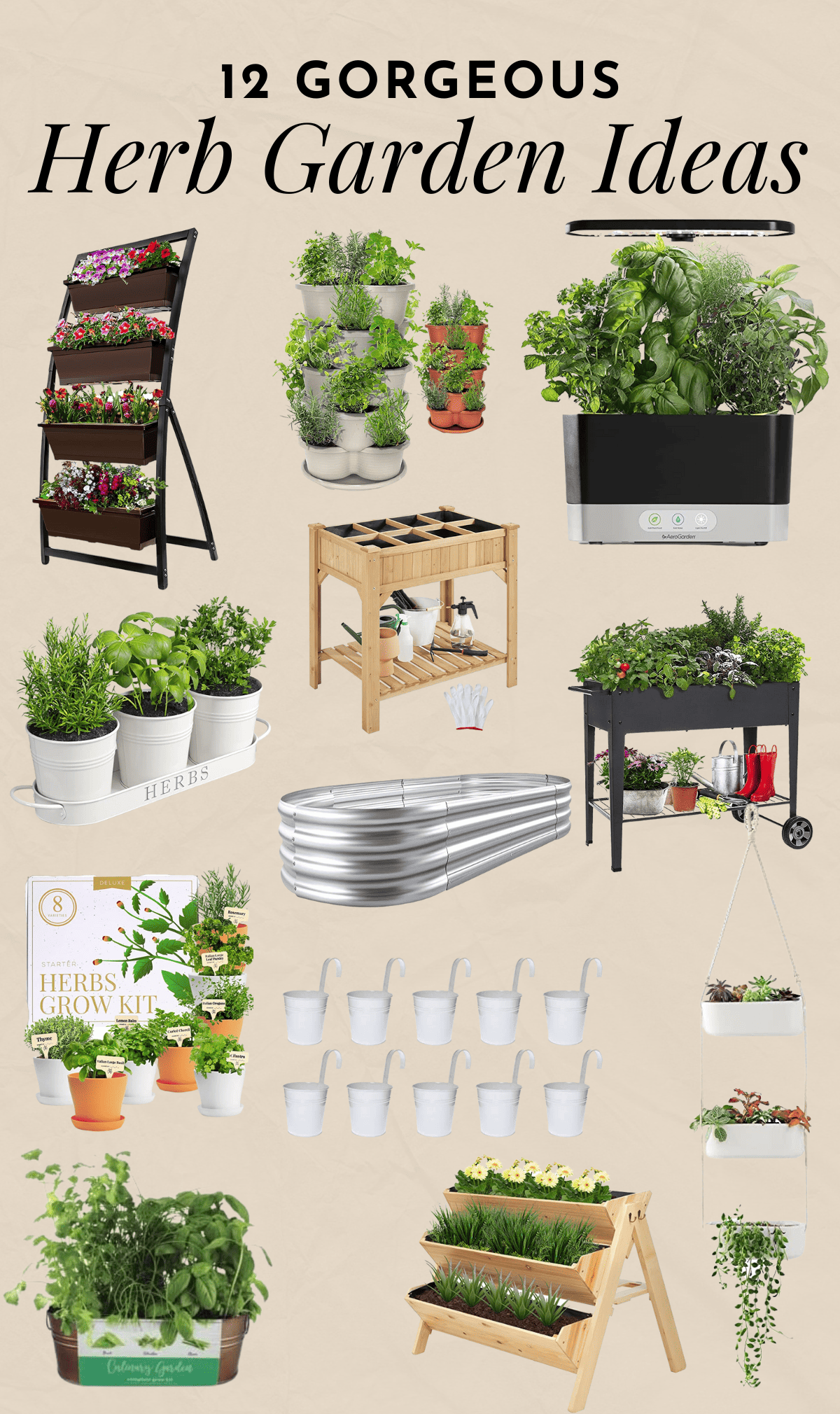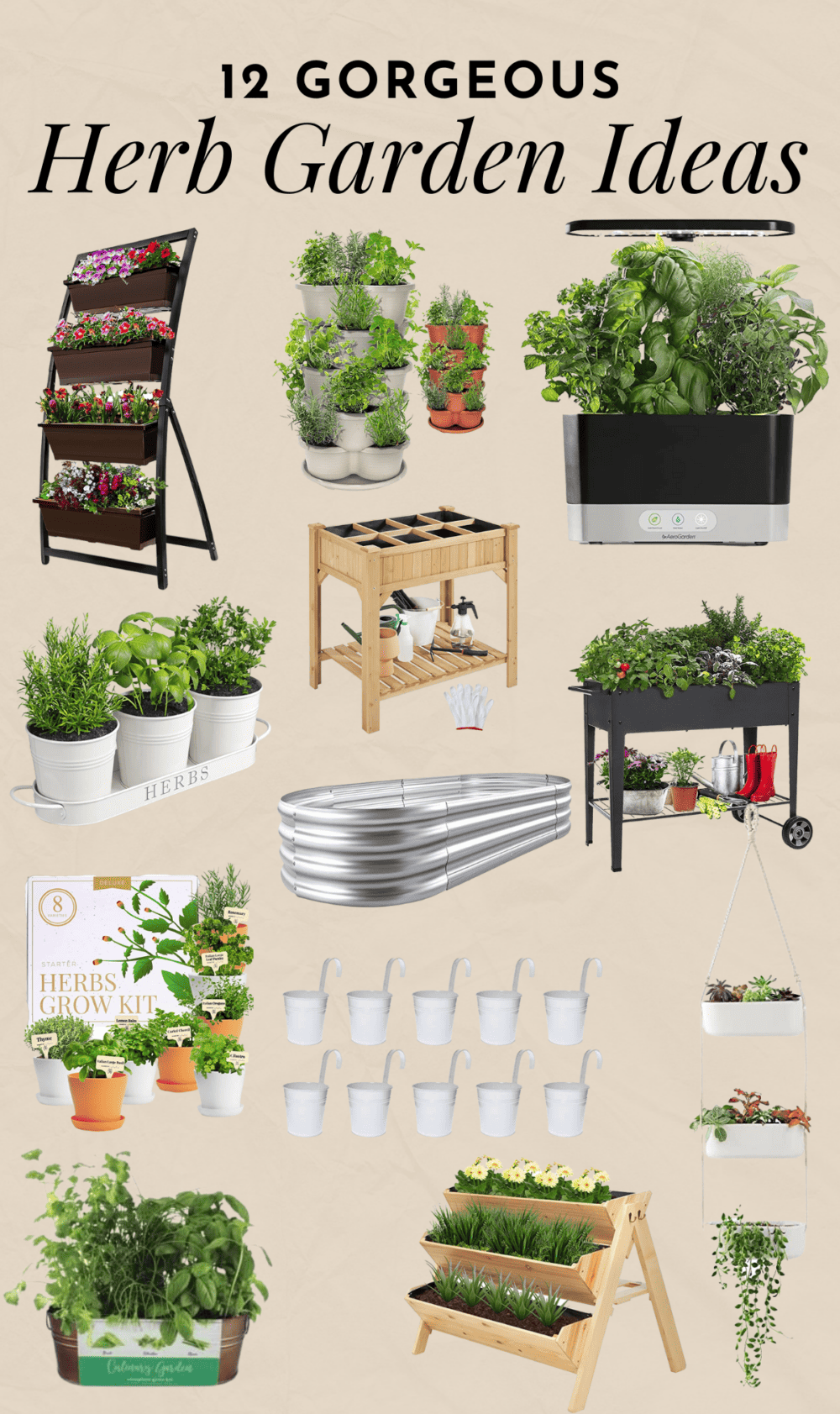 related posts
Gardening + Plants