One of the questions I get more often than any other question is, "how do you paint cabinets?!" I get it. It's an intimidating project – before I painted our kitchen cabinets, I felt like it was probably a project that was much too big for me to take on myself. But guess what? It's not! I've been promising this post to a lot of people for a long time, so today we're going to talk about how to paint cabinets – the easy way – for a professionally-finished look!
Are you excited? I'm excited.
First up, let's talk about what cabinets I'm painting. I've already painted the cabinets in our kitchen, our master bathroom, and Jackson's bathroom. That leaves only one set of cabinets left unpainted in our house – the powder room! And since we're currently on a mission to give this room a makeover for just $100, this is the perfect way to get a new look for the room without spending a lot of money (well, really, I didn't spend any!).
Let me give you a refresher on this room – here's a quick comparison of what it looked like last week when I first showed it to you, along with how it's looking now: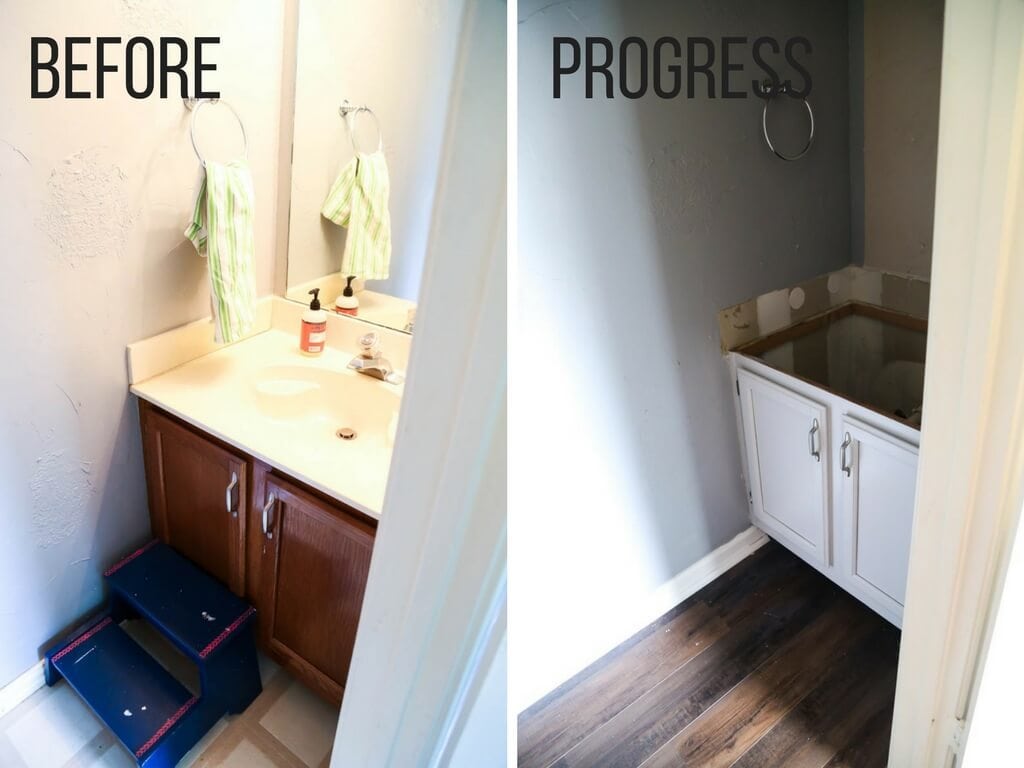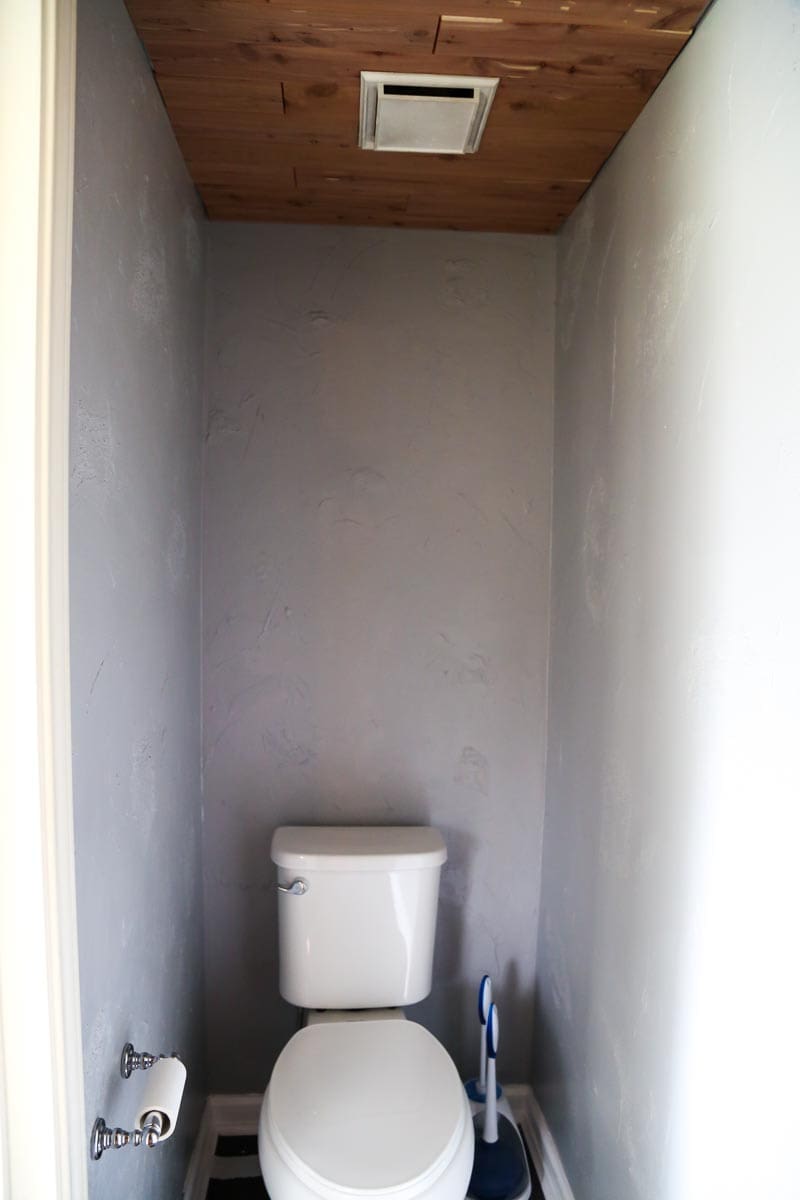 Big changes, right?! I mentioned that we were cheating slightly and making a few updates outside of the budget – when I did the flooring in the kitchen, I also brought it into here. New flooring obviously means new baseboards, and since we were taking the toilet up anyways for the flooring (and it was a weird, tiny toilet to begin with) we decided to replace that too. So, new floors, baseboards, and toilet were considered moving expenses that were outside the scope of this little makeover so they don't count towards our $100.
I know, I'm a cheater. I can accept that. You can too. We'll all live.
So, you might notice the ceiling – I did have enough cedar planking (left over from our master bathroom ceiling) to get it done! I still need to trim out the edges with some extra cedar boards, but I'm loving the look and it makes the low ceiling feel slightly less weird.
But, of course, the star of the show (and what we're focusing on today) is the painted cabinets.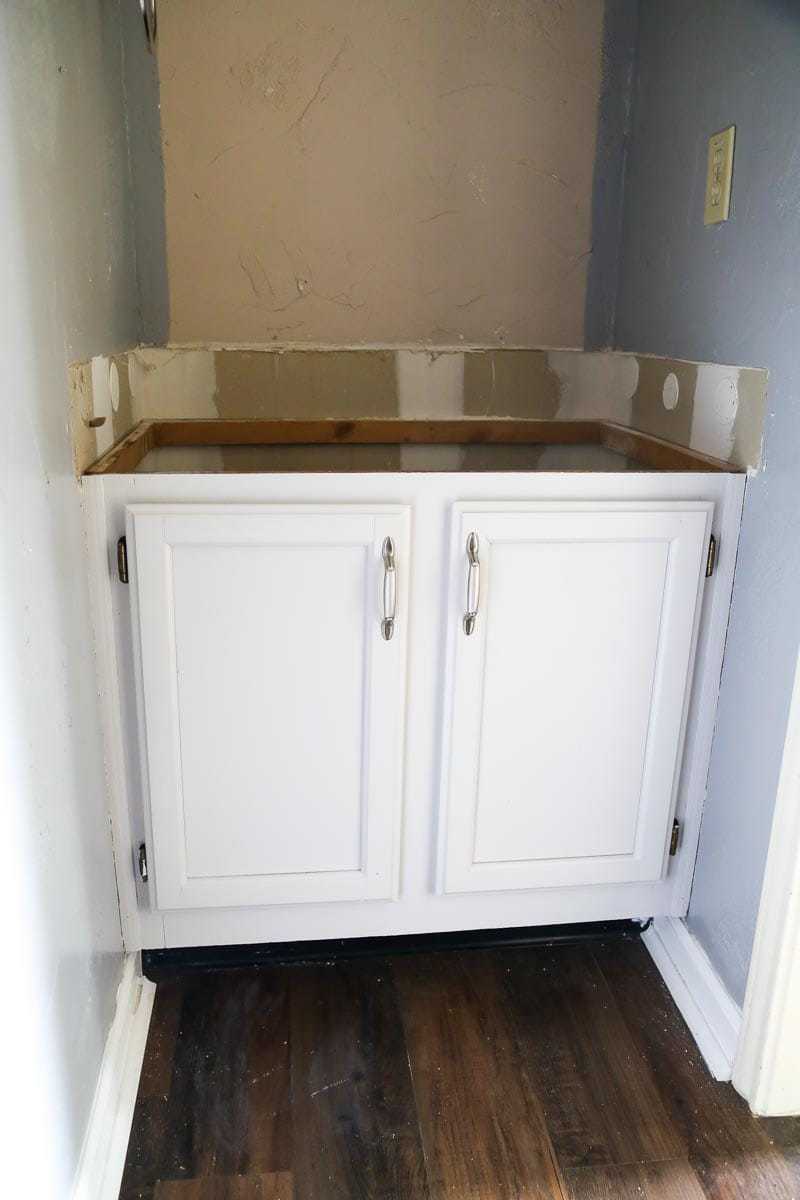 Pretty, huh?
I can't tell you what color paint I used because it's a custom blend. That's just a fancy way of saying I took a bunch of the paint samples I had from choosing a color in our bedroom and from painting our bathroom, poured them all together, and stirred it up. Use what you've got, right?! I was shooting for something light a bright that would help the room feel a little less like a tiny dungeon, and I think I nailed it.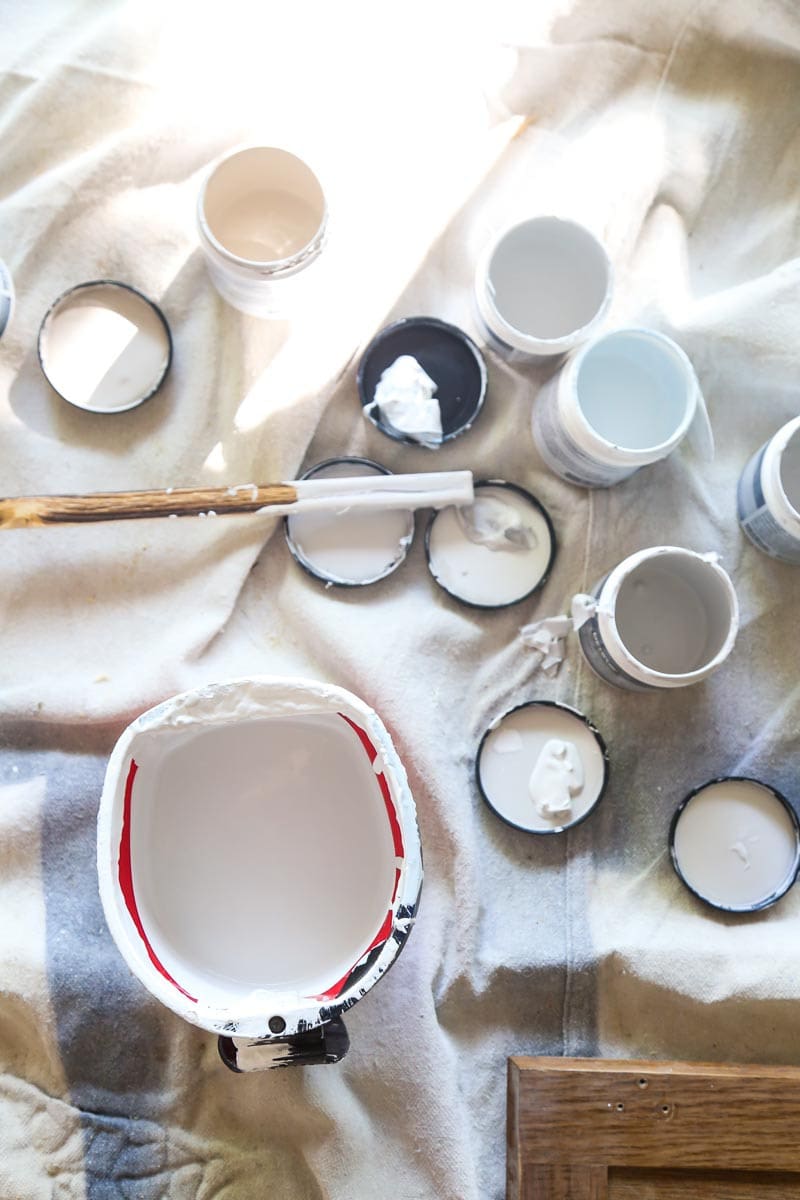 So, let's chat about how it's done, shall we?
This post contains affiliate links. Click here to read my full disclosure policy. 
How to Paint Cabinets like a Pro
You'll need:
Paint (duh!)
A screwdriver
A paint sprayer (I use and love this one, but this one is a great – cheaper – option for beginners)
A power sander (this is the one I used – it's lightweight and perfect for this job!)
A paintbrush (I've said it a million times – this is the ONLY one I'll use)
A paint roller
Polycrylic
** Please note, this project is very easy but it is NOT a one day project. If you rush this, you will not end up with a professional finish. I recommend that you plan on taking a minimum of 4 days before your cabinets are complete, longer if you've got a lot to paint! Patience is key, my friends.
How to paint cabinets – Day 1
Start off by removing all of the doors, hardware, hinges, etc. All it takes is a screwdriver, and it's a breeze. Some people argue that you can leave the doors on when you paint, but I call that lazy – it's not that difficult to take the doors off and you'll get a much more professional look if you take 5 minutes to take 'em off. Just stop complaining and do it. You could already be done!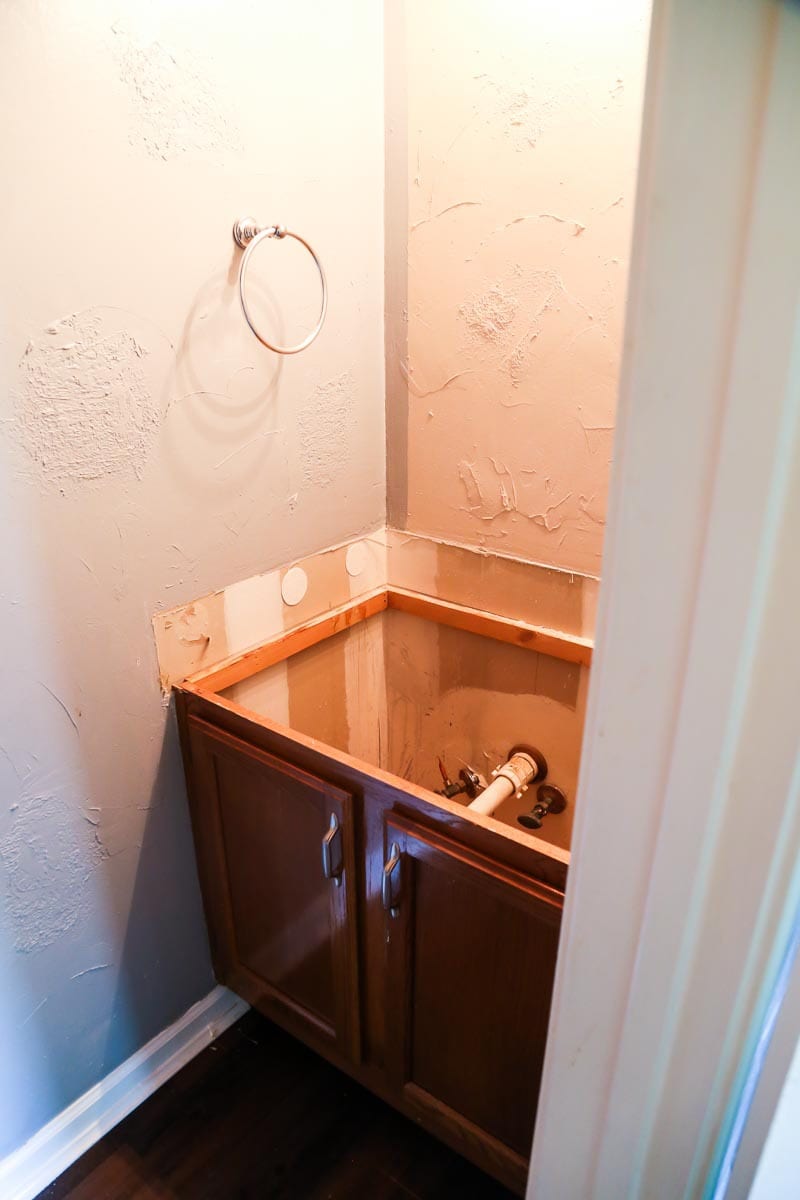 Now, it's time to sand. Again, this is a step many people say that you can skip, but I'd caution you to carefully consider the current finish of your cabinets before you make that decision. If you have raw or stained cabinets without a thick finish, you may be able to skip the sanding step. For us, all of the cabinets in our house have a very thick and shiny top coat – sanding is a must. It doesn't take that long, just make sure you remove any existing finish and get the cabinets (both the doors and the base) to be smooth and even.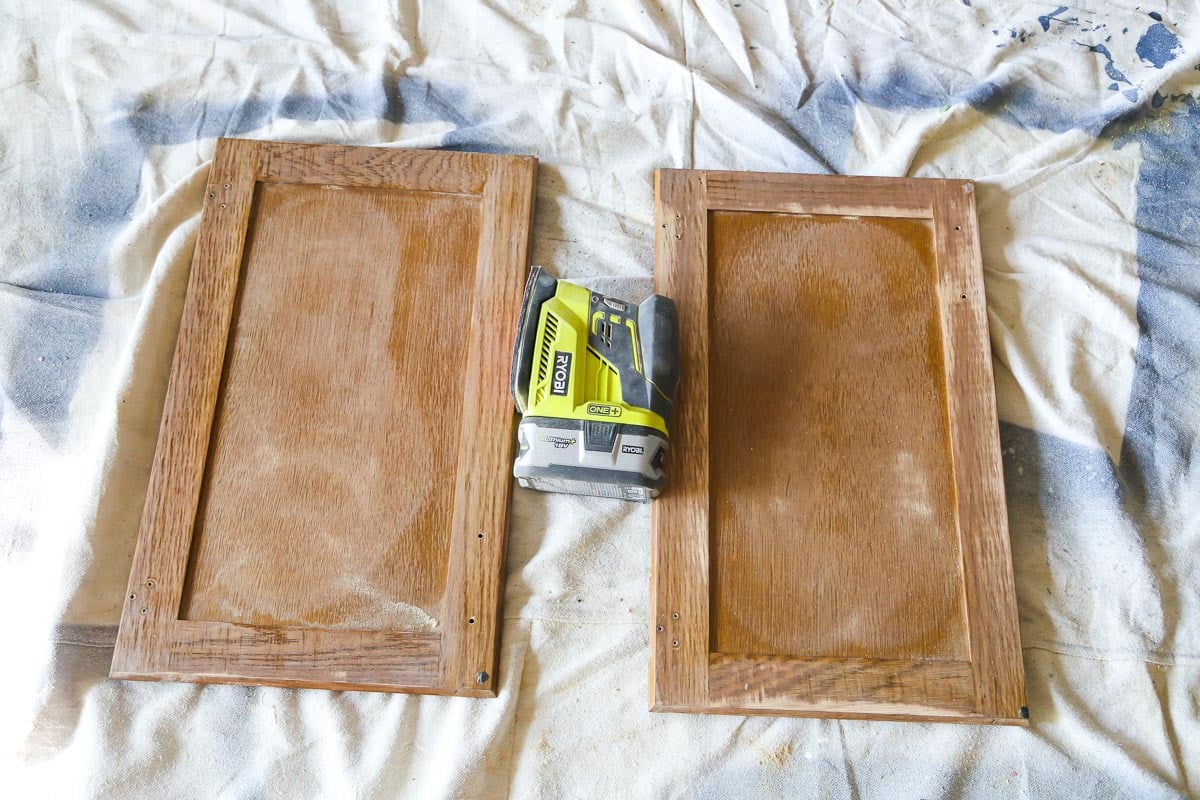 Now for the fun part – time to start painting. I like to do a hybrid of painting by hand and using my sprayer. I'm much too lazy to tape off the entire room so that I can spray the bases, so I typically paint those by hand – but the doors are much easier to paint by sprayer. I start off with the doors, because they take much longer. Lay them out in the space where you plan to paint them, and start with the back of the door. That way, when you flip them over to paint the front, if there are any issues (such as the paint not being fully dry, paint peeling, etc.), it's on the back and not the front. Use your sprayer to slowly and evenly paint a thin coat of paint on the back of the doors, and allow to dry thoroughly before adding a second coat.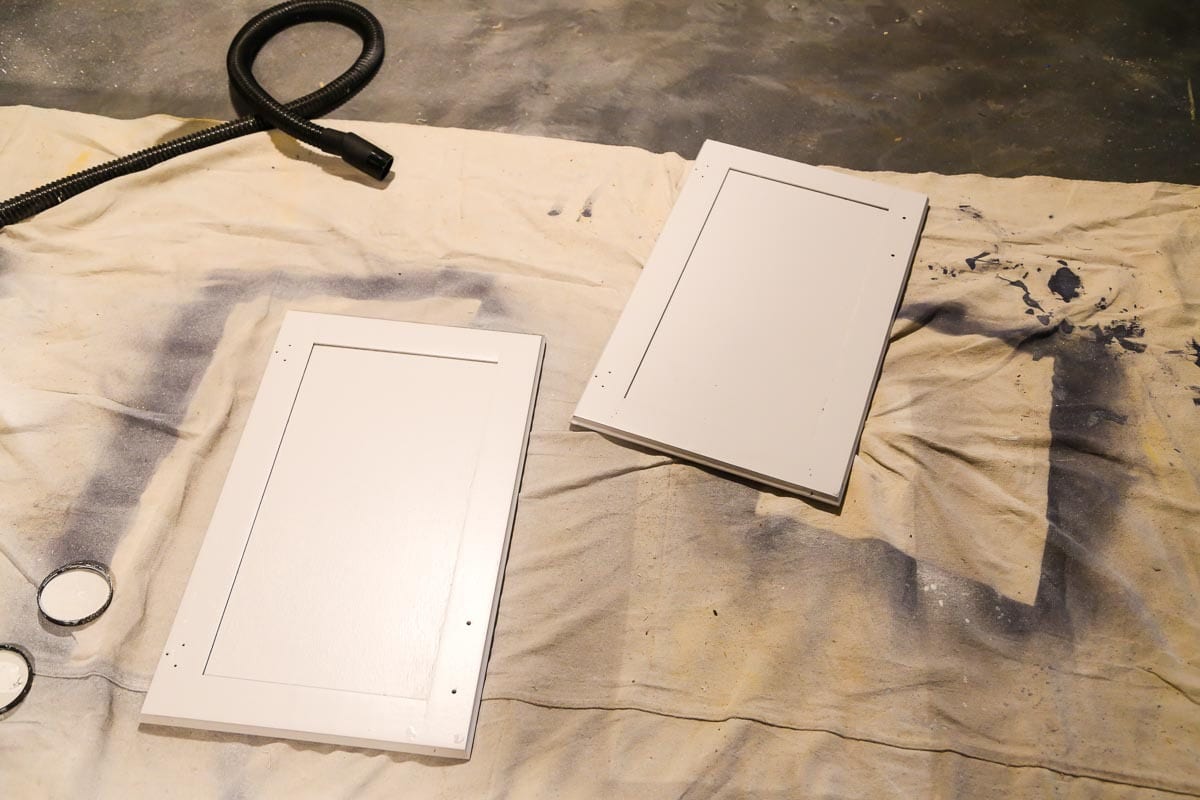 I find that it usually just takes me two coats to get good coverage. I like to let it dry for at least 2-4 hours in-between coats and at least 12 hours before I flip the doors over. I painted the first coat on the back of the doors, then I headed back inside to paint the base.
For this project, it was really easy to paint the base (it's so tiny!). I actually didn't even bust out my roller because I didn't want to waste a roller cover on this. I just used a paintbrush to quickly paint the entire base. If it's any bigger than this (or if it has an exposed side and isn't wall-to-wall), you'll want to use a paint roller to avoid brush strokes.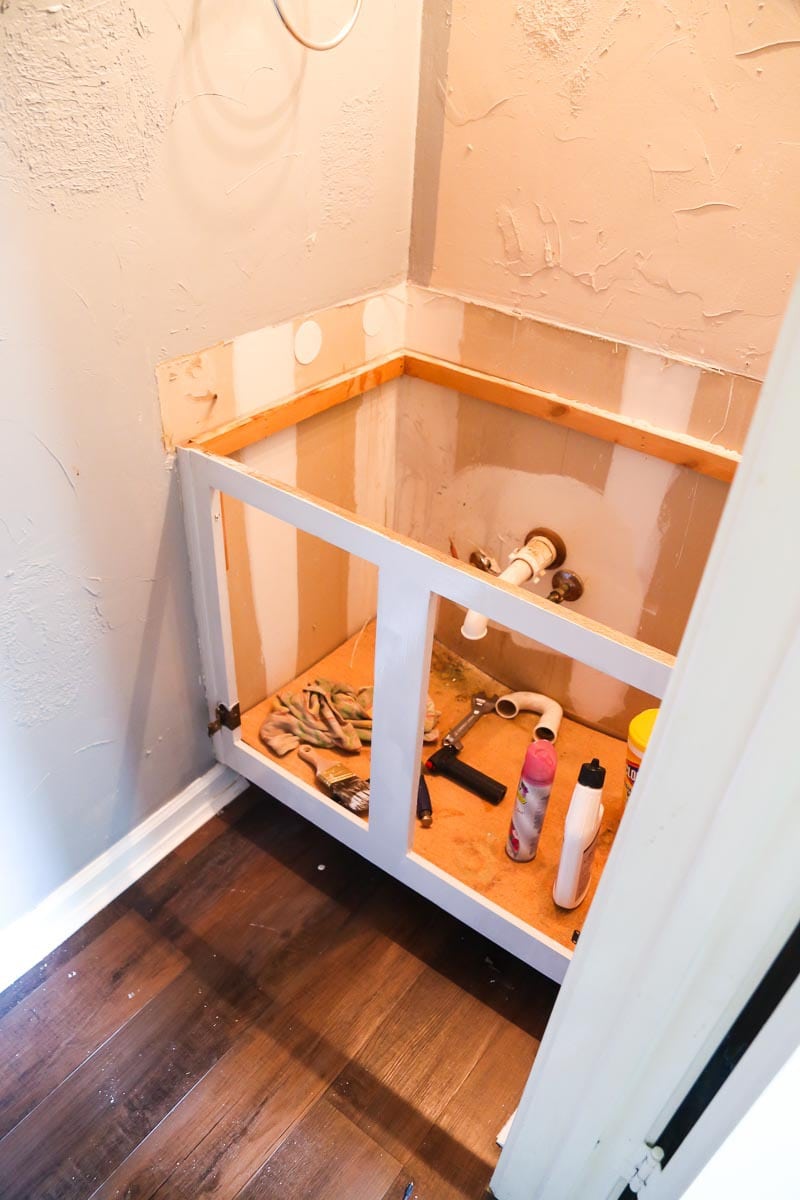 Come back a couple of hours later, add another coat to your base and another coat to the back of the cabinets. Then? Walk away for the day! This is a key to getting a professionally finished look – patience! Even if your cabinet doors feel dry to the touch, they aren't fully cured. So if you mess with them or flip them over now, you may end up with dings or scratches, or big chunks of paint may even stick to your dropcloth and peel off! Don't risk it!
How to paint cabinets – Day 2
After you've waited a good 12 hours or so, you can come back for round two. Personally, I like to wait closer to 24 hours, but do what works for you. Your cabinet base is probably done with paint at this point (if it needs a third coat, you can go ahead and do it on day one), so you're going to start by focusing on the doors. Flip them over (continue to be careful with them – it takes a good 48 hours for paint to fully cure) and use your sprayer to do two coats (several hours apart) on the other side.
On day two, you'll also want to go ahead and add the top coat of polycrylic to your base. This gives it extra time to cure fully, because the base is more likely to get dinged from the cabinet doors. You can use your regular paintbrush, but I like to use a foam brush to help eliminate any brush strokes. Two coats is usually enough, but if it's in a high-use area (like your kitchen), I'd recommend being extra safe and doing three coats.
Once the paint on your cabinet doors is dry (2-3 hours after you paint your final coat), you can go ahead and add the top coats of polycrylic on the top if you'd like. If you want to be extra safe, wait until tomorrow and start with the back. However, I generally go ahead and add the top coat to the front side of the doors on day two because my patience has its limits and I can only wait so long with torn-apart cabinets.
How to paint cabinets – Day 3
If you did one or both coats of the polycrylic on the front of your doors yesterday, you're ready to flip them over and do the back. If you didn't do the top coat yesterday, I'd still flip them over and start with the back (again, just in case there are mistakes or issues). Just like with the base, I recommend two top coats, and you should follow the directions on your polycrylic for dry time (usually it's between 2 and 4 hours).
How to paint cabinets – Day 4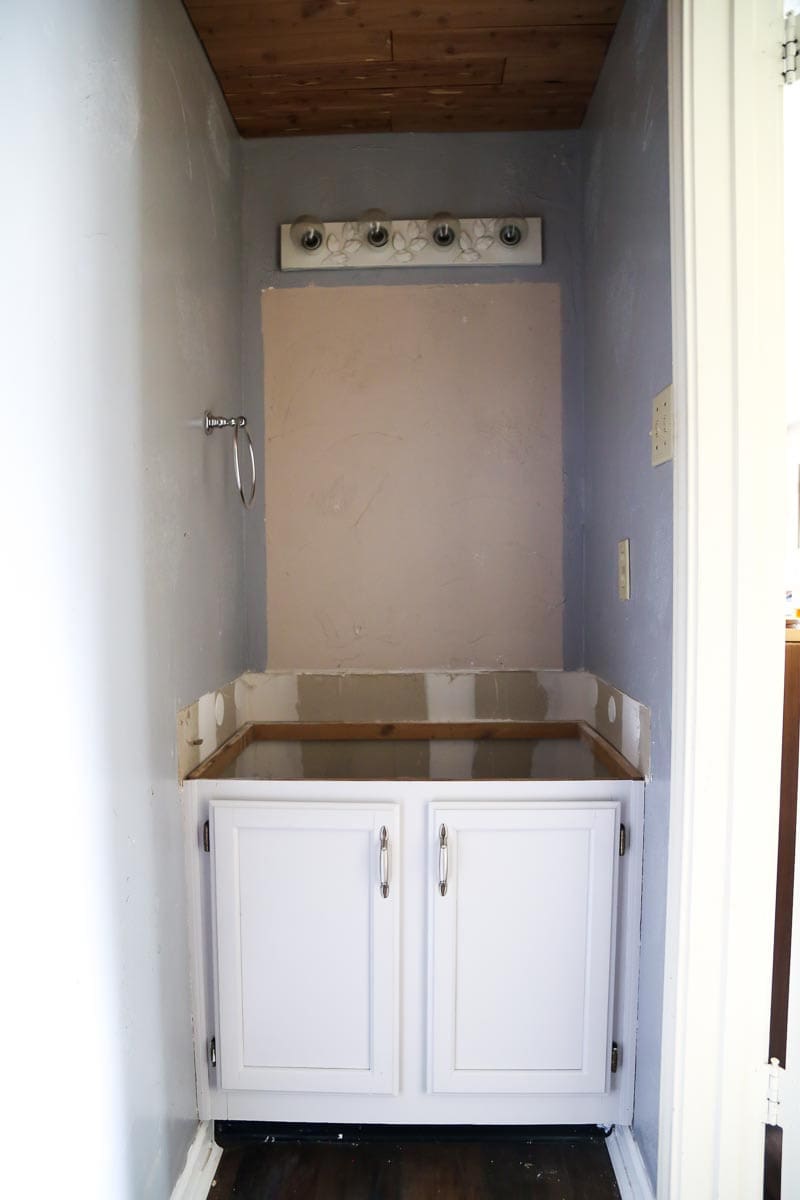 You're ready to put it together!
Note: If you started the top coat on the doors on day 3, then you'll need to do the other side of the doors today, and put it all back together on day 5. It's fine either way, it just depends on how much time you have to work on it each day and how antsy you are to get everything put back together!
You can obviously replace the hardware at this point if you like – if you're doing that, I recommend getting all new hardware including the hinges. Hinges are a small detail that make a big difference in a finished room, and we've noticed that we have regretted skipping that step in the past.
Phew. Are you as tired as I am?
I'm telling you, this is a project that is very easy and makes a huge impact on a room, but you have to have patience in spades because it takes a long time, y'all. Again – some people will tell you that you can rush it and do it in a day or two. They aren't wrong – you can! However, your finish won't be as durable, and it likely won't have quite as professional of a look to it. There's nothing wrong with that, I've just learned over the years that it's worth it to me to take a little extra time with this project to make sure that it looks exactly how I want it!
Finally, the last thing I'll touch on is paint. There are some people that have very particular opinions about which paint to use when you paint a cabinet. You can find entire blog posts discussing the merits of one brand over the other when it comes to cabinet painting. I tend to ignore most of those and stick to what works for me. I use Behr Marquee paint on just about everything, and it's what we have used to paint the cabinets in all of our bathrooms (I believe we used Valspar on the kitchen cabinets). I do think that the Behr has held up better, but I don't think you should spend a ton of time or effort researching which is the best paint for your cabinets. Just be sure you aren't buying the cheapest paint available (which is just generally good life advice – splurge on the good stuff, it's worth it!) and you'll be just fine.
I hope this was helpful, and I'd be happy to answer any other questions you have on how to paint cabinets! I know this can be a really intimidating project, but I promise it doesn't have to be. This is one that you can just dive into and give it a shot. After all, what could go wrong? It's just paint!
Don't forget to check out all of the other talented bloggers participating in the $100 Room Challenge – there are some exciting makeovers happening!