I Painted Our Kitchen Island Black!
I'm so beyond excited to share today's project with you. It's one I've been contemplating for about two years now, and I finally decided it was time to do it.
That's right, my friends, I painted our kitchen island black. Was it the right choice? Well, I'll let you decide for yourself.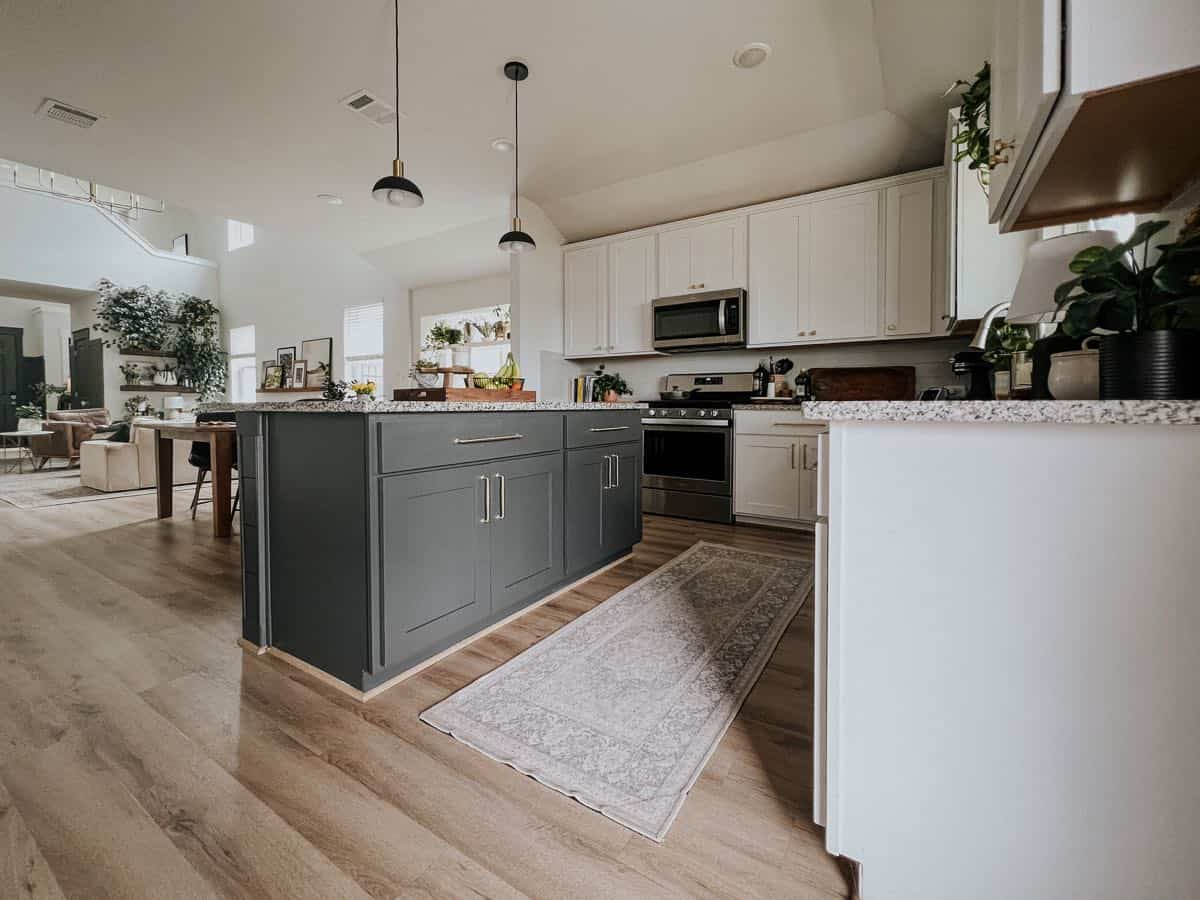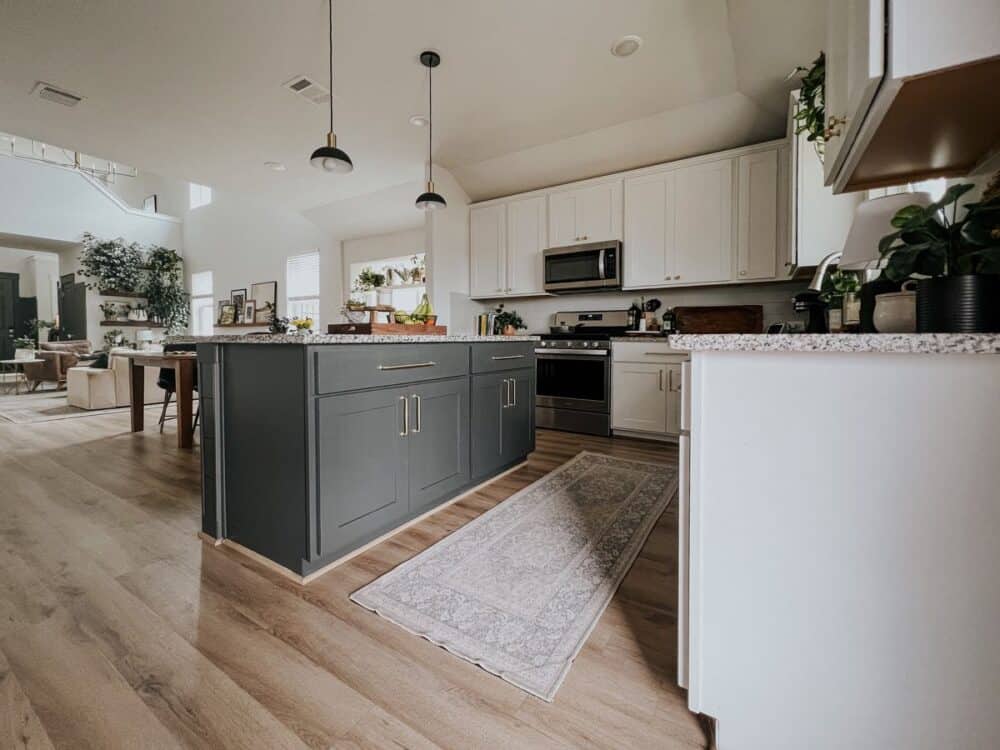 This post is sponsored by Wagner.
You may remember that back when we first moved into this house, I added shiplap to the back of the island. I originally painted it blue, but after a while I decided I wanted something more neutral. A black kitchen island seemed like the perfect way to offset all of the bright whites in our kitchen, so I went with Carbon Copy by Behr. We've been living with it on just the back of the island for about two years now, and I've been dying to know what it would look like to have the WHOLE island painted black.
So I went for it!
Was this a terrifying project? YES. I've painted my kitchen cabinets in every house we've lived in…but in the other two houses, they weren't in great shape to begin with. So, it never felt like a super high-stakes project. It had to look better than when I started. Here, we're starting with brand new factory-finish cabinets. If I messed them up…it could be bad.
I'll admit, I put this project off until the last second. I was nervous. I almost decided to cancel the whole thing. But one day I finally decided enough was enough, and I painted our kitchen island black. Just like that.
And I'm SO GLAD I DID IT.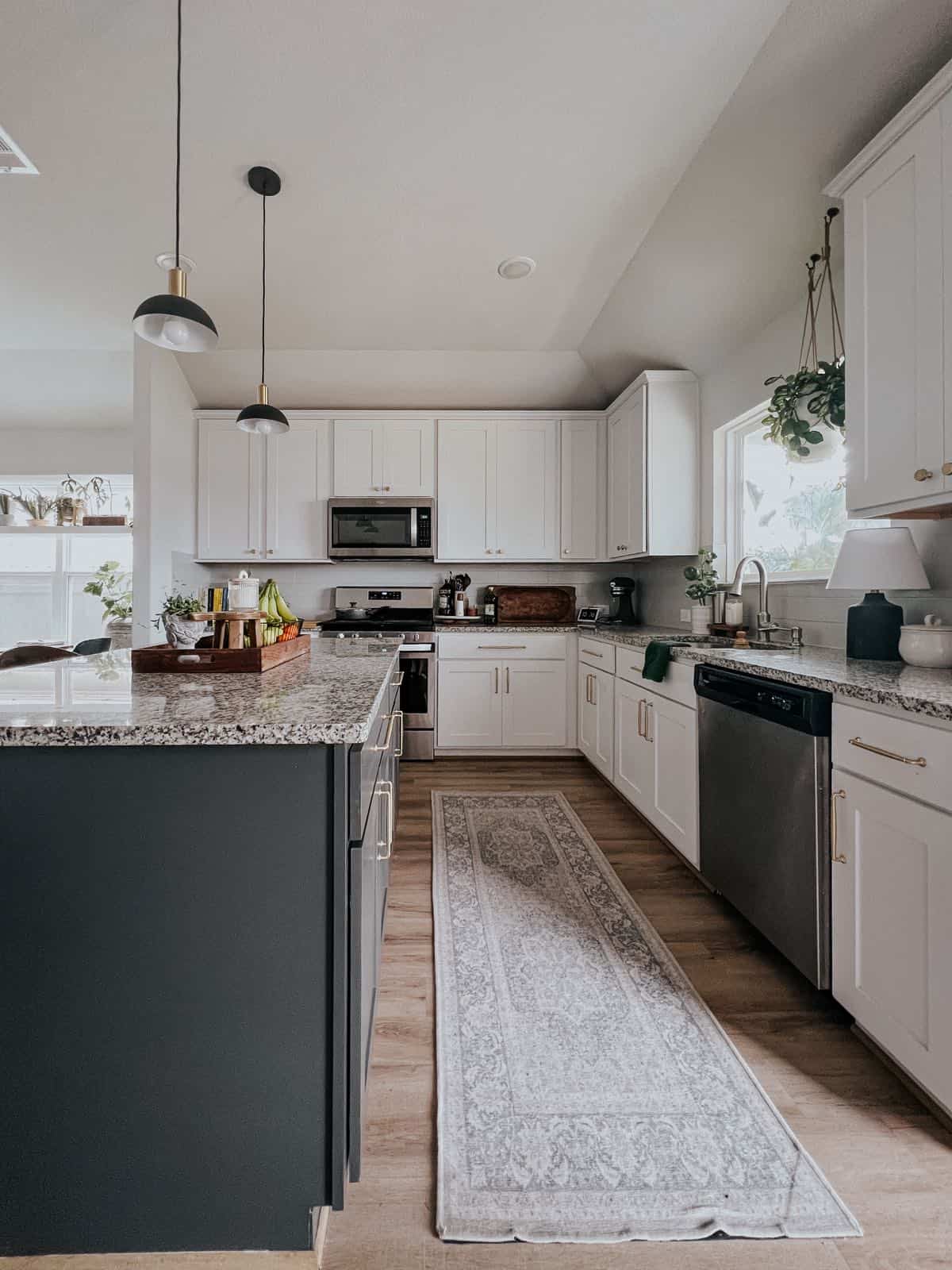 The black island is so much more resistant to stains than the white was (a white island gets dirty fast with kids around) and so far my method has prevented scratches really well, too!
Let's talk a little about what it took to create this black kitchen island. It's not a hard project, but it is a relatively involved one and it's important that you take a few specific precautions to make sure it's as durable as possible.
All the Details On Our Black Kitchen Island
Materials & Tools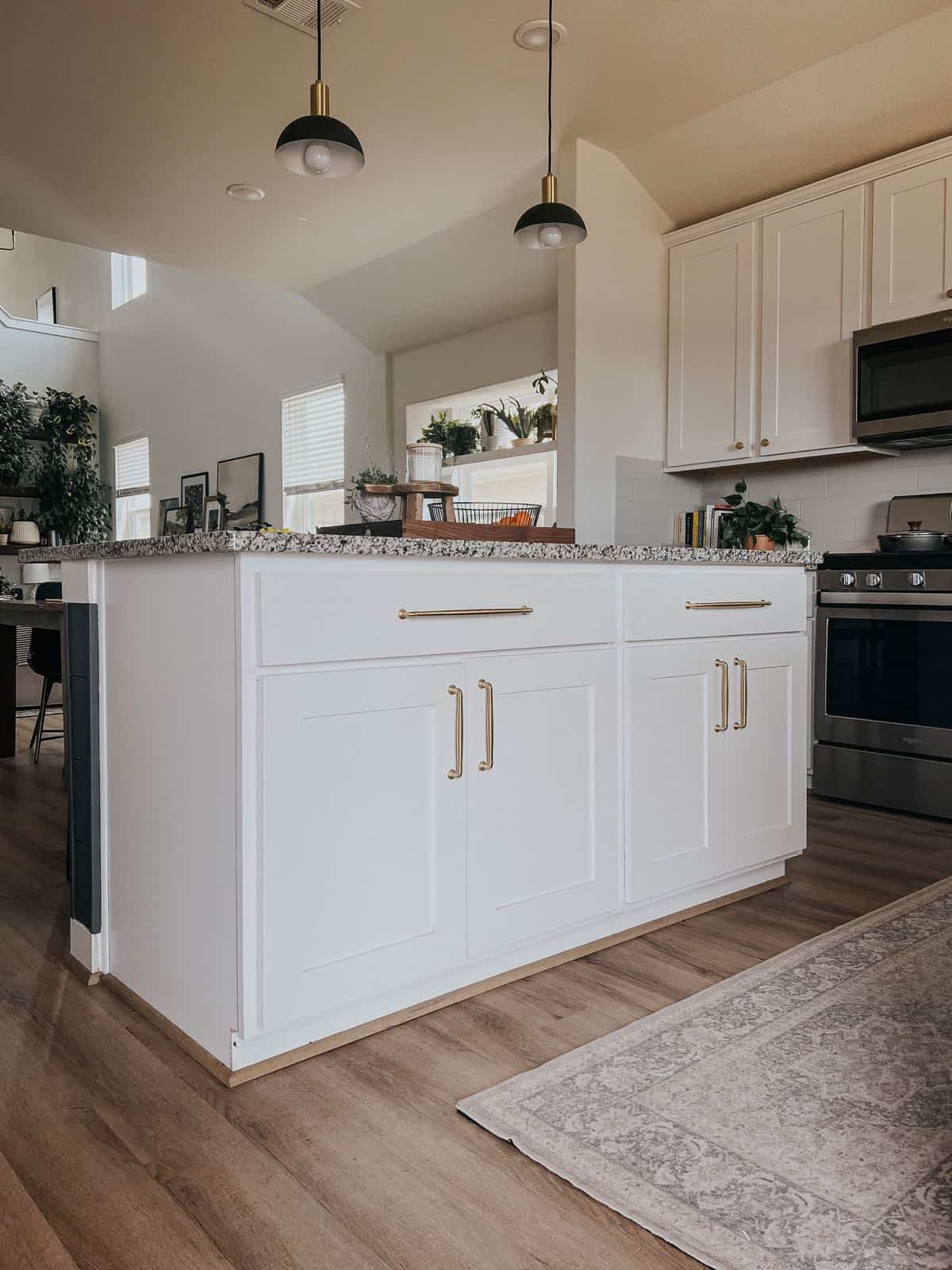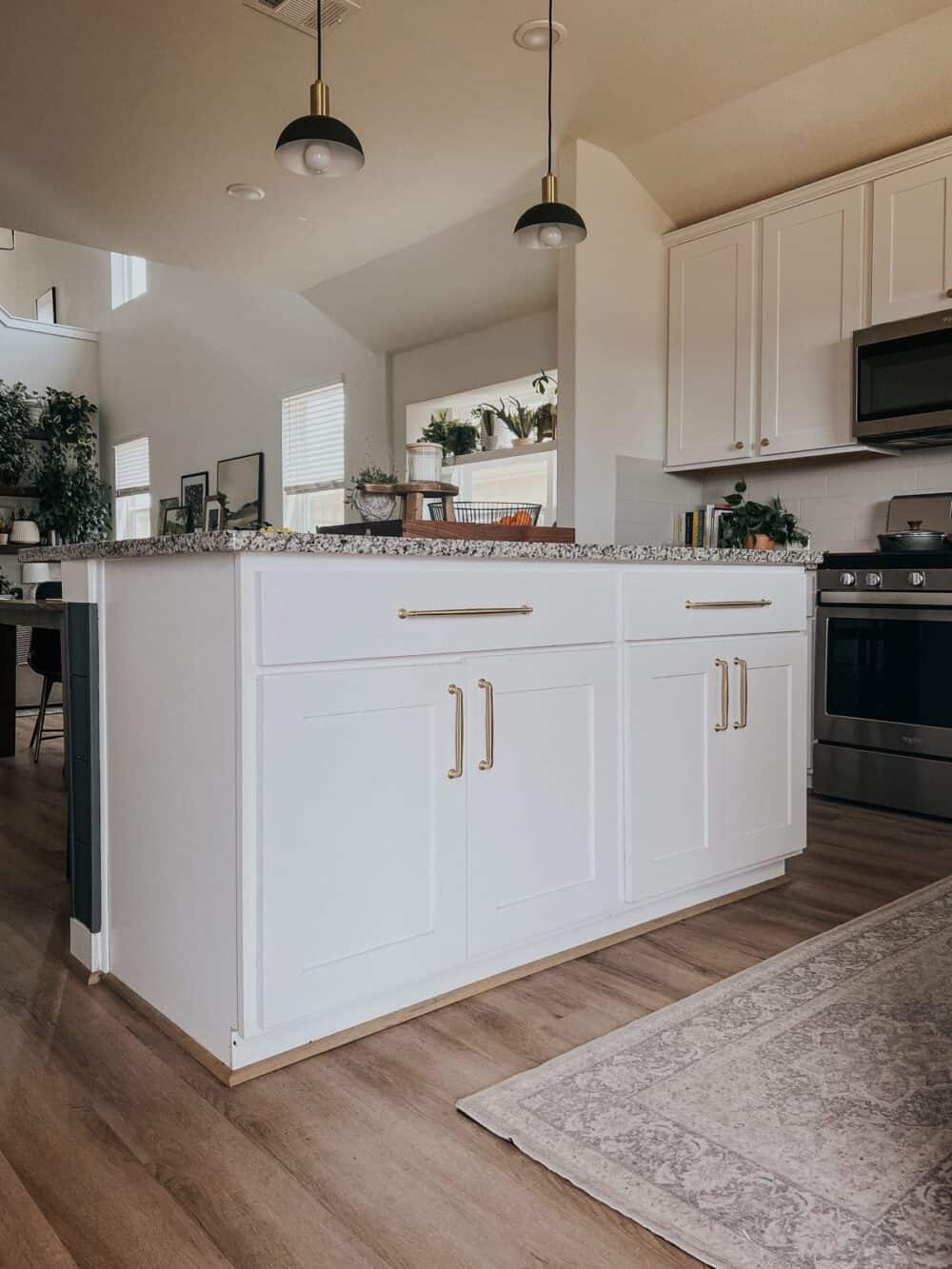 How to Prep Cabinets for Paint
As with a lot of DIY projects, the first and most important step is the prep work. The prep required is going to vary based on the type of cabinetry you have. For example, when I was working with wood cabinets that only had a sealer on them, I sanded prior to painting. You'll also want to sand if you have a finish that's flaking or damaged in any way. But, with a factory-finish set of cabinets like this, sanding isn't required. What IS required, is a good cleaning and some primer!
Cleaning
The very first step is to remove all of the doors and drawer fronts. Pull the hinges off, remove the cabinet hardware, and put it all in a safe place where it won't be messed with for a few days. Most drawer fronts come right off with a few screws in the back, so be sure to check if yours do that – it's a lot easier than painting them with the drawer still attached!
Once you've removed everything, start by cleaning your cabinets really thoroughly. I highly recommend using Krud Kutter – it removed so much grime I didn't even realize was there.
Priming
Once your cabinets are clean and have had at least 30 minutes to an hour to dry, it's time to prime. I wouldn't recommend using ANY primer but this one. It's what I use on IKEA furniture, it's what I used on my bathroom cabinets, and it's the best option around for hard-to-paint surfaces.
You should do two coats of primer on factory finish laminate cabinets – you want to make sure the entire surface gets covered! I allowed the primer to dry for about 24 hours before painting – you can top coat it in about an hour, but I wanted to be extra safe. I'd also recommend using a fine-grit sanding block to lightly sand in-between each coat of primer and each coat of paint. This helps your finish be really smooth!
How to Use a Paint Sprayer Indoors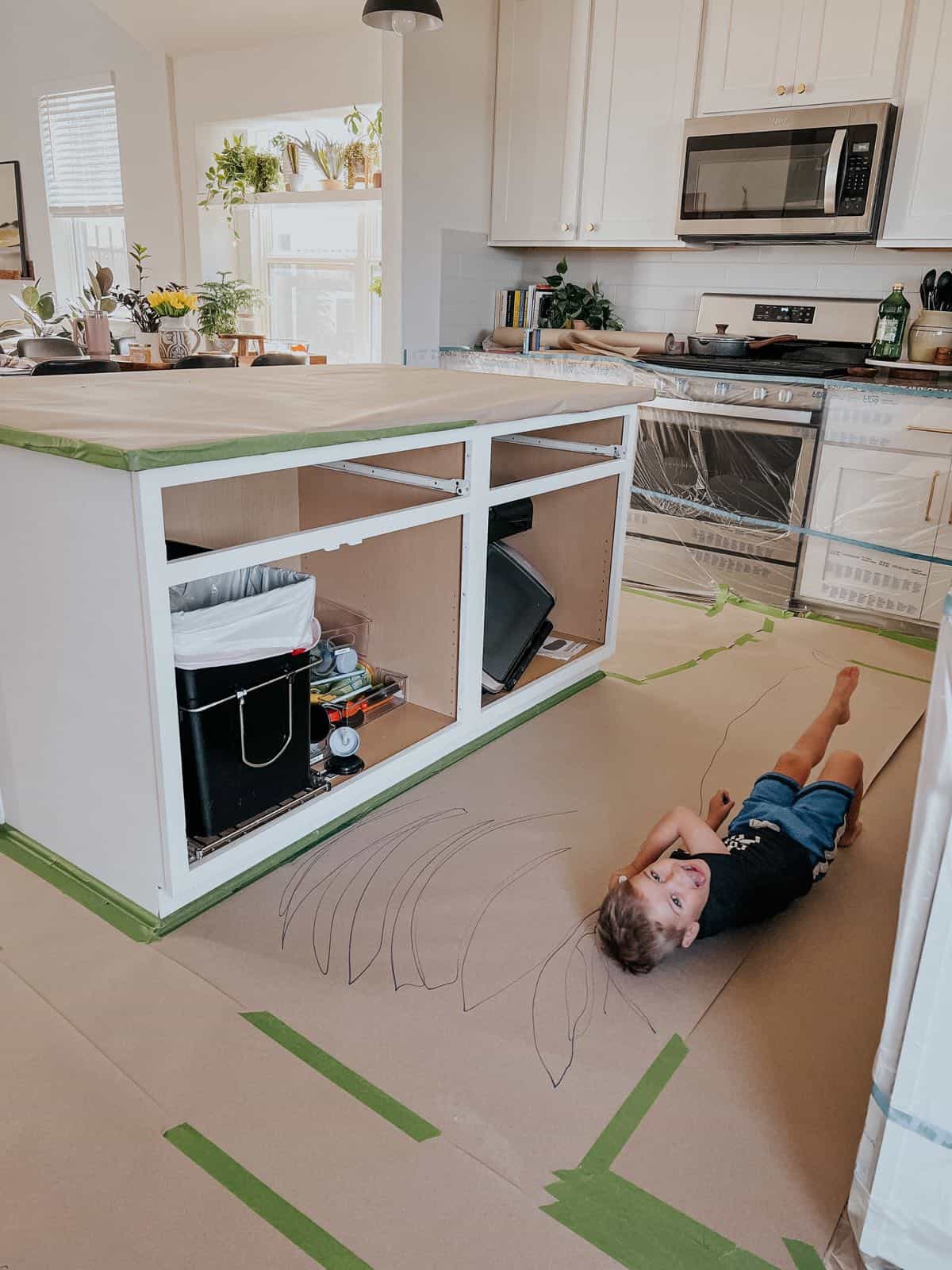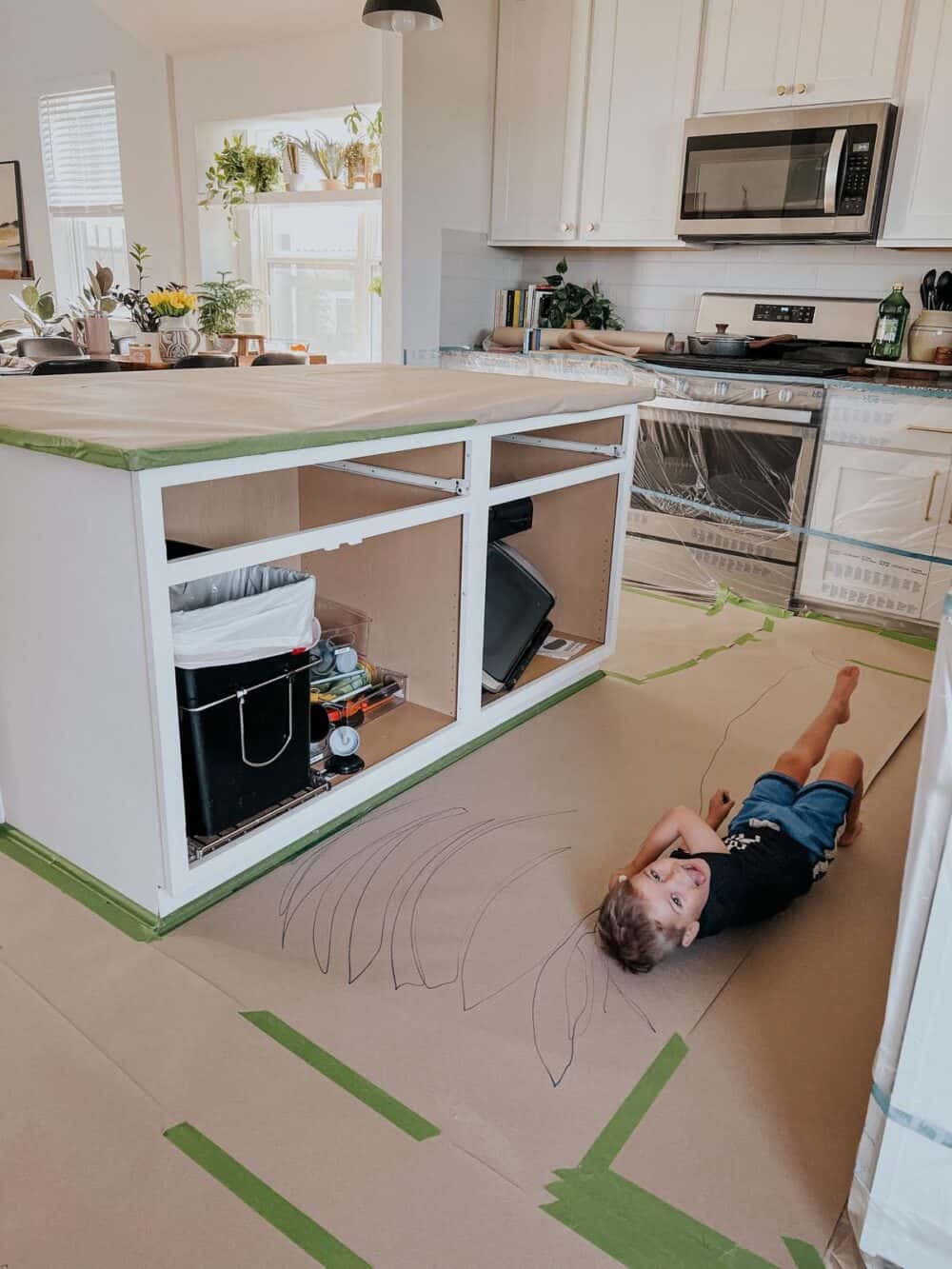 Now, let's talk about the next piece of the puzzle when it comes to this gorgeous black kitchen island – painting the cabinets. If you want a really great, really professional looking finish, I highly recommend spraying. I use my paint sprayer constantly, and it's the absolute best way to get a smooth and perfect finish.
I'll be honest – I rarely use my sprayer indoors. Why? Because I absolutely loathe the prep involved and I'd rather skip it. But, I really wanted to do this project right so I decided to go for it. And you know what? It wasn't half bad!
It only took me about an hour to do all of the prep work in my kitchen, and I found it to be a pretty relaxing process. And it took me about a quarter of the time to paint the island as it would have to do it by hand, so it was well worth the time!
Here are the steps I took to prep my kitchen:
I covered all of the lower cabinets in my kitchen with this painter's tape that has a drop cloth attached. I didn't cover the counter on the perimeter of the kitchen, because I knew it was unlikely that overspray would end up that high. And, I was right!
I used kraft paper to cover the entire floor around the island. Basically my entire kitchen floor was covered with kraft paper, and I think that's probably the most important step – most of the paint overspray ended up on the kraft paper!
I covered the island countertop with kraft paper as well – both the top and the underside of the overhang!
I used the painter's tape with a drop cloth to cover the opening of the cabinets and drawers on the island. I didn't do a perfect job here, but I have a secret weapon to clean up overspray, so it was fine. More on that in a minute.
The Process of Painting the Kitchen Island Black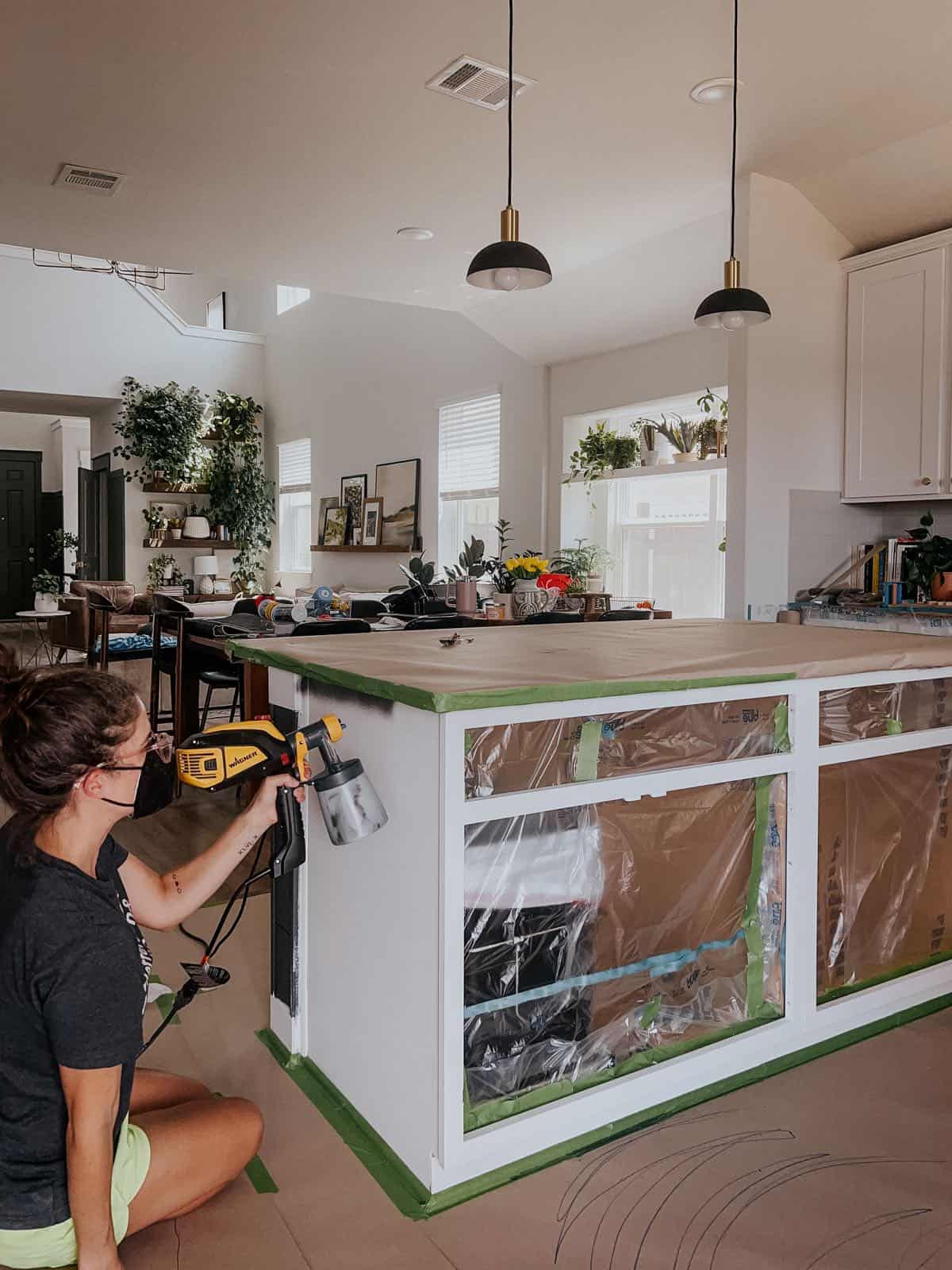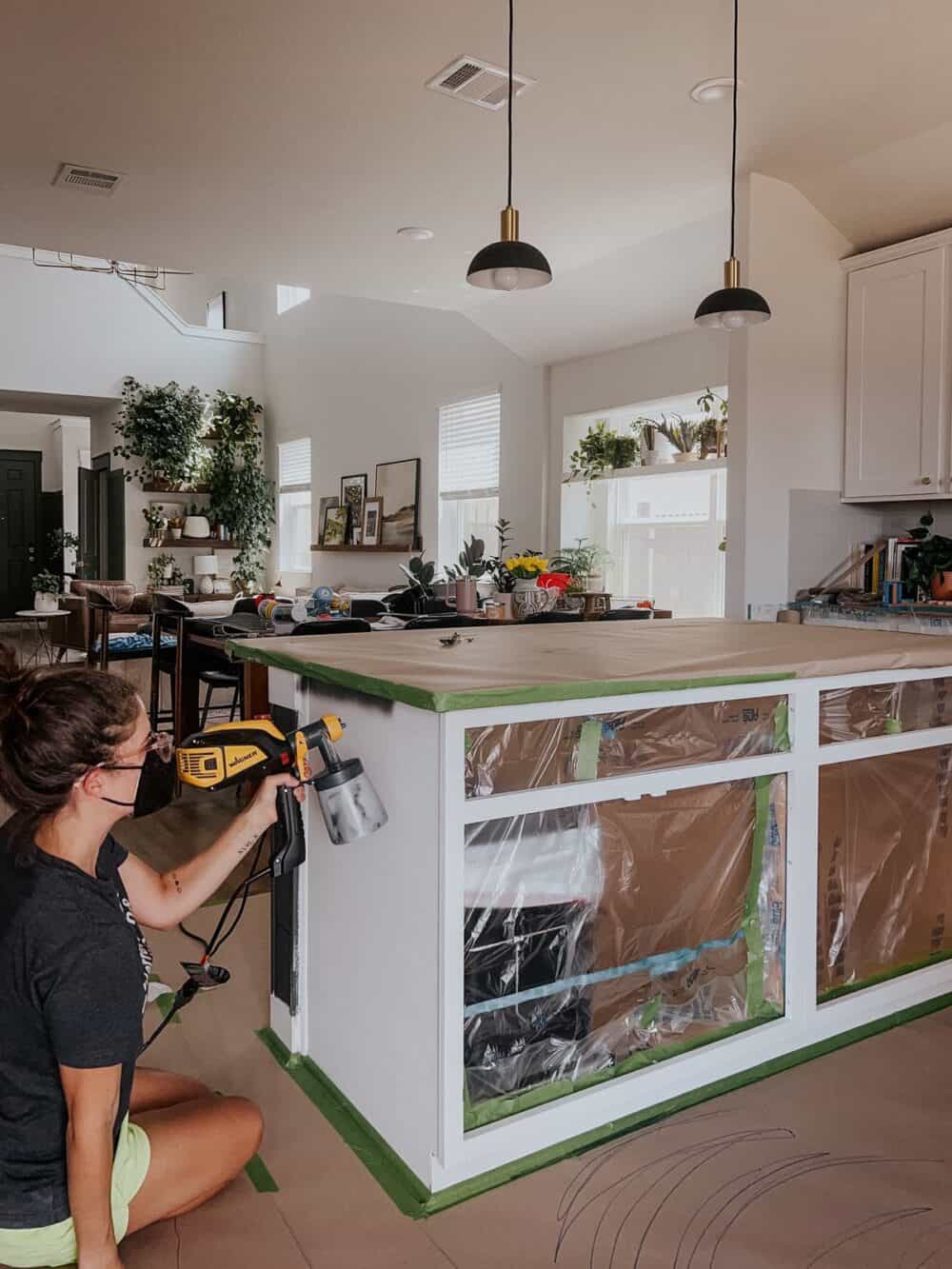 Once all of the prep work is done and everything is primed, you're ready to do the actual painting! This is the most satisfying part because it's when you start to actually see the change! It also feels much less intimidating to reach this part after you've done all the other stuff. I mean, you've already primed the island. There's all this crazy paper everywhere… why not just paint it black too?!
I used my Wagner FLEXiO 3500 to do this project. I used the detail finish nozzle, but it also comes with a larger nozzle that's great for bigger projects.
This is the sprayer I reach for over and over and over again. You saw me use it to paint Grant's built-in bookshelves. I used it on the cabinets in the garage. I painted our bathroom cabinets with it. There are at least a dozen more examples in my archives – let's just say it's a really versatile tool!
If you've never used a paint sprayer before, don't worry. I've got you covered! Click here for a blog post with a full breakdown on everything you need to know about how to use a paint sprayer. It includes how to clean it – and I promise it's not as bad as you're thinking it is.
Painting the Doors & Drawer Fronts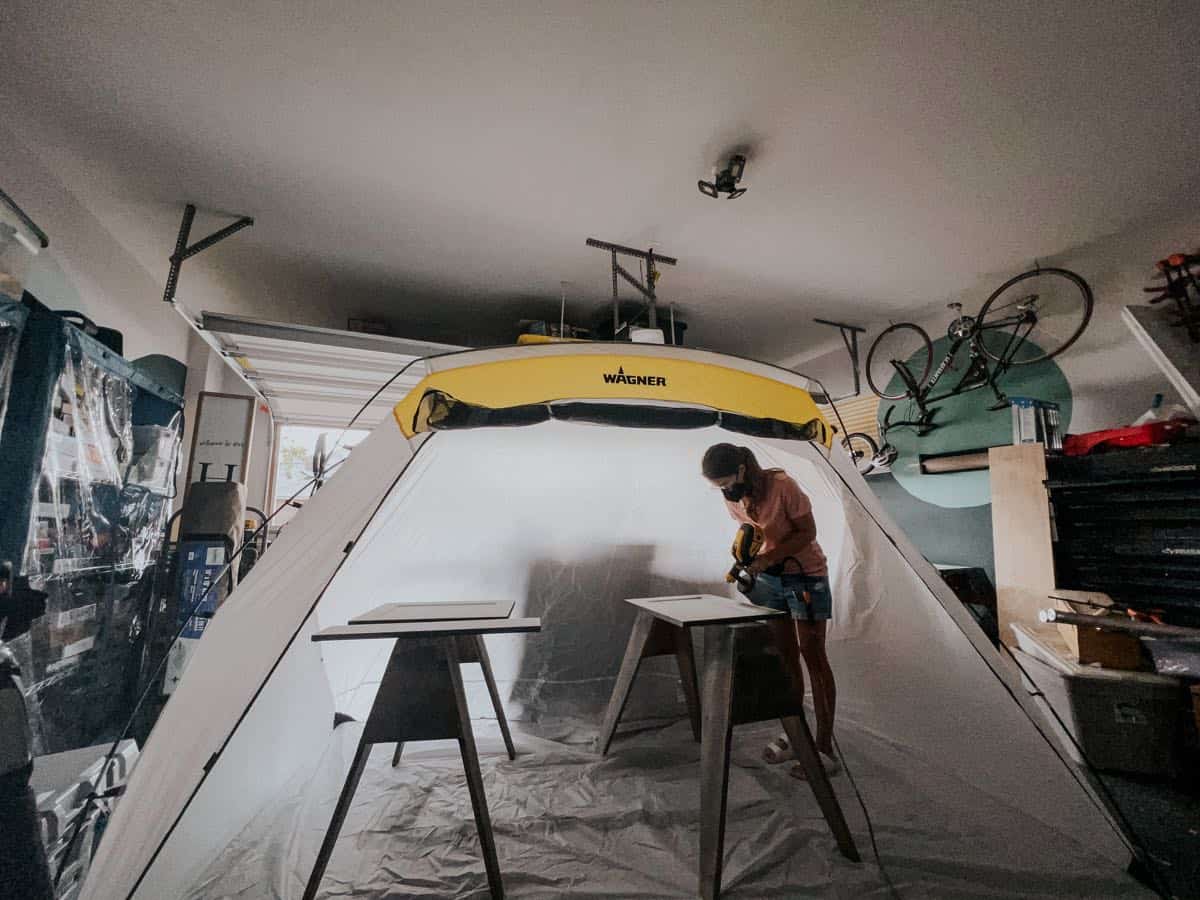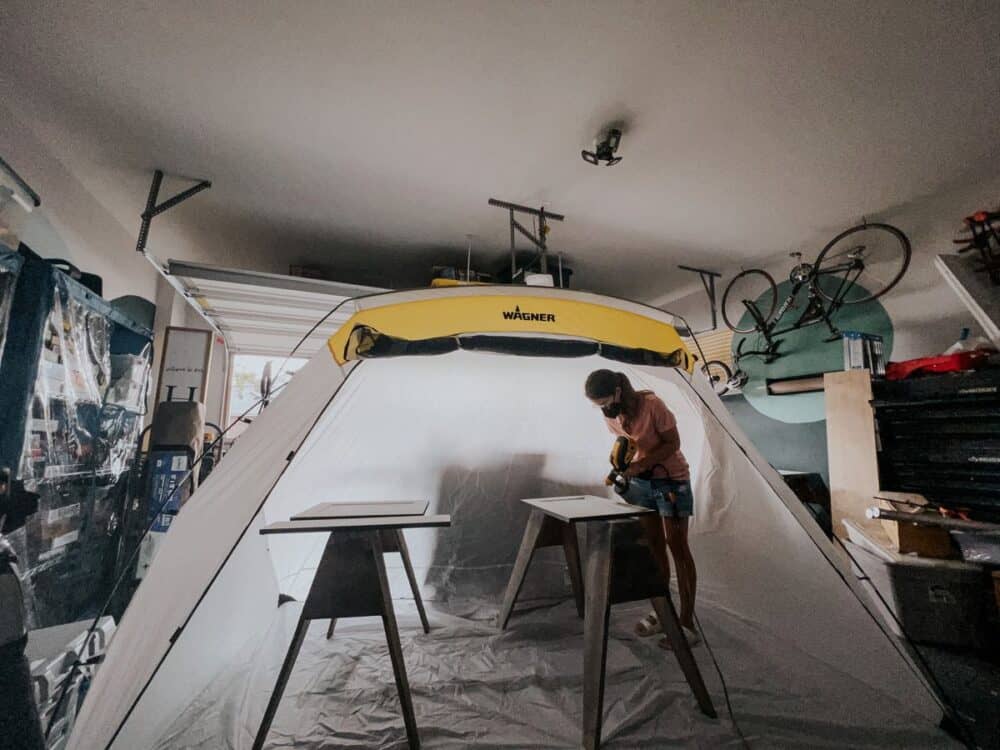 Painting the island doors and drawer fronts is a little more involved process than just painting the base. You've got two sides to paint, and you want to be sure the first side has ample time to cure before you work on the other!
My system is to paint two coats on one side in the same day. Then, I allow it to dry overnight before flipping it over and painting the other side. And then, I allow it to dry overnight again before I bring it inside and re-install it! After that, I'm still careful with the cabinets for at least a week before I begin to treat them more normally. Paint requires a solid 7-10 days to fully cure, even after it feels dry, and until that time passes it's a little more fragile!
To get it all painted, I like to set my cabinet doors and drawer fronts up on the driveway on sawhorses. It's the best way to spread out and get it all done quickly. One day when I was working on this, though, it was raining. So, that made it impossible to set up in the driveway!
Thankfully, I recently discovered Wagner's large Spray Shelter and it saved my butt. Instead of having to wait until the rain cleared, I just set it up inside my garage and was able to keep painting. You can click here for my full review of this little guy and how to use it, but suffice it to say, I'm really grateful for it! It makes it so much easier to paint on really windy days, rainy days, and it's a new must-have tool for me.
The New Black Kitchen Island
And that brings us to the final product – our gorgeous black kitchen island!
I'm really (really) happy with how this turned out. I think it grounds the kitchen and makes it feel much more me. There are still plenty of changes I'd like to make in this kitchen, but this project made me fall a little bit more in love with it.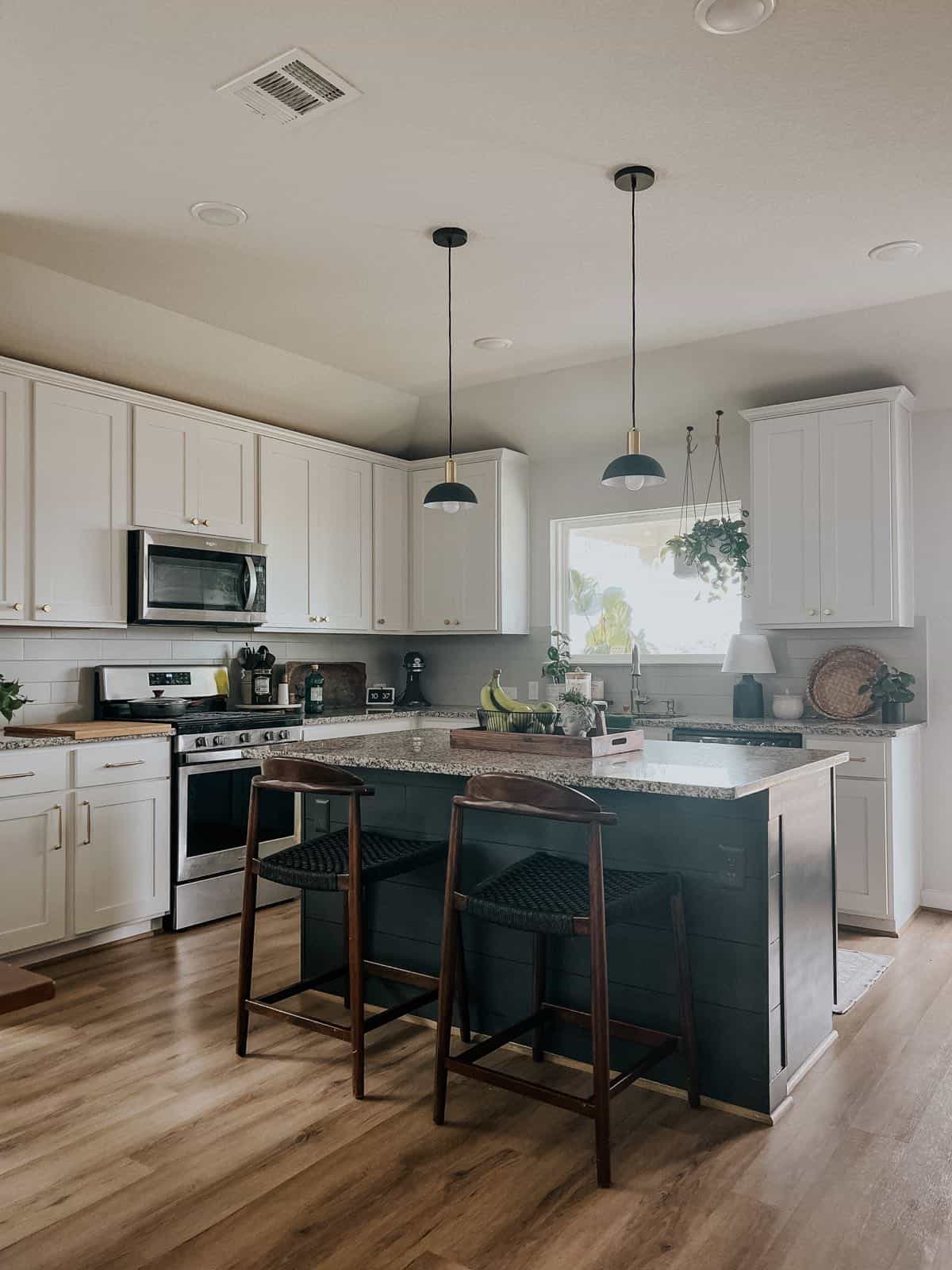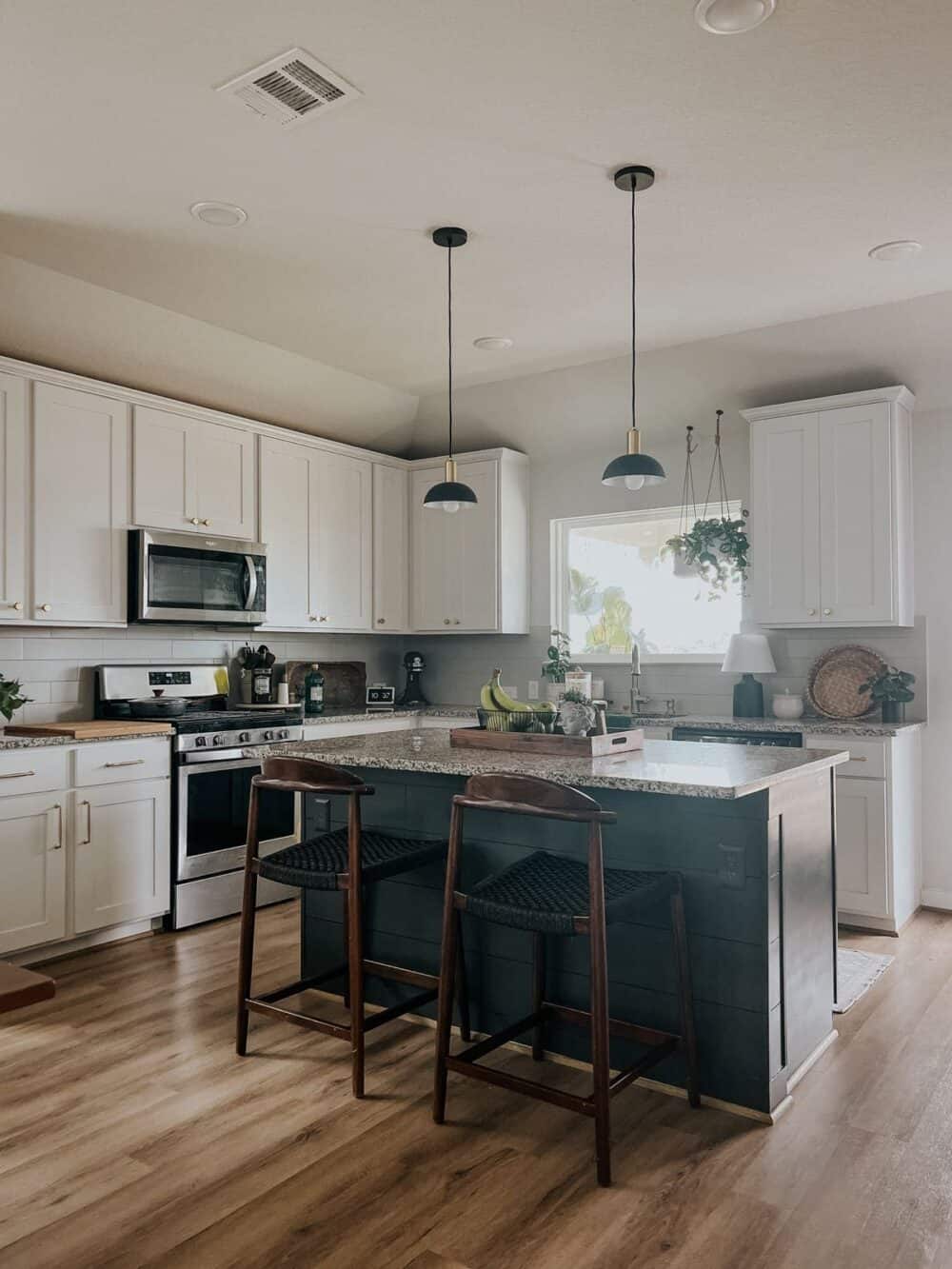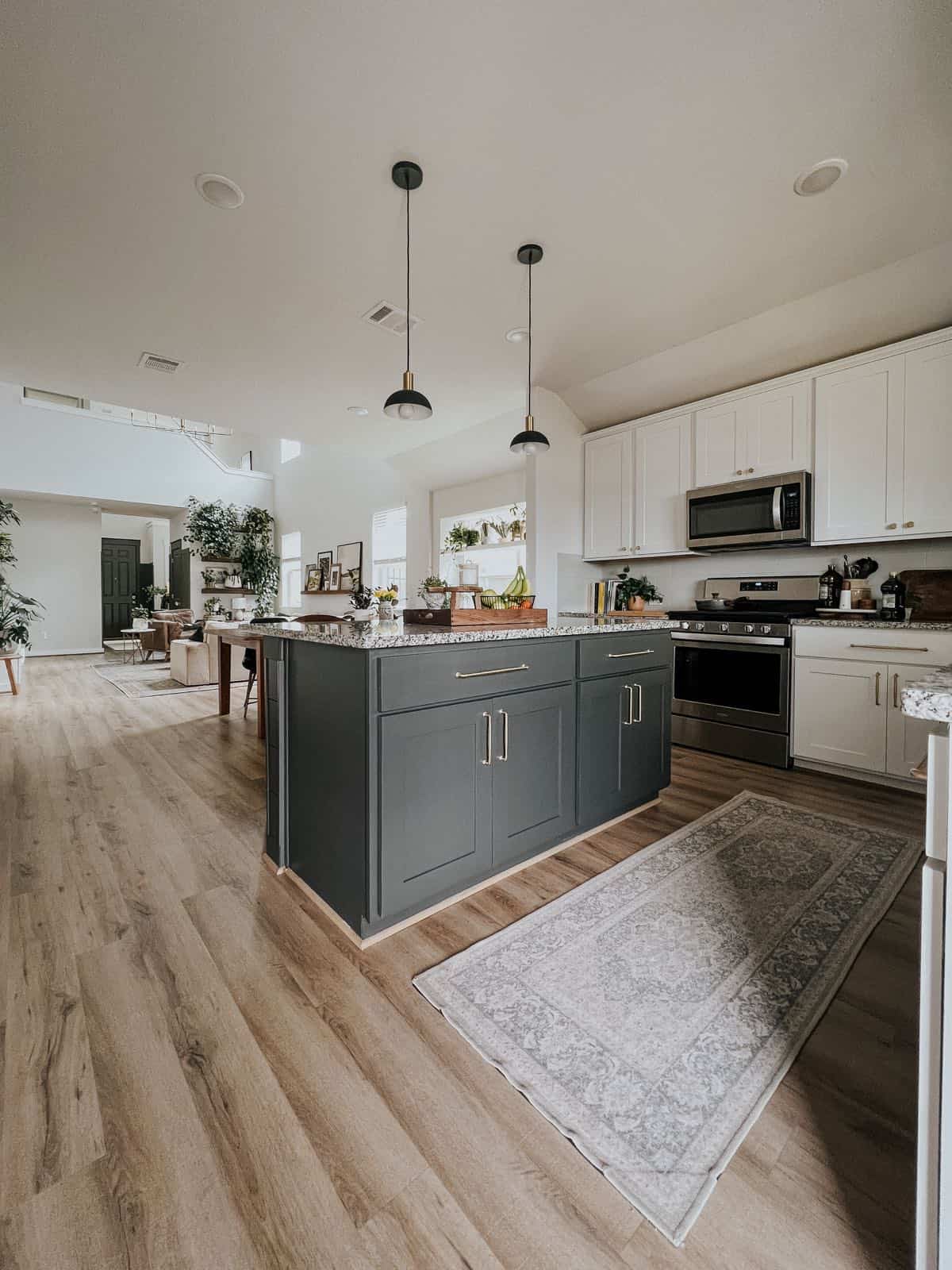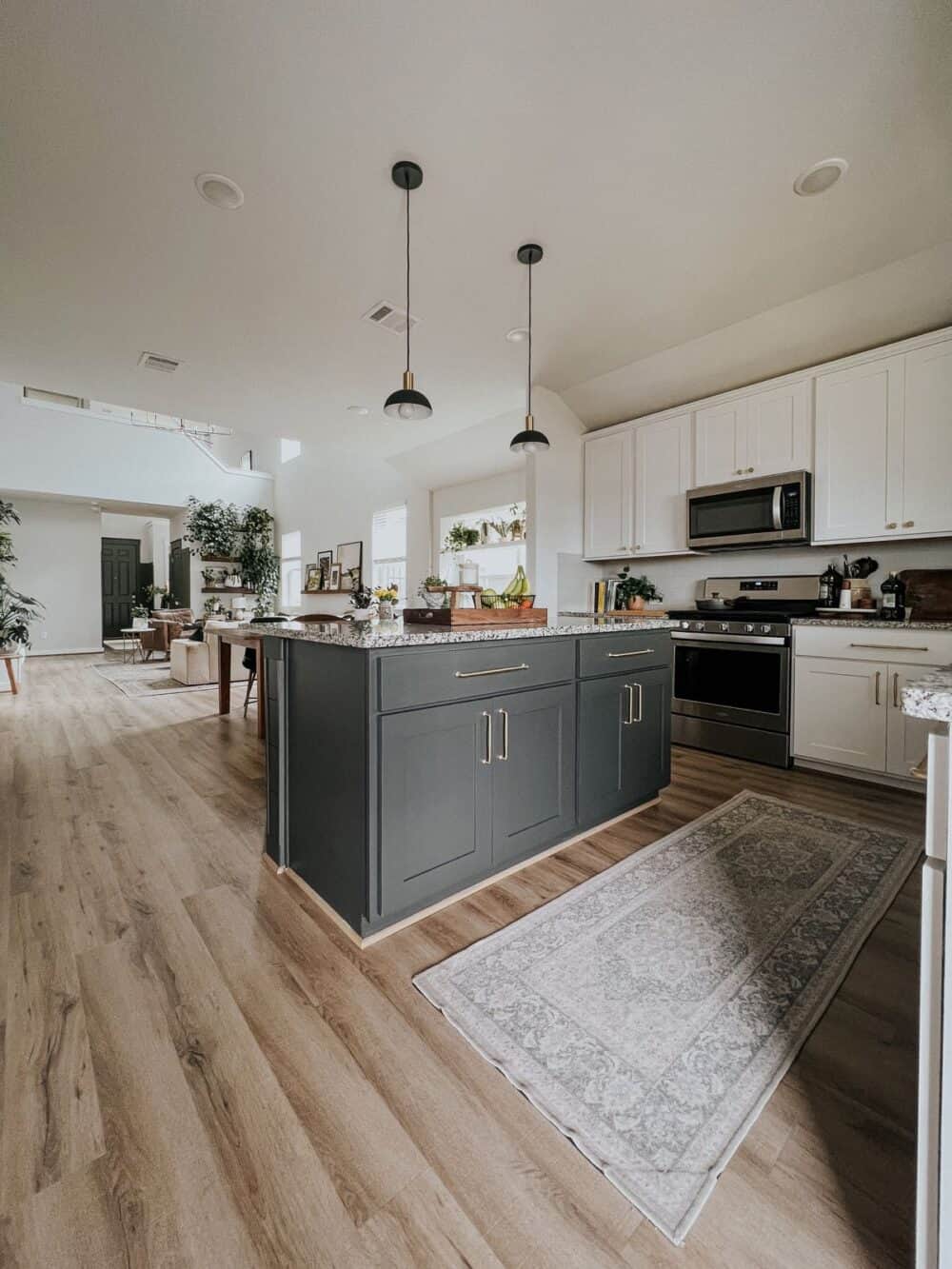 I know painting kitchen cabinets can feel really intimidating – but I promise it's worth the effort! If you decide you want to give it a go, be sure to try out Wagner's FLEXiO 3500. I wouldn't ever try this again without it.
Want Your Own Black Kitchen Island?
If you want to add a black kitchen island to your home, never fear! There are tons of really cute black kitchen carts and small kitchen island options that you can purchase to add to your kitchen.
I've rounded up a few of them below.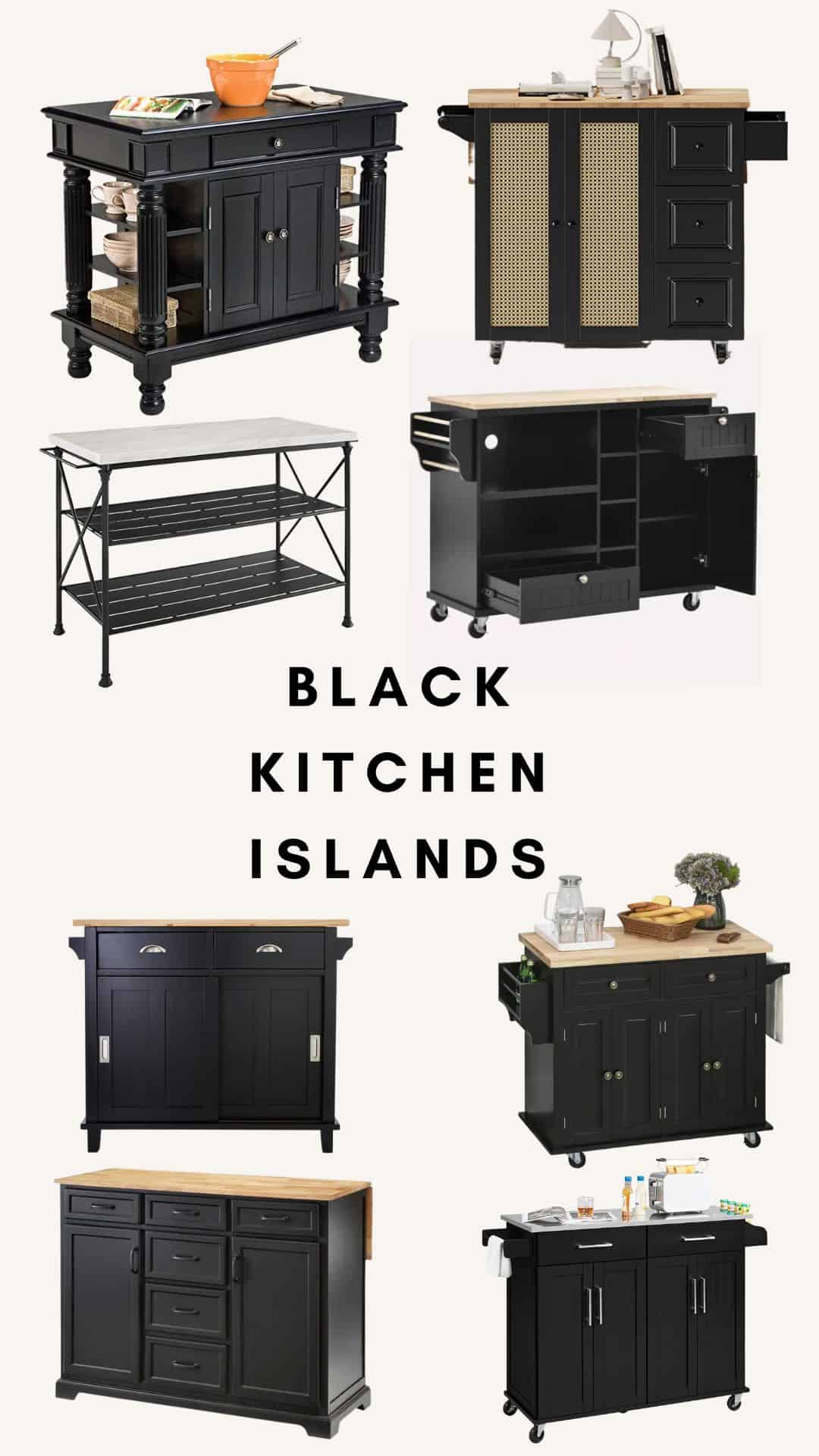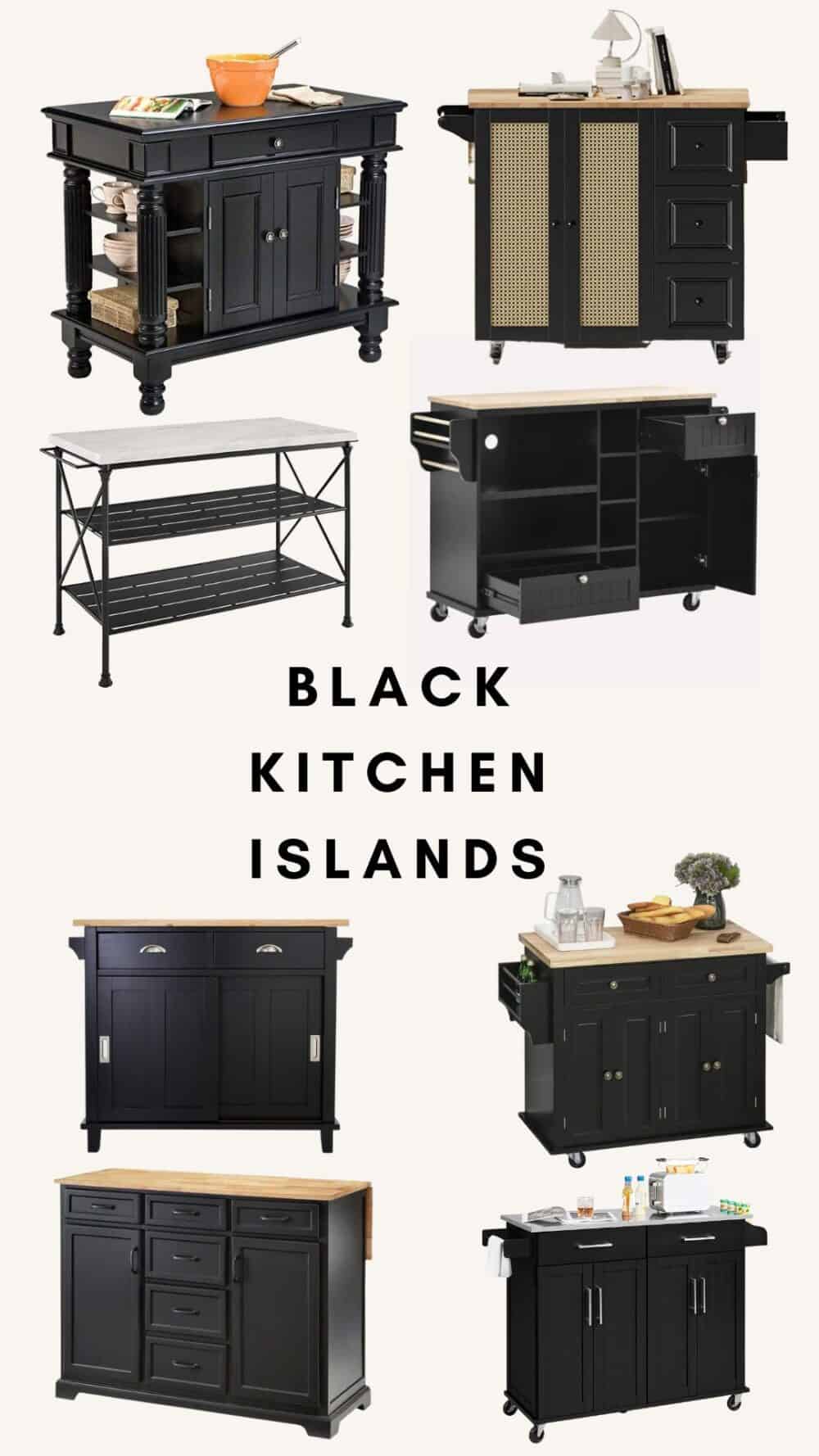 Black Kitchen Island Options
I love the leg details on this gorgeous black kitchen island. It has a drawer and cabinet for storage, and a black countertop, which makes for a really streamlined look. It has adjustable shelves, too, so you can make sure it suits your needs.
The caning detail on the doors of this island is absolutely beautiful. It has storage on the side for a dish towel and paper towel roll, which makes it super functional for the kitchen!
This black finish metal kitchen island has a really pretty faux marble top. I think something like this would be a great addition to a dining room, too, as it would be the perfect place to serve up a meal!
This kitchen island cart has a bit of an industrial feel, which I love. The wheels make it super functional, and it has a solid wood top. It has generous drawer space, and tons of shelving!
I love the sliding door fronts on this island, and the drawer pulls add a really chic look. I wouldn't even want to trade them out. The cabinet space looks big enough to store pots and pans, and the butcher block top is a great workspace.
Another wheeled cart – so great for a small kitchen! I like the shelf on the side for storing oil bottles, and this combo of drawers and cabinets is definitely my preference.
I love that this island has a drop leaf, perfect for adding stools to the counter! The extra drawers in this one are great too – I'm a big believer in drawers for great organization!
And finally, this guy is the most affordable of the bunch, and it has a stainless steel top, which adds a great industrial feel.