How to Repair Wood Veneer
Today I'm going to show you how to quickly and easily repair chipped or cracking wood veneer on a piece of furniture.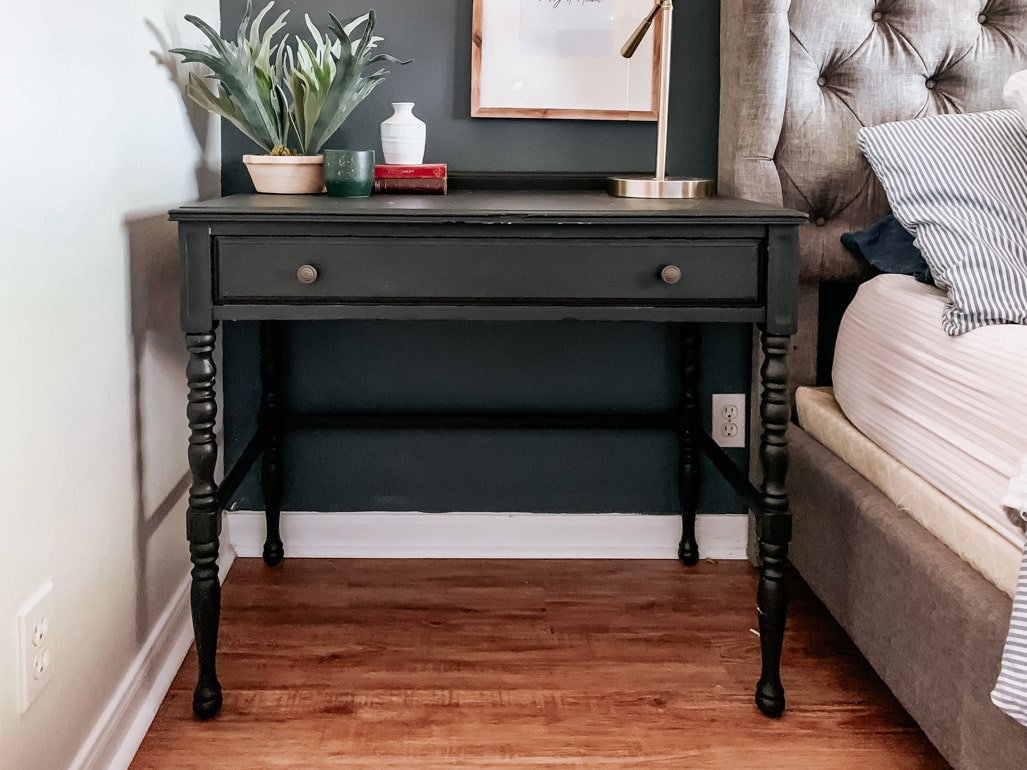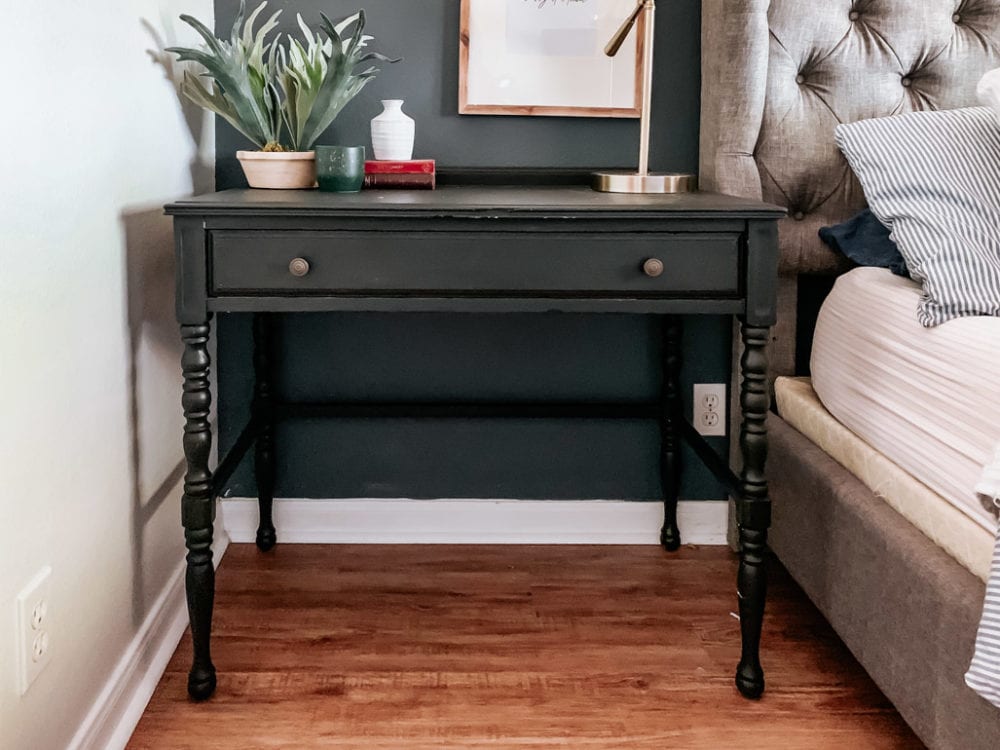 Have you ever bought something at the thrift store or on Facebook Marketplace, only to get it home and realize that the wood veneer on it is chipped, cracked, or otherwise just in bad shape?
Because, my goodness, this has happened to me more often than I'd like to admit.
I recently found the cutest little desk on Facebook that I just had to have for my bedroom, but it wasn't until we had paid for it and were putting it into the truck that we realized there was a large spot on the top of the desk where the veneer had bubbled up and was peeling away. It was not a cute look, but at this point I was fully in love with the desk and there was really no turning back.
The desk sat in my bedroom, terrible veneer and all, for months while I tried to figure out what to do with it. I wanted to leave it wood-toned, but repairing wood veneer to the point of being able to stain it requires a high level of skill (and patience) that, quite frankly, I just don't have. Repairing it to be painted, however, is a much simpler story. So, after doing aaaaaaaall the research, I finally decided that I was going to give it a new look with some paint and a quick veneer patching job.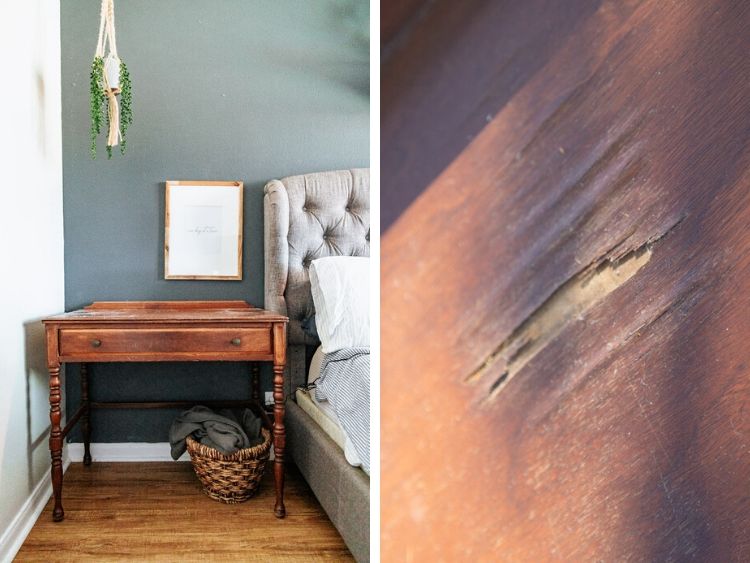 This post is sponsored by Mohawk Consumer Products. Thanks for supporting the brands that support Love & Renovations!
Before we dive into the full tutorial, I did make a quick video to show you how the process works in real time. If you're a visual learner, that may be more your speed!
You can watch the video below, or click over to my YouTube channel and find it there. Of course, for those of us who prefer to learn our information in written form (raising my hand here) or even a combo, I've got all the details for you after the video!
But, don't skip watching it. There's nothing more satisfying than seeing that veneer pop right off in hyper-speed.
Alright, ready for the nitty gritty? Let's do this.
How to repair damaged wood veneer
Materials Needed:
Utility Knife
Sandpaper (If you've got a powered sander, use that!)
Paint + paintbrush
Remove the damaged veneer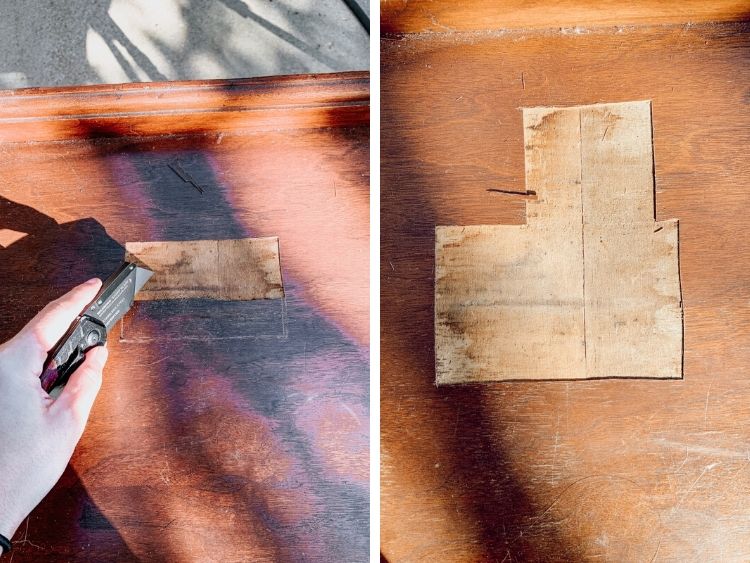 The first thing you'll need to do is pull up the cracked or damaged veneer. The method you use will vary slightly depending on the location of the damage, but for me it was on the top of the desk so it was pretty simple.
I just grabbed my utility knife and scored all around the damaged area, then used the blade (or my fingernails) to pop it right up.
Prepare epoxy putty stick
I've used Mohawk's Epoxy Putty Sticks once before on a little dresser that was damaged, and I was so impressed with how simple it was to use that I knew it would be the perfect tool to fix this desk too.
I know when you hear "epoxy" you might get a little intimidated, but I promise there's no reason to be nervous. This is one of the simplest things you'll do – if you can play with Play-Doh, you can apply this stuff!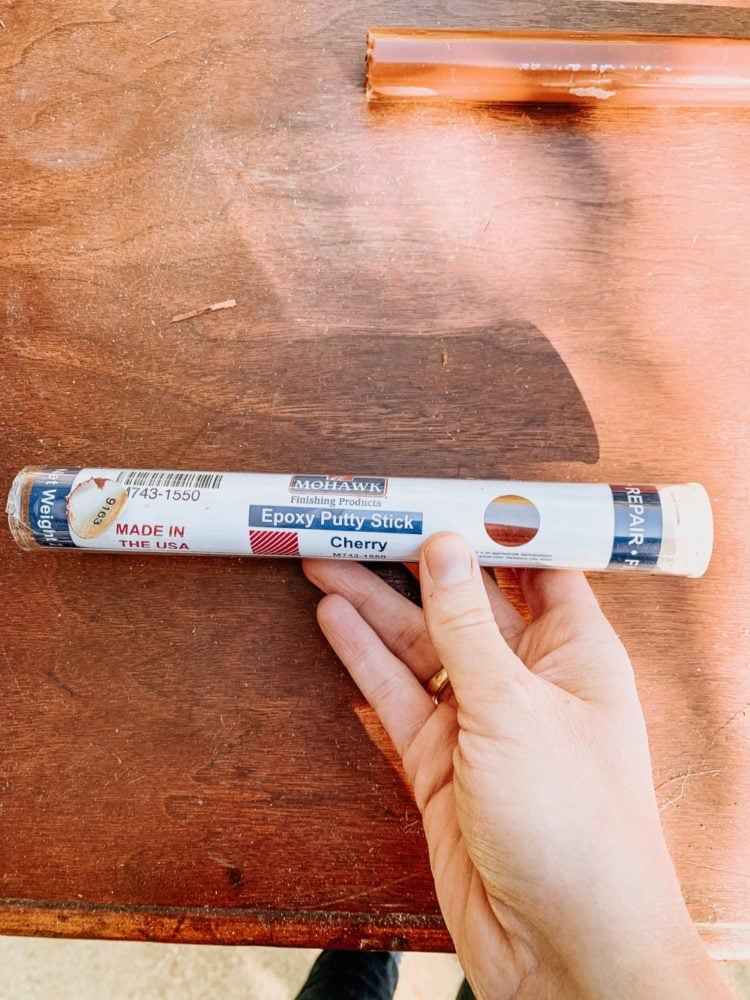 All you need to do is use your utility knife to cut off a small piece of the epoxy putty, then use your fingers to mix it up until it's all one uniform color. You can see what this looks like close-up in the video above!
Once it's all mixed, you have about 2 minutes to work with it and get it into place before it hardens. It should be more than enough time if you're mixing up small batches (which I recommend!).
Simply press the epoxy putty into the damaged area and flatten it out to make it as level as possible with the top of the desk. Last time I used this I was repairing a corner, so it was a slightly different shape, but the idea is the same. Just form the putty to match the piece you're repairing as closely as possible.
Don't stress too much about perfection here. You'll be sanding it down once it dries, so you don't need to get it perfectly flat or smooth. Just try not to pile it on too thick, or else it'll require more sanding later.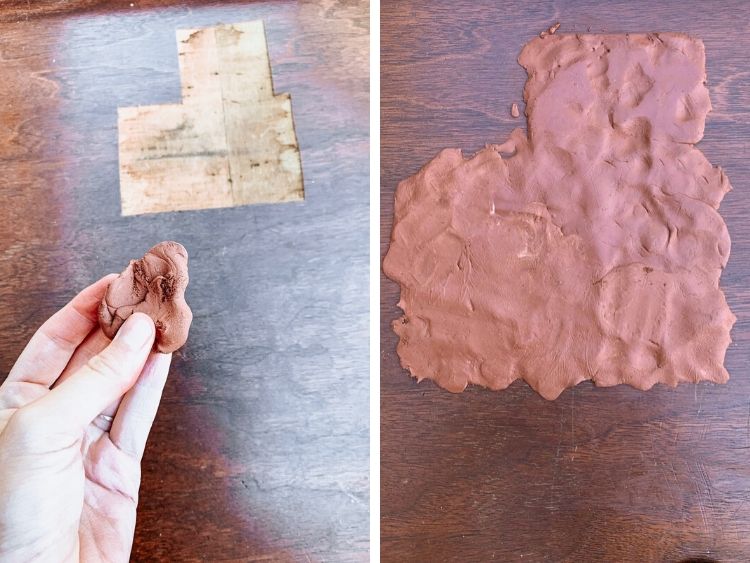 Sand the excess putty off
The epoxy putty only requires about 30 minutes to dry. Once it's fully cured, grab your sandpaper and get to work. I highly recommend using a power sander for this step (it'll make your life waaaaay easier), but if you have enough elbow grease you can do it by hand.
I started with 80-grit sandpaper to remove as much of the excess as possible. Be careful with such a low grit on your actual furniture piece, though, because you don't want to damage it. I focused all of my sanding just on the putty until it was mostly smooth.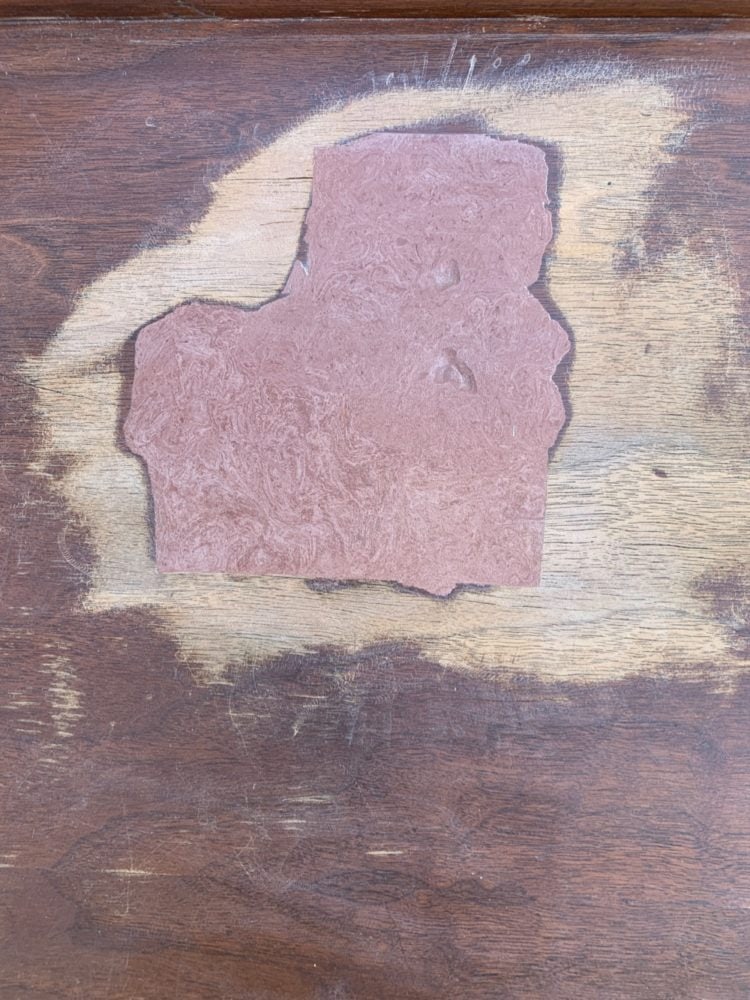 After I had removed most of the excess, I switched over to 180-grit sandpaper and sanded it until it was completely smooth. Run your hands over the patch to test until you can't tell where the patch ends and the furniture begins.
Remember that this is a pretty fool-proof process. If you don't sand enough (I didn't the first time), it'll be obvious once you add your first coat of paint. You can simply let the paint dry and then sand a bit more until it's smooth. Rinse and repeat until you get a finish you're happy with.
Paint the piece in your desired color
Now you're ready to give the rest of the piece a quick sanding and paint it!
You can read all of my tips for painting furniture right here if you're unfamiliar with it, but it's a simple process. I used this black paint that doesn't require a ton of prep (music to my ears), so I just quickly sanded the rest of the piece and then brushed on a couple of coats of paint.
Once that dried, I sealed the entire piece to help prevent any chipping, and it looked brand new.
I mean, you can't even tell that this was in such bad shape just a few days ago!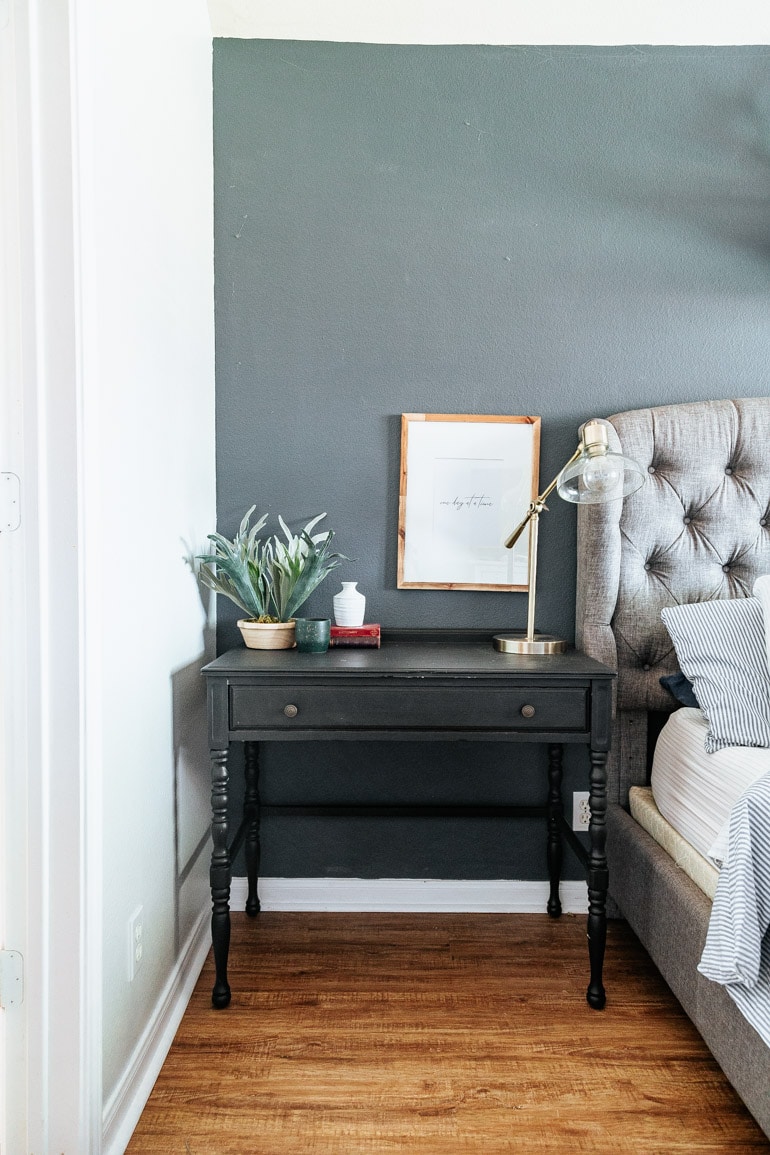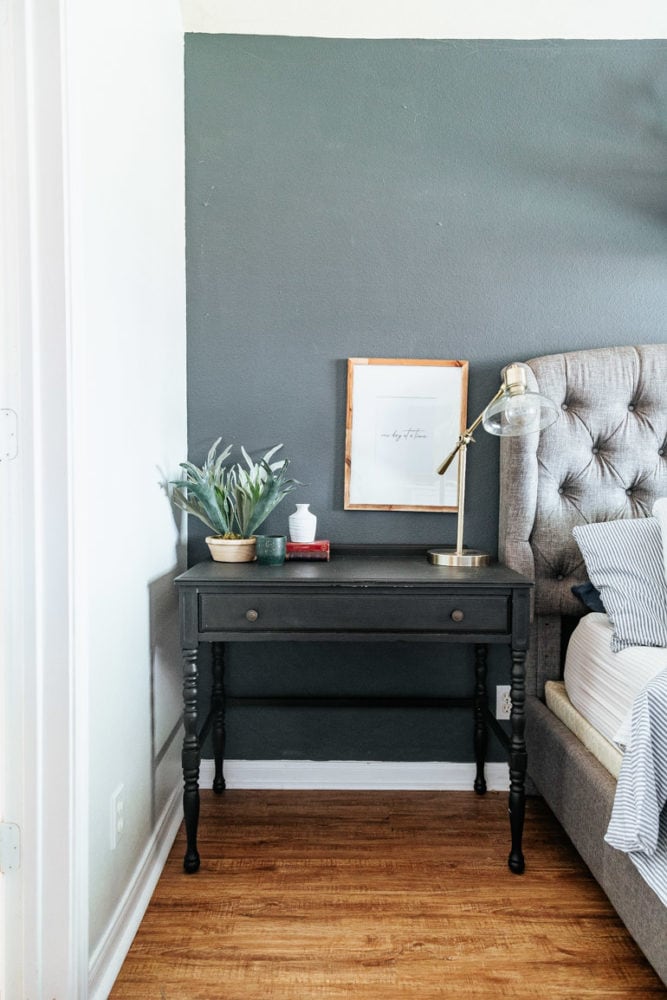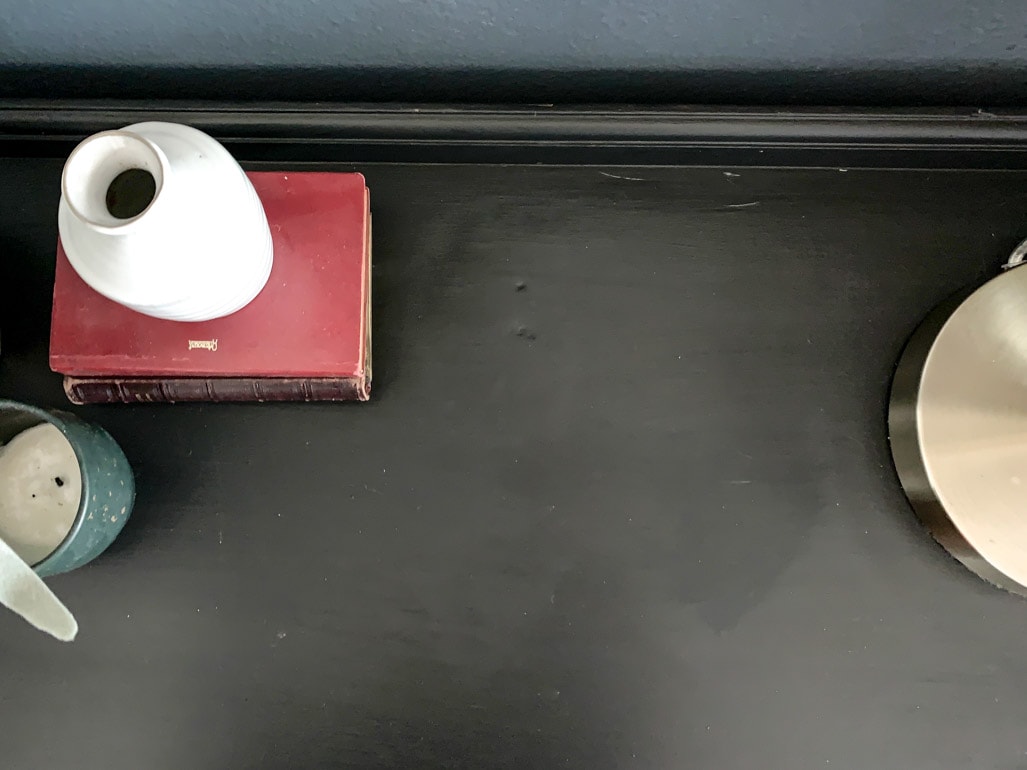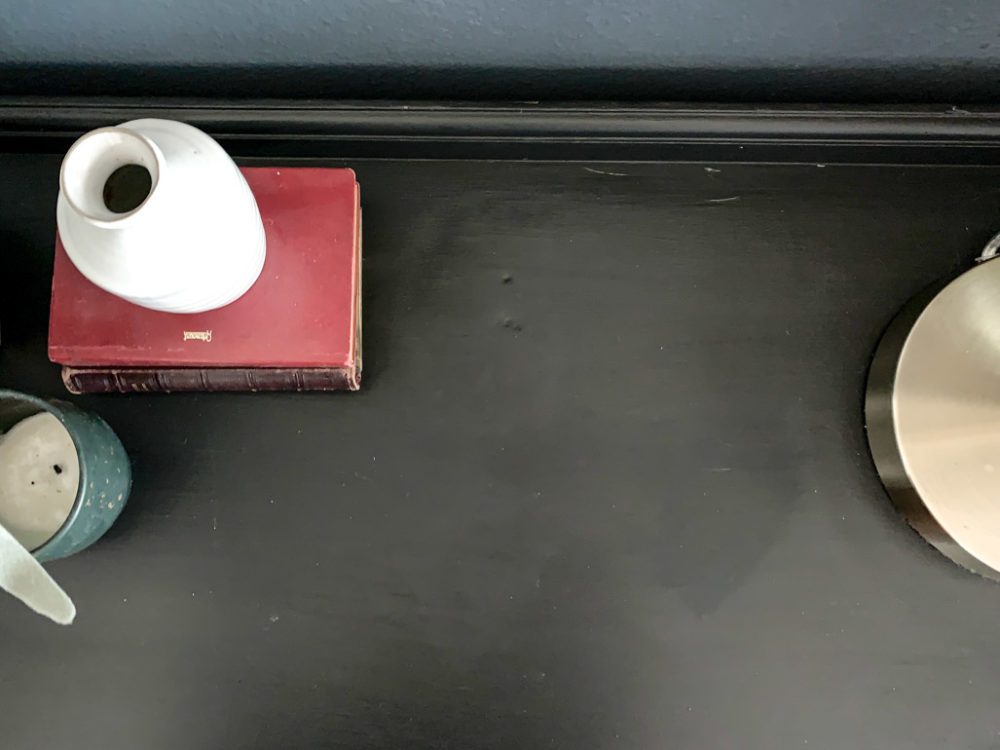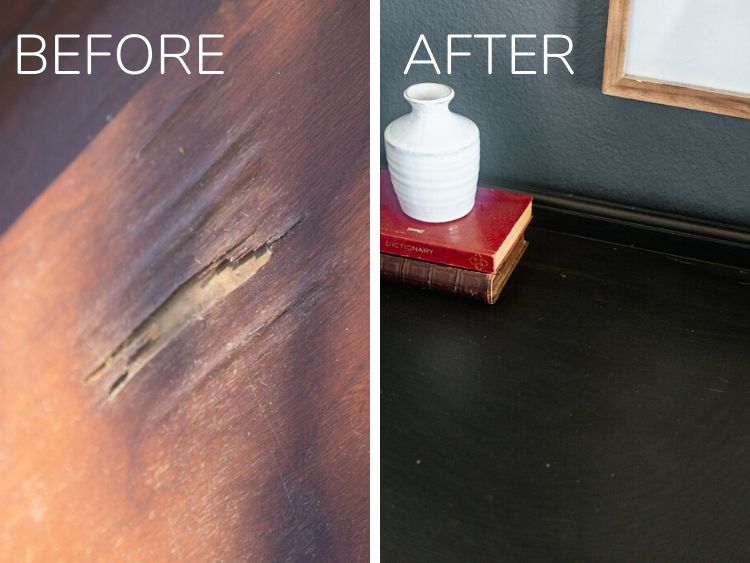 I placed the desk back into my bedroom for now, but when we move to our new house in a few weeks it'll probably end up living in the game room upstairs. I think it's the perfect spot for Jackson to do some LEGO building or drawing, and I don't have to worry about the veneer peeling up while he's working at it anymore.
When all was said and done, this project took me about 2 hours or so and I got it done from start to finish in just one afternoon.
It makes me feel a little silly to realize that it's been sitting in my room actively annoying me for months when I could have just knocked it out in a day.
Hopefully this inspires you to fix up that piece that's sitting in your house actively annoying you. Or, even better, to not be afraid to pick up that gorgeous dresser at the thrift store with a little bit of damage. Now, you know how to fix it.
You can find more information on Mohawk's Epoxy Putty Sticks on their website (including another video tutorial if one wasn't enough for you!), and you can purchase them right here on Amazon. They come in tons of colors and are incredibly affordable, so go forth and start fixing that wood veneer!