I love IKEA. It's almost comical when we have someone over for the first time and they comment on things in our house – I feel like at least 80% of the time when they ask where we got something, my answer is "at IKEA."
We've done a lot of different IKEA hacks and upgrades over the years (like Jackson's play kitchen and play table, the nightstands in our guest room, and our kitchen island), and we regularly hit up the store just to look around and get inspiration for what we want to do next. I'm currently brainstorming and narrowing down the options for how I want to upgrade our NORNAS sideboard in the living room, so I've had IKEA hacks on the brain lately. I thought it would be fun to round up a few of my favorite IKEA hacks from around the web – these are all seriously creative and I promise you'll walk away from this post with a major itch to do some IKEA shopping!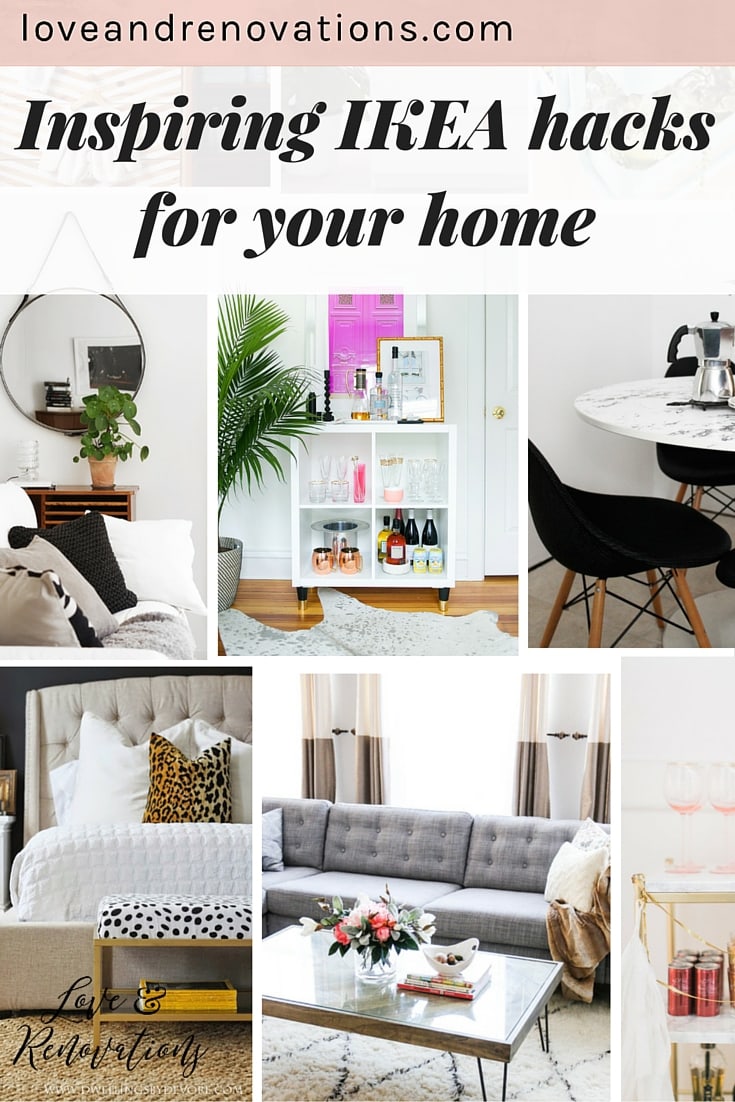 Let's get to it, shall we?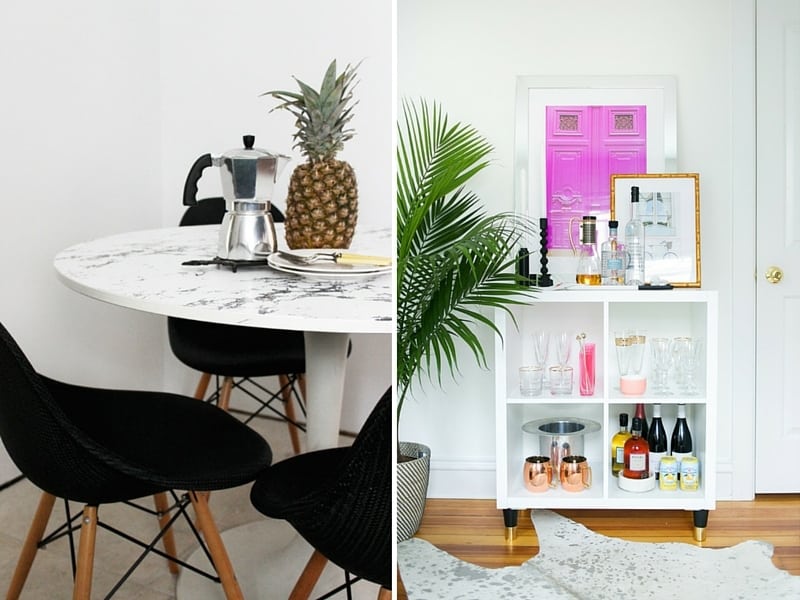 That table is covered with contact paper – can you even believe it? I've actually been thinking lately about how we could upgrade our IKEA tulip table because the top is looking a bit worse for the wear, and this idea is fantastic. You might see a copycat project from me soon! I also love the idea of using those cute tiny little bookcases as a bar cart – add some legs and it looks much more high end! That post from The Every Girl also has two other ideas for using that shelf in a creative way, and they're all gorgeous!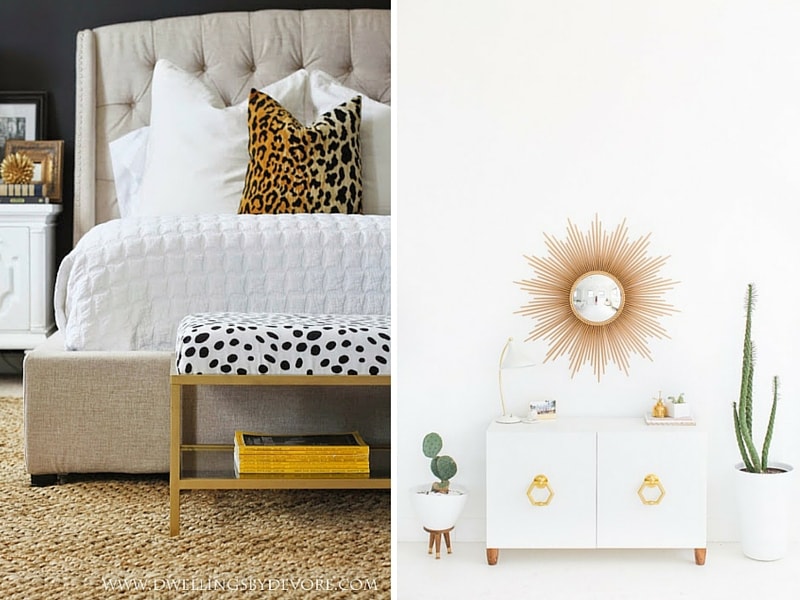 Dwellings by Devore // Sugar & Cloth
That bench is actually a television stand! I've seen that project floating around the internet for a few years now and I drool a little bit every time I see it. I think it's absolutely beautifully done, and I wouldn't have ever have thought to do that! And, the sideboard on the right? I don't think I ever would have guessed that was an IKEA piece! Those handles are absolutely insane (they're actually repurposed door knockers!) and I'm more than a little in love.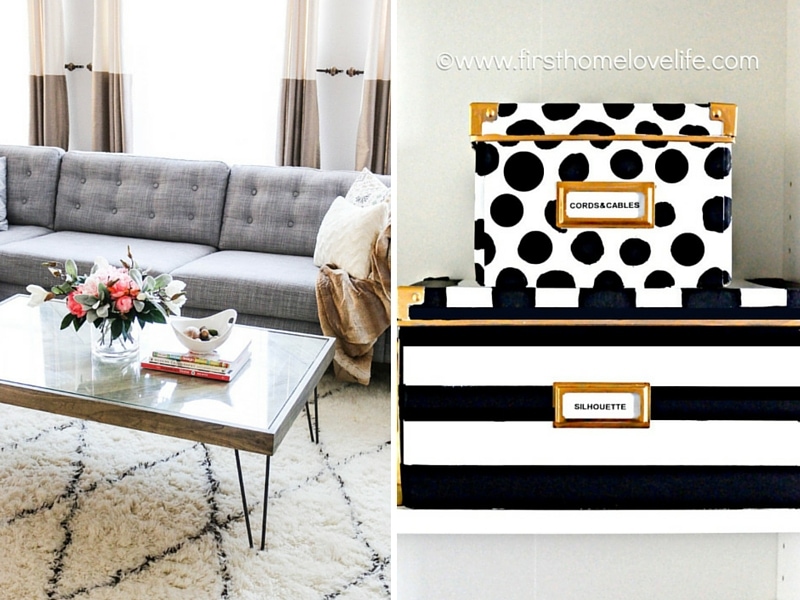 First Home Love Life // Oh Everything Handmade
I absolutely love the idea of tufting the couch cushions on the Karlstad! I am seriously considering trying this on our couch, but it would mean I couldn't take the cushions off to wash them anymore, so I'm a little unsure. With a toddler and two dogs the washability is key. I also have several of those little boxes around our house already and I never thought to paint them! I love the detail of also painting the hardware gold – these look so high-end and fancy – who would've guessed it's just craft paint?!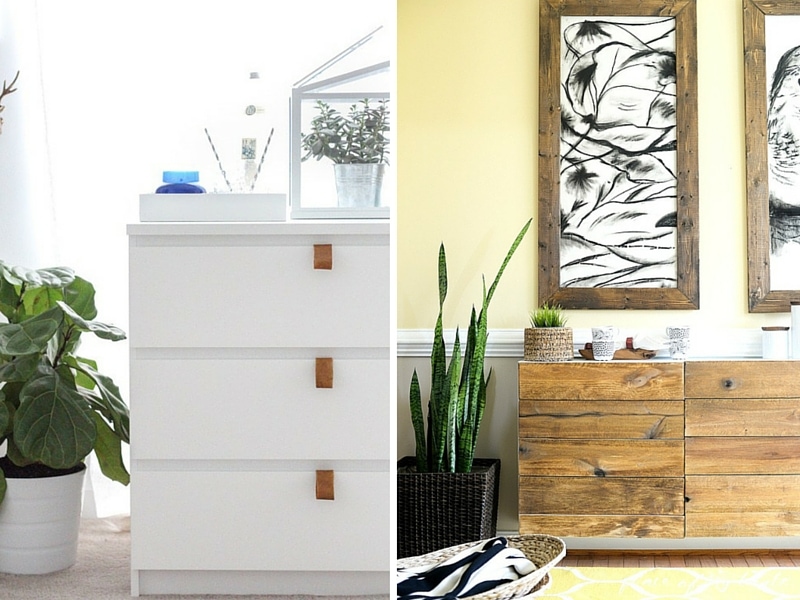 Sugar & Cloth // Place of My Taste
I love the simplicity of the Sugar & Cloth project – sometimes all it takes to make an IKEA piece look really elegant is a little personal touch. Those leather drawer pulls are gorgeous and I've seen similar drawer pulls all over the place lately. It's such a fun and easy way to add some unexpected texture, and they look so beautiful! And, um, can we please talk about that reclaimed wood floating sideboard? What an amazing way to take some IKEA cabinets and turn them into something incredible.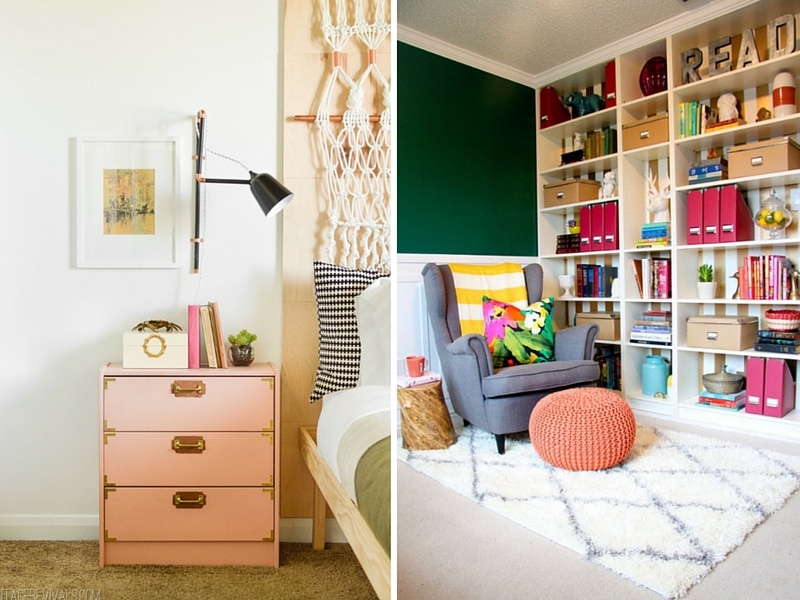 Vintage Revivals // Love & Renovations
I am obsessed with basically everything Mandi does, so no surprise that I love her RAST hack. These little dressers are so versatile (we hacked some for our guest room a few years back!) and they always seem to turn out looking awesome. I love the color she went with, and the leather detail behind the hardware! Oh, and I couldn't resist including our BILLY bookcase hack in the roundup! We've redone that room since the photo was taken (it's now Jackson's nursery), but those cabinets are still in there (now with doors!) and we love them so much. It's amazing how much of a difference it makes to build something like that in – it feels so custom and fancy, but they're just cheapo bookcases!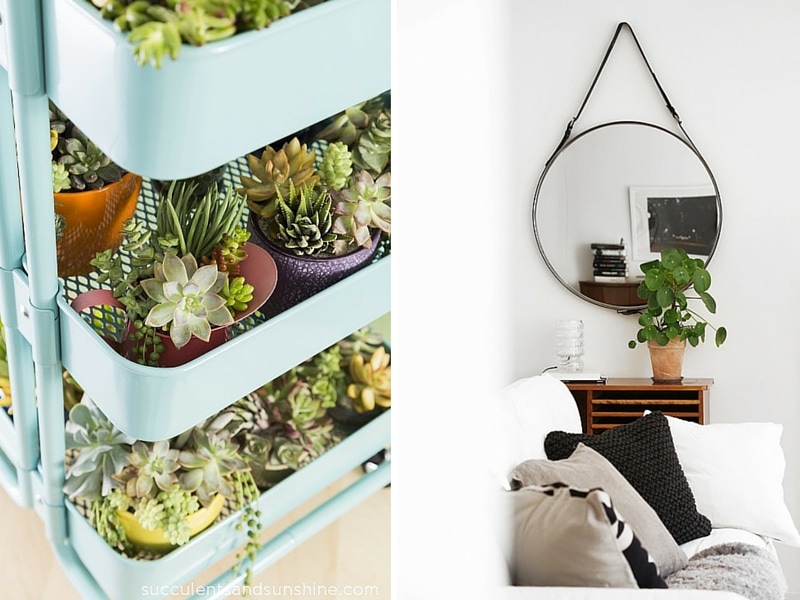 Succulents & Sunshine // Sarah Widman
I have a major crush on this incredibly versatile cart from IKEA and I adore the idea of turning it into a succulent garden! How cute would this look hanging out on a patio? I am so inspired by this and I feel like succulents are probably a plant that I could keep alive with some effort (although, I've killed them many times before). I am also all over that belted mirror hack. The tutorial isn't in English, but it's pretty easy to figure out how it was done – I love that round mirror already and I think adding the belt to it makes a huge difference to make it feel more custom and high-end.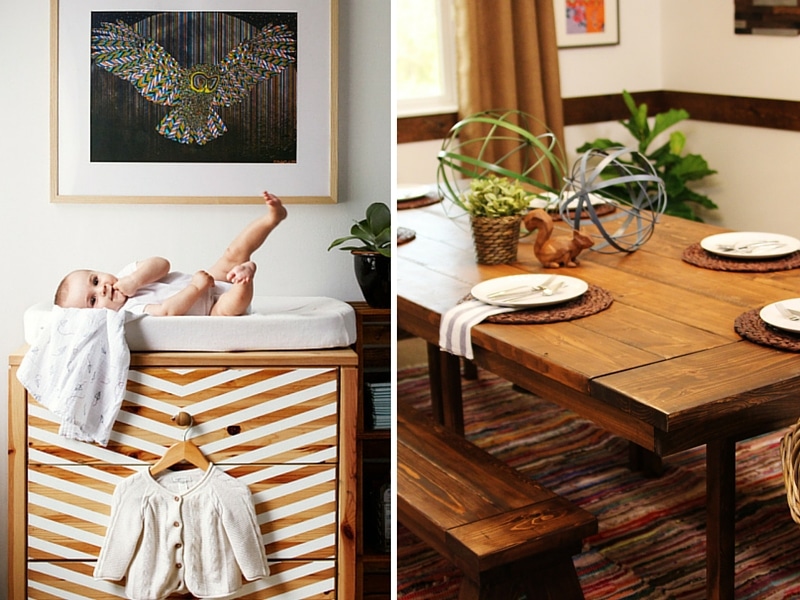 Design*Sponge // East Coast Creative
Are you kidding me with the paint job on that dresser? I can't get over how beautiful it is and never would have guessed it was an IKEA piece! It's such a great reminder to me that sometimes all you need is a little bit of paint applied creatively to take something from "fine" to "amazing". I've also always loved that DIY farmhouse table hack from East Coast Creative – that's a tiny little IKEA table under there! It's such an awesomely inspired way to get a majorly beautiful table on a super tiny budget, and I don't think I ever would have thought to try that!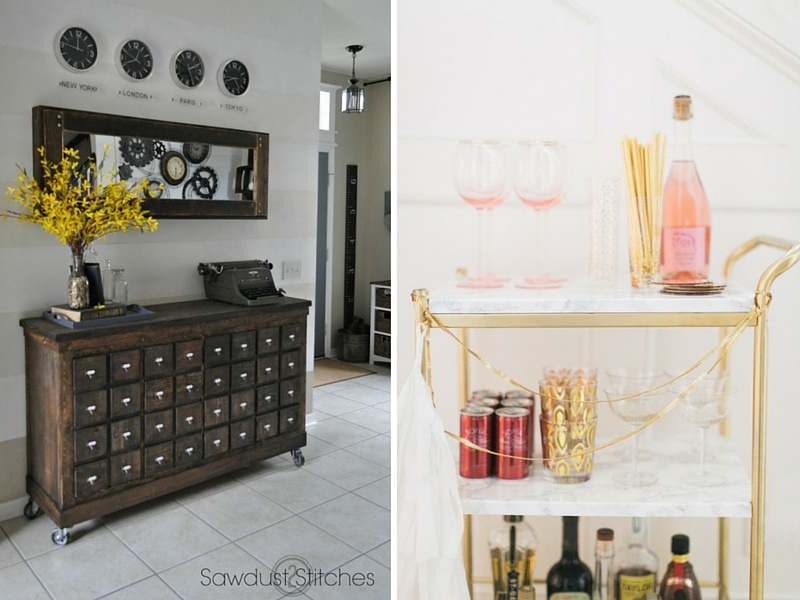 Sawdust 2 Stitches // Style Me Pretty
That sideboard is so gorgeous, and once again it's kind of shocking that it was originally a humble little IKEA piece. I love how it looks like a card catalog, and I'm always a fan of anything with casters. Corey and I have also been talking about getting a bar cart for forever and I love how high-end that gold one looks – such a creative DIY! I think that's a perfect option for when you want a bar cart but don't have the space for one – this one is tiny, affordable, and adorable!
* * * * *
Which one is your favorite? Any suggestions for what we should do with our sideboard??