I'm rarely as excited for the end of a month as I am at the end of each November. Why? Because tomorrow, the holiday season really kicks off in our house. Our elf, Hermey will arrive. We'll start our holiday advent calendar. The fun really all begins tomorrow and I think there's a solid chance I'm even more excited about it than my children are.
What can I say? Christmas is my very favorite.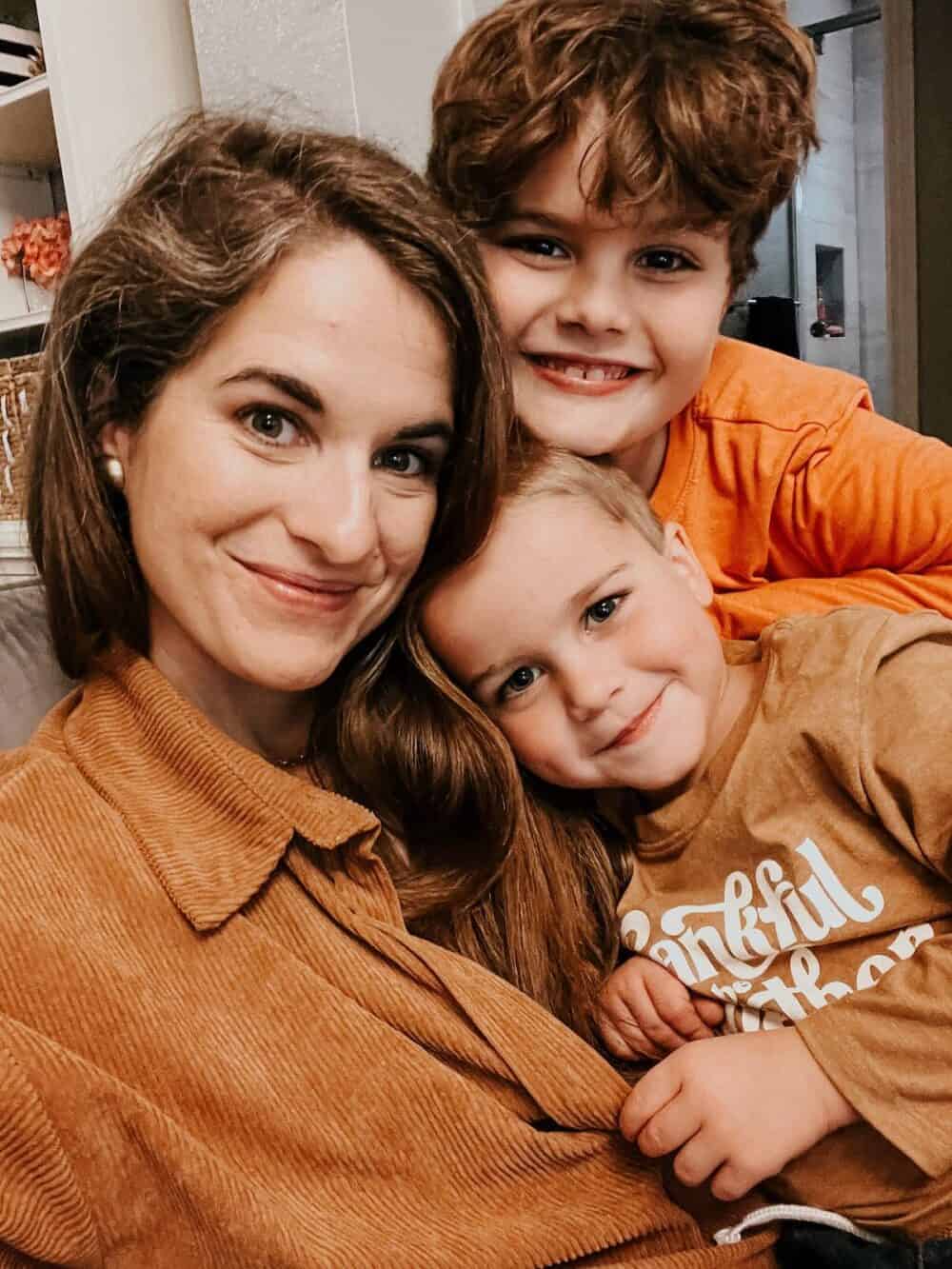 Despite my excitement, I have to admit November flew by in a complete blur. I feel like Halloween was yesterday. I'm honestly still having a hard time processing the fact that Christmas is less than a month away, because I still feel like it's mid-September. But we're here, and I'm ready to embrace every second of it. So, let's wrap up this month with a quick recap of what happened around here, a few favorite things, and all the things you loved the most this month!
in november, we…
My November favorites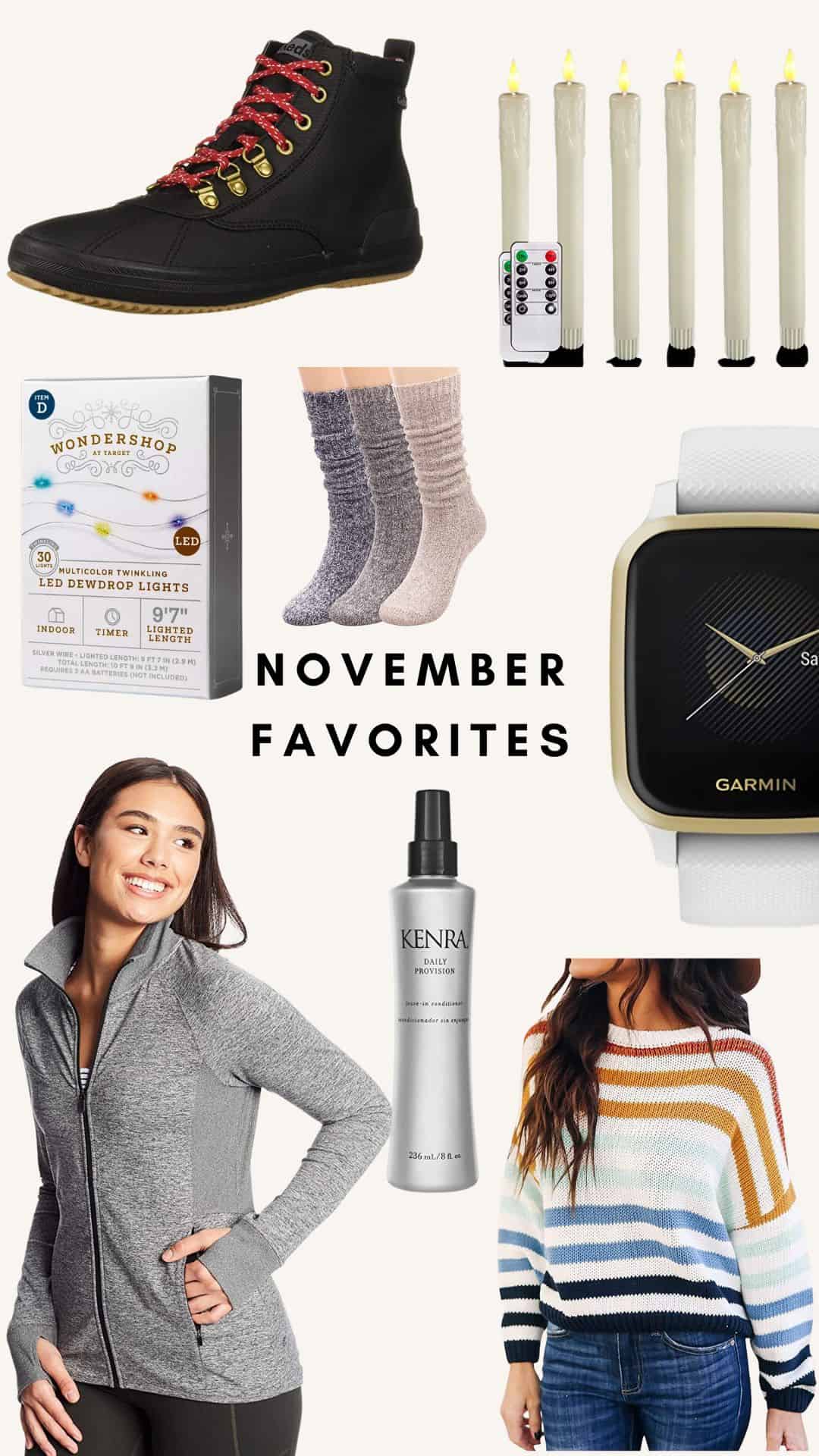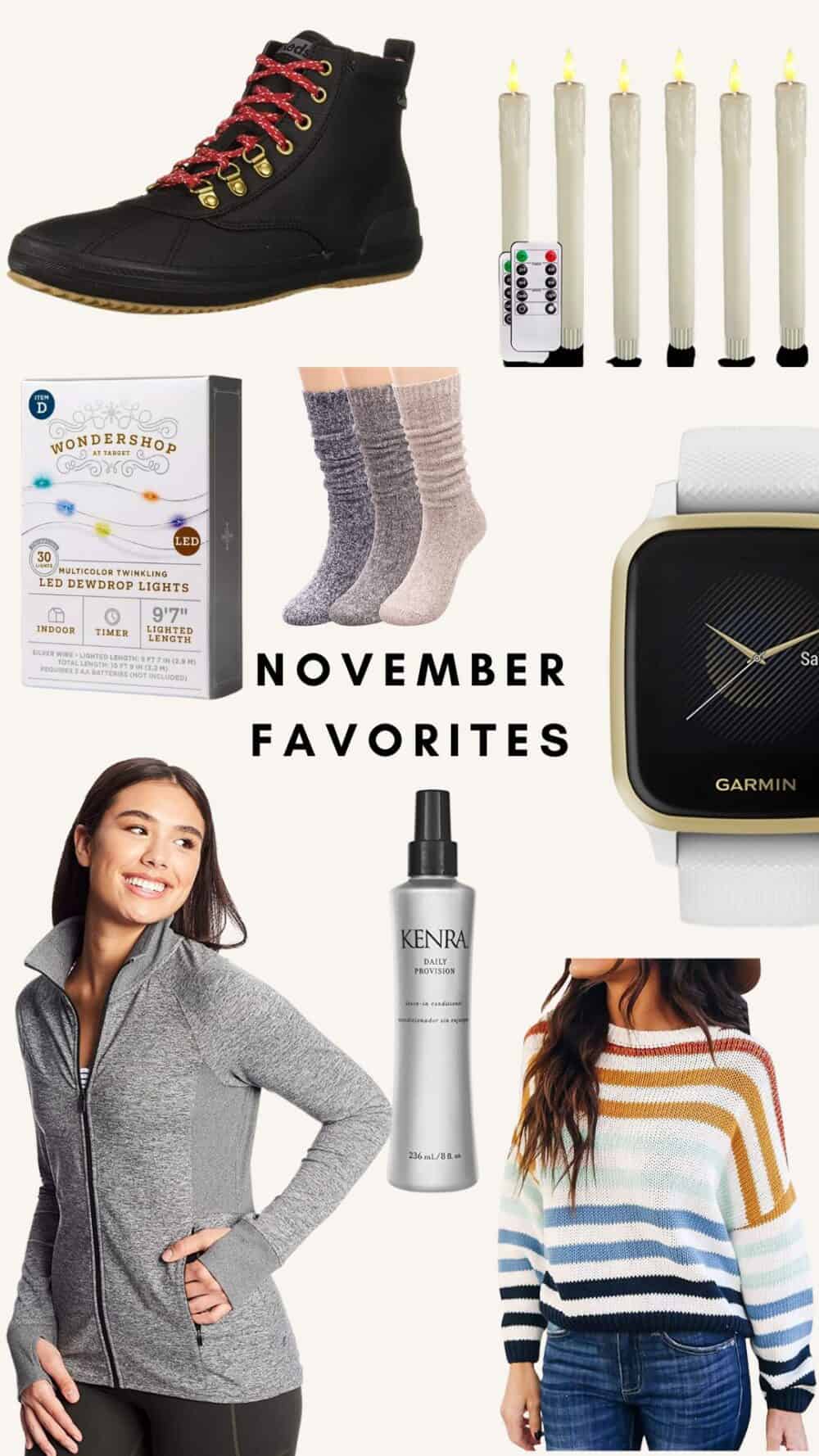 I always wear these boots pretty much nonstop in the fall and winter, and I was so excited to bust them out as soon as it got cold around here. They're so comfortable, they look cute with anything, and they're super lightweight. I've had them for three or four years now and they still look brand new!
I know I also had flameless candles on my October favorite list, but I can't not mention these faux candlesticks I got for our dining room table. I had only planned to keep them out at Christmas, but we love them so much I might just have to leave 'em out all year long. Who wouldn't want a candlelit dinner every single night?!
I've been wearing these socks nonstop since I got them. They're warm and cozy (without being too thick). They look adorable peeking out above boots. They make me feel kinda cool (you know you've seen all the kids wearing them lately). Basically, I'm a big fan.
If you follow me on Instagram, you know these little fairy lights have to be on the list. I buy a strand or two almost every single time I'm at Target, and I have them scattered all over the house. They're the perfect way to add a little Christmas glow anywhere in your house, and I cannot rave about them enough. The best part? They have a timer so if you turn them to the timer setting at the time you want them to turn on, they'll run for 6 hours, then turn off for 18. It's instant Christmas magic in my home at 4:30 every night!
Been feeling extra grateful for my Garmin watch this month. I'm training for a marathon (it's next weekend!), and I have been relying heavily on it for the last couple of months. For years I always said I didn't need a fitness watch, but now I can't imagine life without one!
Speaking of marathon training, I snagged this zip up jacket to wear in the cooler weather and I've been wearing it on every single long run lately. I think it'll be what I pull out on race day, too! It's lightweight but warm and the perfect snugness.
I tried this leave-in conditioner this month because I ran out of what I was using, and I'm a huge ran! I spray it in my hair after the shower while it's still damp, and it makes my hair so soft. It really cuts down on frizz and makes a huge difference all around. It's got a built-in heat protectant too, which is a huge win!
I fell in love with this rainbow sweater last winter and it's already one that I'm reaching for constantly again. It's cozy and flattering and fun and just makes me smile every time I put it on!
A few non-linkable favorites? My weekly Jersey Mike's sub (and cookie!) to reward myself after a long run. Our every-Friday trip with our besties to get slushes after school. Snuggles with the boys while we watch a Christmas movie (or the latest episode of The Santa Clauses!). And finally convincing Corey to watch – and fall in love with – Breaking Bad.
Your November Favorites
And, of course, I always like to share a few of the things you loved and purchased most this month! Here are your top 5:
And that's a wrap on November. Be sure to follow all of the Christmas fun over on Instagram – I'll be sharing all of our activities every day and it's always a total blast.