This week marks three years of living in this house. Part of me can't believe it's already been three years – I still regularly marvel at how much I love our home. It still feels fresh and new and exciting! But, part of me feels like we've always been here. This house is home. We're more established in this neighborhood in three years than we were in almost a decade in our old one. We love our neighborhood school, the people, the things around us… I just can't imagine being anywhere else!
Every November I like to take a minute to share some photos of our home, as we live in it. Home tours are fun and I do it partly to mark the passage of time and celebrate the changes we've made. But for me, there's so much more.
I love taking the time to get my house all gussied up, clean it from top to bottom, and capture a moment in her history. It feels like a celebration of our home. We always call this week our house's birthday, and we even have a few birthday traditions that we partake in on the anniversary of the day we moved in. I know it's cheesy, but I sometimes think of our home as a living organism. She takes care of us. She keeps us warm. She's special and she's worth celebrating!
I also love having the photos to look back on. It's so fun to show the boys what our homes looked like when they were smaller, and they love seeing how our homes evolve. Even if you don't share your home on the internet, I think it's worth the time to do a little "house tour" for your own family every year. That's why I don't style or get too precious about how the house looks. I want it to look how it does on a day to day basis (except, you know, cleaner).
Take the time to clean her up. Celebrate her with some photos. Just use your phone, no need to get fancy!
Then, print them out or save them somewhere so you can look back. I promise, you'll love seeing the stuffed animals your kids insisted on keeping on the bed, the stray toys you missed cleaning up under the couch, and the sleeping dogs who refuse to get out of the frame.
That's why I do house tours. For the memories. It's more special than I can say!
past house tours
Speaking of memories – if you want to catch up on all the old house tours from this house, here they are:
Welcome to year three! Ready to dive in?
2022 house tour: three years in our home
The Exterior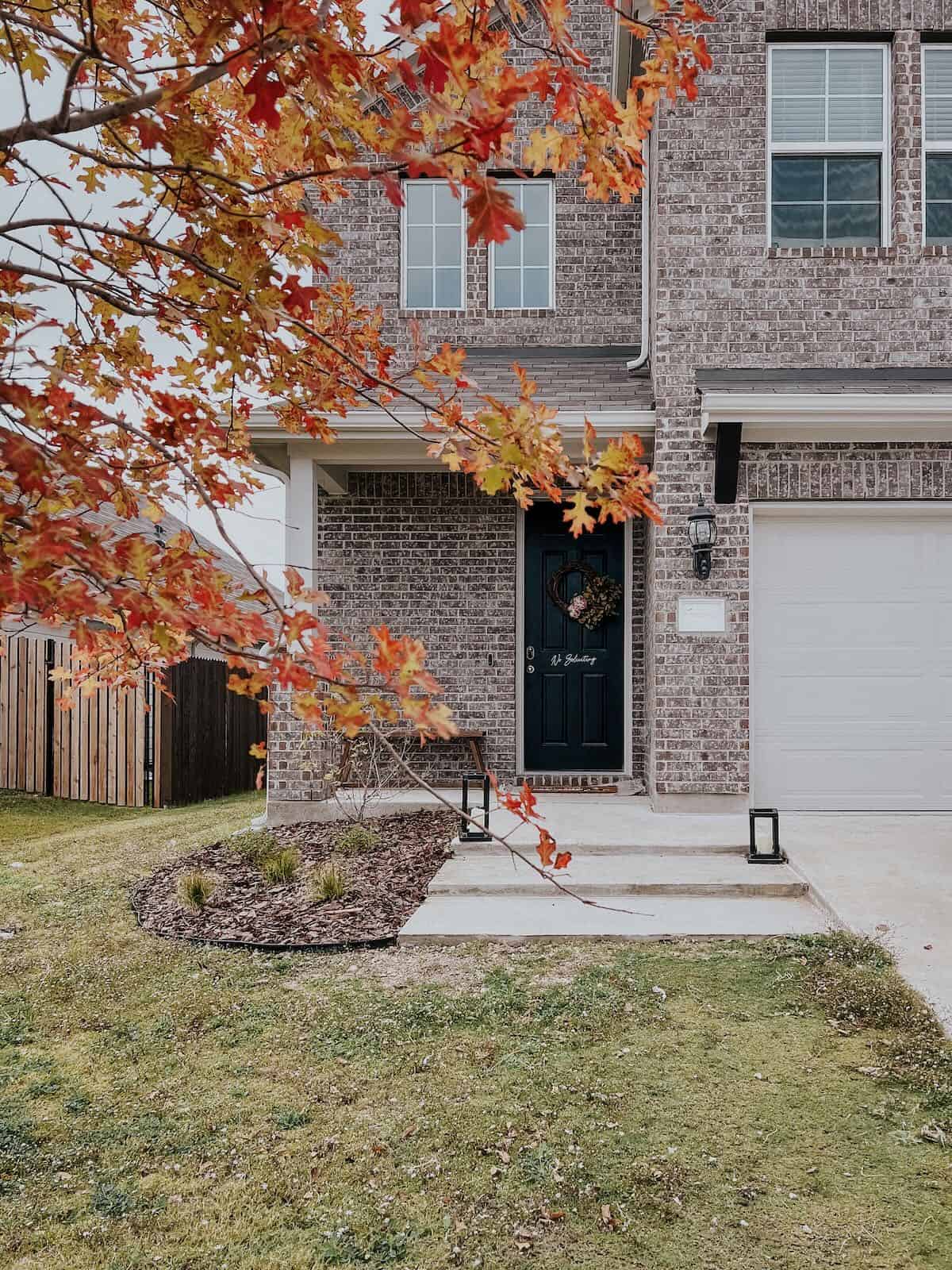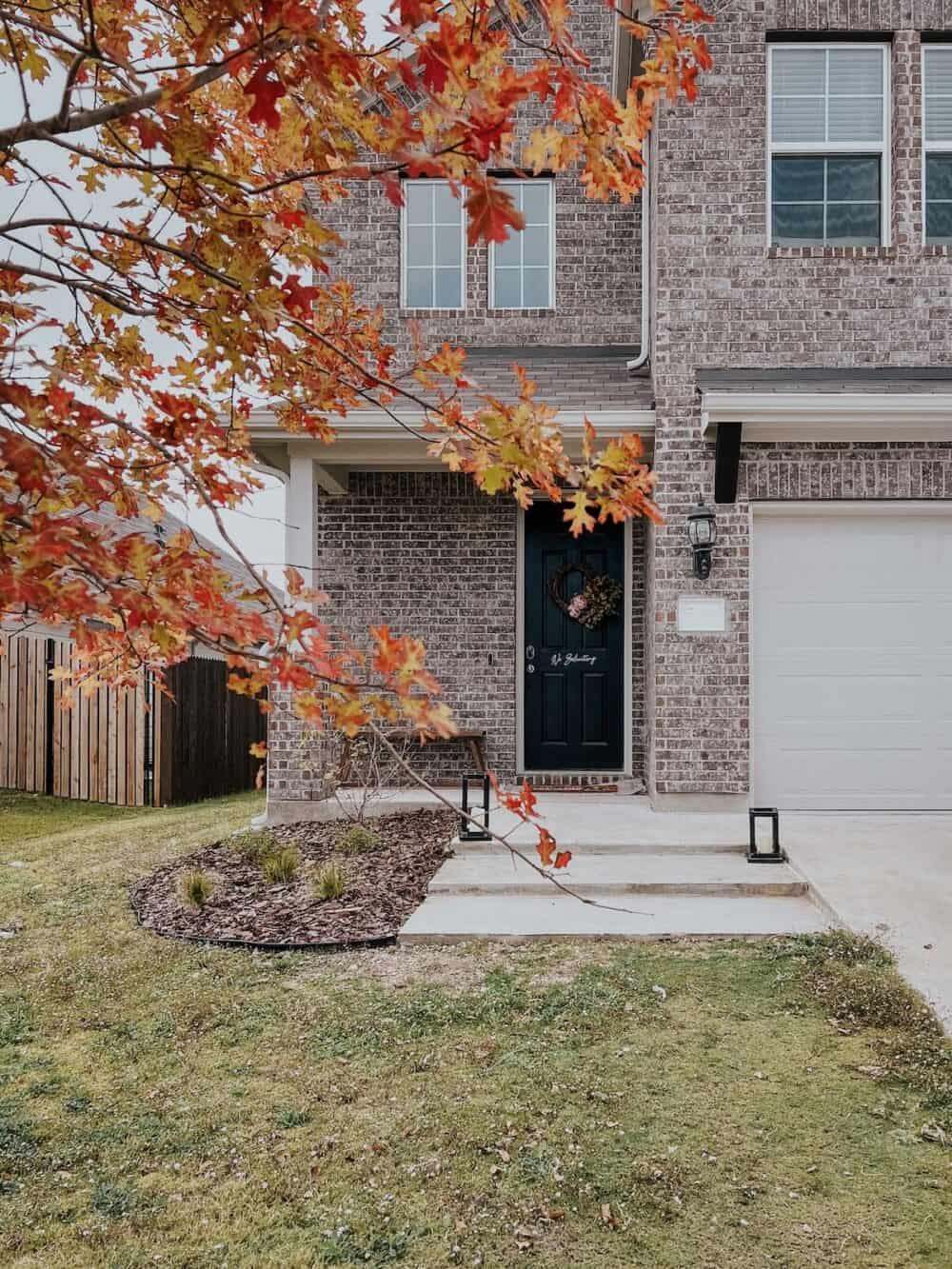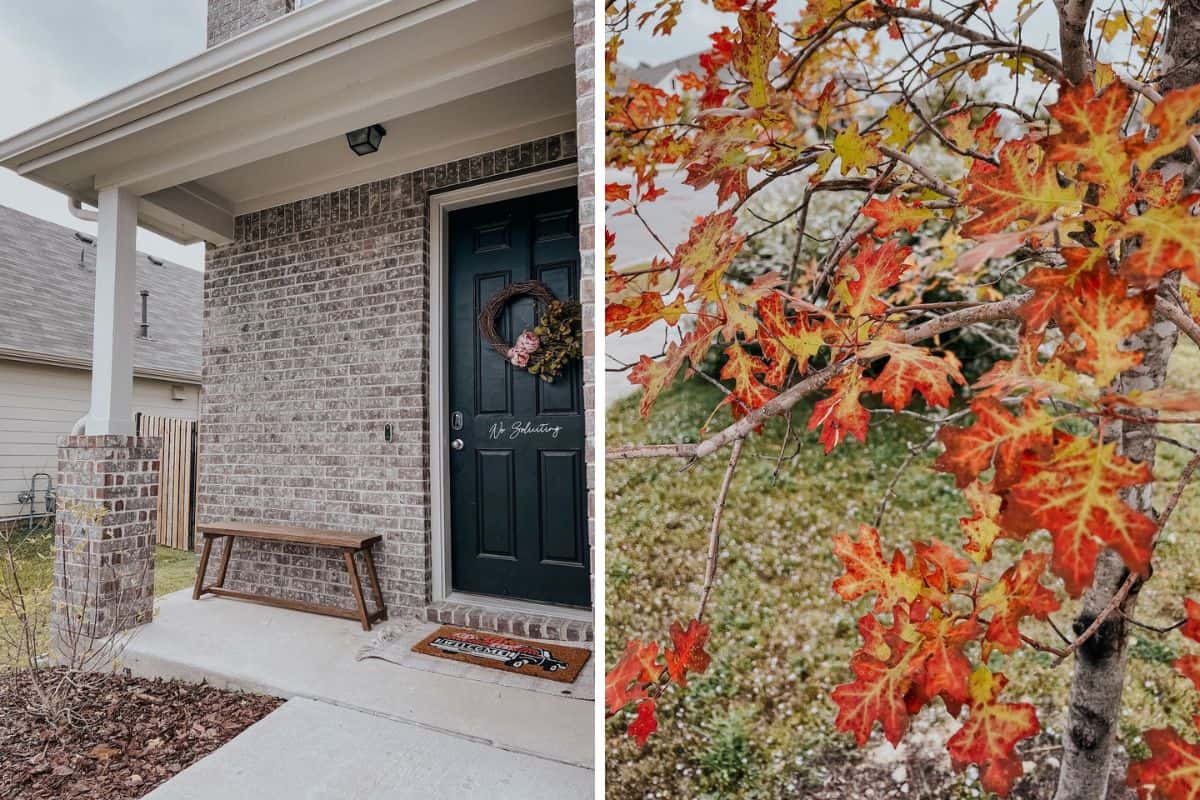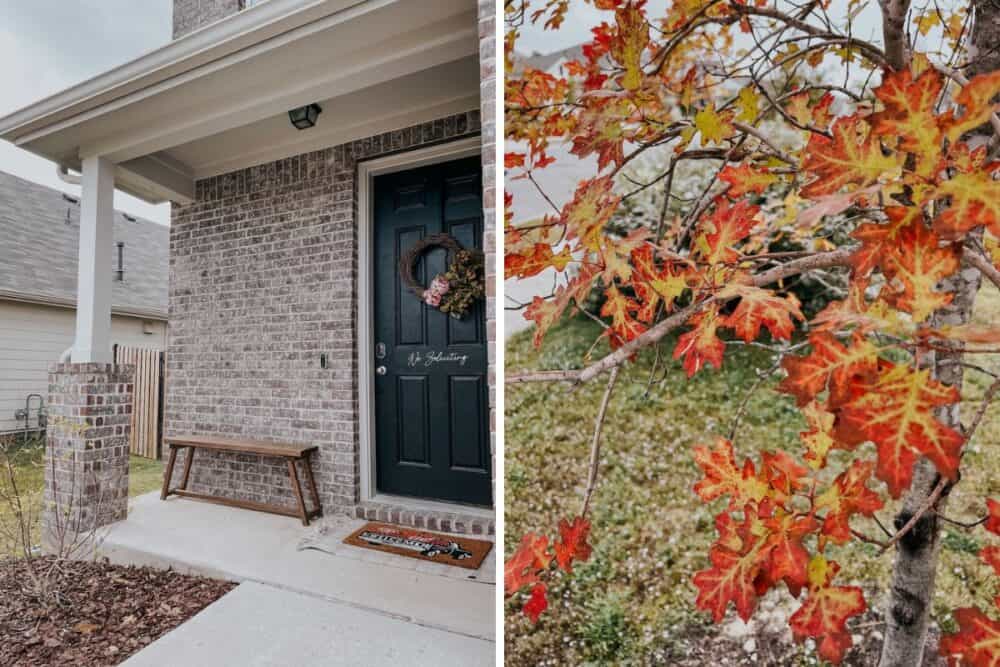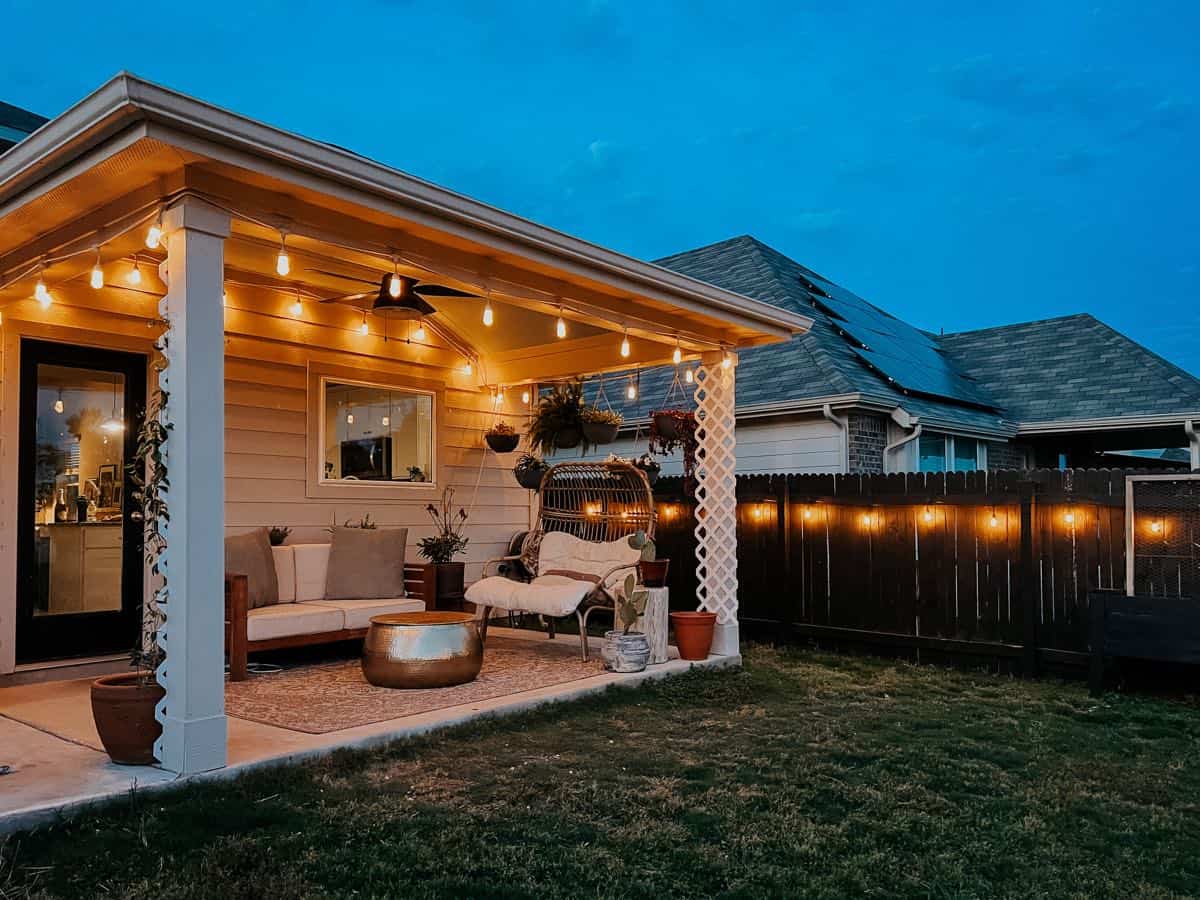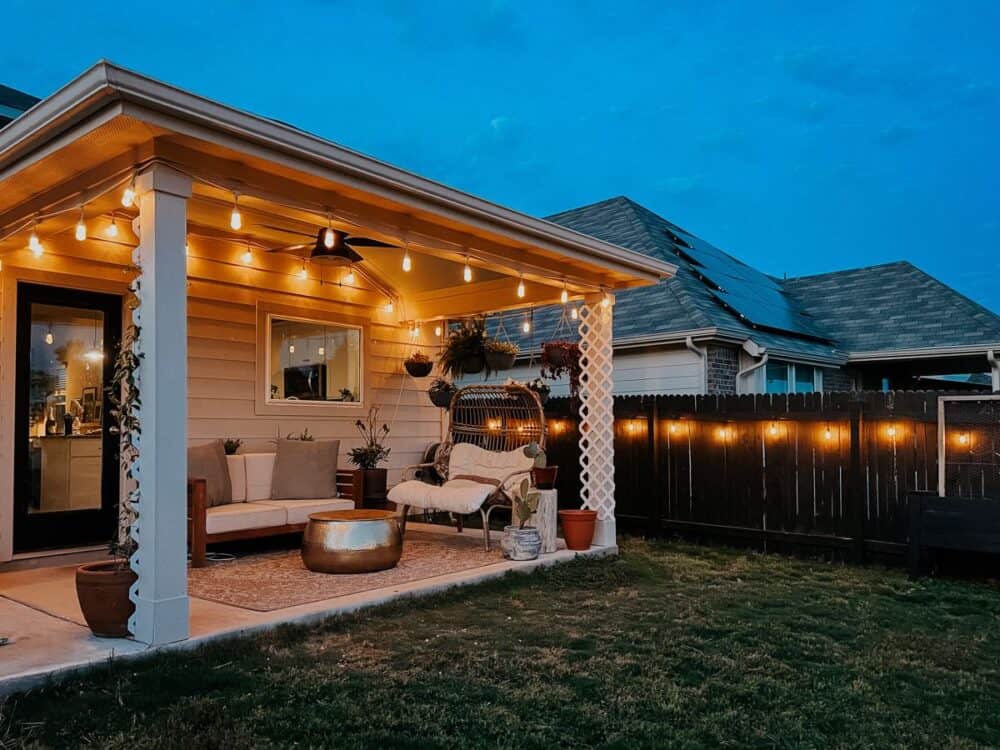 This is the first year where I feel like the front entry of our house really looks different! I've wanted to build these front steps for as long as I can remember, and I'm so proud to be able to say I did it myself this year. With my sweet dad's help, of course.
Corey and I have always struggled a bit with our homes' exteriors. In our last house, I really focused on the exterior and got it exactly where I wanted it…right before we moved. In this house, I have done a few things here and there, but I still have a long list of things I'd love to do out here. For now, though, I'm really excited to see how our new front landscaping fills in, and I couldn't be more excited about the new front steps.
2022 Exterior Projects:
The Entry, Powder Room, & Laundry Room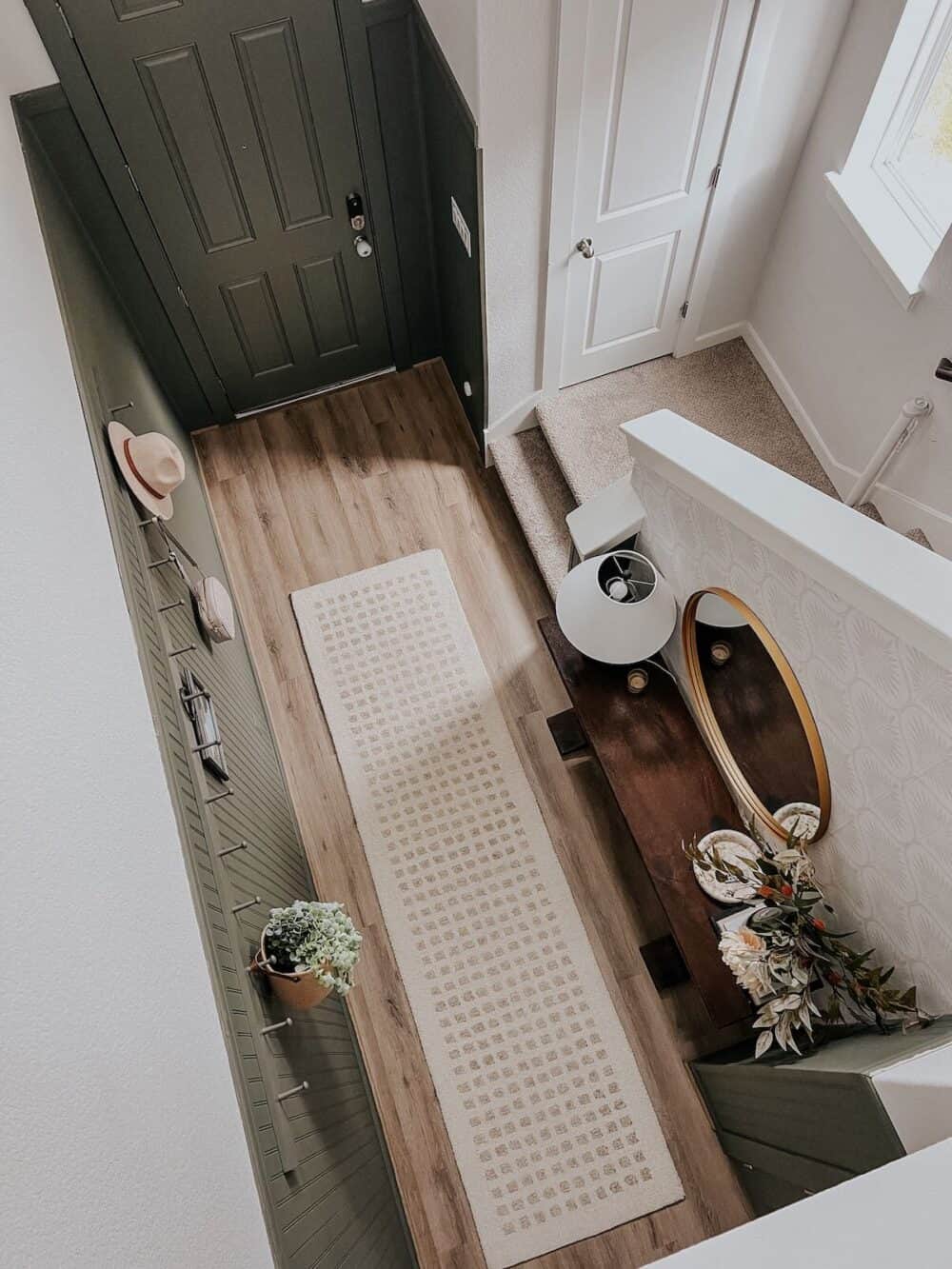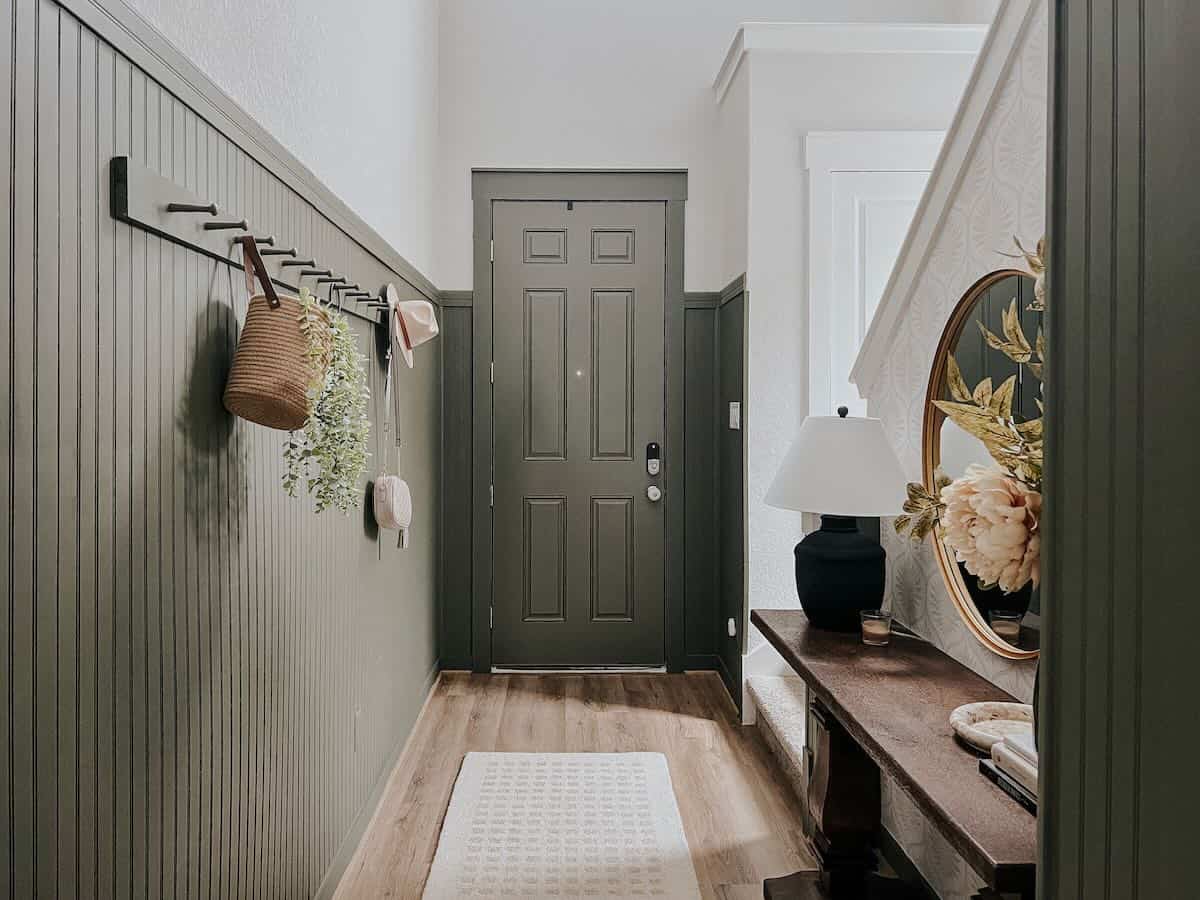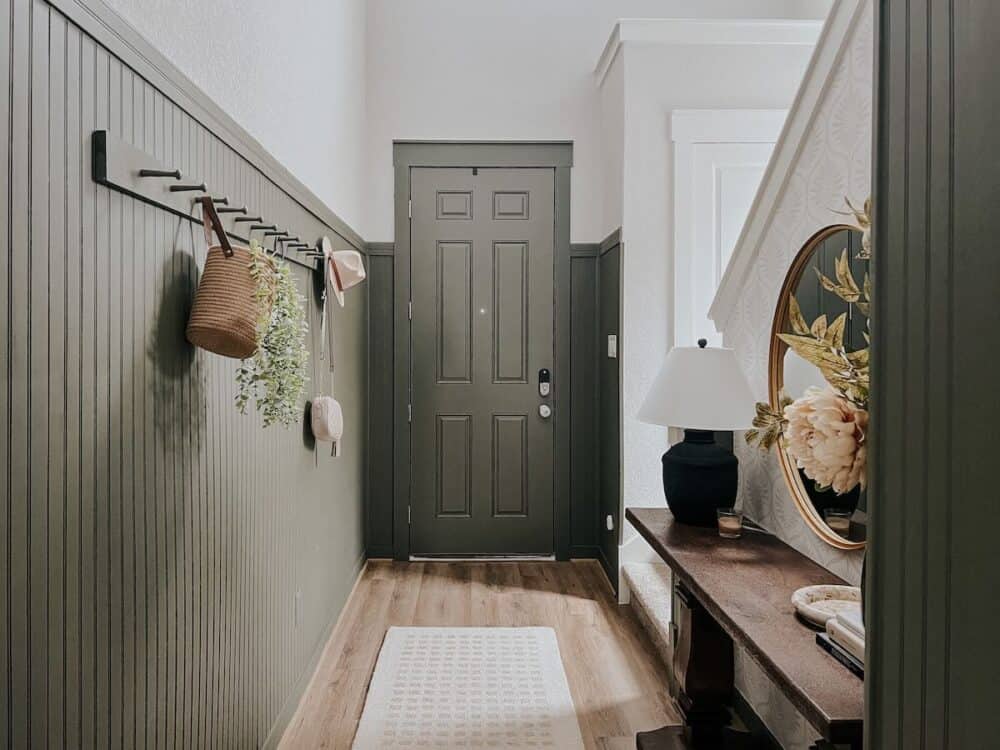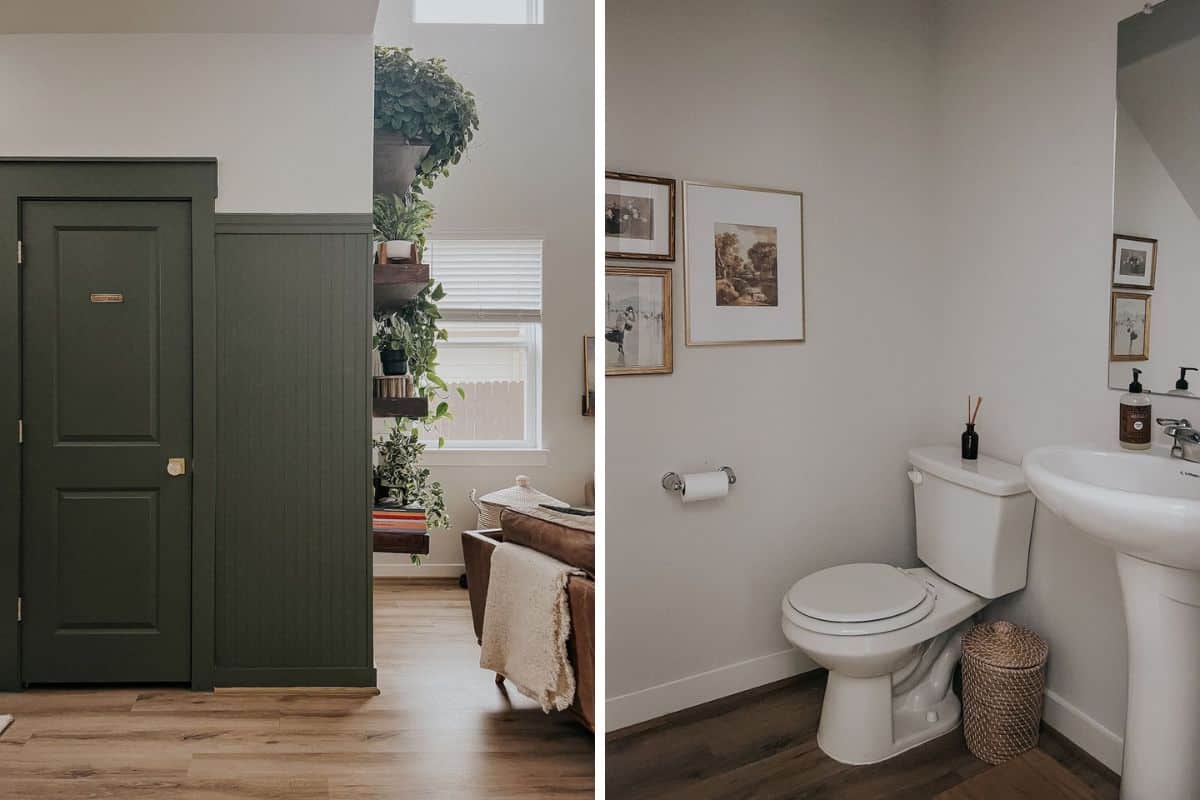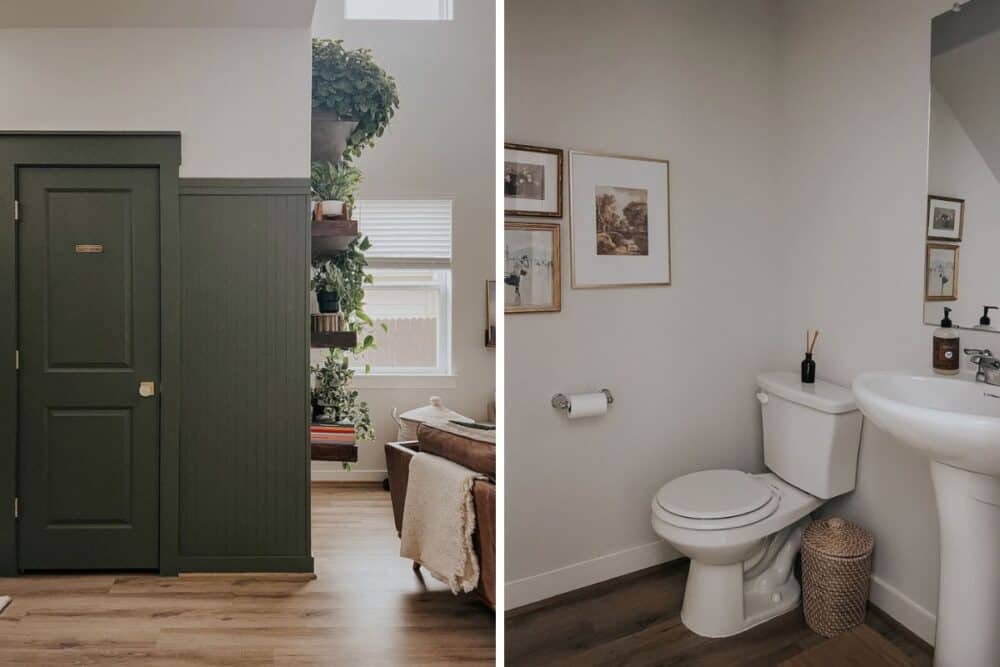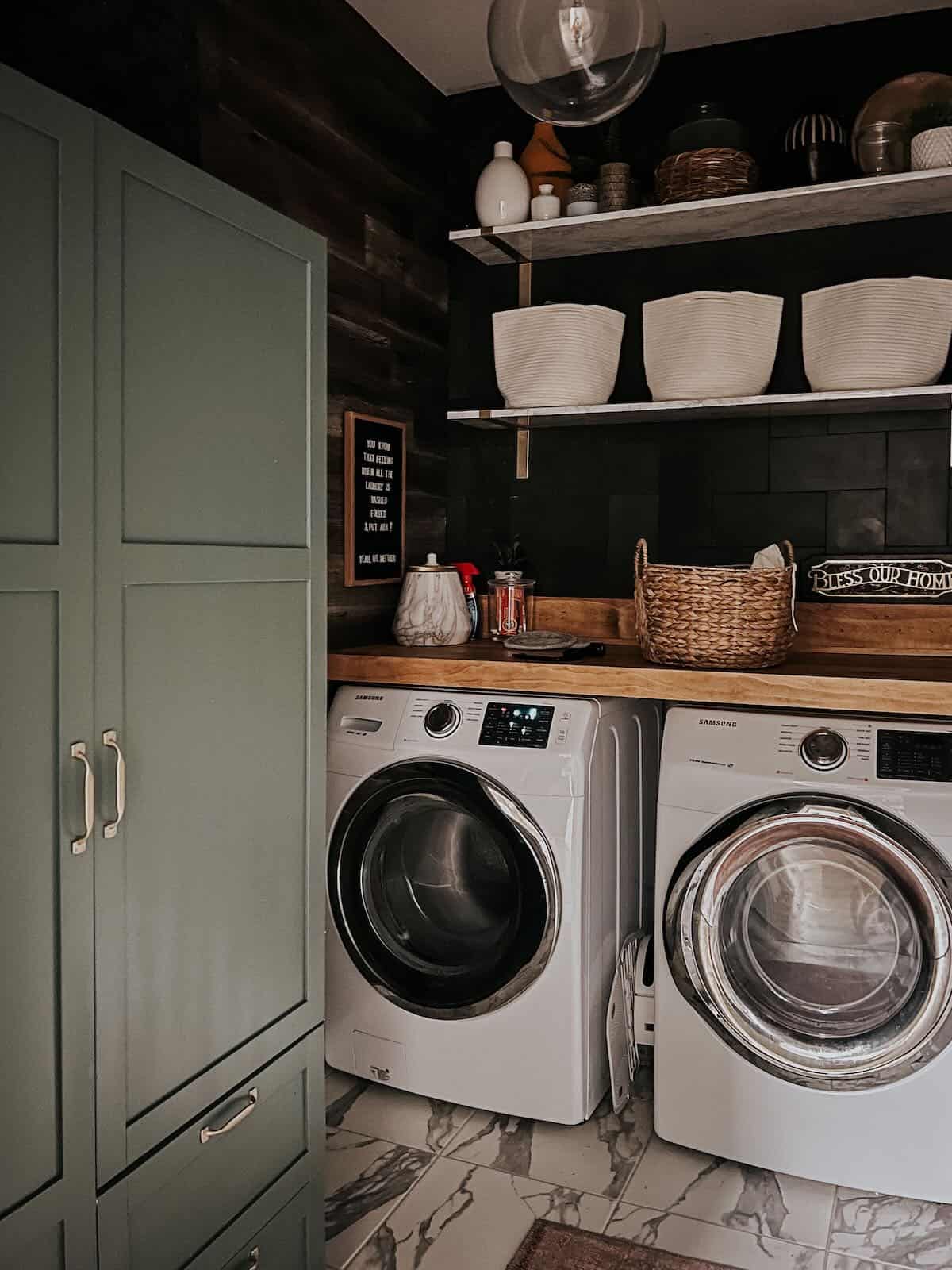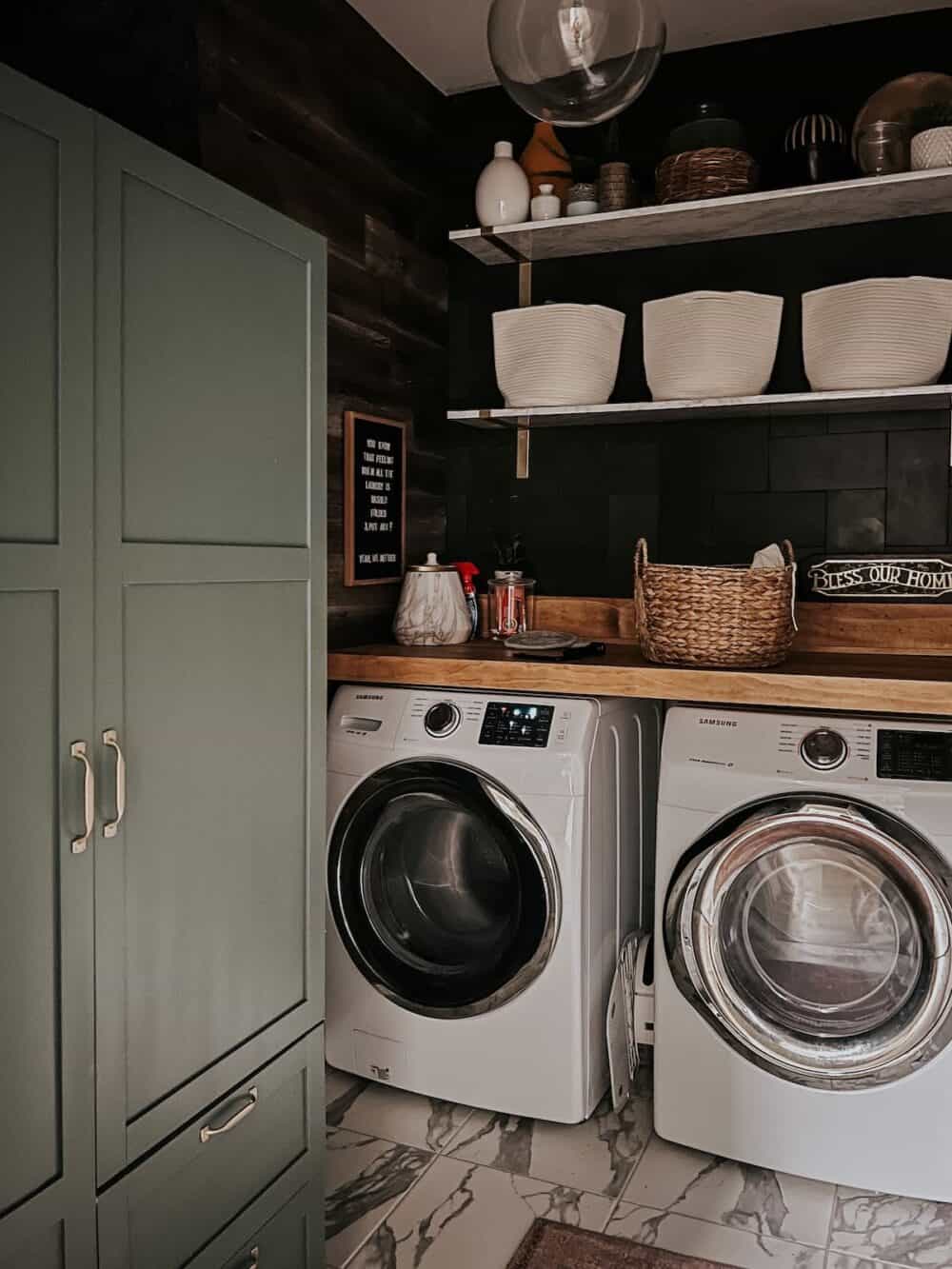 For the first time ever, all three of these spaces are looking a little bit different this year! I set out at the beginning of the year really wanting to give the entry a refresh, and I am so pleased with where we landed. There are still a few small to-dos on my list (like replacing the light switches!), but it feels like an elevated version of what I had before and I love it so much.
The powder room is something else that was on my to do list this year, and I didn't get around to it. The main reason is that I have a very specific vision of what I'd like to do in there, and I just haven't had the time or budget to tackle it. I did get tired of it being a plain white box, though, and I hung a few photos on the wall. Just that little change made a shocking difference, and it was such a great reminder that a few pieces of art can go a long way.
The laundry room also got a big refresh towards the end of this year. I added a new accent wall and replaced the laundry cabinet we had in there. It feels so much better to me now, and the difference in storage is unreal!
2022 Entry & Laundry Room Posts
The Living Room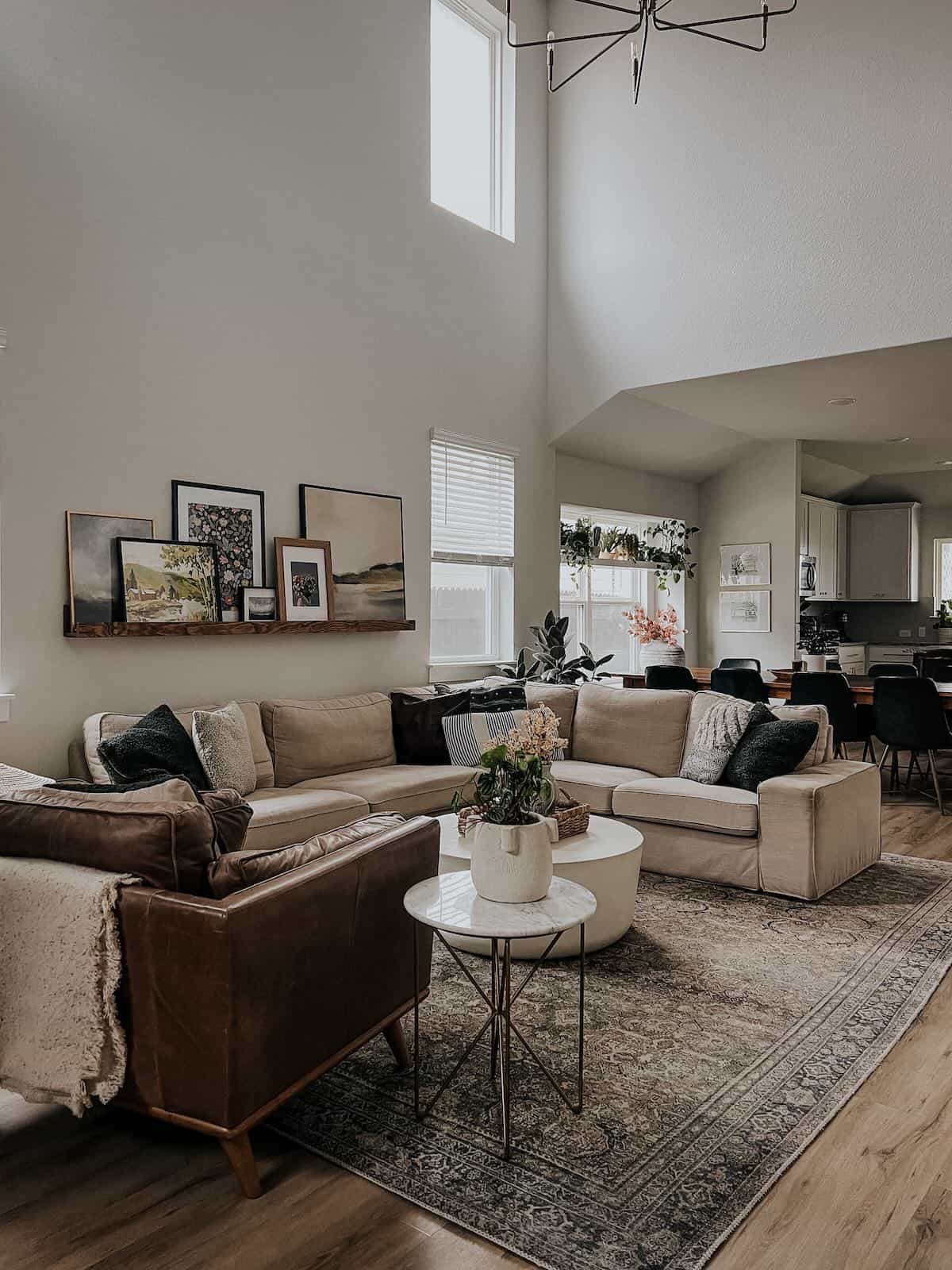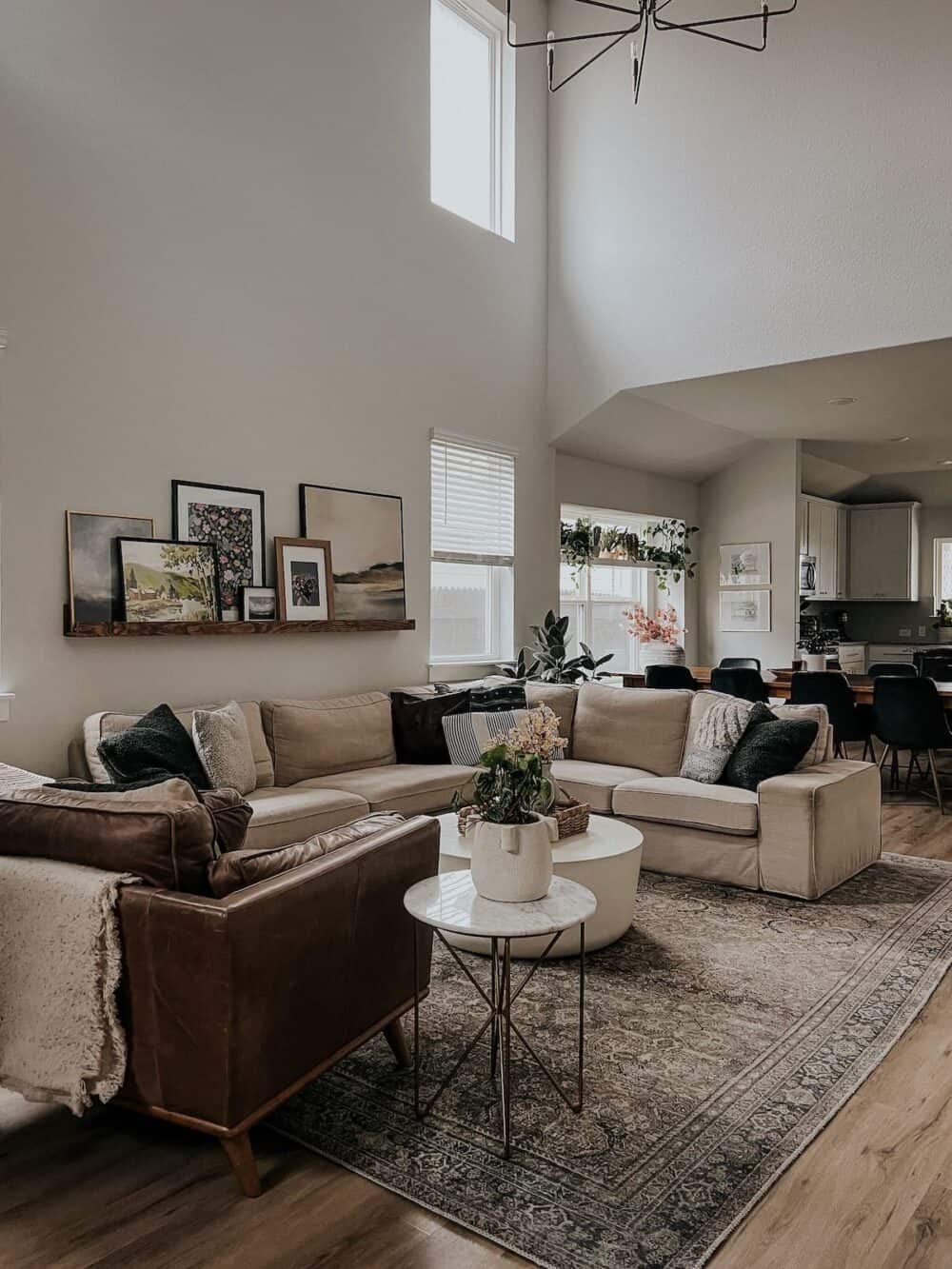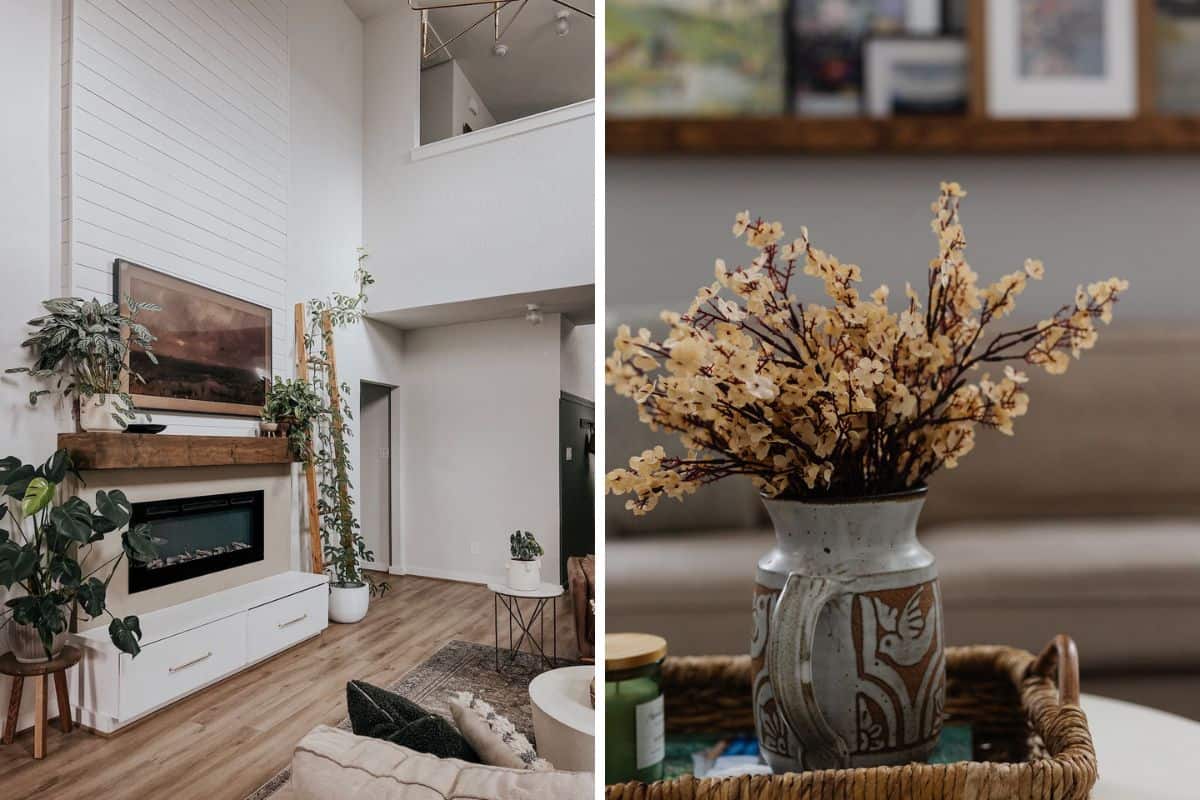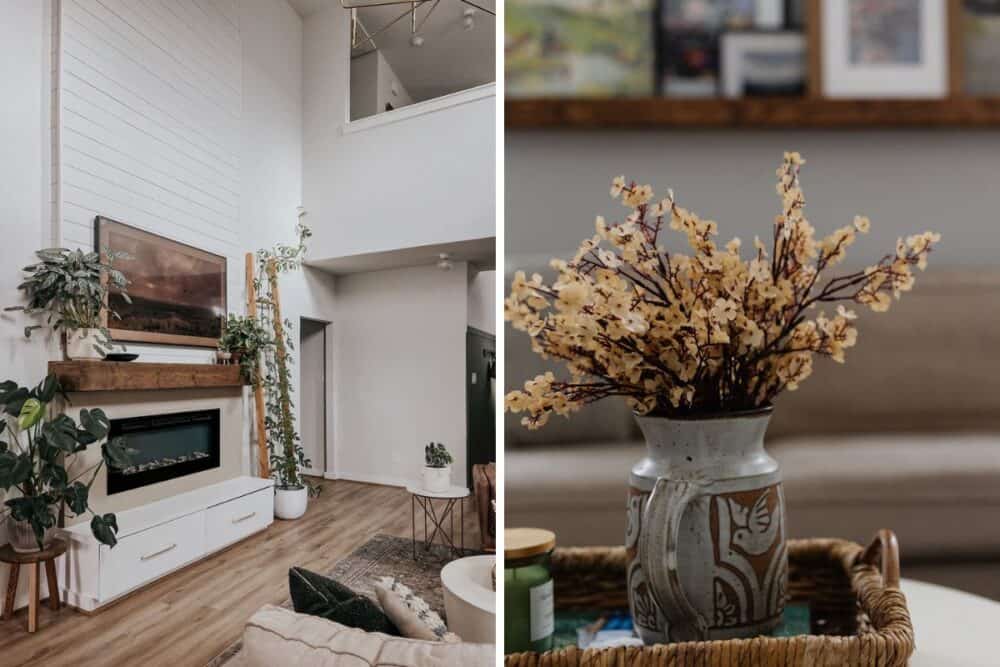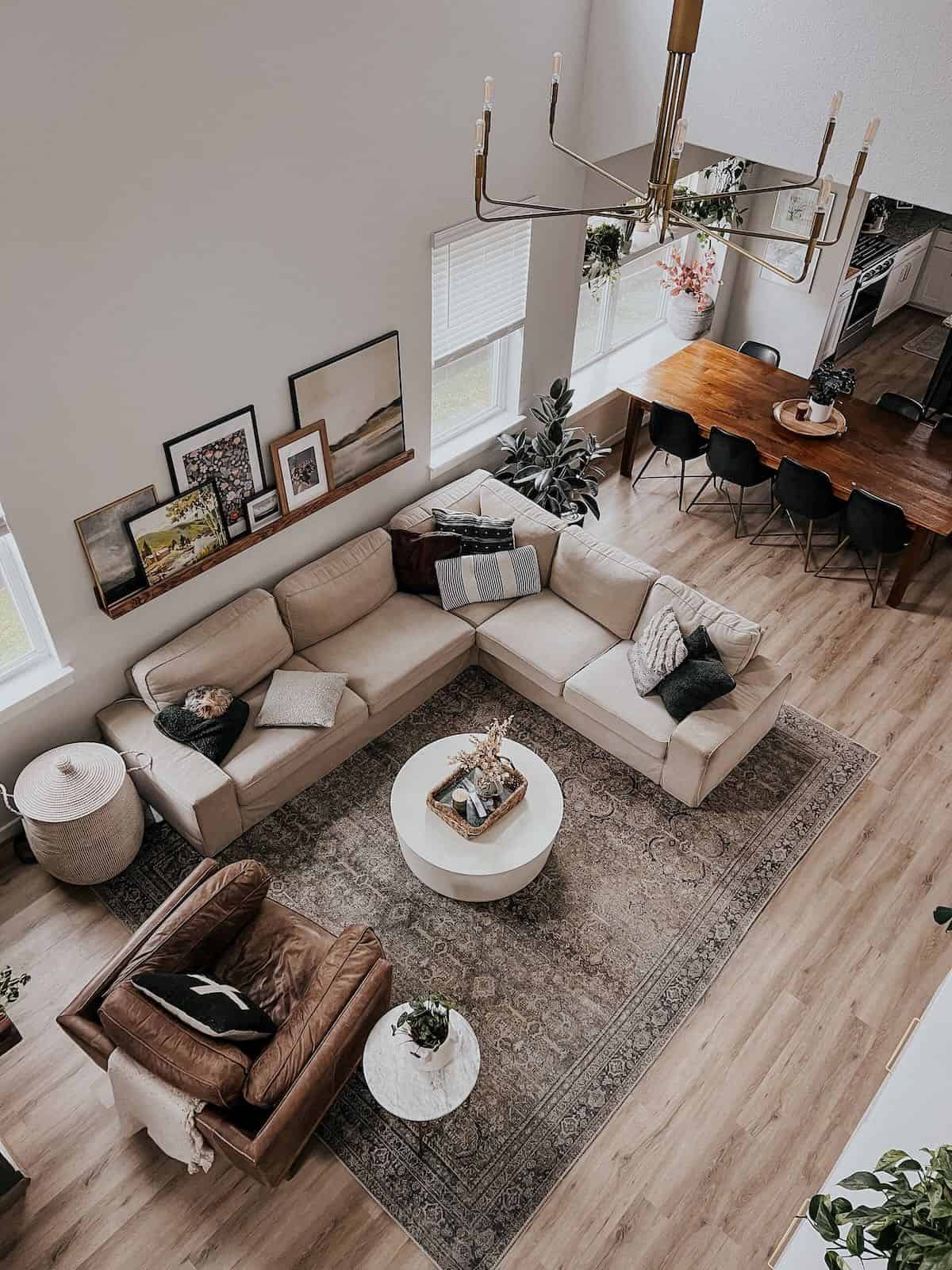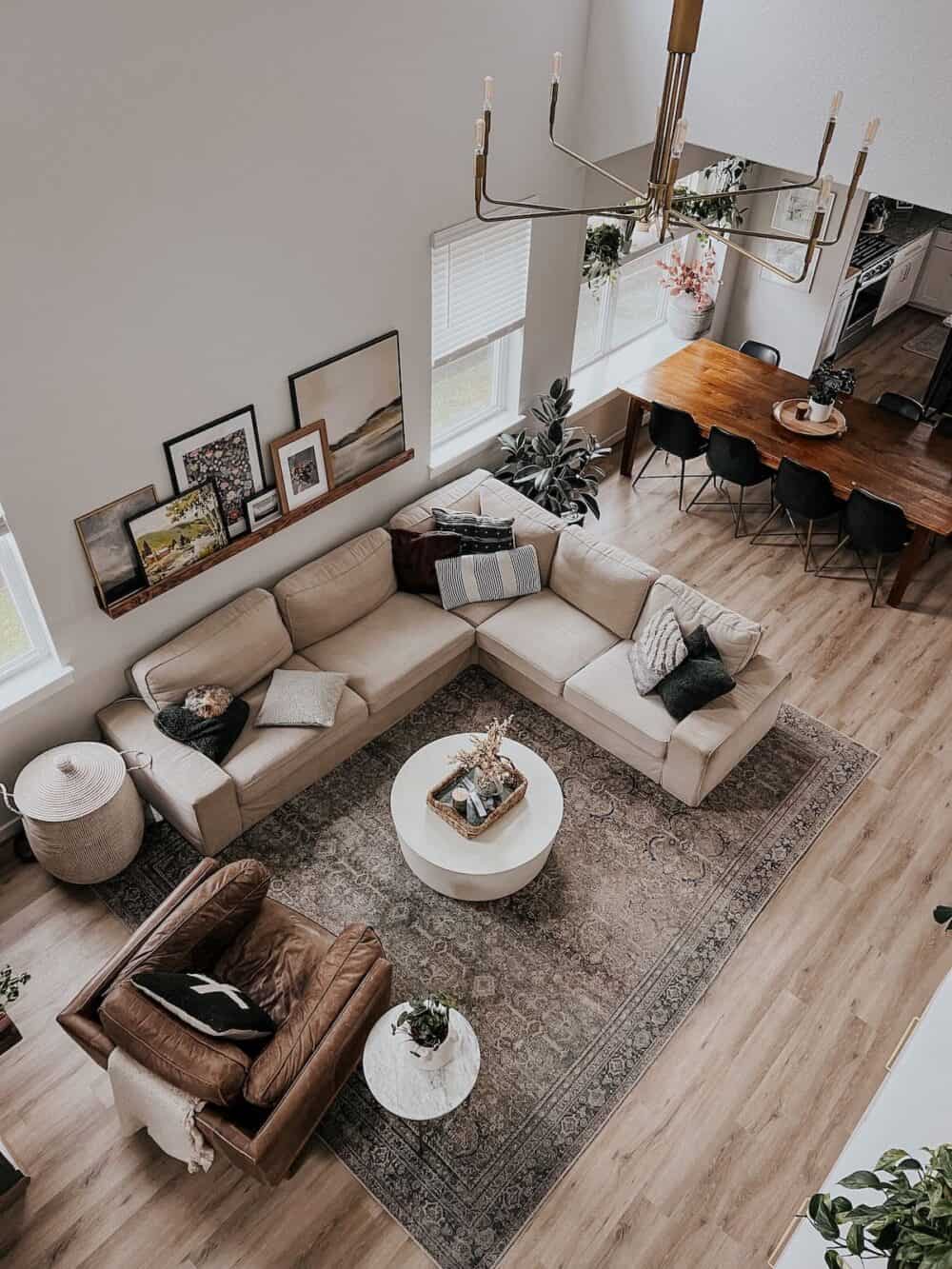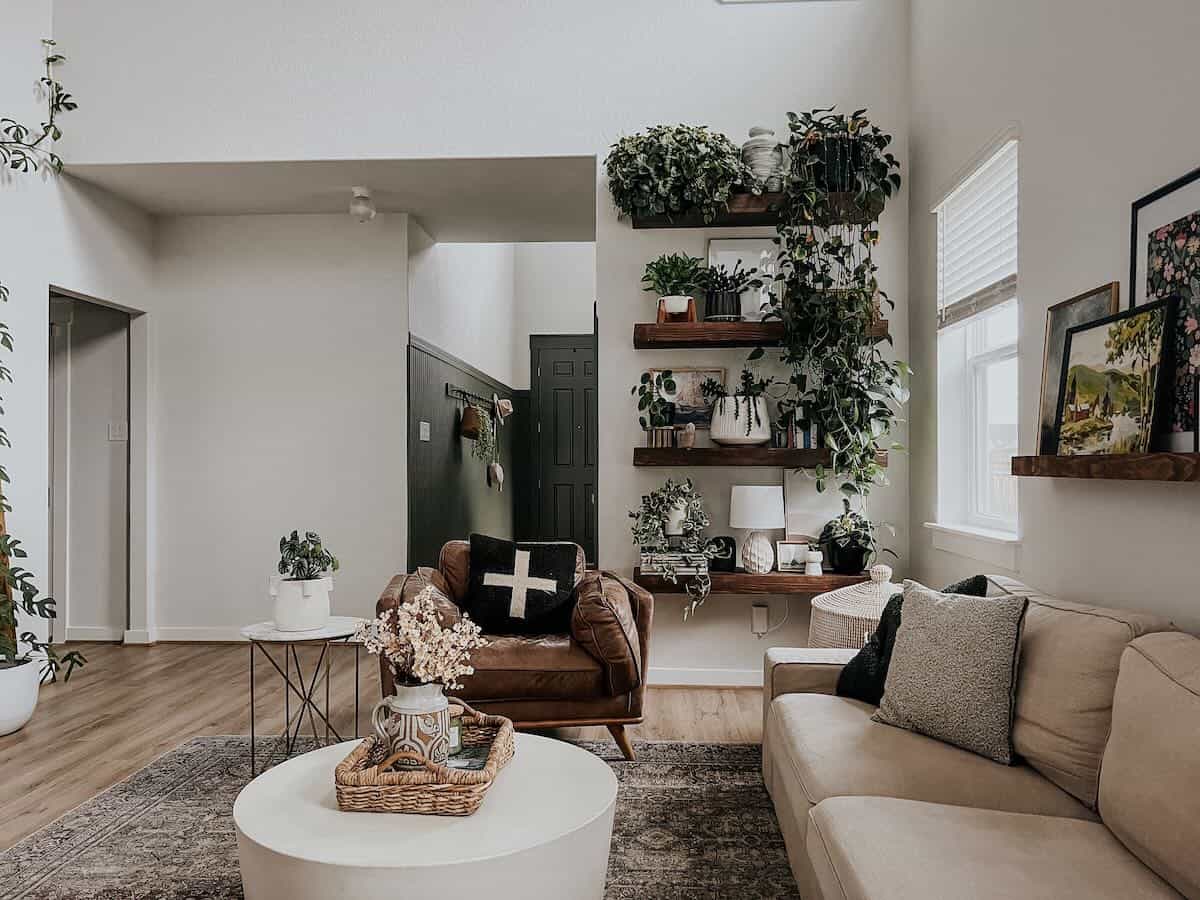 I don't really think anything changed in this space in the last year and, honestly, I'm great with that. Our living room feels right to us for now and I'm genuinely still so in love with every decision we've made for this space.
This room is where we snuggle up for family movie nights. It's where we gather with friends when we're having a big game night. This is the room where my best friends and I cozy up every week to watch The Bachelor. It's where Corey takes his Sunday naps while he watches football and where I love to read a book next to the (fake) fire.
This space is truly the heart of our home and I just love it. I'm sure over time we'll see it shift and change a bit (because I firmly believe homes should evolve!), but for now? It makes us really happy.
2022 Living Room Posts
The Dining Room & Kitchen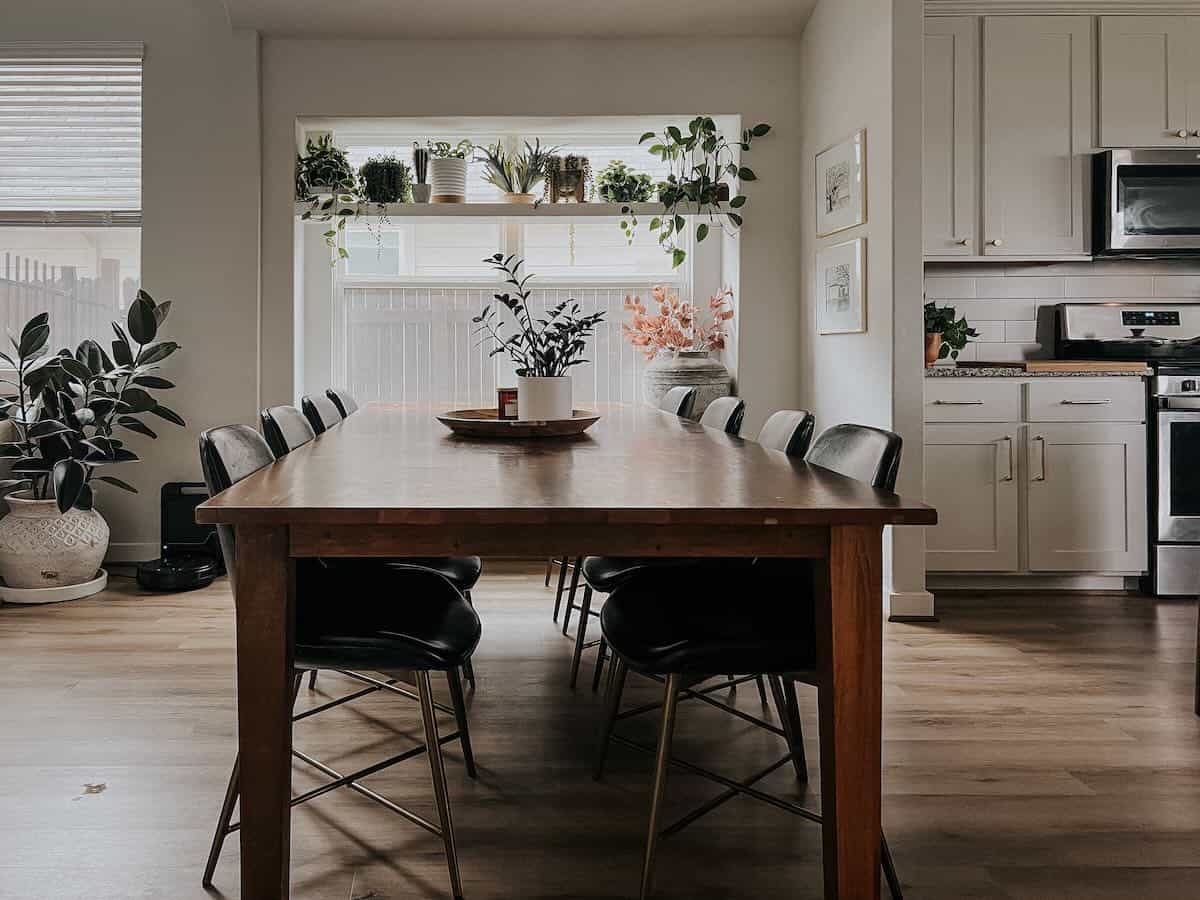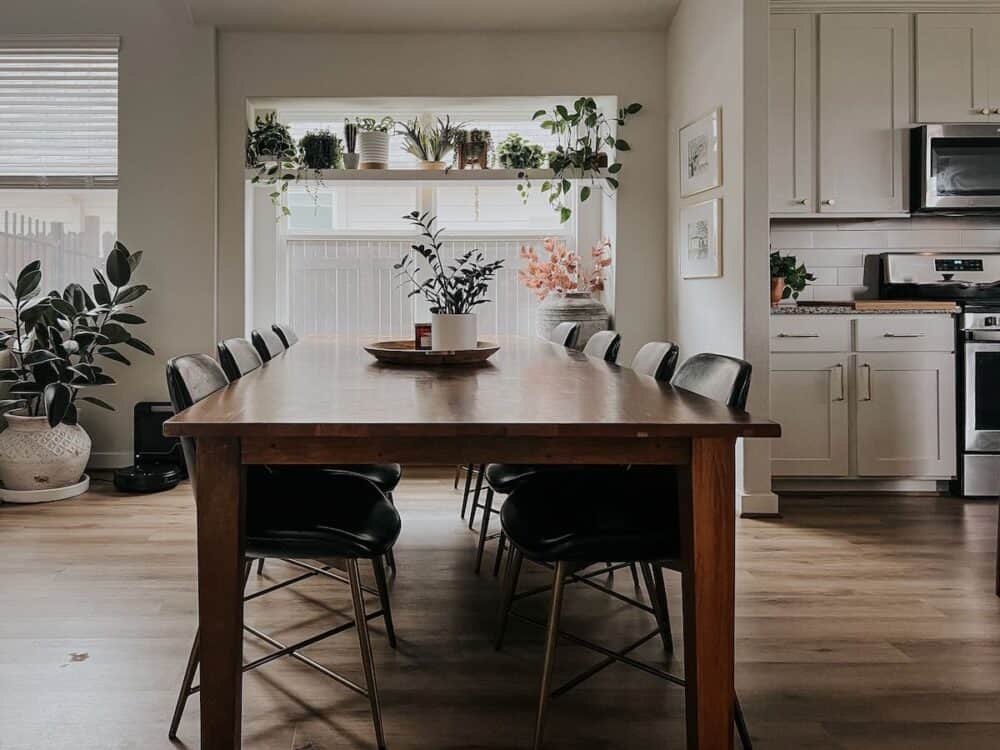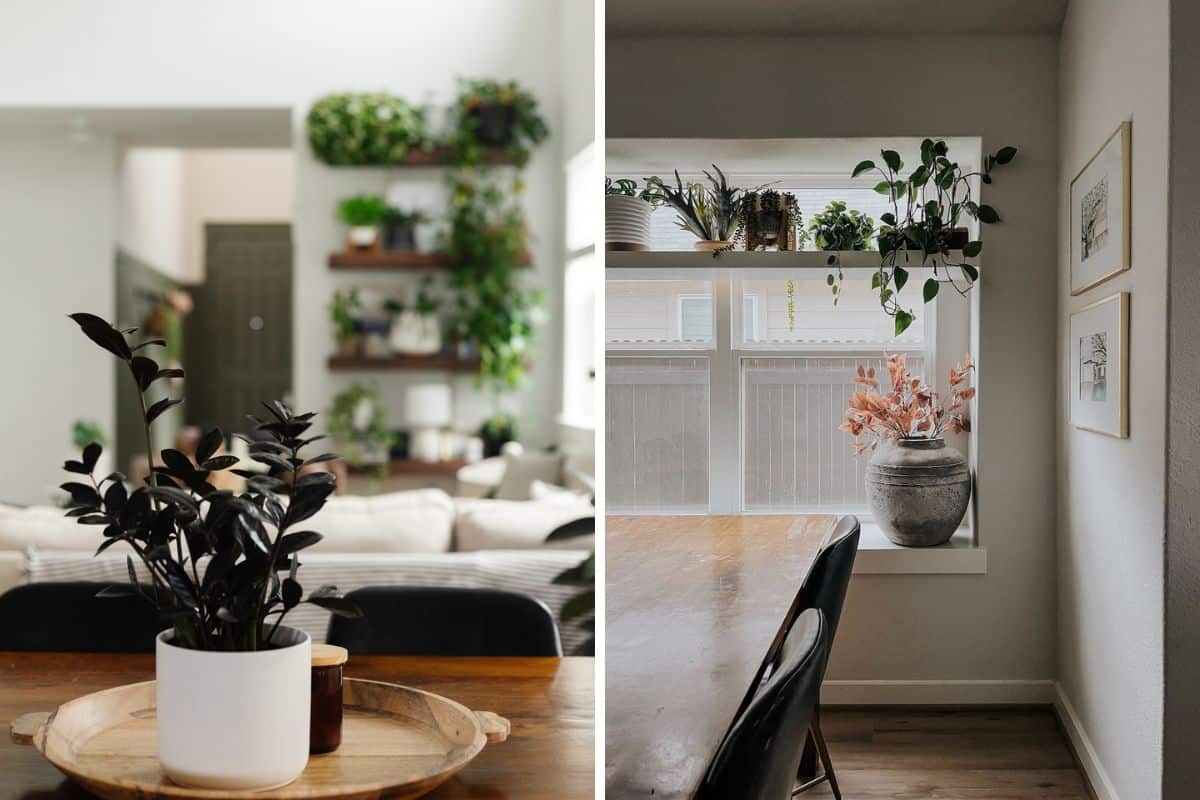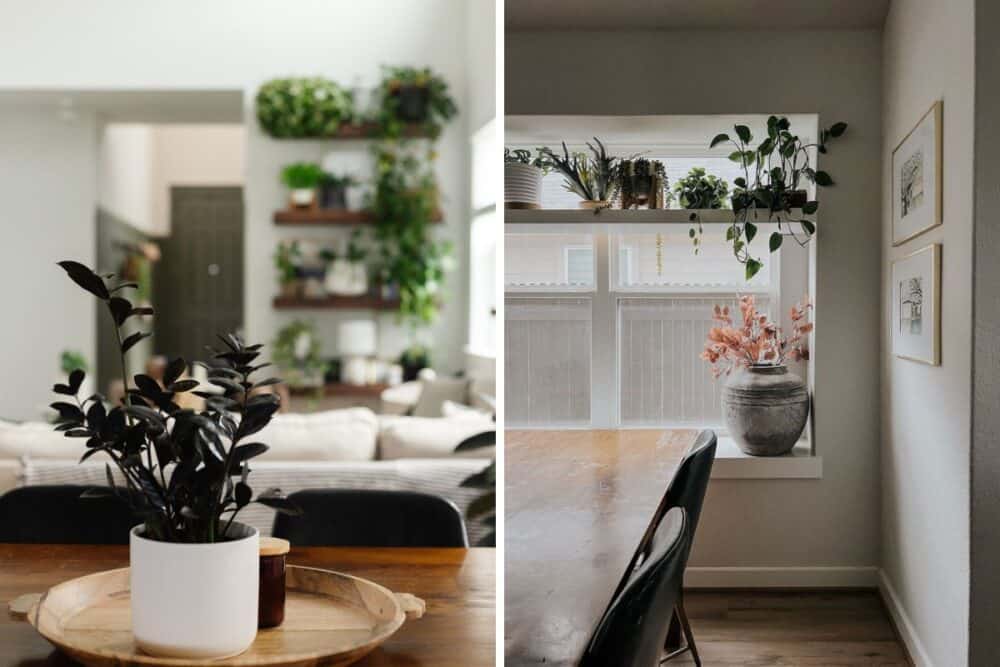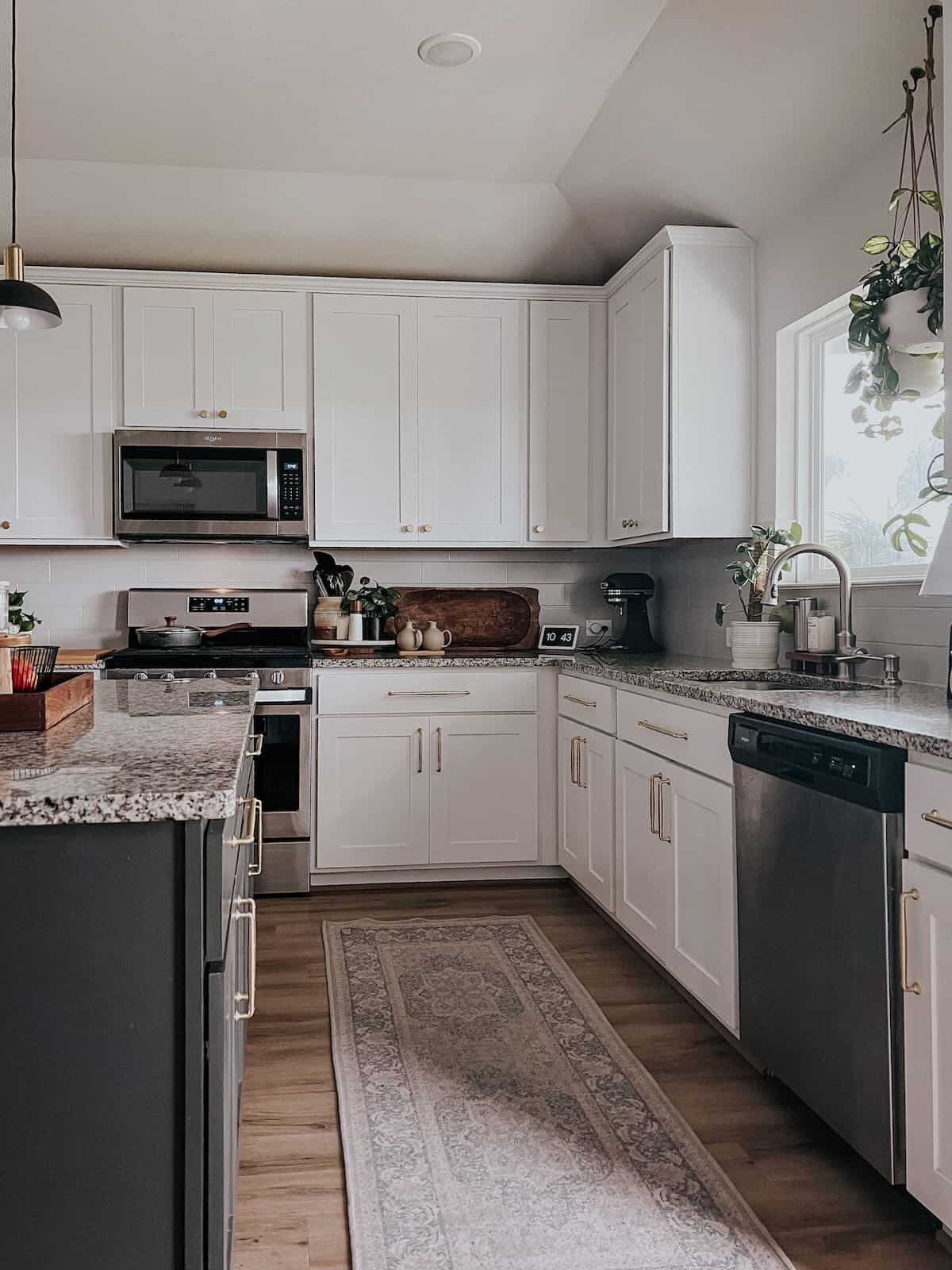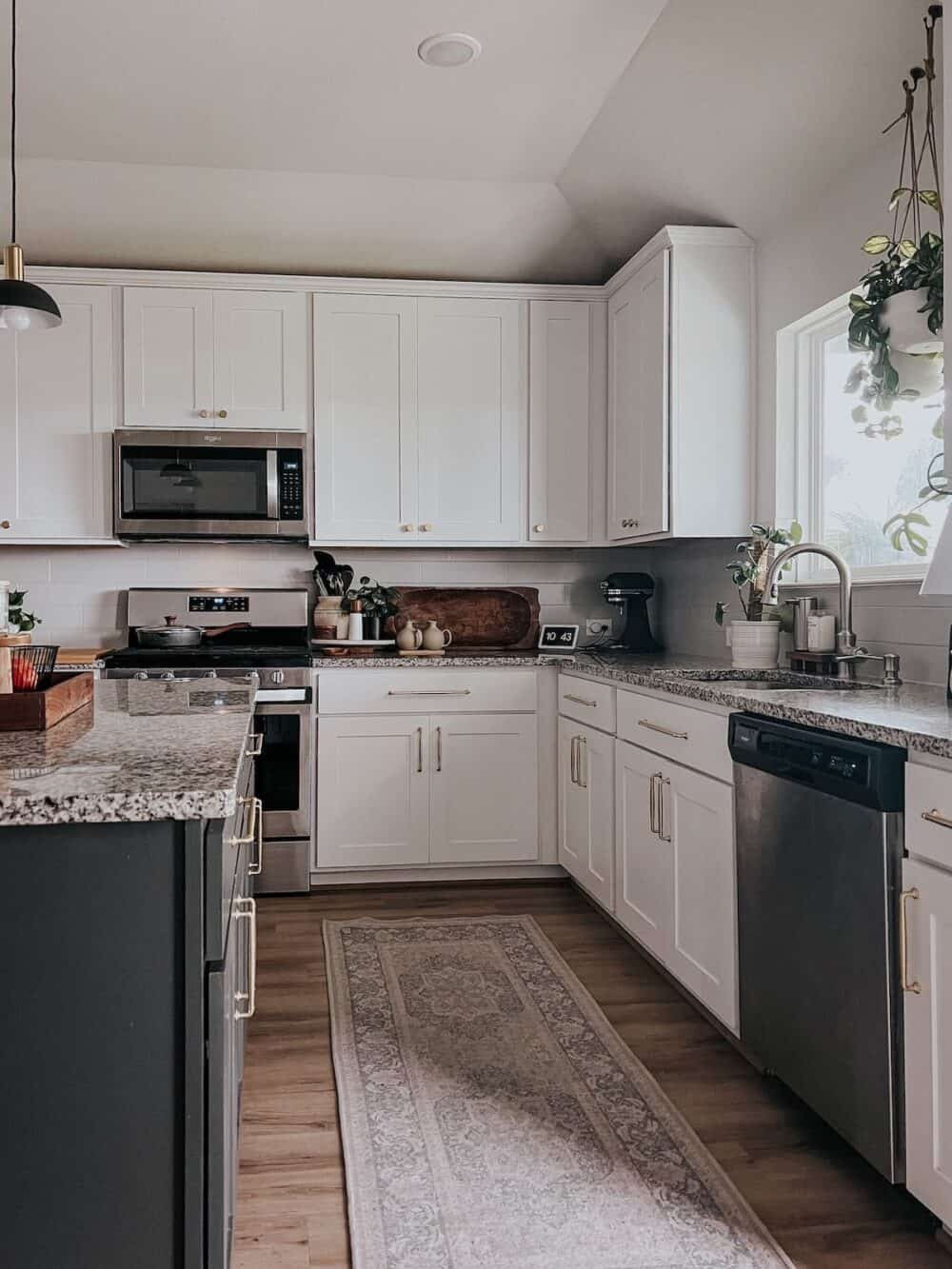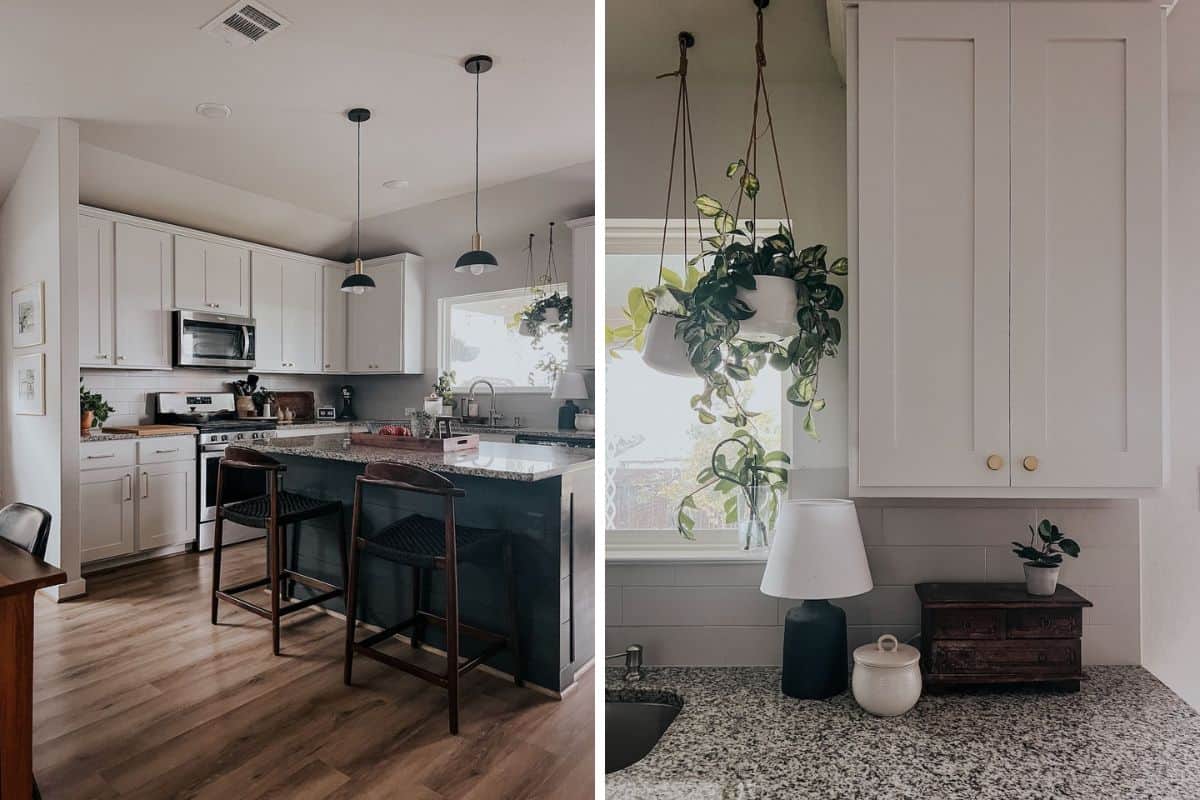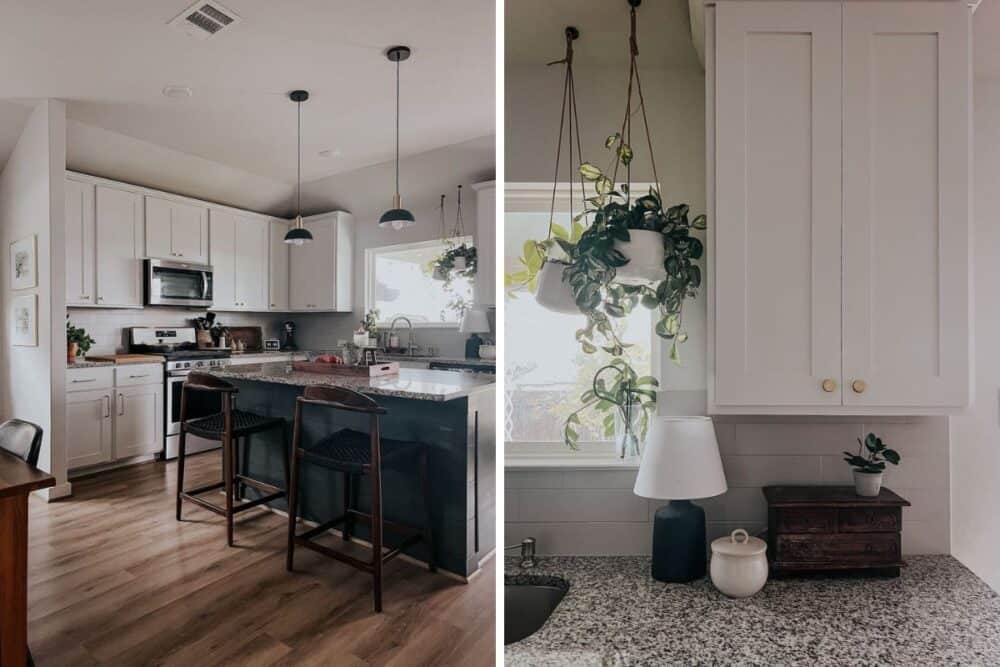 The biggest change to this space this year was painting our kitchen island – it's one of my favorite projects I tackled in all of 2022, because it made such a difference. Our kitchen feels grounded in a way it didn't before, and I'm so glad I decided to dive in and try it.
Other than that, these spaces are basically the same as they were last year. And again, I'm great with that! I do actually have a fairly long list of things I'd love to change about these two spaces at some point in the future, but I don't feel a huge rush. Things like new lighting, maybe adding some trim to the walls, that sort of thing.
Of course, someday the kitchen will also get a bigger overhaul. But for now? It's the nicest kitchen I've ever had before and I'm not gonna complain!
2022 Kitchen + Dining Room Posts
The Primary Suite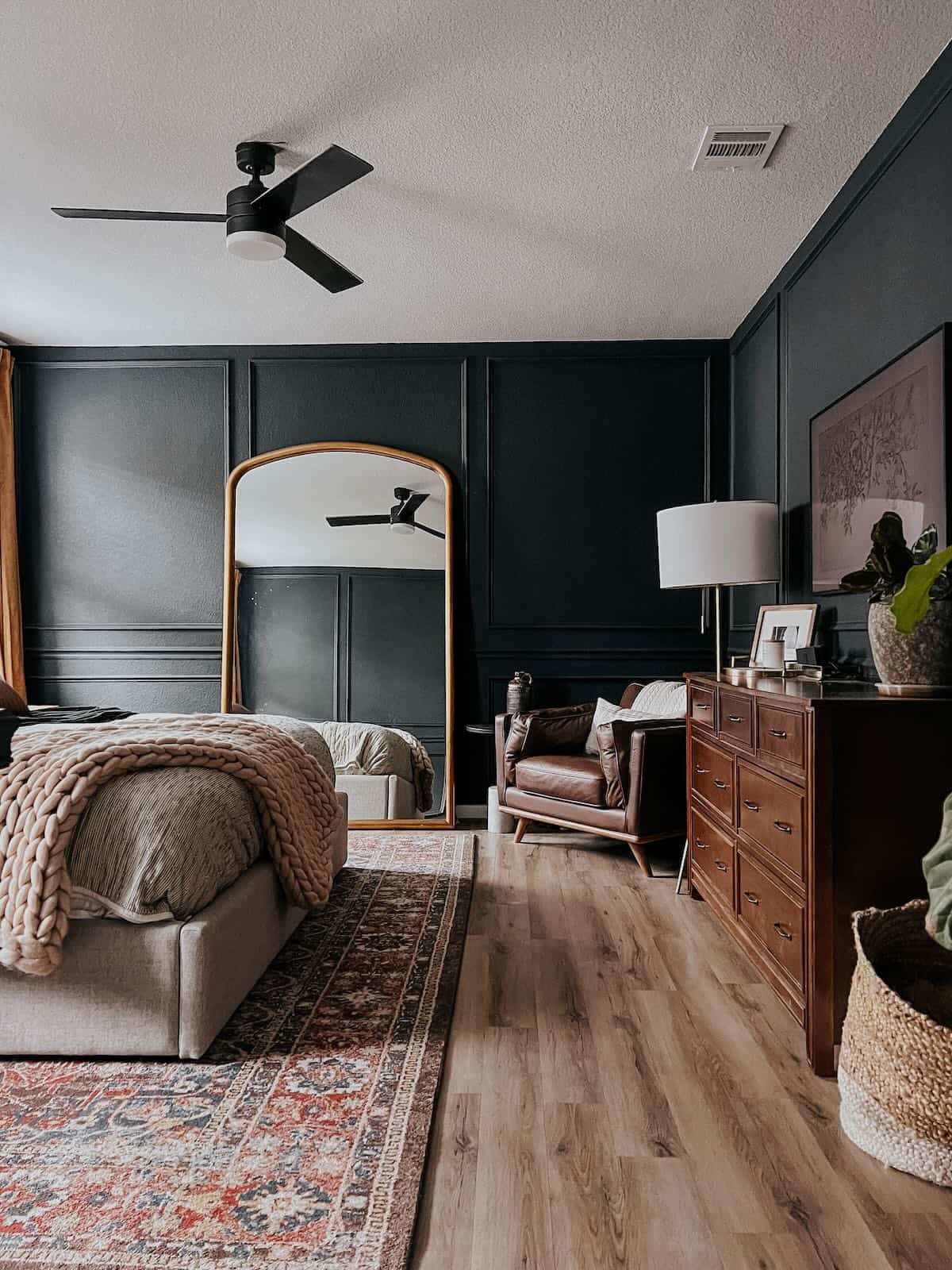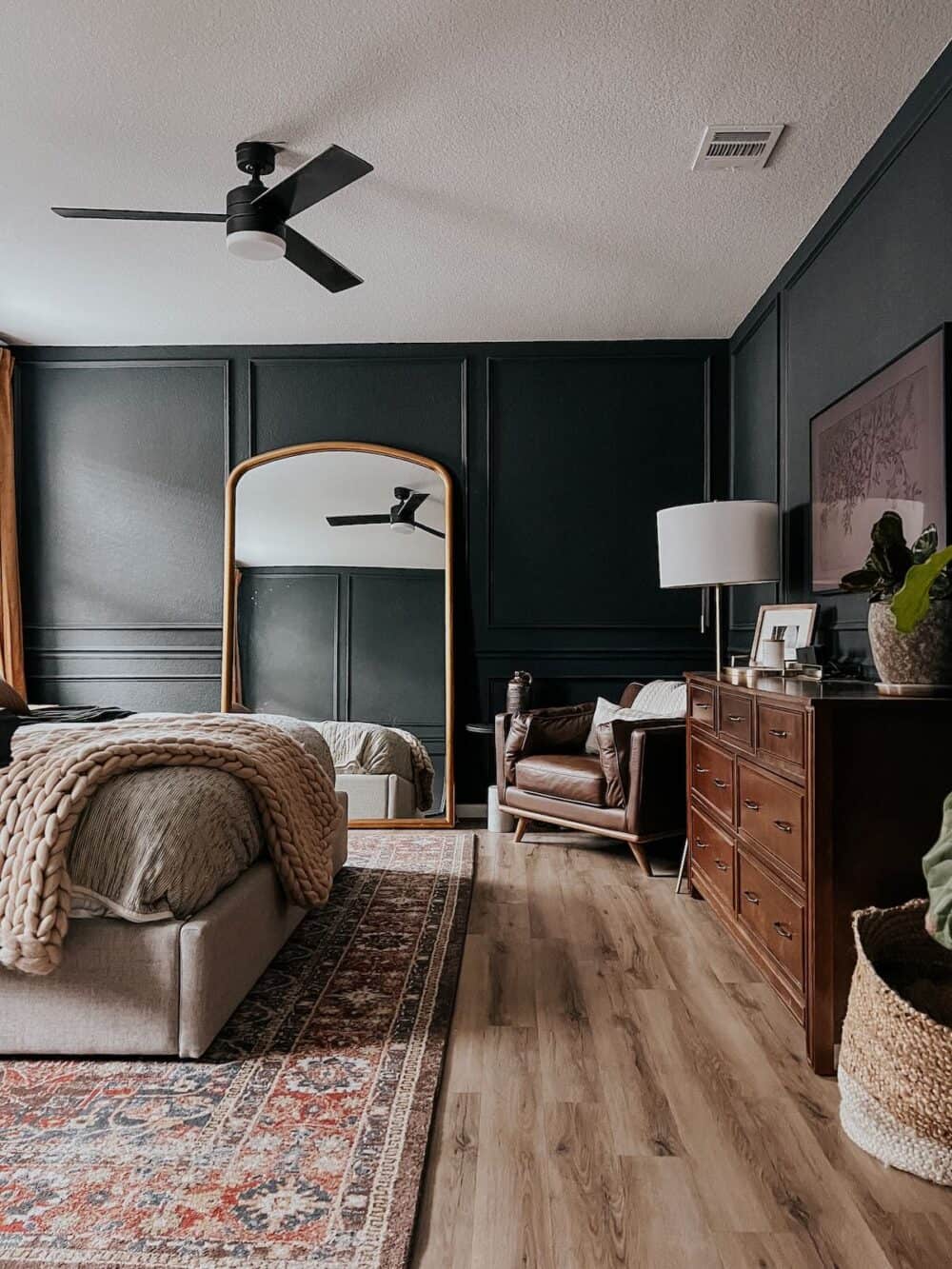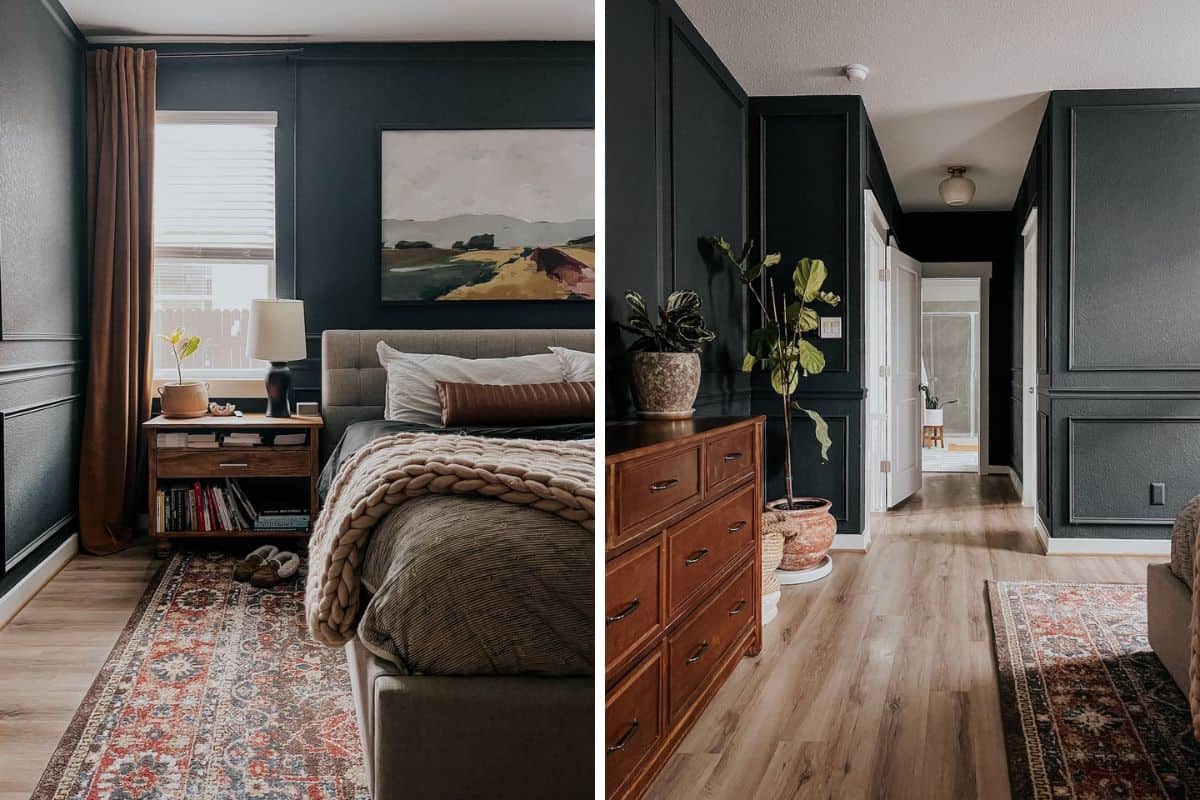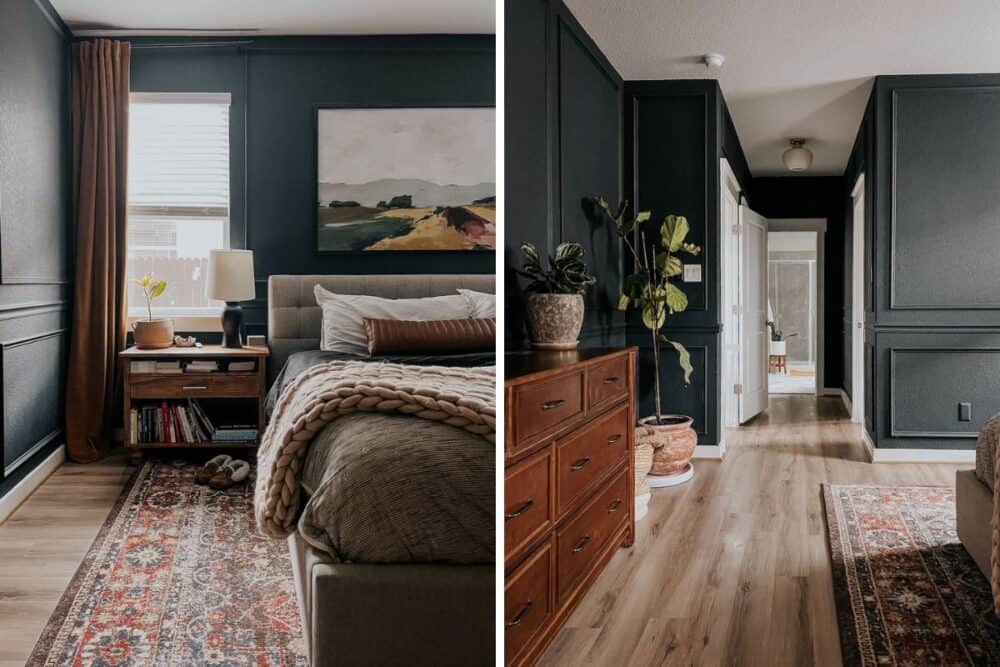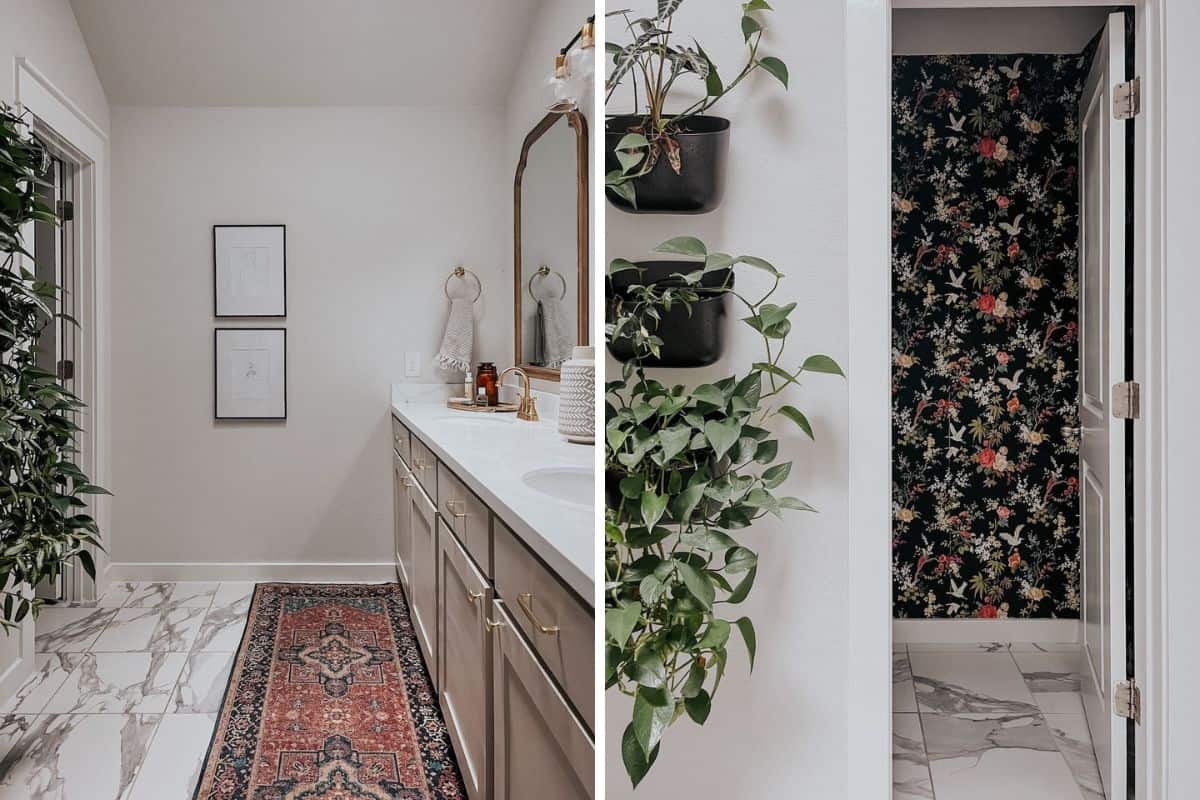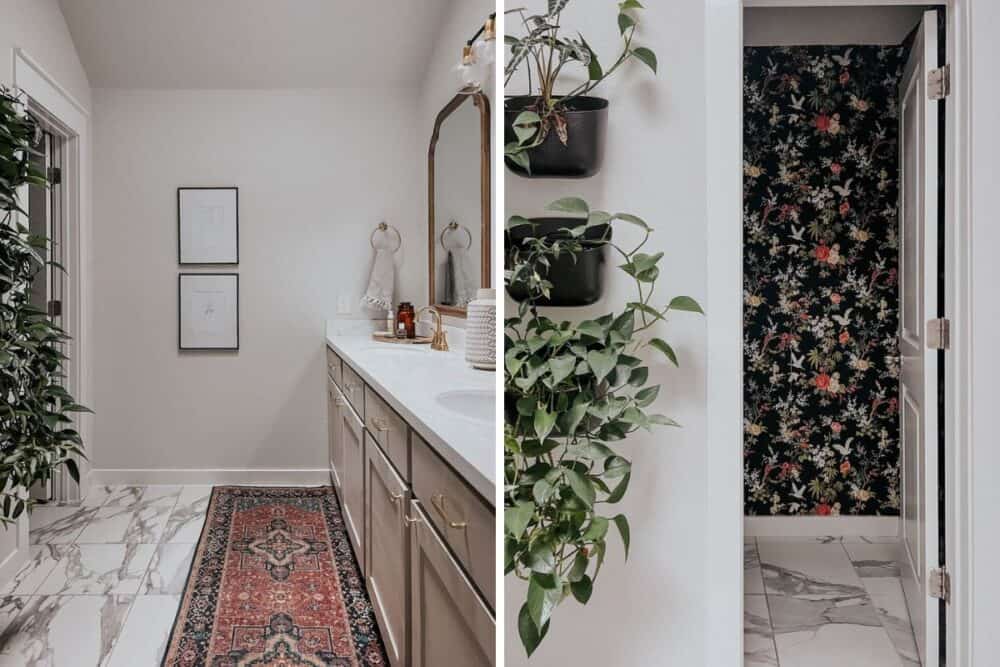 The biggest change that happened in this space in the last year is a new bed! Corey and I splurged on our first ever real, fancy bed (and not one that will fall apart in a couple of years), and it feels great.
We also finally reached a point in our lives where we are able to keep white bedding clean and looking good, so things are really looking up for us.
Other than that, this space has remained largely untouched. We poured a lot of effort into our primary suite in the first couple years we lived here, and I'm so glad we did. Instead of saving our space for last, we put it first. And as a result, we have always had this retreat that we love spending time in. Over time, I think there will be some shifts and changes, but this is basically my dream bedroom.
2022 Primary Suite Posts
The Game Room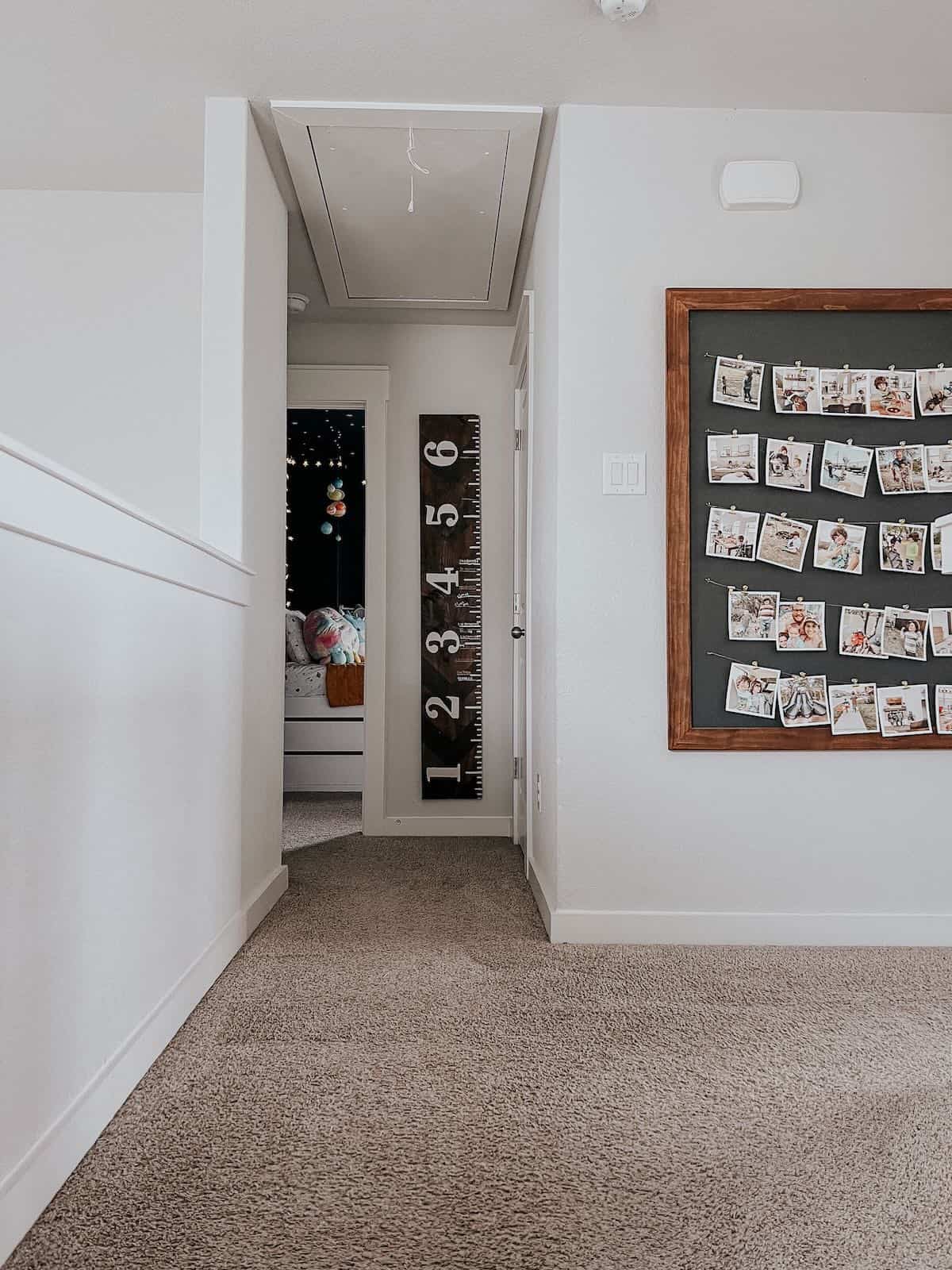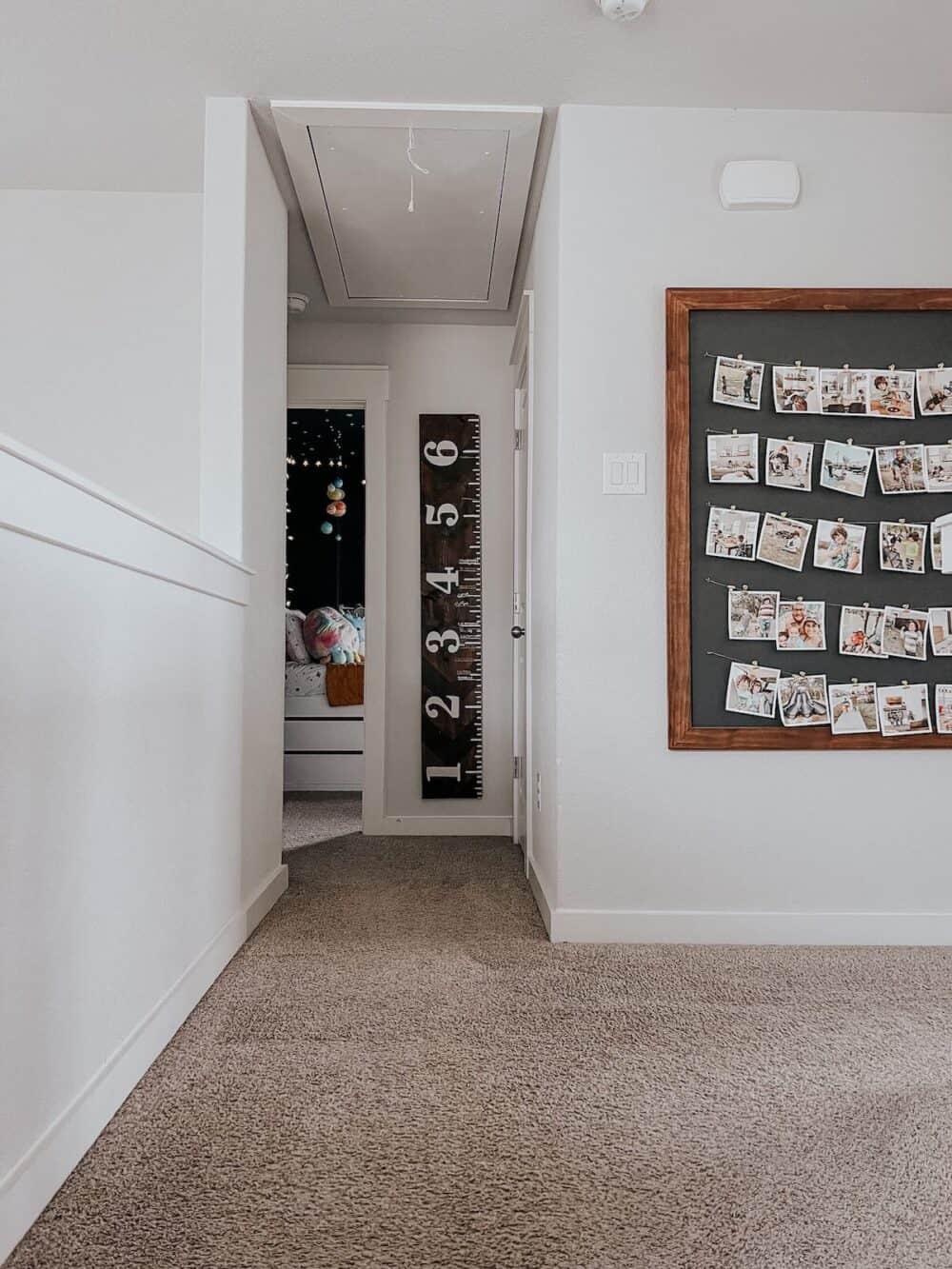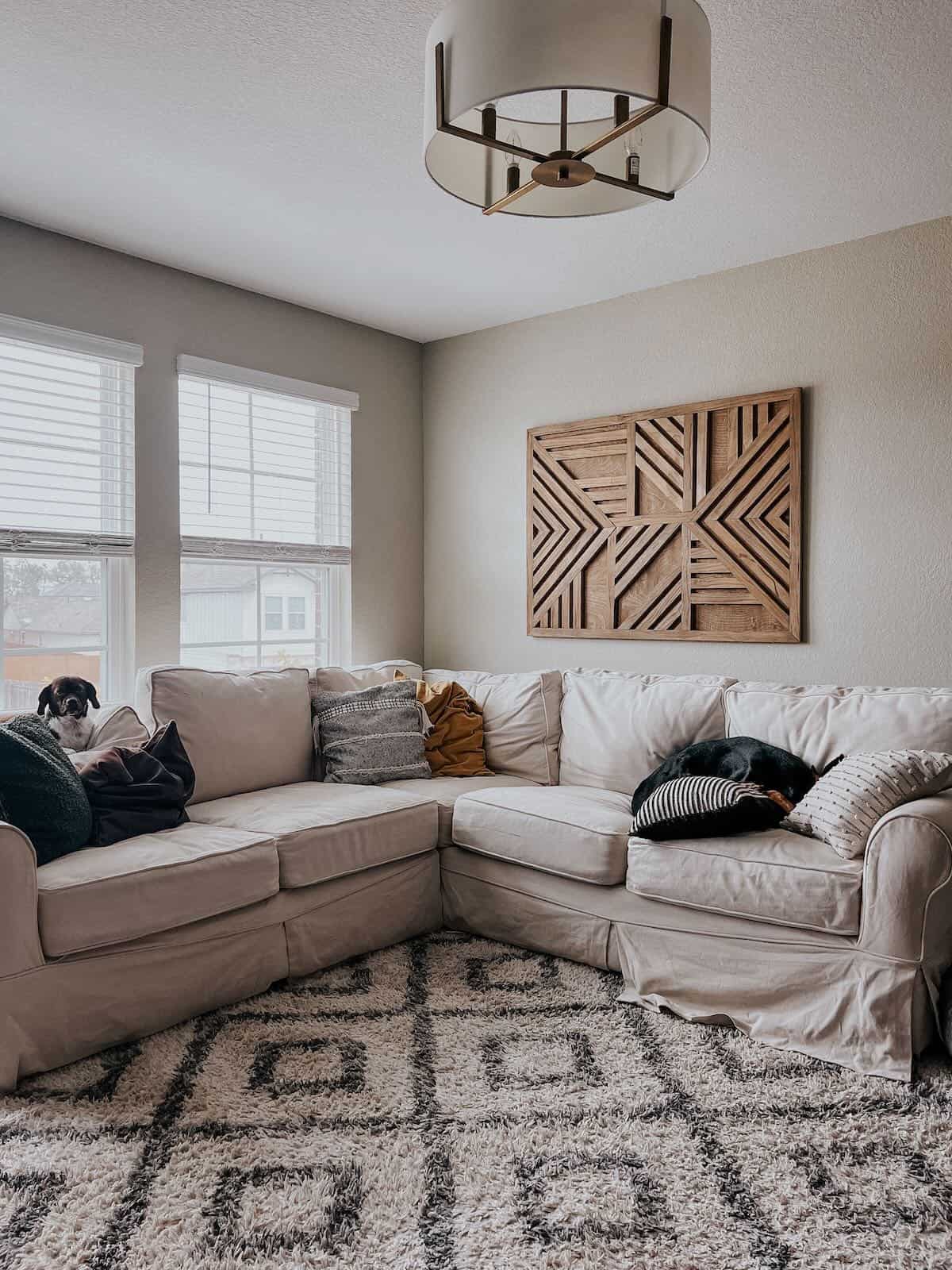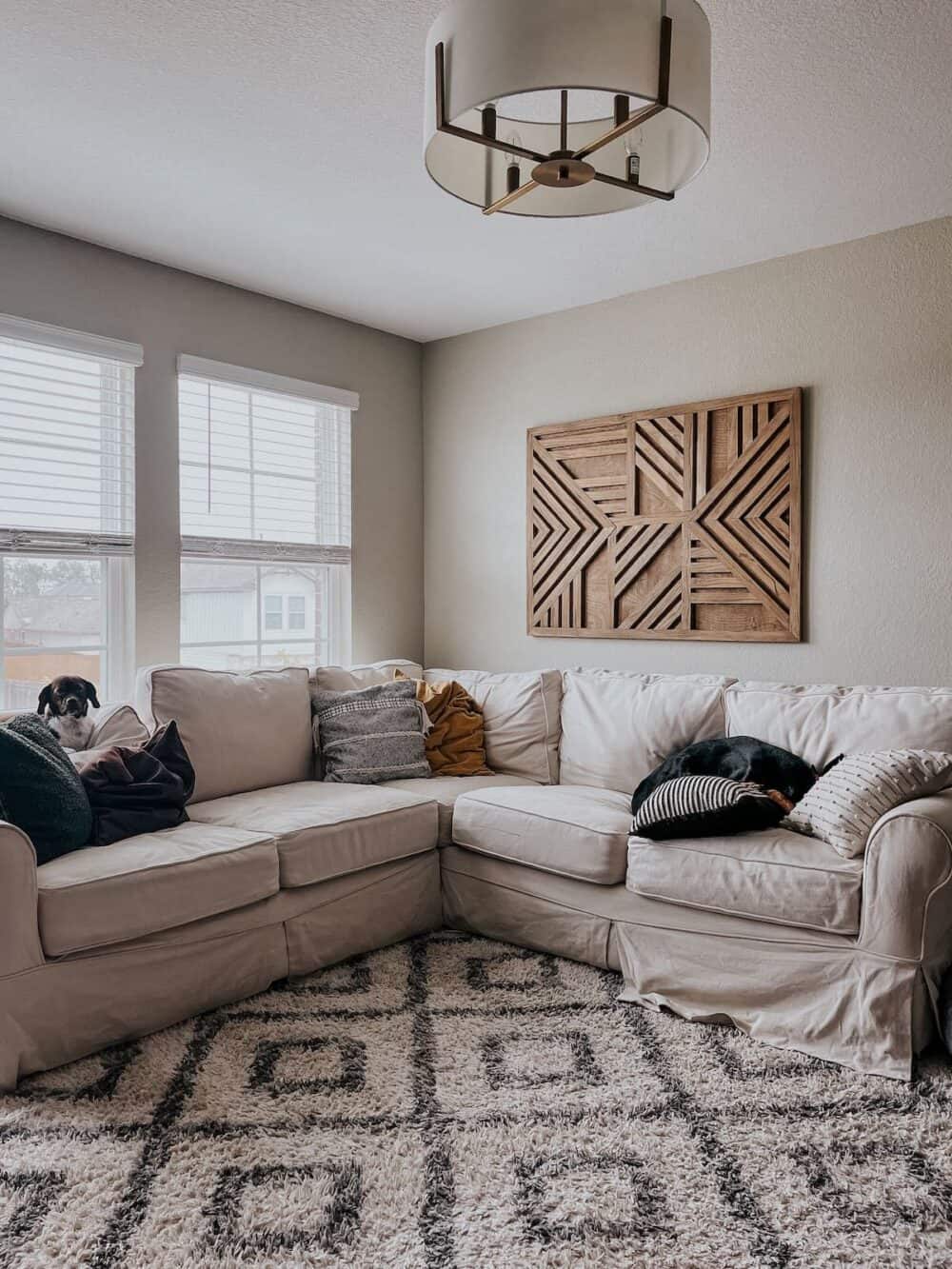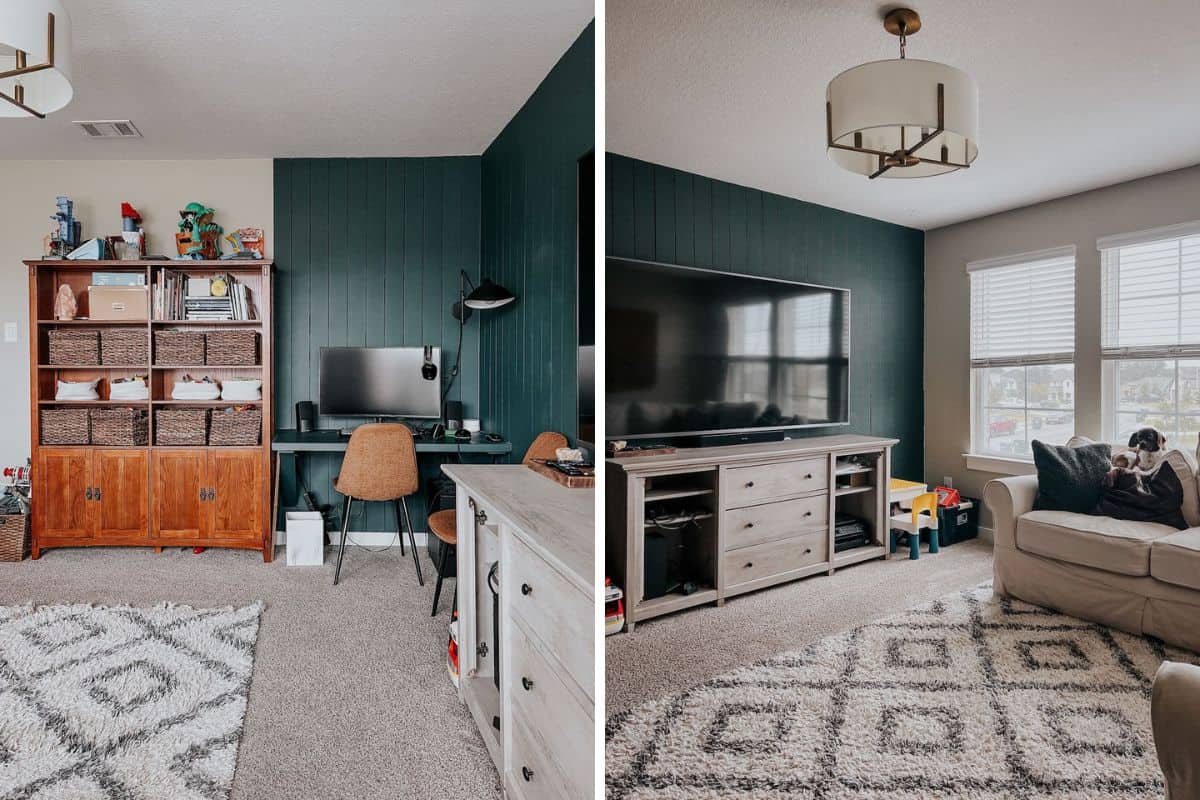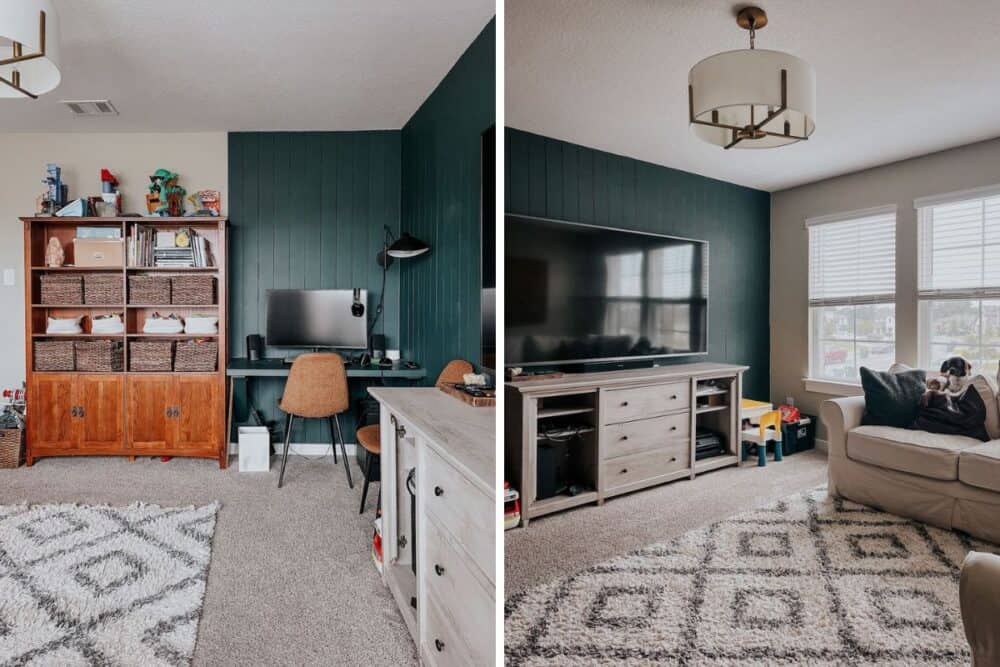 Ohhhh, the game room. This space is a complete wreck about 90% of the time, and many of my friends over on Instagram didn't even know it exists! We gave this space an overhaul in 2020, and it was truly beautiful. But, it's a space dedicated to the kids and that means it's hard to keep it looking nice.
The entertainment center is quite literally falling apart (thanks Tiny Destroyer), there are toys everywhere and it's almost always a mess.
But that's the whole point of having a game room, isn't it?!
I would love to overhaul the storage situation in here, and having a broken entertainment center makes me want to tackle it sooner rather than later. Although, I admit, it's hard to get too excited about a project up here when I know the kids are just going to keep it a wreck most of the time.
Maybe we'll just wait until the Tiny Destroyer is a little less tiny.
The Boys' Rooms + Bathroom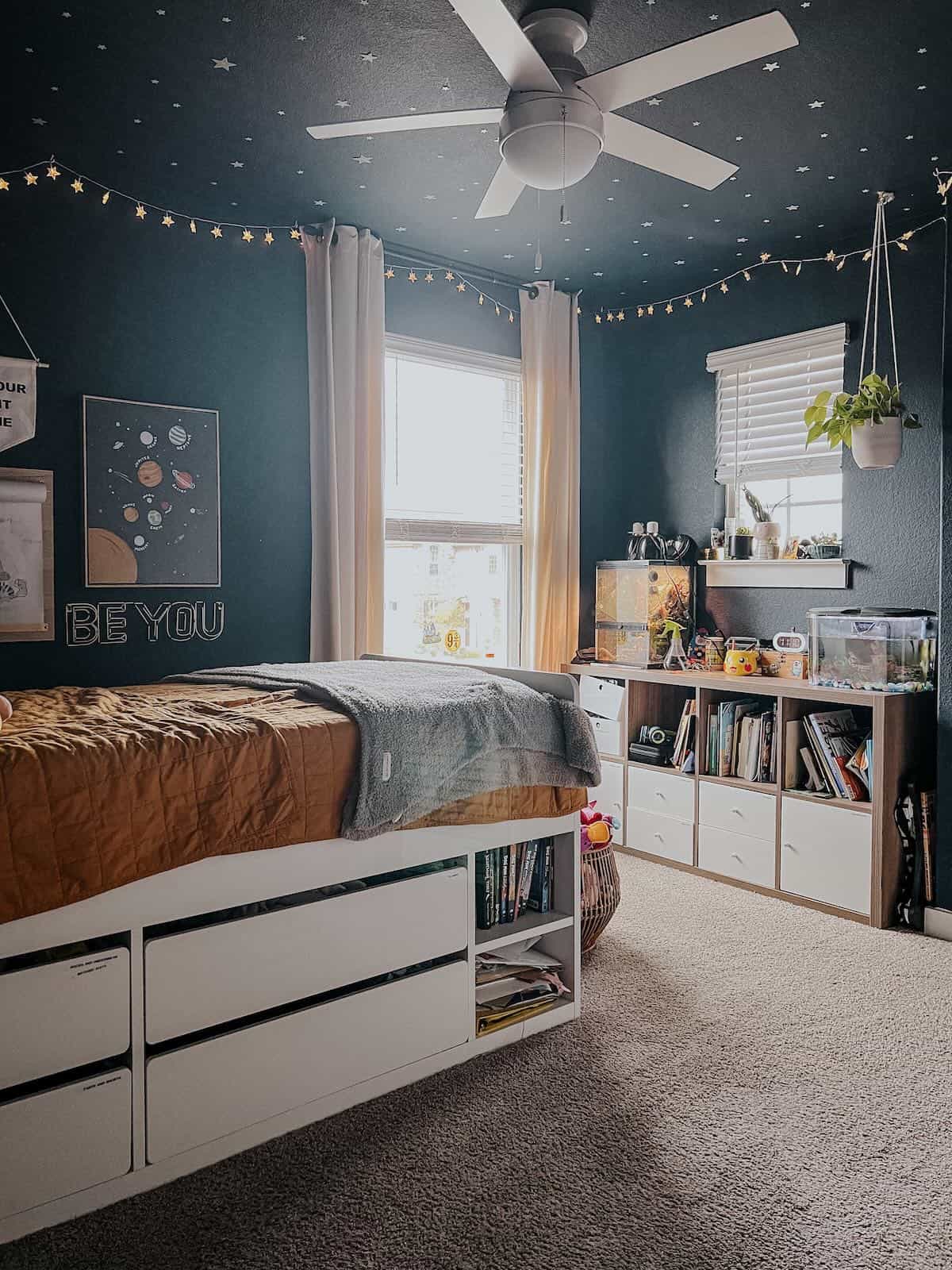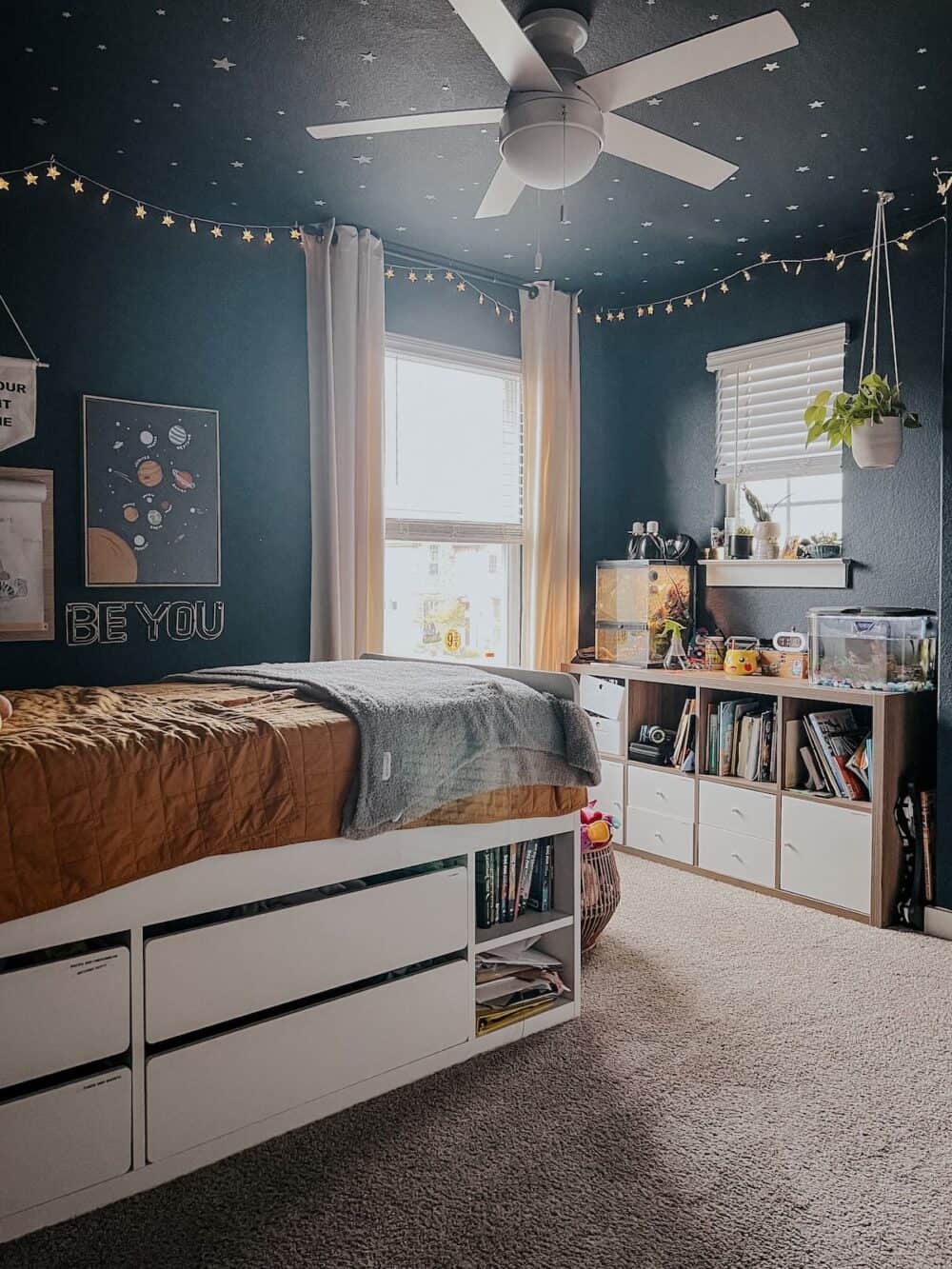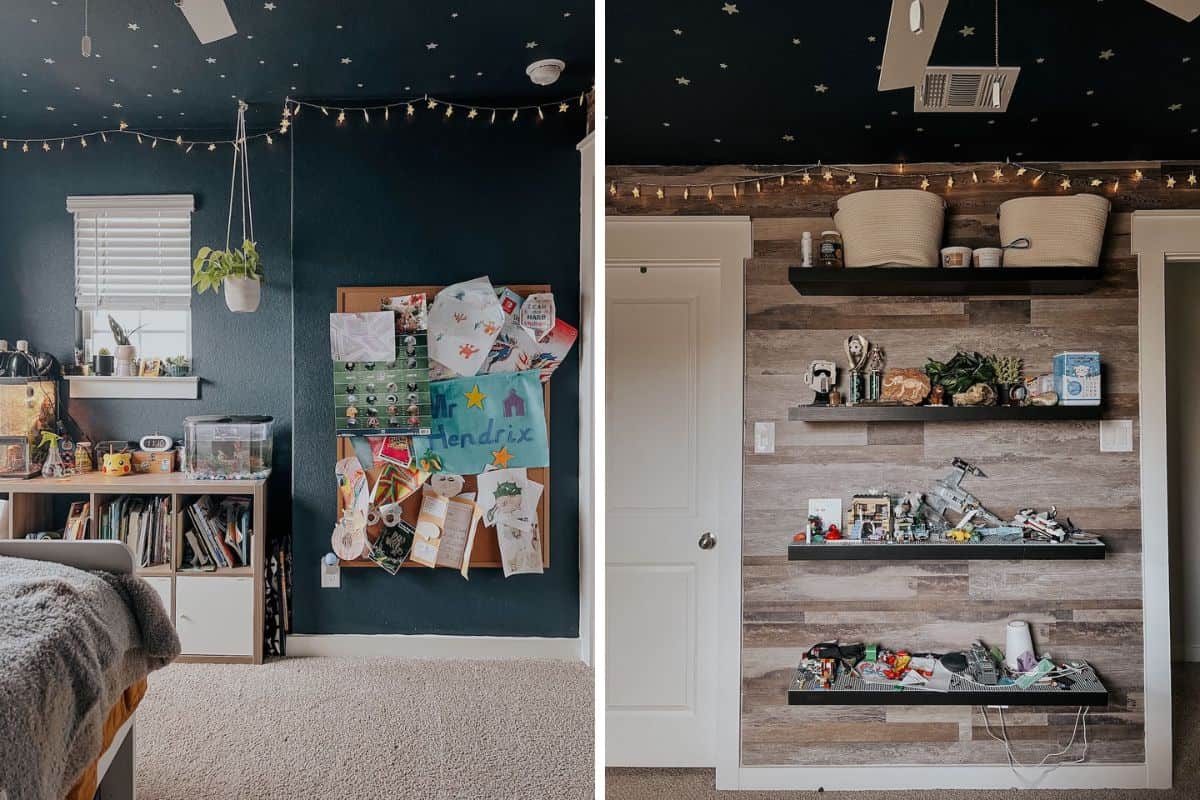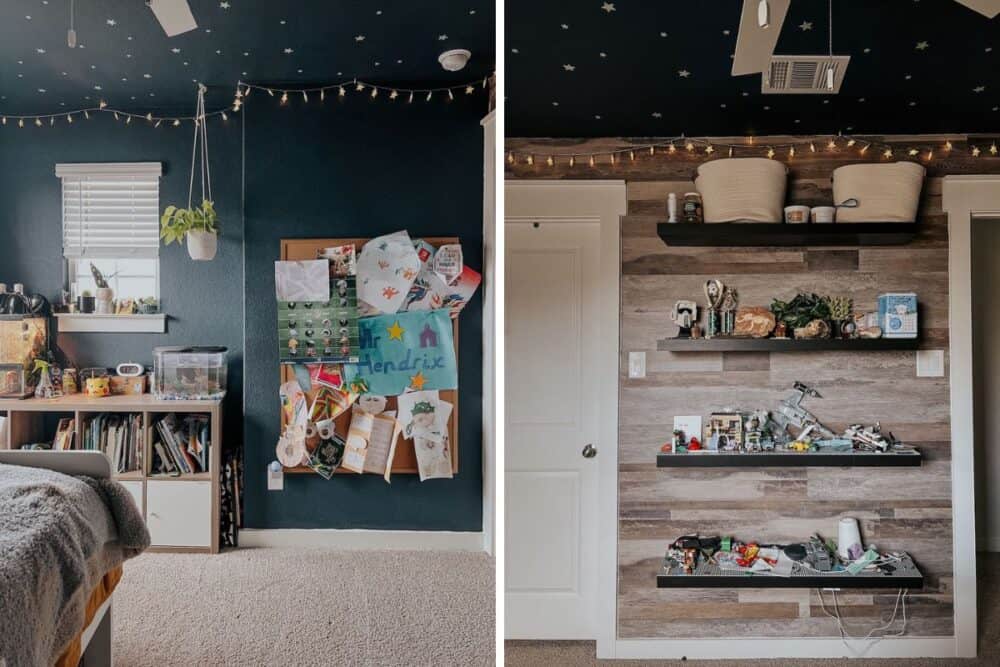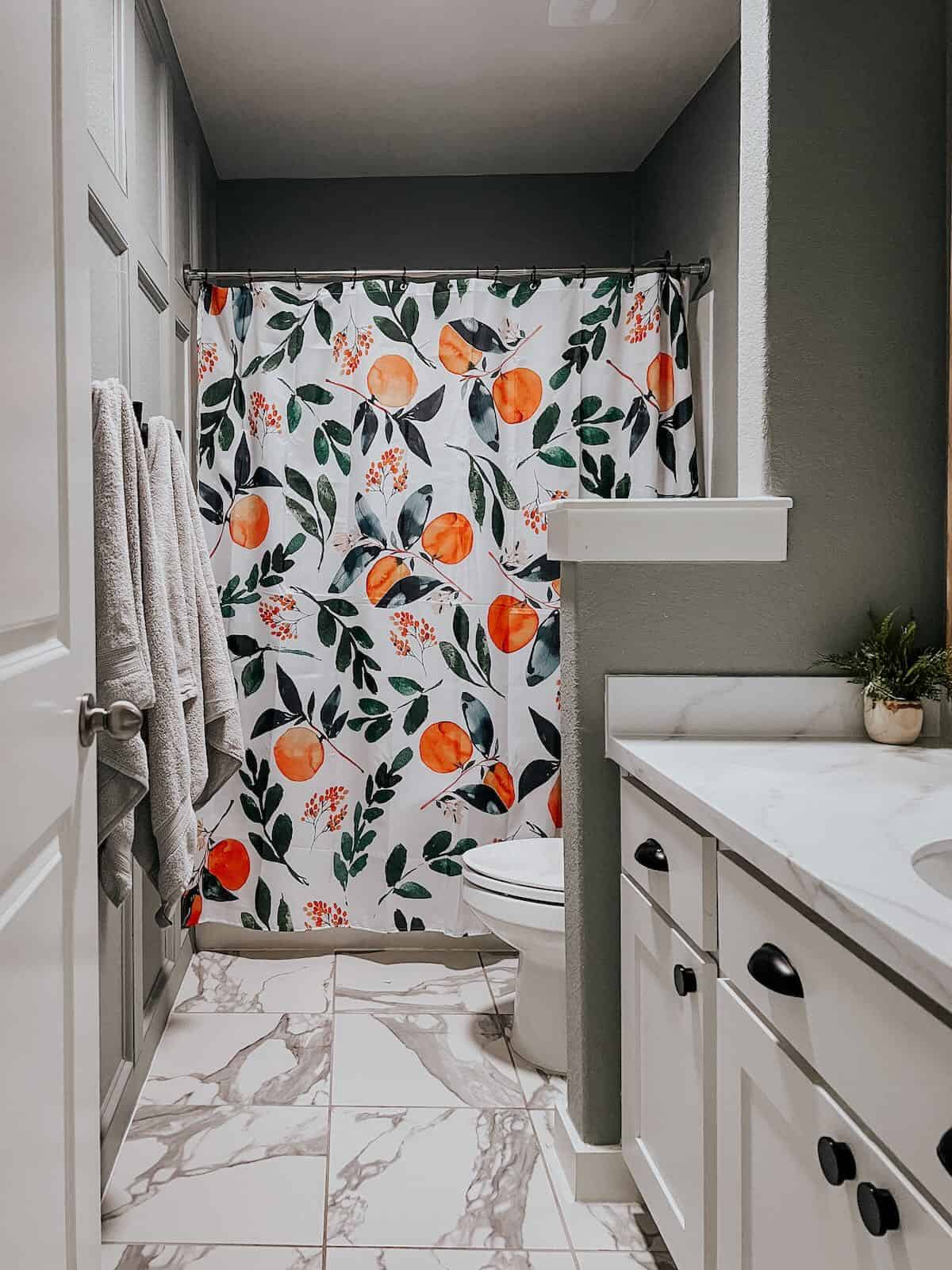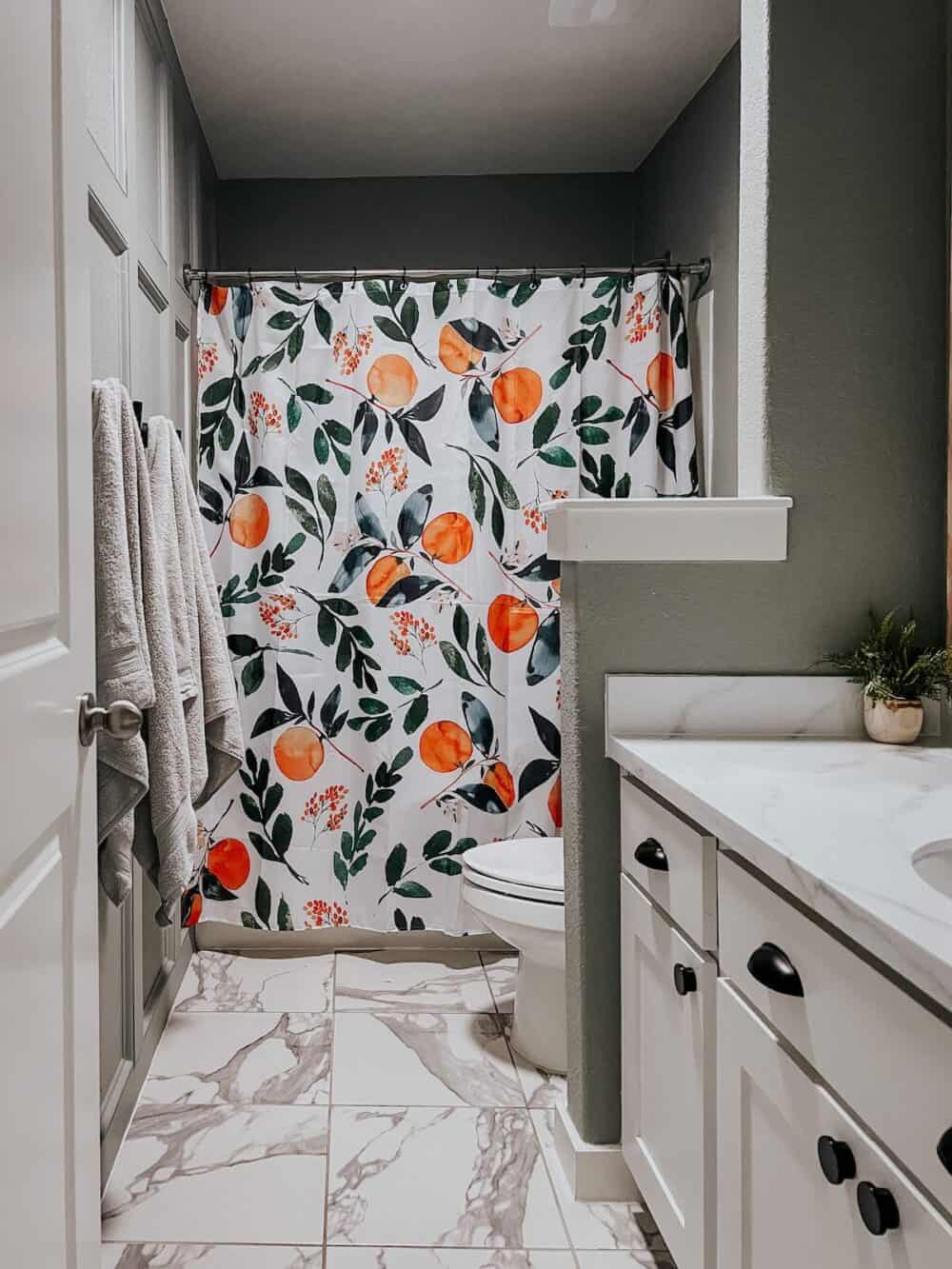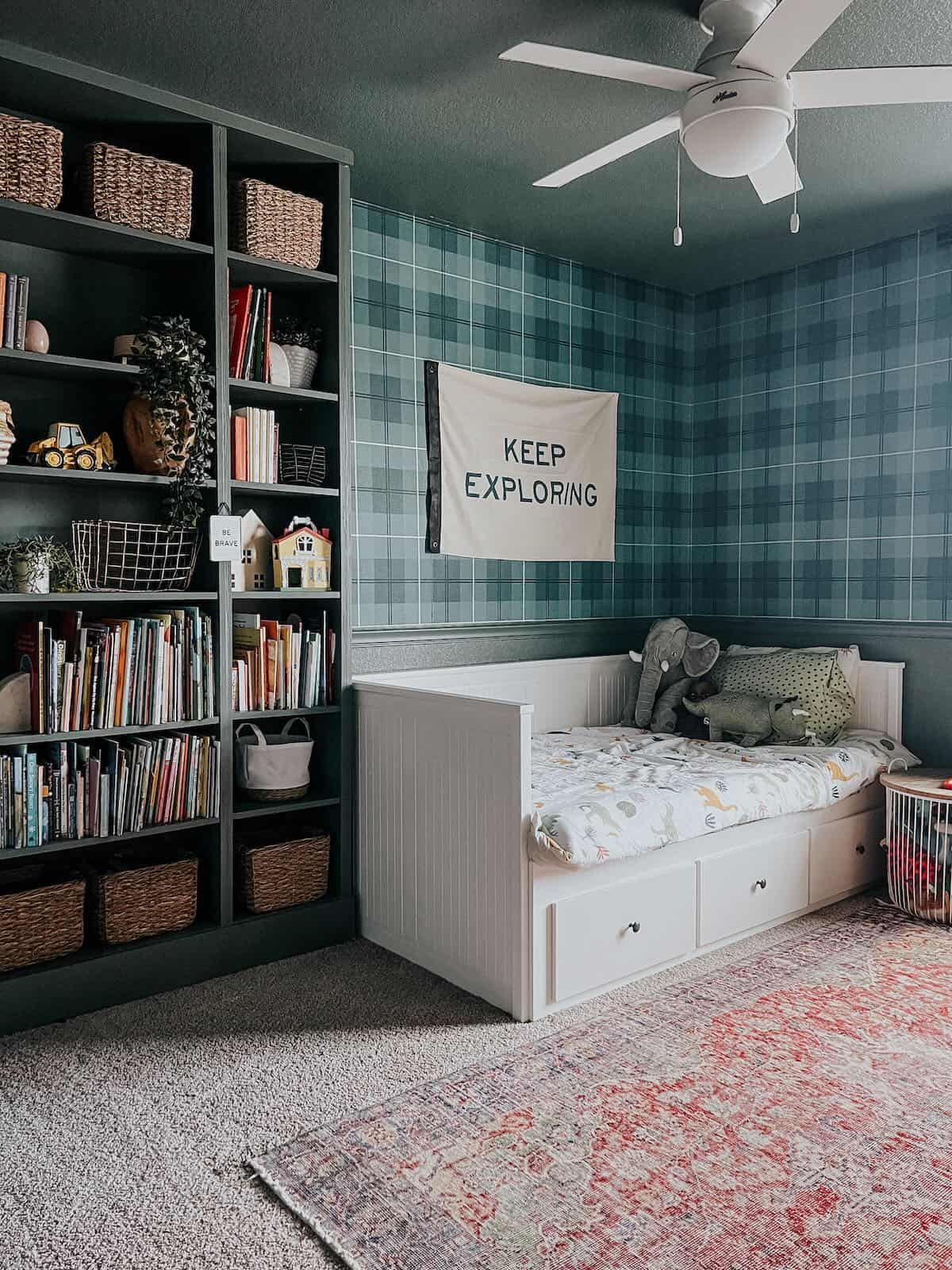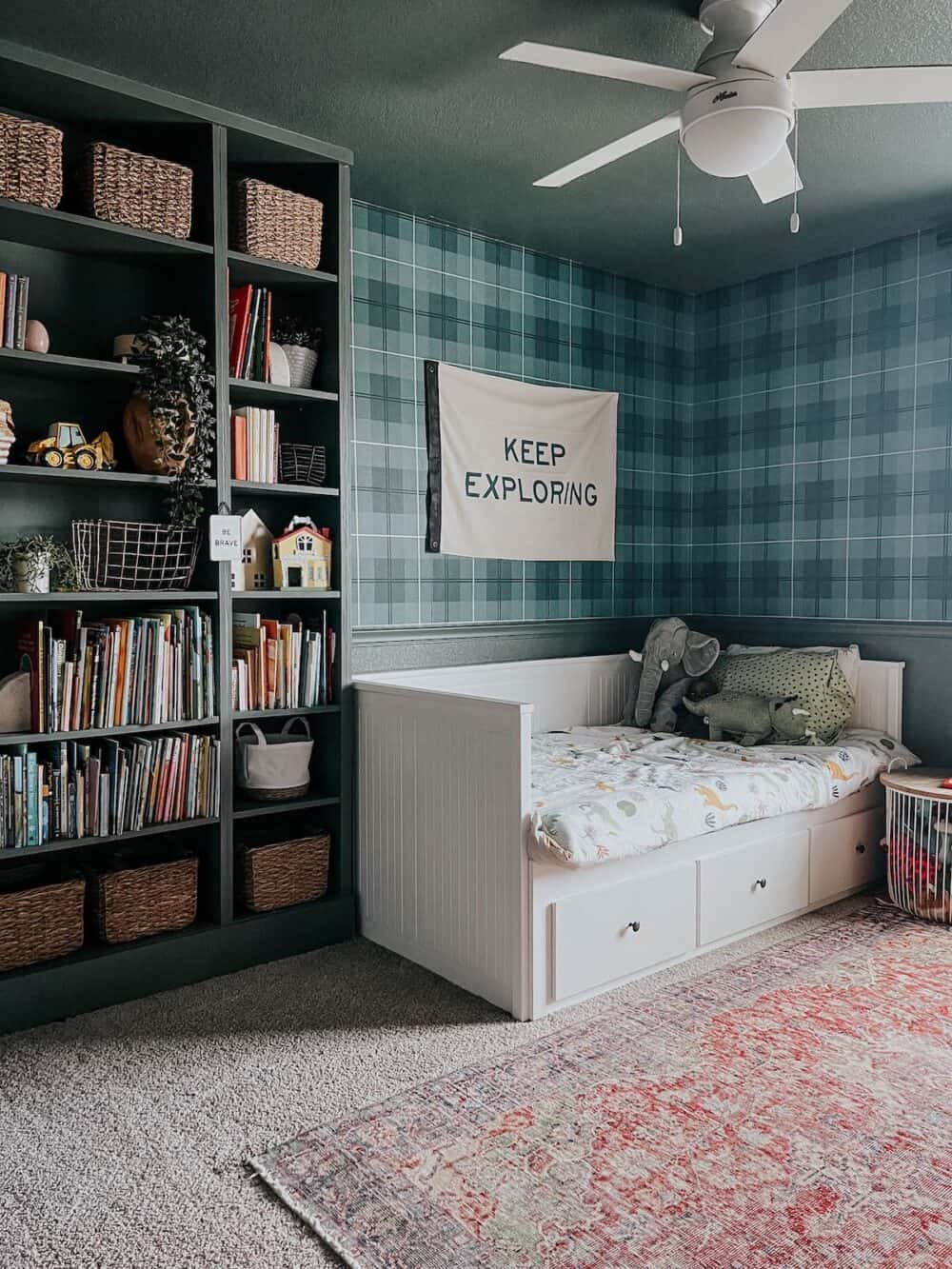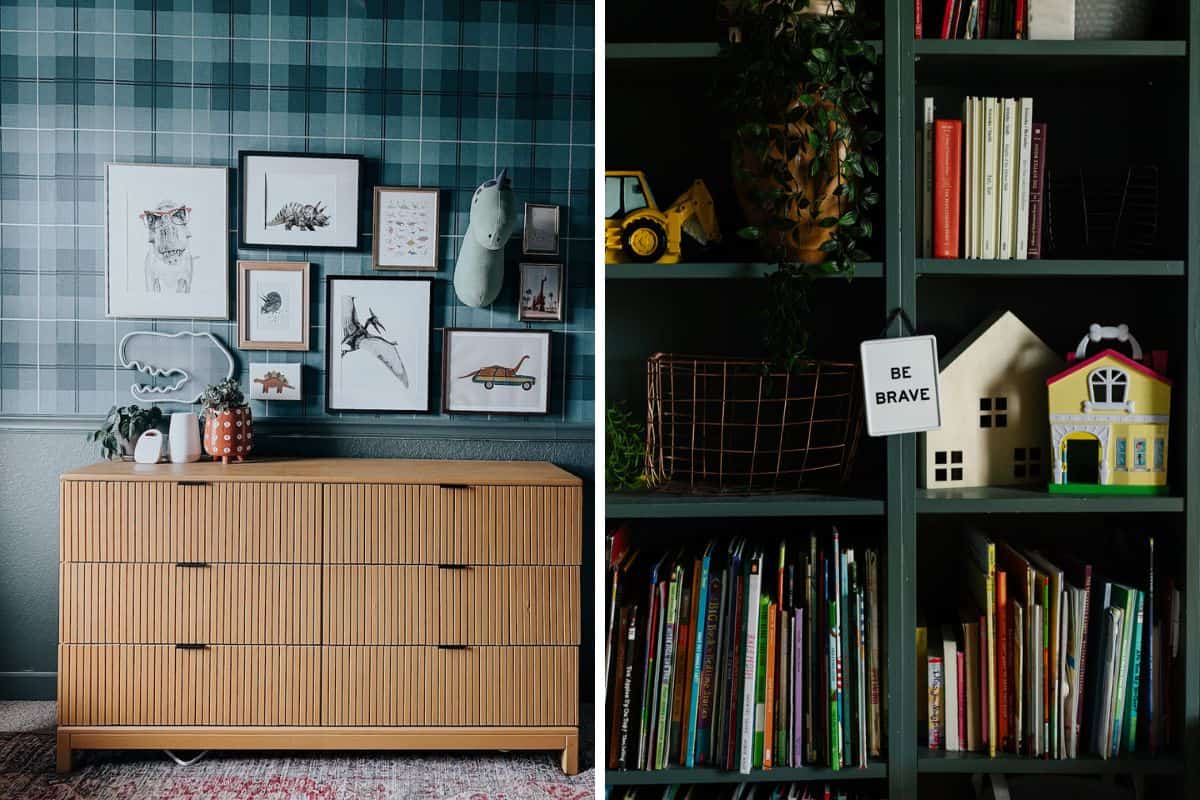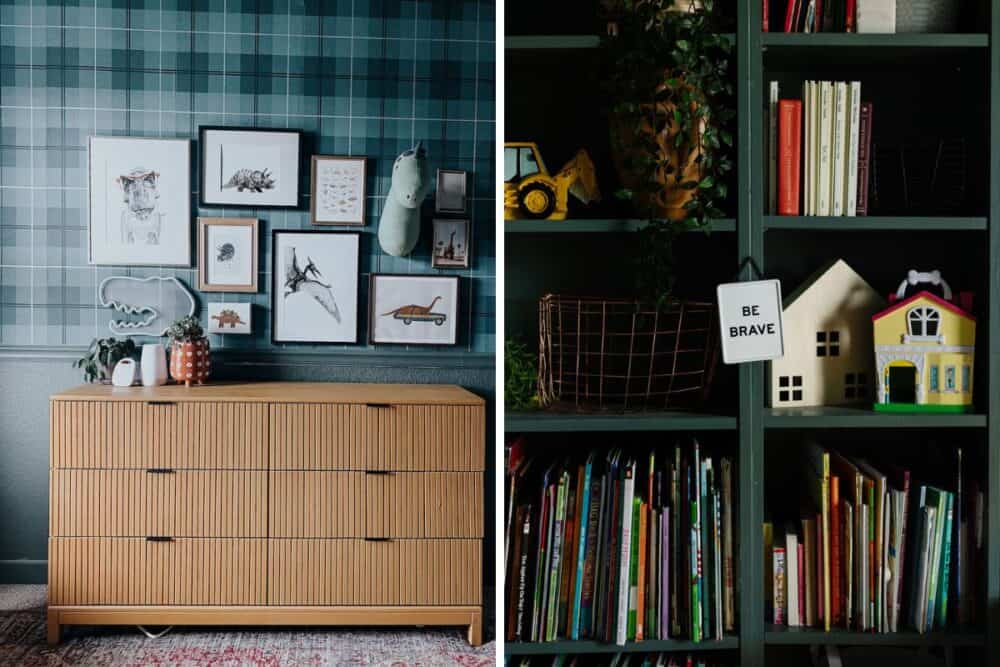 The boys' spaces have been so much fun for me in the last couple of years. In 2021, we tackled Jackson's space themed bedroom, and this year we did Grant's dinosaur bedroom. Each space perfectly captures the personality and interests of our two little dudes, and I love how cozy and fun their rooms feel.
Their bathroom is a space that gave me all sorts of trouble from the moment we moved in – it's awkwardly shaped, it was super cave-like, and it's always dirty. I got it to a place where it's truly a space I find beautiful, and even got some natural light in there this year!
It's still dirty and gross all the time, though. Boys. What are you gonna do?
2022 Boys' Rooms Posts
And that's how our home looks after three years of living here.
I'm truly still head over heels in love with this place, and I can't wait to continue to watch it evolve!