15 Fun + Creative Painting Projects
We've been talking a lot about the basics of painting here on the blog lately. I'm a huge fan of the power that paint has to completely transform a space on a super tight budget (and with not a lot of skill required), so I thought today we'd do a quick little roundup of some of my very favorite painting projects over the years.
I've painted a lot of things in my day – everything from accent walls to floors to bathtubs (yes, a bathtub!). I've learned a lot, but the biggest thing I've learned is that taking some extra time to make something in your home beautiful is always worth the effort. And paint? Well, it's a really great way to do it.
Whether you've been playing with paint for a decade or you still haven't worked up the nerve to pick up a paintbrush, you're sure to find some inspiration here and some ideas for what you can try in your own home.
If you're nervous about trying something, remember: it's just paint! It can be painted over or sanded down very easily, so there's no reason whatsoever to worry.
You've got this. All you have to do is pick up that paintbrush and get started!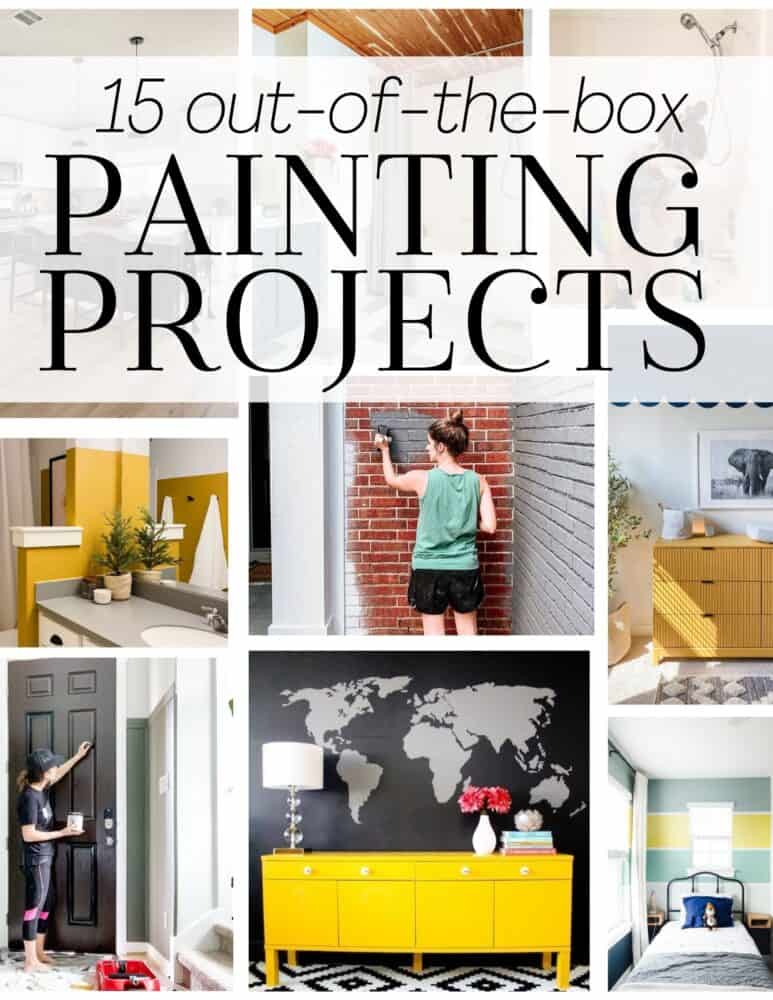 15 Creative DIY painting projects
(Click on each heading to be taken to the blog post with all of the details!)
If you're looking for a fun painting project, why don't you paint…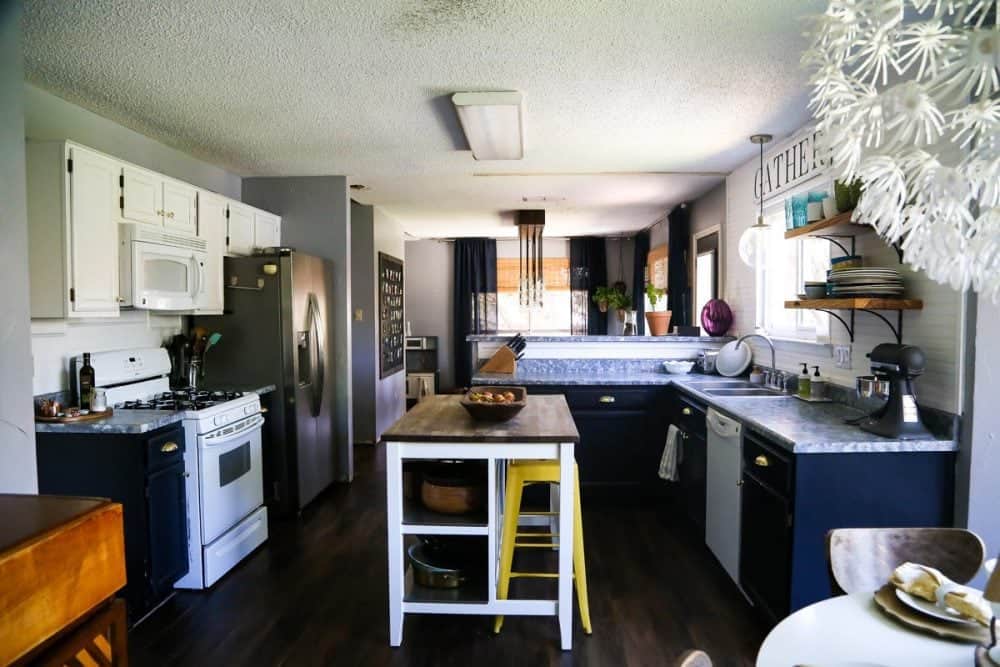 This is a project I tackled years and years ago, before painting countertops was really a thing at all. In fact (get ready to cringe), I used regular latex paint and to paint these counters. And you know what? They held up better than I expected them to.
Nowadays, though, there are plenty of products available for your countertops, no matter what material they are. If you have laminate counters (which is what I had), Rust-Oleum has a Countertop Transformations Kit that comes in several colors. For anything other than laminate, you can try Giani's Countertop Painting Kits. I may or may not already have this one sitting in my closet just waiting to make its debut in my bathroom!!!!!
Regardless of what method you choose to try out, painting your countertops is actually a really great solution if you hate what you have but don't have the budget to fully replace it. The quality of the paint for it has really improved over the last several years, and you can expect your painted countertops to last quite a long time!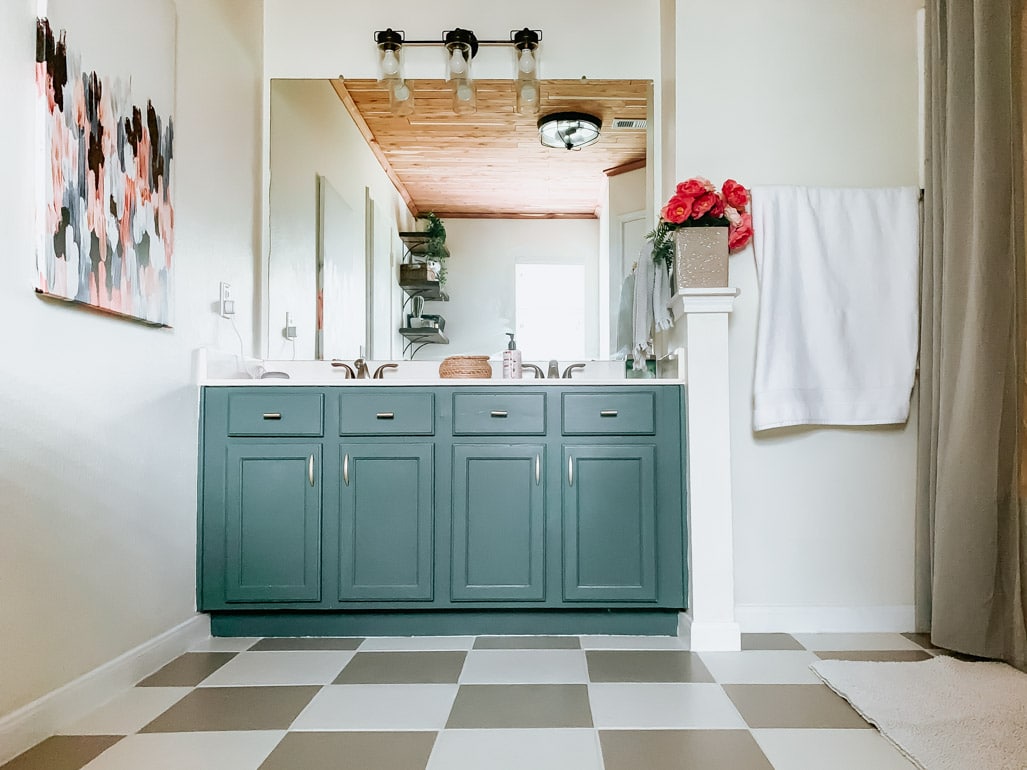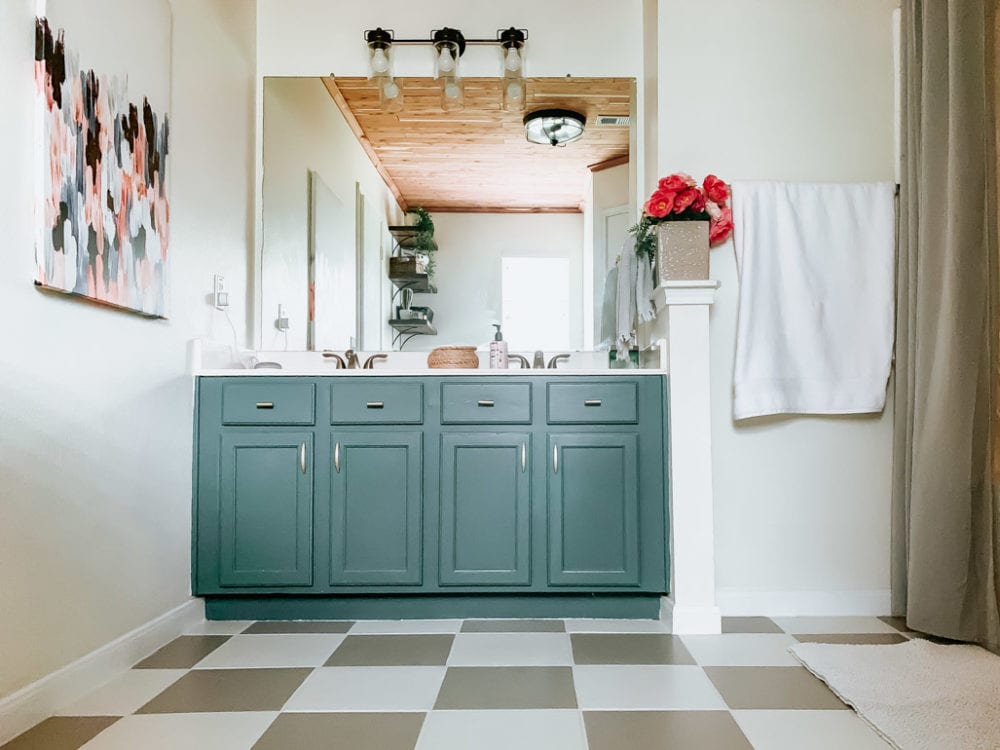 I had wanted to try painting tile flooring for years and years, and in our second house I finally got the chance when I wanted to give our bathroom a refresh. The flooring before was forest green and not my style at all, but with a few coats of paint the space was totally transformed and it made me so happy!
There are lots of different tile painting products out there these days, but this is what I used for these floors. It's incredibly durable, cleans up easily, and can give you a whooooole new look in your space for such a good price! I would 100% recommend this project to anyone who has tile flooring in your house that you hate. It's such a beginner-friendly project, and you'll be blown away by the results. Promise.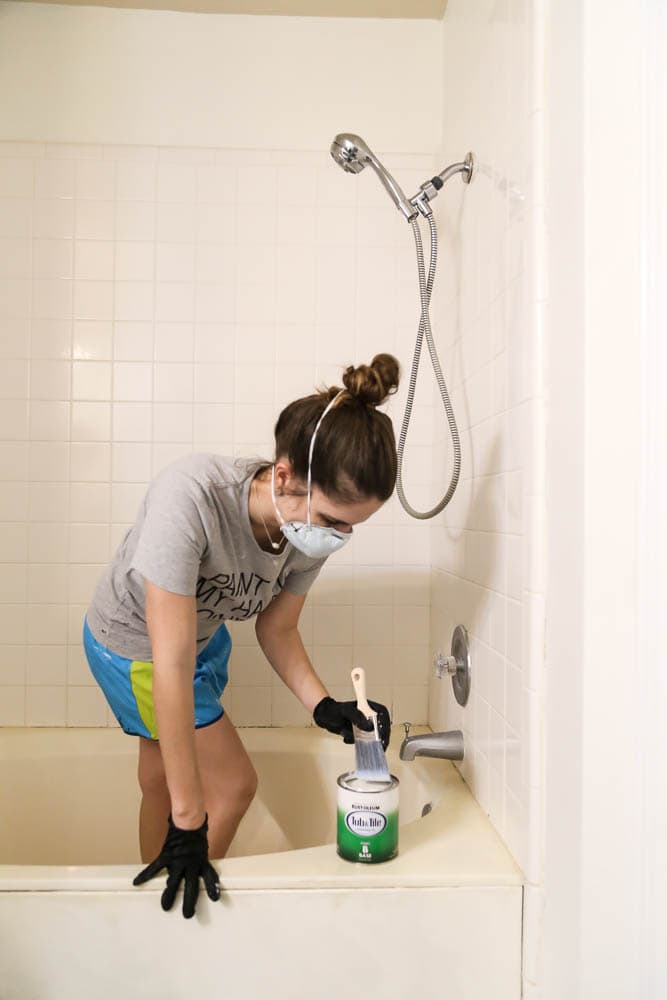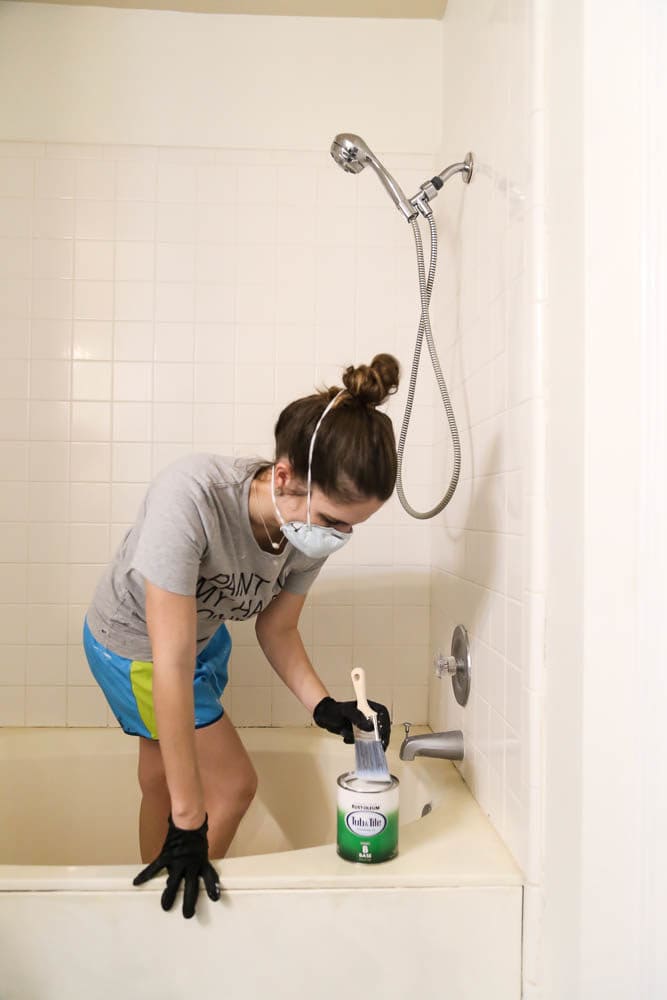 Telling people that they can paint their ugly bathtubs and shower surrounds is literally one of my favorite ways to completely blow people's minds.
We did this project in our second house, and I was so impressed by how simple it was and how stunning the finished product was. Our bathtub wasn't too terrible, but the off-white of the tub next to the other-shade-of-off-white of the tile always made me a little twitchy, so I painted it all one seamless color and it looked incredible. But, this would be even more impactful if you're dealing with a more offensive color tub. I once lived in an apartment with a mustard yellow tub and surround – and it was not cute!
This project is super budget-friendly (a kit is less than $25!) and simple enough for beginners. The only warning I'd give is that the epoxy scent is strong, so plan it on a day when you can open up all the windows and leave the house for a few hours while things dry!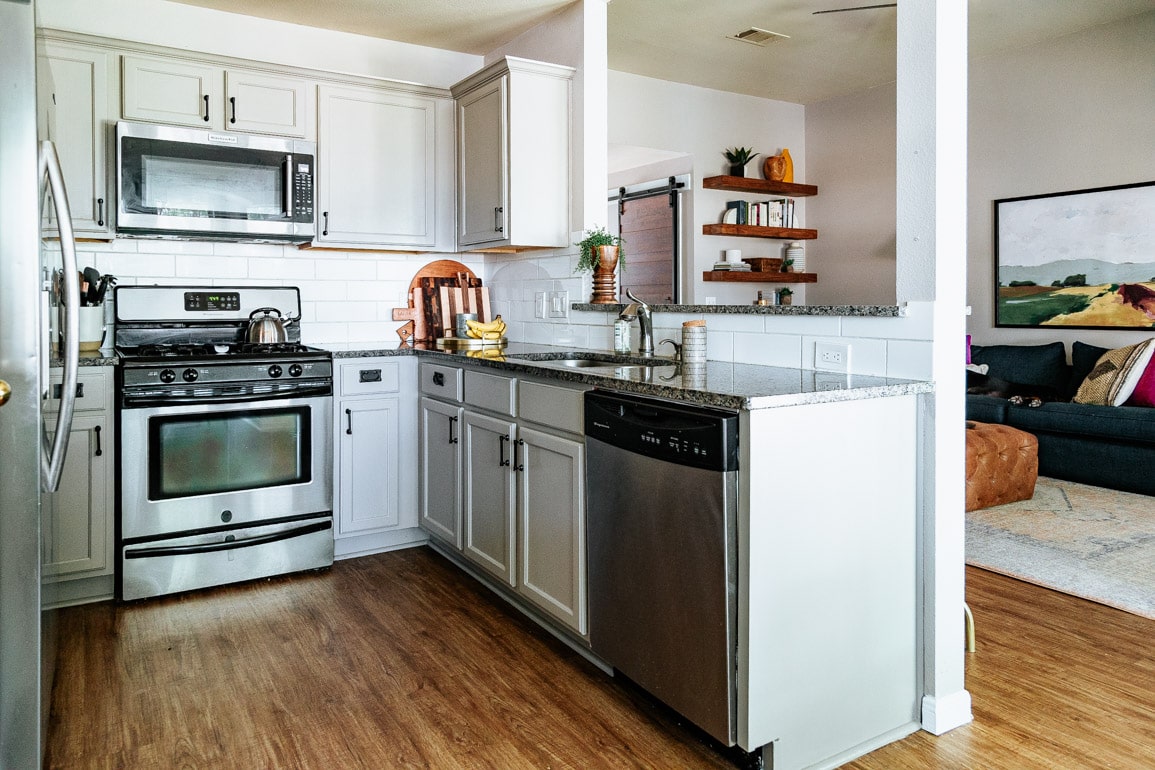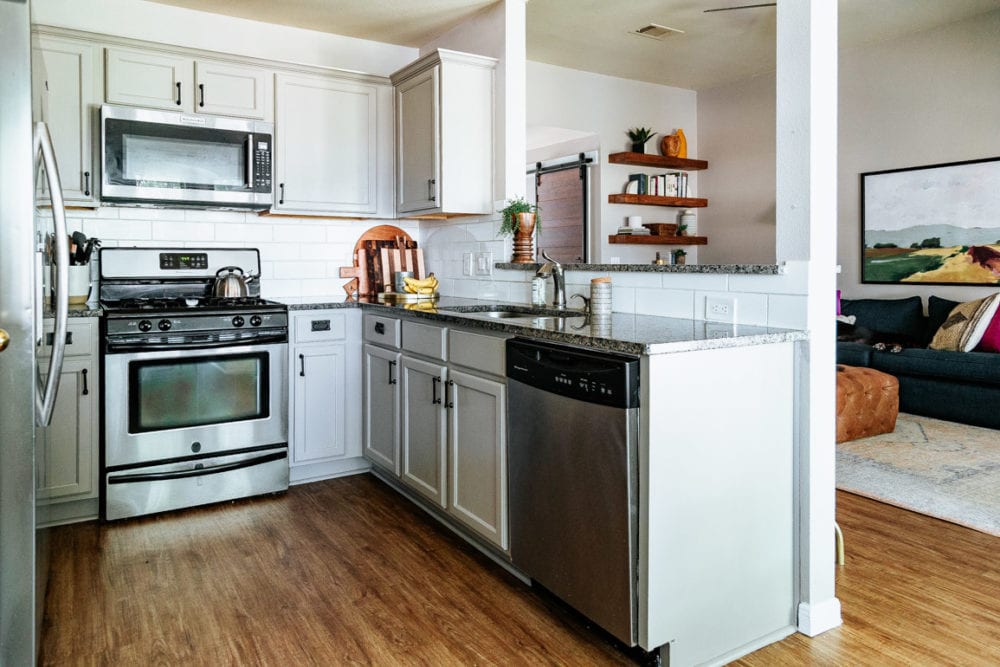 This one isn't a surprise (of course you know you can paint your cabinets), but you might be surprised to learn that it's probably easier than you think it is!
I'm a really big fan of Rust-Oleum's Cabinet Transformations Kit – it's perfect for wood cabinets that haven't been painted yet, because you don't need to sand and it's formulated for cabinetry so it's really durable! I've used it a couple of times with great results, and the colors are so gorgeous.
Painting your cabinets will take quite a bit of time and effort, but man – talk about a huge transformation without spending a lot of money!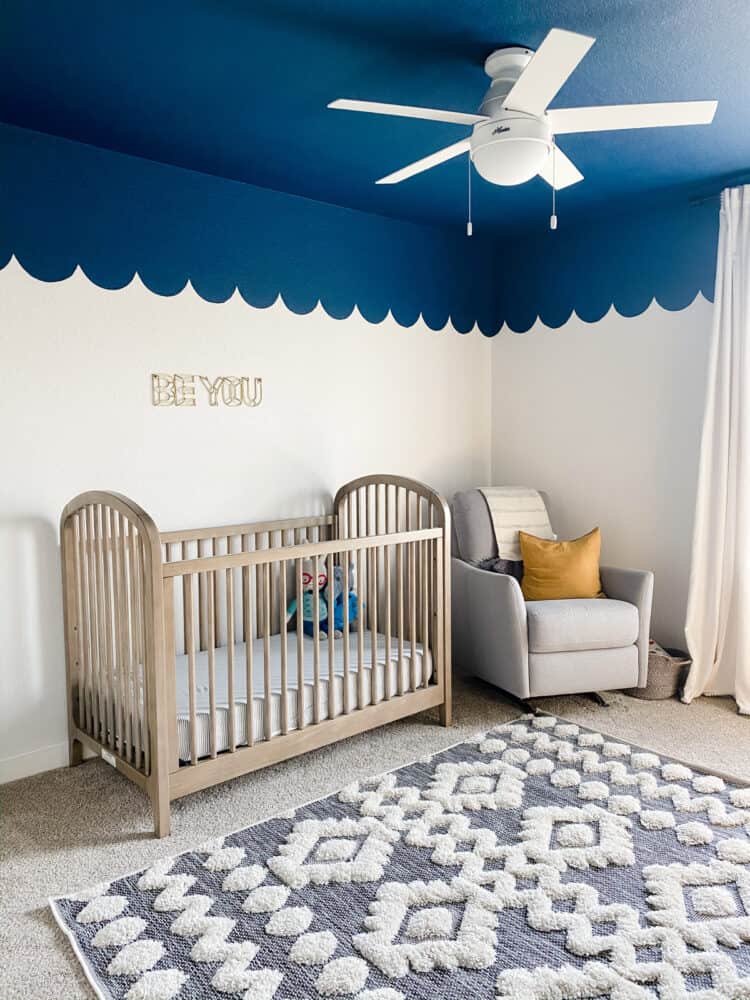 I love a painted ceiling. Love it SO MUCH! We painted the ceiling in Jackson's nursery as well, and it's seriously one of the simplest ways to make a huge impact in a room. In fact, I think I should do it more often!
Painting a ceiling is definitely a lot bigger of a pain than painting the walls (your back might hate you for a day or two), but it's such a fun and unexpected way to add some color to a room, and it makes things feel so cozy! I love a painted ceiling in a kid's space, but I'd also love to try it in a bathroom or even a family room.
Remember, if you decide you hate it, it's just paint! You can always re-do it later, no big deal.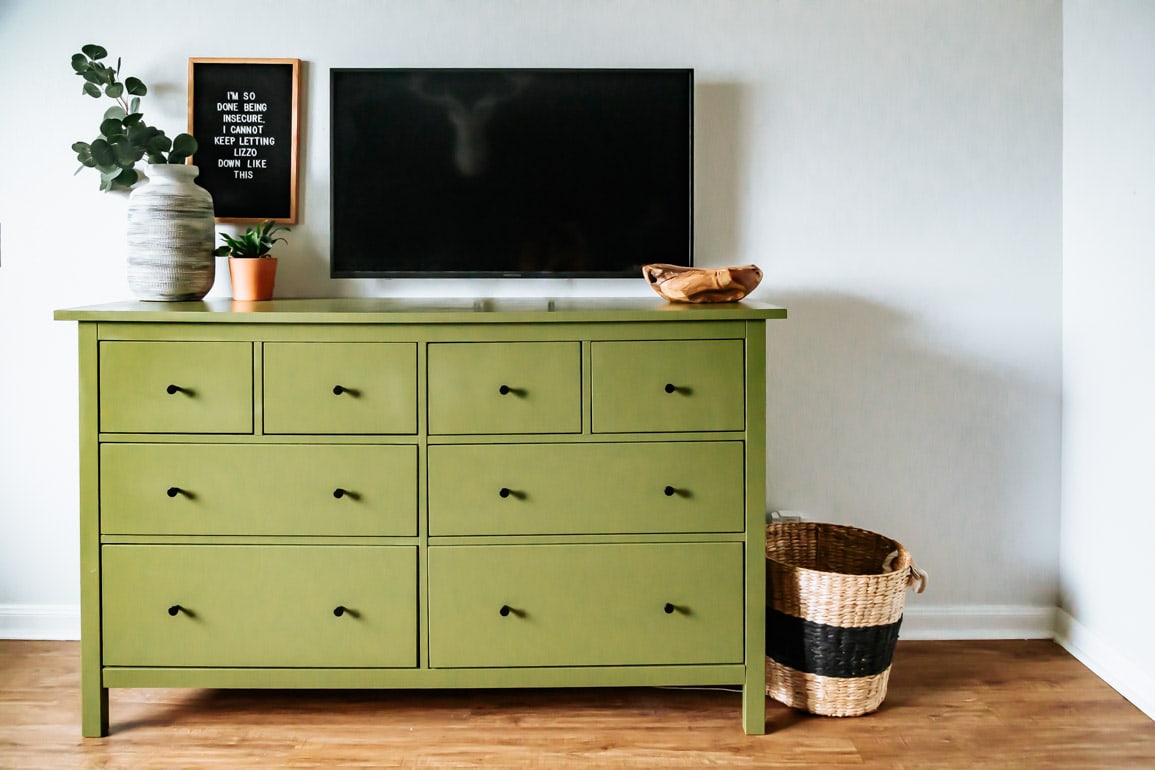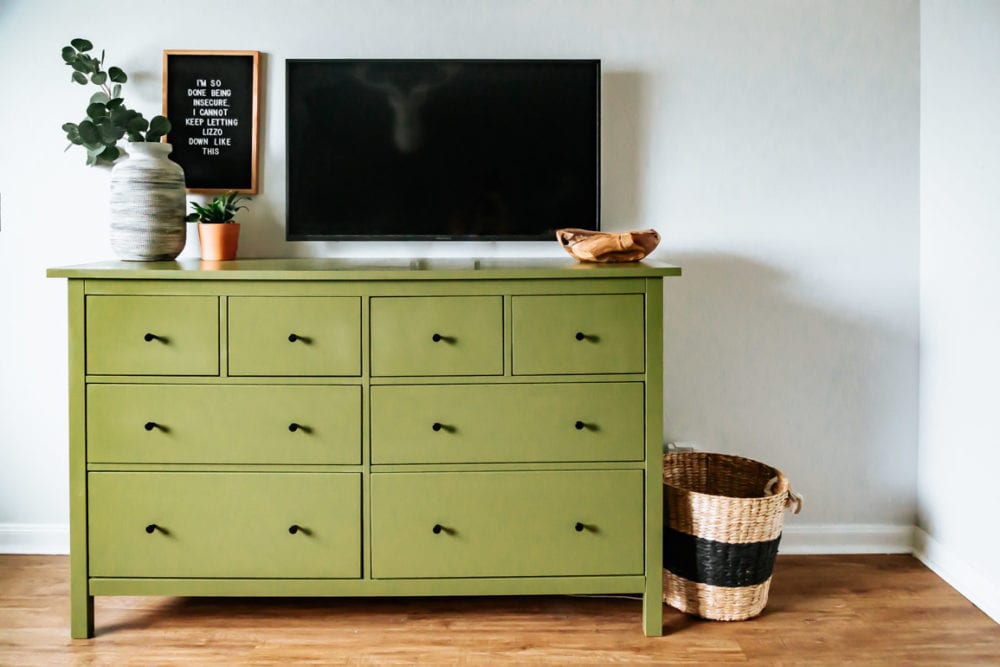 Click here for my best tips and tricks for painting furniture – the post linked above has tips specifically for laminate furniture (like from IKEA). Painting furniture will always and forever be my love language. There's something so satisfying about taking a piece you don't quite love and giving it a makeover to turn it into something incredible!
Bonus points if you do something fun like adding DIY fluting to the drawers while you're at it!
This is such a great way to breathe new life into just about any piece of furniture you've got in your home, and once you get started it'll be hard to stop.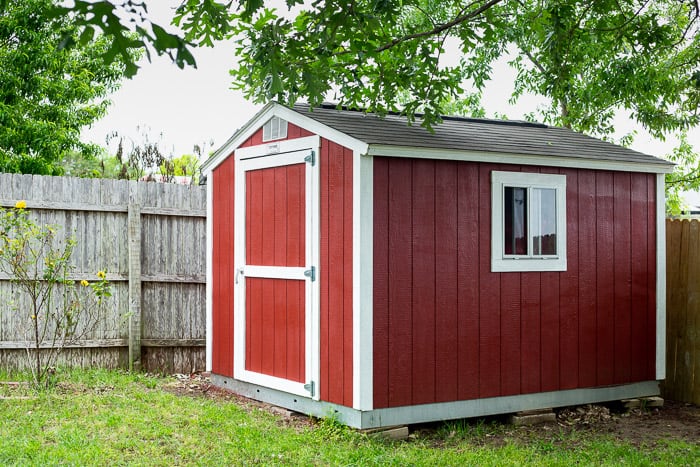 Two of the three houses we've lived in have had backyard sheds of some kind, and both times I painted them and it made the biggest difference! There's just something special about looking outside and seeing a color that makes you smile rather than the plain ol' beige they typically start out as.
You can click the link above to see all of the details on how I painted this shed, but I used a big, professional-grade paint sprayer (you can rent them if you don't want to buy one!) and it went SO fast. It's a project that may feel intimidating, but it's honestly not all that different from painting a room inside. Just a little windier.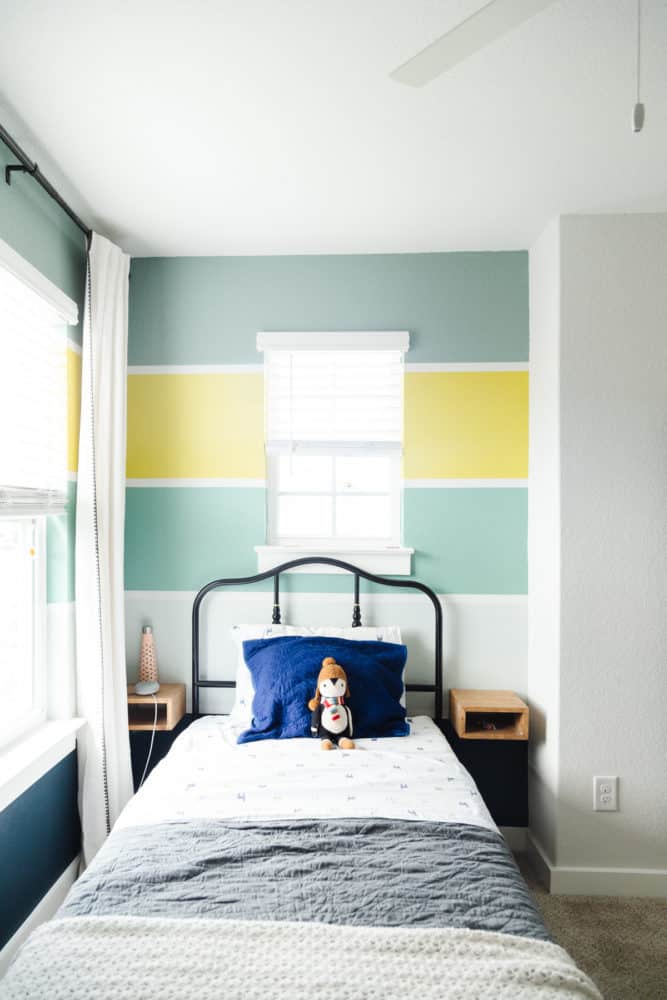 I love to add unique wall treatments using just paint – it's so affordable and so dang fun to see a room completely come to life with just a little bit of paint!
I've painted stripes a couple of different times, but I for sure had the most fun doing this striped treatment in Jackson's room last summer. It's bold and colorful and playful, and it'll be no big deal in a couple of years when he decides he wants a totally new look, as kids do.
Follow the link above for all of my tips on how to paint stripes on a wall – it's honestly not all that hard, and the finished product is sure to make a huge statement!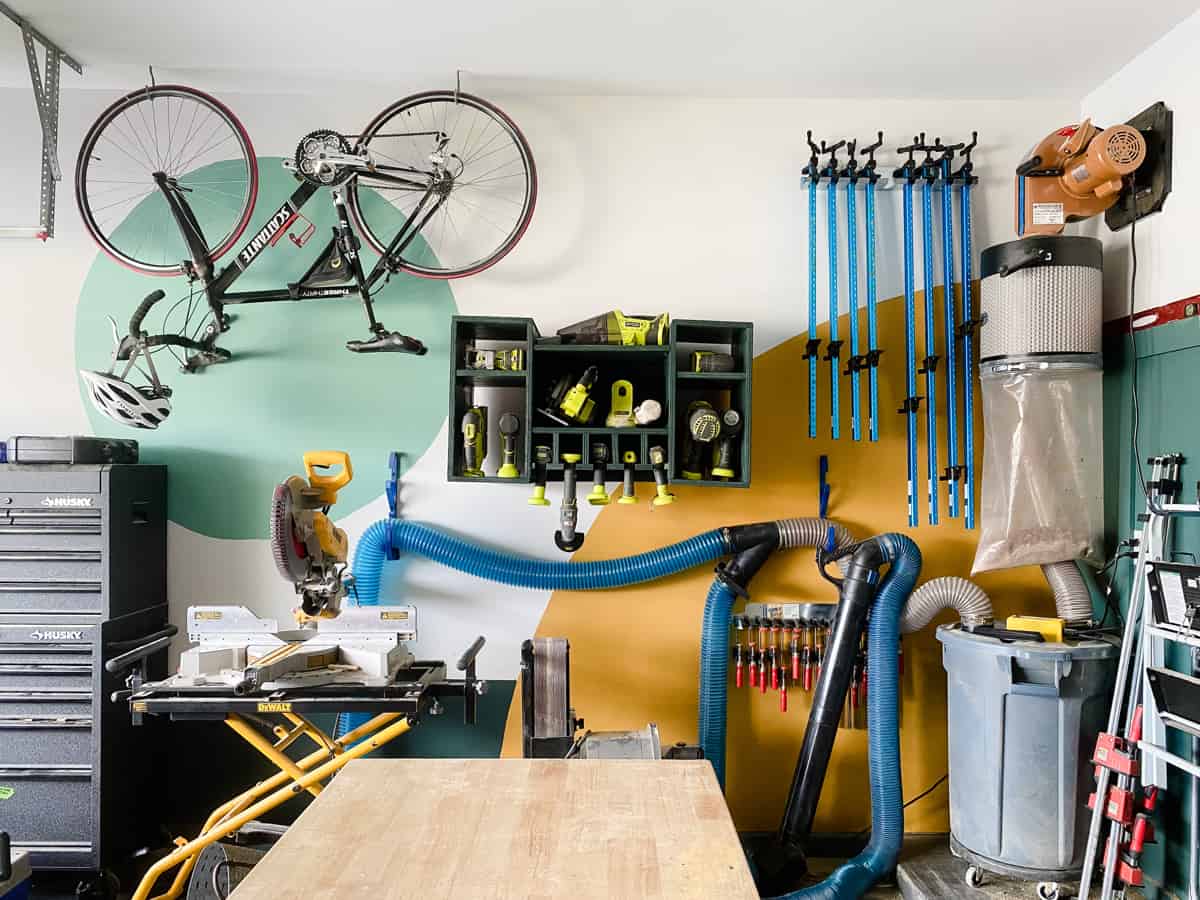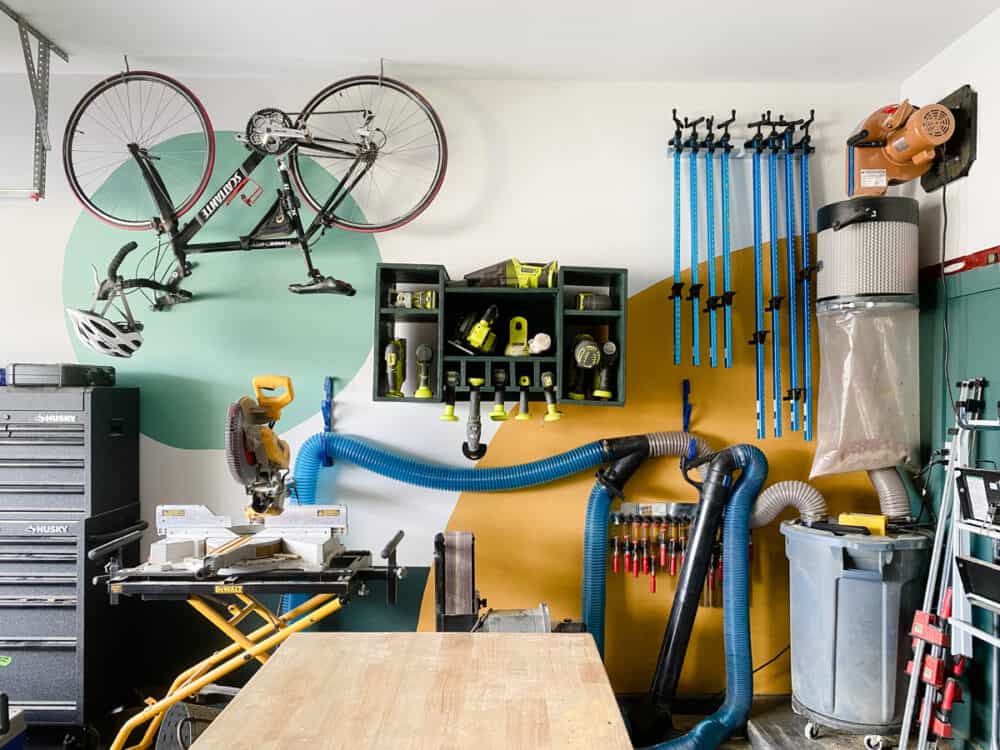 I had so much fun in my garage just painting a bunch of circles, stripes, and even a rainbow on the walls! I used leftover paint from old projects (including the stripes in Jackson's room!) to just go to town one day, and now it makes me smile every time I walk in there.
Something like this is a fantastic project for a garage space because it's so low-risk (it's a garage!), but you could honestly do it anywhere because – say it with me – it's just paint! If it ends up looking ridiculous, you can just paint right over it and no one will ever know you messed up. No big deal!
This is a really, really fun project if you're feeling in a creative rut and need to just do something to knock yourself out of it. Just get a little weird with it, have fun, and don't be afraid of trying something new.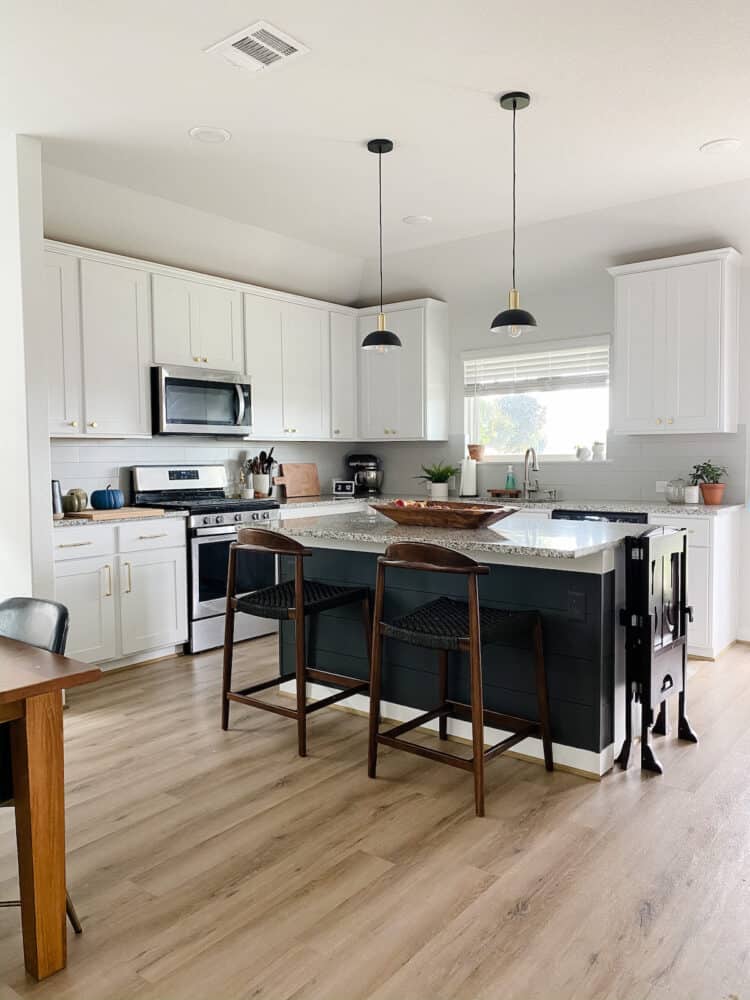 Maybe you aren't ready to commit to painting all of your cabinets yet – but you could start somewhere!
The back portion of a lot of kitchen islands is just drywall, so why not have a little bit of fun with it? I added shiplap to ours and painted it a deep gray color, and it really helped ground my all-white kitchen and make things feel a little more "me". Again, this is such a low-commitment project, since you're not actually painting any cabinetry here (and if you are, it's not much!), so you don't have to feel like you have to get the color perfect on the first try. In fact, I painted this island blue when we first moved in, and only 8 months later decided it needed a new look and painted it again. No! Big! Deal!
This is also a great way to try out a new color in your kitchen if you're thinking about painting the cabinets but aren't quite ready to commit. See how you feel with just a small portion done, then paint the rest!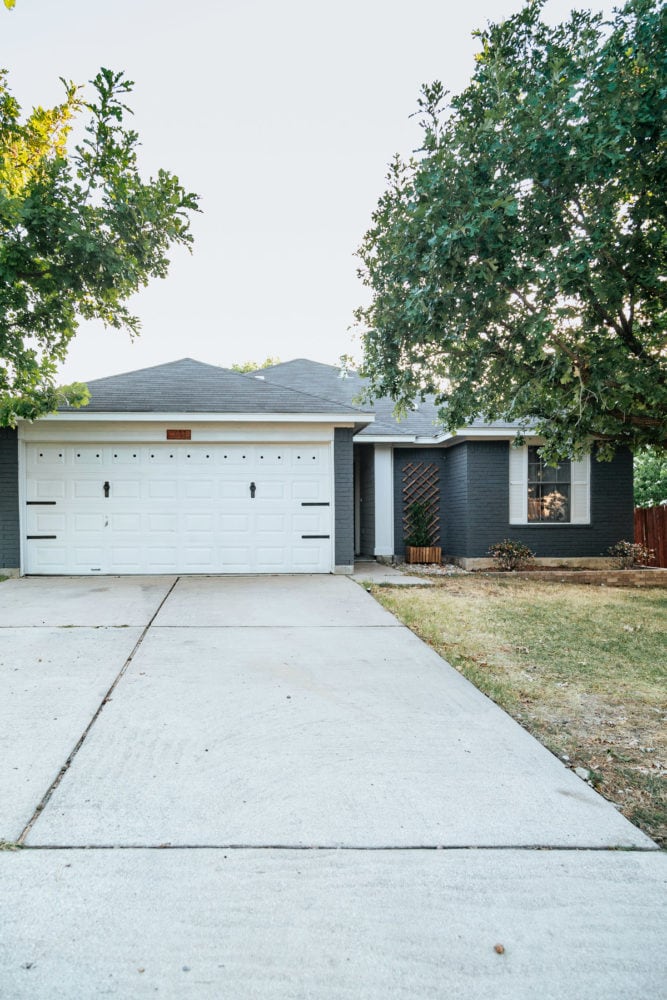 This will always and forever be one of my favorite before and afters of all time because it's just so dang mind-blowing. You have to click through the link above to see what our house looked like before if you haven't yet. You honestly won't believe it.
Painting your entire home exterior is not a small project. It's not an easy project. But it's a project that's so worth it, especially if you have a house that makes you cringe every time you look at the exterior (which I did!).
To be completely honest, I don't think I'd take on painting my own house in a two-story home – I'd likely hire that out. But, for a one-story, and especially a small one like our last house, it's a no-brainer to just tackle it yourself. You'll be exhausted but so proud of what you can accomplish with your own two hands, and you're sure to grin like a fool every time you pull in the driveway.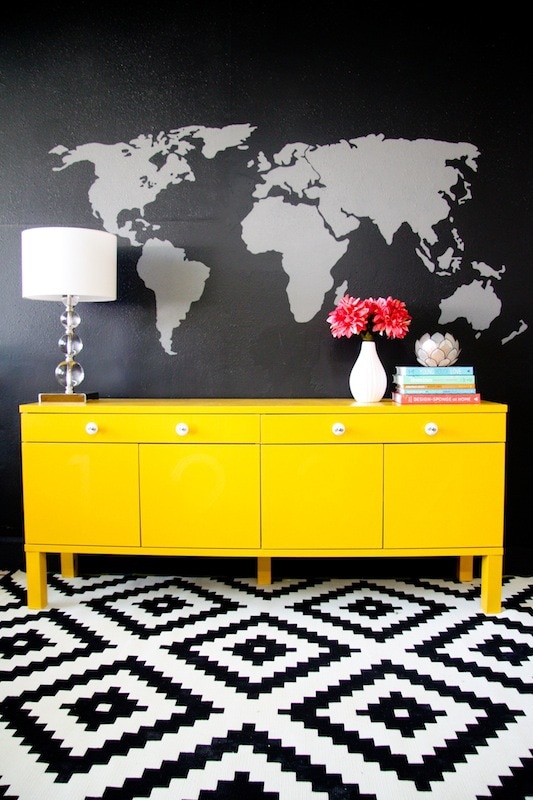 I did this project for a little design competition we participated in years and years ago, but it still makes me smile every time I see the photos!
You can make a mural of anything on your walls if you just have a projector and a computer to hook it up to. Find a picture you love, project it on the walls, and trace with a paintbrush. It might sound intimidating, but I promise it's the kind of a project even an elementary schooler could tackle.
If you can trace, you can put literally anything you want on your walls.
Just half the walls (bonus points for a really unique color)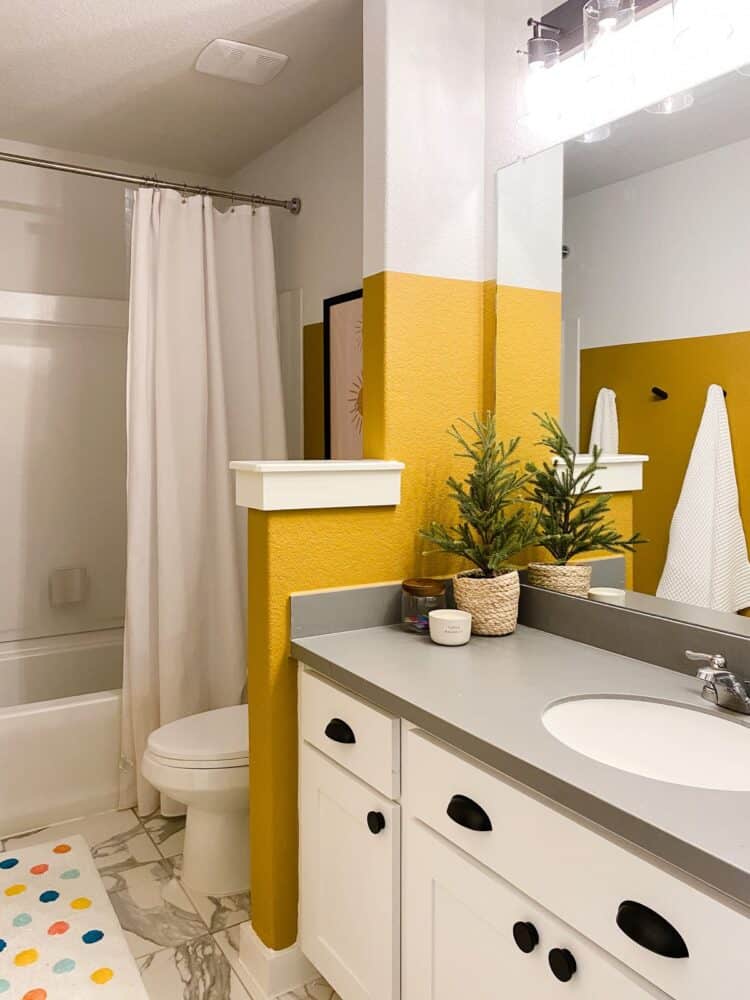 Late last year, I got the itch for a fun project but I didn't want to commit a lot of time or effort, so I did a really quick, two-day refresh of my boys' bathroom. I chose a really out-of-the-box color and went to town on the walls, painting the bottom 2/3 this deep gold color.
Will the walls stay this color forever? Absolutely not. Does it make me smile every night when I go give the kids a bath? Sure does!
I think we often get caught up in feeling like whatever color we choose for our spaces has to be the color we keep for the rest of all time, but homes can (and should!) evolve! Don't be afraid to try a color you may hate in a couple of years, especially in a tiny room. Just go for it and have a little fun, then paint it something different once you get tired of it. I dare you.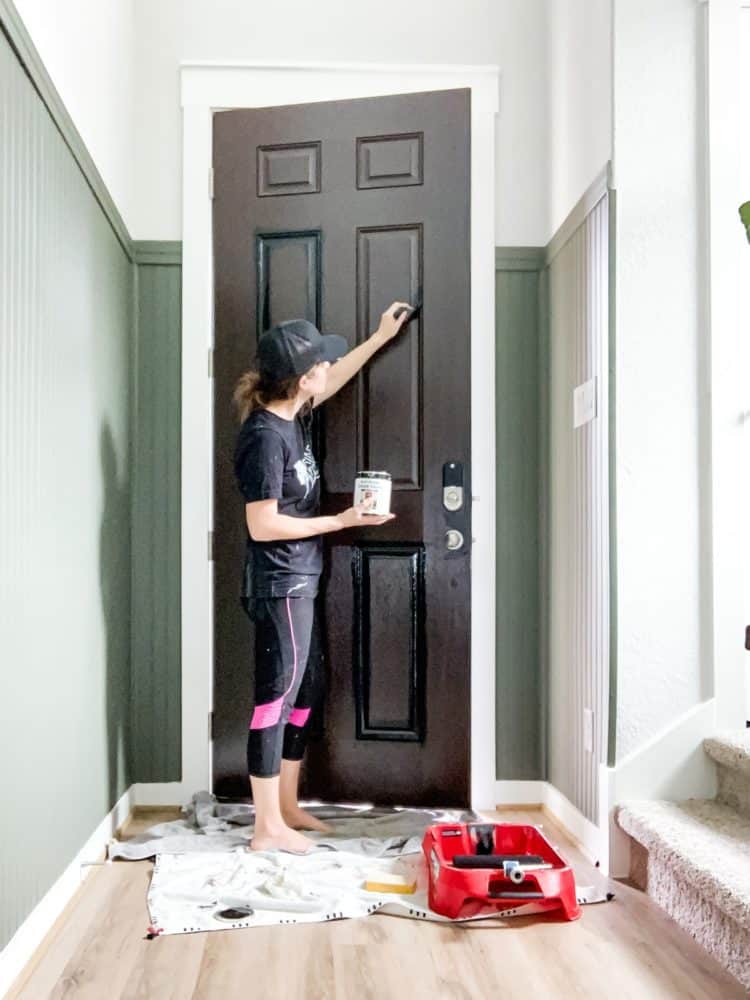 Painting your front door is such a quick and easy project, it's almost a no-brainer to tackle it. We've tried a lot of different door colors over the years, from yellow to blue to black, and I think I've learned that a nice, classic, black door is what really makes my heart sing.
You can paint your front doors, your back doors, your interior doors…paint all the doors! You can choose any color of the rainbow, and it's a small enough project that it's really no big deal to change things up if you get tired of it at all.
---
And there you have it. Fifteen things in and around your home that you can paint for a totally new look on a tiny little budget.
What's your favorite thing to paint?