7 Things To Do Before Listing Your House
If you've been following along for the last few months, then you know that Corey and I are getting ready to move into a new house. We've talked about why, we've shared our pre-moving checklist, and I've given a few updates about how the moving process is going. Well, it's finally time to start talking about some of the details and things I've learned along the way.
Every time I ask what people want to read about related to moving, the number one question I get is "how do you know what to do before listing your house? And how do you prioritize it all?!" I get it. It's a lot to think about. It can be so overwhelming to figure out what needs to be done and what you can let go of when you're preparing to sell your house, but I've got a few tips that might help make things a little easier.
Every house is different, and everyone will have a unique set of things that you need to do before listing your house, but I put together a quick list of 7 things you should plan to do before you list – keep in mind this post is not focused on staging for selling – that's a whole different world (and one I promise I'll dive into soon!), this post is just talking about projects or home maintenance tasks that you should take on before you list your home.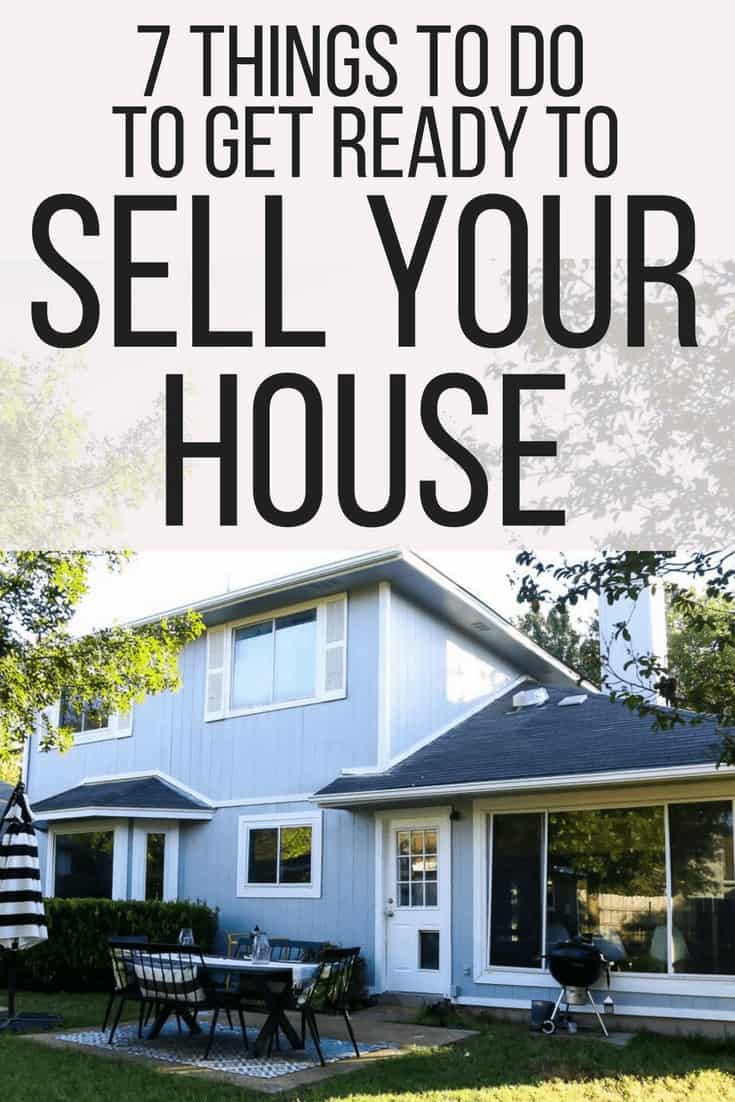 7 Things To Do Before Listing Your House
Fix any major eyesores. The first, and most obvious, thing you'll want to do if you're preparing to sell your house is to address anything in your house that's particularly ugly and might chase off potential buyers. For us, that included old carpet in the guest room, an exterior that was in desperate need of paint, and a complete lack of baseboards on the first floor of our house. Think about the things that you don't really notice anymore that might turn off a prospective buyer, and figure out an affordable way to address it. What we did was write a big list of all the things we wanted to accomplish, then we began to prioritize it based on time and finances. We reached a point where we felt like our house was "ready enough" and we went ahead and listed it with a few projects left undone, knowing we might have buyers ask us to change things. Thankfully, though, no one batted an eye (and I think that has a lot to do with the last tip on this list…).
Try to fix anything that an inspector wouldn't like. We had a bush on the side of our house that was way overgrown, along with a fence in really awful shape behind it. We cut the bush down completely (it was too overgrown to even salvage) and replaced the portion of the fence that was ruined behind it. You can also do things like trim all of your bushes at least 6-12″ away from the house and add fresh caulk in the bathrooms and kitchen, and around windowsills. These are all things an inspector will pick up on, so if you can take care of it before they come, that's one less thing that they'll need to point out to the buyer. But at the same time, remember that an inspector probably will find issues (maybe even some you have no clue about). It's their job. Be prepared for it, and be ready to address them if necessary.
Repaint any rooms that are too bold. We've all seen House Hunters right? If you have, then you'll know that buyers sometimes have a really hard time getting past really boldly painted rooms. If you have a room in your house that's really taste-specific, with wild wallpaper, a crazy bright color, or a giant mural on the wall, you're probably going to want to go ahead and fix it before you list it. We swapped out the bold blue in our bedroom for a more neutral hue, and I think it probably helped a bit!
Pretend you're a buyer! Before you begin staging and put your house on the market, do a thorough walkthrough of your house and put on your "buyer glasses". It helps if you've been looking at houses to purchase and have a few things in mind that have stood out to you at other homes. Walk through your house and think about it the way a buyer might think – are there any weird stains on the flooring or crayon on the walls? Is the bathroom really outdated compared to other houses they've probably been looking at? Think about anything you might notice if you were considering buying your house, and try to address the major red flags.
Declutter your little heart out! This goes along with staging and is something I can talk a bit more about when we cover that later, but it's so important to declutter your home before you list. I'm lumping it in with this category of things to do before listing your house and not just staging because it's a process that could take a long time (I took a month to get my house organized and decluttered before we listed) and you want to be sure to do it thoroughly. Get rid of absolutely everything that you don't need, and consider renting a storage unit to hold some things you can live without until you move – we did this, and it was a major help as we were staging the house!
Take care of any unusual smells. I know, it sounds silly, but please don't underestimate how important this is. When you first walk into a home you're going to notice how it smells before you notice almost anything else – and you don't want that first impression to be bad! If you have stained carpet, pet smells, or smells from cigarette smoke in your house, be sure to find the source of the smells and address them before you go on the market. It can be hard to find smells in your own home, so it may help to ask a friend to come over and identify anything off-putting.
And finally (and perhaps most importantly), no matter what you decide to do you should know your market. Let me say that again. Know your market. Know. Your. Market. What does that mean? It means that before you even list your house on the market, you should be researching homes in your area (ideally in your neighborhood) that are within $5,000 to $10,000 of the price you plan on asking for your home. Analyze the listings and look at every photo that's available to give you an idea of what is expected of homes in your range. For example, our research told us that most other homes our potential buyers were looking at would be pretty outdated with minimal updates. Many of them had carpet throughout, builder-grade features, and laminate counters. We knew that all of our DIY touches would set us apart from most of the competition, and the research also helped us realize that we probably didn't need to replace the painted countertops in our kitchen, because buyers wouldn't be expecting anything fancy anyways. I can't stress enough how important this is and how much insight it will give you – if you know what the competition is doing and what those homes look like, you'll know how you can set yourself apart and make your home the one buyers want to see.
Aside from these major things, you're also going to want to do some staging and cleaning in your home (obviously!). I have lots of tips to share when it comes to shaging – and some of it might go against what you've heard – so be sure to check back for that post later!
This whole process has been really eye-opening to me in helping me understand just how much goes into the sale of a house. We've never been on this end of things, and it's so tough when you feel so personally invested in your home and how it looks – there's not much more stressful than knowing someone is in your home evaluating it and judging it and that they're going to be sending someone whose literal job is to find everything that's wrong with your house. No fun. But, it's part of the process and if you think ahead and try to head off any issues, it can help things go a little more smoothly!
Have you ever sold a home? What are some of the things you needed to do before listing your house?