Woodworking Tools for Beginners (8 Must-Have Tools)
If you're interested in diving into woodworking but have no idea where to begin, this is the post for you! These 8 essential woodworking tools for beginners will get you set up with everything you need for your first build!
I talk to a lot of people who tell me that they would love to begin tackling DIY projects in their home, but they just don't know where to start. I have friends who have tried to tackle large-scale projects without a simple tool like a nail gun, and I know people who have had to hire out extremely simple projects in their home simply because they didn't have the tools they needed.
I get it – it can be overwhelming to dive into the vast world of woodworking if you've never done it before, but I promise it doesn't need to be intimidating. If you're just getting started with woodworking and are wondering which power tools to buy first, I've got you covered. Here's my list of essential power tools for beginners – with these tools, you'll be set up and ready to take on just about any project you can think of!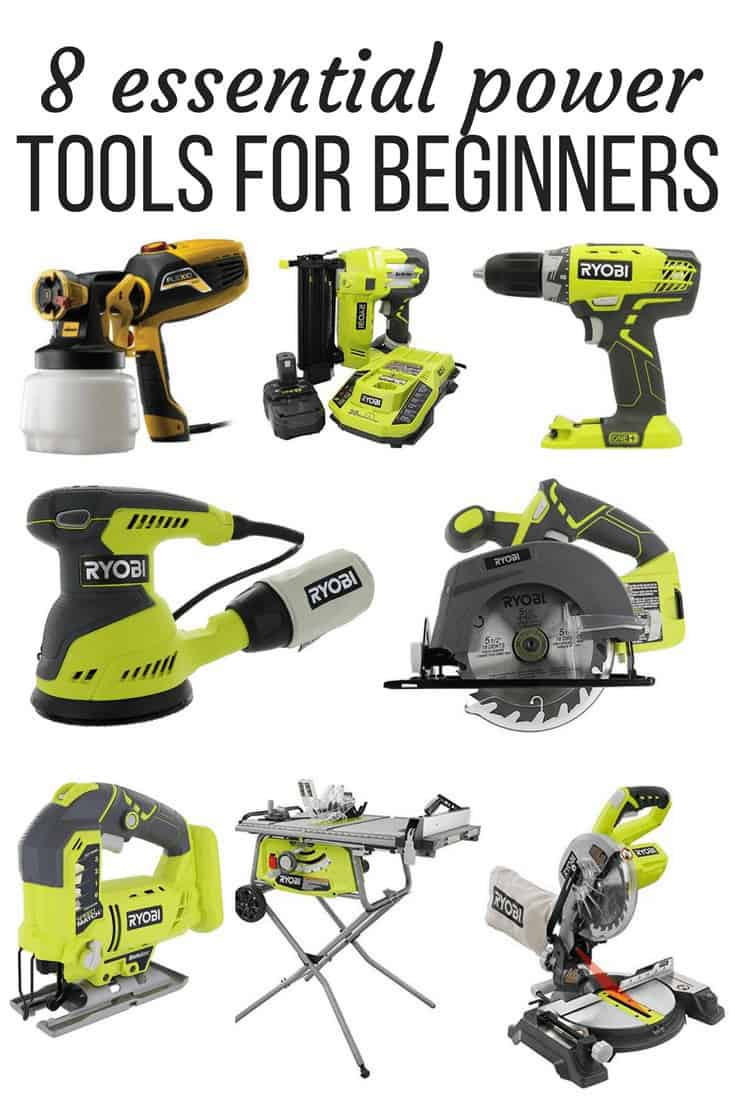 This post contains affiliate links.
Before I dive in, I'll let you know that Corey and I generally recommend that beginners start off with Ryobi brand tools. We love that they are all battery operated and the battery is universal (meaning you can use the same battery for both your circular saw and your nail gun). So, most of the links below will be to our favorite Ryobi brand power tools – they're perfect for beginners and experts alike!
Note: Many of the linked tools don't come with a battery – you'll need to purchase it separately and can grab a battery and charger pack right here. Start with just a couple, and over time you can build up to having more batteries!
8 MUST-HAVE WOODWORKING TOOLS FOR BEGINNERS
This tool will essentially replace your screwdriver (of course, you'll still want to pull it out for some small tasks, but this makes most jobs way easier). A power drill + driver is what you use to drill holes in your walls, screw things in, and it'll be the first thing you reach for when you're building your first piece of furniture and need to attach some wood together. This is an absolutely essential power tool for anyone who wants to work on DIY projects in the home, and it's the first tool I'd recommend getting! Don't forget to grab a drill bit set, too!
A miter saw (also known as a chop saw) is the fastest and easiest way to cut wood boards down. It can cut straight or angled boards and is the tool you'll need if you want to take on a simple building project that uses 2×4's or any other standard pieces of lumber. I used mine to create my DIY wood wall art in the living room, and it's also the tool we use when we're installing baseboards or other trim. I wrote a post all about how to use a miter saw a while back, so if you want a quick primer on what it is and how it works, go check that out!
A circular saw is great for cutting large or unwieldy pieces of wood. A miter saw might be a powerhouse, but it can't cut wider pieces of wood – for that, a circular saw is a beginner's best friend! We used ours to cut plywood for my
entry closet organization
and to cut down the countertops when we were
replacing our bathroom counter
. It's great when you need to cut something that isn't easy to move or pick up – and I also created a post and video all about
how to use a circular saw
, so be sure to read it before you grab one.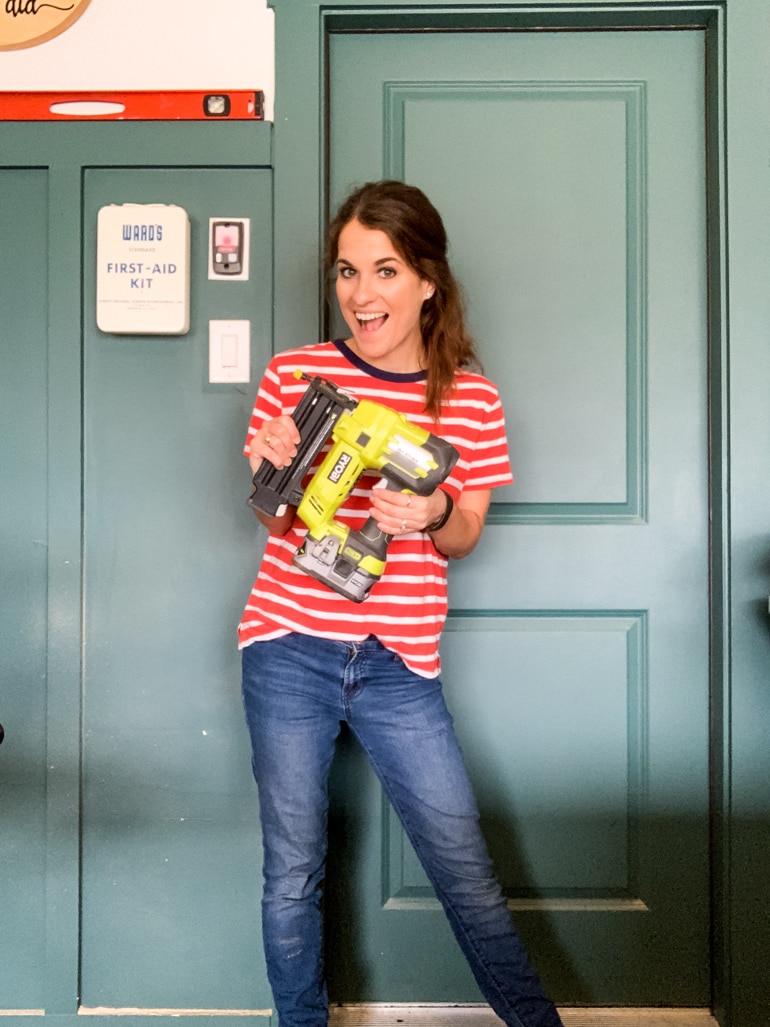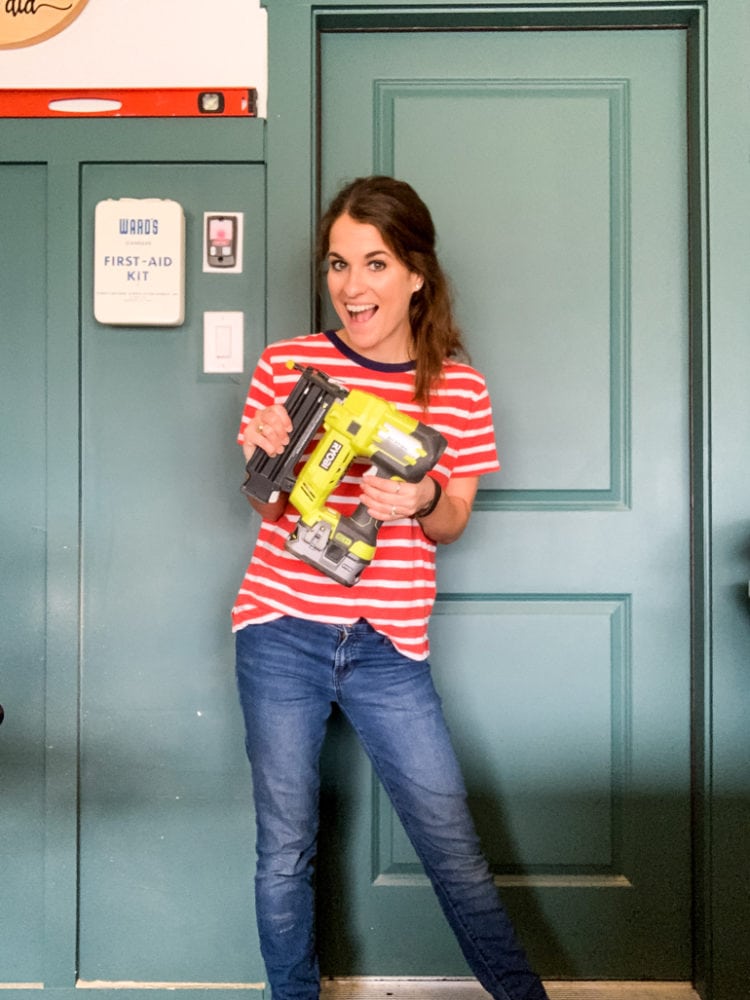 Put simply, a nail gun is the tool that takes on the job of a hammer. Rather than having to pound each nail in individually, a nail gun allows you to insert nails with just the pull of a trigger. This tool is absolutely invaluable when you're doing something like
installing a plank wall
or
adding shiplap to a room
. It's also the tool to use when you're installing baseboards or trim. It won't replace your hammer completely (if you're just hanging a picture on a wall with a single nail, you don't usually need to bust out the power tools!) but it's an important tool to have in your arsenal.
I also have a really detailed post on how to use a nail gun!
Have you ever tried to sand down a piece of furniture by hand? It's not fun. Don't even do it. A random orbital sander will be your new best friend – this baby can sand any surface completely smooth in a fraction of the time it would take you to do it on your own. We use our sander 
constantly
, but a few great projects that come to mind for this tool are our
DIY backyard blocks
(perfect for giant Jenga),
painting furniture
, and
painting kitchen or bathroom cabinets
.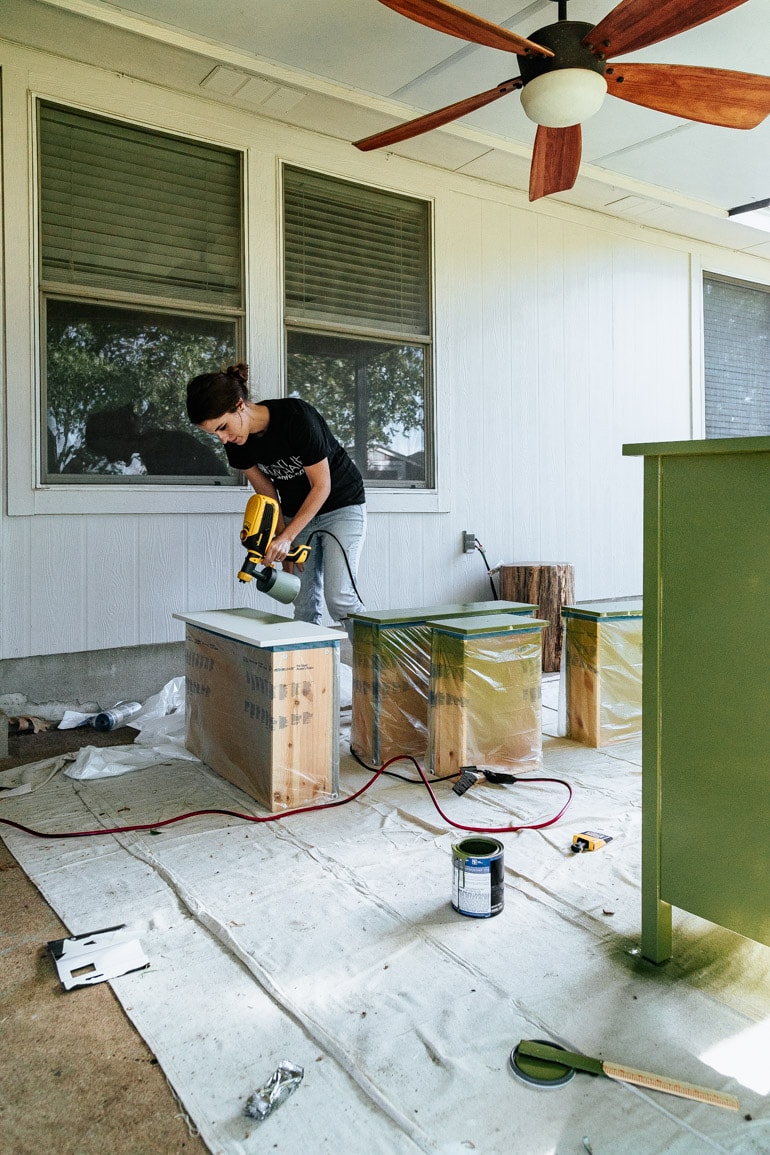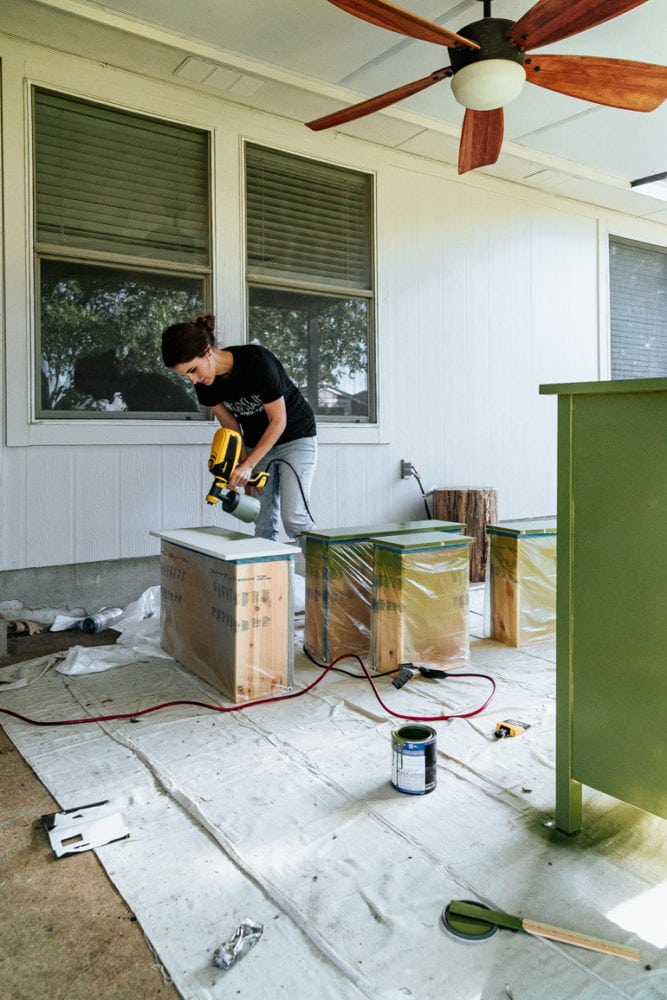 If you've been reading my blog for any length of time then you'll know that I'm obsessed with my paint sprayer. I use it for just about everything, and it makes painting tasks so much less annoying! A paint sprayer is perfect for if you're painting a piece of furniture, an old Craigslist find, or just about anything in your home that needs a fresh coat of paint. A few quick projects we used ours on? Painting our bathroom cabinets, the exterior of our house, and literally every time I paint furniture.
Here's a tutorial on how to use a paint sprayer.
Our jigsaw is a tool that we don't pull out quite as often as all of the others on this list, but when we need it, it's absolutely invaluable. Jigsaws are tools that you use to cut non-linear lines in wood or to cut a piece out of the middle of wood. For example, it's the tool I grabbed to cut out the hole for the sink when I was working on a bathroom countertop. It's also great for more decorative cuts – we used ours to
make a sign for the outside of our workshop
in the old house! This is another tool that I've already made a post and video for, so if you want to learn
how to use a jigsaw
, just check out that post.
And finally, the last tool on our list is definitely the most heavy-duty of them all – the table saw. Table saws serve the same basic function as a circular saw (cutting across wider pieces of wood), but they're better for when you absolutely need a perfectly straight line or when you're working with wood that's light enough to easily lift. It's also great for when you need to just cut a groove in your wood – for example, my dad and I used it to cut out a notch in the back of the wood when we
framed out our builder-grade bathroom mirror
. This tool is great for slightly more advanced projects, and I'd recommend saving this purchase until after you've already bought everything else on this list!
I hope this list is helpful if you're wanting to get started on some woodworking on your own and are looking for a list of essential woodworking tools for beginners! I've had so much fun over the last year or so learning how to use all of the different power tools we've already got, and I highly encourage you to try it out if you haven't yet!
Other posts you may love