How much attention do you pay to the ceiling in your home? Chances are, it's not enough. We often totally ignore the 5th wall in every room, but adding detail to the ceiling can make the biggest difference in your space. So today, I'm sharing 10 different ceiling ideas to get you thinking about how you can stop ignoring your ceilings and start showing them some love!
I'll be the first to admit that I haven't spent nearly enough time focusing on the fifth wall throughout our home. I'm working to rectify that in this house, and have spent more time than I can tell you thinking and planning various ceiling ideas for around the house!
So, let's jump right in, shall we?
Here are 10 amazing ceiling ideas to inspire you for your own home. All of these installations can be done by the average DIYer. So, get ready for a whole new look!
10 ceiling ideas – ceiling treatments you'll love
1. Paint the ceiling to match the walls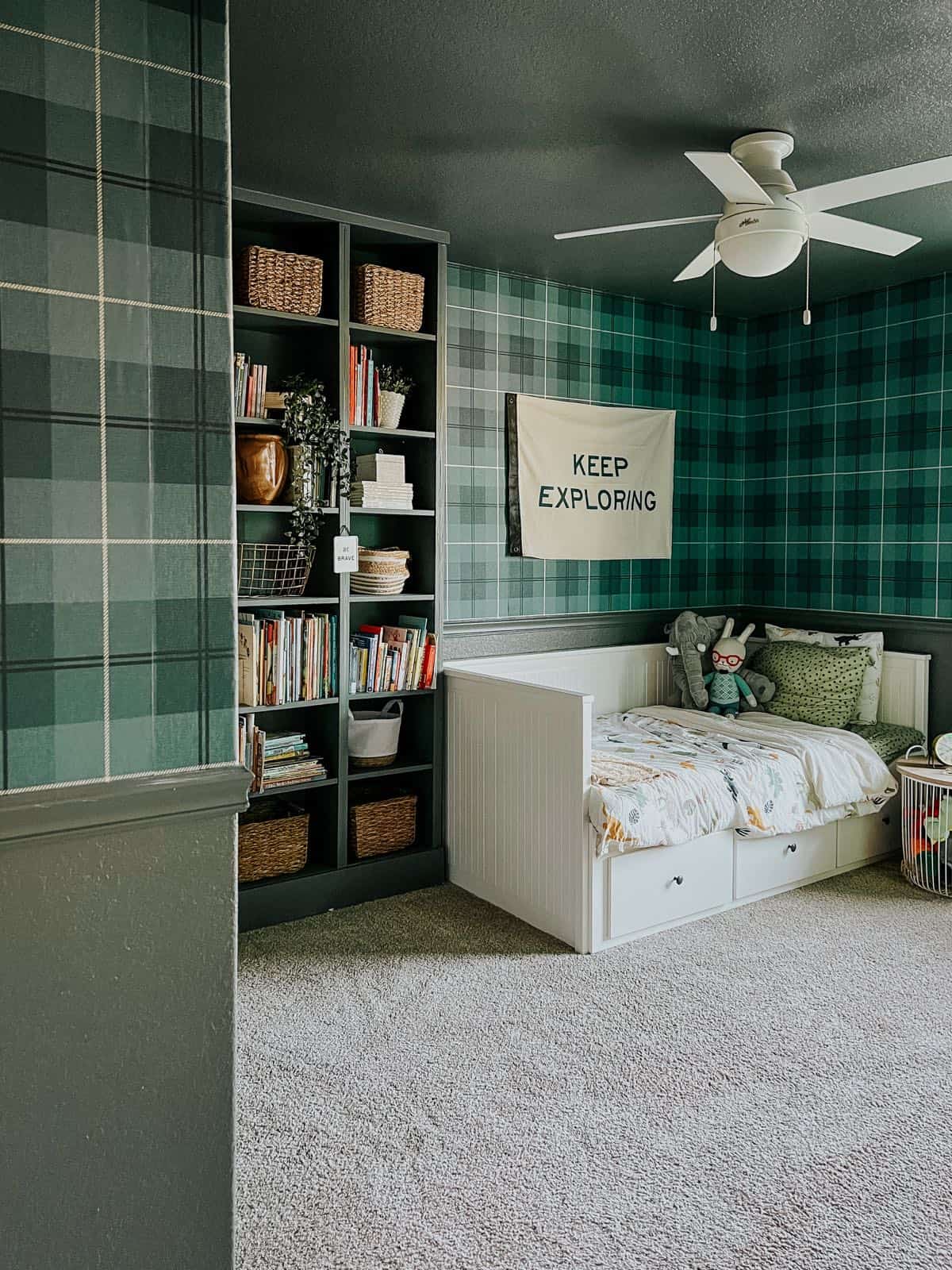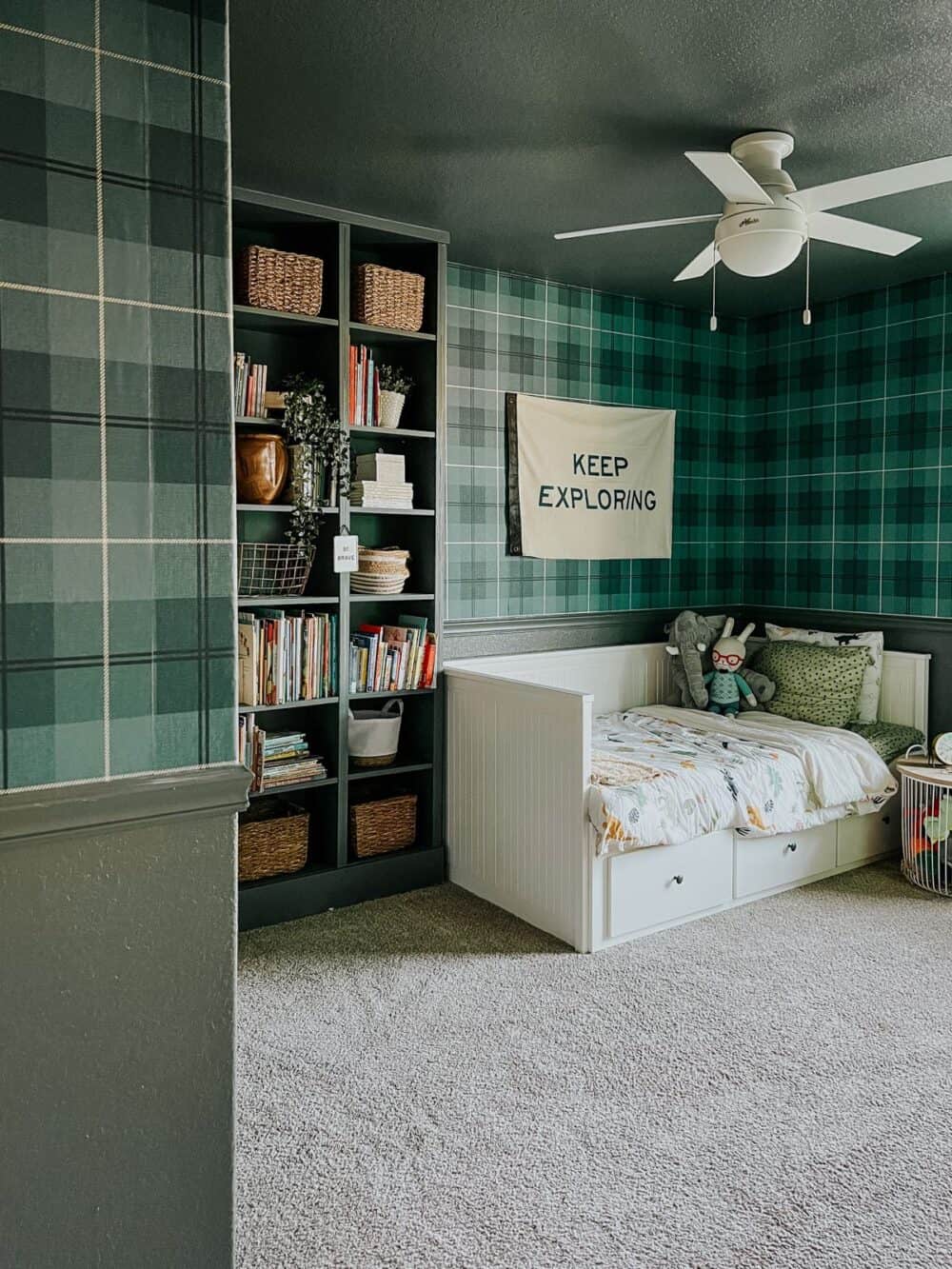 I hadn't ever tried this until we moved into this house. But, man – what an impact a painted ceiling makes! Having the ceiling match the paint colors on the walls creates the coziest vibe. I love the impact it makes and, despite what many people think, it makes a room feel so much more spacious!
When the ceiling and the walls are the same color, everything kind of melts away. You have the illusion of the room feeling taller, bigger, and a million times cozier. I love that this is also the sort of treatment that's equally easy to do whether your walls are drywall or plaster!
I've done this in both of our boys' rooms, and I've considered it (any may still do it) in several other places around the house!
2. Add Wood Planking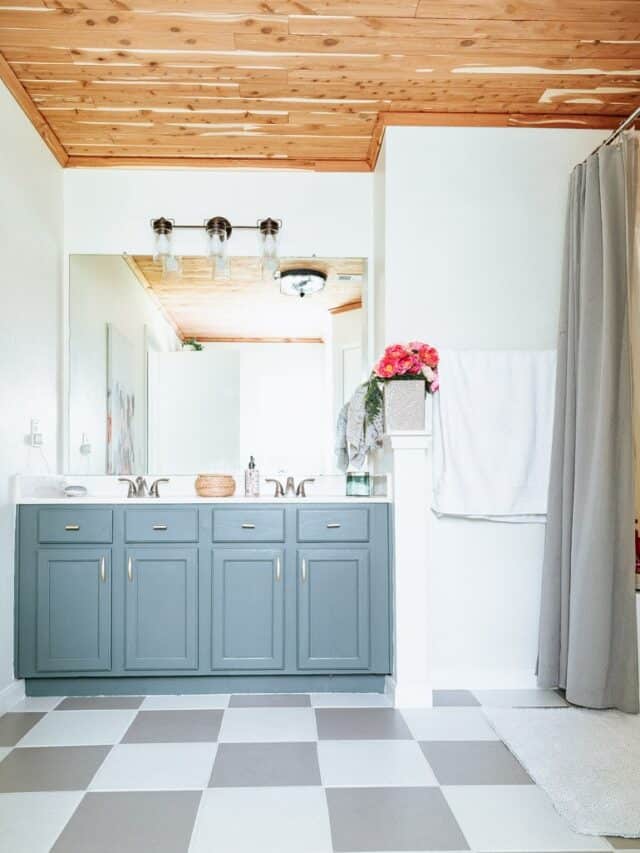 The bathroom in our second house
Oooooh boy, this one is near and dear to my heart! I adore a good wood ceiling. We did this in the bathrooms at both of our last two houses…and will probably do it in this house too!
A wood ceiling is an incredibly cozy treatment, and it adds so much warmth and texture to a room. Personally, I really love it in a bathroom – but a wood ceiling would look great just about anywhere! It could be beautiful in an office, the living room, your bedroom, or the hallway.
We've used cedar planking in the past when we've done this. I love the way it ages, and the smell it gives off is unlike anything else. But, you can do any type of wood planks you can find!
3. Paint a contrasting color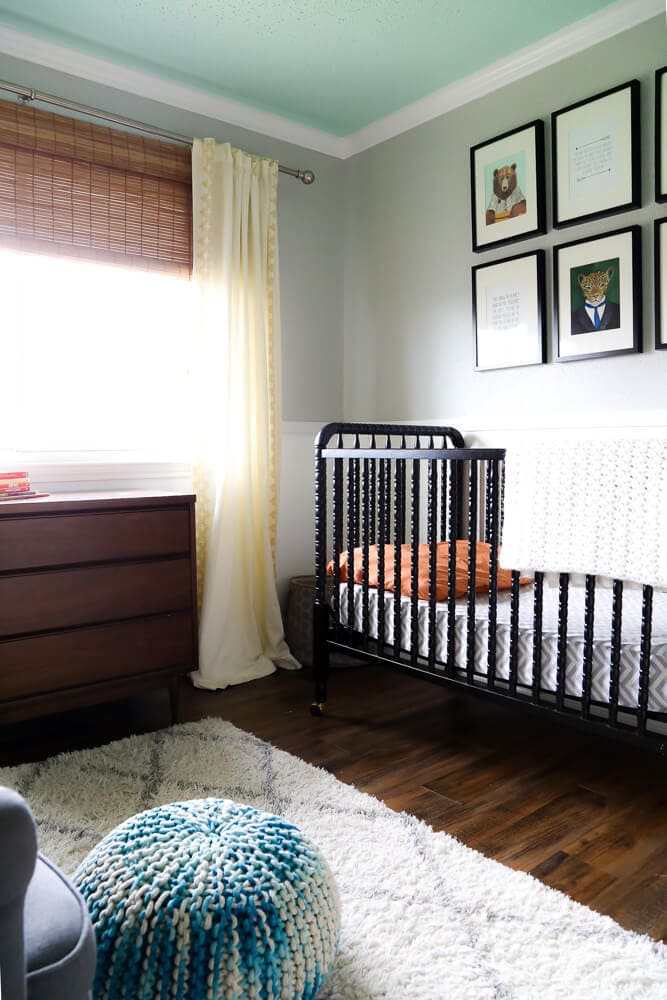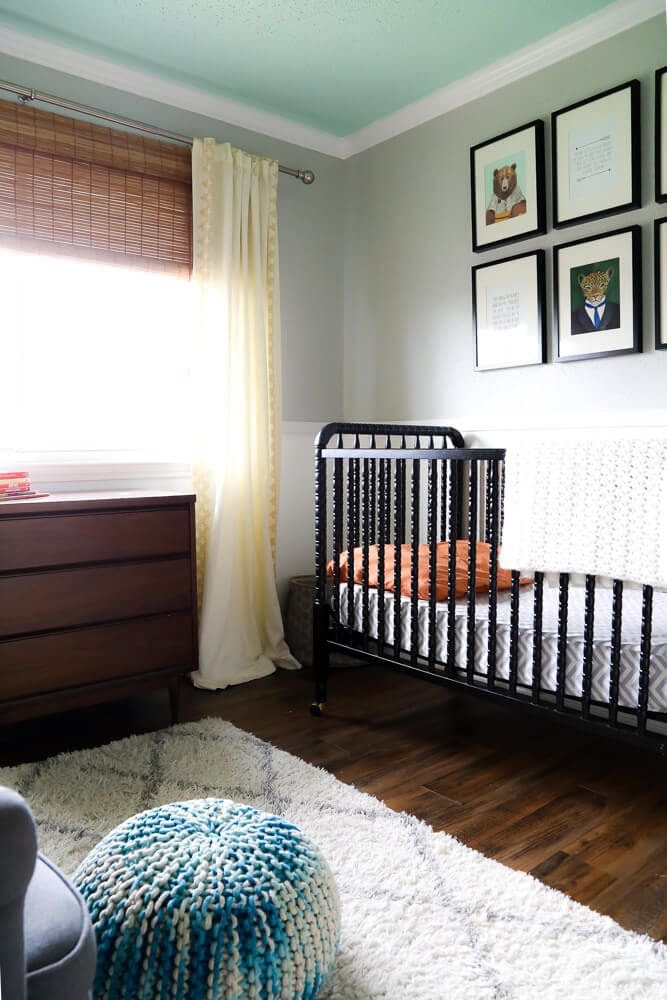 Jackson's nursery in our first house was the first time I ever did anything to a ceiling. It felt big and scary and overwhelming. But you know what? I loved it SO MUCH! I felt so fancy for having done something to the ceiling, and I was so proud of that little room the entire time we lived there.
A ceiling painted in a color that contrasts with the rest of the room is a really, really fun way to pack a punch. I think it's especially beautiful in a room with gray or white walls. You can go bold or keep it quieter, but either way it's like adding an accent wall to the ceiling. I haven't done this since this project, but now I'm thinking about where in our house I could paint a contrasting ceiling color!
4. Add a Coffered Ceiling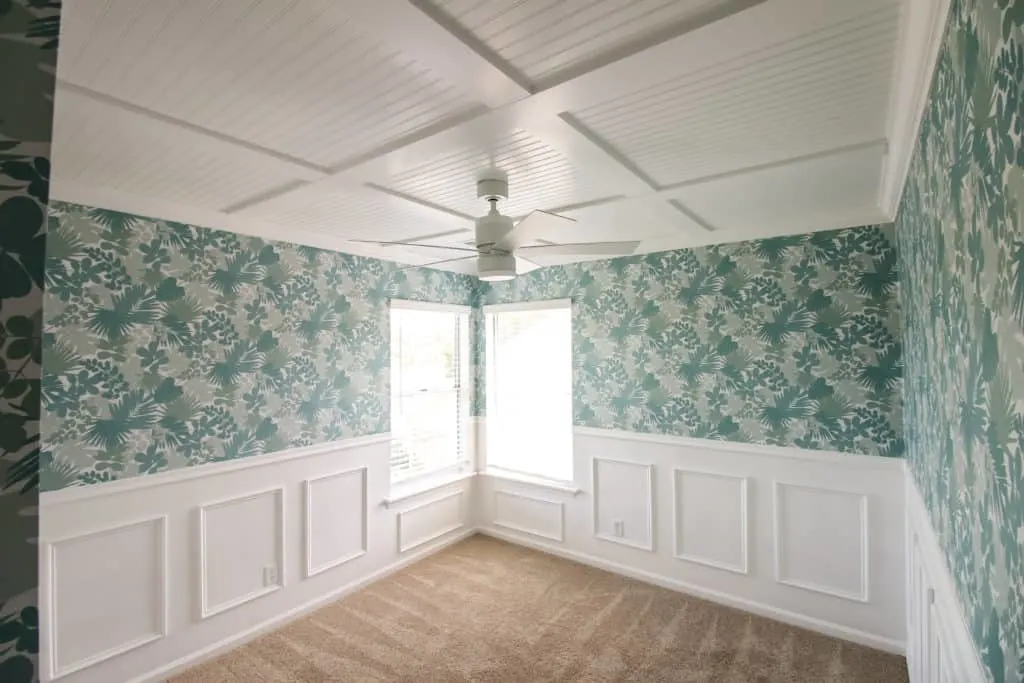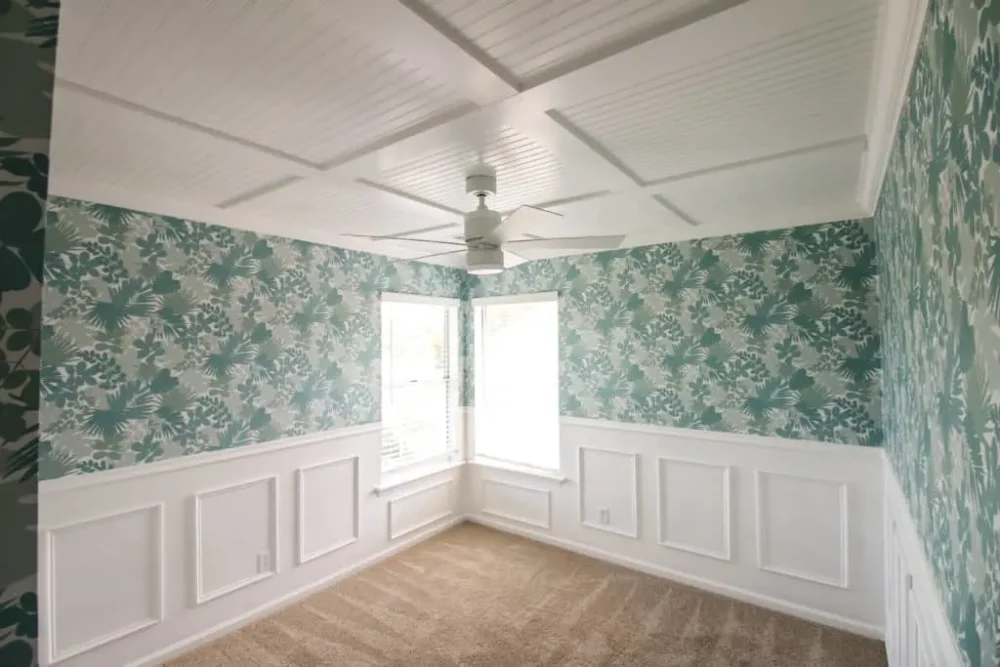 A coffered ceiling is a really gorgeous way to add some texture and visual interest to your room. I've long admired them, and it's hard to believe we've never actually done it!
In this example, Morgan and Sean wanted to cover up their popcorn ceilings, so they covered the entire thing with bead board before creating the coffered look. The finished result is really stunning, and it would look so good in just about any space!
A more traditional coffered ceiling just has the trim in a grid pattern on the ceiling. You can keep it simple or use more elaborate trim depending on the look you're going for.
5. Add Beams (Faux or Real)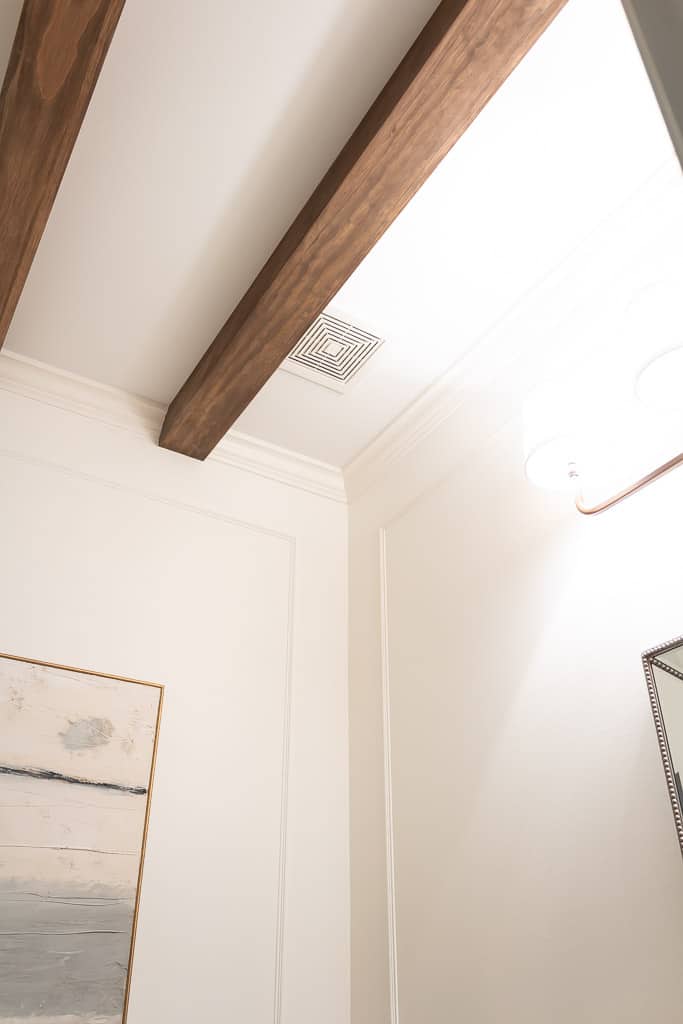 I absolutely adore the look of a ceiling covered in beautiful wood beams, and this is a great example of it. Beams add so much dimension to a room, and you can create just about any style you want. You could use real, chunky beams for a more rustic look, or you can create your own faux beams in any shape or style you want.
This is something I've long considered for our home. I've debated about a zillion different places to add them! Right now, I'm thinking they could look incredible in our bedroom – maybe with a painted shiplap ceiling underneath? I don't know for sure, but my wheels are definitely turning!
6. Shiplap Ceiling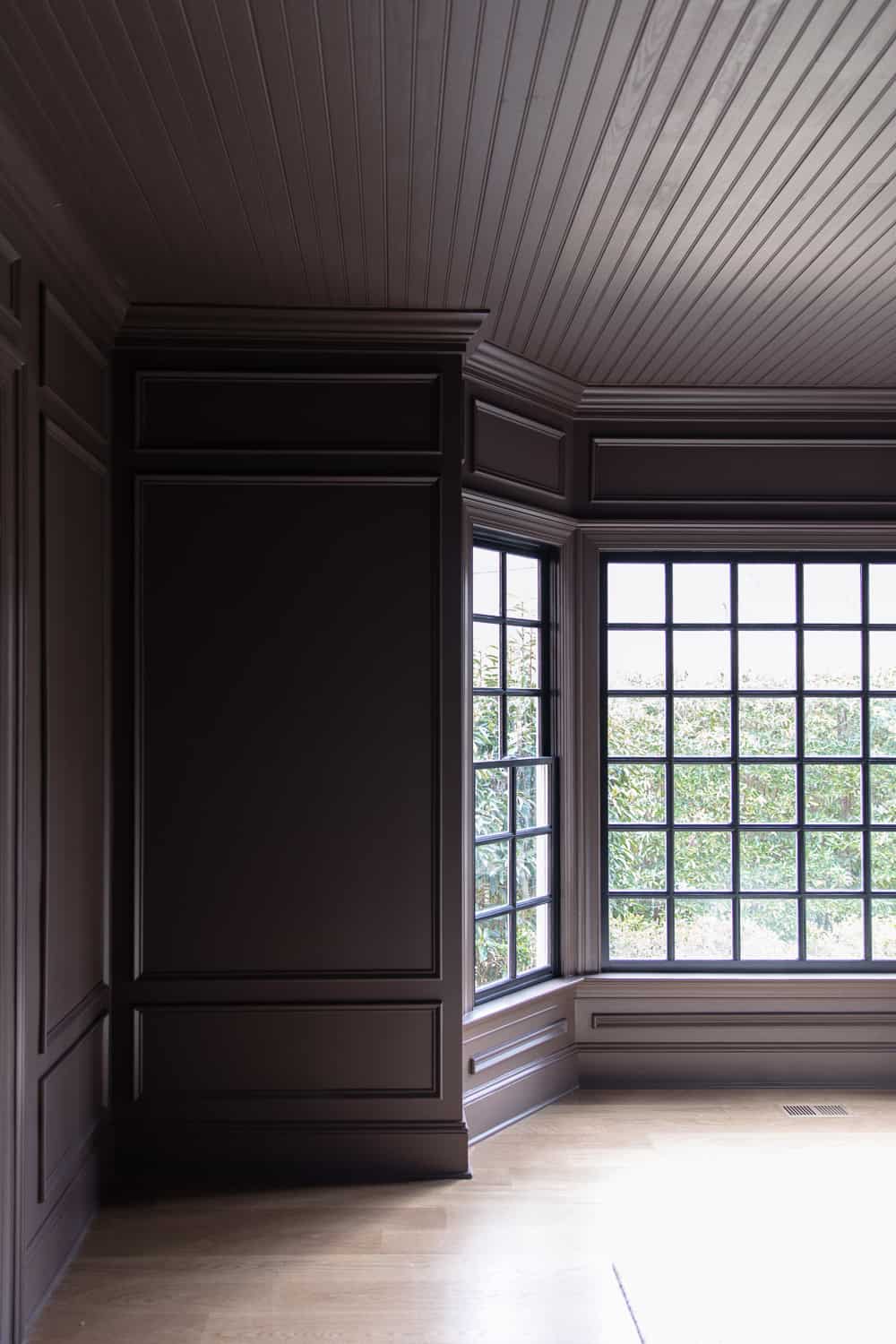 Speaking of, a shiplap ceiling is a gorgeous look! I'm a firm believer that shiplap will never go out of style, and I think it can be used just about anywhere. We've used it several times in our house already, and have plans for more.
I think it's such a classic and beautiful look. And adding it to the ceiling is a really fun and unexpected way to add some decoration to the ceiling. I've long considered doing this in our bedroom, but when I saw Chris and Julia add a shiplap-style ceiling to their bedroom (which has picture molding just like ours), I fell in love! They used bead board rather than shiplap (which has narrower lines), but it gave me so much inspiration. Any sort of tongue and groove panelled ceiling (whether it's bead board or shiplap or something else entirely) is such a gorgeous look. This is 100% something I'd love to do in our room someday soon.
7. Metal Ceiling Tiles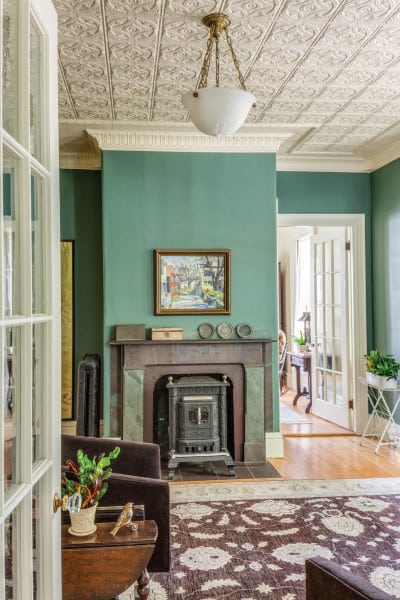 via Old House Online
Have a drop ceiling and worried that means you can't have beautiful ceilings? Absolutely not! You can totally transform a boring drop ceiling with tin ceiling tiles, and the impact is so huge. It's a really fun ceiling treatment that I've always admired.
This is such a great example of working with what you've got in your home. We don't always have the budget to rip out walls, smooth bumpy texture, or tear out a drop ceiling. But, a much more budget-friendly option almost always exists. Tin tiles can add so much depth to a low ceiling, and they're perfect for a basement ceiling with drop ceilings, or anywhere else you have them! Of course, you don't have to have a drop ceiling to install metal ceiling tiles! They can be attached to any ceiling for a really unique look – the photo above isn't a drop ceiling, but the tin tiles feel right at home in the beautiful old home.
8. Add a Ceiling Medallion
via SG Style
If you want to add some texture and fun to your ceiling without tackling a huge DIY project, a ceiling medallion is always a good option. I think they are so charming and beautiful, and they add so much character to a room.
Ceiling medallions are a really great way to add some oomph to the light fixtures in your home, and can be a really fun contrast with a super modern chandelier. It makes it even more of a focal point! I've been considering this for our dining room when we finally get around to adding a good light fixture in there!
You can paint the ceiling medallion the same color as the ceiling for it to blend right in, or you can go with a bold or contrasting color for a little bit of fun. I LOVE what Shavonda did with the black ceiling (that matches the walls!) plus a beautiful medallion that offsets the light fixture. It's perfection! This is such an affordable DIY project, and will take you less than an hour, start to finish!
9. Add Wallpaper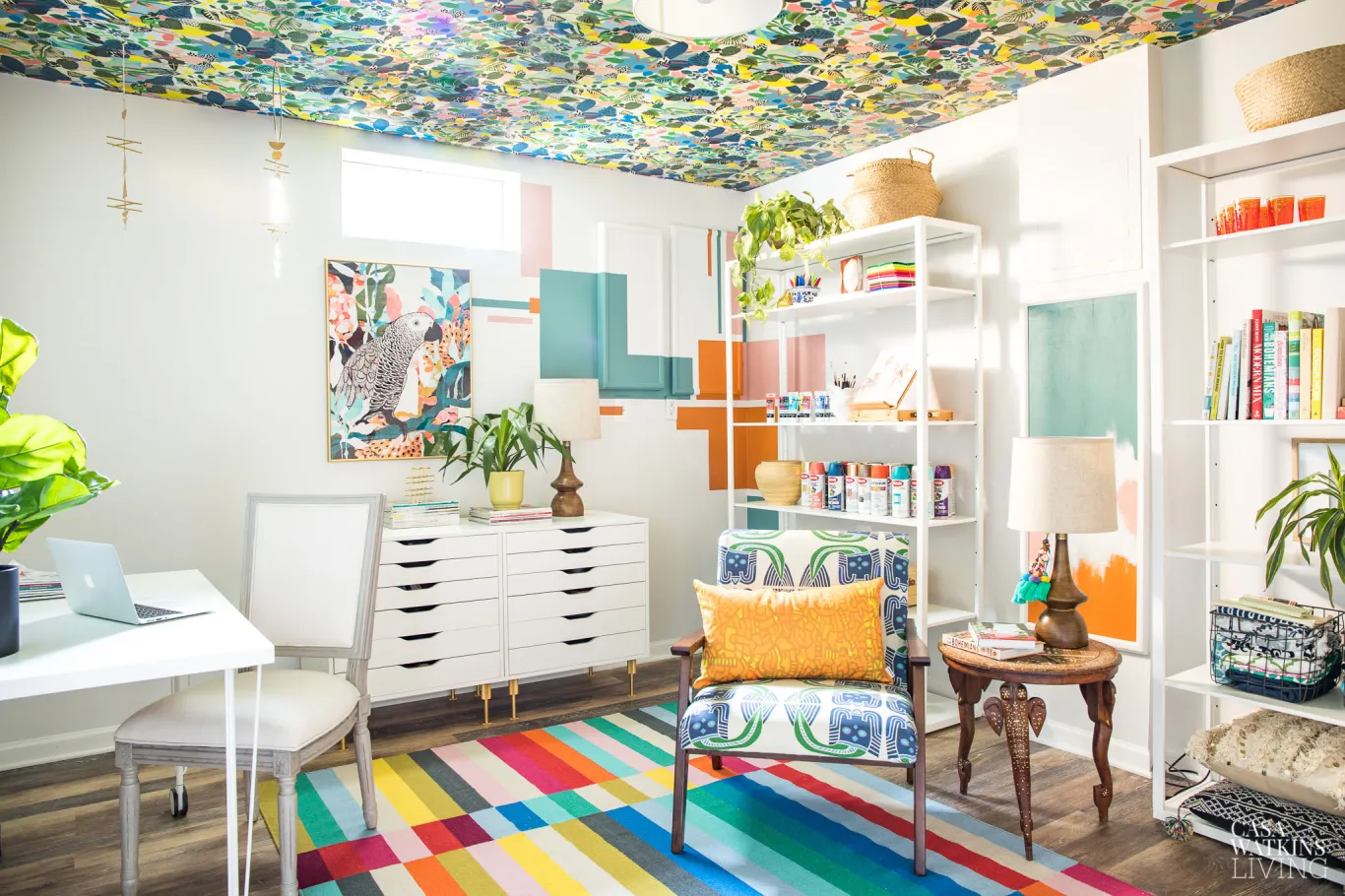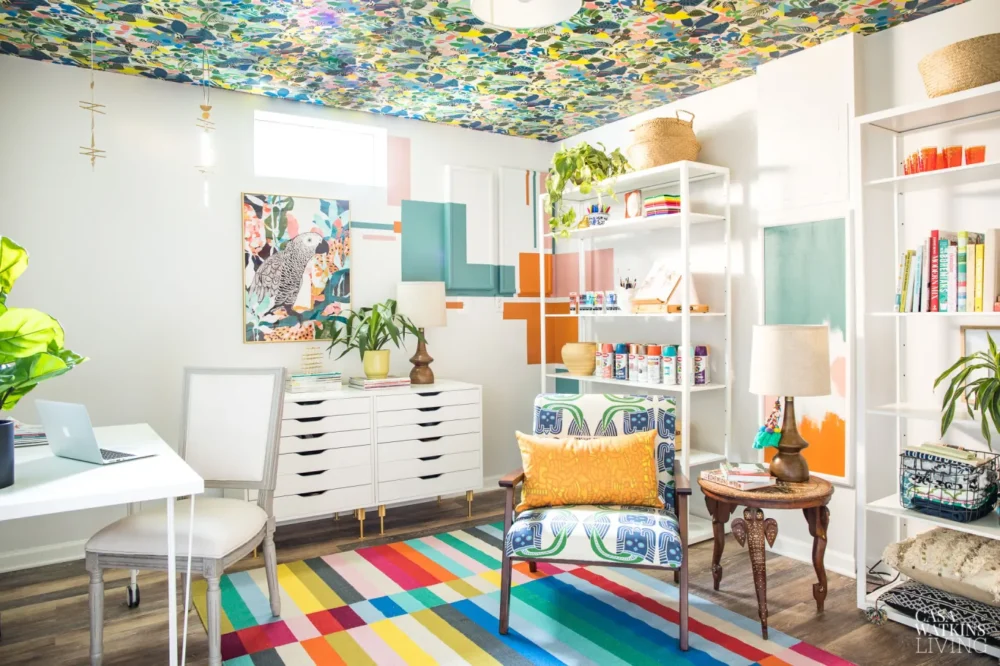 via Casa Watkins
Ceiling wallpaper is always a good idea, y'all. This is such a bold and fun look, and I think it always looks amazing! This is a project that takes a little more effort – wallpaper can be tricky on the walls, much less the ceiling! But, it's totally worth the effort.
Adding wallpaper to the ceiling is a great way to make a huge impact on a room. This would be so fun in a smaller room where you'd really like to pack a punch.
10. Don't Forget Exterior Spaces!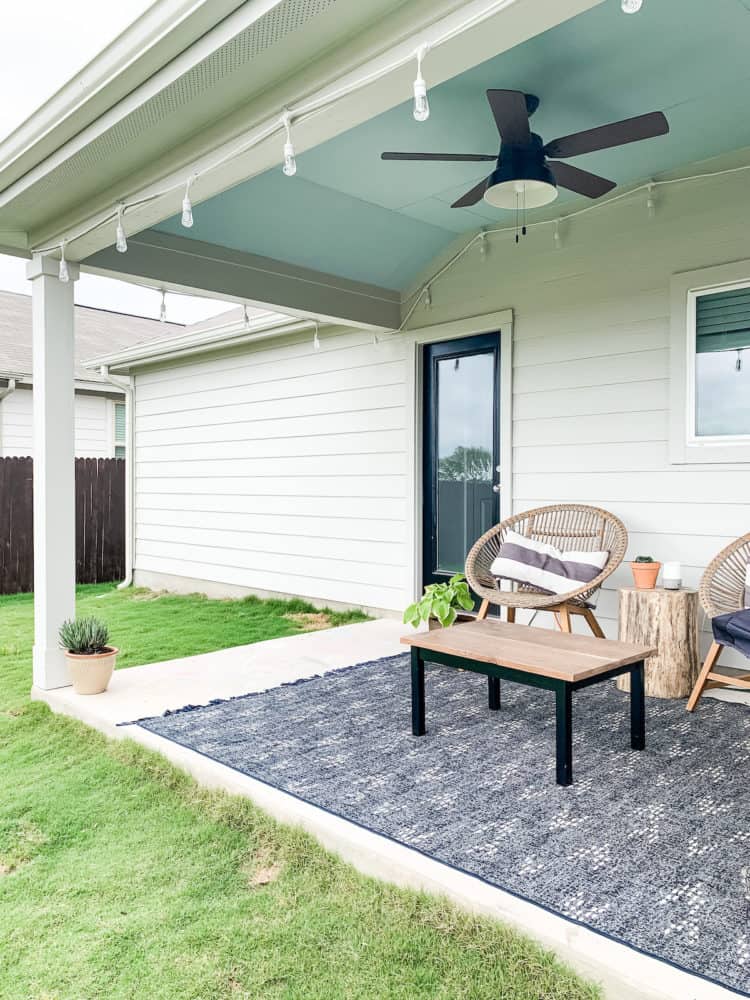 When we talk about ceiling treatments, it's easy to think just about your interior ceilings. But, what about your patio or front porch? I painted the ceiling on our back patio a light blue, and it's one of my very favorite touches outside! It makes the ceiling virtually disappear and creates a really spacious feeling on the patio.
You could also add wood planking to outdoor spaces (my dad and I did that here!), and it's another really great way to up the cozy factor on your patio or front porch.
Basically, spend some time thinking outside the box about all of the ceilings in your home – inside and out. You might be surprised by how much you love the change!
Related Posts