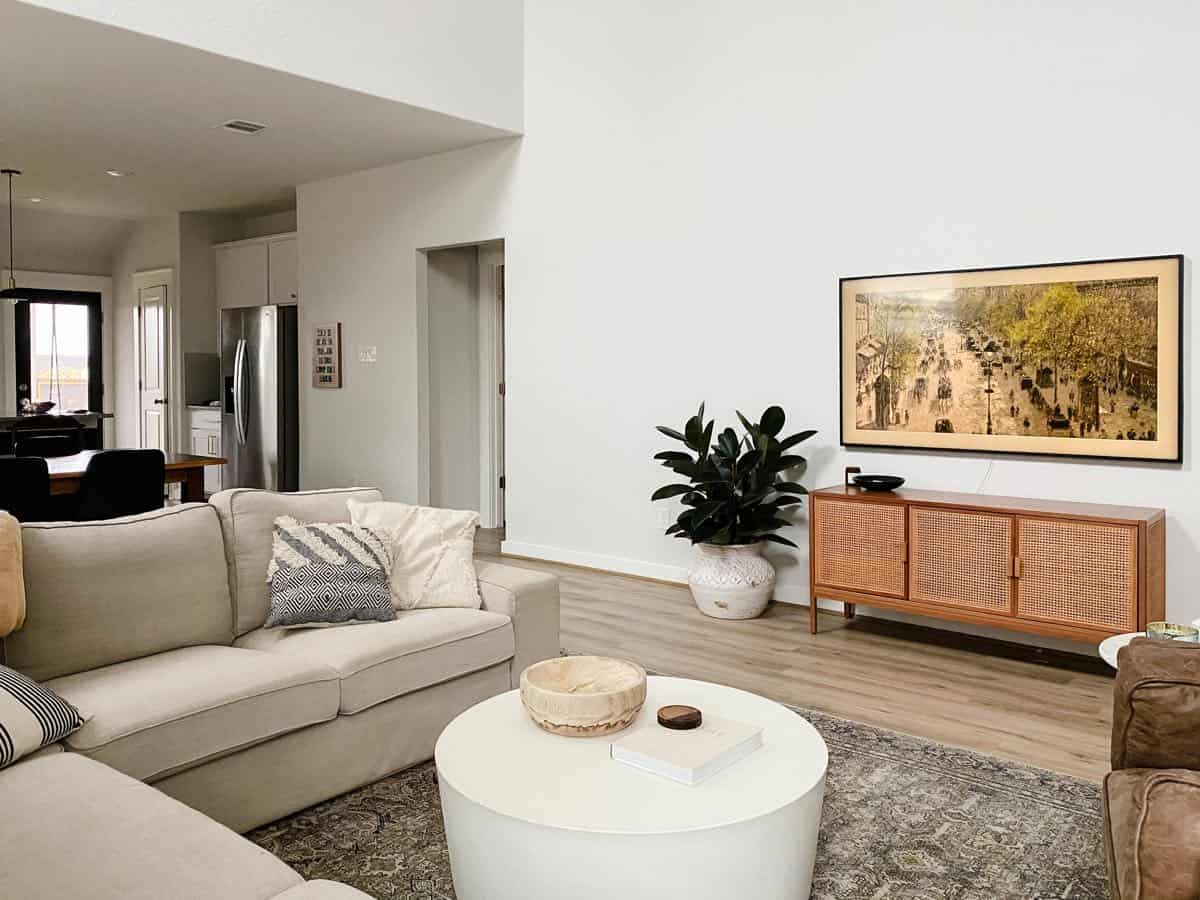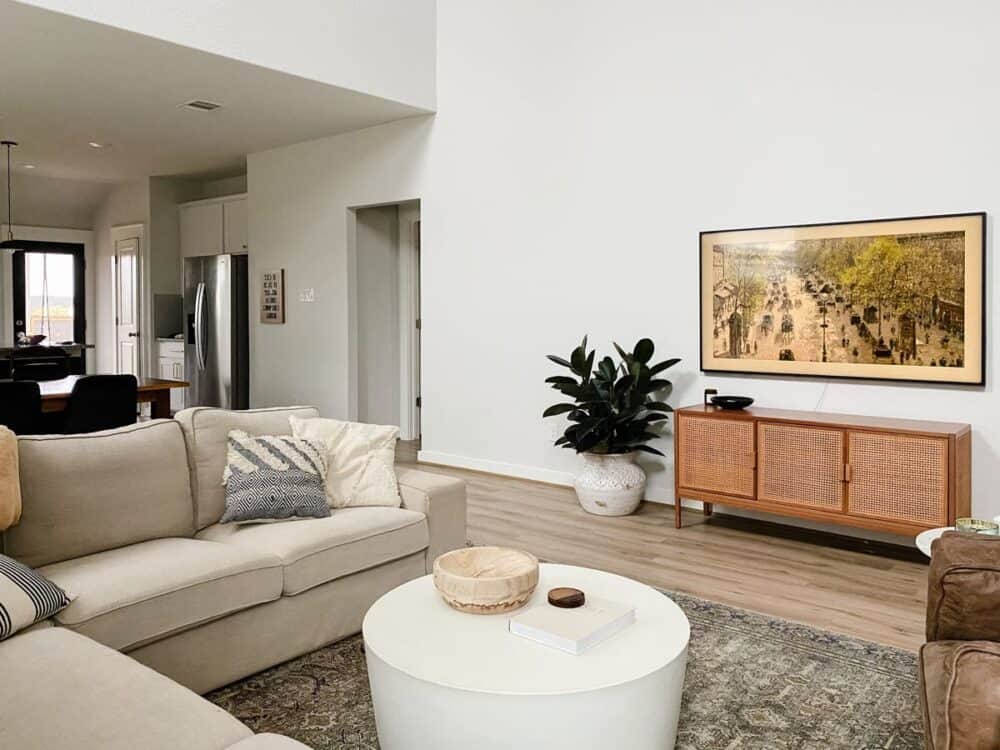 I might live in Texas, where it's only cold approximately two weeks out of the year, but that doesn't mean I don't love a good fireplace.
This house is the first one that we've ever lived in that doesn't have a fireplace, and in the year that we've lived here we have really and truly missed it so much. We knew before we even closed on this house that we'd eventually be adding an electric fireplace to the living room, and the day has finally come!
My original plan was to take care of this fireplace project last year, but the design plan never really came together – we had a few false starts and it just never felt right. But now? Fourteen months after moving into this house, we've officially nailed down the exact plan for our fireplace and we are SO ready to get started.
This is going to be a major undertaking, and probably the most intense project we've done in this house so far. I'm really excited to see how much of a difference it makes in the living room and I am counting down the minutes until I can light that first (fake) fire!
I'm officially getting started on the project next week (and I'll be sharing every detail on Instagram stories, so be sure you're following!), so today I wanted to spend some time chatting about all of the details of what we have planned and why.
** UPDATE: Here's a list of all of the posts in this series about the fireplace!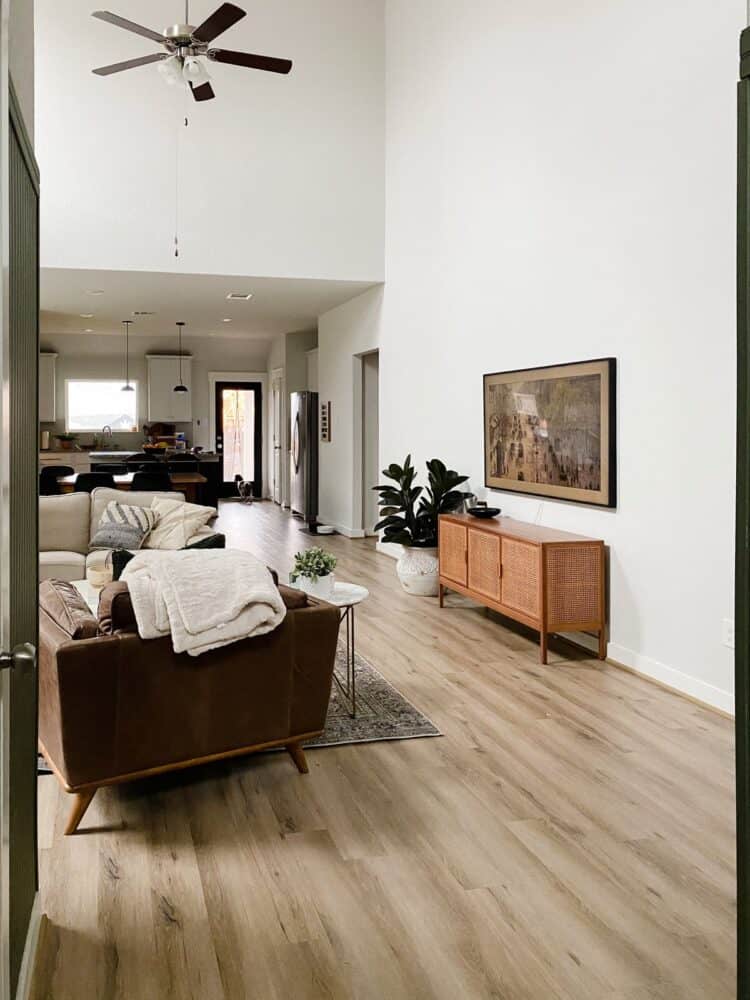 The fireplace will be going on this big, blank wall across from the sofa, where we currently have our television. Before moving in, we had considered the possibility of putting it on the other side of the room, between the windows, but after living here for a year we're confident that this is the best set-up. The sun shines through those windows for much of the day, and if you were sitting on the couch you'd end up with the sun directly in your face. It wouldn't make for great lounging! Plus, we love the way our living room layout flows right now, and this just makes the most sense to us.
We debated long and hard about how high up the fireplace would go – should we take it all 20 feet to the top of the ceiling? Or, should we keep it smaller (and make the project as a whole a heck of a lot easier)?
After much back-and-forth – I think we changed our minds 25 times – we decided that we're taking the fireplace all the way to the ceiling. It felt half-hearted to not go all the way up when we both knew in our gut it would make the most impact to just go for it, and we know it'll be worth it in the end.
Even if it's going to add a lot of work on our end to take it all the way up.
Did I mention my husband is terrified of heights?
Should be a blast.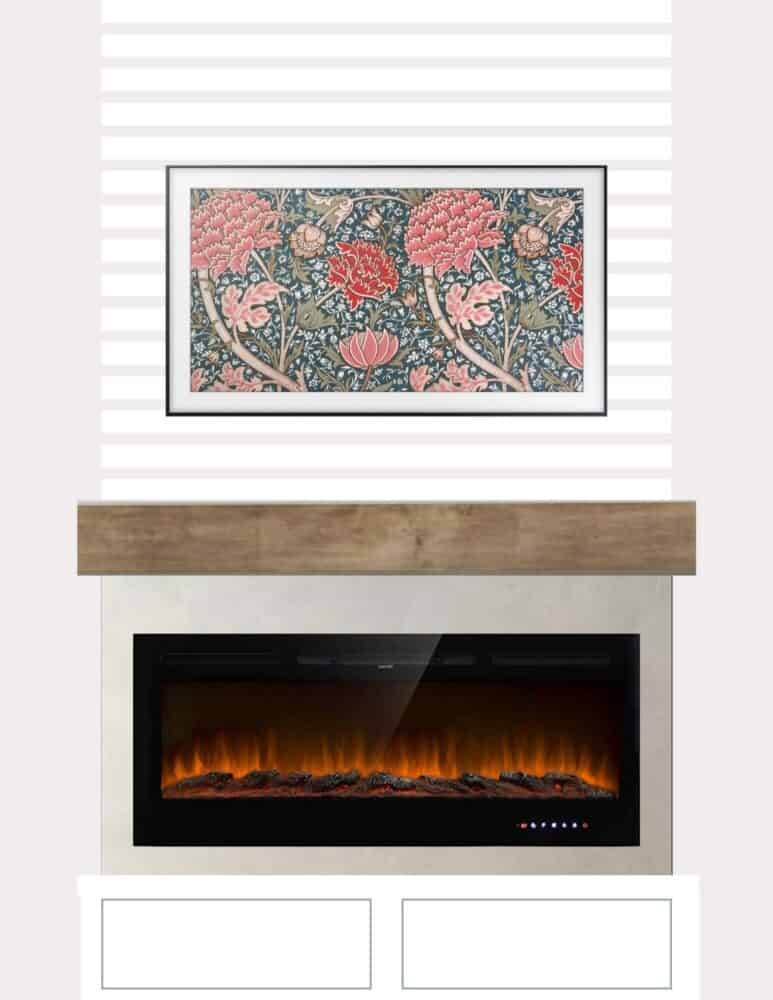 This is a (very) rough rendering of what I want the finished fireplace to look like. We're keeping it pretty simple and neutral, since the living room is so open to the rest of the house – we don't ever want things to feel cluttered or visually overwhelming.
We'll be doing shiplap from the mantel all the way to the ceiling, and painting it white. Part of me questioned if shiplap was a "boring" choice, since we've already used it a few other times in this house already (and on the fireplace in both our first house and our second house), but in the end, I think that's exactly why we should do shiplap!
We want our home to feel cohesive and intentional, and I think a great way to do that is to utilize design elements in more than one place around your house. The shiplap on the fireplace will flow nicely with the shiplap on the kitchen island and the vertical shiplap in the game room, and there's nothing boring about that!
We're still nailing down the exact details of what the mantel will look like, but we know it will be wood. We're going to try to source a really chunky piece of wood to use for it, but that might be cost prohibitive, so if that's the case we'll probably do another DIY mantel like the one from our second house!
And finally, the bottom half of the fireplace will be a new wall treatment that I'm very excited and very nervous to try – roman clay! I first saw this material when Bre did it on the fireplace in her house, and I've seen it used several other places since then. It has such a beautiful texture and warmth to it, and it's exactly what we were looking for.
As for the fireplace itself, after a lot of research we ordered this electric fireplace insert and it should be arriving any day now. It's a nice, big size which should be perfect for what we're planning, and from the reviews it looks like it will give off a really realistic feel, so fingers crossed!
We'll also be adding a feature we've never had on a fireplace before – a hearth! I've always loved how cozy a little hearth feels sitting under a fireplace – it makes things feel a little grander, it adds some seating in the room if you're in a pinch, and is a great place to stash a basket full of cozy blankets.
And, if you're us, it's also a great way to add a little bit of storage to your fireplace so you can hide your game consoles and some of the kids' toys!
More on that later, though!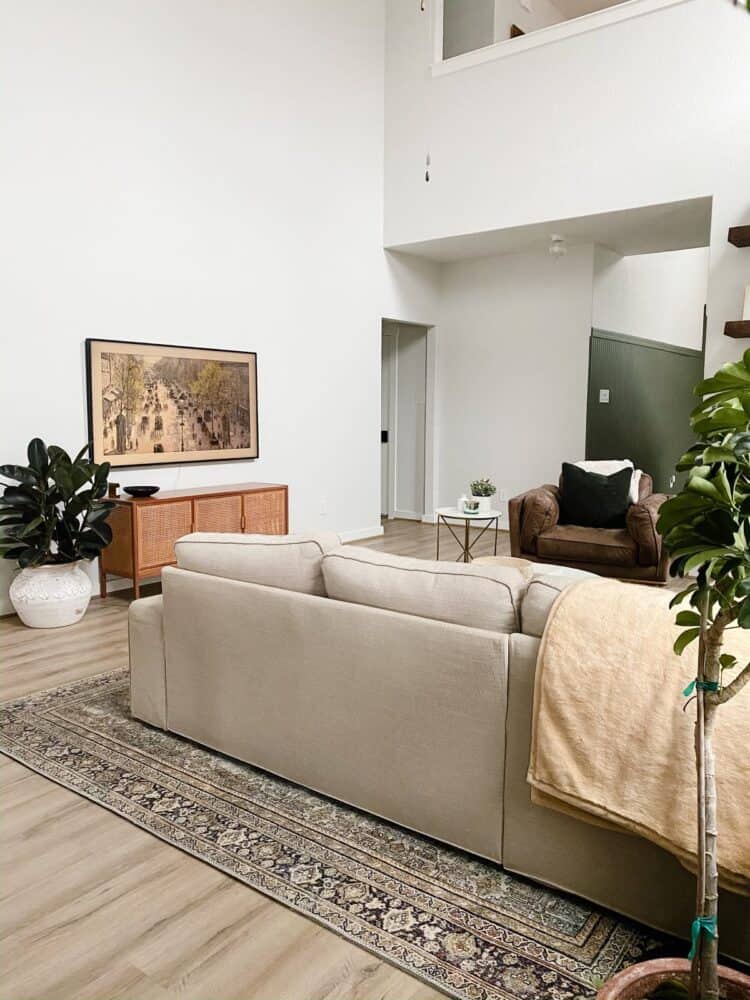 I'm feeling really excited but also quite intimidated by the scope of this project, so it should be an adventure!
I'll be kicking things off next week by building the hearth (and I still haven't decided for sure what the top of it will be made of – wood painted white? stained wood? concrete? HELP!), so stay tuned for all of the fun.