One Room Challenge: Week One (The Dining Room)
We might have a small dining room, but it doesn't mean it has to be short on style! We're renovating our small dining room for the One Room Challenge – and it's week one!
Guess what day it is?!
It's ONE ROOM CHALLENGE WEEK ONE! Are you excited? I'm excited.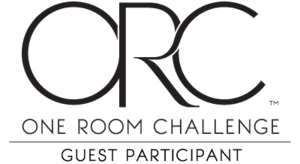 If you aren't familiar with the One Room Challenge, it's a blogging challenge where each participating blogger chooses a room in their house to completely overhaul in just 6 weeks. There are always a ton of people who participate, and it's so fun to see the transformations – especially because the motto of the ORC seems to be "go big or go home"! Throughout the challenge, I'll be updating you on our room weekly (you can expect a fresh ORC post every Wednesday) and each week I'll also be sure to include a link to the main One Room Challenge page so that you can check out all of the other participating bloggers – it's always so fun to see what everyone is up to!
Corey and I have participated in the One Room Challenge once before – and last time we did what might be the dumbest thing we've ever done. We tried to tackle an entire (large) DIY bathroom remodel in just 6 weeks (while working full-time jobs outside of the home)! We finished it – and loved it – but we swore we'd never try to take on something that crazy again.
This time around, we're taking it much easier and renovating our small dining room. And when I say small, I mean it. Hilariously enough, the dining room in this house is actually smaller than our master bathroom was in the old house (can't decide if I should laugh or cry about that one). So, it'll be a fun challenge to maximize the small amount of space we have and still make the room beautiful.
We're trying something a little different with our approach to the challenge this season – each week I'll be writing a post about our progress and what we're working on, but I'll also be making a quick video so you can see even more of what's happening behind the scenes. It should be a fun behind-the-scenes look at how we approach renovations, and each video will just be a few minutes long so you can get a look into what's happening without having to sit through a painfully long video.
We'll get into the details here in a second, but first – here's our week one video!
Our Small Dining Room Renovation – Week 1 Video
So, the dining room.
What's the plan? Well, first let's chat a bit about the before.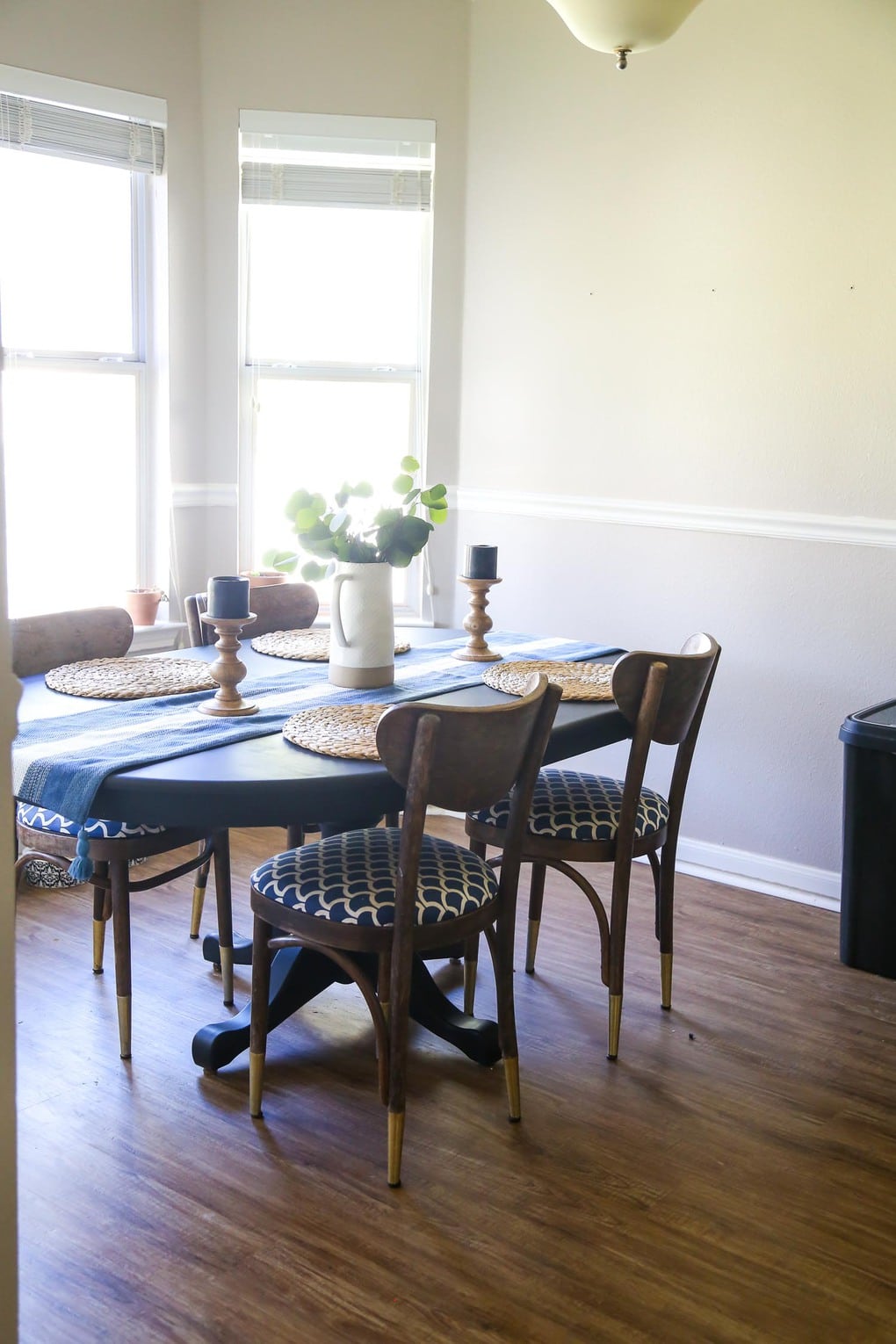 This room is tiny. It's really not even accurate to call it a dining room – it's more like a dining nook. It sits right off of our kitchen and is large enough to hold a small table (ours can seat 6 but there is only room for 4 chairs with the current setup) and that's it. It's also a totally blank slate – other than a few pretty windows there really isn't anything to look at in this space at all.
Oh, except for the random set of cabinets that were installed next to the pantry. It's obvious that these were installed after the house was finished (there are lots of clues, like the placement of the ceiling light fixture, and the fact that the cabinetry itself is totally different from the rest of the kitchen), but they do add a good amount of storage to the room. The only problem is, they don't really feel like they're connected to the kitchen (since they sit outside of the kitchen itself and are separated from the rest of the cabinets by the pantry) and they also don't really feel like a part of the dining room, since they match the kitchen cabinets.
Our final major problems are our dog food bowls and the trash can – currently both kind of just sit on the floor in the middle of the dining room (seriously, it gets awkward), but we're all a little desperate for a more functional and better-looking solution. We haven't figured out what we'll be doing with them yet, so if you have any genius ideas, throw them my way! The trash can will hopefully end up inside a cabinet (we did that in the old house and loved it!), but the dog food bowls are really stumping us!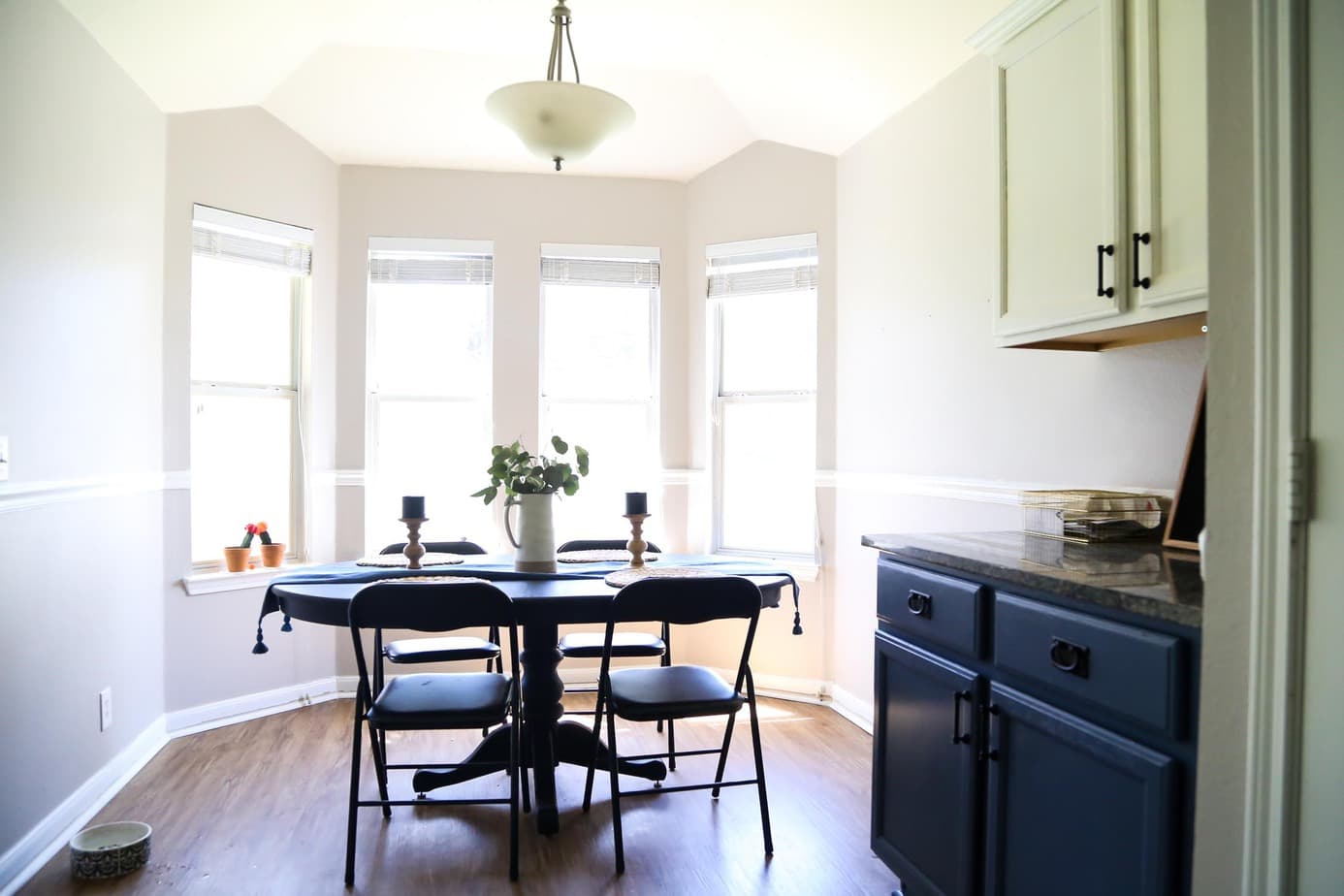 The photo above is a more accurate representation of the actual before – we sold our vintage chairs that used to be in here (for a myriad of reasons, but the biggest one being that they just weren't sturdy enough for kids) and are currently just using folding chairs. It's super cute.
Now that you know what our problems are, let's chat solutions.
Small Dining Room Renovation: THE PLAN
Built-in banquette. I know – we just finished a giant set of built-in shelves in Jackson's room and now we're tackling even more. I'm wondering what's wrong with us too. But, we've known since before we even moved into this house that the best solution for this small dining room and lack of seating space is going to be built-in seating. We'll build a banquette that wraps all the way under the windows and partly down the wall on either side, which will give us solid seating on one long side of the table and both of the ends. Then, we'll only need two chairs on the other side of the table to finish it out. This is going to be the biggest change and it's definitely the part I'm most excited about!
New lighting. Obviously, that light fixture needs to go. We'll be creating our own DIY light (we've designed it already, just need to order parts and get it done), and it's going to be very simple and classic, but will hopefully look a lot better than the current one does.
Wall treatments. We want this little area to stand out a bit since we love to host so much – plus, we've kept the rest of our main living area pretty neutral in anticipation of making this space shine. I'm not quite ready to talk about what we're doing yet (the plan might change!), but it will probably involve both beadboard and wallpaper and if it goes as planned it'll definitely be the star of the show.
Window treatments. We love the natural light these windows bring in and don't want to do anything to detract from that. But, we can't leave them as they are – they're far too boring! I'm thinking we'll add some trim around the windows to pretty them up a bit and maybe add some simple white roman shades – or, we might leave 'em naked. Votes?
And finally, the bar area. We haven't fully finalized our plans for the small section of cabinetry in here, but we have some ideas. We're definitely going to be adding a tile backsplash (tile is already ordered!) and while we're at it we're going to go ahead and re-do the backsplash on our entire kitchen, just for fun. We may also rip down the upper cabinets to add some open shelving. The idea will be to make this area feel a little more connected to both spaces (adding the same backsplash will tie it into the kitchen, but adding open shelving will make it feel a bit more decorative for the dining room). We'll see where we land – I guess we need to make a decision soon!
Of course, we'll also be doing plenty of accessorizing and a few other small projects along the way. But, I think that for 6 weeks this will be more than enough to keep us busy!
Be sure to check back in next week for the updates on where we're at!
If you need something to keep you busy in the meantime, here are a few links to our last One Room Challenge experience.