DIY Wood Laundry Room Countertop
I built this super simple, affordable laundry room countertop for our laundry room that doesn't have any cabinetry, and I'm here today to share the details on how it's done!
This post was originally published in April of 2020, and is being updated and republished as part of an effort to make my archives more accessible and let you know how past projects are holding up!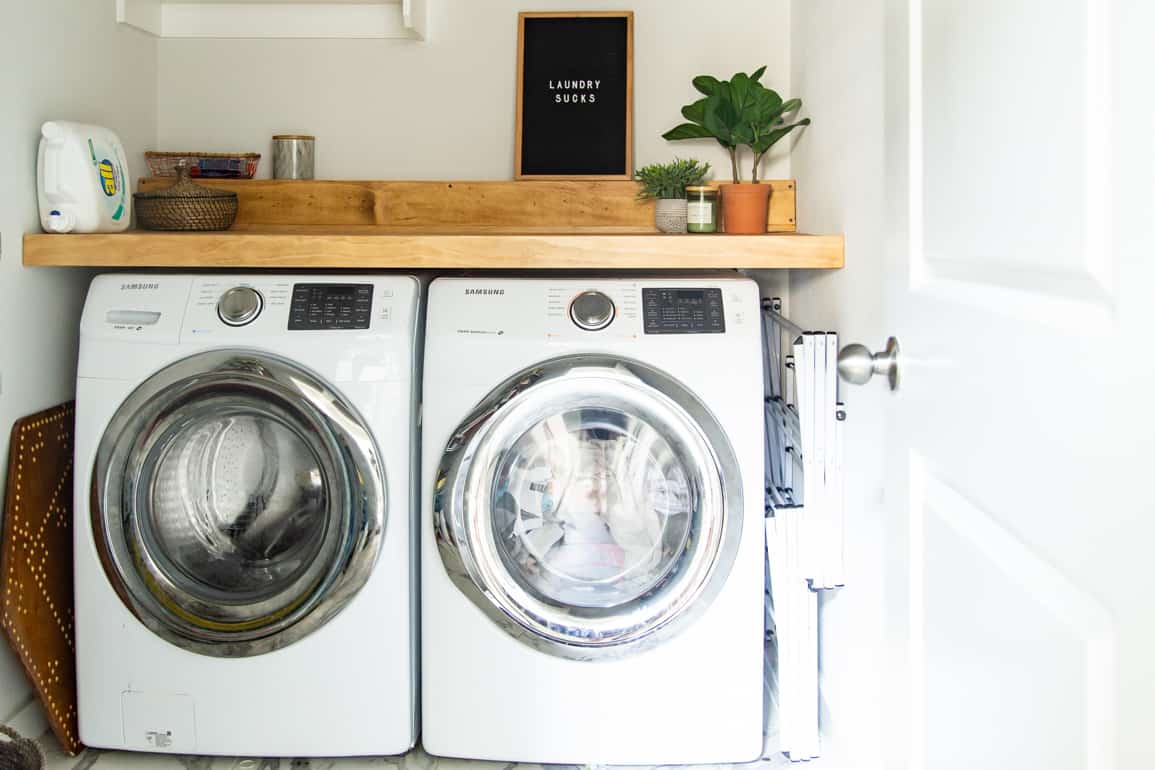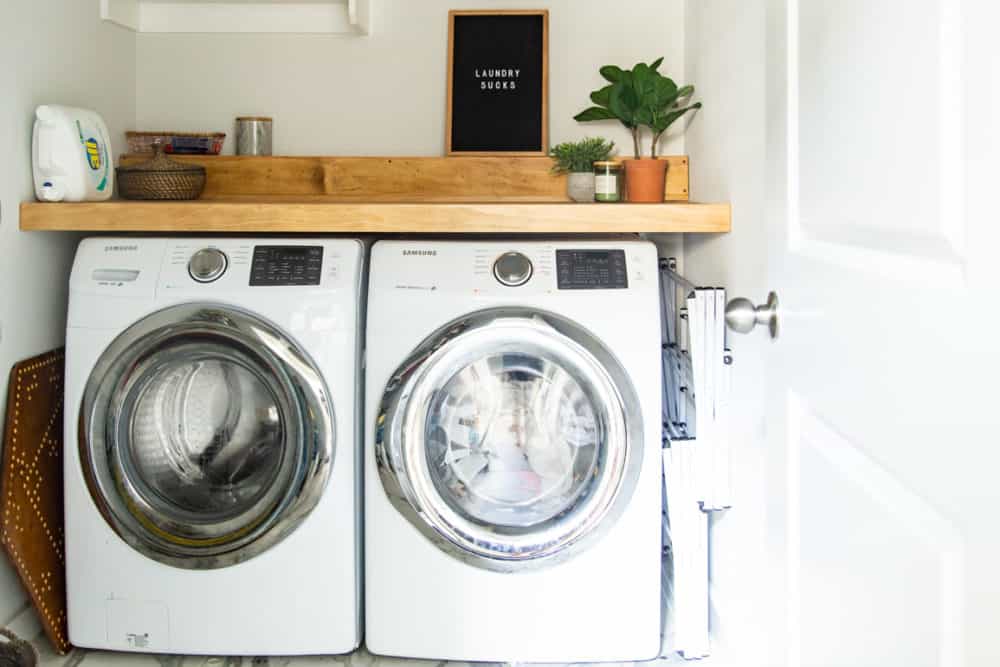 I've never (ever ever!) lived in a house that had a laundry room countertop. Our first couple of houses had laundry rooms that could really only be considered closets, so this space that I can actually stand in and take steps in feels so luxurious and huge!
But, without any sort of countertop or real storage, it feels like a lot of wasted space. So, adding this DIY countertop has been a huge help and has made a very big difference in how the entire space functions for us.
Adding a laundry room countertop when you don't have any of support or cabinets to work off of can be tricky, but this counter still looks like new a year after building it, so I feel confident that we've landed on a good solution!
If you want to catch up on our entire laundry room makeover, scroll to the end of this post and I'll share the rest of the posts about this room so you can see the quick (but impactful!) makeover we gave it.
I promise this simple wood countertop is a no-brainer to build, and it's very beginner-friendly! We'll jump right to the tutorial, but first, here's a little compilation of my Instagram stories from this project, if you're the type that prefers to see it come to live in video!
how to build a diy laundry room countertop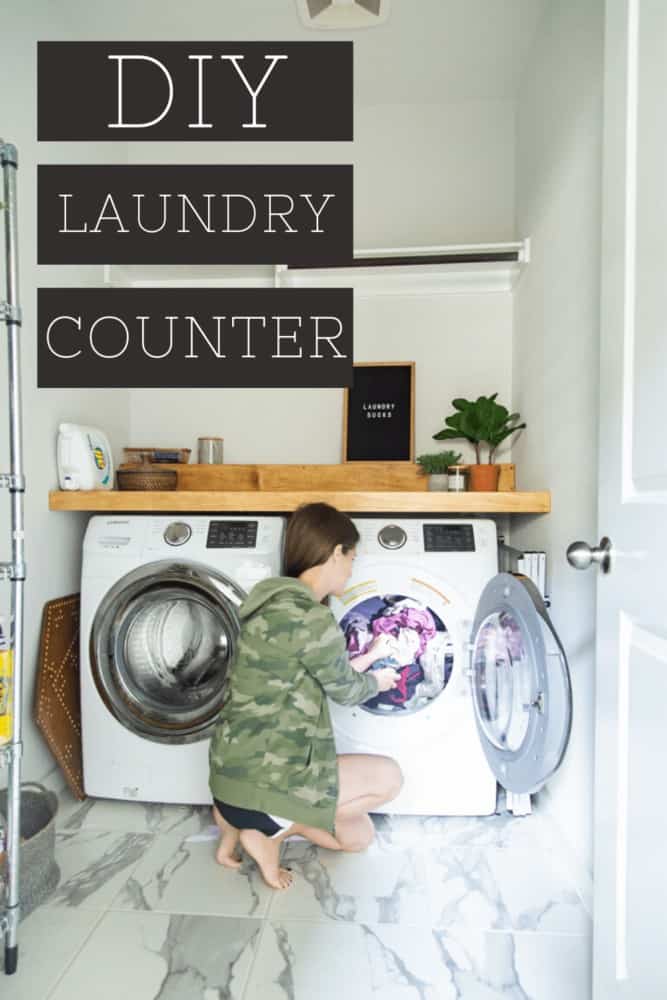 tools & materials
Note: The amount of wood you need will vary depending on the size of your laundry room and how large you want your counter to be. I'm listing what I used to build our 66.5″ long counter, you can adjust as needed for your specific space!
Framing out supports for the countertop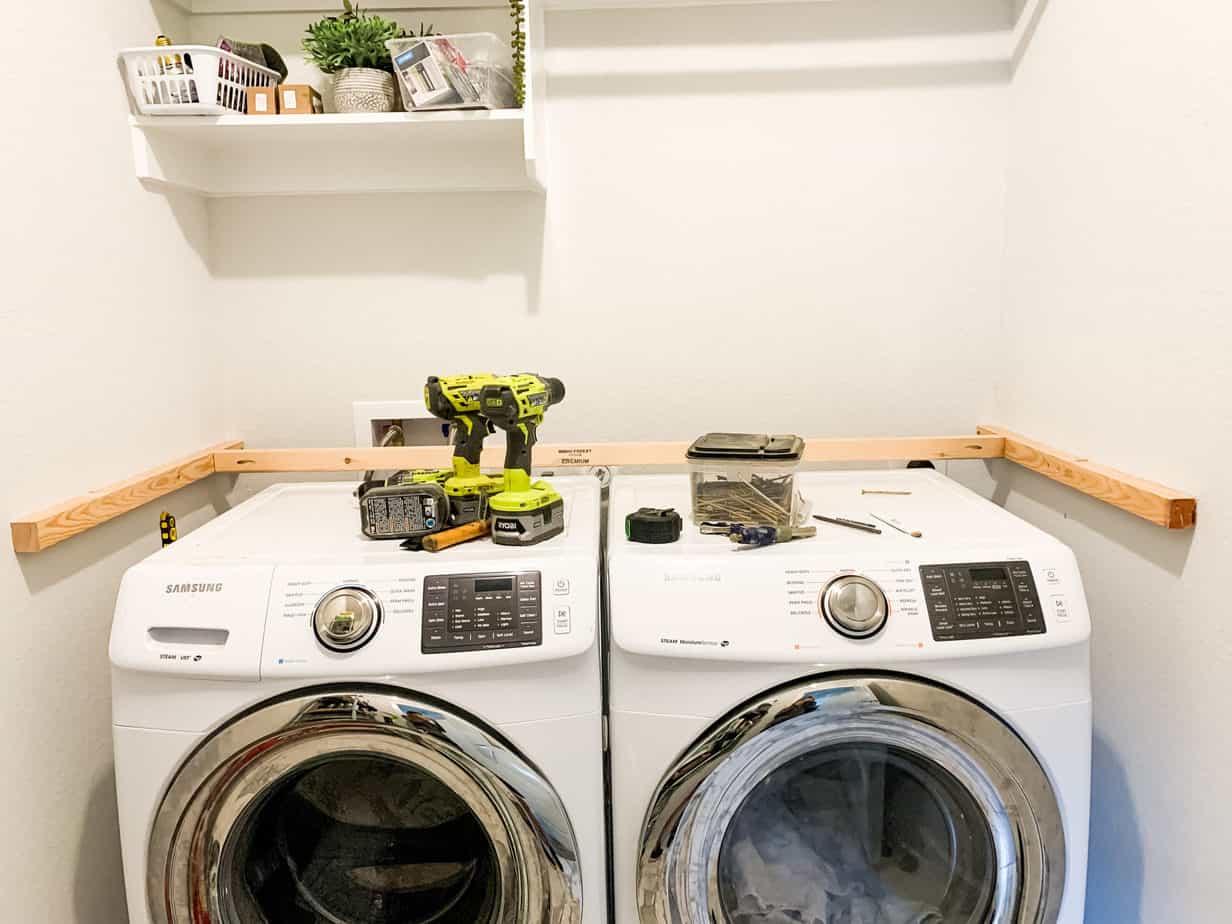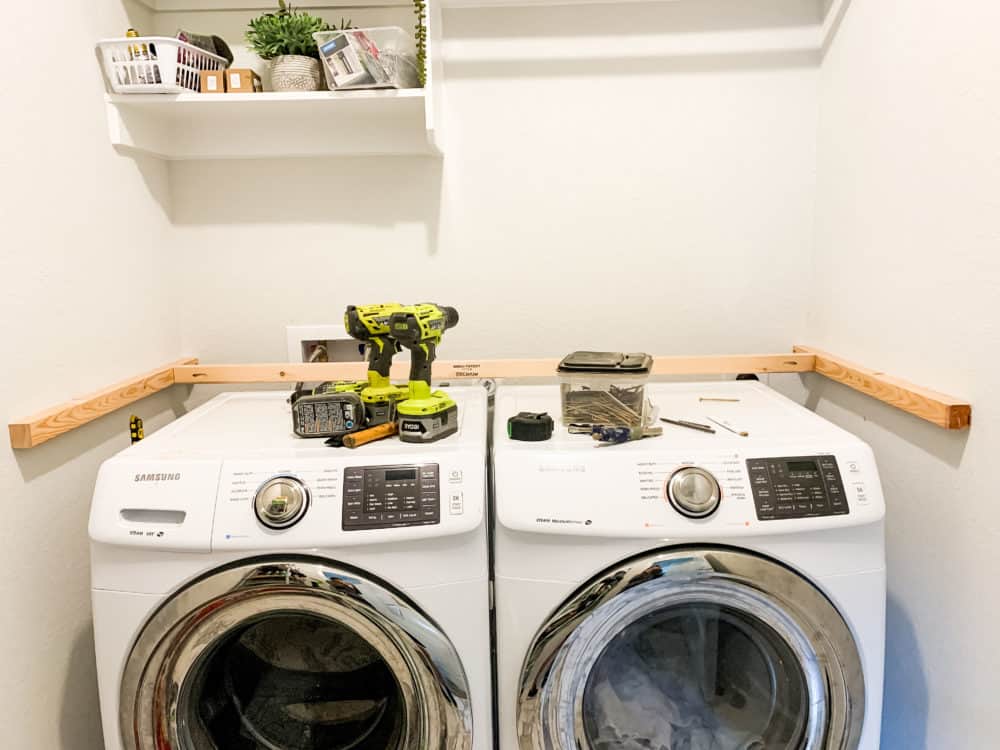 Add Ledger Boards
First, you need to determine how deep you want your counter to be. Our washer and dryer have slight curve to the front, so we measured from the wall to the widest point of the curve, and had our counter end about there. I'll also note that when you're measuring the height of your counter, double check that your soap dispensers will still open once the counter is installed! Our completed counter sits about 1/2″ above the washer to ensure it wouldn't block anything.
You'll start by installing all of the supporting pieces (they're called ledger boards) that will help hold your counter up. We used 2×4 boards that we ripped in half using our table saw (so they wouldn't be visible once the counter was installed). You can purchase 2×2 boards instead, but it tends to be hard to find straight ones that aren't warped, so you'll probably have better luck with a 2×4!
If you don't want to rip the 2x4s in half, I'd just recommend using a larger piece of wood for the front trim to help hide them!
We started with one piece on either side of the room that ran the depth of the counter (drilling into studs wherever possible), then we used pocket holes to attach one long piece going between them, as shown above.
You'll note that our counter didn't go all the way to the back wall – we added a ledge. This is because the controls for our water shutoff valve sit slightly above the washer and dryer, and blocked us from going all the way to the wall (you can see it in the before photos). So instead, we built a little ledge (with a removable front piece) to hide them. More on that later!
If you don't have anything blocking your way like we did, it's even easier – simply install a ledger board along the back wall by screwing it into the studs. You can skip the pocket holes and your counter will be even sturdier than ours is.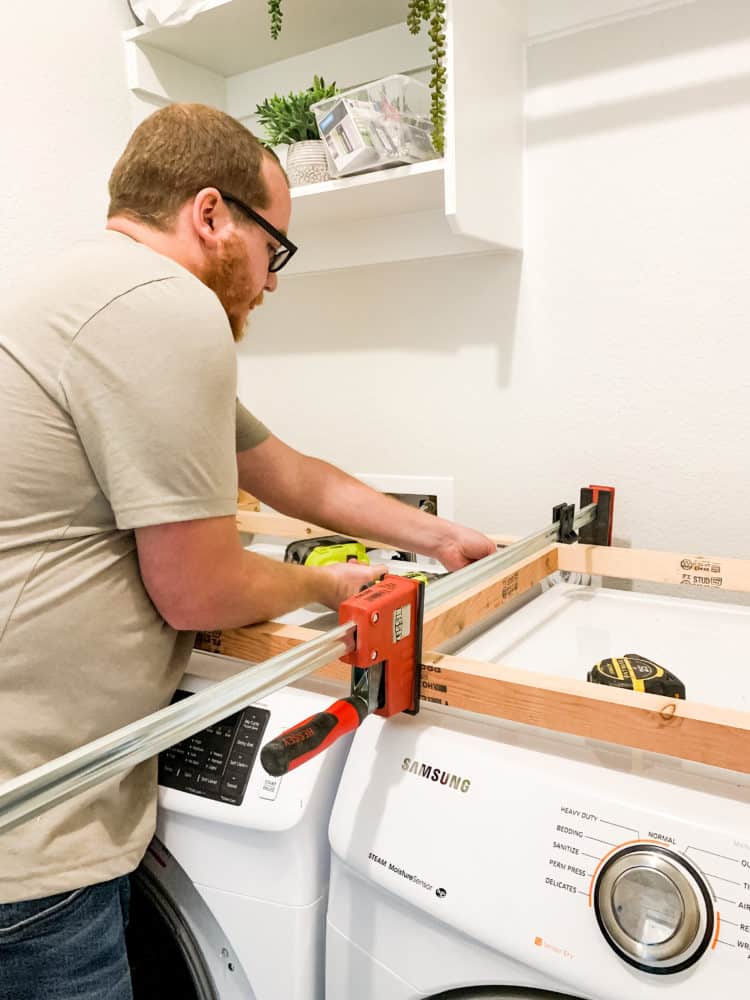 Add Middle Supports
I didn't get a good photo of it (because we added it further along in the process), but we also ended up installing one more support piece running along the front of the counter – also using pocket holes to install it, along with a middle piece. So, the base of our counter is supported by what looks like two side-by-side squares (which you can kind of see in the photo above).
The reason for this is we wanted the countertop to be as sturdy as possible, and we wanted to prevent any sagging. I was going to be installing tile on this wall shortly after installing this, and I'd need to stand on the counter. So, we really needed it to be able to support an actual human standing on top of it. Most laundry room countertops likely won't need this intense level of support, so the additional supports in the middle may not be necessary. But, they've worked well for us!
Add the supports for a ledge (OPTIONAL)
You may not need a ledge if you don't have shutoff valves or other controls blocking your way. But, if you still want one, there's no reason not to install it! I'll note that if you don't have anything blocking your way, I'd recommend taking your base counter all the way to the back wall and then building the ledge on top of it. It's much easier and will be sturdier in the long run.
But if you're like us and didn't have that option, here's what we did:
We used more 2x4s (also ripped in half) to frame out the ledge. Subtract 3/4″ from the size you want your ledge to be, and that's the size your support boards should be – for example, our ledge is 5″ tall and 4″ deep, so our support boards are 4 1/4″ tall and 3 1/4″ deep.
We used construction adhesive and nails to attach these to the wall as shown. Not pictured is the long support board that we attached at the front of the ledge using pocket holes. This adds structure to the ledge and gives you something to nail into! It should just run the length of the counter, just like the cross pieces from the base counter!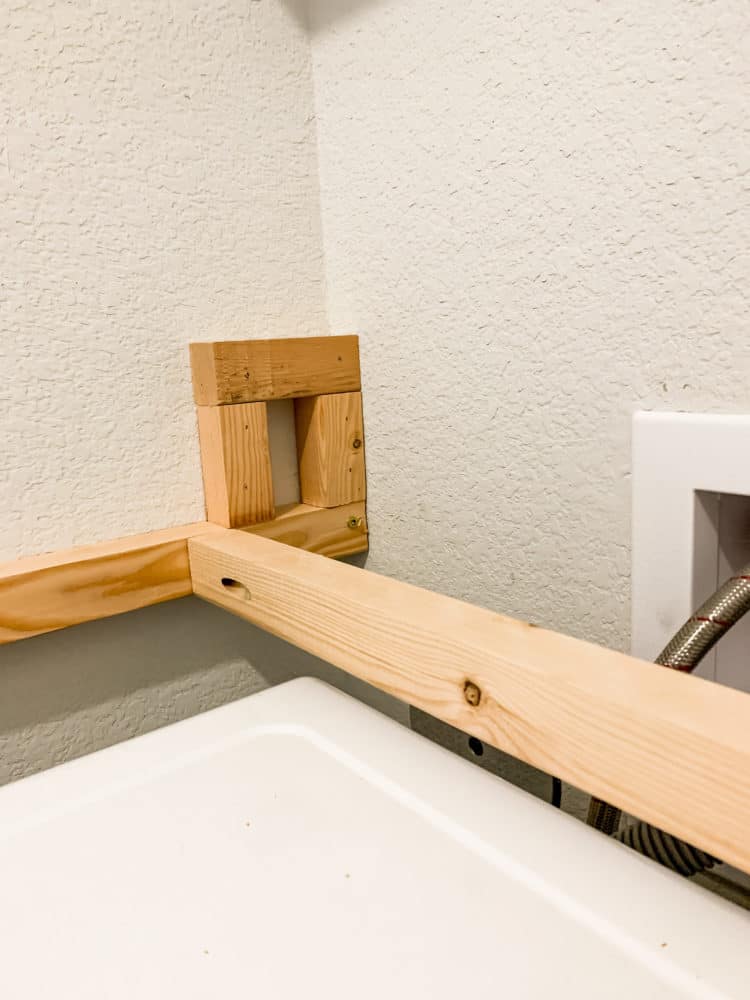 cut + stain your counter pieces
We ended up needing two lengths of 1×12 boards and one length of 1×3 board for our counter. We could have ripped them all down to a uniform size before joining them together (so there wouldn't be one small piece in the middle), but we decided it wasn't worth the extra effort.
You also could easily use 3/4″ plywood for the top of your board if you'd like, but I really wanted the grain and texture of actual pine boards so we stuck with that. If you choose to go with plywood for your laundry room countertop, simply cut your piece (or have them cut it at the store) to the exact measurements you want the top of the counter to be and set it into place!
For our countertop, we used pocket holes to attach the three pieces together. Move slowly, clamp them together, and check regularly that they're all flush and level as you work!
Once your counter is assembled, you're ready to stain it. We ended up distressing ours a bit, and then I stained it using one coat of Summer Oak by Varathane, with a light coat of Golden Oak on top.
Once the stain was dry, I sealed the whole thing with one coat of Varathane's Triple-Thick Poly. It's my favorite to use for projects like this because it only requires one coat, it goes on like a dream, and it works perfectly!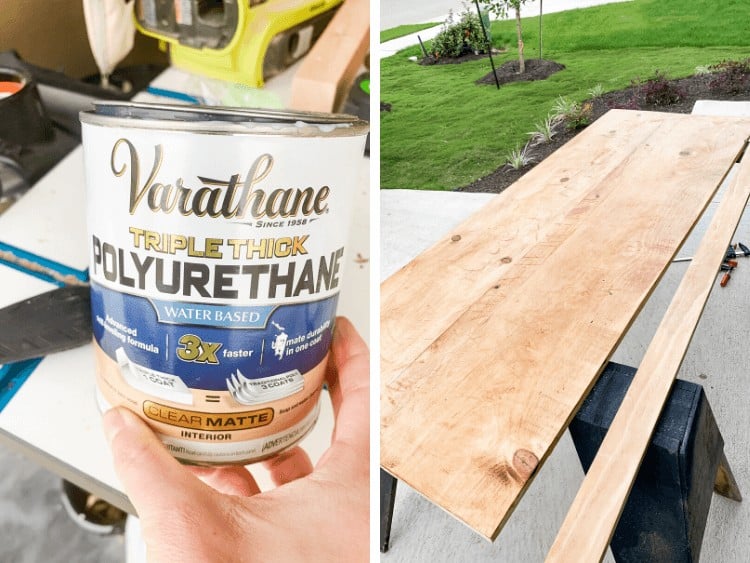 At this point, you can go ahead and cut your front trim piece (from your 1×3 board) and the pieces for your ledge. They should just be measured from wall-to-wall and cut to fit perfectly in there!
The ledge pieces can be ripped down from your 1×12 boards – we needed one 5″ piece for the front, and one 4″ piece for the top of the ledge.
assemble the counter
Once your pieces are all stained and sealed, you're almost done!
Start by bringing the countertop piece in, and laying it on top of the support boards. We simply nailed ours into place with our 18-gauge brad nailer.
Then, install your front trim piece along the front of the counter to cover up the support boards. Again, we used our brad nailer. And again, this is where if you're using full 2x4s for ledger boards instead of ripping them in half, you'll need to raise the entire thing up a bit (so that the bottom of the 2×4 ledger boards is aligned with the top of your washer, with a bit of clearance) and use a larger trim piece to hide those boards.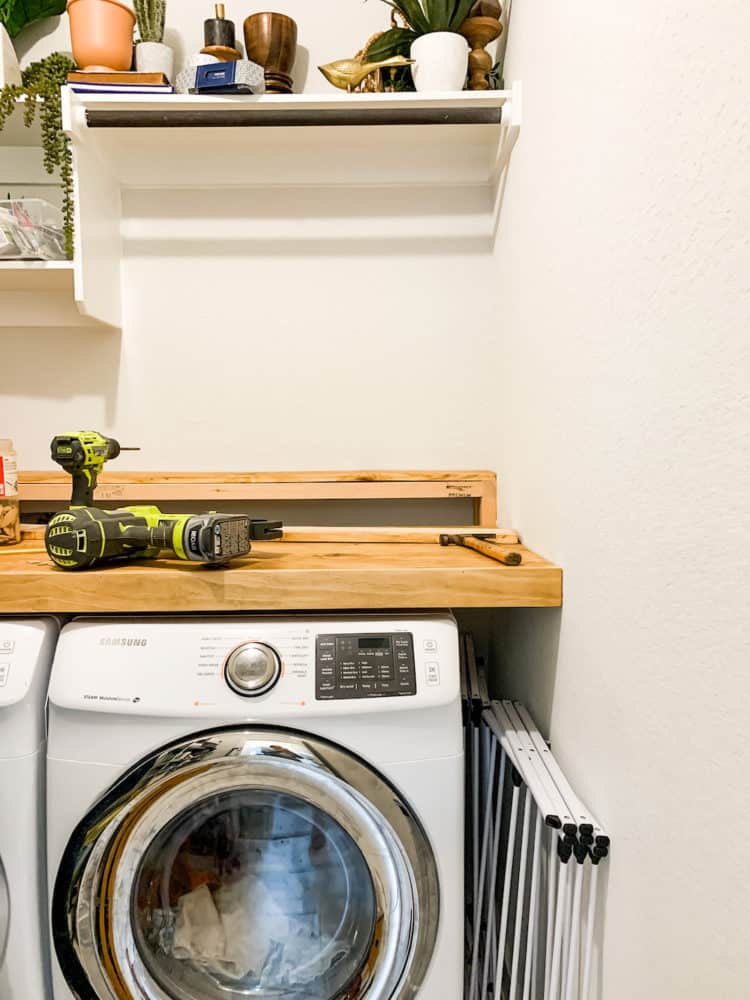 And finally, you can install the ledge pieces if you're doing a ledge. We nailed the top of the ledge into place, but we used screws on the front of the ledge – this is so the front piece is easily removed if we need to access the valves at any time. We'll just need to pull the screws out, and the board will come right off.
And then, you're done!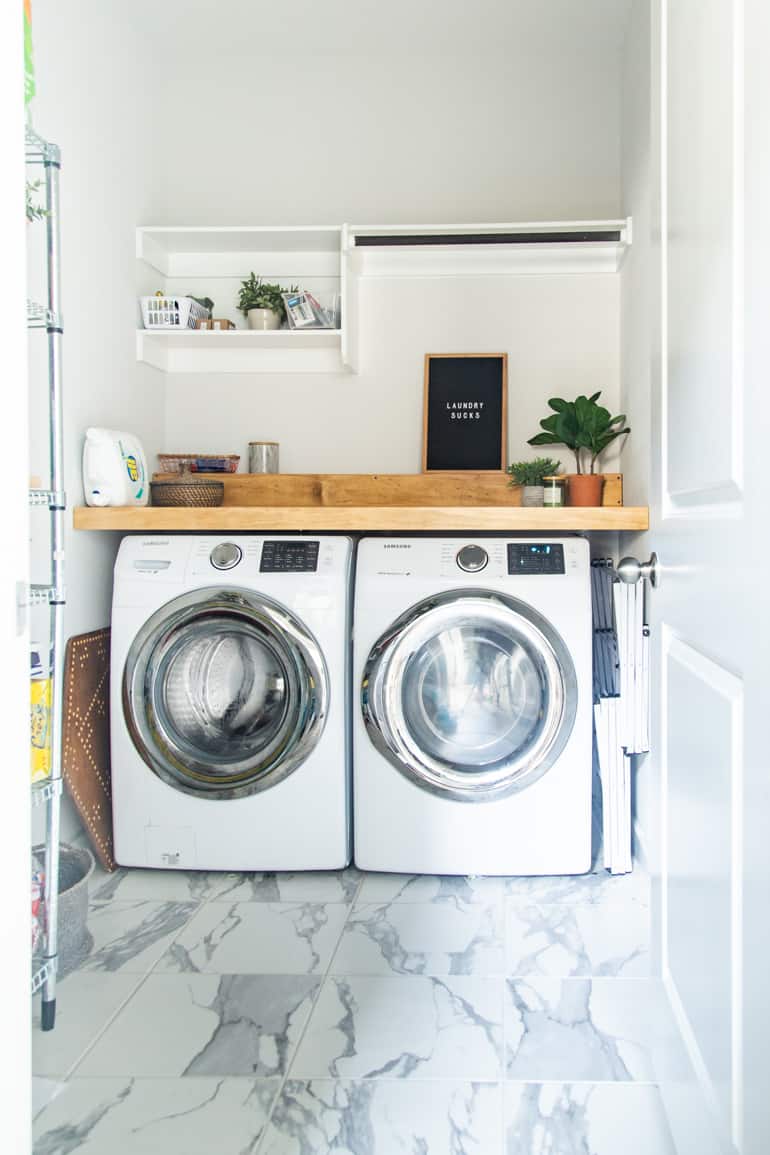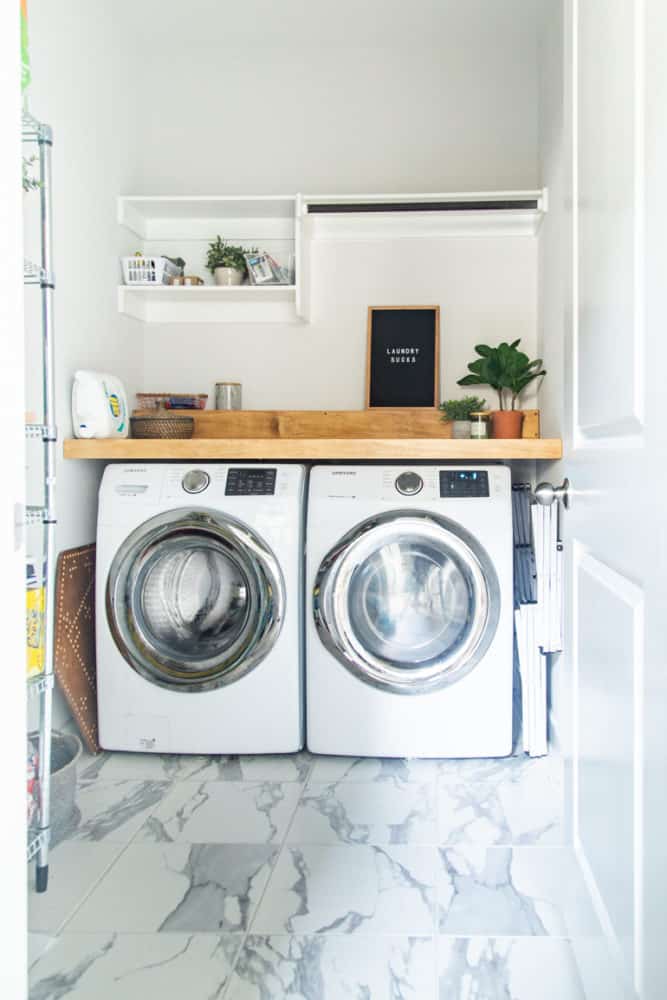 This little counter of ours is far from perfect – we ended up with warped wood, we made a few mistakes, and we couldn't head back to the store for more supplies because we were working on this at the height of the 2020 lockdowns and we weren't going into stores. But I'm really pleased with how it turned out, and I kind of love it for all of the flaws because it will forever remind me of this wacky, difficult-yet-special time of quarantine.
How has your laundry room counter held up?
We installed this counter a year ago and it has held up beautifully over the last year.
I installed some (very heavy, stone) tile along the back wall – see the related posts below for those details – and the countertop was able to handle the tile and me on top of it for multiple days in a row with no sagging or creaking at all.
We use this counter every single day for clothing, various cleaning supplies, and the junk that inevitably ends up on every surface of any home, and we haven't had a single issue in the last year.
Overall, I'd say this method was a total win and I'd do this project again in a heartbeat!
Here are a few related posts that you may find helpful if you decide to tackle this project:
And here are some other laundry room posts that show off the rest of this makeover!