8 Simple, Budget-Friendly Small Front Porch Ideas
It can be hard to figure out how to decorate your small front porch, but with a little creativity and effort, your porch can be beautiful! Here are some small front porch ideas to get you started! 
Can I let you in on a little secret?
I've never been very good at the whole curb appeal thing. I love the idea of having a beautiful home that feels cozy and welcoming from the outside. But, actually achieving that hasn't ever been my strong suit.
I mean, sure, I can paint a house. I painted the entire exterior of our second home. And it was gorgeous.
And, I can make some structural changes. Heck, I added DIY concrete steps to the front porch of our current home!
But when it comes to actually decorating those spaces? I'm a mess.
It can be so tricky to know how to decorate your outdoor spaces, and the entrance to your home is one of the most important outdoor spaces around. When you're working with a small porches, it's important to have some restraint (there's only so much room!), but you also want it to ooze charm and feel really welcoming.
It's a tough balance to strike, my friends.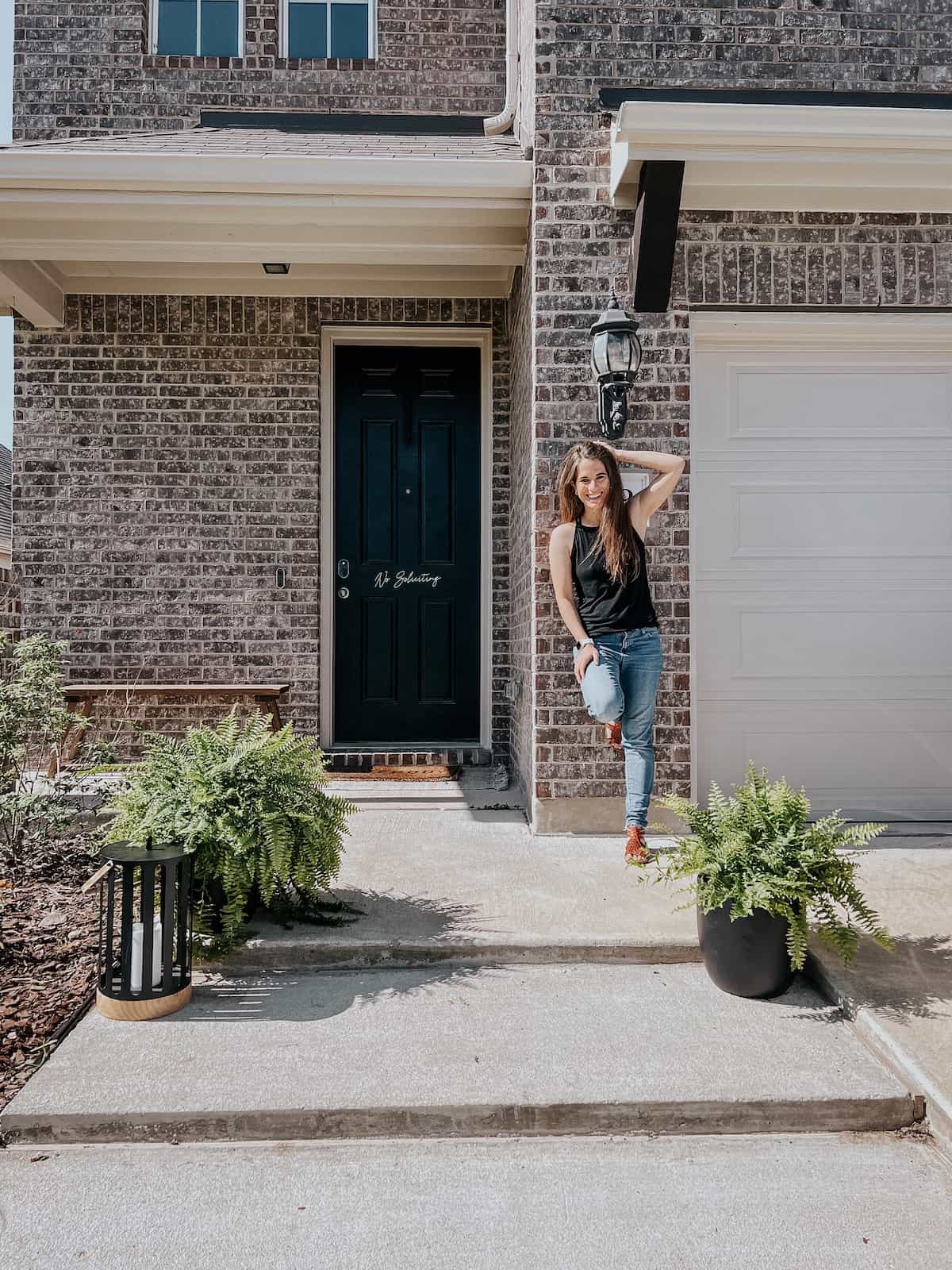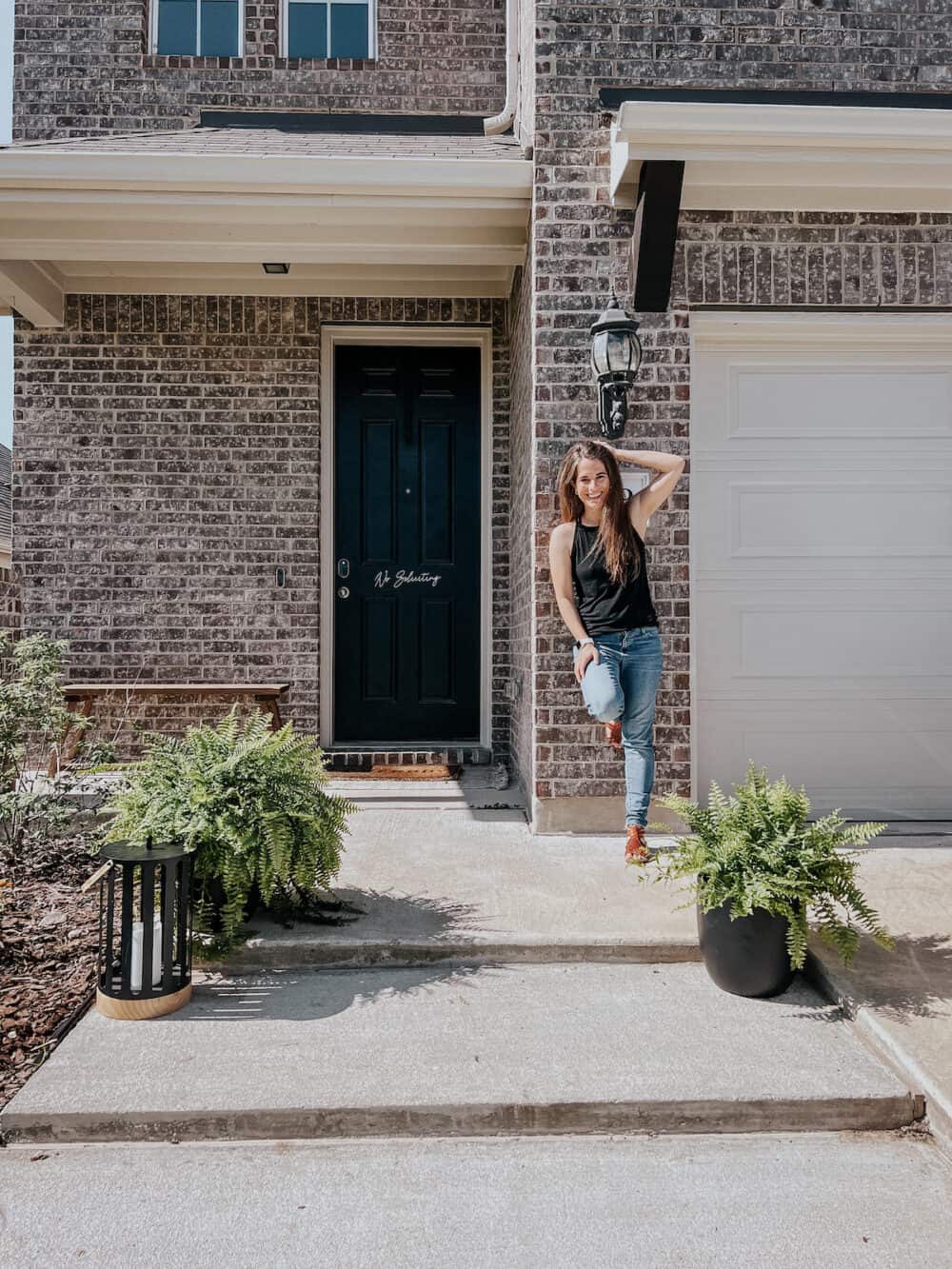 But, every spring and summer I get the itch to make things look cute. I've been doing some research and brainstorming, so today I'm going to walk you through some small porch ideas. These are thoughts for how you can decorate, fill, and otherwise zhuzh up your front entry on a budget.
Have fun, and then let me know if you have any genius ideas!
Small front Porch Ideas – How to Decorate Your Porch 
1. Add a Seating Area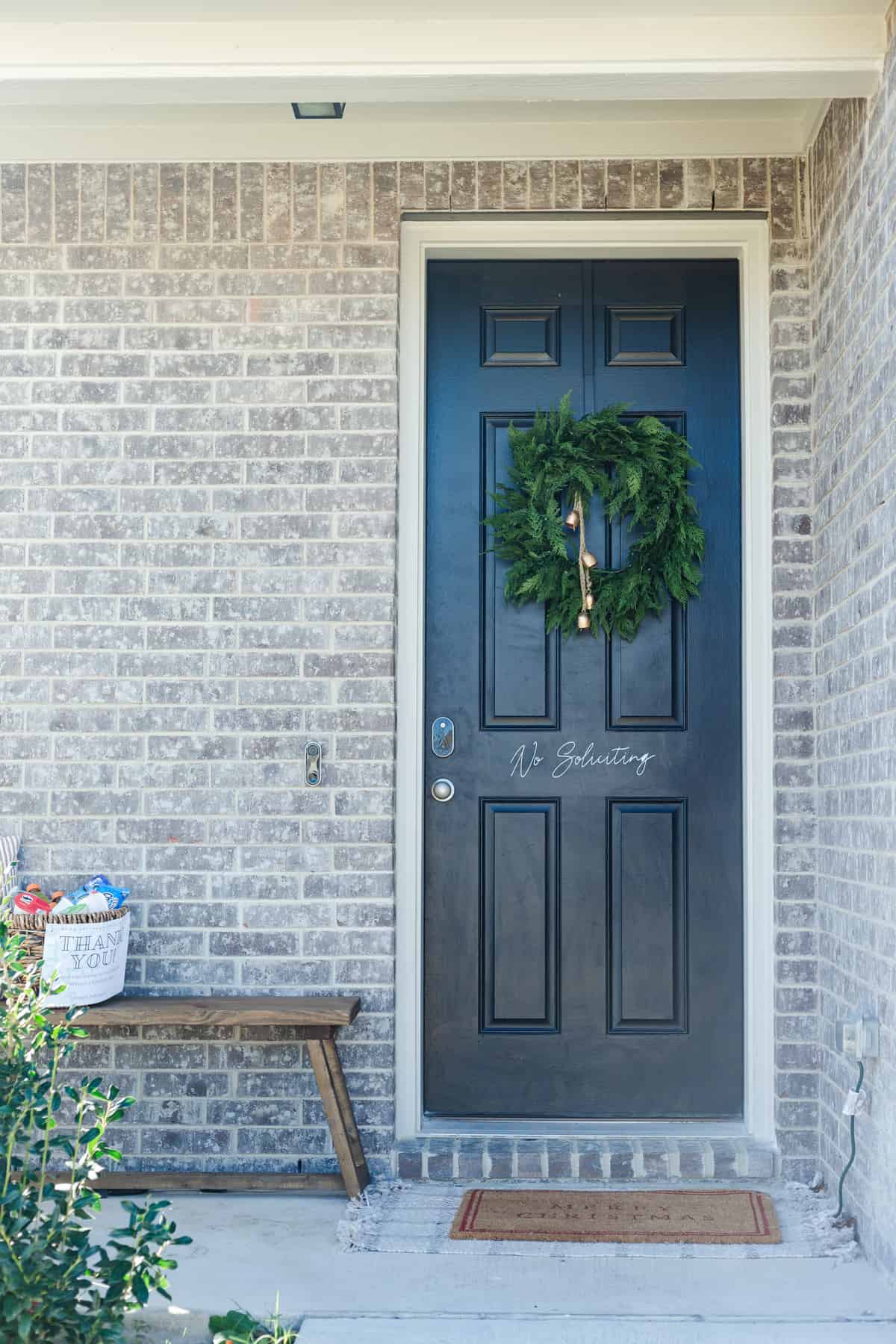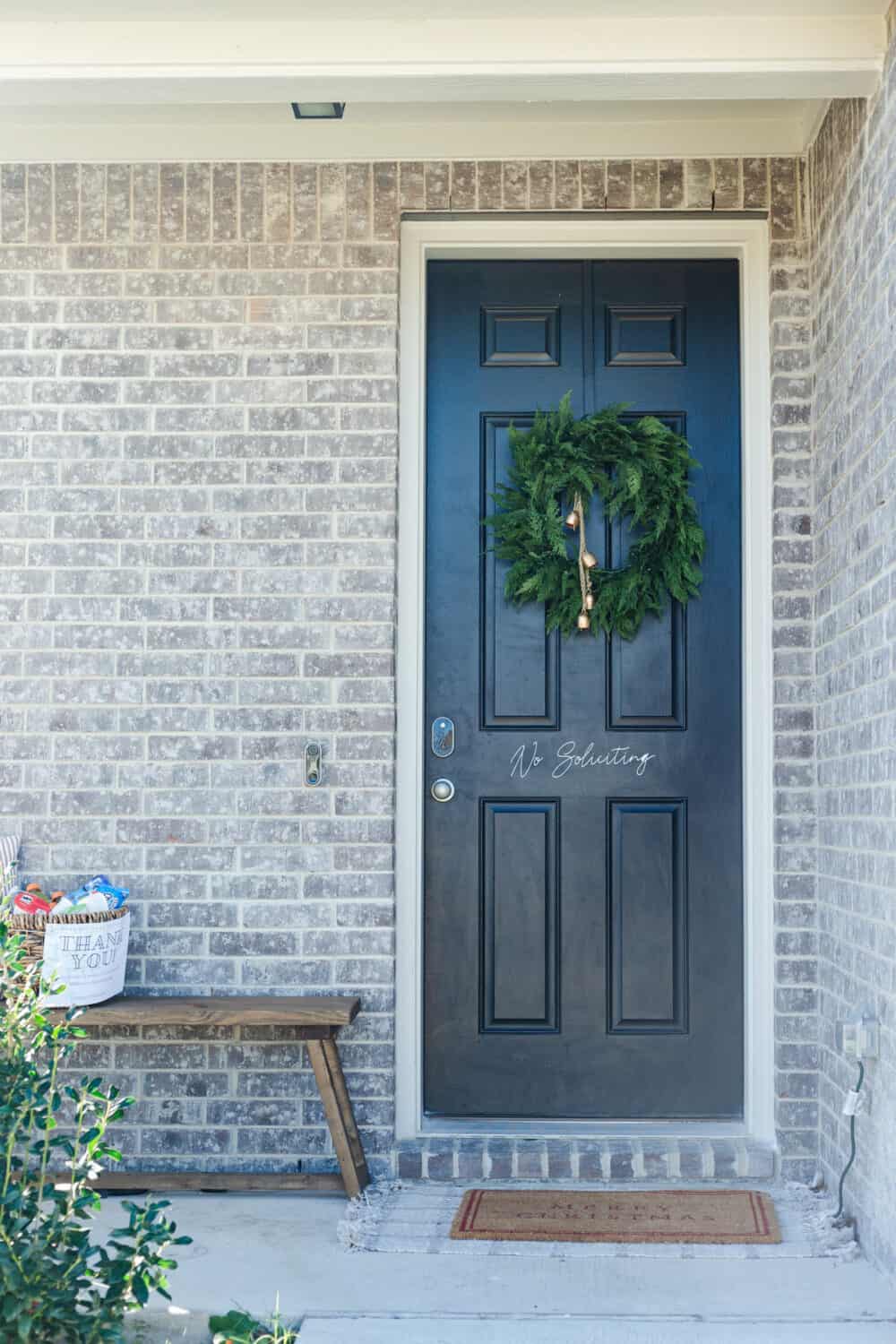 For starters, adding a small seating area to your small front porch is a great way to make your front porch feel welcoming. It's the perfect place for you to sit and relax with a cup of coffee in the mornings, or with a glass of wine in the evenings while your kids play in the front yard.
It can be tricky to know where to start with a seating area if you don't have much space, but you'd be surprised what you can fit!
I built a little DIY bench for our front porch, and it doesn't get used all that often but it sure looks cute. With something like this, you can adjust the size to fit exactly what you need for your space!
Add a little side table to make it feel even more homey, and it's the perfect spot for some relaxation. Don't forget a few throw pillows on the chair or bench – they go a long way.
Small front porch seating

2. If You Can, Use Symmetry
Using a symmetrical design when planning your front porch can make it feel bigger! Unfortunately, this doesn't work for our particular house, but if you can, it's a great approach. Place a potted plant on either side of the door, or even some lanterns, stools, or other accessories. Basically, repeat a design element on both sides of your front door for a really easy approach that's welcoming and makes it feel more spacious!
3. Don't Forget the Details!
The small things make a huge difference when you're working on decorating a small front porch. Things like rugs, baskets, beautiful pots, and even candles will make your guests feel so excited to come visit your home. You can take the time to search out a special vintage outdoor rug at the flea market, or some special fabrics for your throw pillows, and it'll feel even more special. And better yet? They'll make you more excited to come home and see that front porch every day!
You can also have a lot of fun with your doormat. Everyone sees it at your entryway, and a welcome mat can make a big difference. Here are a few of my favorites:

4. Use Paint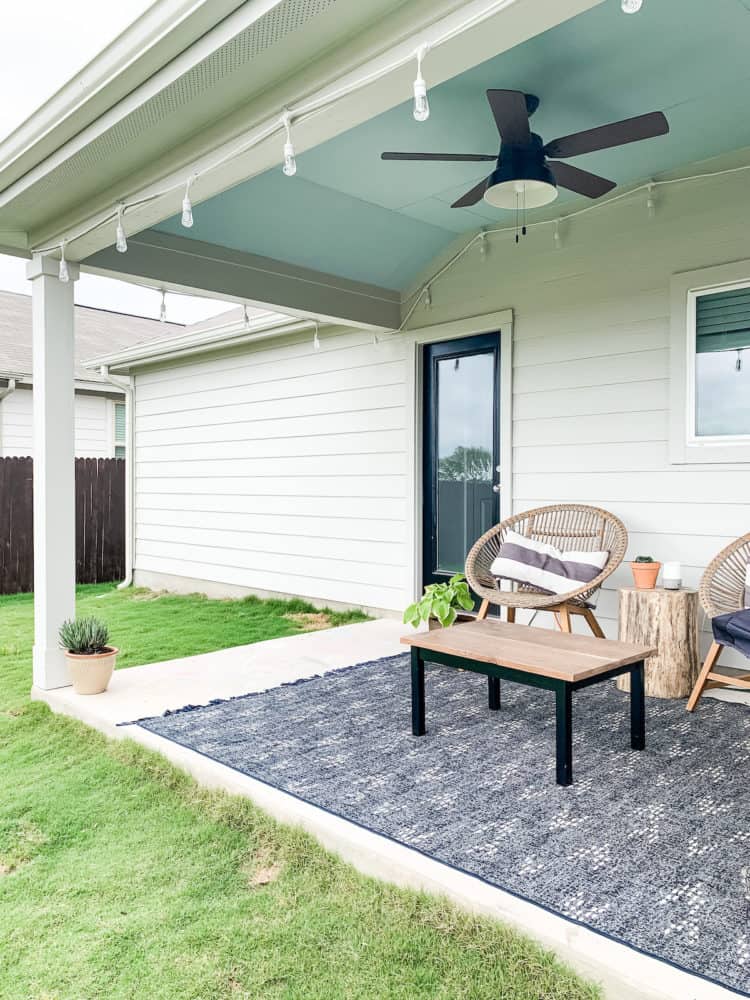 I'm always preaching the power of paint, and it's no different on your front porch. You can paint the ceiling of your outdoor patio (like we did with our back porch), or paint the porch floor! Paint a piece of outdoor furniture a fun color, or get really crazy and paint a design on the brick of your home.
Choosing paint colors that flow with the rest of your home and complement the other elements outside will make it feel cohesive and beautiful! I recommend neutral shades for something that'll last a long time, but if you want to go bold, have fun with it!
5. Greenery is Key
Listen, I'm a bit of a broken record when it comes to adding plants to your home, but hear me out: your front porch will be improved by some greenery!
Adding a few potted plants on the ground, hanging from the porch ceiling, or even hung on the wall will have a huge impact. They're especially impactful if you choose beautiful planters to put them in. If you are like me and you struggle to remember to water plants when they're on the front porch, stick to faux! There's no shame in it. Promise. I got these faux trees last Christmas and honestly could leave them out year-round!
6. Play with Scale
When you're working with a small space, you can have fun with the scale to really make an impact. Who says a small front porch can't have a porch swing? You might be surprised to find you love it! Or, add a huge piece of decor to a wall next to the door. Or, better yet, grab a huge plant or two for the porch and pair them with a small deck chair or two.
Sometimes unexpected sizes in small spaces is a really fun approach and you may surprise yourself with what you love.
7. Don't Forget the Wreath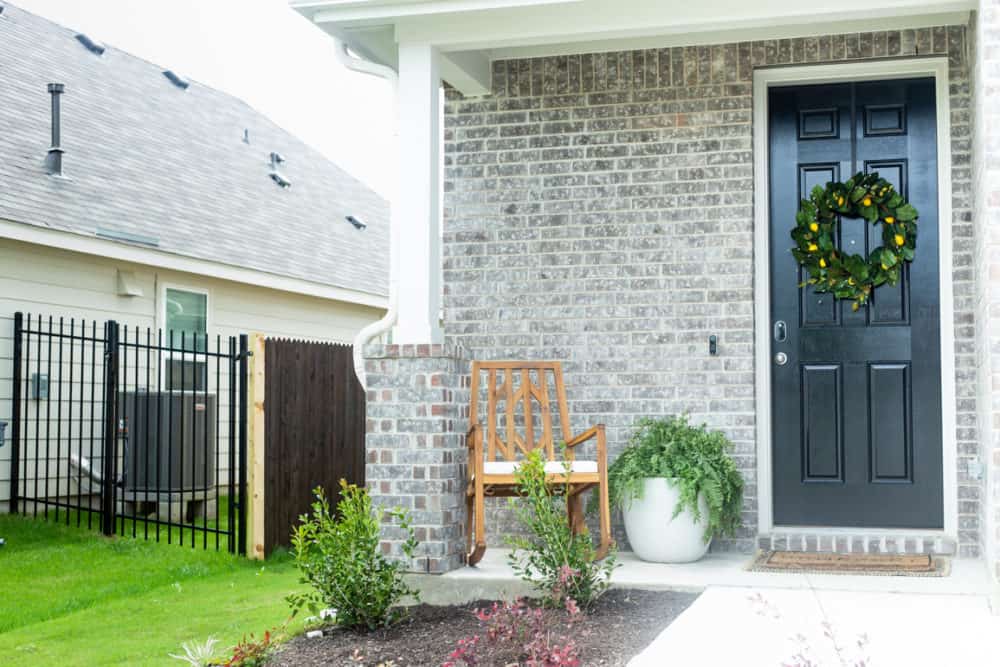 Wreaths aren't just for Christmas – you can have one on your front door year-round! I love adding spring, fall, and even summer-feeling wreaths to our front door. I've made quite a few of them to save a bit of money, and it's always so fun to come home and see something I worked hard on displayed proudly on the door!
Here's a quick roundup of some of the wreaths I've made:
8. Have fun with Seasonal Decor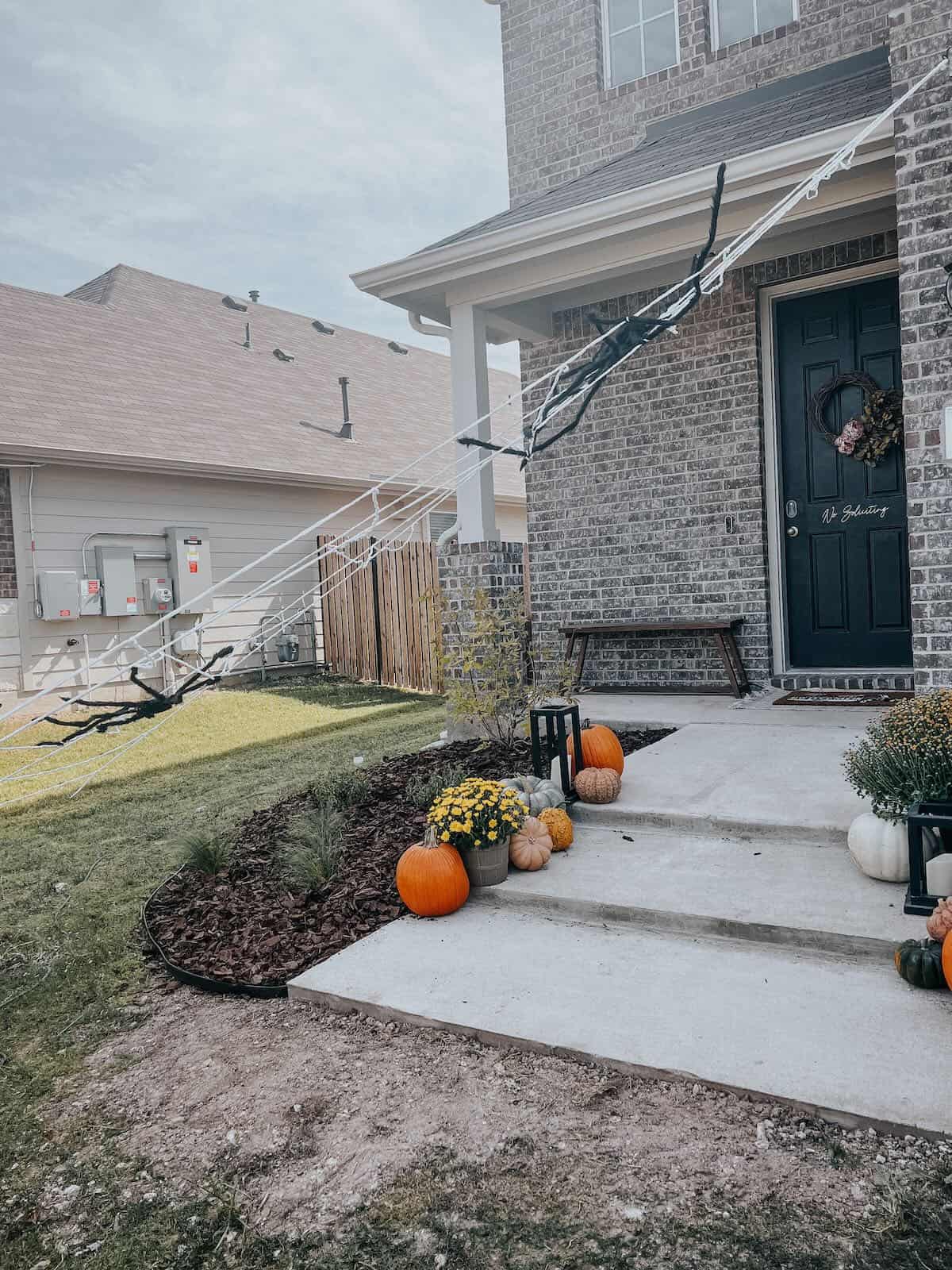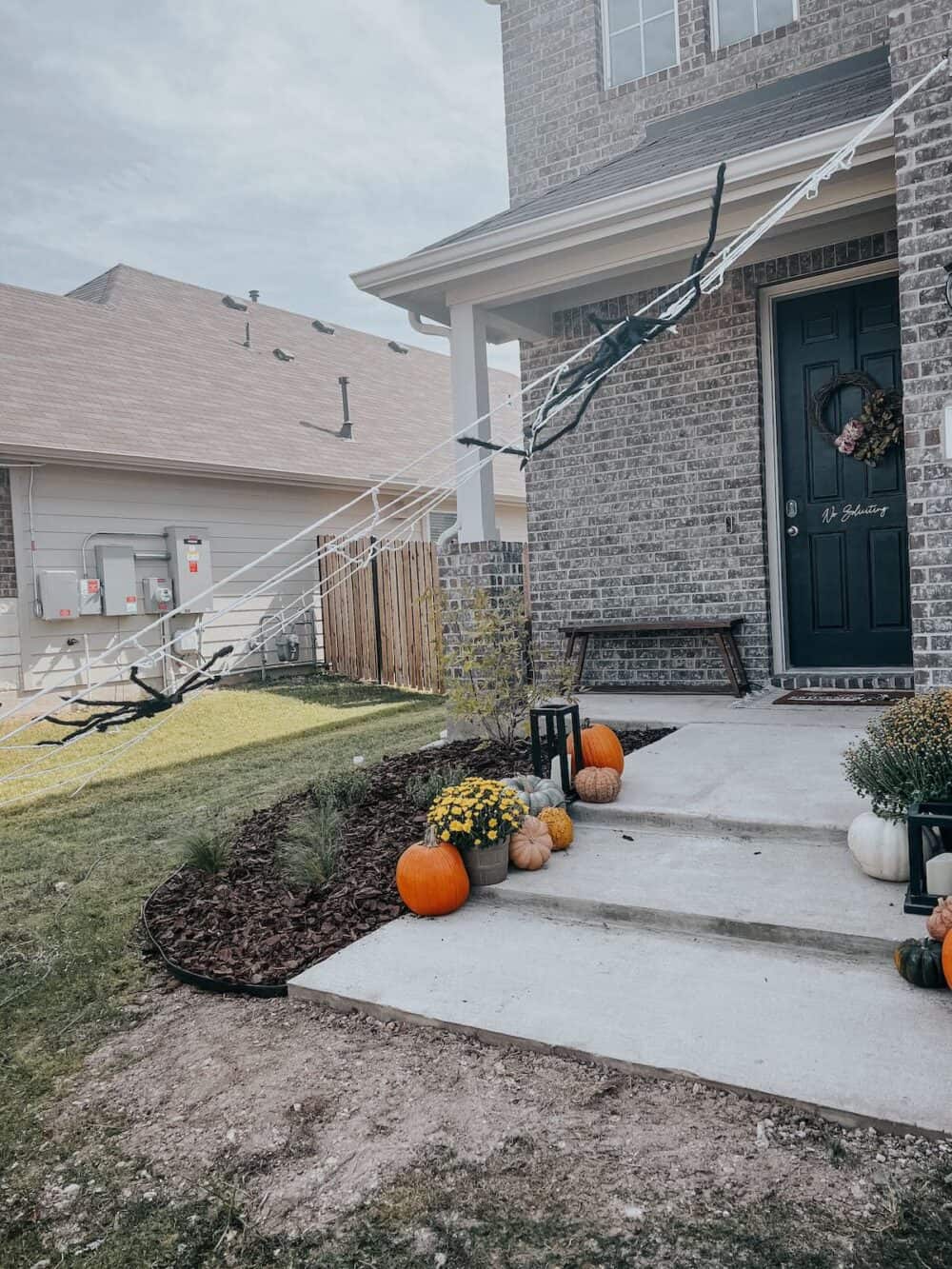 And, OF COURSE, one of the best ways to decorate your small front porch is to go wild for the seasons! I love to line the walkway leading up to our house with pumpkins in the fall and giant lanterns and small evergreen trees in the winter. I'm still figuring out what to do in the warmer months, but it's so fun to play around with various seasonal small porch decor!
And there you have it. Eight simple small front porch ideas that will make your entryway pop. Hopefully this gives you some inspiration and maybe even the motivation to try a little porch makeover to make things look exactly how you want them!