It can be hard to figure out how to decorate your small front porch, but with a little creativity and effort, your porch can be beautiful! Here are some small front porch ideas to get you started!

Can I let you in on a little secret?
My house might be kinda cute on the inside but, um, it has zero curb appeal.
Okay, maybe not zero. We've got a giant tree in the front yard that makes me weak in the knees, a cute little tree swing that adds a bit of charm, and a couple of really great bushes that are overgrown but otherwise gorgeous.
But other than that? It's not super cute. We hate the color of the siding and trim (and it's kind of poorly painted to boot), the front flower bed is full of bushes that I don't really love, and we've done absolutely nothing in the time we've lived here to spruce up the front entry or the front of the house in general.
Also, we're totally those neighbors who always have a ton of trash and random junk on the side of our house. We're constantly working on some sort of project, so we always have shipping boxes, extra materials, and other random stuff floating around while it waits for us to deal with it.
Basically, we're just lovely to live next to.
We've been working really hard on sprucing up our backyard so far this year (some of my favorite projects have been Jackson's playhouse, our patio, and my upcycled ladder-turned-vertical-garden), but we've continued to ignore the front. Now that the back is more or less under control, I want to start focusing some of our efforts on upping our curb appeal, so I don't have to cringe when I pull in the driveway.
The main problem getting in the way of making the front of our house cute is that our front entry is tiny. Like, it's hard for two people to fit on our "porch" at the same time. On top of that, there's a giant brick column on one corner of it, which makes it feel (and look) even smaller. It's a problem I'm not sure how to solve, so I've basically ignored it (which is naturally what I do anytime I come up against a problem – it's totally a healthy way to deal with things). But, I'm feeling determined to get the front of our house to reflect what the inside looks like at least a little bit, so I've been doing some research on decorating small front porches.
And you know when I research, I like to come back and share my findings with you. Enjoy!
This post contains affiliate links. Click here to read my full disclosure policy.
Small Porch Ideas – 12 Ways to Decorate Your Porch

Oh, so much inspiration to draw from both of these! I love how Ariel (from PMQ for Two) used a ton of color in her front porch, I love the fun patterned planters, and I love the wooden divider she put next to the door. I'm also a big fan of the house numbers! Ours are so boring, they could use a little sprucing up. Kelley's porch is much simpler, but I love it just as much. Sometimes all you need are a few pretty plants! I'm actually thinking I'll end up doing something similar to what she has here, because there isn't room for much else (though, she's got a whole beautiful front porch that you can see in her post!). I really love the light she has above the door – I hadn't thought to do a light that hangs down like that, but I love the presence it adds!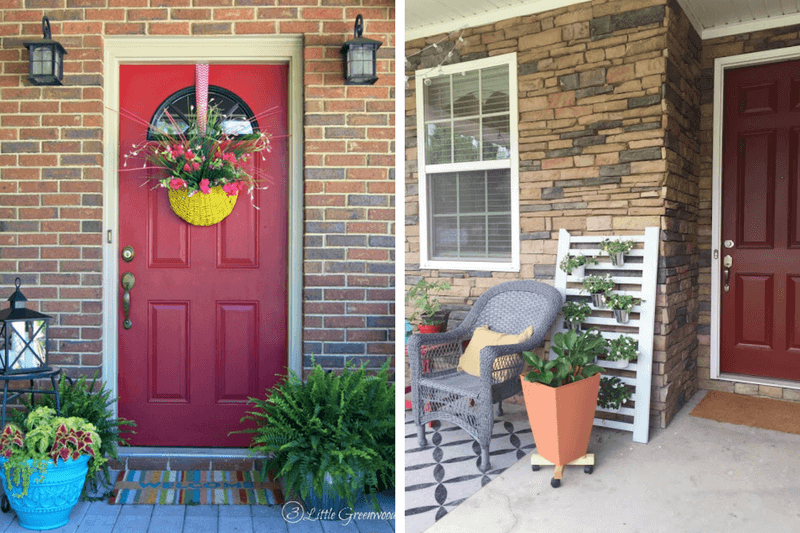 3 Little Greenwoods // Behind the Big Green Door
One theme that's pretty consistent throughout all of these patios that I love is an abundance of plants and greenery. Even a tiny little porch feels luxurious with a ton of plants all over the place, right?! I'm not a fan of year-round wreaths (they feel decidedly Christmas-y to me) so I really love the idea of a hanging plant on the front door. How pretty would that be to walk up to every day?! I'm also drawn to the vertical planter in the photo from Behind the Big Green Door – our porch may be tiny but there just might be enough space for me to hang something on the wall by the door. Another thing I'm really loving in both of these is the varying heights of everything – it makes the spaces feel a little more layered and larger!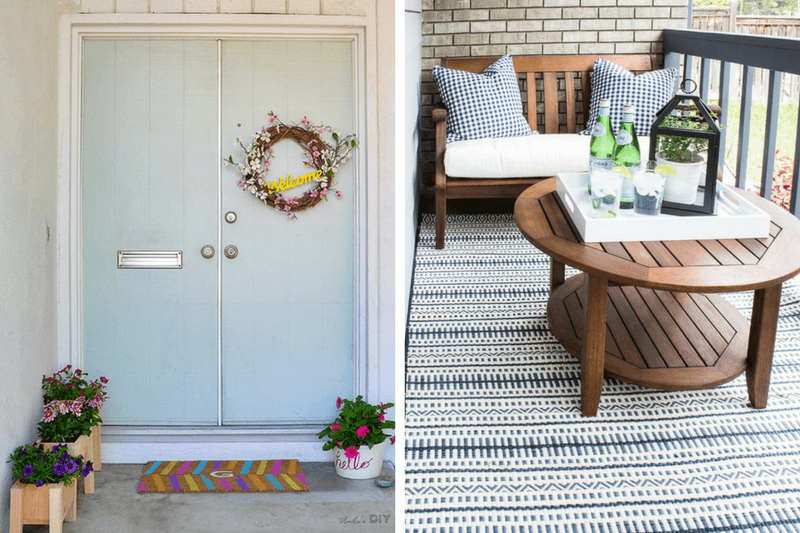 Anika's DIY Life // Inspiration for Moms
How adorable is that little tiered planter on Anika's porch?! I also really love the light blue color she chose for the front door and, of course, the colorful door mat. This is another one that's a great reminder to me that you don't have to have a lot of space to make a beautiful entryway! The colorful flowers and a fun doormat really do a lot to brighten it up, don't they?! The photo on the right is exactly the kind of thing I wish we could do on our front porch! This little sitting area looks so pretty and cozy, and I really love how perfectly that little sofa is nestled into the corner. So adorable! I've actually considered adding a little bench or sofa in front of our front window (right now it's a flower bed with a big bush in it), but I wonder if that would be weird?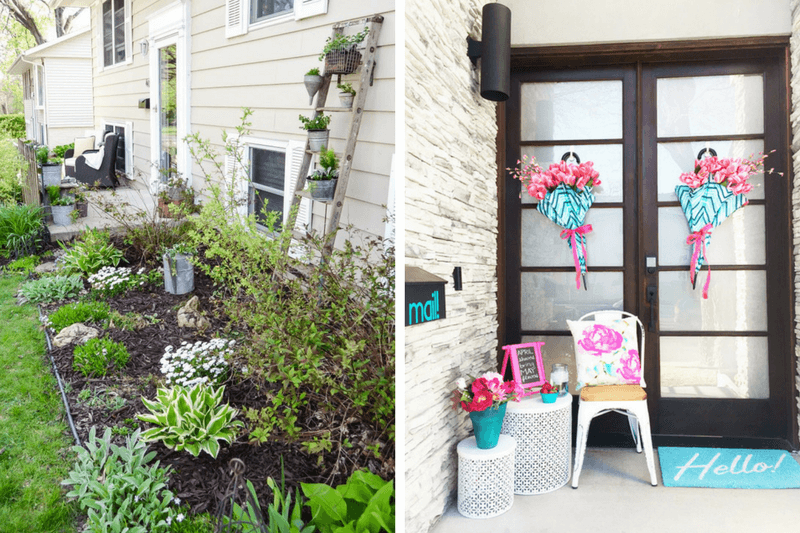 My Creative Days // Blue I Style
This front flower bed from My Creative Days is such an inspiration for me when it comes to the flower bed we have in the front of our house. Right now there are a couple of bushes in it, and while they're perfectly healthy and inoffensive I just don't like them. They're kind of boring and don't add any color, and I'd really love to spruce it up with some prettier options. It's probably a little late in the season to plant something new (right? I know nothing about this), but maybe in the spring I'll try to create a more interesting front flower bed! I also LOVE the bright colors Angela from Blue I Style used on her porch – along with, of course, the umbrella wreath. How cute is that?!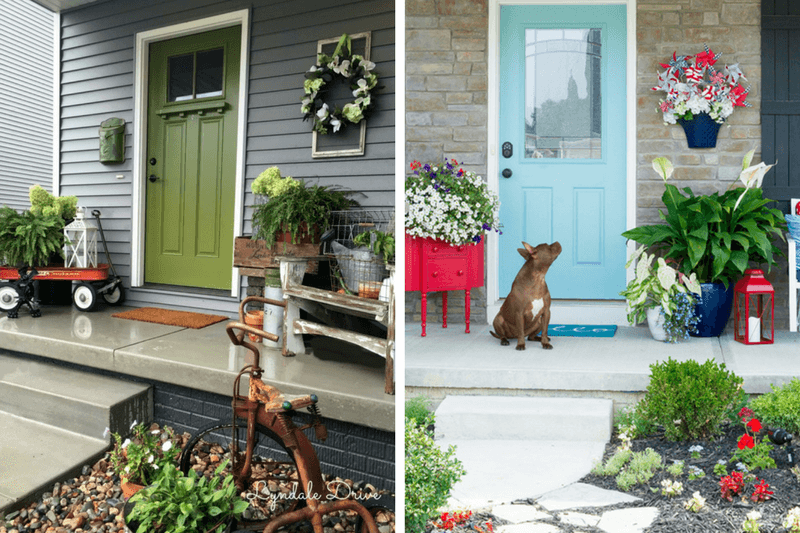 Lyndale Drive // Paint Yourself a Smile
Both of these shots are a great reminder to me that putting some plants outside will make a huge difference. I know that's kind of an obvious solution, but I keep thinking that since our front entry is so tight, we don't have room for anything. But, of course, that's silly and I can absolutely make room for some pretty plants. Now I just need to figure out what kind of plants can handle almost zero sun, since that area of our house doesn't ever see any rays. Also, can I just say I'm incredibly jealous of the green thumb that Jenny from Paint Yourself a Smile has. Those flowers are stunning.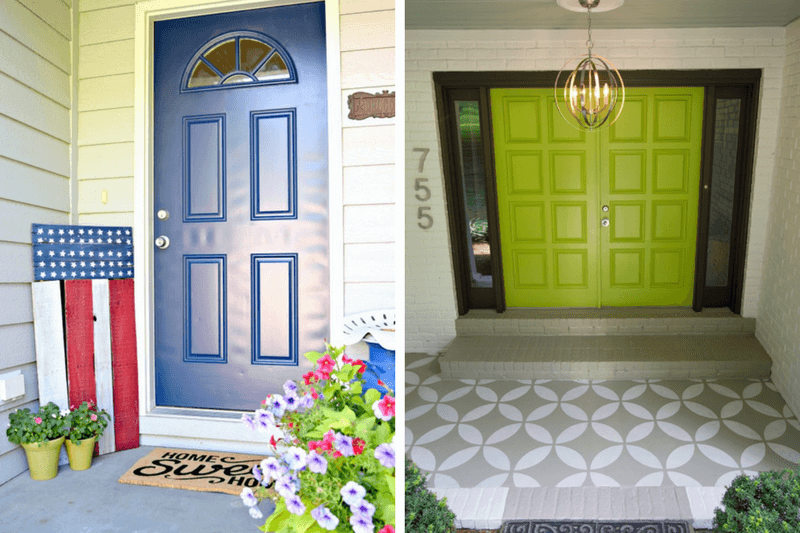 One Mile Home Style // Bella Tucker
The porch from One Mile Home Style is approximately the same size as our front entry – maybe a little bigger, since ours has a massive brick pillar that seriously encroaches on what little space we have. Her post was a great inspiration for me, though, because her small entry looks way bigger with some decor added. Plus, our door seriously needs a fresh coat of paint, so there's that too. I also love the stenciled concrete from Bella Tucker – how fun is that for a front porch?! I love that it's a pretty easy project and it adds so much pattern and interest to boring ol' concrete. Also, that light is basically perfect.
Want even more exterior ideas?