Today we're going to chat about how to build a DIY outdoor couch and you'll get a (big) peek at the back porch and how it's all coming together!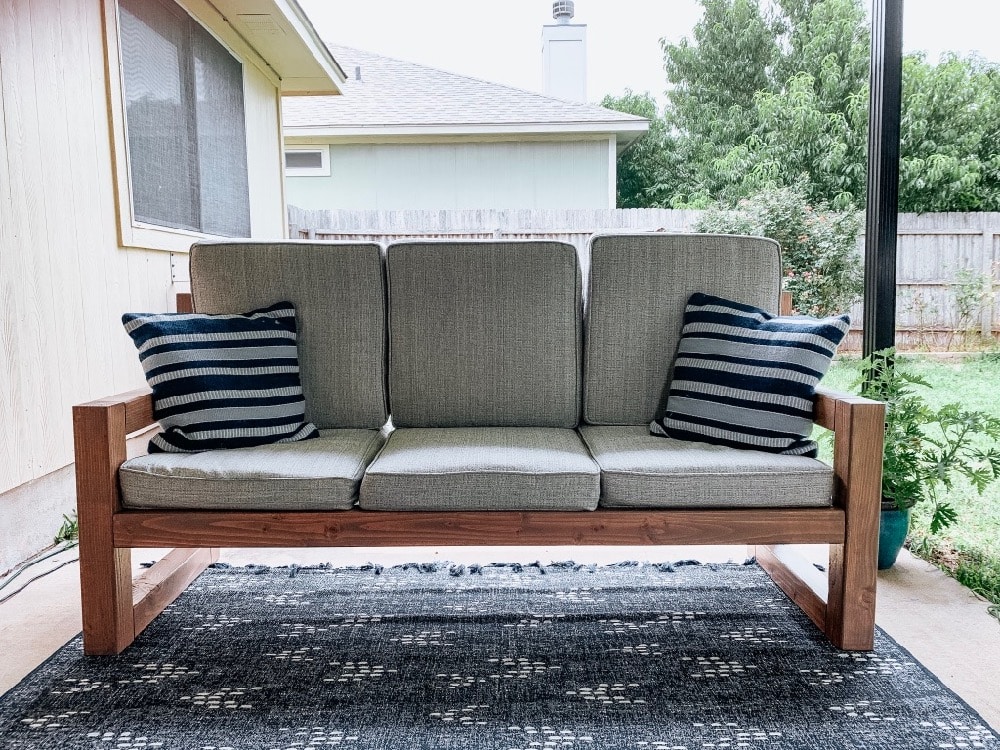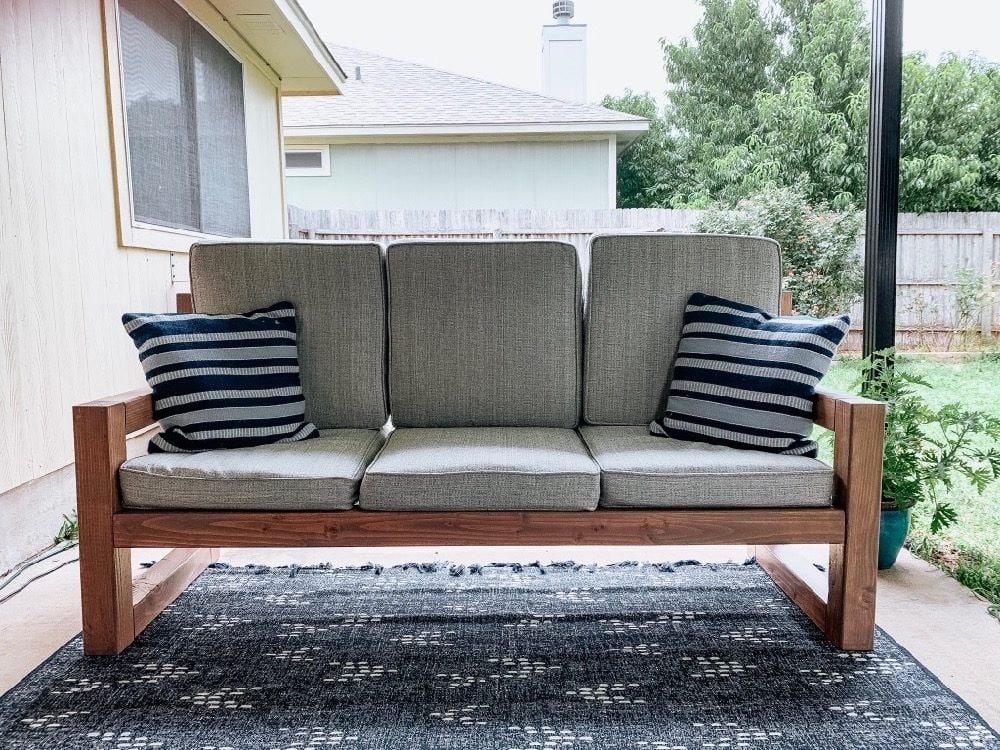 Today is a big one, my friends. We've been working and prepping and moving towards this for quite some time now, and it's finally here – our DIY outdoor couch for the back porch is finished! And I'm never leaving my backyard again!
Forget the fact that it's 100 degrees outside almost daily, I'm just too excited. I'll melt – it's okay.
Finishing this project pushes us a huge step closer to wrapping up this backyard makeover that we decided to take on this summer, and there are only a few projects left until we can call our backyard complete.
If you haven't been following this (long and meandering) journey, let me catch you up a bit.
The summer budget makeover: a recap (so far)
With the back porch empty and ready to be filled up, we turned our attention to the furniture. We knew we wanted a cozy outdoor sofa back here, but we weren't really feeling like spending a ton of money (and, y'all, outdoor sofas are expensive!). So, as usual, we decided so save some cash by tackling it ourselves.
And I think it wasn't a half-bad decision.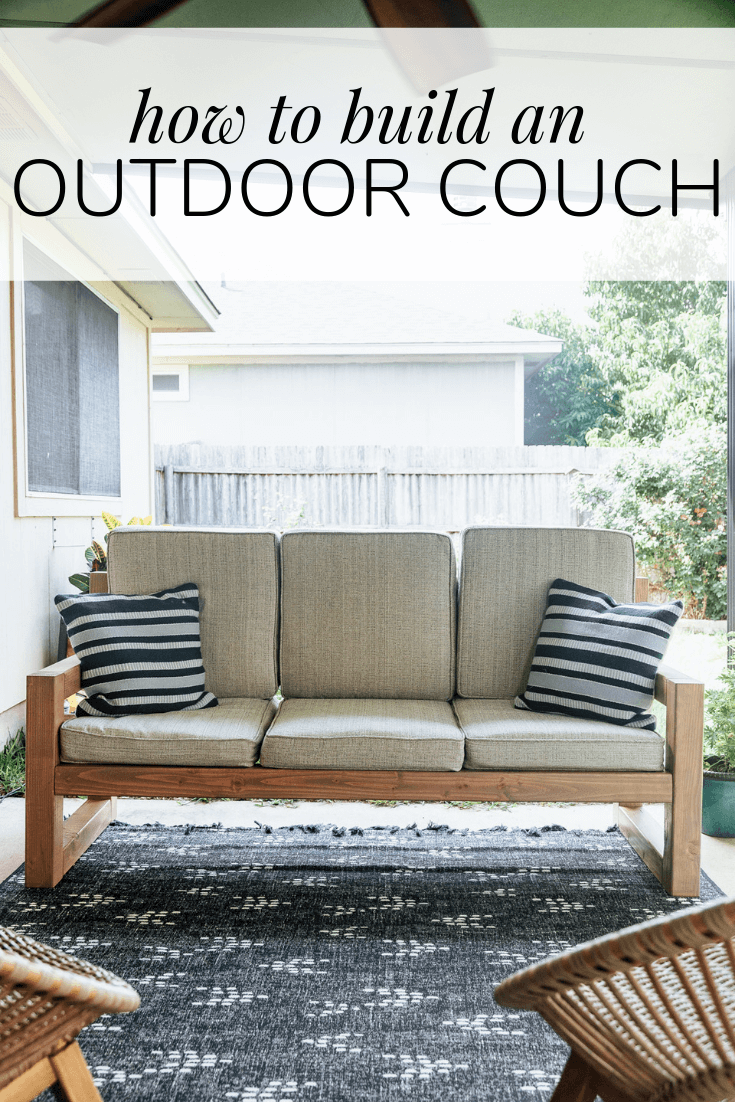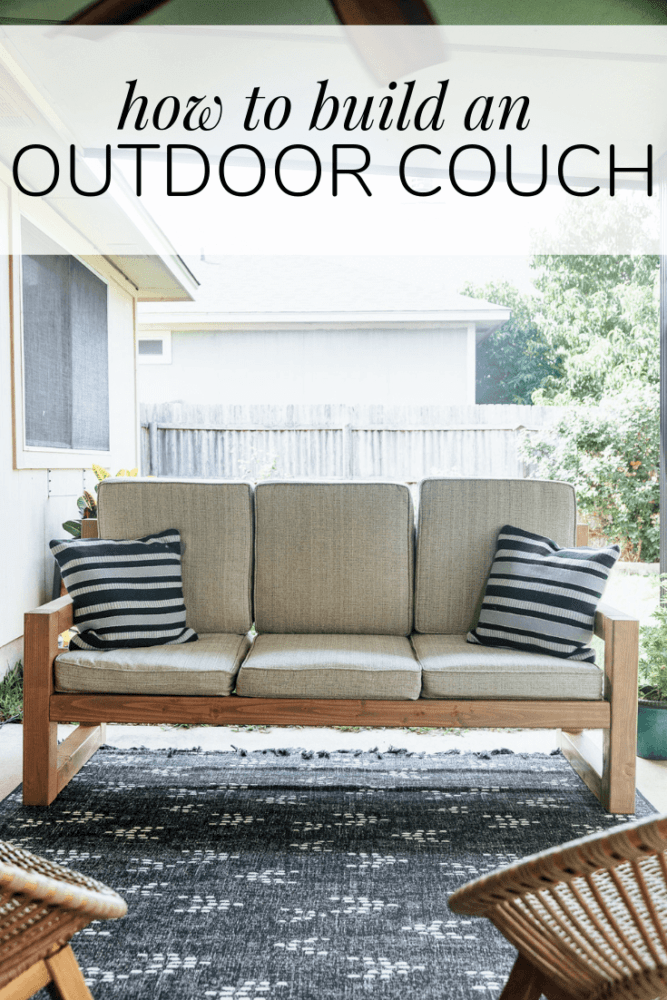 This post is sponsored by Rockler Woodworking and contains affiliate links.
We waffled back and forth a lot on what this couch was going to look like. Originally, we were going to build an outdoor sectional, but then we found these gorgeous chairs and had to have them, so we suddenly didn't have the space anymore. We pivoted and decided to build just a couch instead – it's more versatile for when we move, and will give us a little more breathing room out here.
We turned to our friends at Rockler for some of the supplies for this outdoor couch. They have a huge selection of hardware, tools, and just plain smart solutions, so we always love to check there first when we're tackling something new. We found their Beadlock Pro joinery system, which we hadn't ever tried before and (never ones to turn down trying something new), we decided we'd use it for our couch. It's easy to use and produces completely invisible joints, unlike a lot of other simple joinery systems out there. I'd argue that once you get the hang of it, it's even simpler than the other major beginner joinery system that many of you have probably tried before!
So, I'll reference a "loose tenon joint" a few times throughout the directions – just know that I'm talking about joining the wood together using this specific tool. You don't have to have this tool or use this joinery system to re-create this build (you can always use a different type of joint if you prefer), but I do recommend it!
I'll also note that for this couch, we were inspired by the gorgeous sofa that my friend Bre used as inspiration for her own DIY outdoor couch. We modified it pretty heavily, but it was absolutely our jumping-off point!
How to build a DIY outdoor couch
Materials needed:
(8) 8′ 4X4 boards
Drill/Driver Set
Wood glue
1 box of 6″ lag screws
(8) 8′ 2X2 pine boards
(3) 24X24 couch cushions
Total Estimated Cost:
The wood for this project cost about $145, and the couch cushions were $240 (though we considered some options that were cheaper!). So, for the materials we spent $385 total. It'll cost a little more if you need to purchase screws, etc.,
Cut List:
Start by cutting your wood using the list below:
(6) 4X4s cut to 21.5″
(2) 4X4s cut to 35.75″
(2) 4X4s cut to 25″
(4) 4X4's cut to 7.25″
(4) 4X4s cut to 6′
(2) 2X2s cut to 6′
(25) 2X2s cut to 21.5″
I'm going to write out the directions below, but if you're going to tackle this project I highly recommend you check out the following video first! It's not a full tutorial but will give you a great visual of what the build looks like and how the couch comes together before you dive in! You can also watch the video on YouTube right here!
Step One: Sand your cut pieces
After cutting all of your wood using the cut list above, you should go ahead and sand everything before you begin assembly. You'll have to sand again at the end (to remove any wood glue or marks you've made on the boards), but the vast majority of your sanding should happen now. It's much more difficult to sand the boards once the entire couch has been assembled, so even though it's annoying to do it now it will save you tons of time on the back end of this project!
For each board, I started with 80-grit sandpaper, then moved up to 120, 220, and 320 for a perfectly smooth finish.
Step two: Assemble sides of couch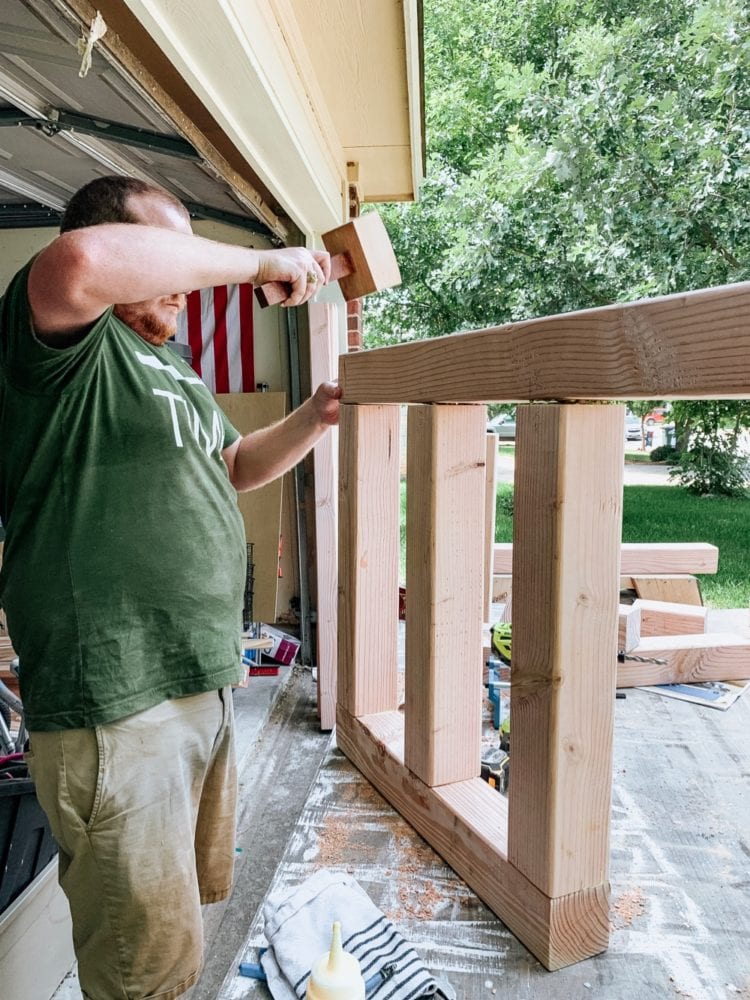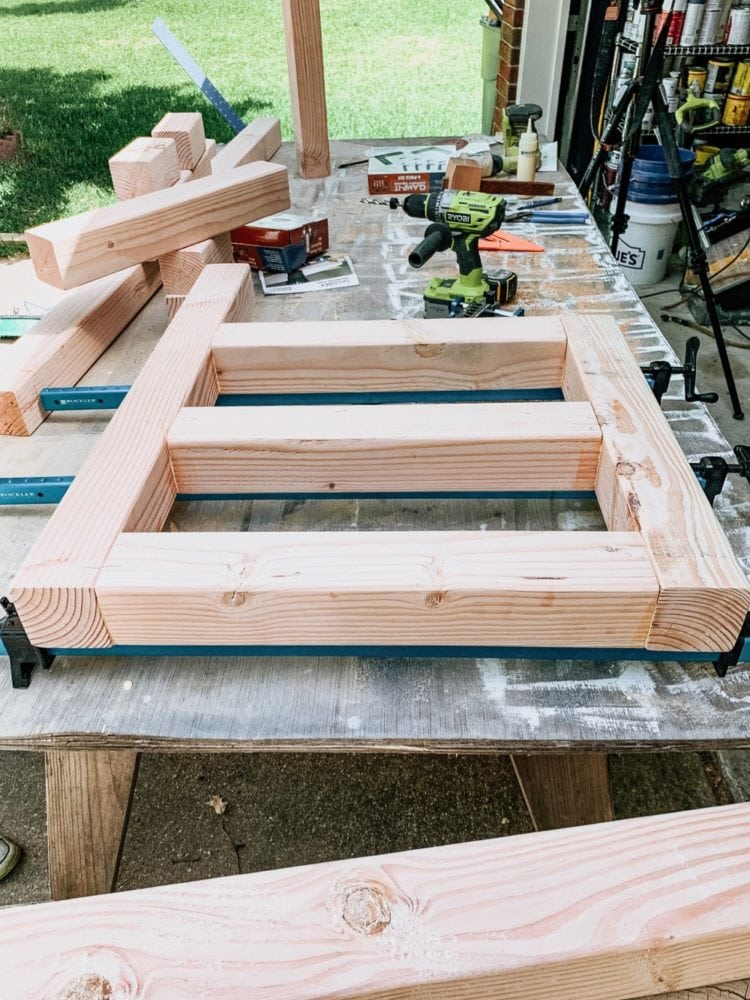 Now you're ready to put together the sides of the sofa. Take three of the 21.5″ boards for the side railings and attach them to one of the 35.75″ pieces and one of the 25″ pieces using the Beadlock joints, spaced 7.25″ apart.
The system comes with full directions (so I won't get into the how-to much here), but basically you mark where the joints need to be, use the jig to drill holes in both pieces of wood, then insert the beadlock tenon stock with a good amount of wood glue. Use a mallet to ensure it's all the way in place, then clamp the wood together until the glue dries. Done!
Before you move on, be sure to grab a wet towel and wipe off any wood glue that drips. You're going to have some that dries on the boards (it's inevitable!) but the more you can clean up now, the easier your life will be later.
Assemble both sides, then set them aside to move on to the back.
Step Three: Assemble the back support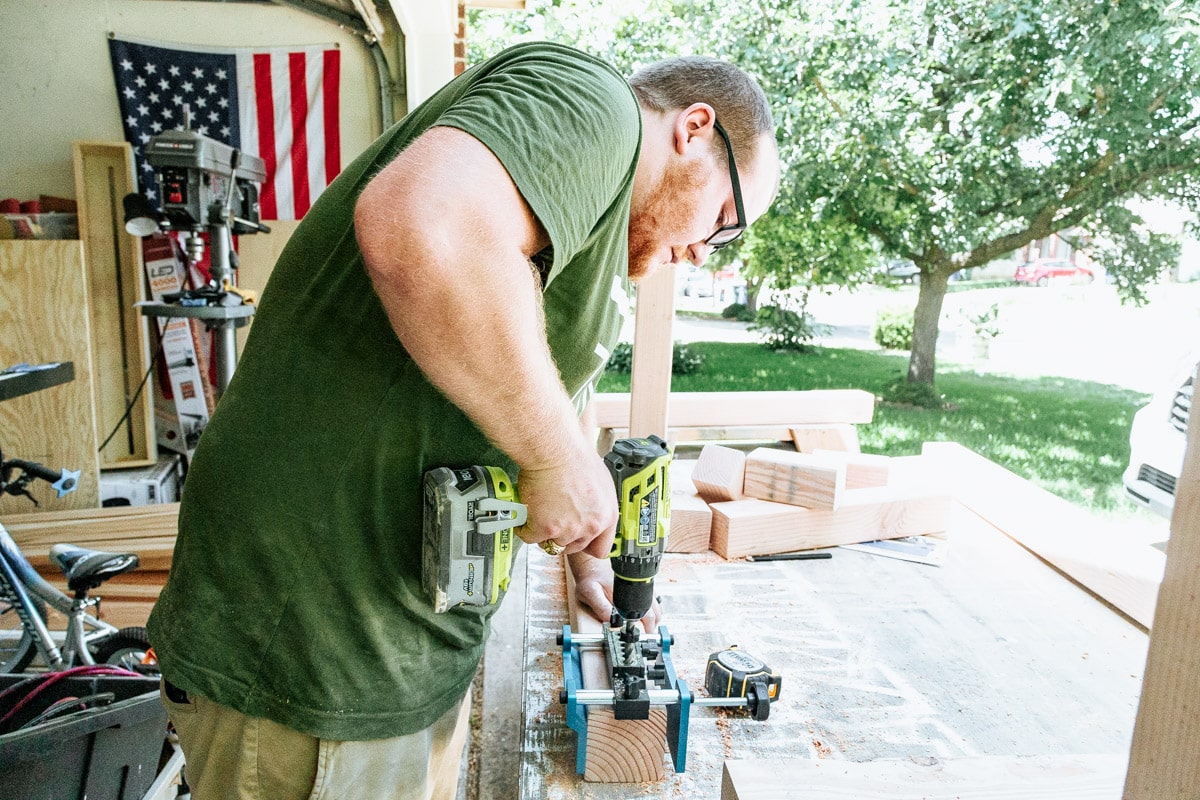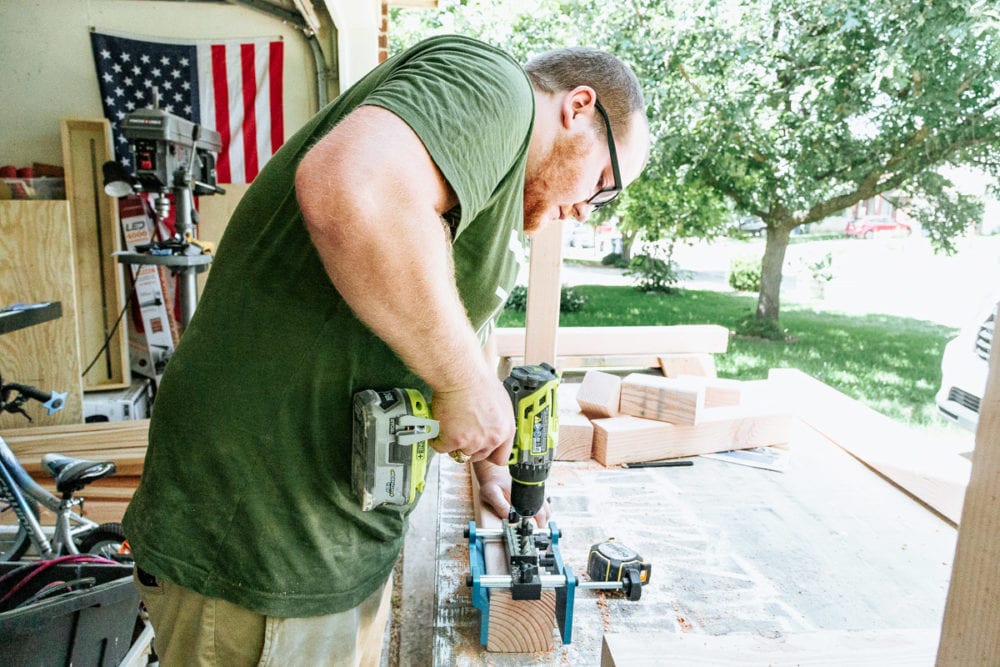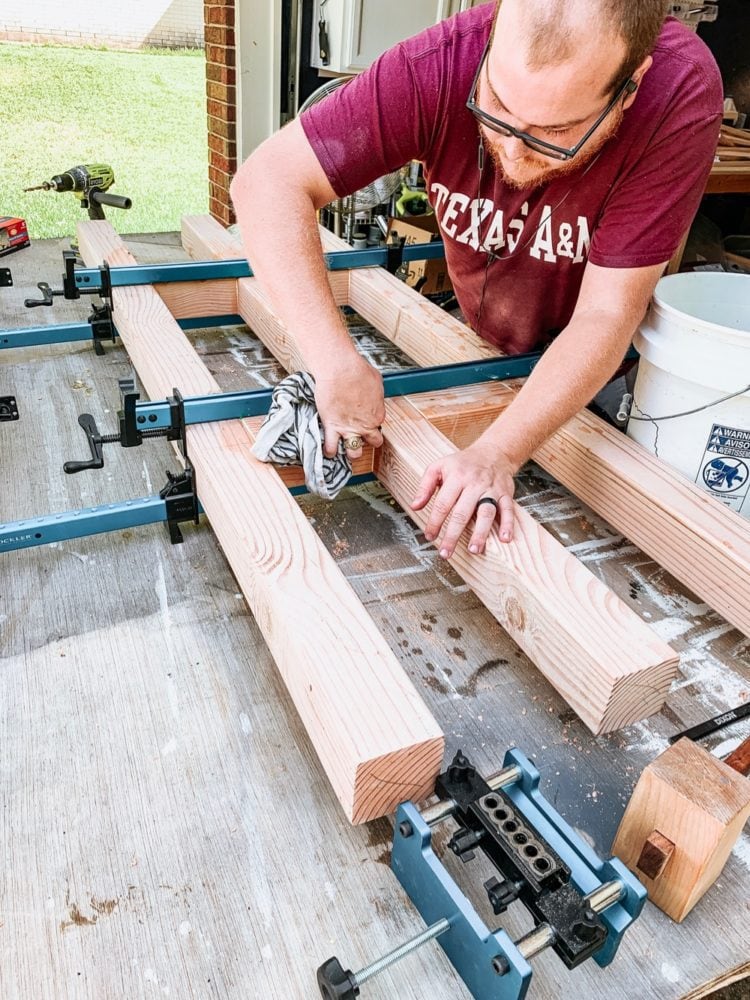 Next, we assembled the back railings.
You're essentially doing the same thing here, just in a different configuration – we used the Beadlock Joinery System to attach the four small supports (the 7.25″ boards) at two spots along the long, 6′ boards.
The support boards should be placed 21.5″ from either end of the 6′ board for (mostly) even spacing.
Step Four: Put it all together!
Once the sides and back have been assembled, you get to the fun part – making it look like a couch!
I highly recommend using an assembly square for this part of the project – we used Rockler's Clamp-It Assembly Square. This handy little kit helped hold the back piece off the ground while we attached it to the side pieces, kept everything square, and made this part of the project way easier than it would have been otherwise.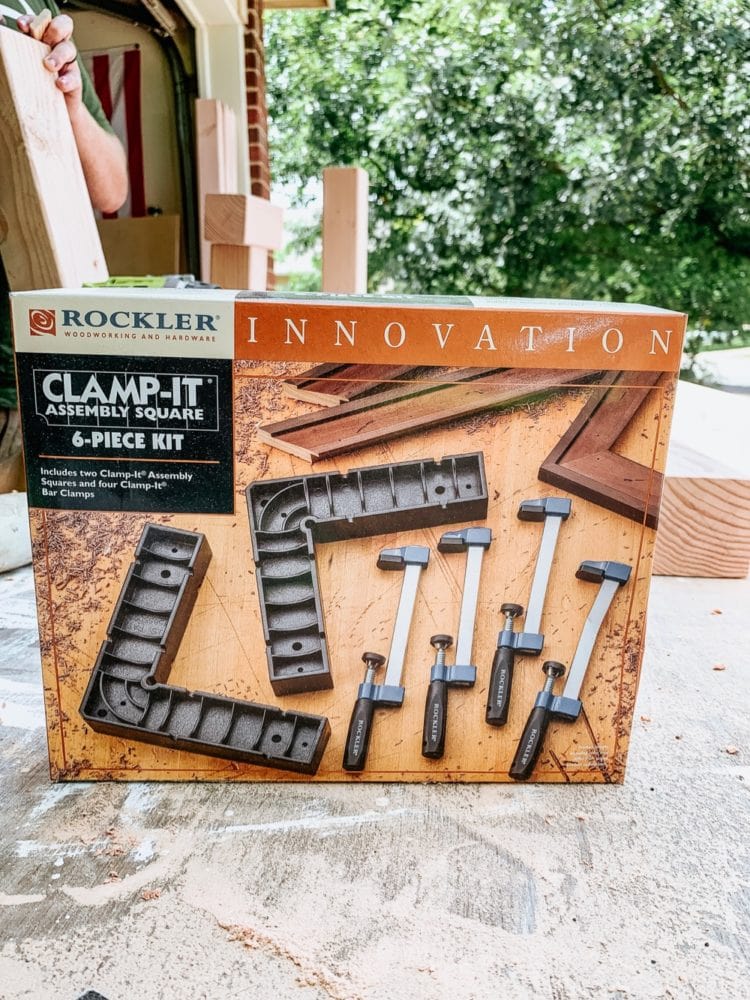 You can get a better idea in the video of how these work exactly, but basically you just attach the L-shaped brackets to each of the sides so that when you set the back piece on top of it, it's lined up and ready to be drilled into place.
The top of the back piece should line up with the top of the arm piece. Simply add some wood glue at each of the points where the wood will connect, then drill them together using 6″ lag screws. We used two per board, so they didn't have any chance of rotating.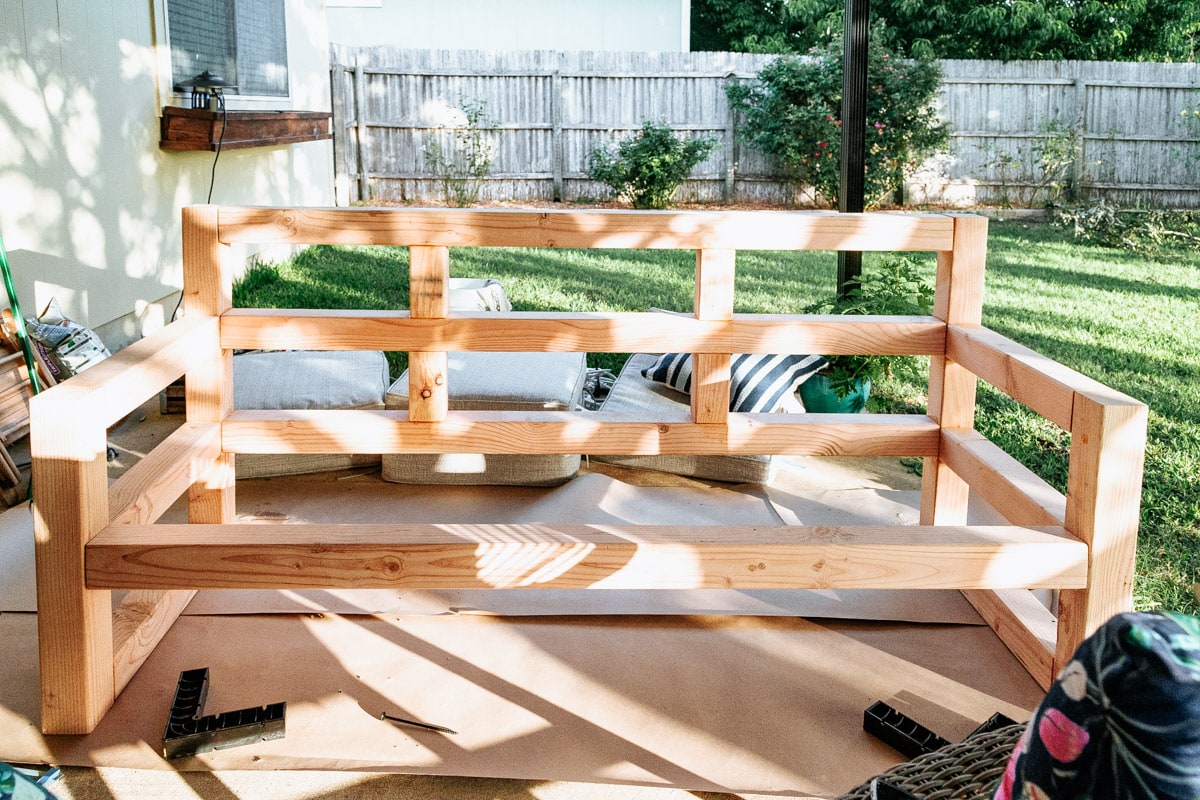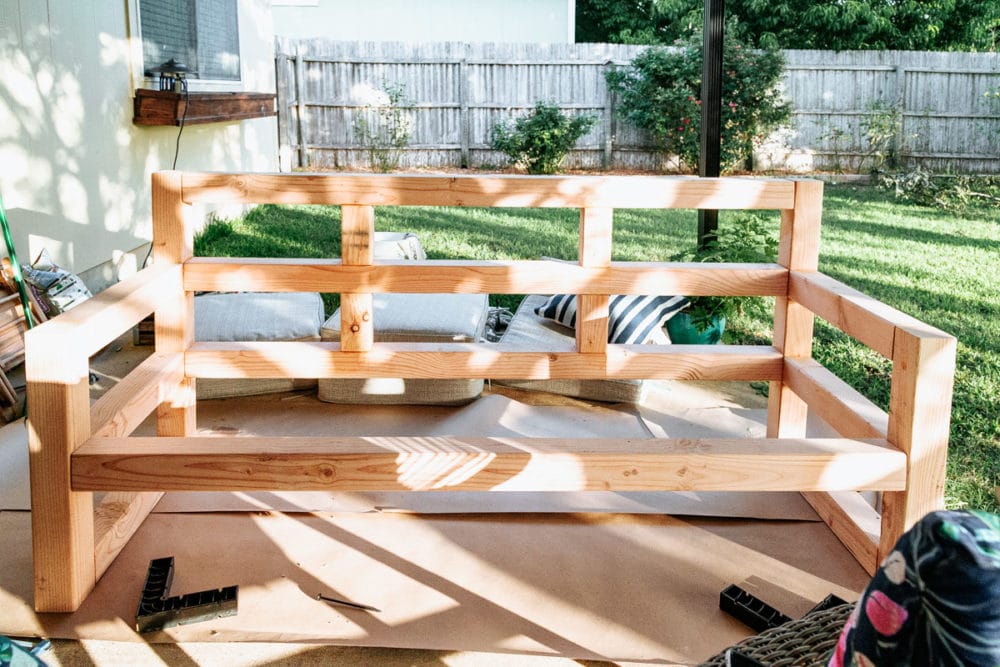 After attaching the back piece, grab your final 6′ board and attach it to the front of the couch using the same method. When you're done, you'll have something that's starting to actually resemble a couch!
Step Five: Attach Supports for the seats
I'll note here that I went a bit out of order and stained the couch before we added the supports. It really doesn't matter what order you work in, I just wanted to be making some progress while Corey was at work so I went ahead and took care of it before we added the slats. Either way is fine, though!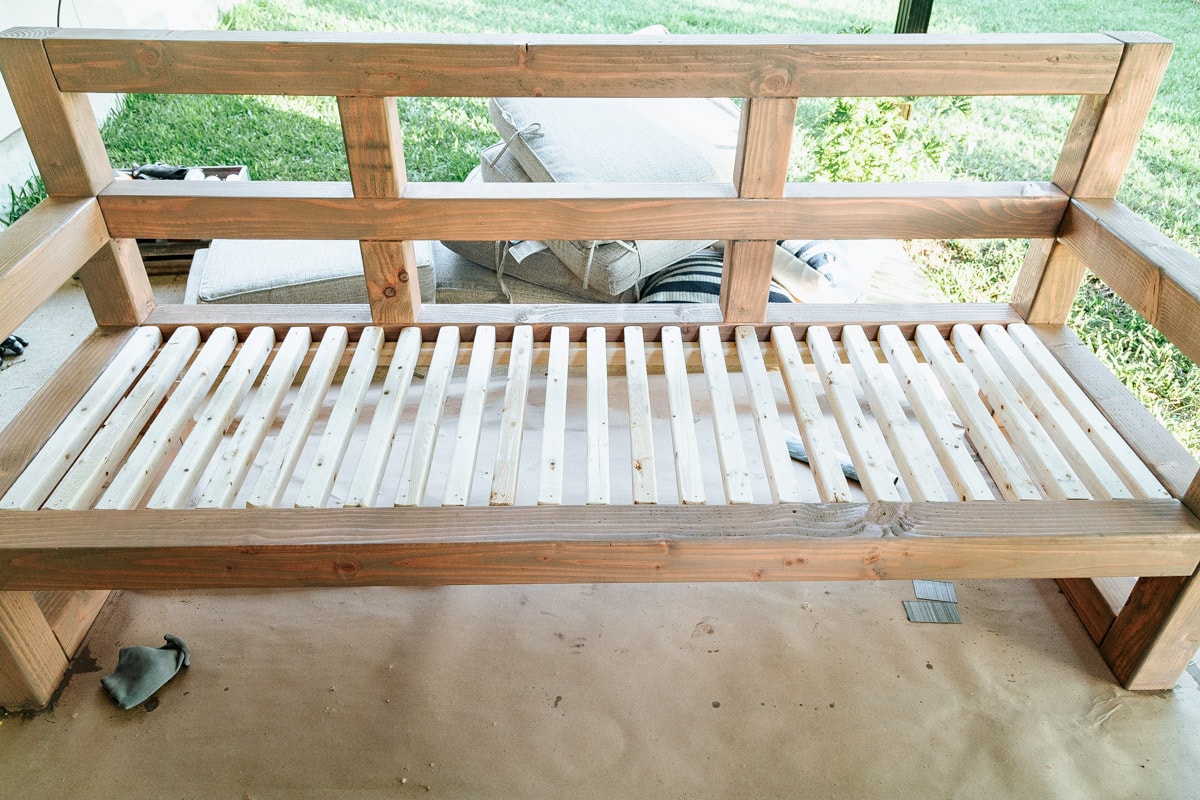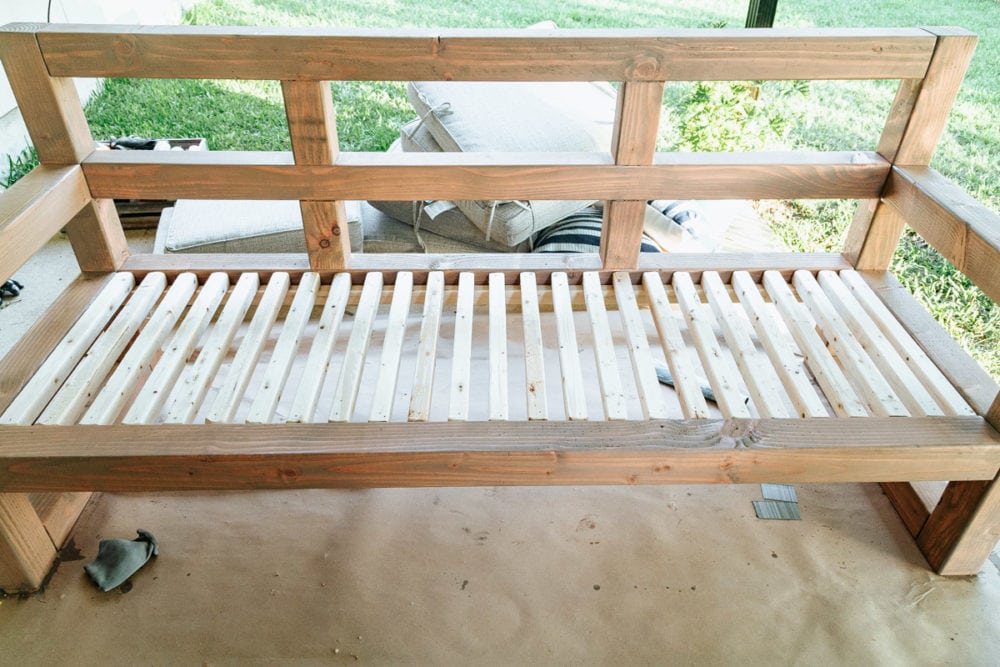 To attach the slats for the seat support, start by grabbing the long 2X2 boards and attaching them to the long side of the couch using wood glue and your power nailer (note: if you don't have one, it's fine to use your drill and screws instead). We used a scrap piece of 2X2 for spacing – hold the scrap piece so that it's lined up with the top of the long 4X4s, then attach your 2X2 right underneath that.
Once the long support pieces are in, you can attach the slats (using the same method of wood glue and nails). Again, we spaced them using the scrap 2X2 board so it's consistent all the way across.
Step Six: Sand off any glue, and stain
Yes, another round of sanding. I'm sorry.
All you have to focus on here is sanding off any marks that you made on the board (we made marks for most of the joints), as well as any wood glue that has dried on the wood.
You shouldn't need to go through the entire sanding routine again this time – I started with 220 grit and was able to get most of it off with that, then just finished those areas with 320. If you have any particularly stubborn areas, though, you might need to go back down to 120.
Just remember that you should always work your way back up through the sanding grits if you do go down at all. This helps ensure a really smooth finish and will prevent you from having any rough patches on your couch.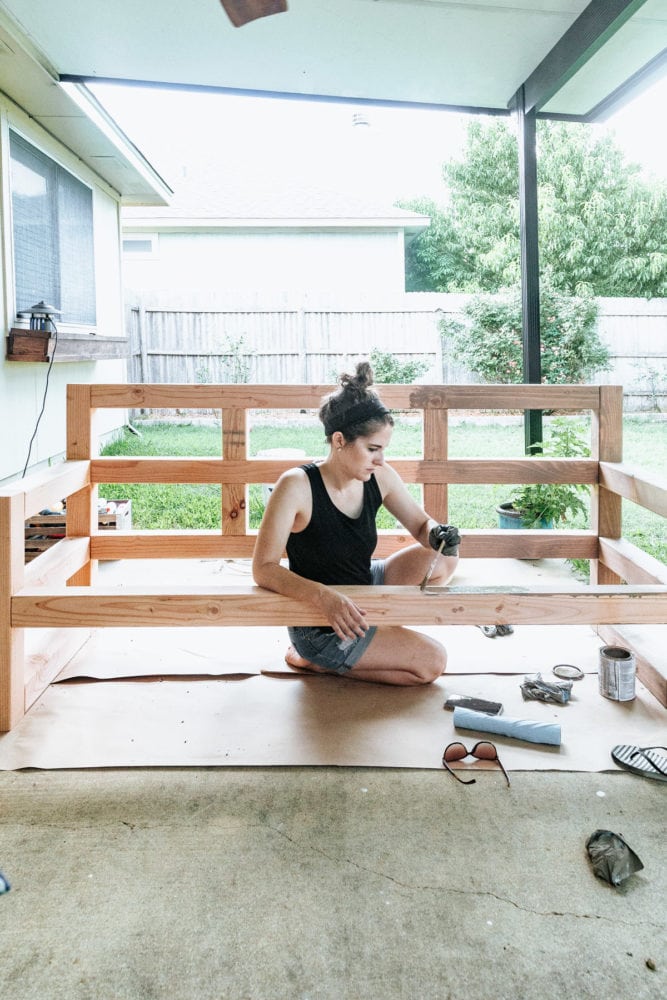 Once it was all sanded and clean again, I was finally ready to stain it. We used Flagstone for our stain – it has a good amount of gray in it and coordinates really nicely with the chairs we already had out there.
Step Seven: Seal the couch!
This might be the most important step in the entire process, so hear me out: you have to seal the couch using spar urethane! Anything that will be left outside all the time is going to be susceptible to damage from the elements – even if it's under a covering like ours will be.
Follow the directions on your specific spar urethane can, but most require several coats with dry time in-between, so this part might feel torturous when all you want to do is start enjoying your couch. Just trust me – it's necessary!
Once your last sealing coat is dried, you can finally put it in place! We searched high and low for good couch cushions that weren't too expensive (but didn't feel cheap) and we landed on these from At Home. They don't have the option to purchase online, but if you don't have one close to you, these are the other option we considered.
I will note that our only (super minor!) regret about this sofa is that I think the cushions we purchased have too high of a back. They stick out about 7″ above the back of the sofa, and we didn't think about reclining the back at all – so it's a really high back that's completely straight. It doesn't bother us much (it's still very comfortable!) but if we had realized this would be the case, I think we would have purchased cushions with a lower back (like the second ones linked above, which also happen to be cheaper).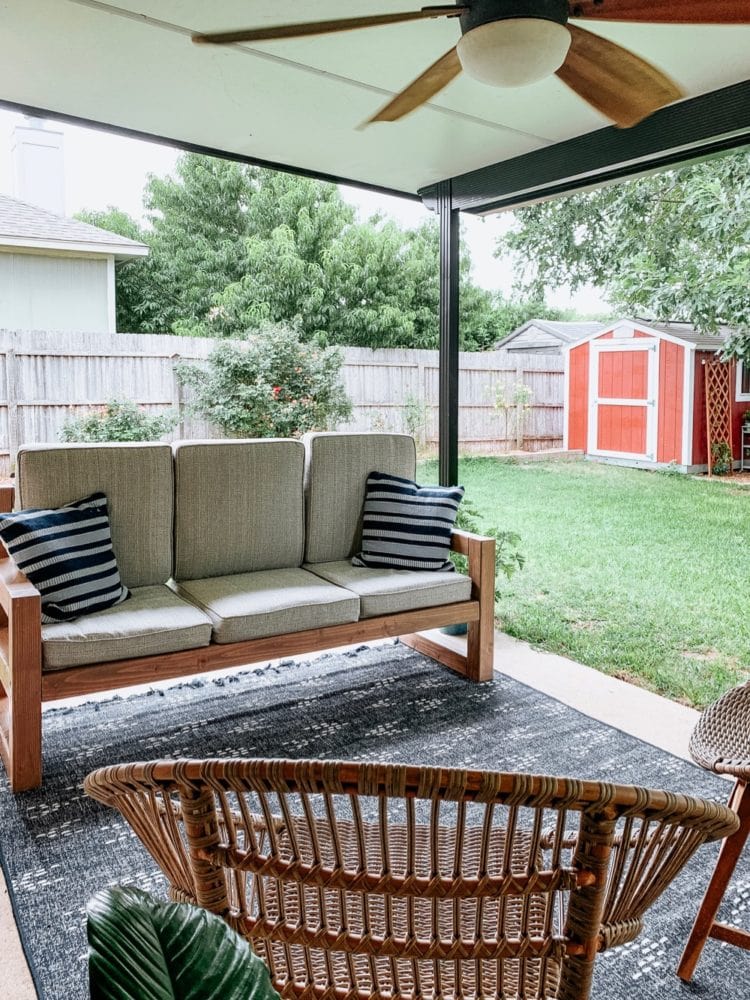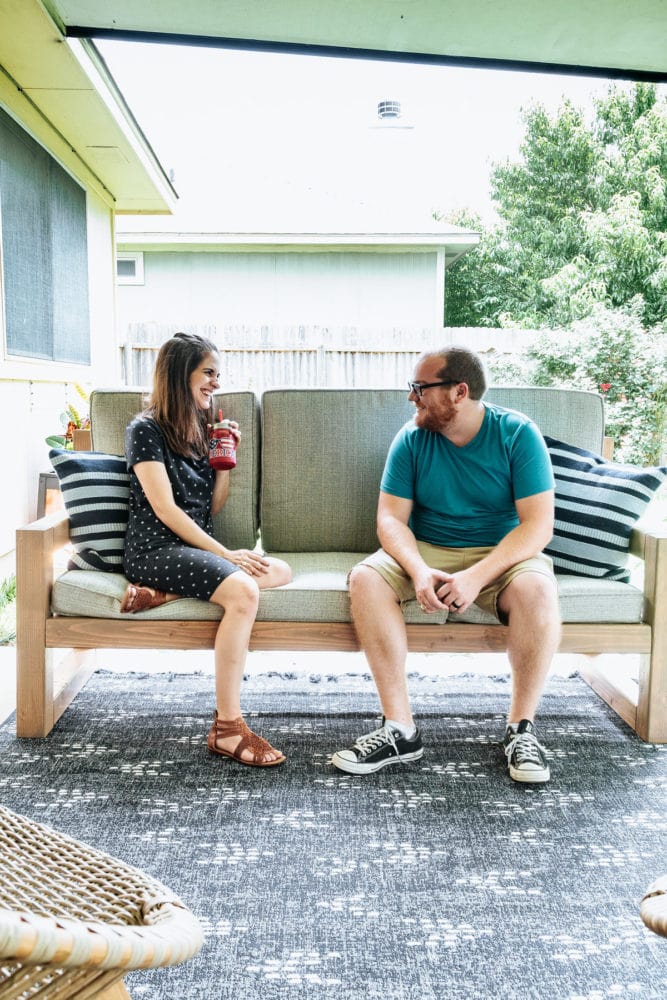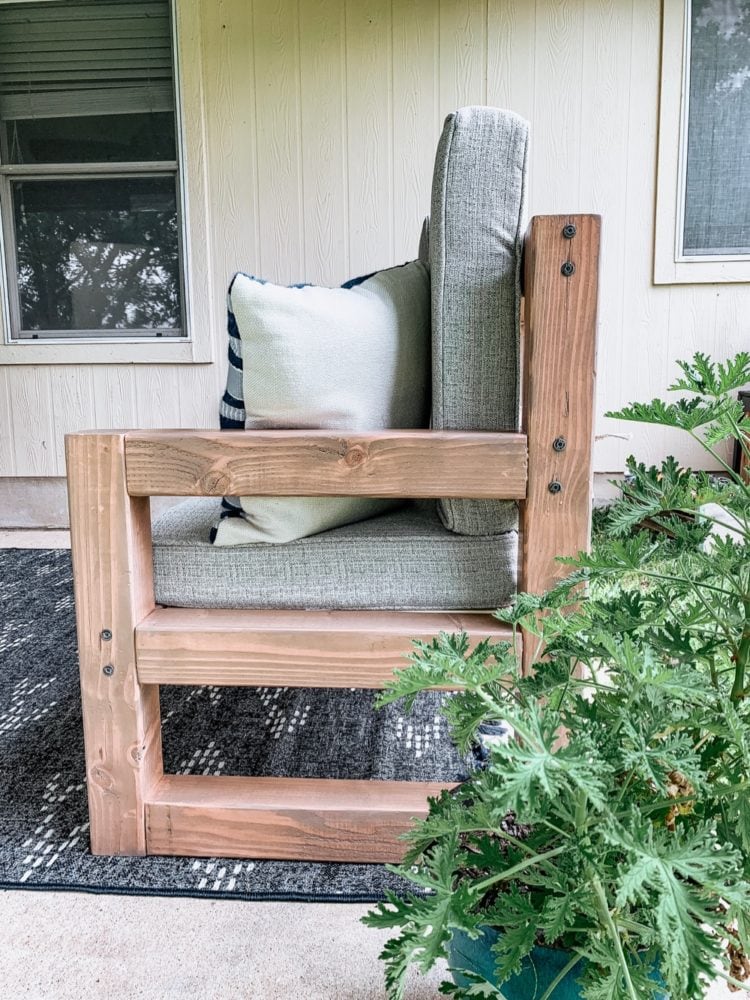 I'm so excited about how this couch turned out, and it's just so nice to finally have a comfortable sitting area on our back porch! Next up, we are going to build a DIY coffee table to go in the center, then it's all about adding some decor before the big reveal!
If you want more information on the tools we used to make this project (way) easier, you can find the Beadlock Joinery System right here, and the Clamp-It Assembly Square right here!
Other Posts You May Love