DIY Staircase Makeover Ideas
If you're looking for staircase ideas for your own DIY staircase makeover, this post is exactly what you're looking for. This roundup will show you tons of staircase makeover ideas that will help you get started!
There have been a lot of changes to the flooring in our home since we moved in. We knew pretty much from day one that it would all have to go, because we had ratty old carpet and ugly vinyl throughout the house, and it was definitely not going to be able to stand up to our messy family. We've slowly and systematically begun to replace all of the flooring (we've done the living/dining rooms, Jackson's room, and our bedroom + hallway so far!) and the only carpet left in our house at this point is in our guest room and on our stairs. And that means it's time for a DIY staircase makeover, right?!
Now that we're eliminated the carpeting in our hallway upstairs and everywhere downstairs, it looks a little odd that our staircase is still covered in carpet. I've been longing to do a big DIY staircase makeover for years, but since ours doesn't have "good" wood underneath it'll probably be on the expensive side. Of course, in the process of ripping up the carpet, I got curious and tore up the top couple of stairs…so my staircase is officially a hot mess. Whoops!
I guess if nothing else this is a great motivator to get it done soon! I've been gathering ideas and inspiration for a long time (I've even got a Pinterest board dedicated just to staircases!) so I thought it might be fun to round up a few of my favorite ideas today.
If you want to see all of the other flooring-related posts in our home, you can check them out right here:
Psst – Want to see how we made the area around our stairs gorgeous? Here's our staircase nook makeover and how we added beautiful moody beadboard to our entry.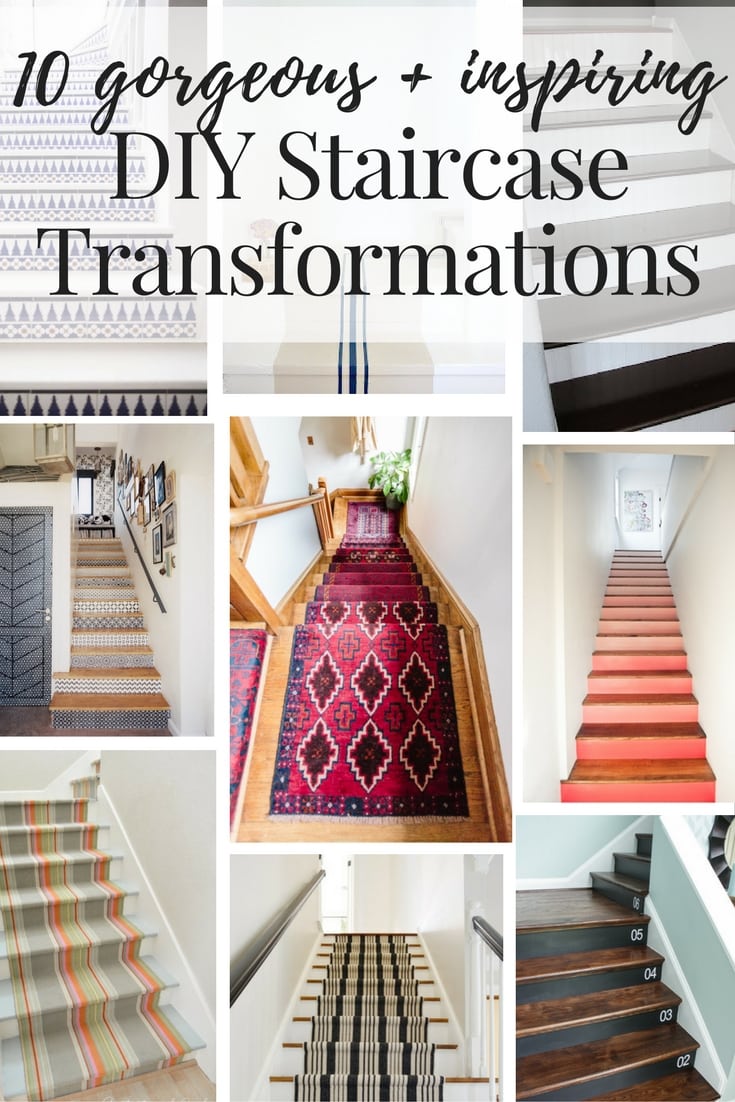 Here are ten different gorgeous, inspiring, and (surprisingly) affordable ideas for a DIY staircase makeover. I love them all so much, it's going to be impossible to figure out which route we want to go!
Easy DIY Staircase Makeover Ideas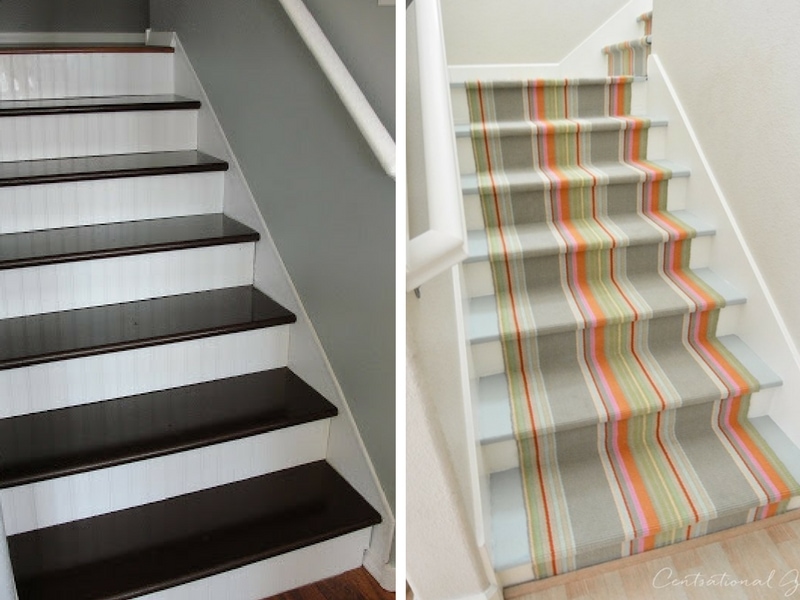 Prudent Projects // Centsational Girl
I love the idea of using beadboard on the risers – it adds some really fun texture without making the stairs look too busy. I also loved the secret technique that both of these tutorials used for filling in gaps in the stairs! Just from the top two stairs at our house, I can tell that we're going to have lots of gaps to fill in, and that's the main reason I've been so nervous to tackle this project. These posts both have me feeling quite a bit better about that situation, and thinking that maybe I can actually do this on my own. Also, how cute are the colors on that post from Centsational Girl?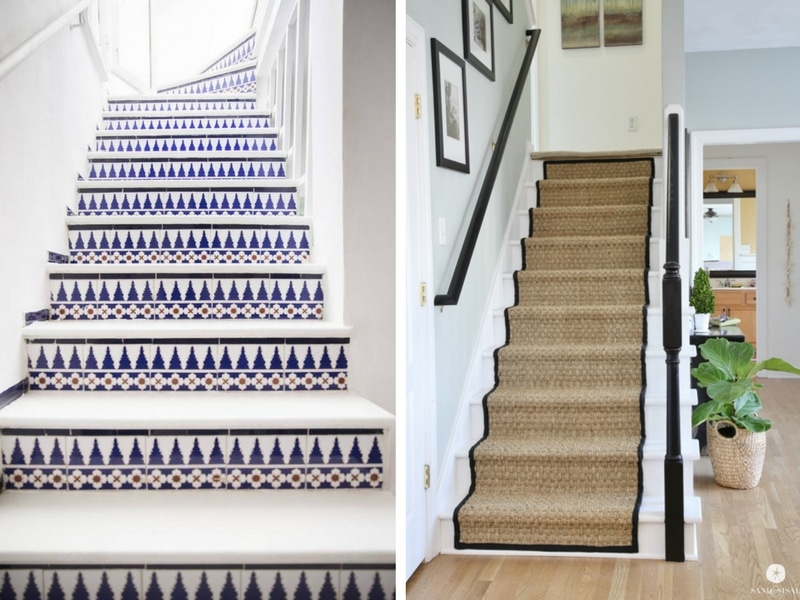 I absolutely adore the pretty blue tile from that photo on the left. We haven't talked about doing tile on our risers before, but photos like that one make me seriously consider it as an option! They're so durable and you can really get a lot of visual impact without a ton of extra money. The options are pretty much endless there. And, of course, I love the classic look of Sand & Sisal's staircase with the pretty textured runner. I feel like you don't see all-white stairs very often, and I love how they kind of just blend into the background and let the runner be the star of the show. So pretty!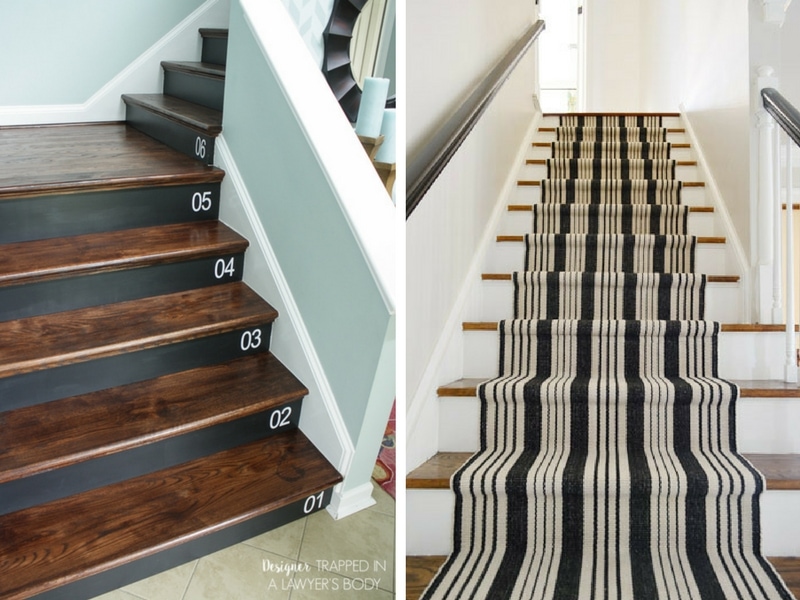 Designer Trapped in a Lawyer's Body // Young House Love
I've admired Tasha's numbered stairs for a long time – they're so pretty and I love that she added a whimsical little detail without making the stairs look too intense. I also love the dark look of the stairs – the black riser + deep wood treads look is absolutely gorgeous. And, of course, I can't leave out John & Sherry's staircase, which is probably the first staircase makeover I ever saw that made me want a stair runner! I love the striped look, and every time I see those stairs I pretty much want mine to look exactly like that.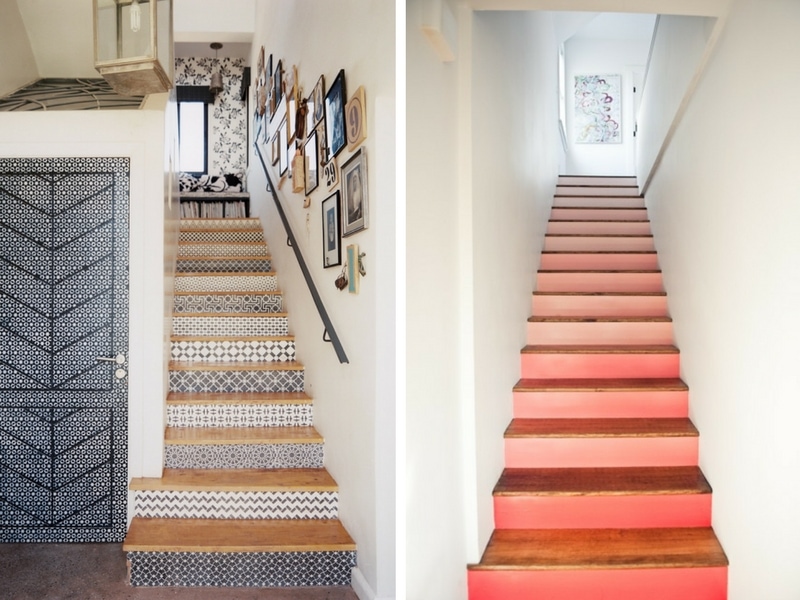 Lonny // Modern Medusa Ahead
Wallpaper! Who would've thought? Lonny would have, of course. I love the black and white geometrical prints they chose, and I love that there's a ton of pattern and visual interest on the stairs but they still don't look too busy. And you can't talk about gorgeous staircases without mentioning the option of doing an ombre paint job! I imagine it's a lot of work to mix up all of those different paint colors, but it sure does look amazing.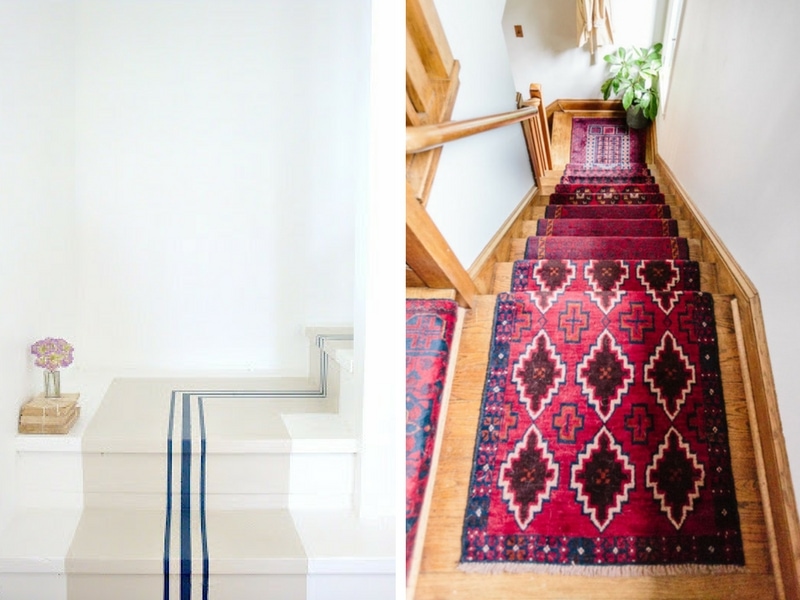 I never would have thought to paint on a stair runner like Faded Plains did, but that looks so gorgeous! I love the slight farmhouse feel it has, and the colors are so beautiful. Of course, with three dogs + a toddler, I don't know that I could ever keep all of those pretty light colors clean, but goodness it looks gorgeous. And, if you Follow my newsletter you've heard me wax poetic about the stairs that Wit & Delight recently did – officially my favorite staircase makeover of all time. I love that she took a variety of vintage rugs in the same color scheme to make a cohesive looking runner, and I think if I had to choose one to replicate exactly in my house, it would be this one! Of course, I'm not sure if I have the skill/patience to track down all of those coordinating rugs!
Here are a few of my favorite runners for staircases:

Which DIY staircase makeover is your favorite? What do you think we should do with our stairs?
Looking for more home decor inspiration and ideas? Here are a few posts that might help: