Corey and I are currently packing up and moving into our new home. While we're busy over the next couple of weeks, I'm sharing a look back at our first home throughout the years. You can see the living room here. 
What's your favorite room in your house? The room that fills your heart with happiness, that you could spend all day in, and that you're just so dang proud of because it's exactly you. Do you have one of those rooms?
I do. It's my dining room. This room speaks to my soul. It's always been tough to photograph thanks to the giant windows (which just so happen to be one of my favorite features), so I wish I could invite each and every one of you over for a cozy meal so you can experience the magic of this room in person. I'll light a few candles, there will be wonderful relaxing music playing, we'll fill the (giant) table with delicious food and wine, and we'll watch the sunset in my backyard through the huge window.
Ugh, I'm going to miss this room.
As much as I love it now, it wasn't always this fabulous. Let's take a look back, shall we?
THE DINING ROOM – BEFORE & AFTER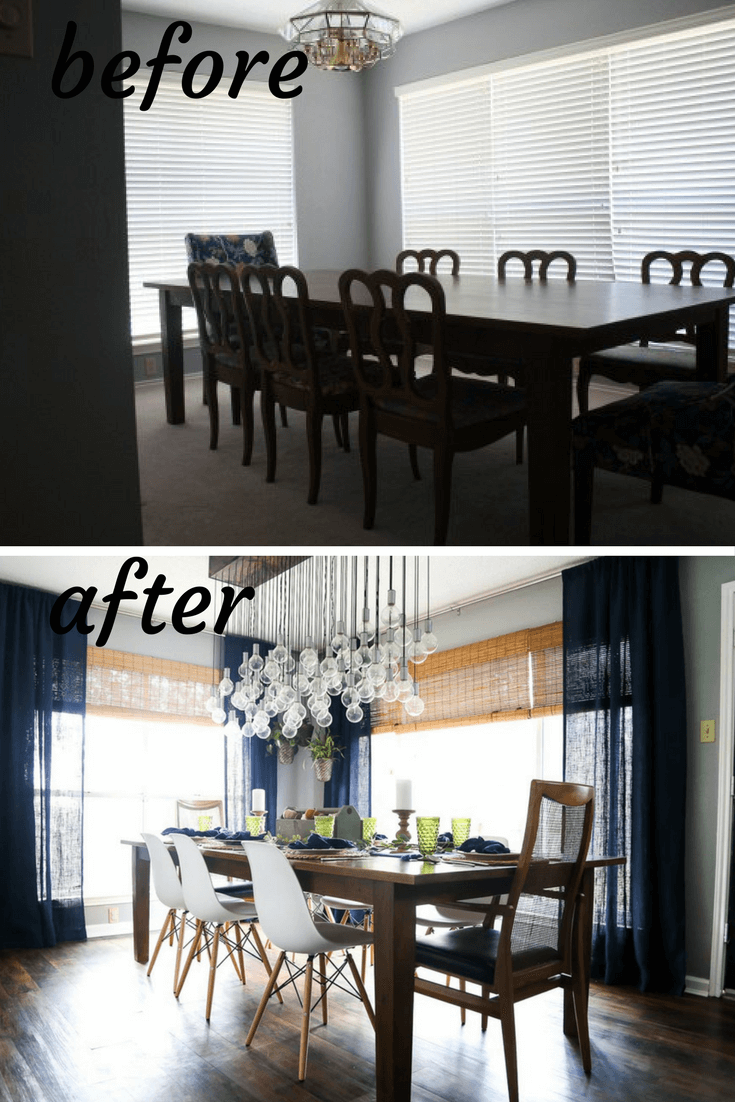 This post contains affiliate links. Click here to read my full disclosure policy. 
The dining room was one of the main reasons we purchased this home in the first place. We loved how huge it was – perfect for entertaining – and, once again, it had a couple of giant (as in, almost floor-to-ceiling and wall-to-wall) windows that gave it a ton of natural light.
It's not super common to find homes with a formal dining room in this size and price range, so we really felt like we hit the jackpot with this space. Our table is absolutely massive – it's 104″ long and can comfortably seat 10 people – though we've squeezed up to 12 in at a time before! A formal dining room is one thing we have had to let go of with our plan to downsize, and it's definitely going to be an adjustment to us. We eat dinner here almost every night (we're the opposite of most people, in that we rarely use our breakfast nook but use the dining room constantly) and we absolutely love to entertain. Between this and the seating in our kitchen, we can easily seat upwards of 20 people for a full meal (and that's without bringing in a card table or anything for extra seating). We've really been blessed to have a house so perfectly set up for entertaining for the last 6 years, but I have to admit I'm looking forward to the challenge of finding creative ways to squeeze people comfortably into our new, smaller home.
Here's a look at how the dining room looked right after we moved into this house: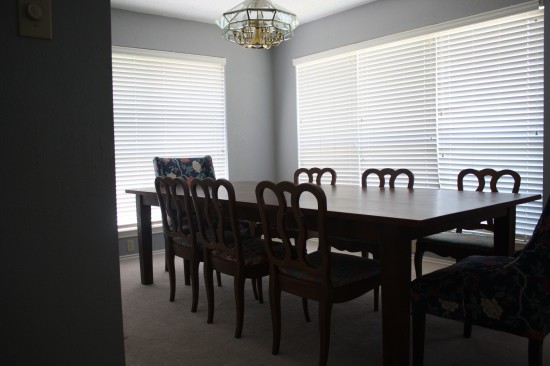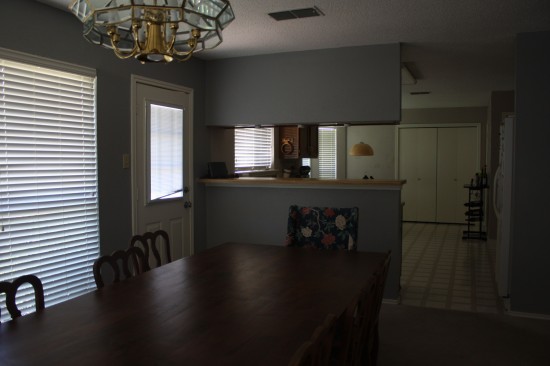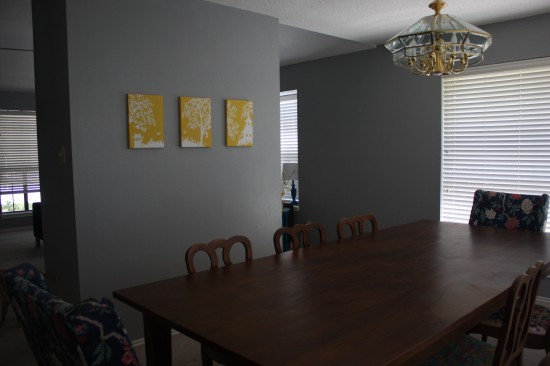 This room is one that hasn't changed all that much from year to year (even though the overall transformation is pretty huge). We did a bit of shuffling with various chairs before we landed on the ones we have now, but the actual decor in the room has stayed more or less the same throughout the time we've lived here. Of course, our giant dining room chandelier is the star of the show (and you know I'll miss that when we move!). Here's a look at the room throughout the years.

And here is a closer look at how it looks today: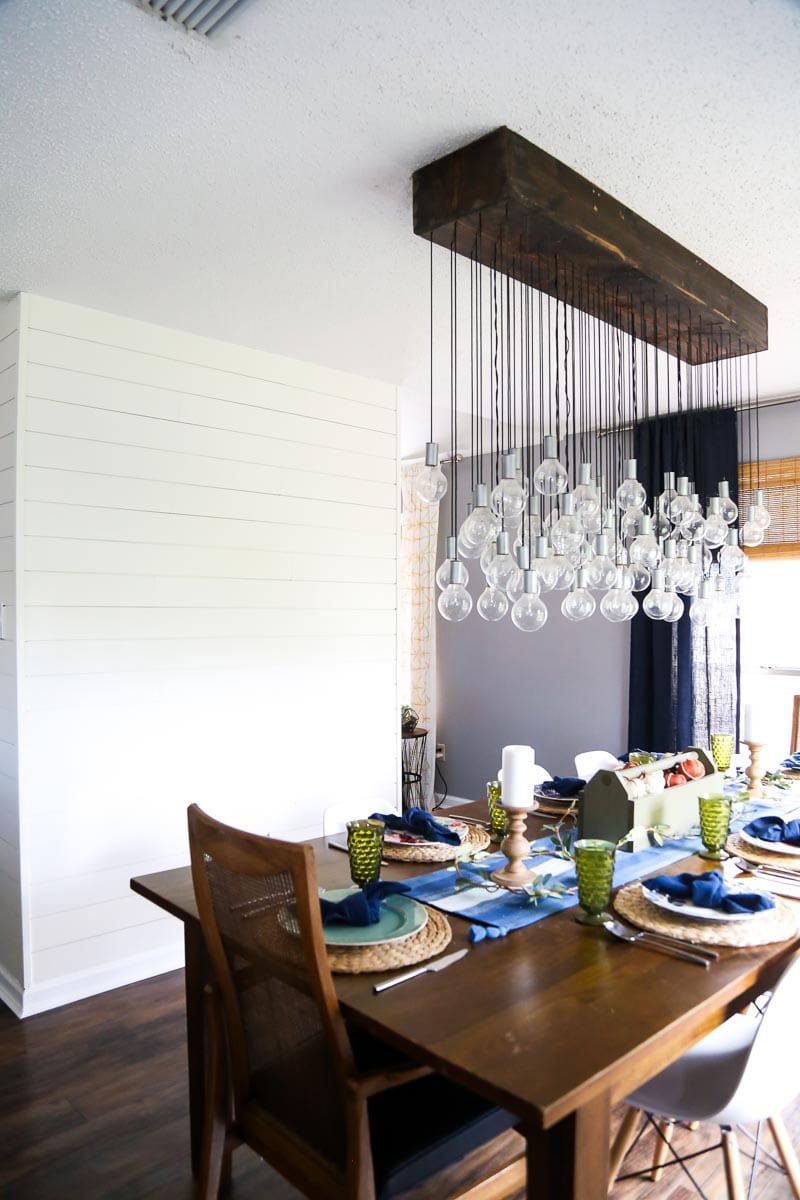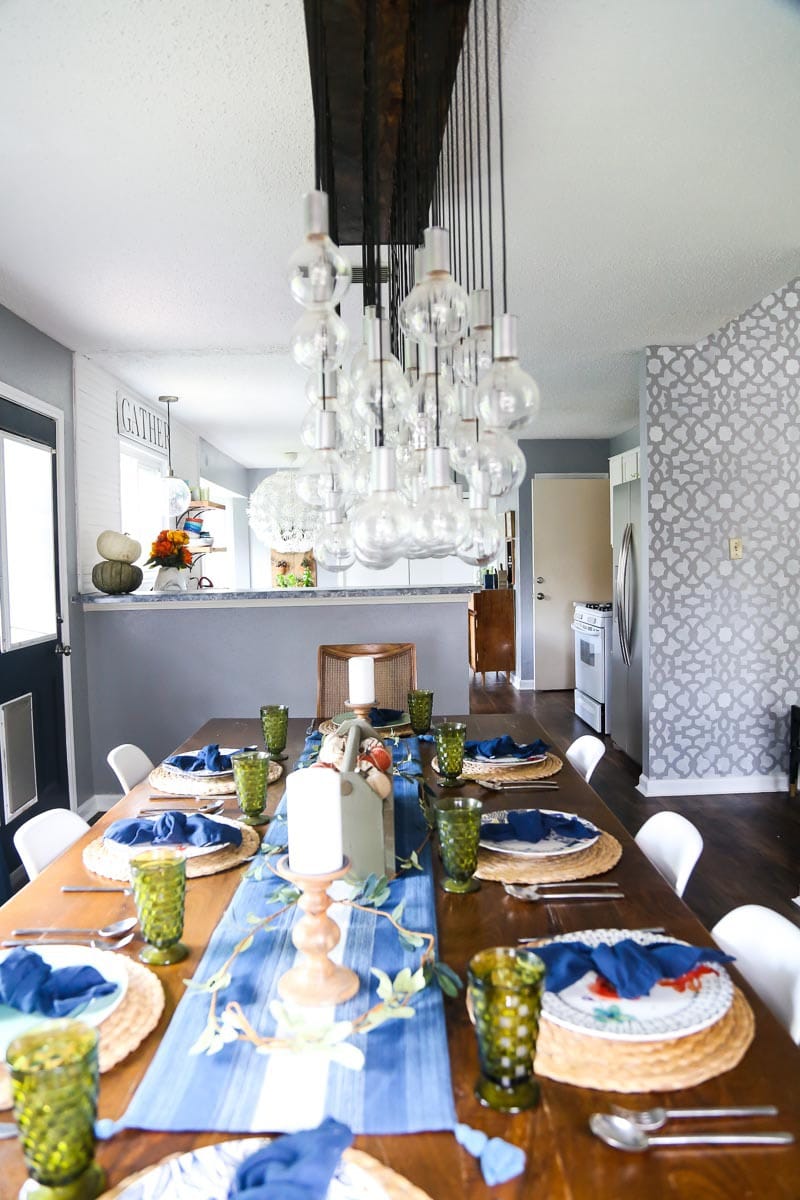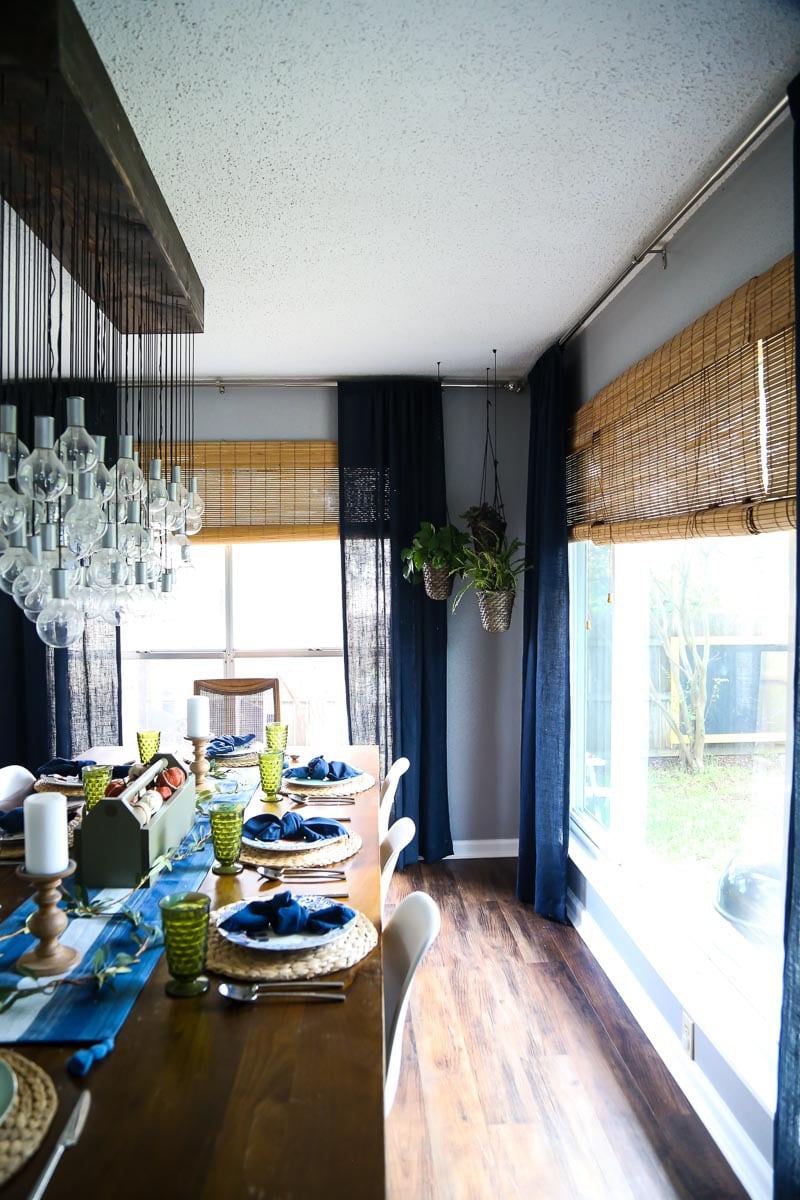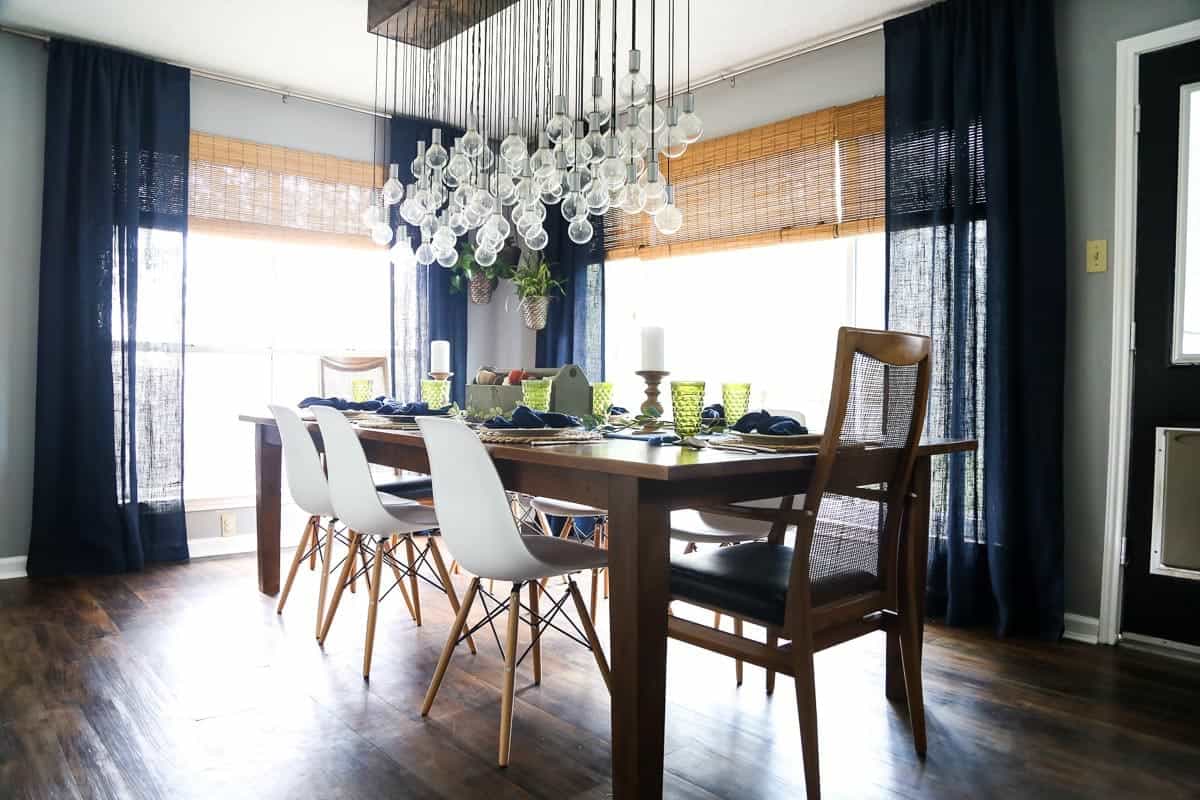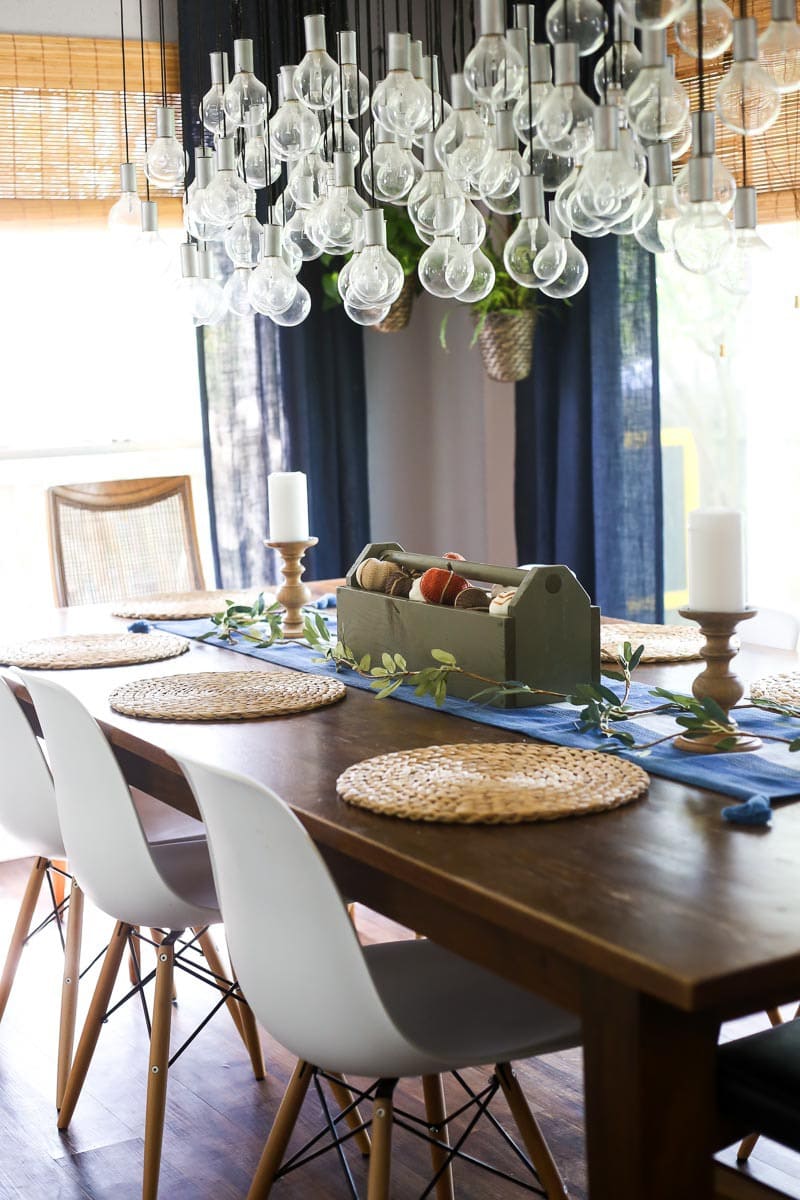 I love this room so dearly, and I will sincerely miss building gingerbread houses on it, decorating it for Christmas, and having tons of people over all at once to gather around the table for games and a meal. I'm hoping the new homeowners enjoy it half as much as we did!
We get lots of questions about various things in this room (especially those vintage green glasses) – so here are the sources for most of what you see here! Click the arrows to scroll and see all of the products.

Here are a few of the dining room related posts from the last 6 years:
Choosing Our Dining Table | Having New Windows Installed | Installing Vinyl Plank Flooring | DIY Multi-Bulb Dining Room Chandelier | DIY Family Photo Display | Installing a Doggy Door | Choosing New Dining Chairs | Hanging Planters