Our Living Room – Before & After
The time has arrived. Corey and I close on our new house next week, and we're spending the next couple of weeks packing, moving, and getting all settled into the new place. I can't wait to show you the new house and dive into all of the projects I already have in mind, but we're not totally ready to move on from this house yet.
I wanted to put together a series of posts looking back at this home and how it has evolved over the years. This was our first home, and we've been here for just over 6 years so it holds a lot of memories for us. It was so much fun to me to look back at these photos and see how much things have changed, and I hope you find it as interesting as I do!
I was originally going to do this all as one big post, but as I got working on it I realized that it would be a massive post. It would be entirely too overwhelming to share absolutely everything in one go, so I'm going to break it down into a bunch of smaller posts.
So, for the next couple of weeks as we are packing up and moving, you can expect a few extra posts along with a ton of little peeks at how our home has changed over the years. Once I've finished posting them all, I'll compile them into one big page on our site where you can go and see all of the changes our home has been through in one place, for those of you who like to see it all together.
Today, we're starting with the living room. Here we go!
THE LIVING ROOM – BEFORE & AFTER
This post contains affiliate links. Click here to read my full disclosure policy.
When we moved into this house, the living room (and, really, every room in the house) was painted what we not-so-lovingly liked to refer to as "the oops paint color". It was a strange not-quite-tan, not-quite-peach, not-quite-pink color, and it drove us nutty. The living room had great bones, a fireplace with a ton of potential, and large windows that let the light flood in.
We loved how large this space was, and we were so excited to finally have some room to spread out a bit. We immediately purchased our giant sectional (it's a KARLSTAD from IKEA, and the sectional version has been discontinued) and it's really the only thing in this room that has stayed the same over the last 6 years.
Here are a few more peeks at how the living room looked when we first moved in.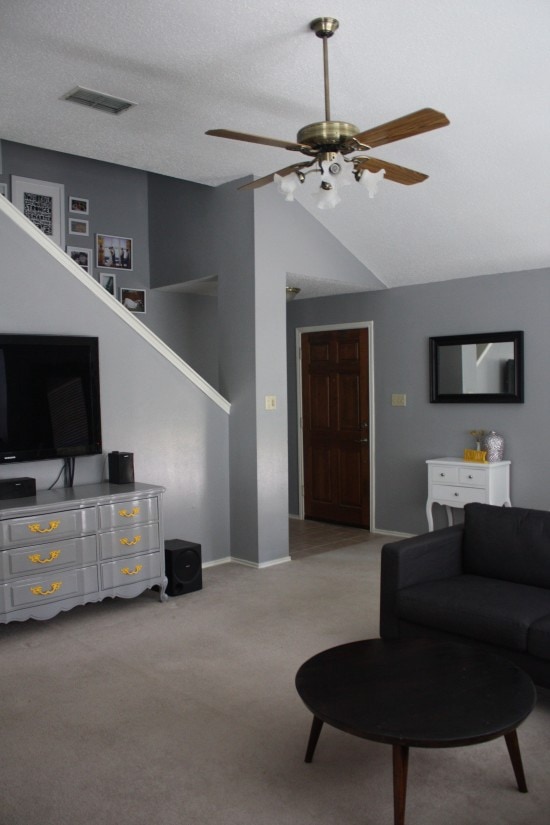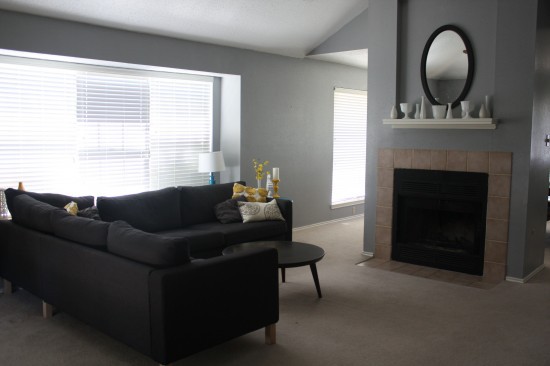 This room went through a lot of different transitions before it turned into the room we know and love now. I feel like we struggled with this room style-wise for a long time, and it wasn't until we were getting ready to move that we landed on something that I really truly love. That's how these things work, isn't it?
I put together a fun little collage to show you how the room transitioned over the years. There's a gap between 2014 and 2017 mostly because the room looked exactly the same throughout those years (aside from the addition of the home office, which I slipped into the 2016 slot). I think the most interesting thing about these collages (I put one together for almost every room!) is how in some rooms we landed on a style quickly and stuck with it, in some we made a slow and steady transition from one look to another, and in some (like the living room) we bounced all over the place before we finally nailed down the look we wanted. I definitely cringed a time or two as I was pulling these photos (there were some versions of the living room with a super graphic black and white rug that just did not work), but I'm so pleased with where we landed in the end.

And here's how it looks now.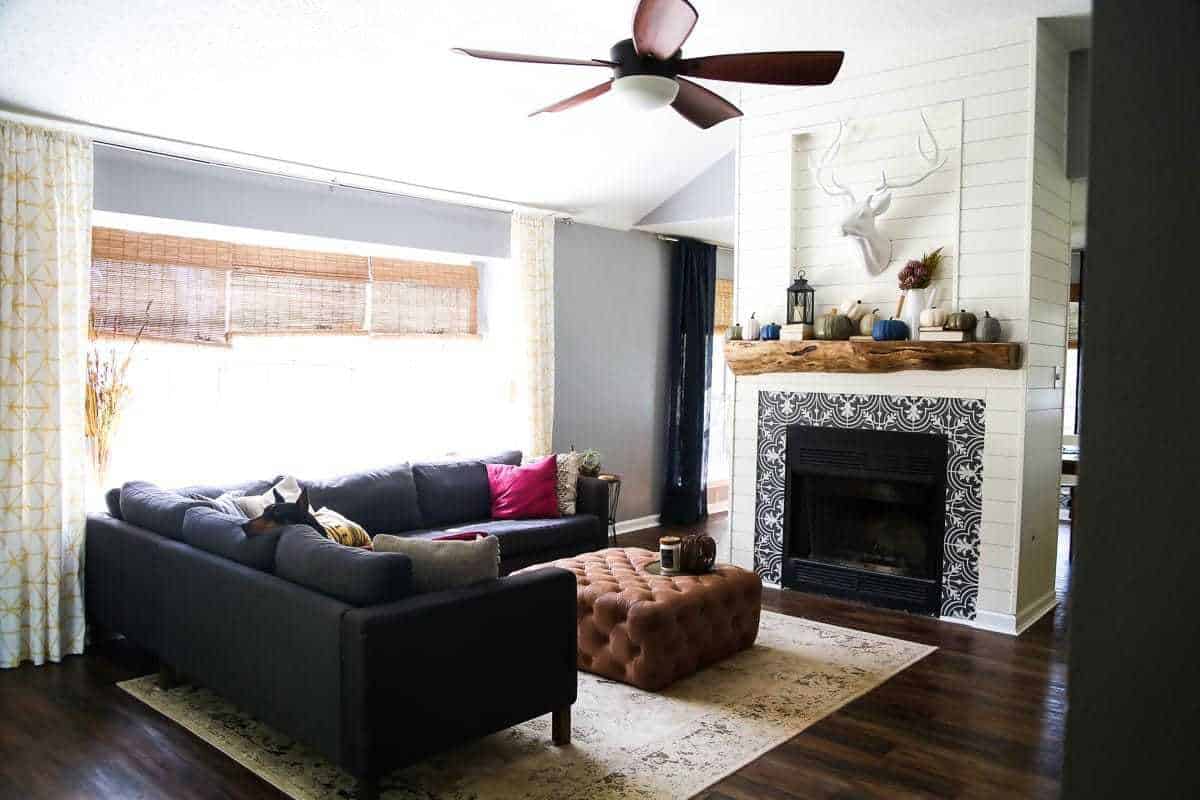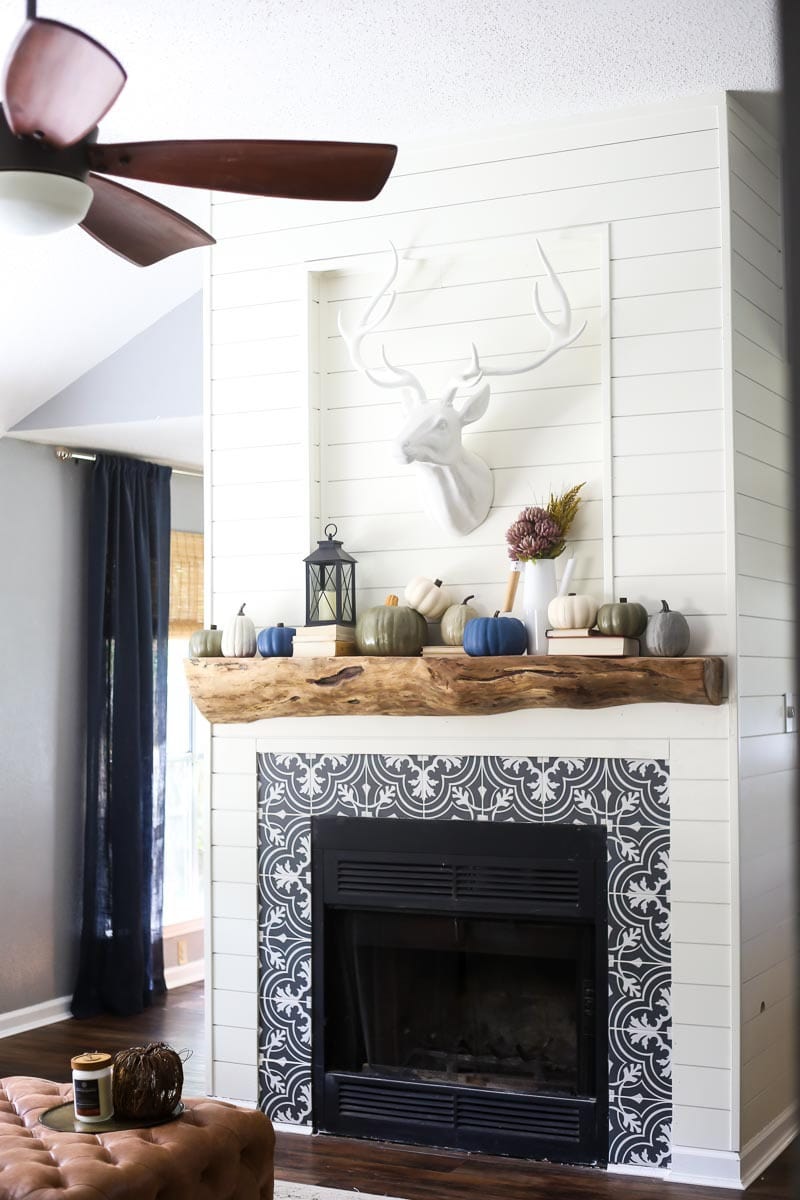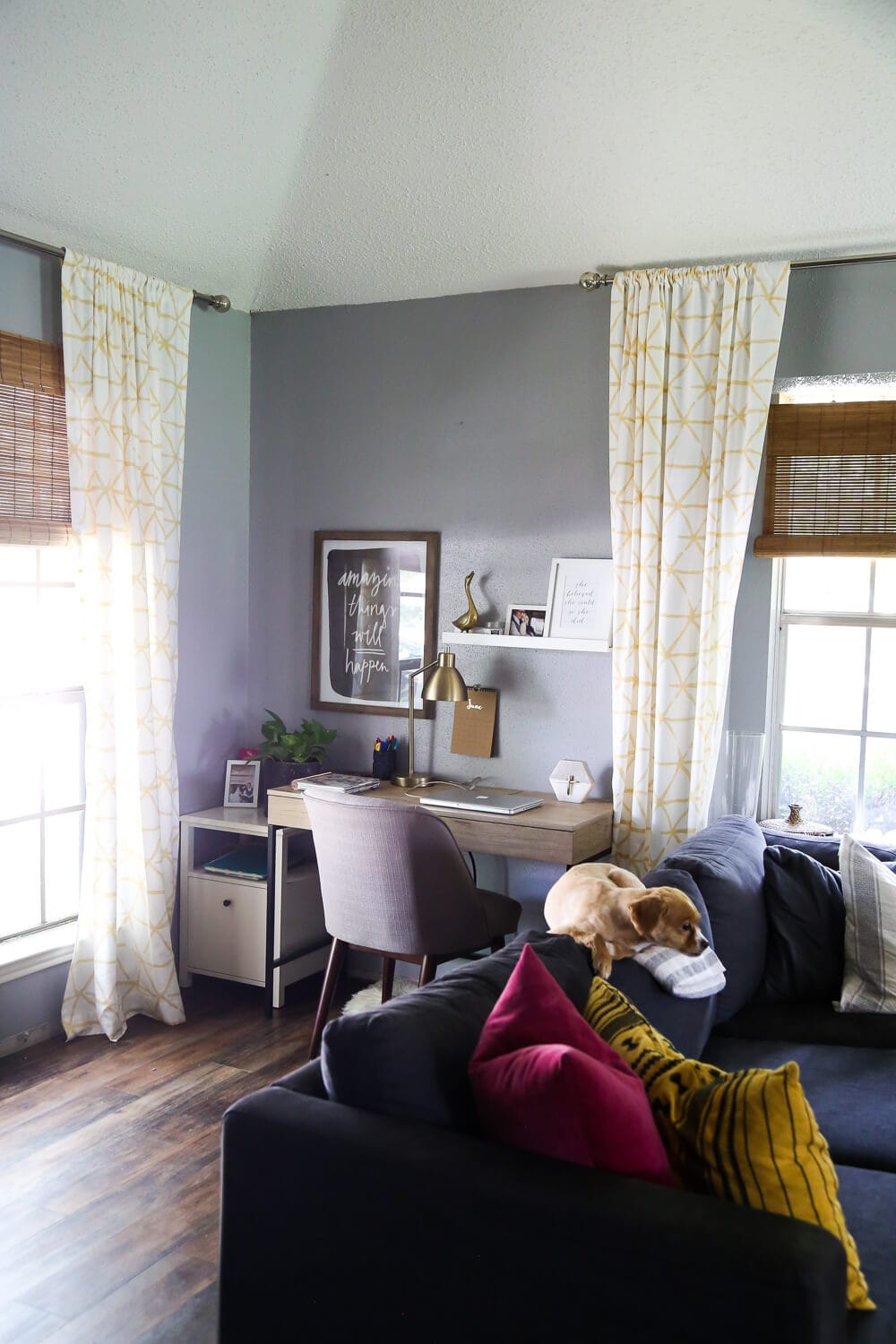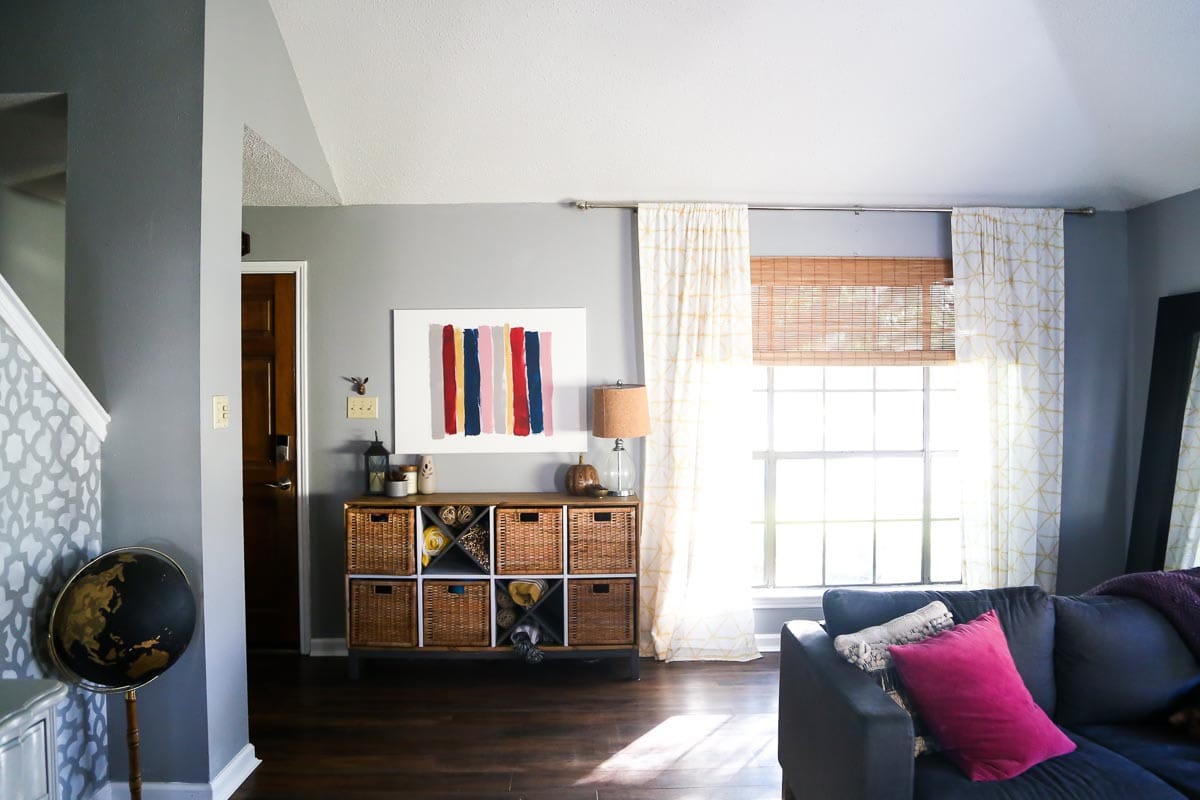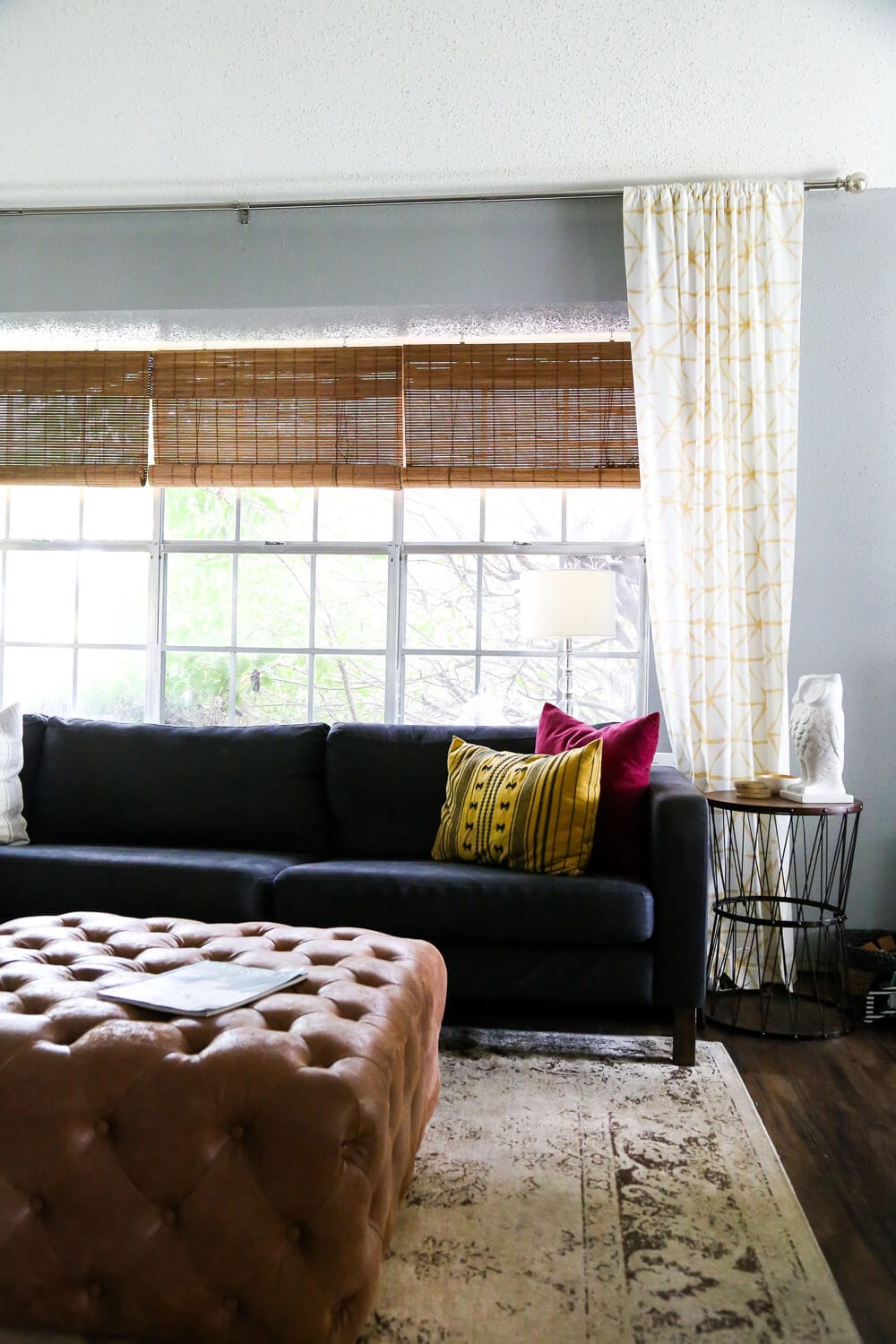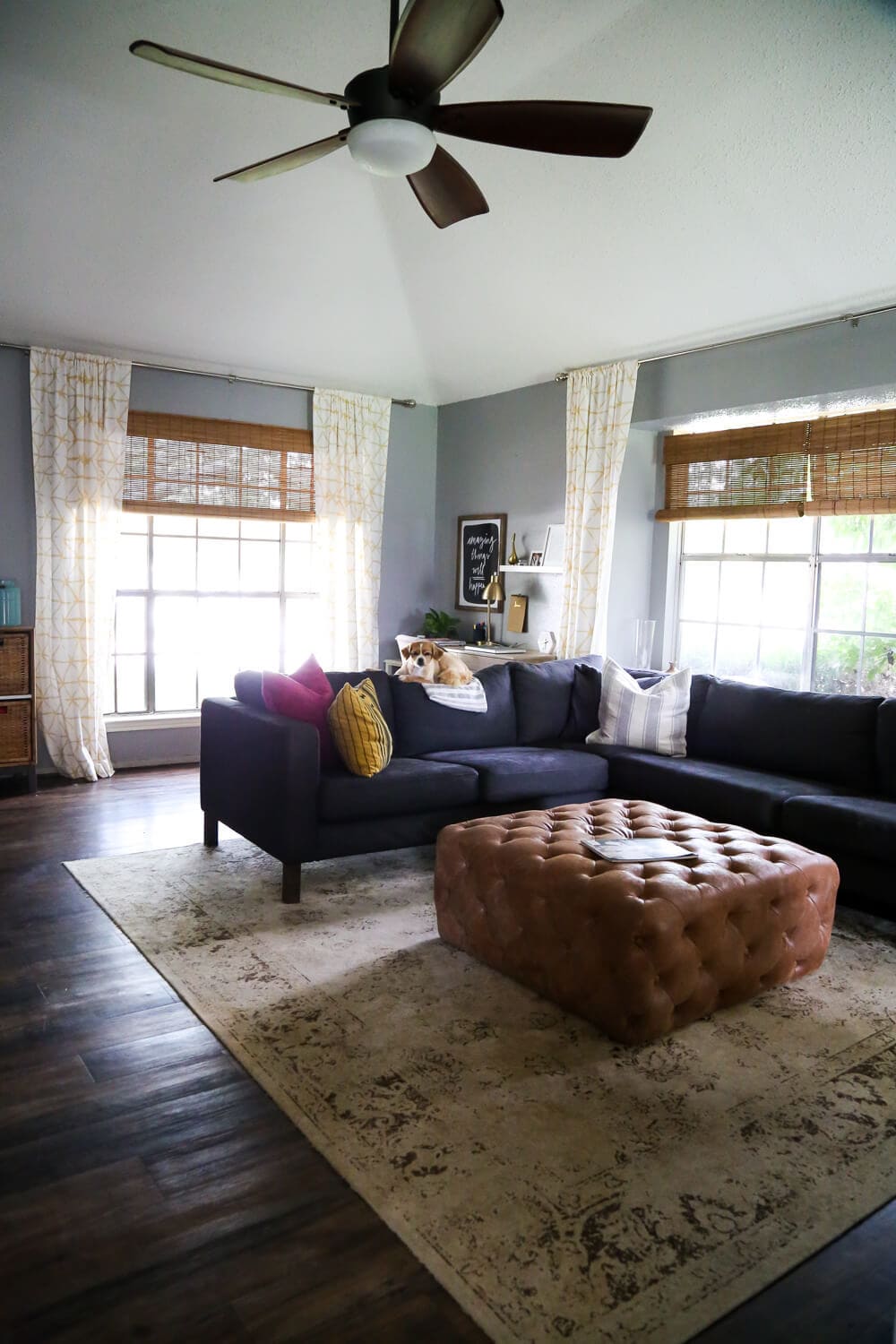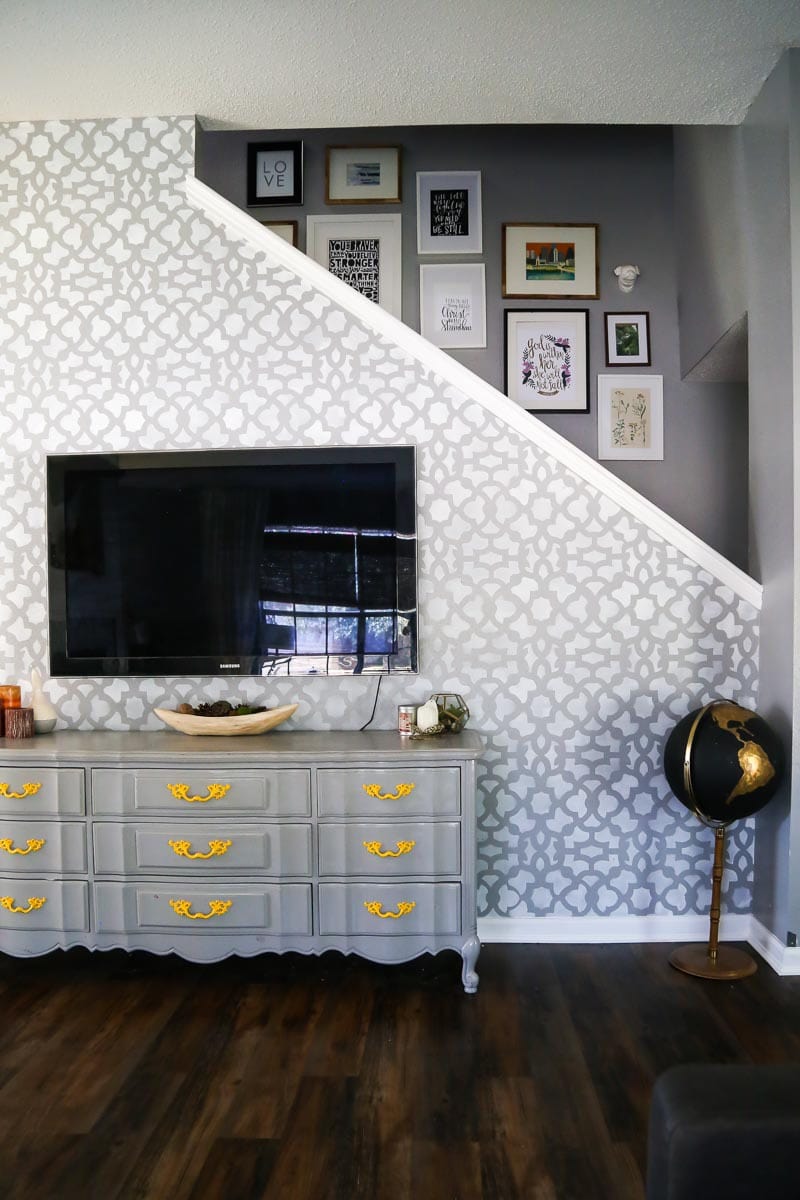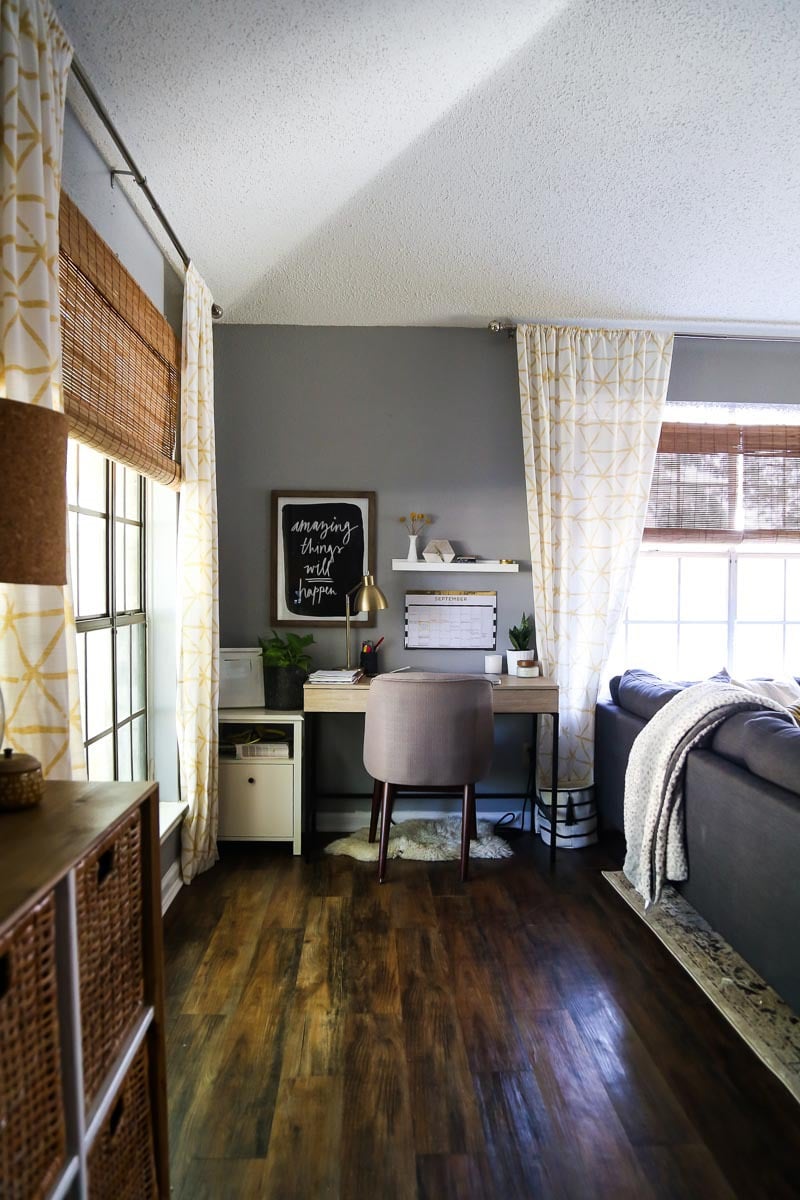 The fireplace is (obviously) my favorite feature of the room and probably my favorite feature of the entire house. It makes my heart so happy and I'm glad we were able to have one final fire in this beauty before we moved out.
I'm going to miss my office nook in the new house (unless I get really creative I just don't think we'll have room for it), and we'll be starting from scratch with carpet for flooring so I'm already looking forward to the day when we get to rip all of that up. The stenciled wall is something that we debated getting rid of over the years – the pattern isn't really something I'd choose if I were doing it today, and there was a time where it felt too busy in the room, but I think we've finally landed on a balance where it fits right in and works really well for the space.
If you see anything in this room that you just love, here's a roundup of the things you can buy!


Here are a few of the living-room related posts from the last 6 years:
Stenciled Accent Wall | DIY Tufted Ottoman | DIY Black Globe with Gold Accents | Painting Fireplace Tile | Wood Paneled Fireplace Inset | Vinyl Plank Flooring in the Living Room | Creating a Home Office Nook | Organizing Toddler Toys in the Living Room | Easy Entryway Makeover | DIY Sideboard Makeover | DIY Brush Stroke Art | Mini Living Room Makeover | IKEA Sofa Review | DIY Family Command Center | How to Install Baseboards | DIY Fireplace Makeover | DIY Rustic Wood Mantel