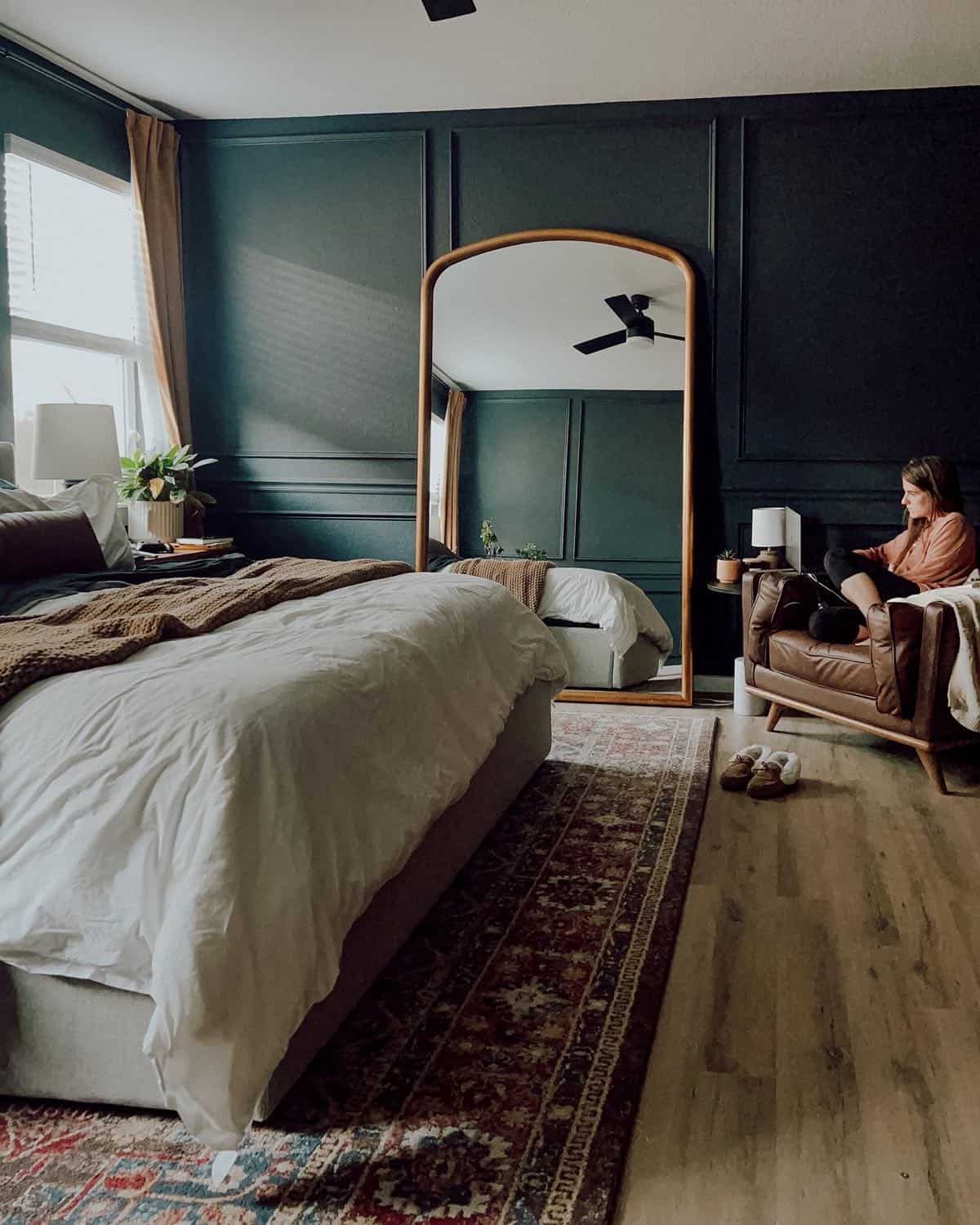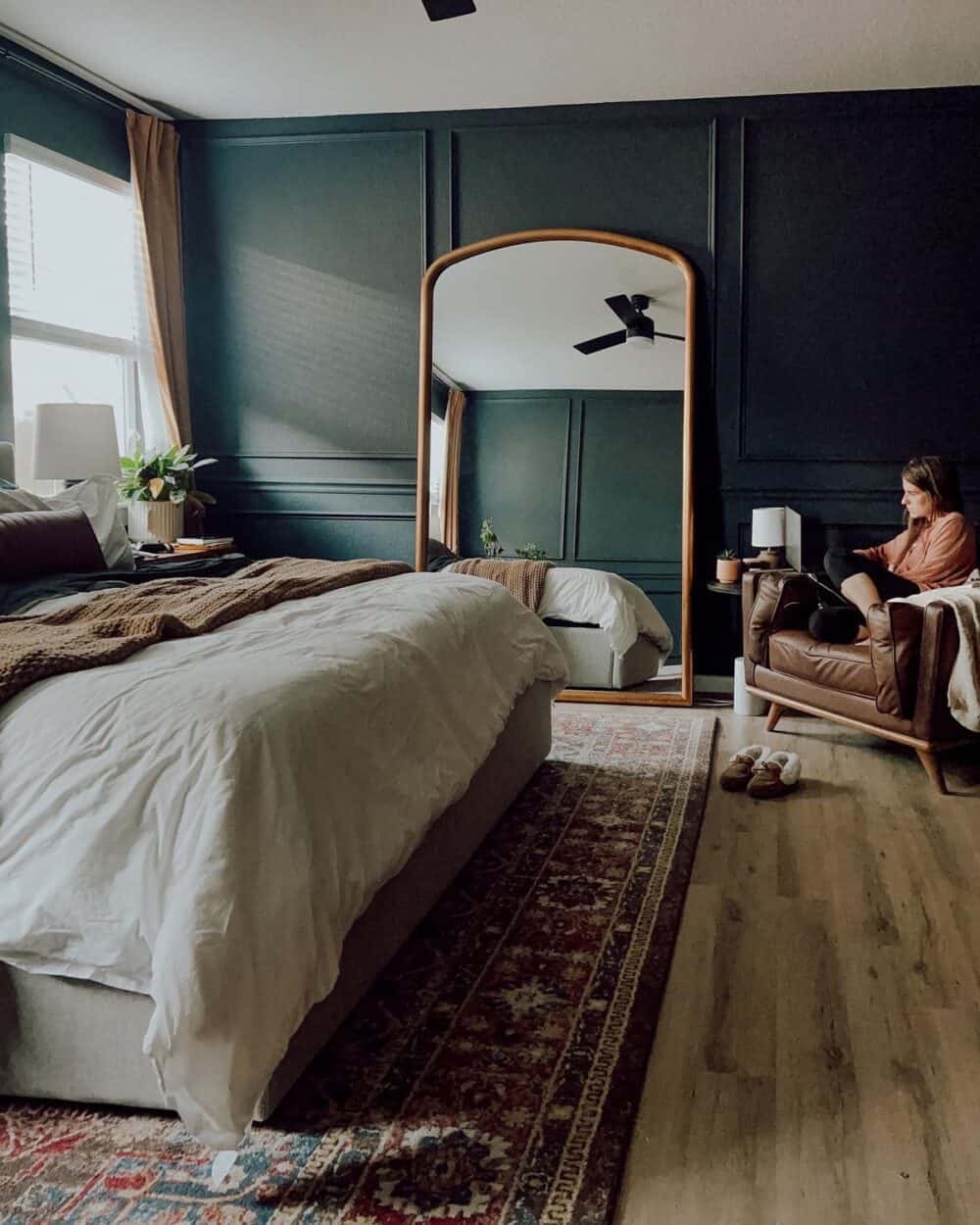 Last week on my Instagram stories, we did a little deep dive into dark paint colors. We talked about how to use them in your home, why you shouldn't be scared of them, and a bunch of other things. But one thing we didn't really get into is what the best dark paint colors are!
So today, I thought it would be fun to talk about the best dark paint colors for every room in your home here on the blog. Some of these are ones I've tried (and loved) in our own home, and some are ones recommended by you on Instagram! Dark paint colors can work really well as neutrals for your space and be a perfect backdrop for all sorts of fun accents.
So, if you're looking for the perfect dark paint color for your living room, bedroom, dining room, or anywhere else in your home, read on for inspiration!
A quick note on sampling: I always recommend testing out colors before painting! You can get swatches so you can just stick paint samples right up on the wall and move them all around. You should test on multiple walls so you can see how the colors look in different lighting conditions. Don't rush the process!
If you know you're looking for a specific shade of blue, click any of the three links below to be taken directly to that section!
The Best Dark Green Paint Colors
We'll start with one of my verrrrry favorite hues – dark green colors! It's a relatively recent development for me to be obsessed with green, but it's quickly become one of my favorite colors to use in my home.
Here are a few dark green paint colors I have used and loved:
behr black evergreen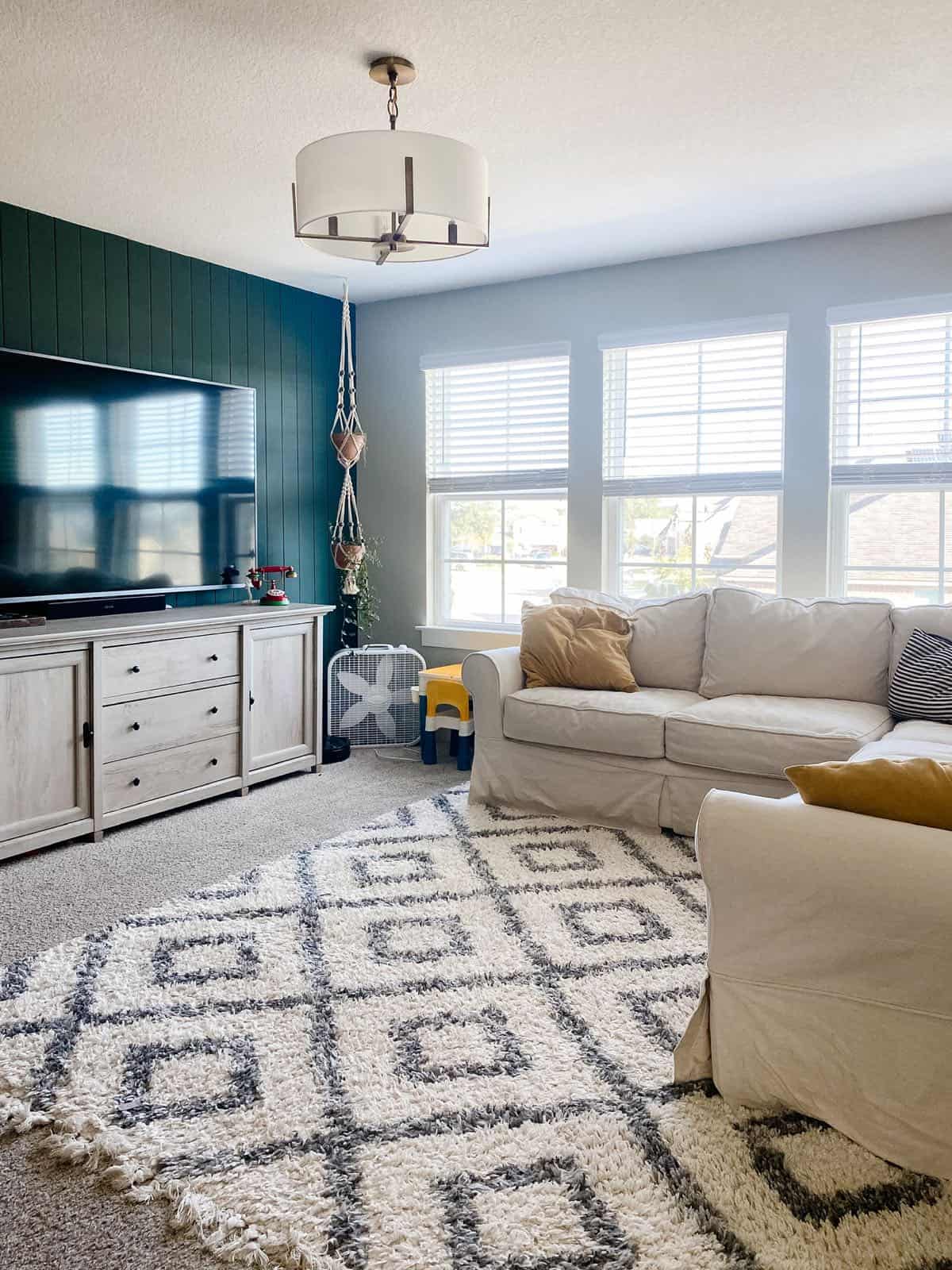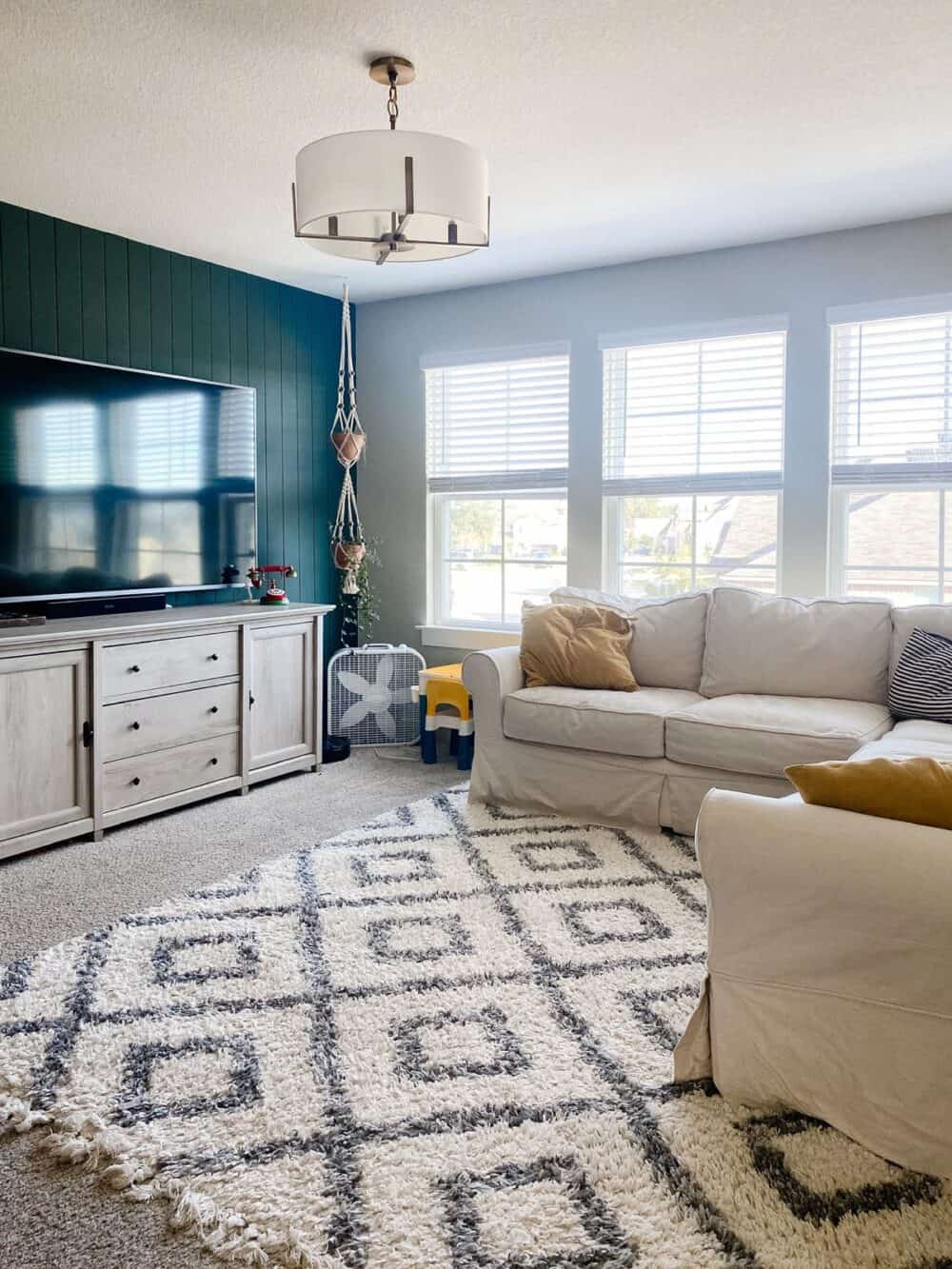 Corey and I chose this color for our upstairs game room before we even moved into this house. We saw the swatch and just fell in love and we're still just as obsessed with it as we were on day one.
Black Evergreen is a really deep green with more muted tones. In some lights, it leans a bit more grayish-black, but when it's hit by natural light it's clearly a dark forest green. I love it in every light, and could see myself using this one over and over again.
We also used Black Evergreen on the kids' playhouse (before I built the camper) and it looked great outside, too!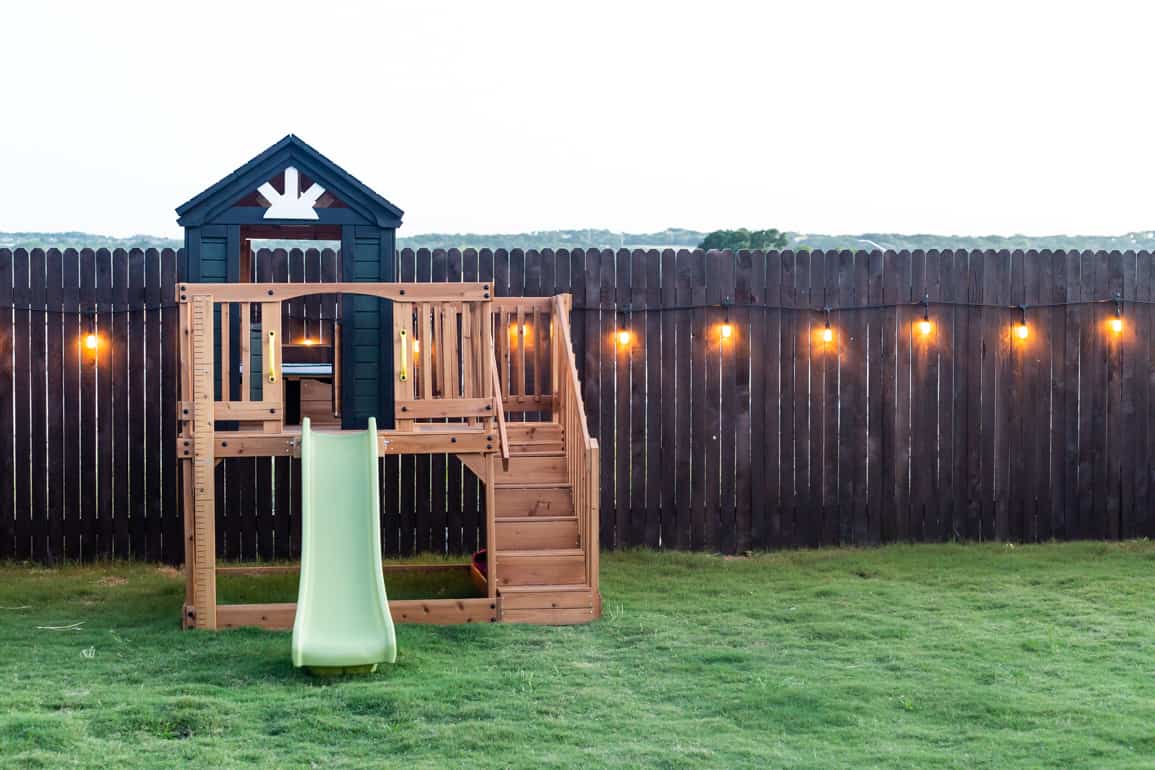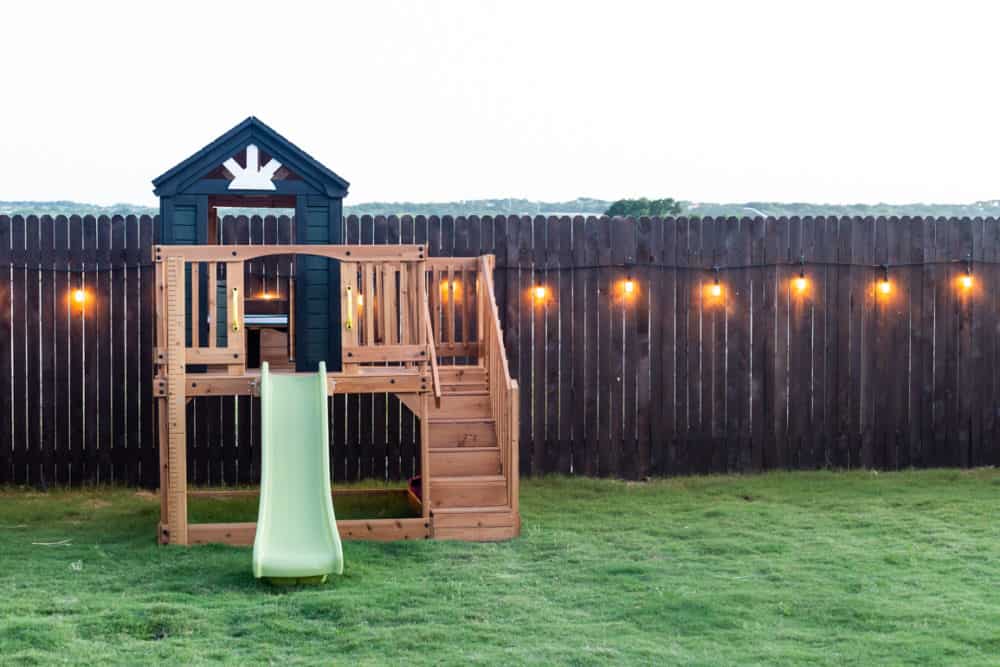 behr meteorological
This color is less dark and more saturated, but I think it counts! It's actually very similar to Black Evergreen, but with more saturation and a little brighter and has a hint of blue in it. My friend Chelsea has also used this color a few times in her home (and she wrote a whole detailed post about it) and it's definitely a versatile color that looks great in any situation.
I have only ever used this color on an accent wall (this is our garage), but it would look great on pretty much all interiors!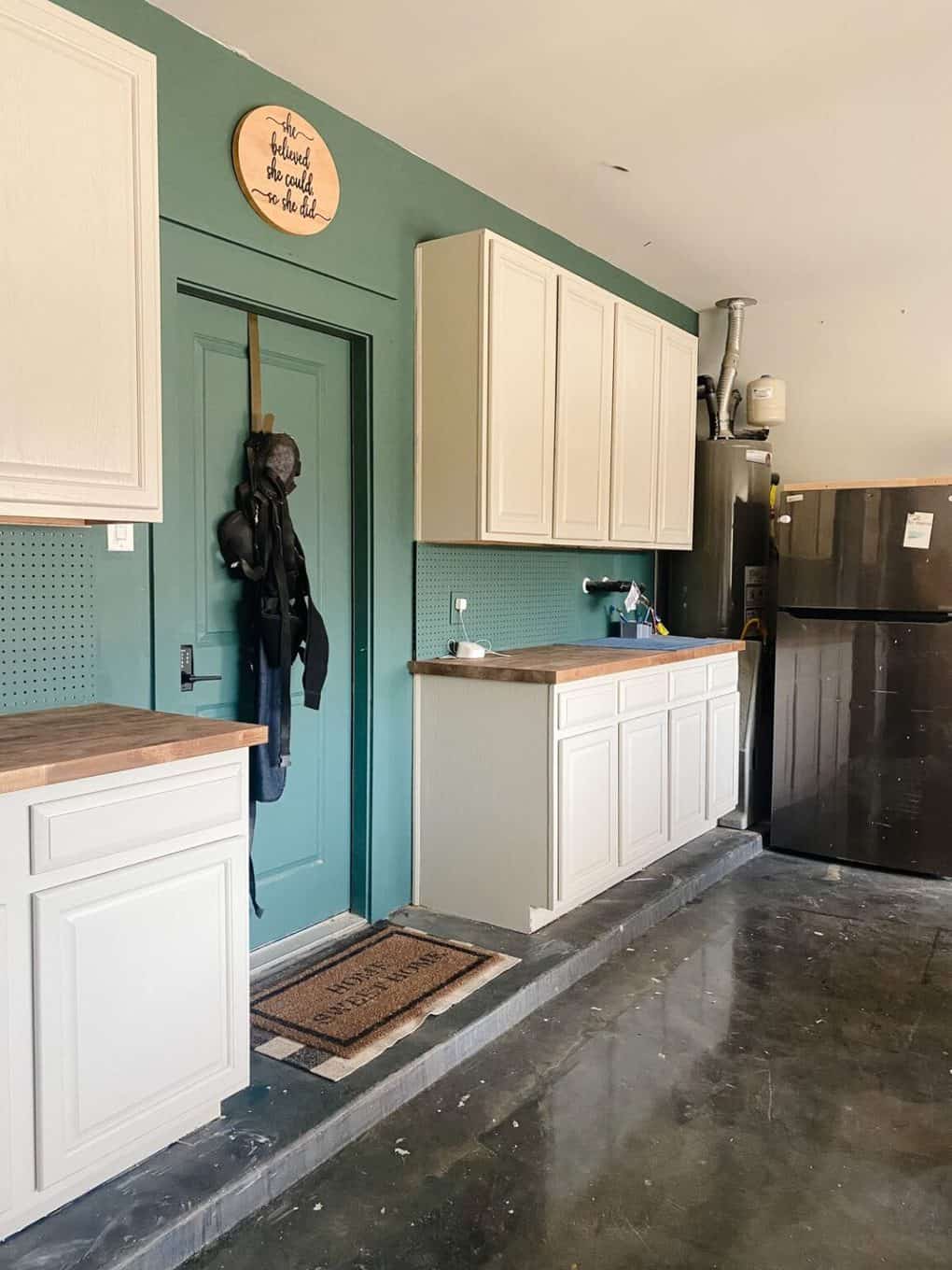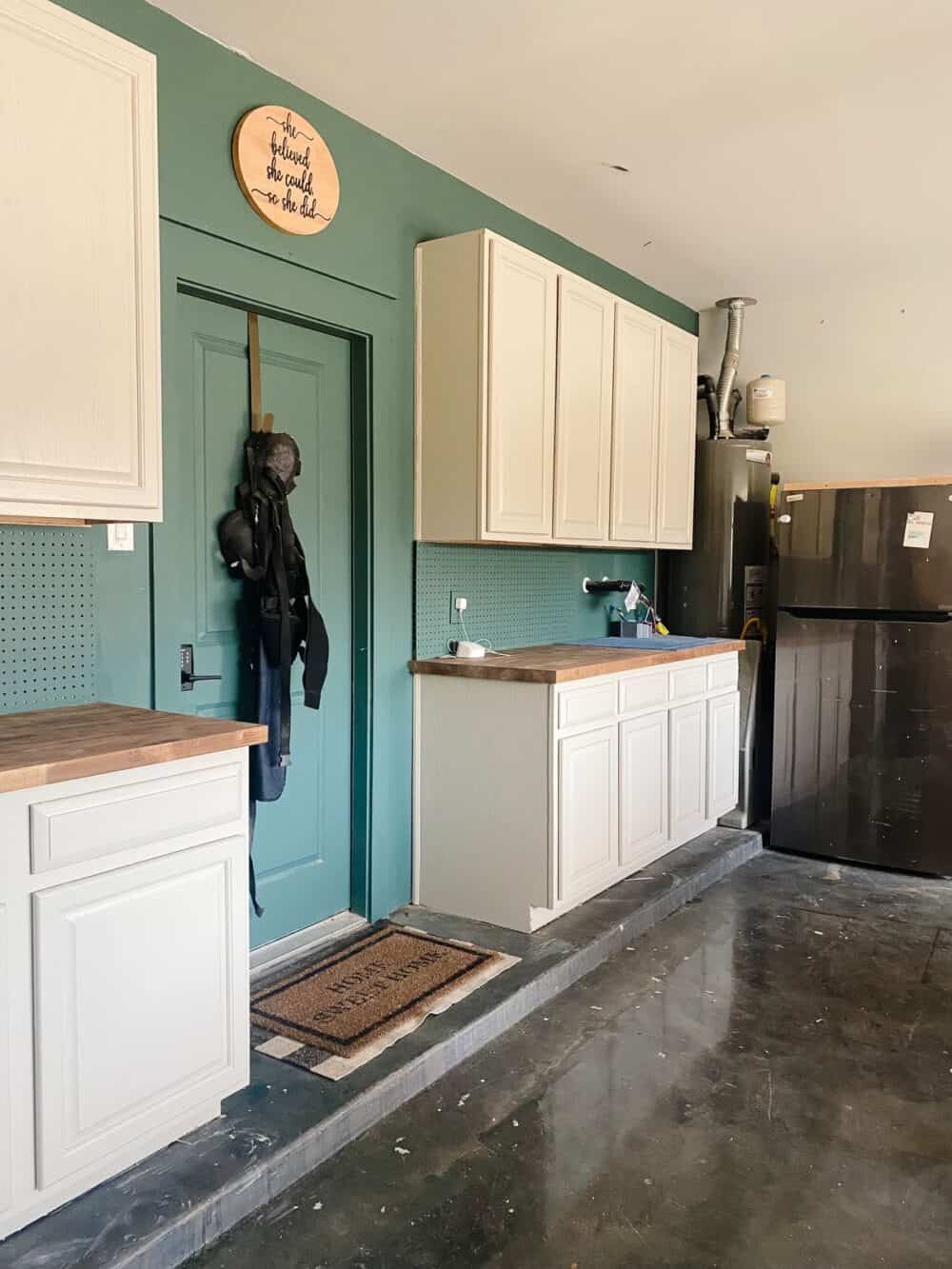 behr bonsai trunk
The last dark green I've used that I'll dive into here is Bonsai Trunk by Behr. We used this color in our entryway, and it's so (so!) beautiful. It's a muddier tone than the other two and feels a little more natural and muted. It has more brown undertones than the other two I shared above, and is another chameleon color that shifts a bit throughout the day.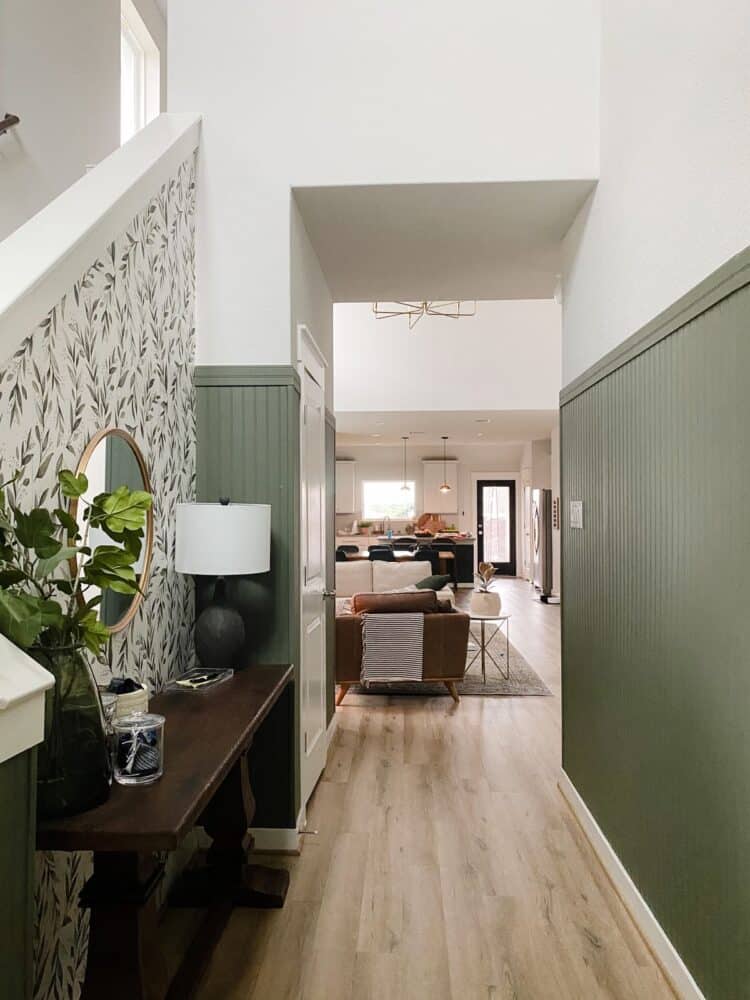 other dark green paint colors
Here are some other dark green paint colors recommended by you on Instagram!
I did some research on each of these colors to make sure they're reliable and will look great in most spaces. I always recommend testing paint colors before purchasing, but if you're looking the best green paints, you are practically guaranteed to find the perfect one somewhere in here!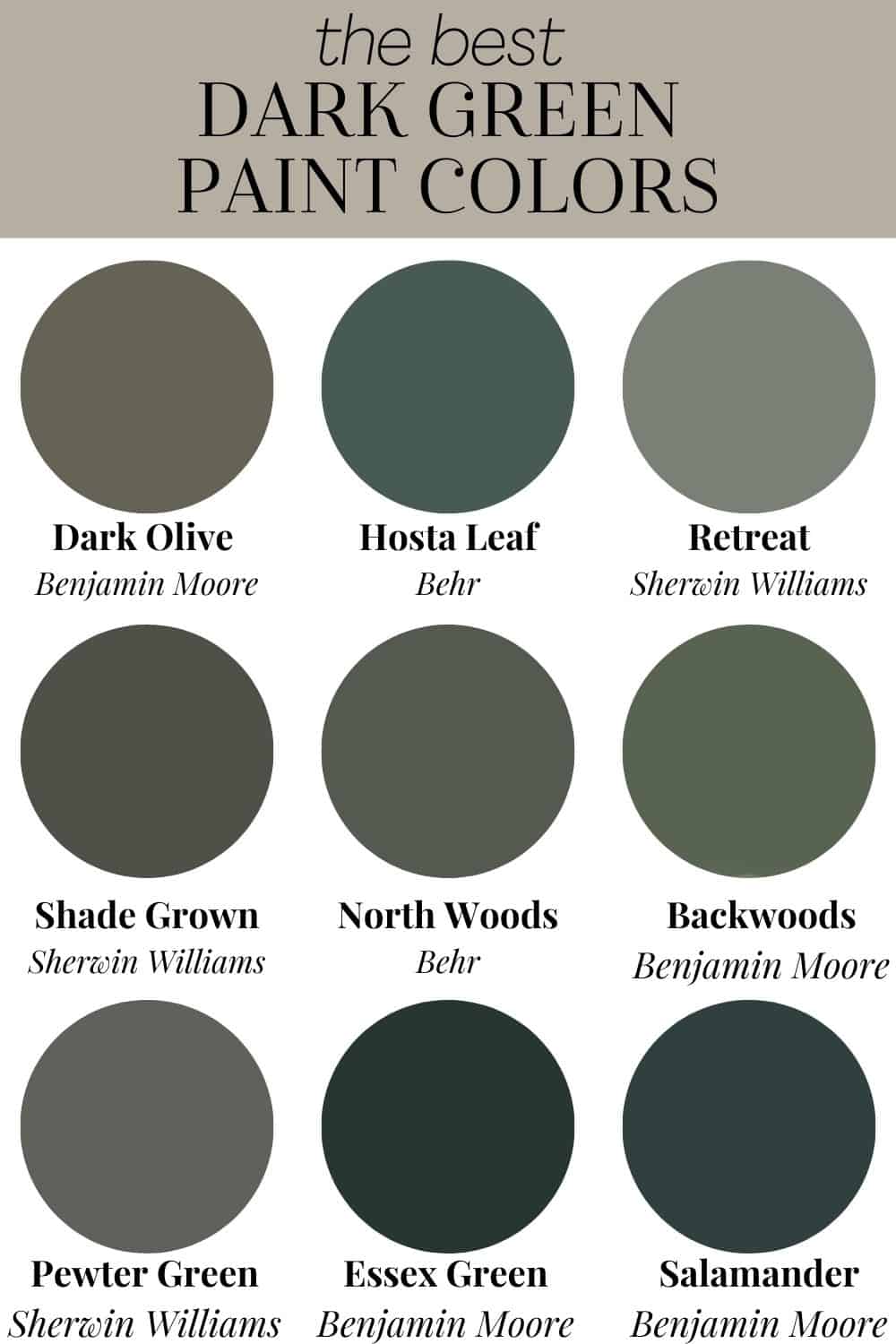 Dark Olive (Benjamin Moore)
Hosta Leaf (Behr)
Retreat (Sherwin Williams)
Shade Grown (Sherwin Williams)
North Woods (Behr)
Backwoods (Benjamin Moore)
Pewter Green (Sherwin Williams)
Essex Green (Benjamin Moore)
Salamander (Benjamin Moore)
The Best Dark Blue Paint Colors
Next up, blue! I love using shades of dark blue in my home, and all three bedrooms in our house have dark blue on the walls and/or the ceiling!
I think a really stunning navy blue is a classic that goes with any home and any style. Here are a few favorite dark blues we've used in our homes:
Behr Ink Black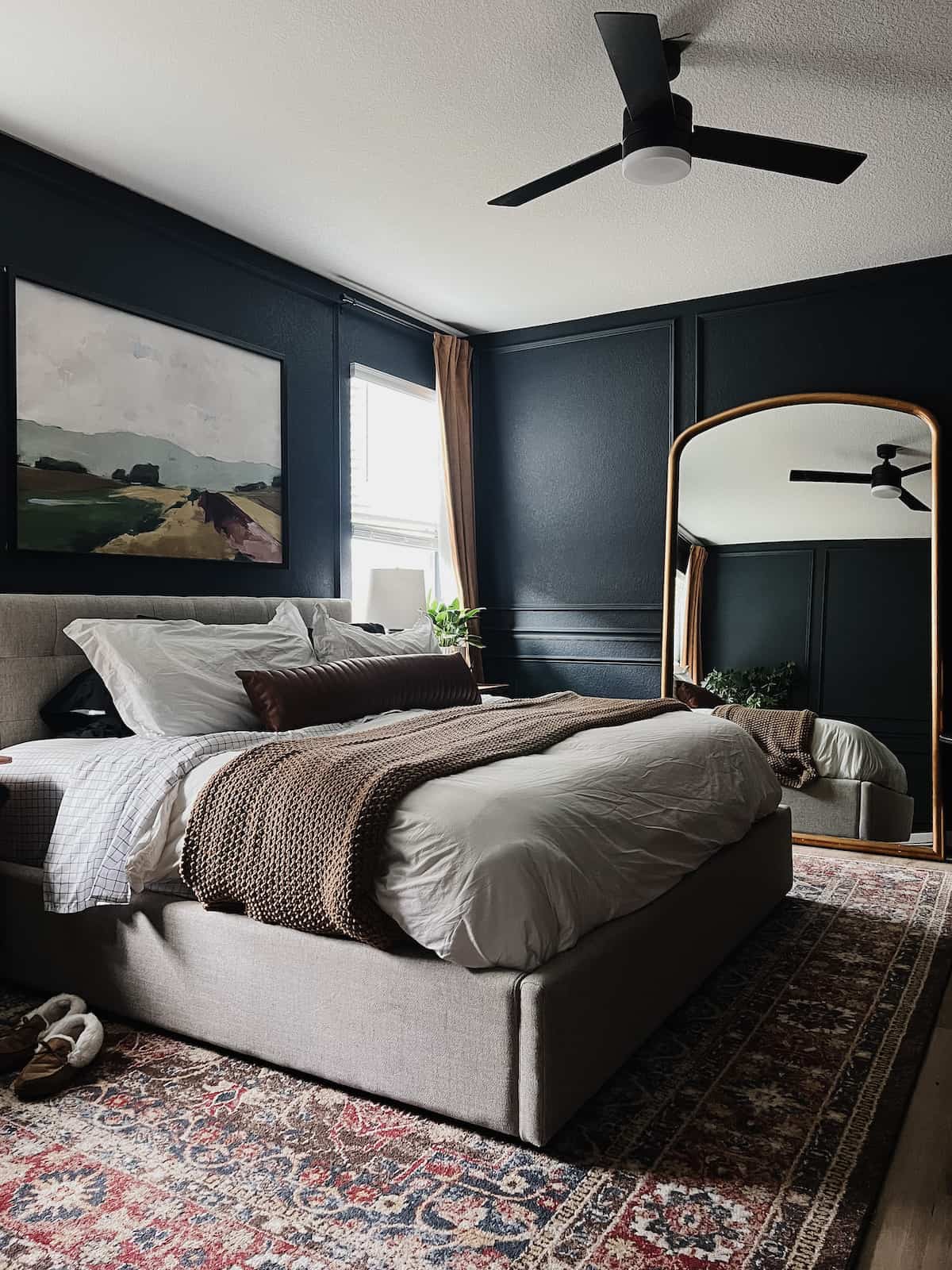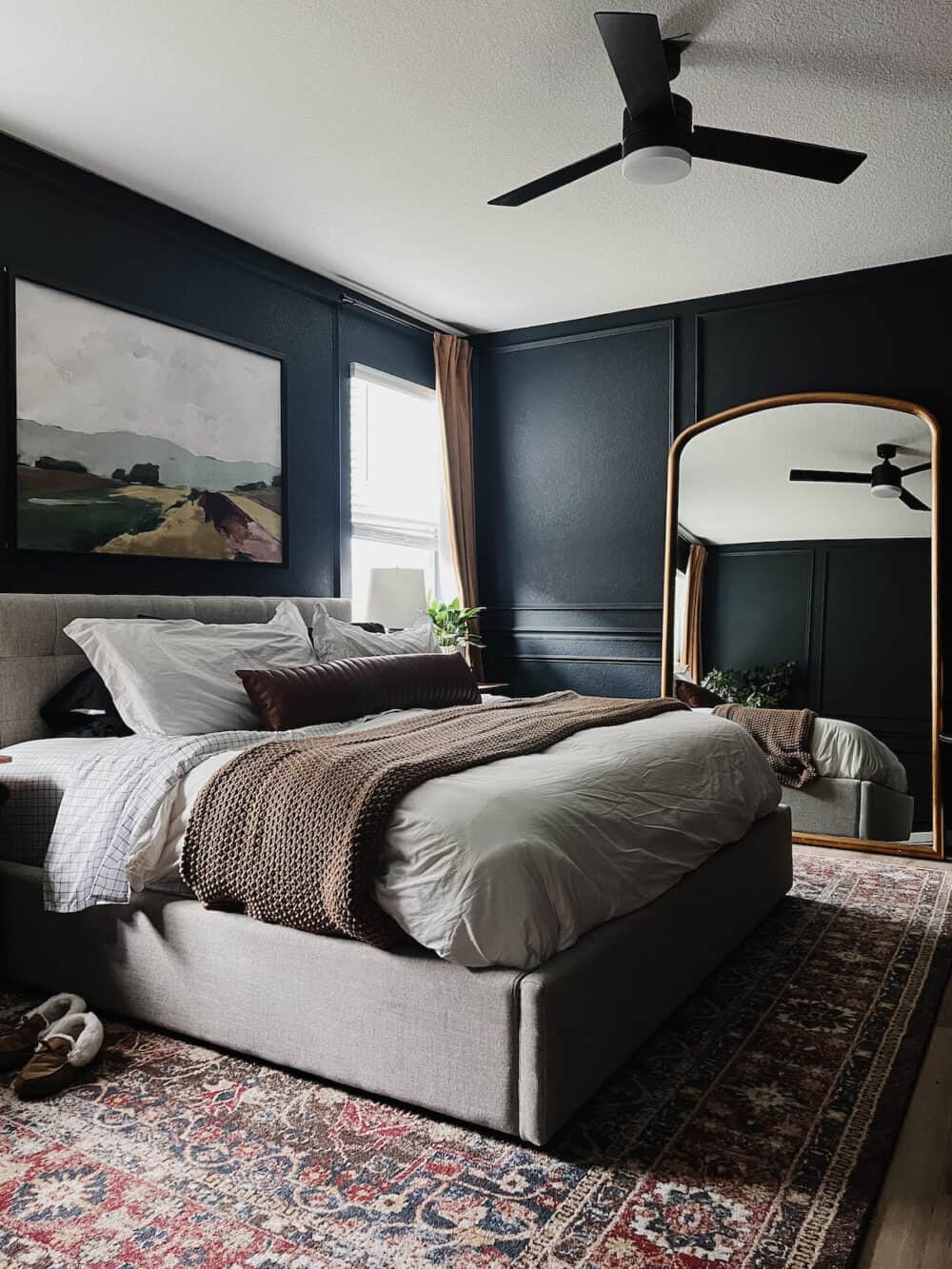 If I had to pick a favorite paint color of all time this miiiiiight be it. This is another color we chose before moving into our house and it's absolutely perfect in every way. We love having this paint color in our bedroom and I cannot picture using anything else in here.
Ink Black is a really deep navy blue that feels almost black in some lights. It feels very muted unless your space is very bright, and even then it has some serious gray undertones that help it not feel too saturated. It has a ton of depth, and looks good with a million different accent colors.
Behr Calligraphy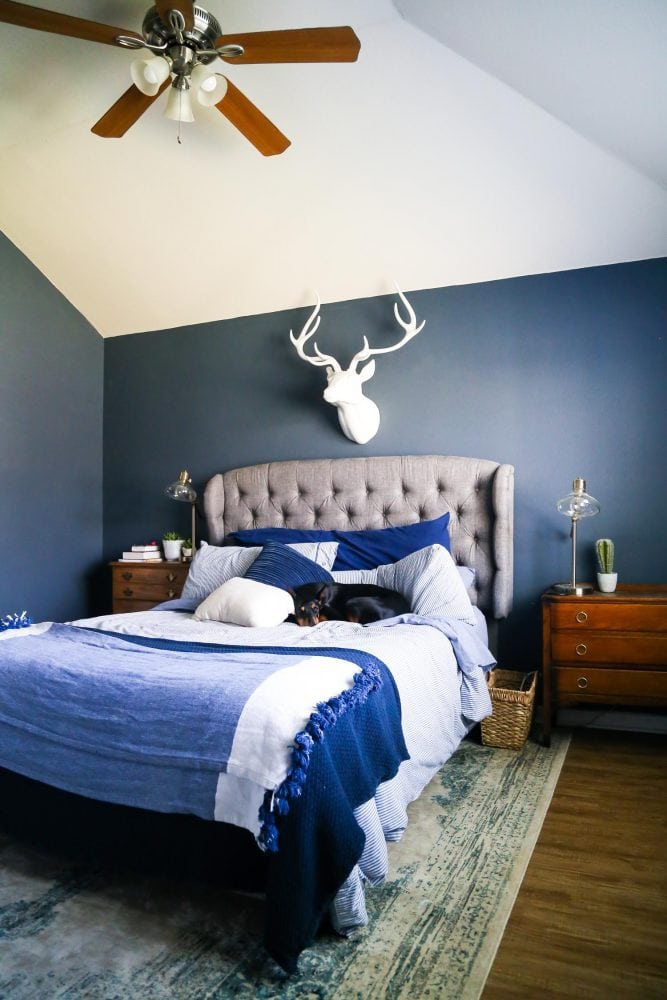 If you want a really great dark blue but feel like Ink Black might be too much of a commitment, Calligraphy is a great option! We used this color in our last house and it's actually what convinced us to try Ink Black (which is one shade darker on the paint deck).
Similarly, this color is very muted and gray-ish, but in the best possible way. It's dark without ever feeling like a black, and it's the perfect bold choice for a bedroom, a dining room, or even cabinetry.
Behr Starless Night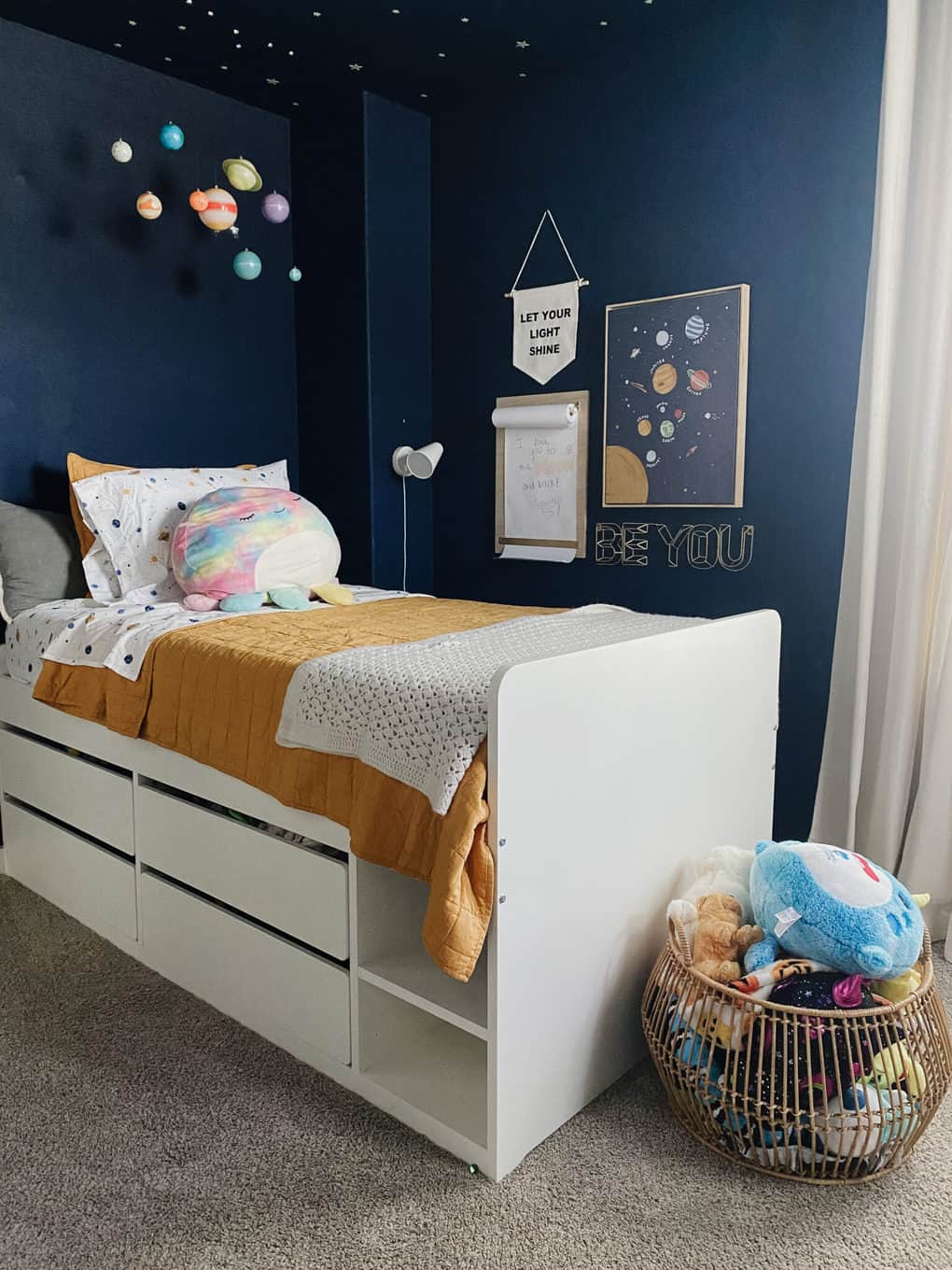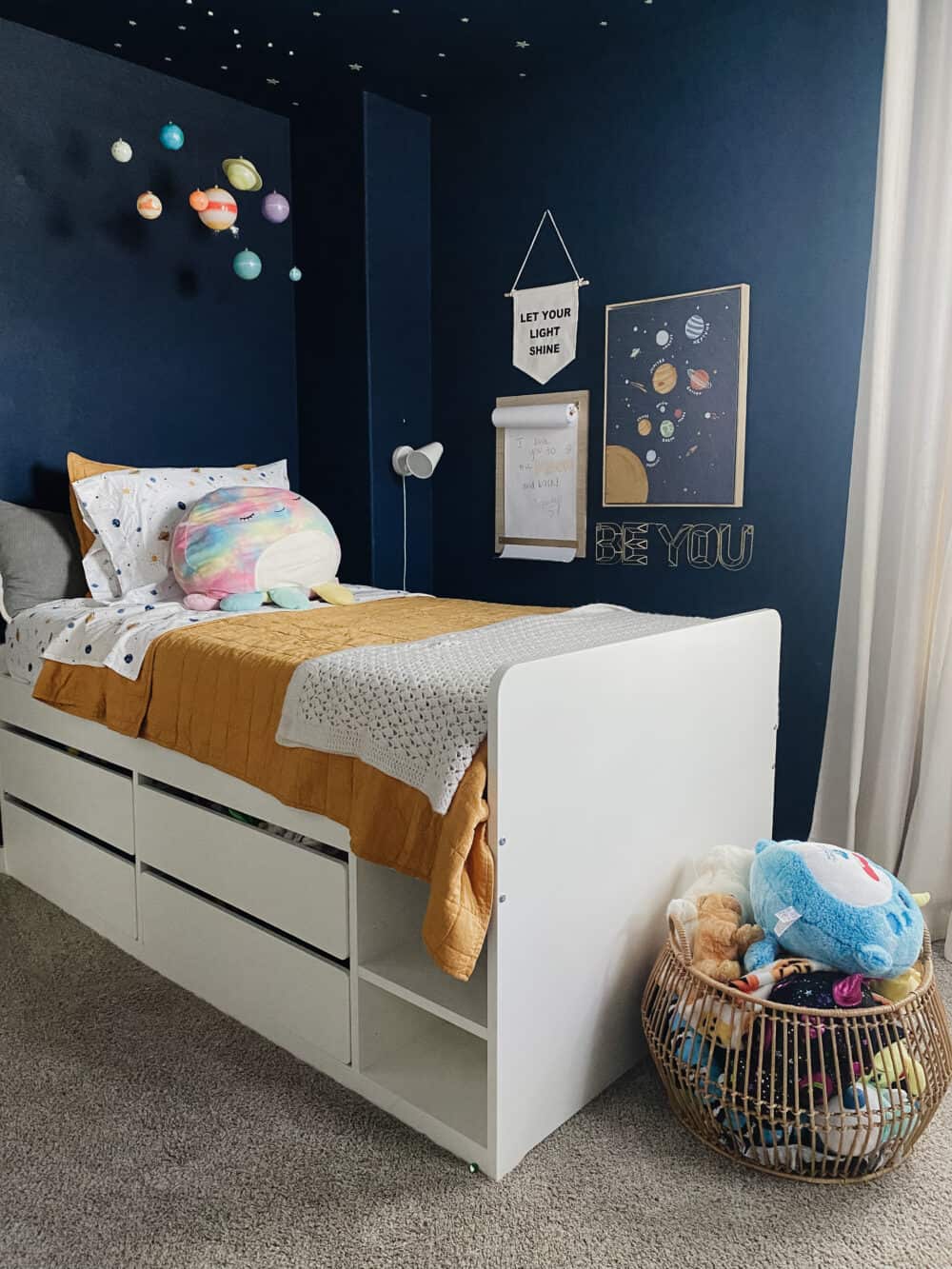 Starless Night was one of those paint colors that we kind of stumbled on and it just worked. I didn't even sample it! We were looking around for options for Jackson's room and when I saw the swatch for Starless Night it felt like it was meant to be.
I mean, you have to use a night-sky themed paint color for a space-themed bedroom, right?!
It's a more true, deep blue than the other two and feels a little more saturated. It's close to a classic navy. But, it's still verrrry calming and moody and perfect for his bedroom. I have said on multiple occasions that walking into Jackson's room kind of feels like getting a big hug!
Other Dark Blue Paint Colors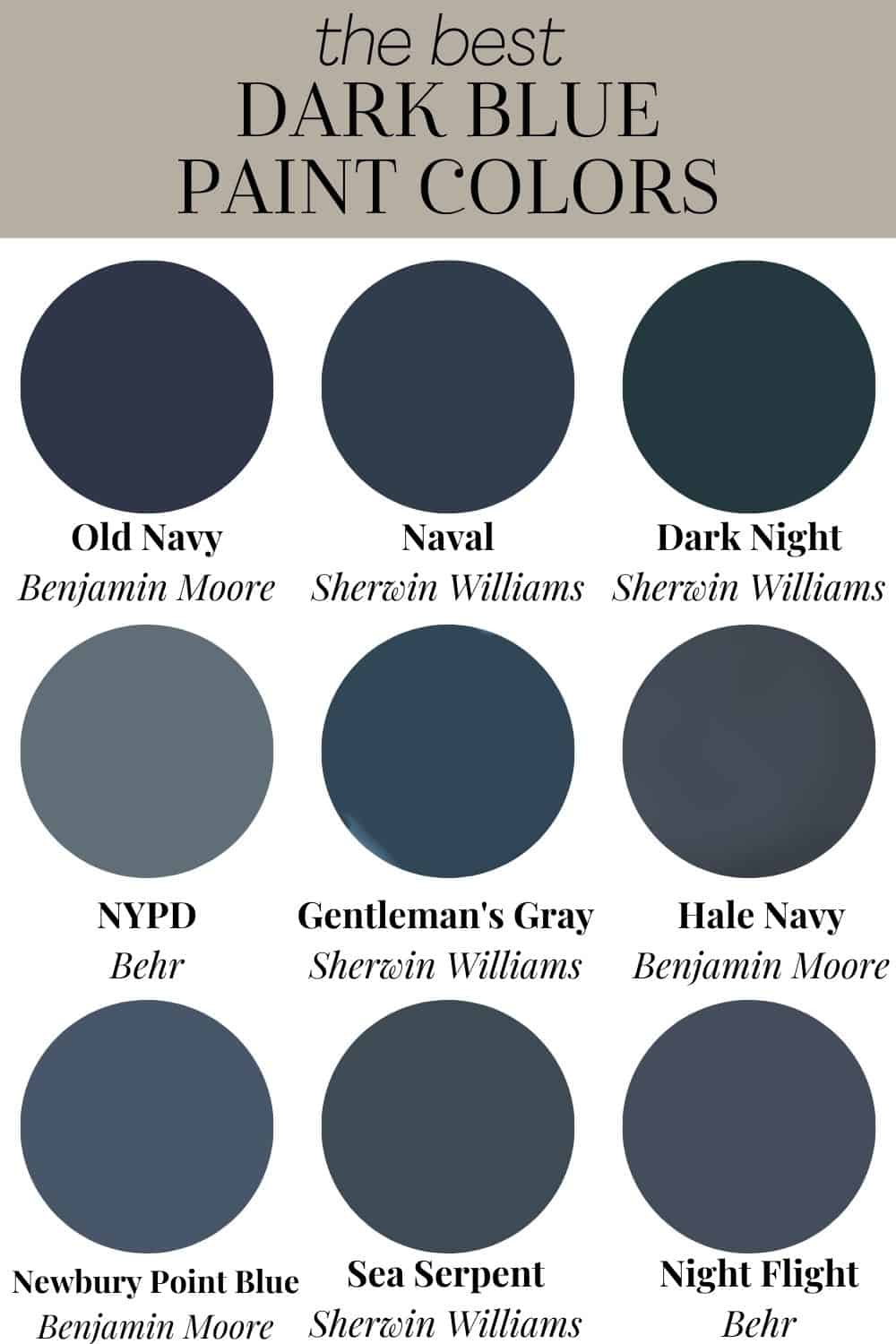 If you are looking for the perfect shade of blue for your home, here's a list of other navy paint colors that you recommended!
Old Navy (Benjamin Moore)
Naval (Sherwin Williams)
Dark Night (Sherwin Williams)
NYPD (Behr)
Gentleman's Gray (Benjamin Moore)
Hale Navy (Benjamin Moore)
Newbury Point Blue (Benjamin Moore)
Sea Serpent (Sherwin Williams)
Night Flight (Behr)
The Best Dark Gray Paint Colors
And finally, let's talk about the perfect dark gray paint color! It can be hard to find a good neutral gray color – many grays will have blue undertones or green undertones, and you could expect a dark charcoal gray and end up with an obviously blue-gray color instead!
Here are some really classic gray (and black) paint colors that you're pretty much guaranteed to love.
Behr Carbon Copy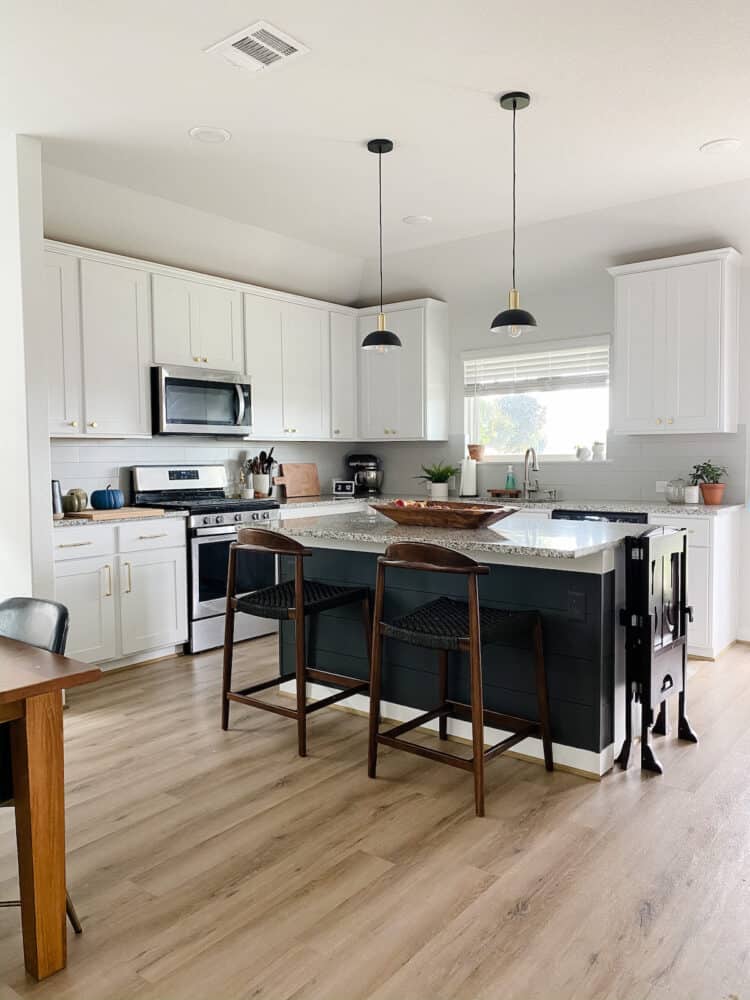 I used this color on our island and I am so, so in love with it. It's a gray that has a lot of warmth and it coordinates really nicely with the greens in our house. I'm actually considering using this in the bathroom when I finally get around do doing our powder room later this year!
This really deep brownish-gray is probably my favorite shade of gray, so this one is a really great fit for me and I can definitely see myself using it again and again throughout our house.
Behr Limousine Leather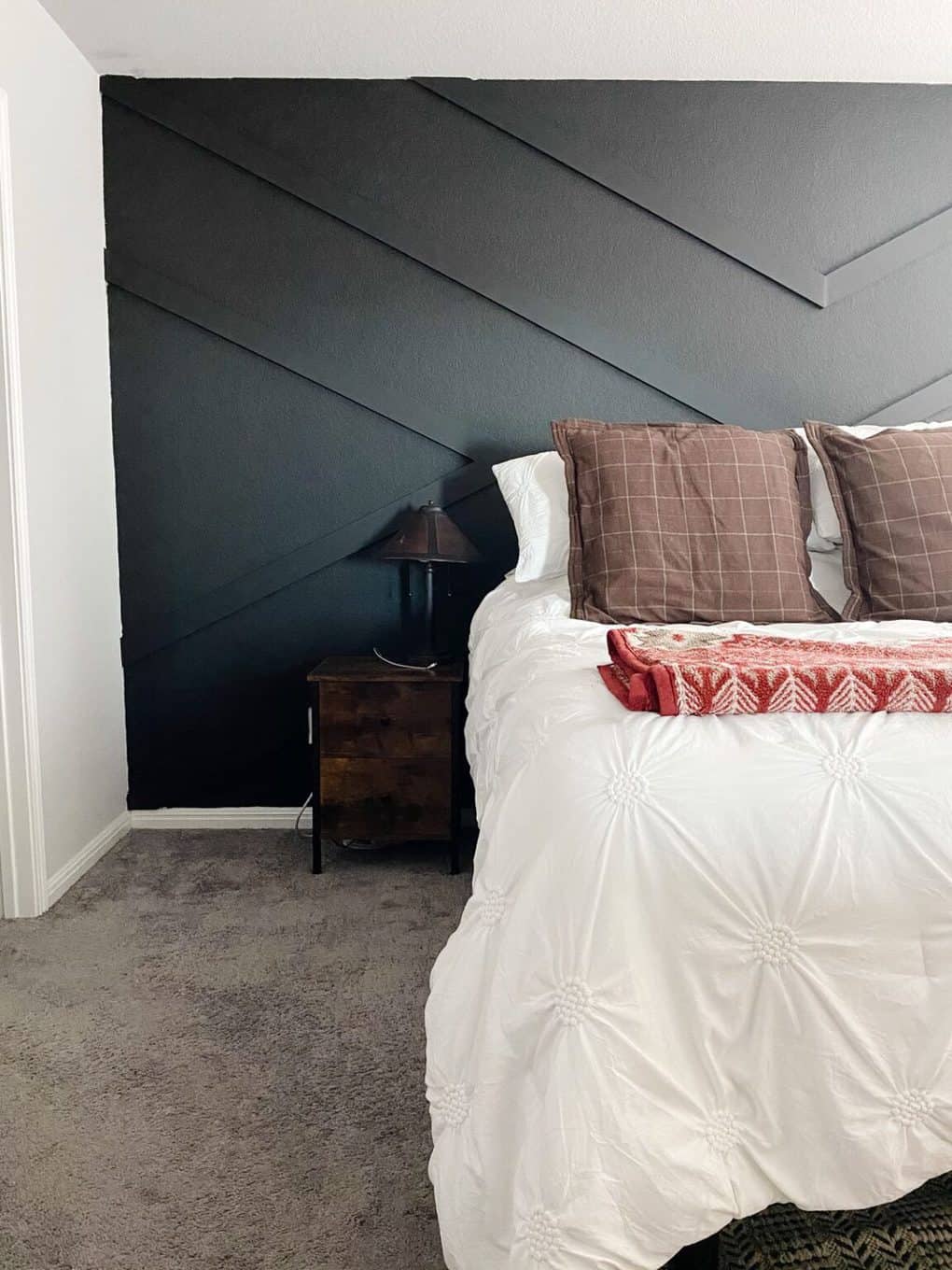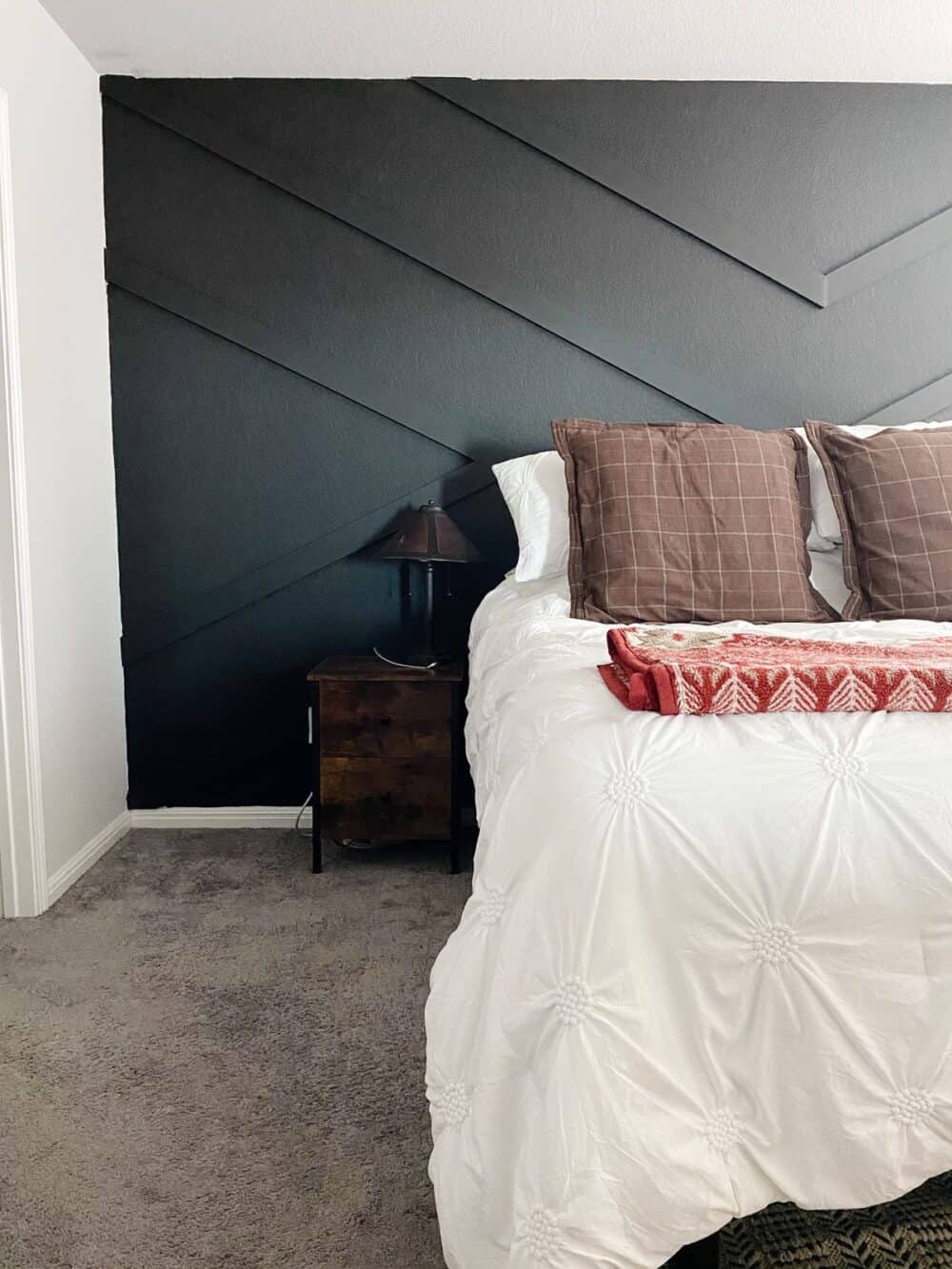 Limousine Leather is one of my go-to black paint colors – it's a really great true black that has a lot of richness to it. I've used it a few different times and am never disappointed by it!
I think dark colors in a bedroom are always a good idea (it feels so cozy!) and this black accent wall I did for a friend is a great example. It's a really good neutral backdrop for pretty much any style! This would also be a perfect color for front doors, interior doors, or windows!
Other Dark Gray Paint Colors
And now, let's talk about the best gray paint colors as recommended by you! These are all really popular colors, and there are some great gray shades that are sure to work for you, whether you're looking for a warmer grey or a gray with cool undertones.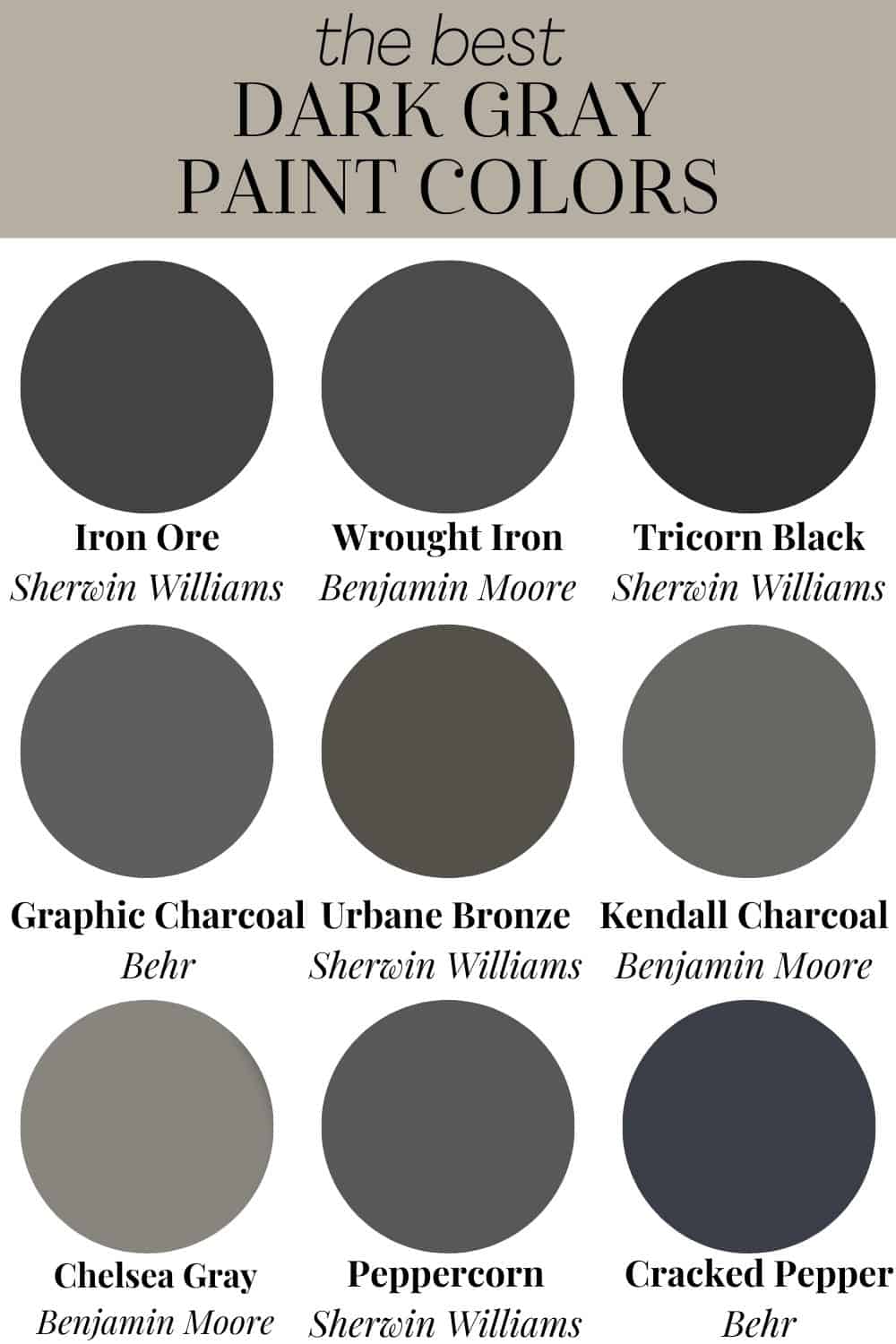 Iron Ore (Sherwin Williams)
Wrought Iron (Benjamin Moore)
Tricorn Black (Sherwin Williams)
Graphic Charcoal (Behr)
Urbane Bronze (Sherwin Williams)
Kendall Charcoal (Benjamin Moore)
Chelsea Gray (Benjamin Moore)
Peppercorn (Sherwin Williams)
Cracked Pepper (Behr)
And those, my friends, are my favorite dark paint colors for your home! You can use these literally anywhere. They're good for kitchen cabinets, ceilings, bedrooms, dining rooms, bathrooms, trim, exteriors – you name it!
Be sure to let me know if you try out one of these paint colors – I can't wait to see your spaces.
P.S. Looking for the perfect white? This post might help!