Our Summer Backyard Makeover – the REVEAL!
The big day is here! I'm so excited to finally reveal all of the details of the huge backyard makeover we took on this summer. Read on for details!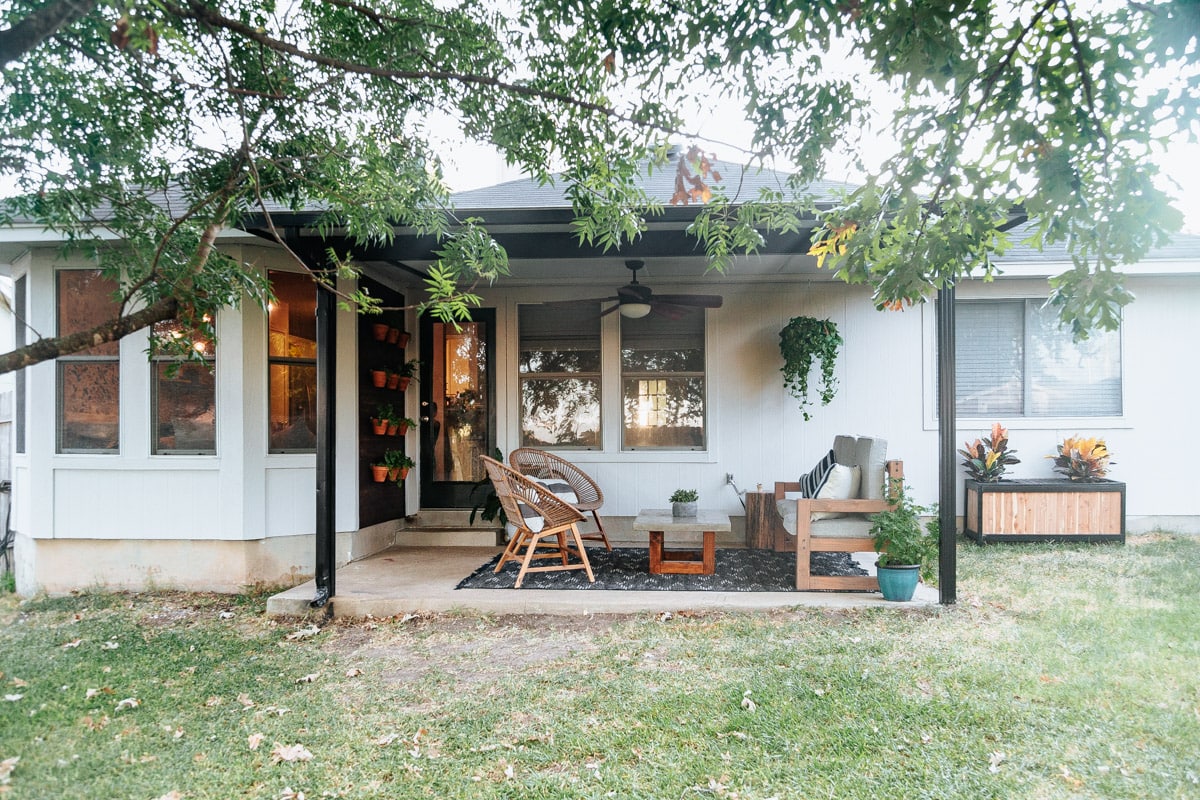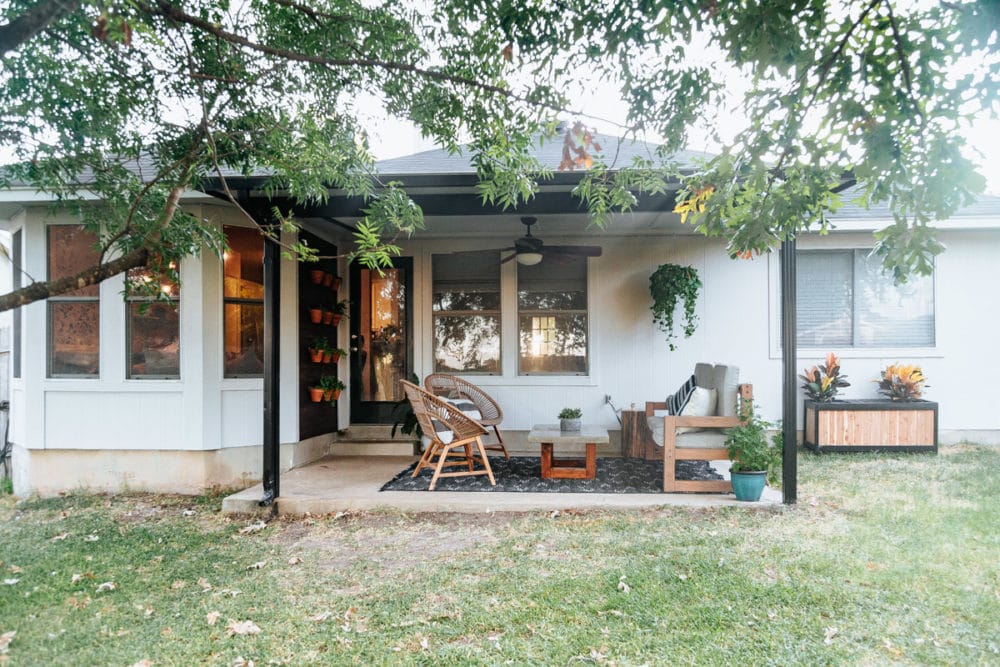 Friends, I'm so excited that I really don't even know where to start.
We've been working our tails off all summer long, sharing every step of the process with you, and having you vote (over on Instagram) on just about every single detail of this space. The day has finally come where we get to compile the whole big backyard makeover into one post and I'm just so beside myself with excitement that I"m not even sure I can get through this post.
Maybe we should just take some deep breaths and start at the beginning.
Right before school let out for the summer, I had the wild idea to do a makeover driven by you, our readers. I wanted to bring you into the process a little more and do something fun and unique. So, I asked Corey if he'd be up for doing a makeover where y'all get to vote on what we do every step of the way…starting with picking what space we'd tackle. He agreed (although, let's be honest, I'm sure he thought I had lost my mind), and we dove right in and let y'all choose what space we should overhaul.
Over the last two and a half months, we've all been working together to give this space a new life. You've voted here, on Instagram, and in our email newsletter, and it has been so much fun to see how excited and invested y'all have been in this process. I warned you that it was going to be a dull experience if you didn't participate, and you listened – I can't tell you how many DMs, emails, and comments I got from people who wanted to share their opinions, get involved, and cheer us on. I've genuinely never had this much fun with a room makeover and I can assure this will absolutely be a summer tradition from now on!
You've seen pretty much every detail of this space already, but I figured we have to have one big post with all of the before and afters compiled together – because there's nothing more satisfying than taking a quick walk down memory lane to remember where it all started.
For example…
The paver + Pea gravel patio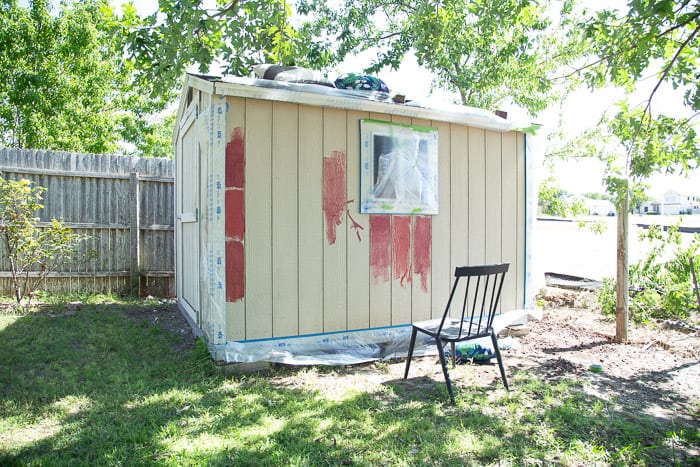 Here's what the back corner of our yard looked like at the beginning of the summer. It was bland, the grass was sparse, and we literally never used this entire area despite the amazing tree we have because it was just ugly and useless. The back fence had been knocked down by a big storm, and everything was feeling a little, well, hopeless.
And now? Well, the photos speak for themselves.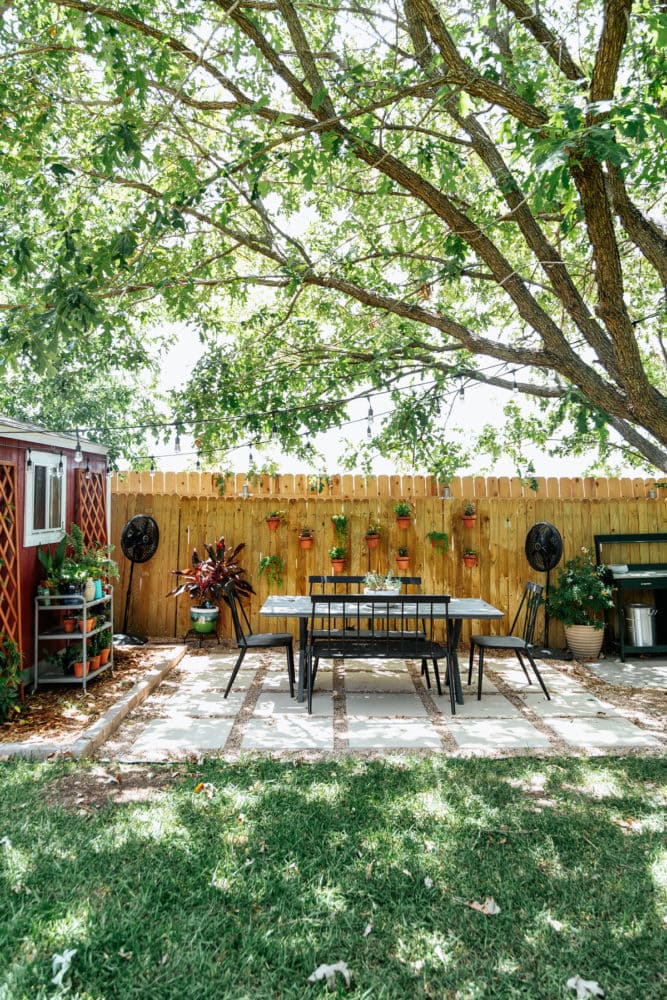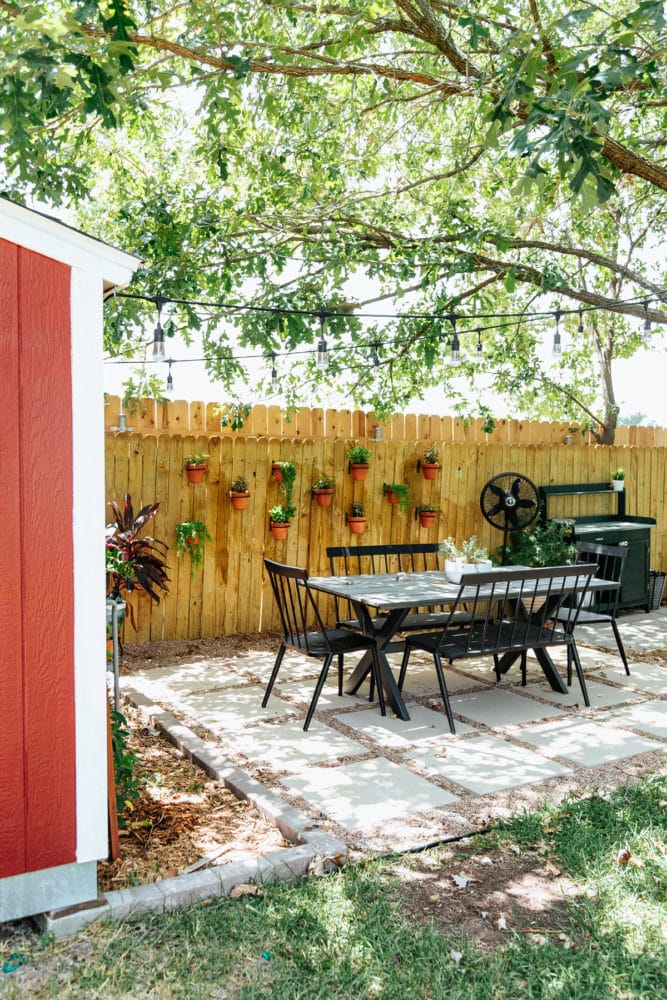 This unused corner of our yard has become one of the hardest-working and most-used spaces in our entire home. It's the coziest spot to eat a meal together and it basically functions as a second dining room. It's full of life thanks to all of the plants, and I genuinely smile every single time I look out the window and see this little corner of the yard.
One more before and after (this time with the shed already painted, because this corner was literally so bad before that I don't have a single real "before" photo).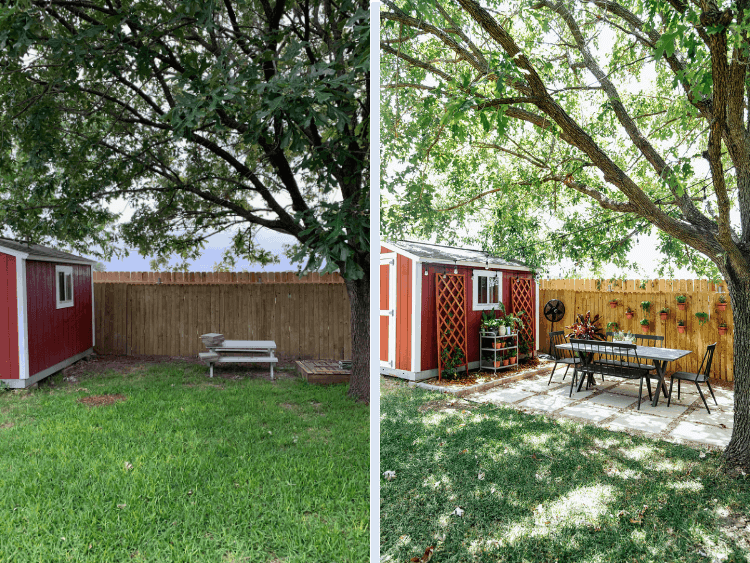 I just can't get enough.
If you missed any of the fun in this part of the yard, let's recap:
Projects + Posts
Sources
The back porch
Once the big back patio was done, we were really only halfway finished with the fun, because the whole reason we built a patio in the back of our yard was so we could convert the porch right off our house into a space to lounge and hang out.
Here's a peek at how things looked at the beginning of summer…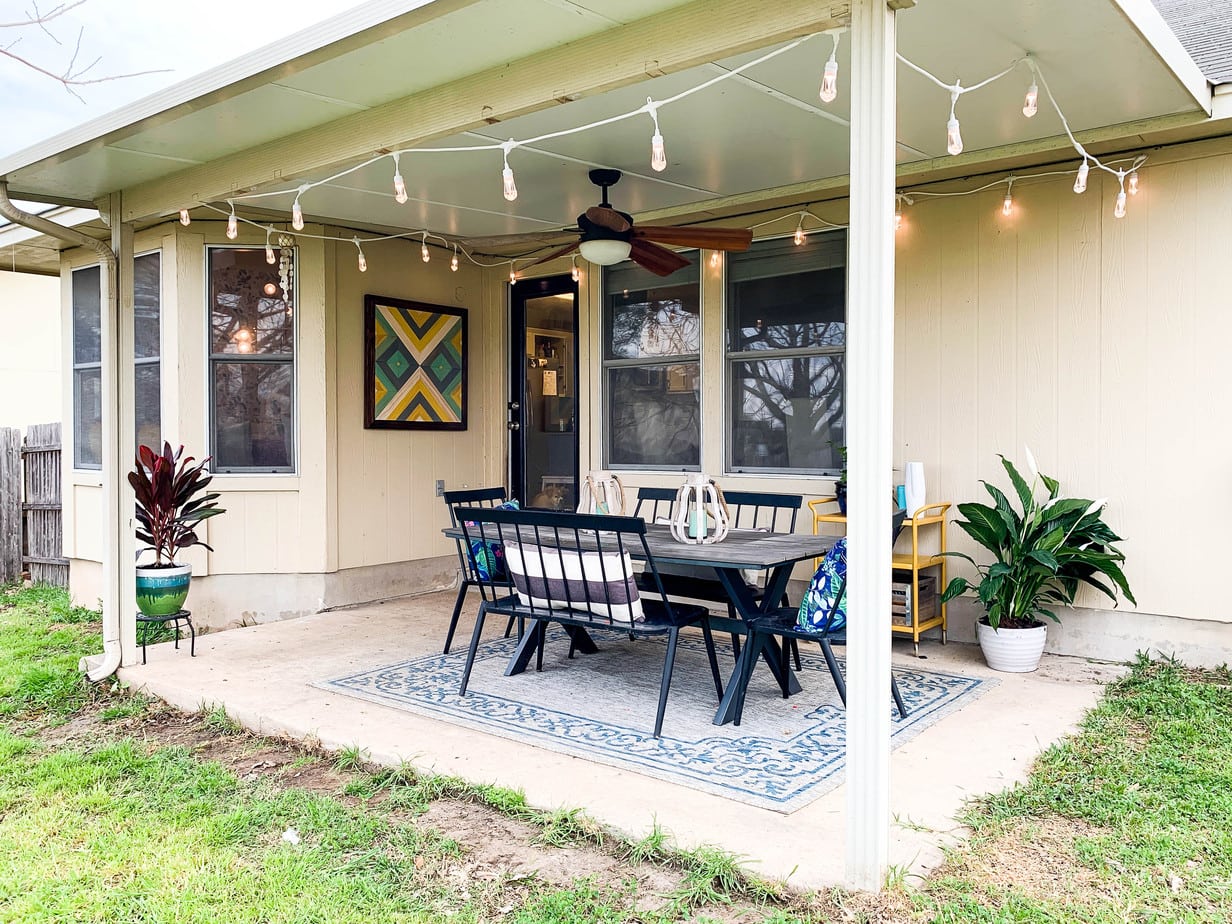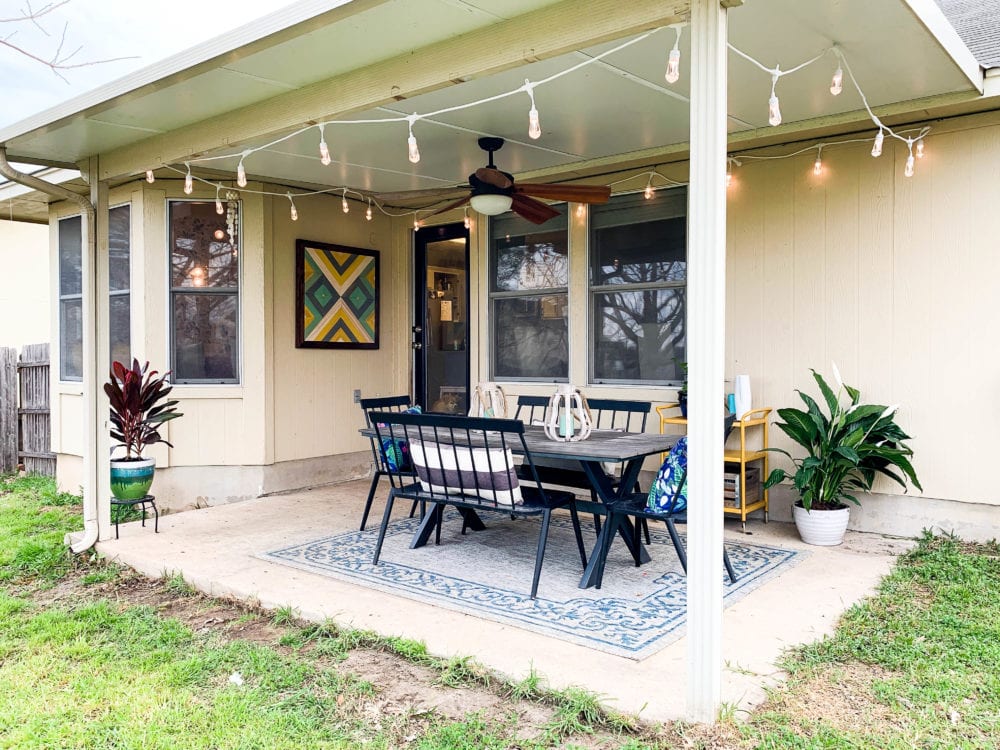 We suspected that we'd probably use this area a lot more if it was a little cozier and not just meant for dining, and we were absolutely right. We rarely used to eat in this space because it felt cramped and cluttered, and something about it was just off.
Now? We come out here to sit and hang out at least once or twice a day, and I couldn't possibly be happier that we decided to set things up this way.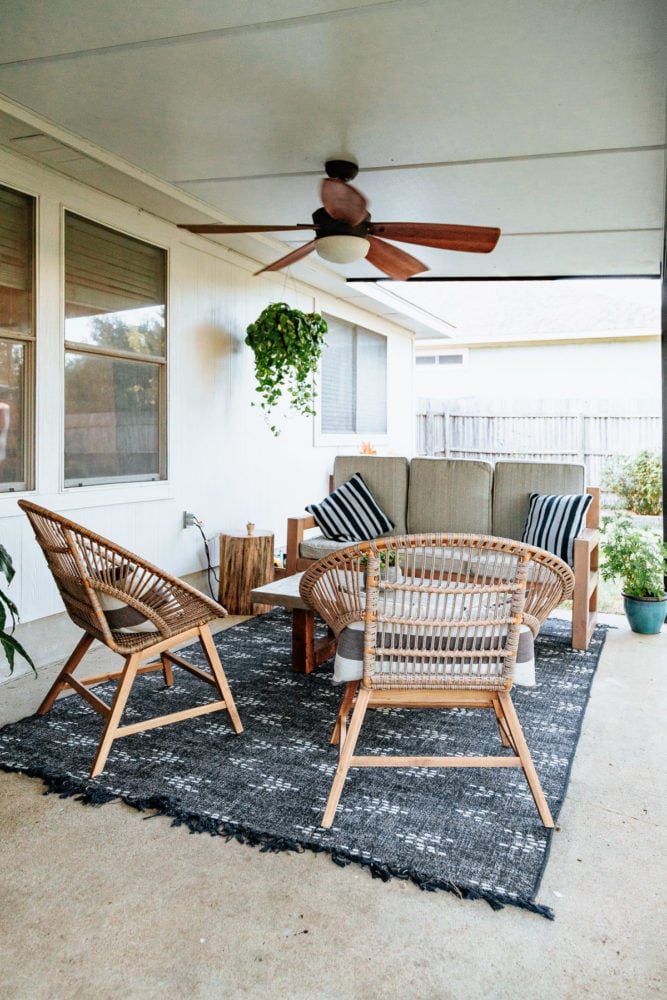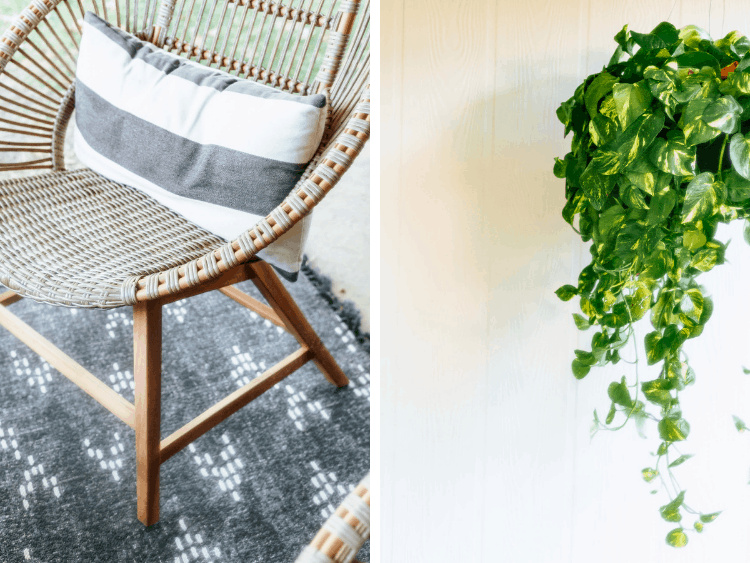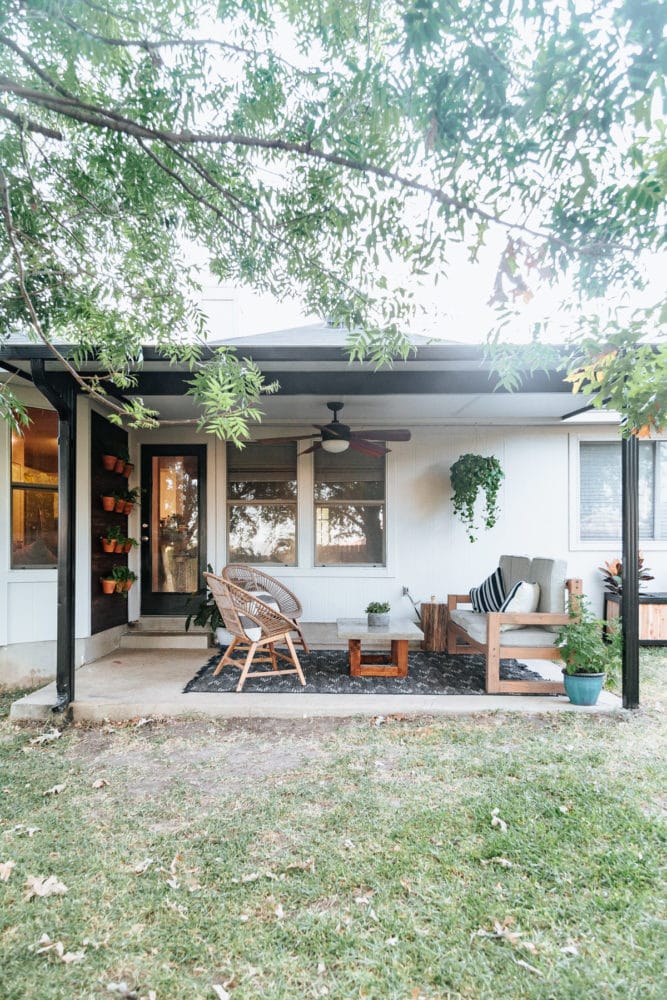 I'm still a little bit in shock that this is even the same space. I'll admit that we're still not totally done here because we're still planning on painting the exterior of the house (hopefully that'll be done by the end of the month!), but I barely even notice the house color with all of the other incredible changes that were made out here.
Onnnnne more before and after of this space, shall we?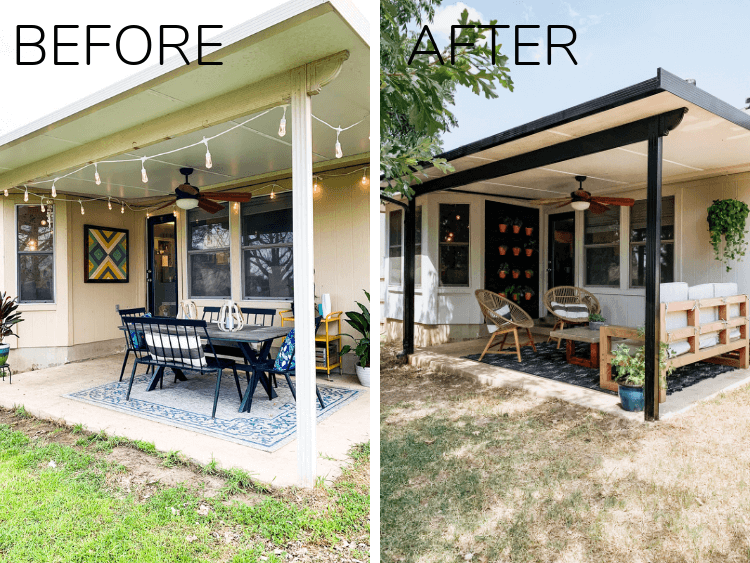 Swoon!
Here's a quick recap of everything that happened here over the summer:
Projects + Posts
Sources
I am so, so glad we decided to tackle this space in such a unique and exciting way, and I cannot even begin to express to you how grateful I am that you played along. This wouldn't have been nearly as much fun without your enthusiasm and support, and I cannot wait for next summer to do this again!
I also want to throw in a little plug for those of you who aren't following along on Instagram yet – I've been sharing more and more over in my stories of our process, behind-the-scenes details of projects, and opportunities to give your input. The blog will always (always!) be our home base, but our little community over on Instagram is truly wonderful and it's a great way to connect even more with you. So, if you haven't joined us over there yet, please do! We'd love to have you!
And with that, my friends, I'm calling this backyard makeover complete.
Mmm, that feels good to say.
This is the first time we've ever had a backyard that we're really truly proud of and excited to use, and I am just so in love with how it turned out! Be sure to check back in next week with a big update post on what's coming up next for us – it's going to be an exciting one!