15 Ways to Add Some Character to Your Builder-Grade Home
I love our home. Deeply. It's perfect for our little family, and all the love we've poured into it so far has truly turned it into something special. But, I'd be lying if I said I wasn't originally really nervous about buying a new construction home. I worried that with a brand new home, I wouldn't have anything to update. If everything was brand new, how would I make it feel like us? How would I add character to our builder-grade home that looked like every other home on the block?
Well, this week is our house's third birthday and I've figured out a lot of ways to make my mark on our house. I can confidently say that my house doesn't look like every other house on the block, and it absolutely oozes personality. And it only continues to get better as I continue to work on it!
So, in honor of our house's birthday week, I wanted to share a bit of what I learned for anyone who has the same fears as me. You can absolutely upgrade a builder-grade home and make it feel like a custom one. You just have to get a little creative. Here are a few ideas.
how to upgrade your builder-grade home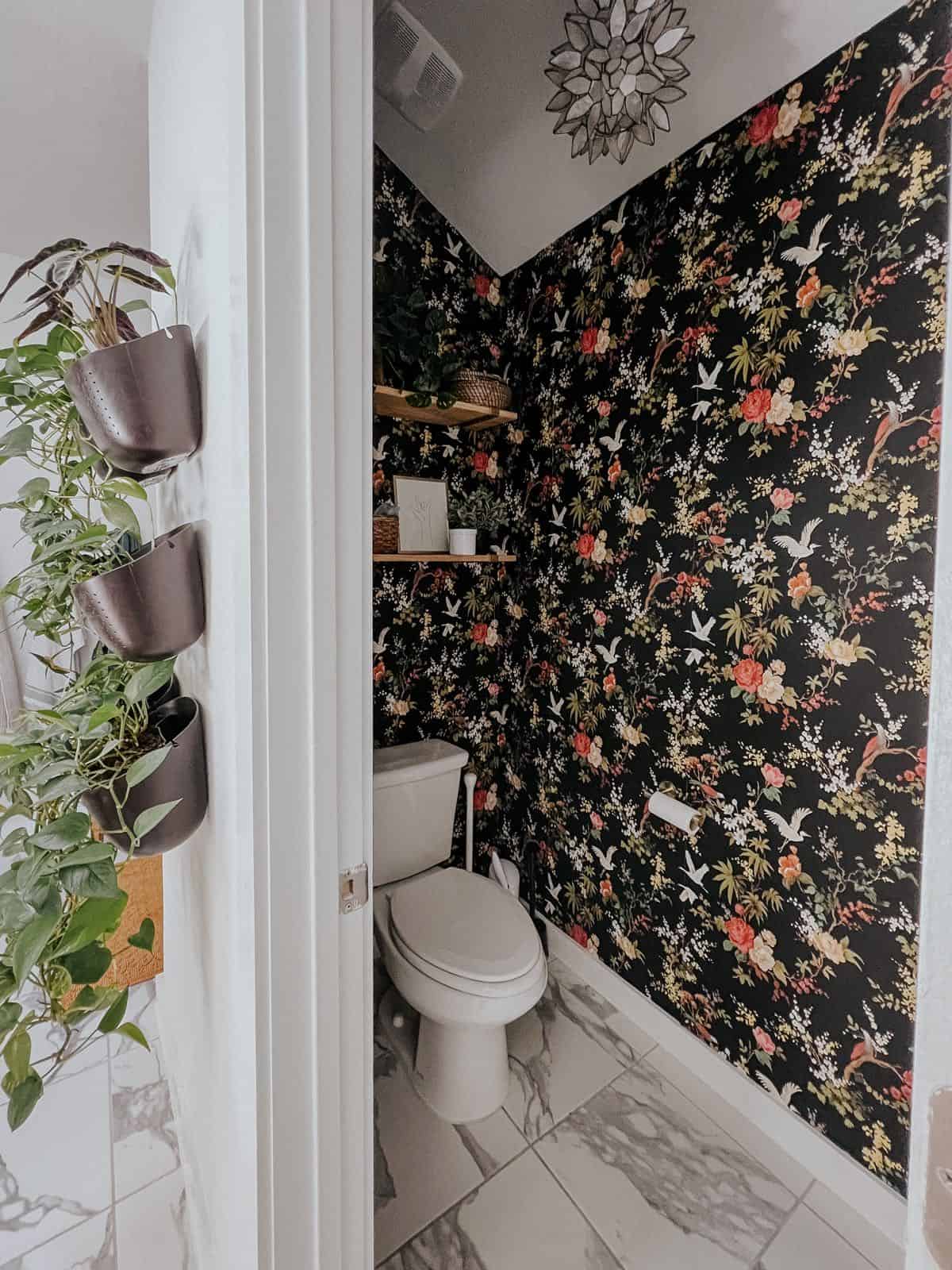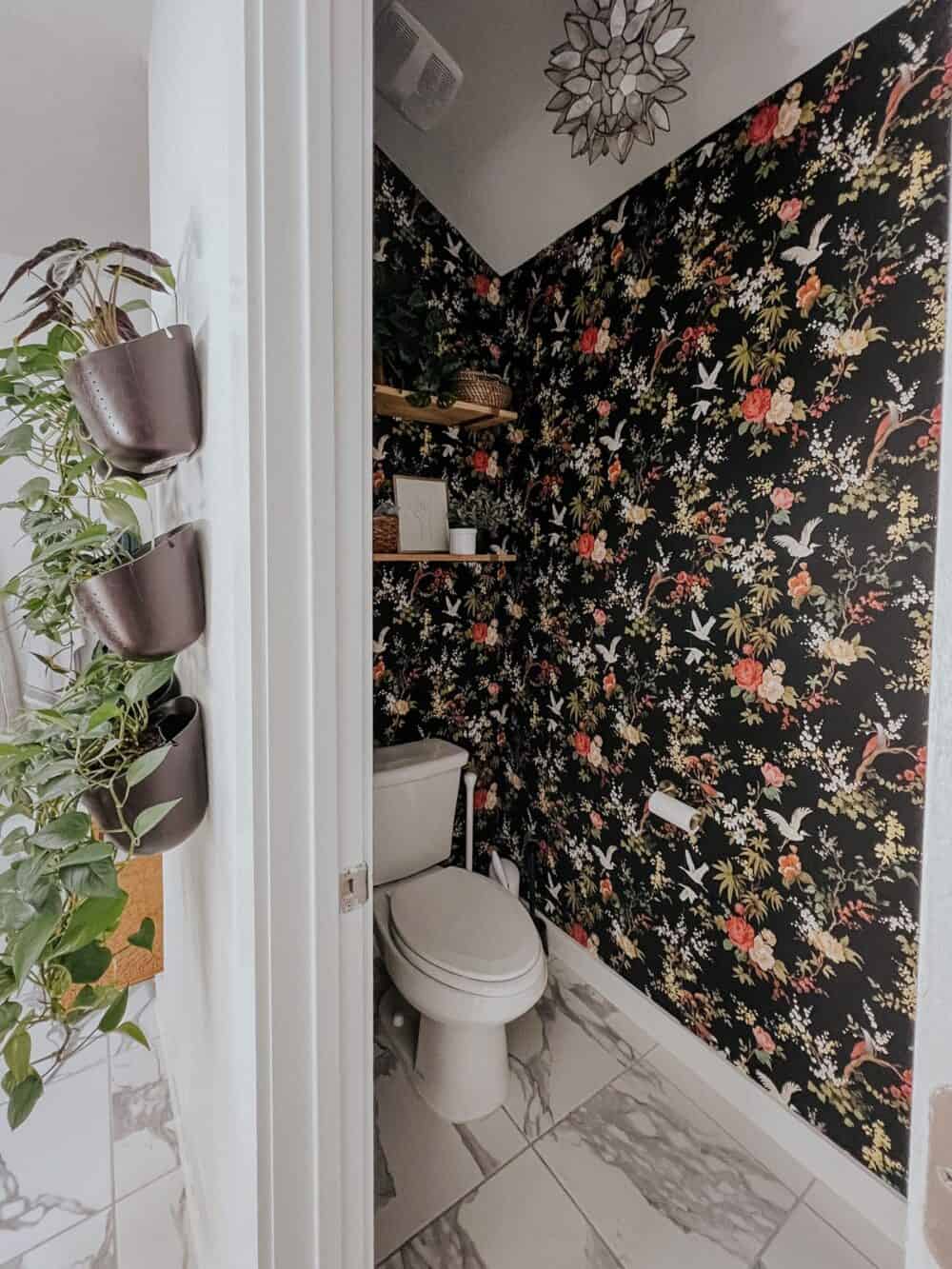 1. hang some wallpaper
Wallpaper is one of my very favorite ways to add some personality to a space. So far in our house, we've added wallpaper to our entry, Grant's room, and our bathroom. And, I wouldn't be surprised if I find another place or two to add it!
Wallpaper is a great way to inject some personality into a blank new home, and it always makes an impact. It can feel a little intimidating if you've never hung it, but I promise – you can do it! Here's a tutorial I wrote after I tried it out for the first time, to help get you started.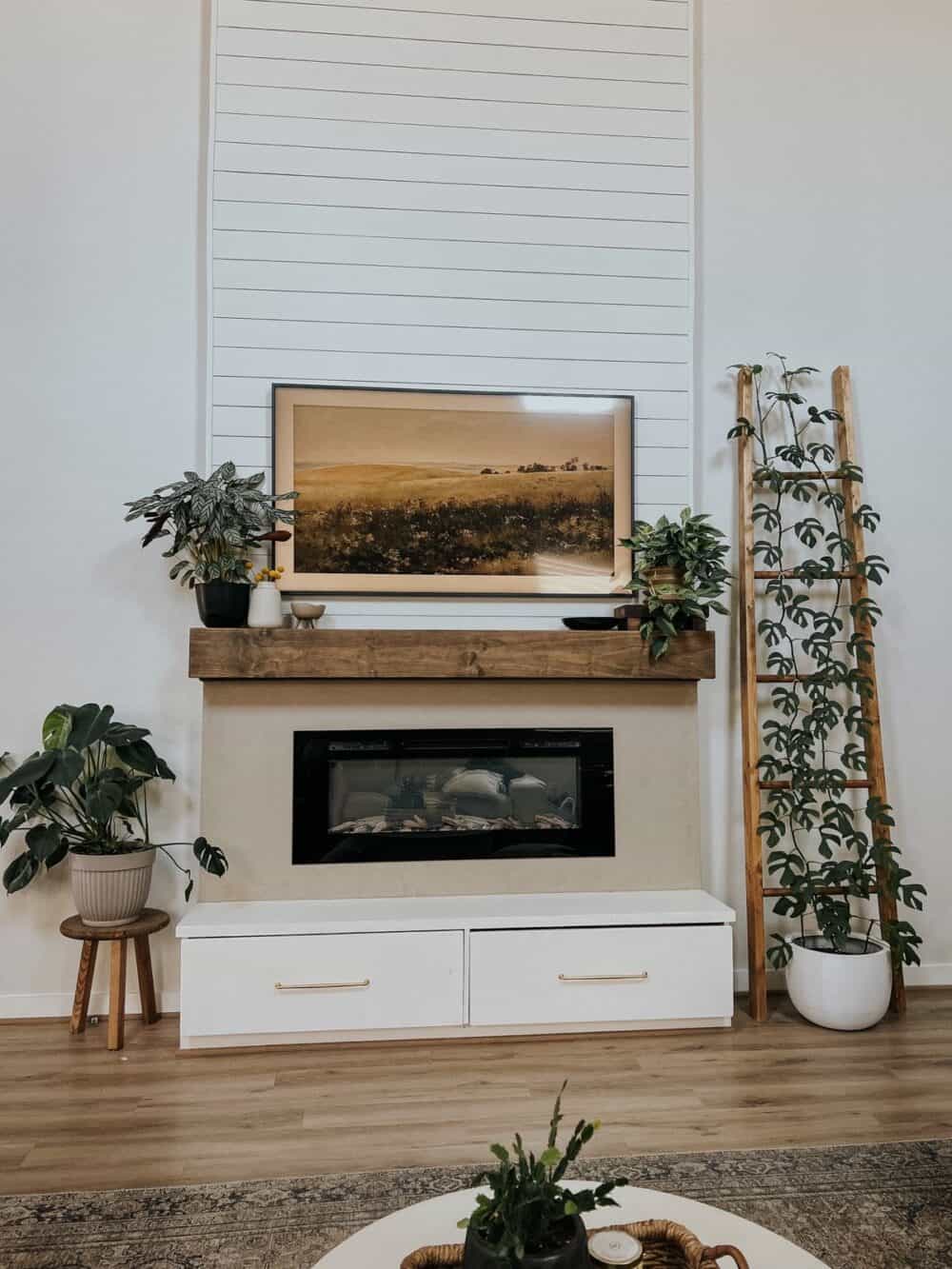 2. add a fireplace
A lot of new construction homes in our area don't have fireplaces. We live in Texas so it's not like they're necessary, but we've been spoiled with one in our last couple of houses. We missed it! So, we decided to get creative and install our own DIY electric fireplace. It was a big job but oh my goodness, was it ever worth it.
Installing a fireplace – even just an electric one – adds so much life and character to a house that is feeling a little bland. We use ours all the time and it feels like it was always meant to be here.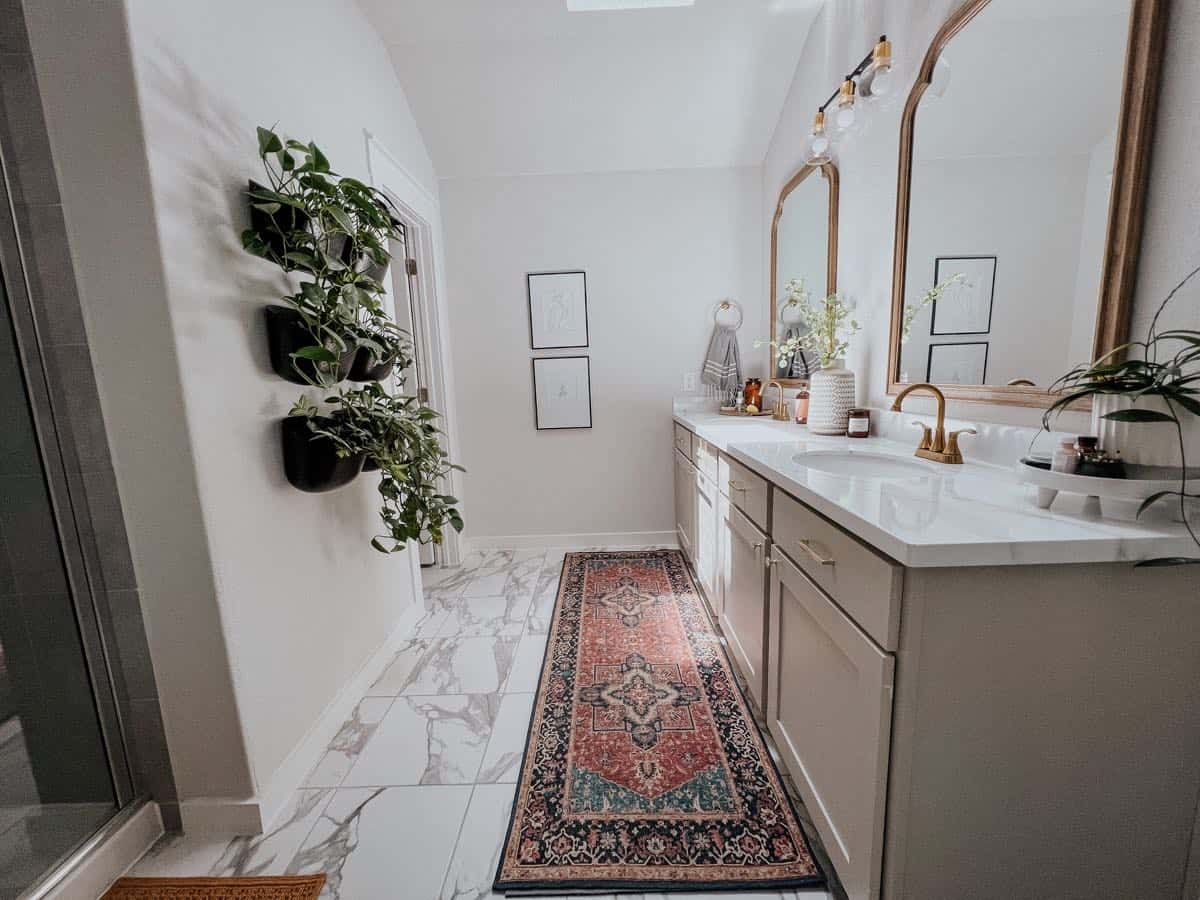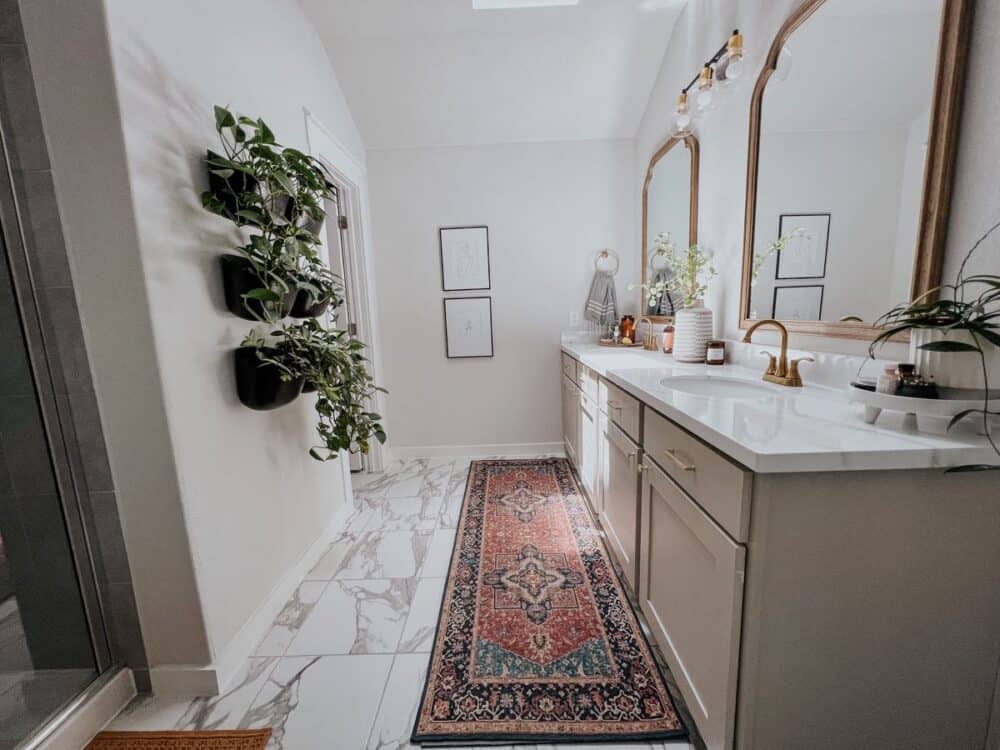 3. paint some cabinets
All of our cabinets were white when we moved in – not my top choice for cabinetry. It's hard to keep looking clean and fresh, and all-white kitchens just aren't my thing. So far, we've painted the cabinets in our bathroom and the kitchen island. And, don't be surprised if I paint the rest of the kitchen cabinets someday. I did it in our first house's kitchen and our second!
Painting your cabinets is a really fantastic way to give your kitchen a new look – it's basically a full renovation at a fraction of the price! If you live in a new construction home, it can feel a little scary to think about painting your brand-new cabinets, but I give you full permission. If it'll make you love your home a little more, it's worth it. Promise.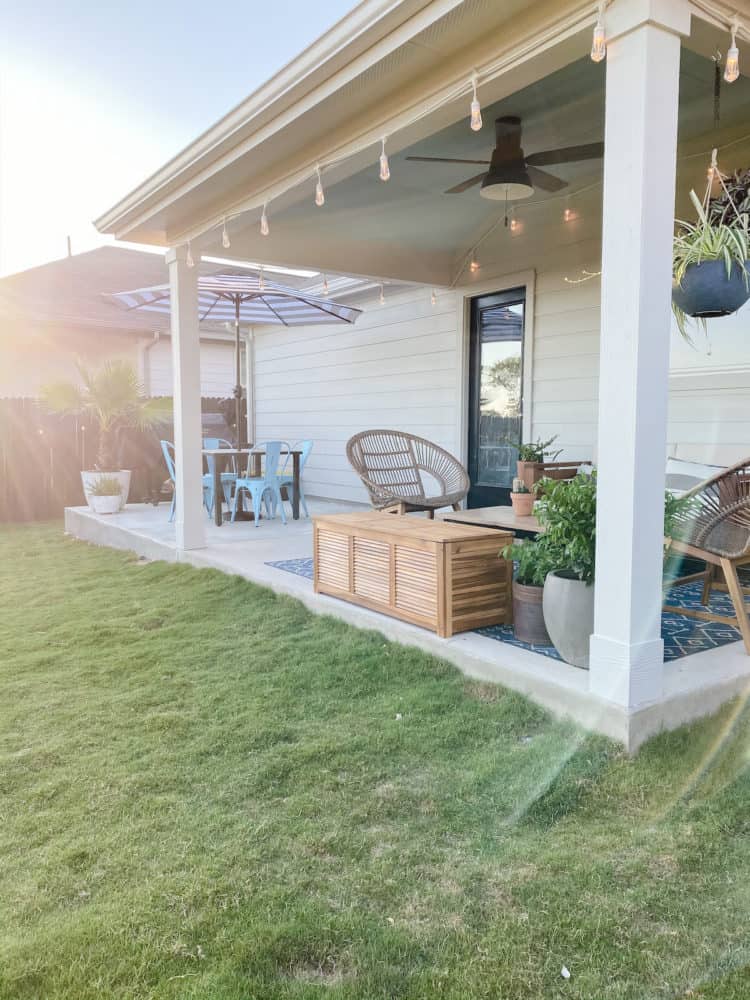 4. extend your patio
This is one of my favorite things we've done in this house – so worth it. Shortly after moving in, we had a company come out and double the size of our back patio. It's added so much functional space outside, and makes the backyard feel so much more upgraded. We haven't actually done much with it, and it currently mostly just houses our grills and a big ol' mess. But, I have BIG plans someday (maybe next spring)!
Adding livable space to your backyard is a really amazing way to make a newer home feel cozier and more upgraded. We added a paver patio at our last house, and I think that it's highly likely that in the next few years, we'll do something similar here too. Because apparently I can't have enough patio space.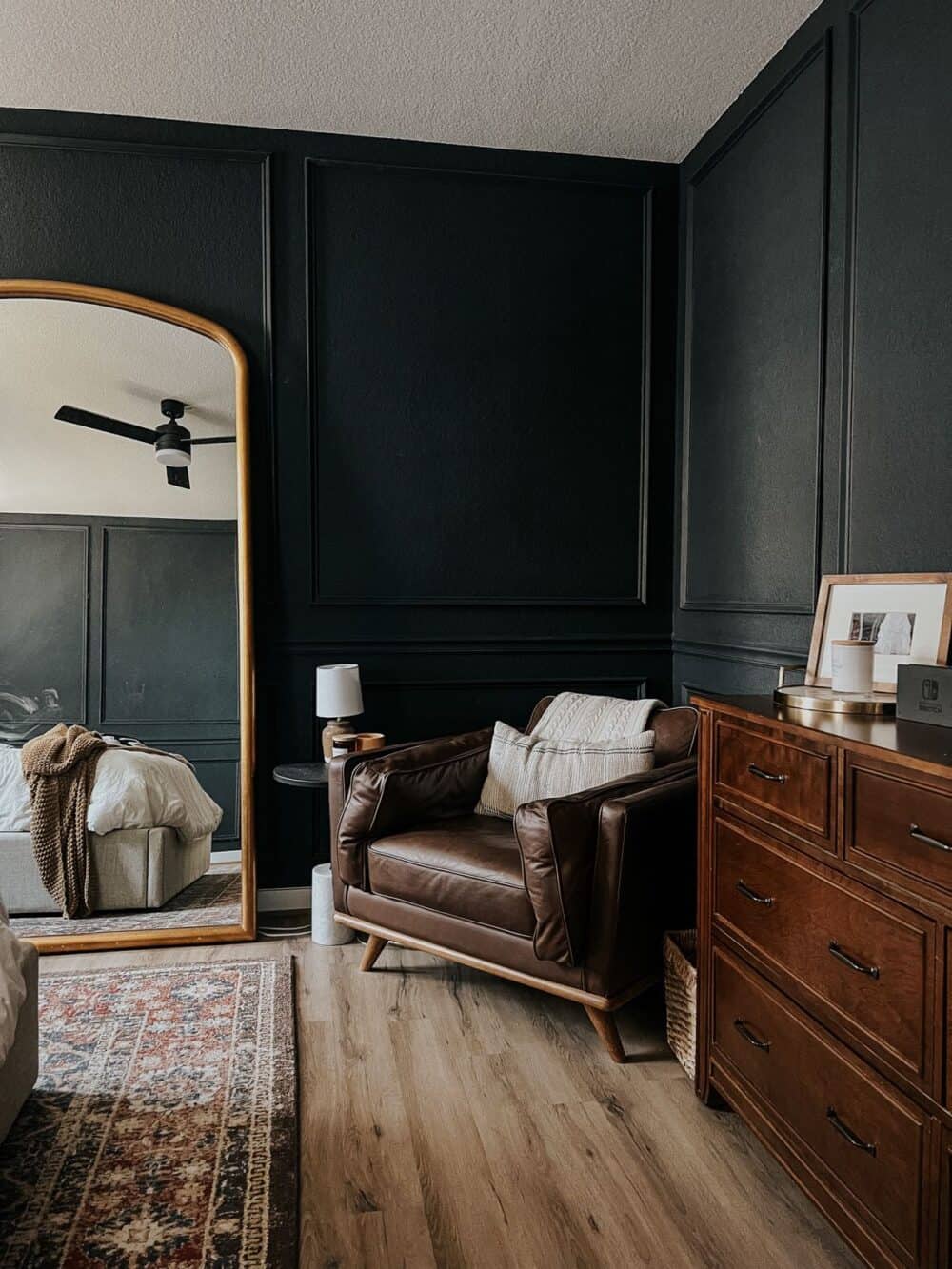 5. add some molding
If I had to pick just one way to add some character to a basic home, molding would be it. So far, I've added it in our bedroom, in the boys' bathroom upstairs, in the entry, and in Grant's room. But, I think every room in the house could handle some molding. Seriously! All of them.
Watch me. Some day I'll do it.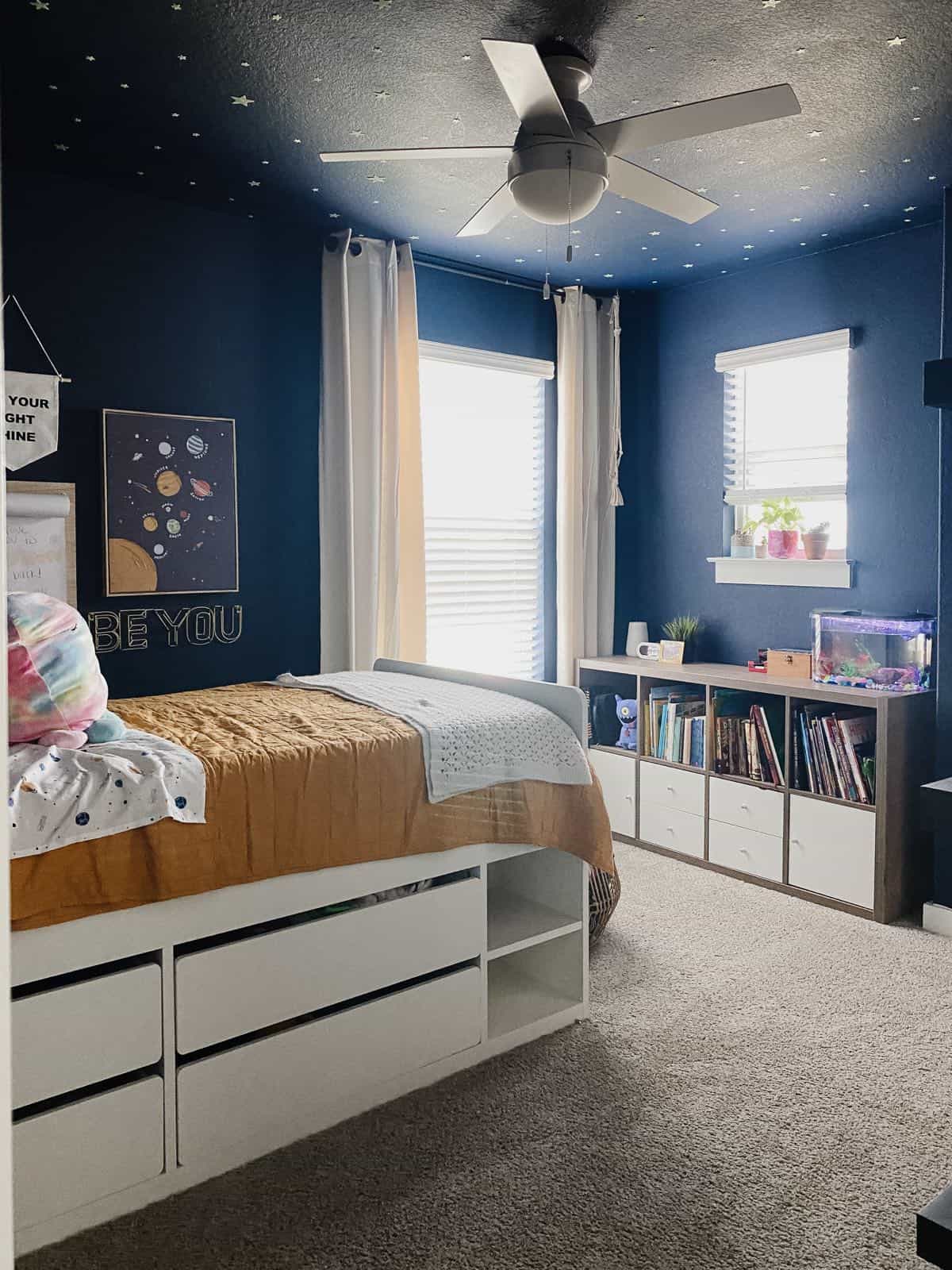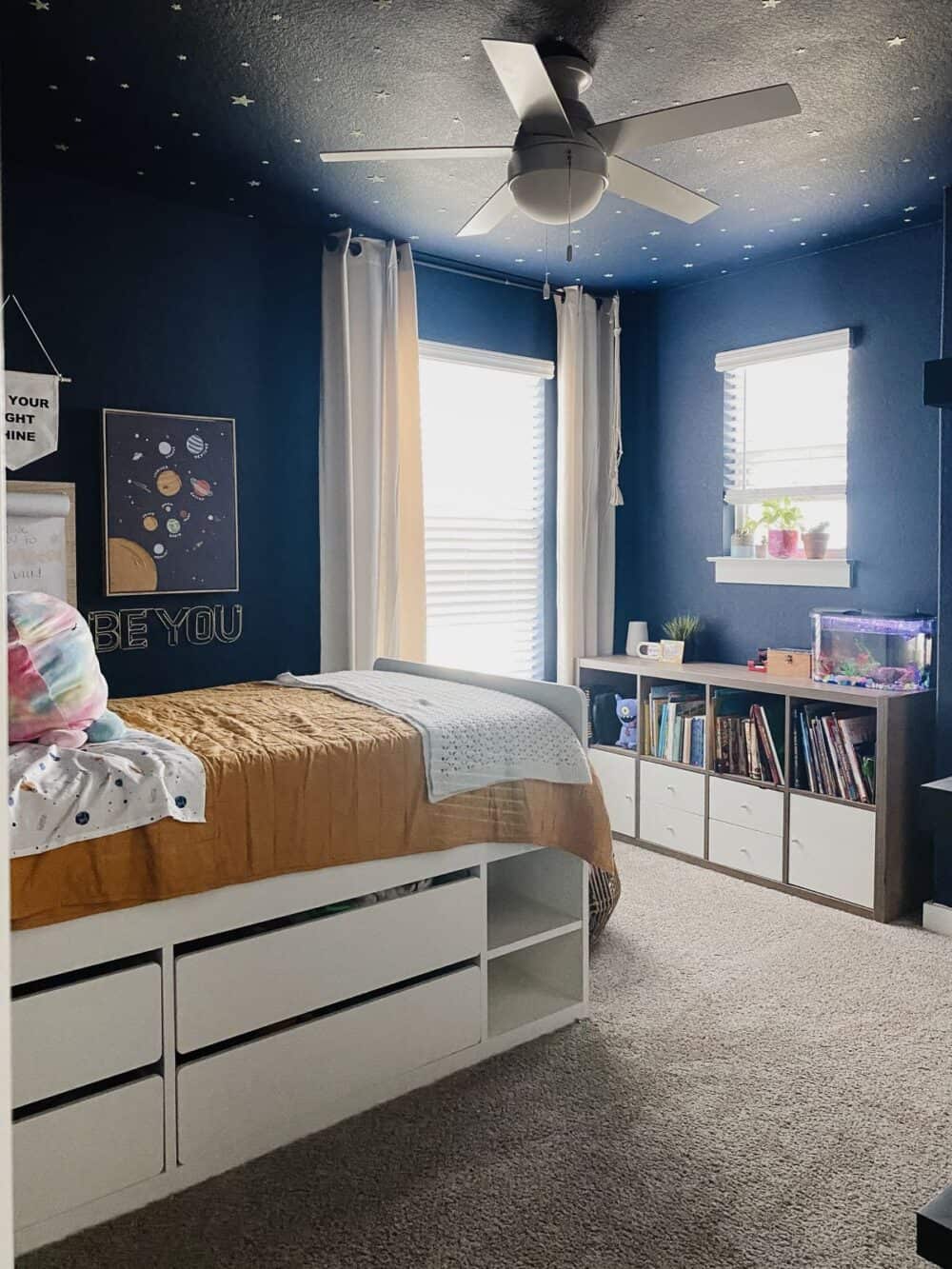 6. paint a ceiling or two
I've talked about the importance of ceiling treatments around here before, but it's worth repeating. Painting a ceiling or adding another ceiling treatment is a really great way to make your mark on your home. Here's how to do it!
If you want to do something that makes your home feel unique, special, and not like every other house on the block, I promise that adding something to a ceiling would do the trick. I have a loooong list of ceiling treatments I still want to do in this house and I can't wait to get started.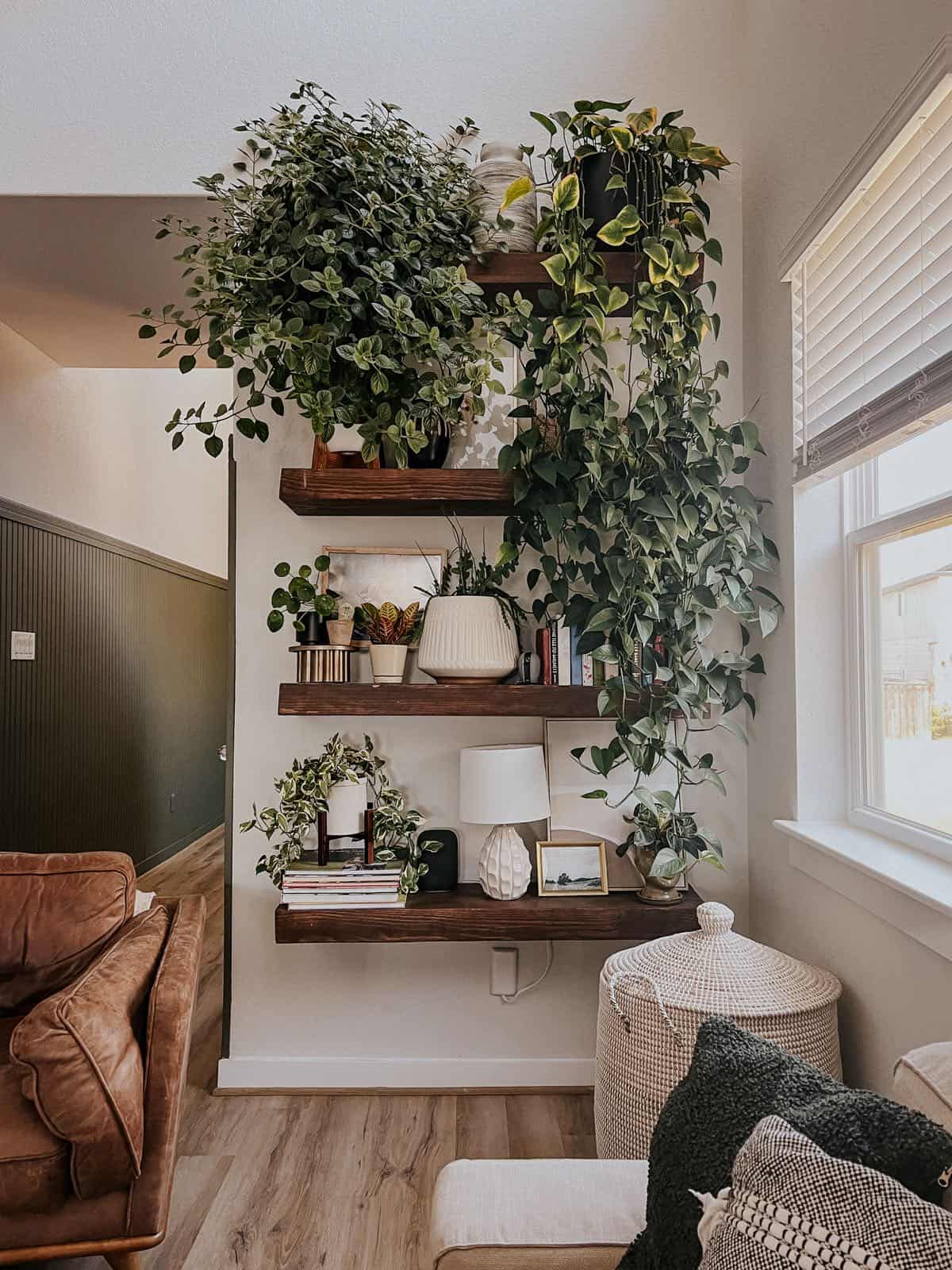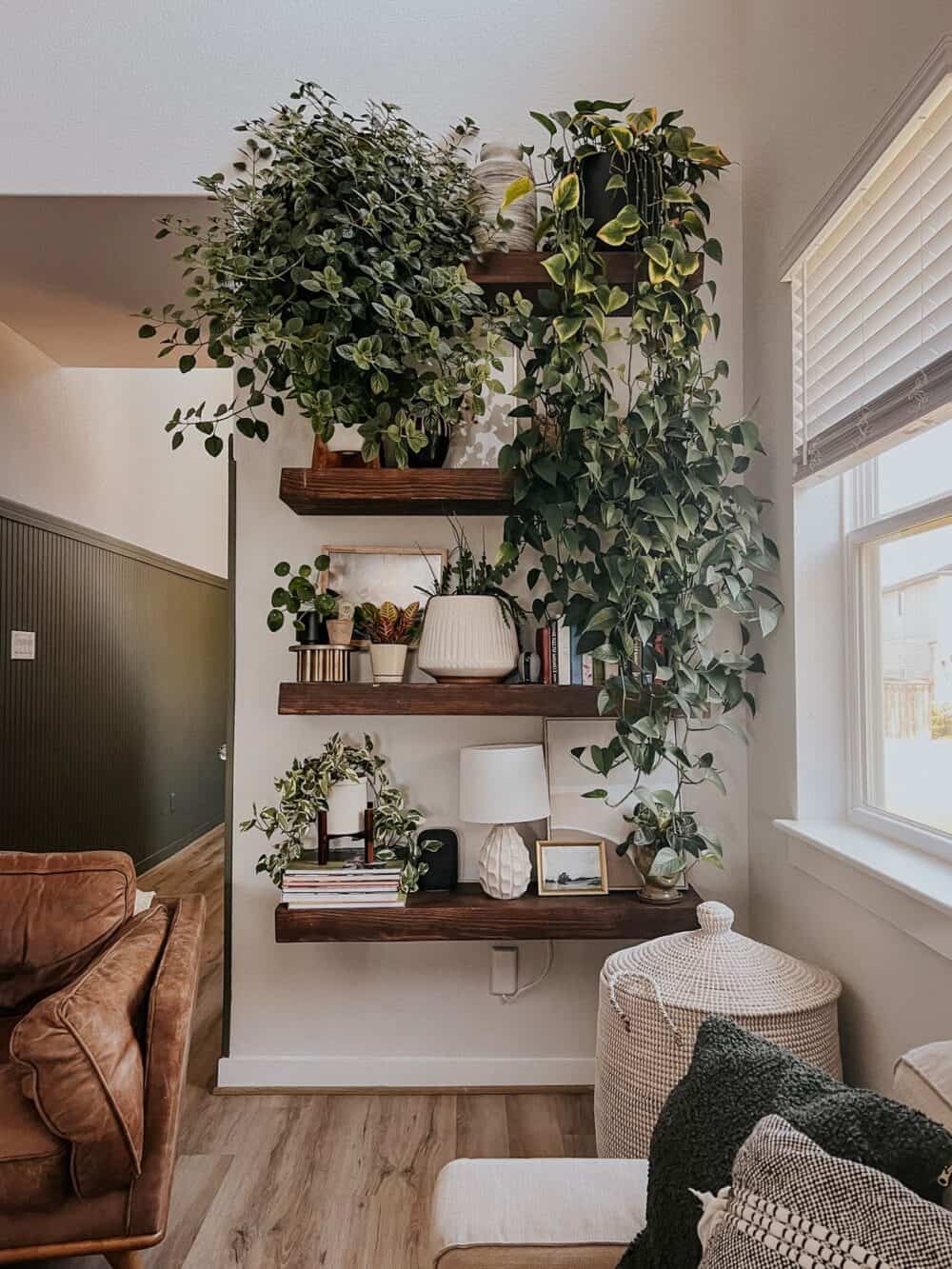 7. install floating shelves
This is pretty much guaranteed to be one of those projects that you look at when you're done and think, "it looks like it's always been there". And that's exactly the goal when it comes to adding personality to a new construction home. I added these shelves in my living room pretty quickly after moving in and…they look like they've always been there!
Floating shelves are a really great way to add some storage to any room. And, when they feel built-in, they add a ton of character to your space. I'm always looking for opportunities to add built-in elements to our house, and this is a great example of that!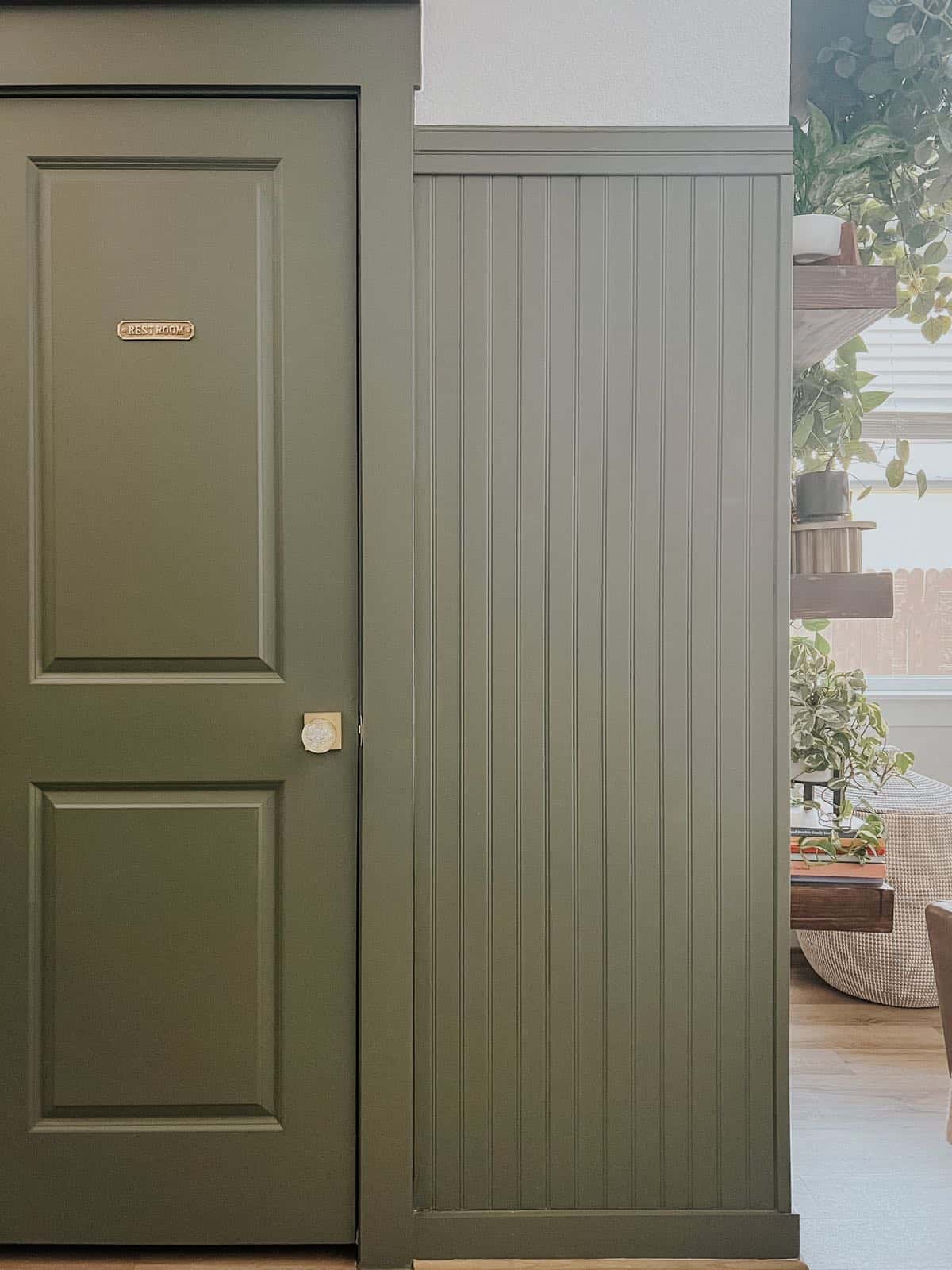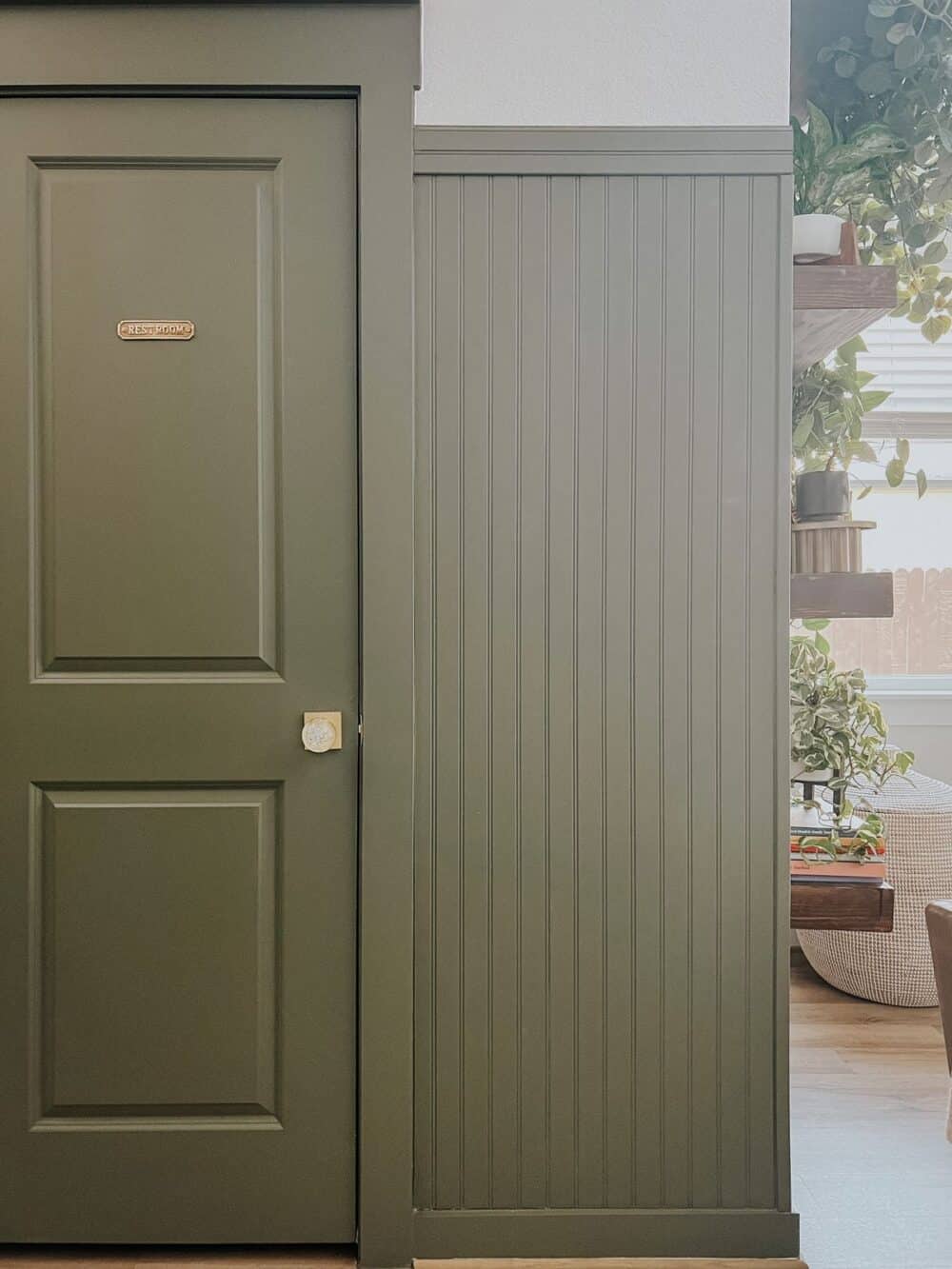 8. replace a doorknob
New door hardware makes a HUGE difference! I recently swapped out a doorknob for the first time and I can't stop thinking about replacing them all now. You'll be amazed at what a big difference it makes to add some upgraded door knobs and door hinges. It will make your home feel more custom, upgraded, and you!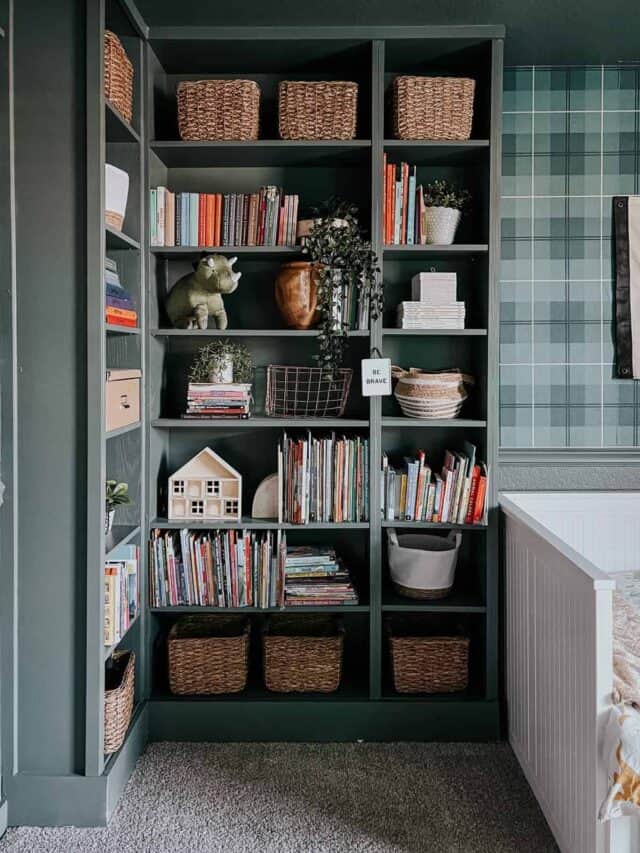 9. install built-in bookcases
Speaking of built-ins….built in bookcases are always a huge win. I love using Billy bookcases from IKEA to create a really gorgeous built-in situation. The ones we added to Grant's room are one of my favorite things we've ever done in the house!
Built-in bookcases or a built-in entertainment center are really great ways to make your house feel differentiated from all of the other houses in your neighborhood. We've added a few built-in elements around our house, and have several more planned. The one I'm most excited for? A giant wall-to-wall bookshelf and entertainment center combo in the upstairs bonus room! It's been planned since the moment we decided to buy the house, and I'm hoping to knock it out in the next couple of years.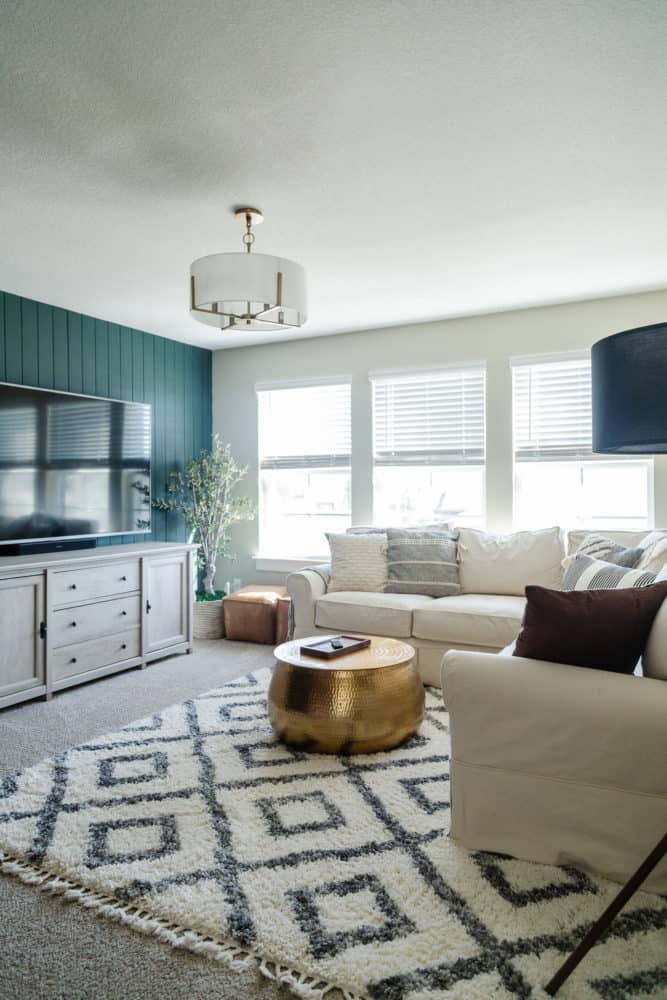 10. hang some shiplap
Another great molding option – shiplap! It's not just for farmhouse-style homes, I promise. We have shiplap upstairs in the game room, on the kitchen island, and on the fireplace. And I'm planning on adding some to our powder room! And maybe my bedroom ceiling! And the rest of the walls in the game room!
Let's just say I'm a fan. Shiplap adds so much personality and you basically can't go wrong with it.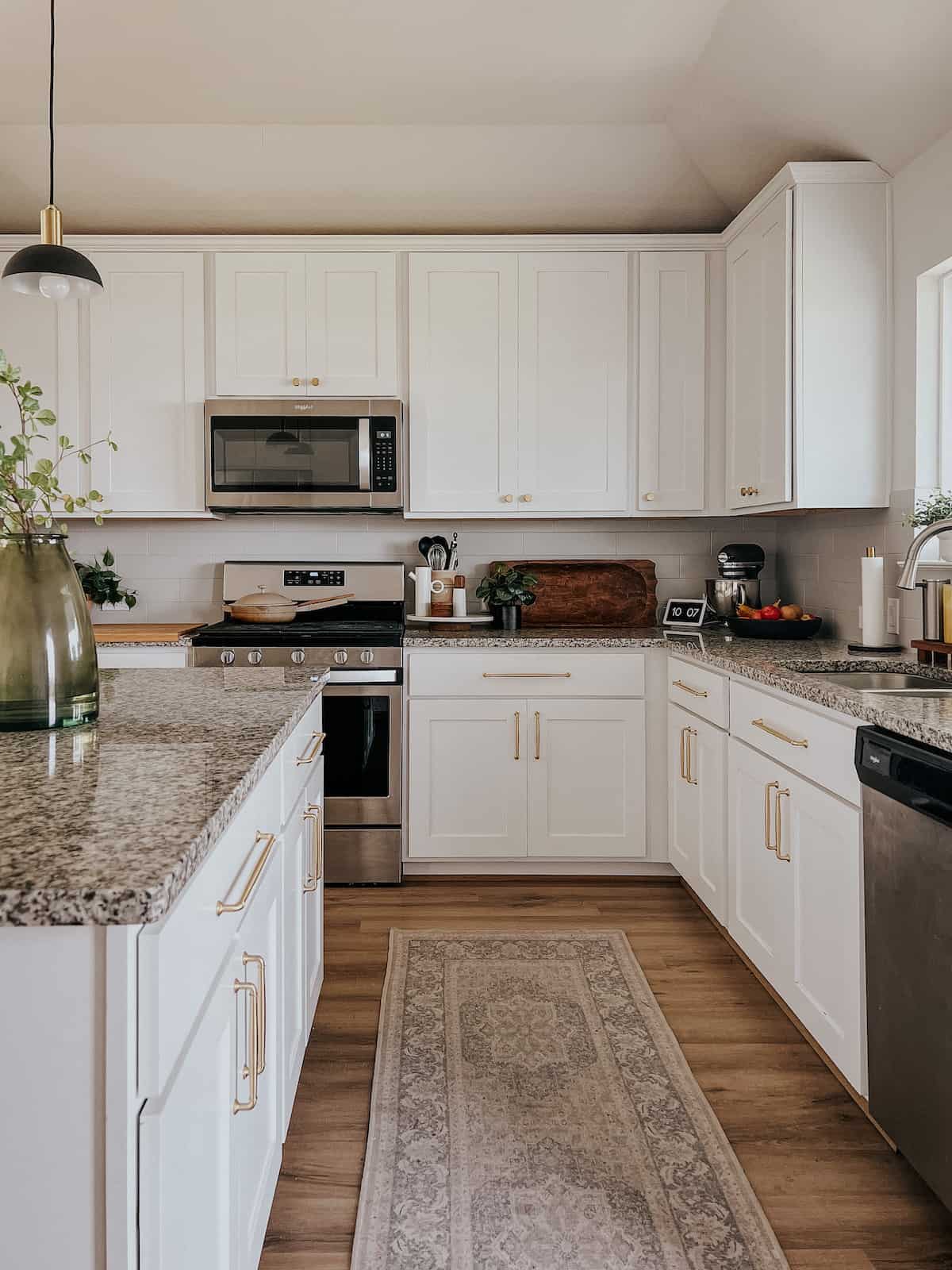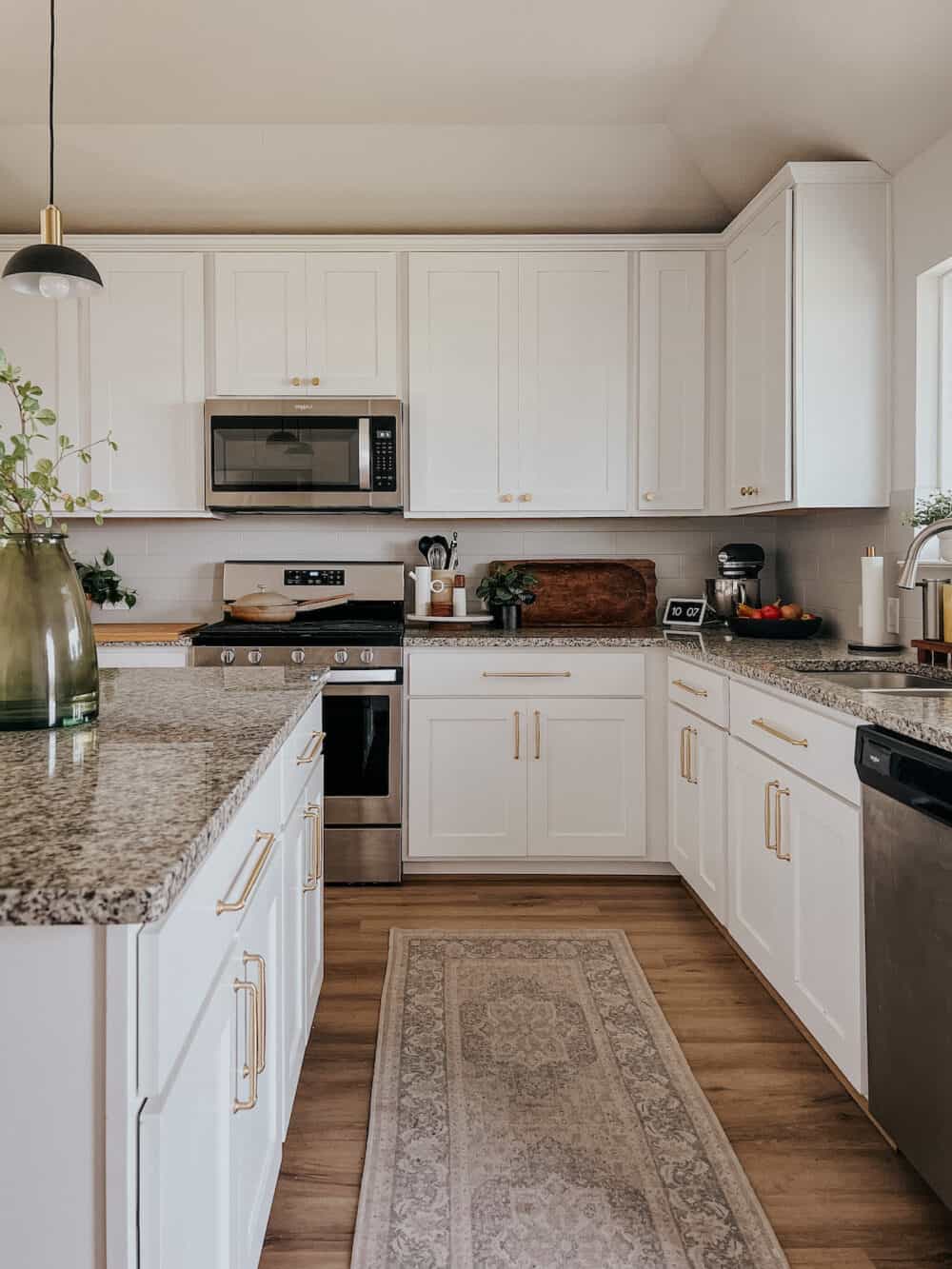 11. add hardware to the cabinets
Many (most?) new construction homes don't come with hardware already installed on the cabinets. It's annoying, and empty cabinets are completely lacking in personality! You can have so much fun with new hardware on your cabinets and it's the perfect way to make your mark on your kitchen.
Installing our dramatic gold knobs and pulls on our white cabinets was honestly huge in helping me love our kitchen. Like I mentioned before, the cabinets aren't really my thing, so it made a big difference for me to add some hardware I love.
It probably won't stop me from painting them. But it's slowed me down a bit.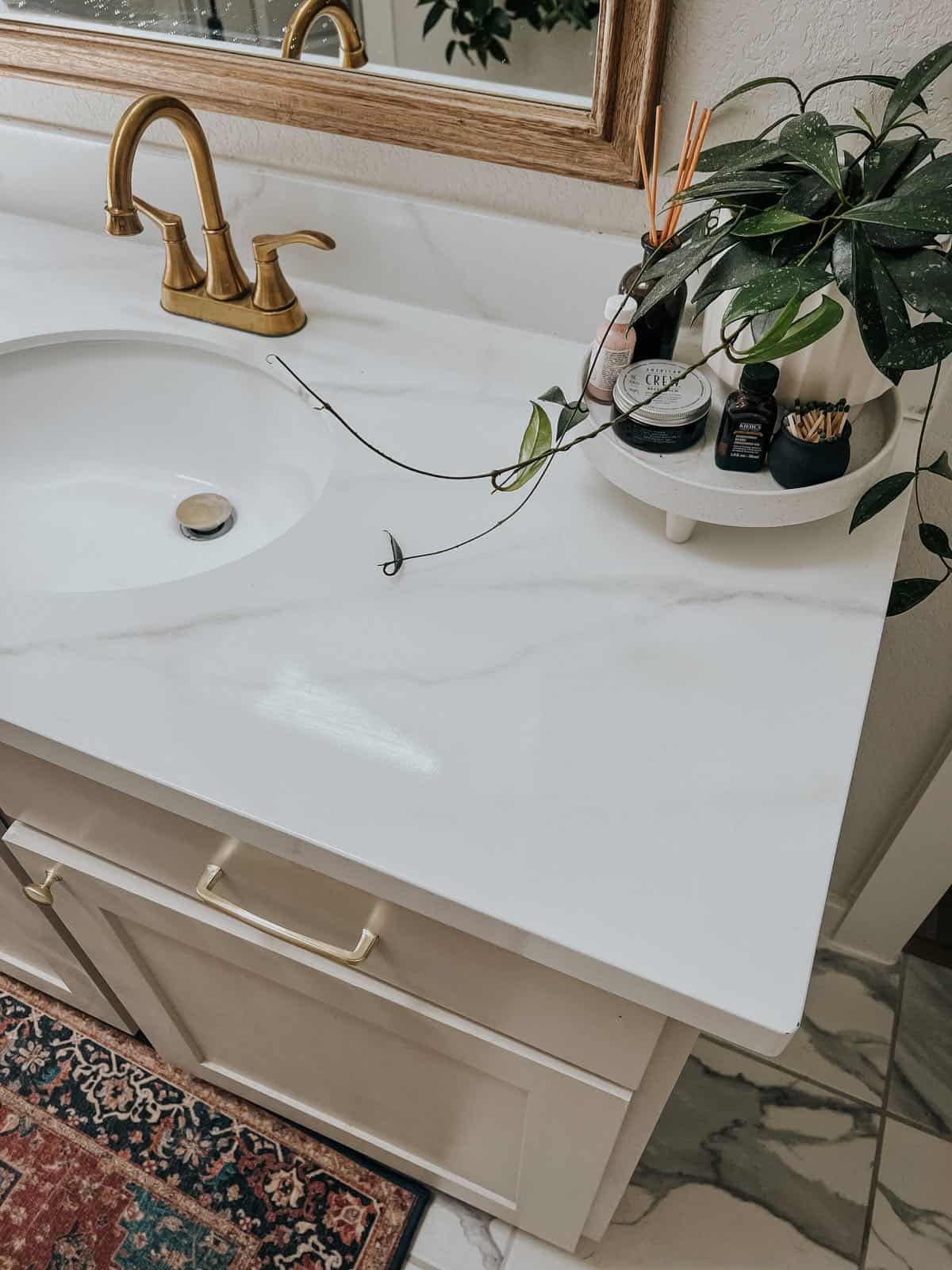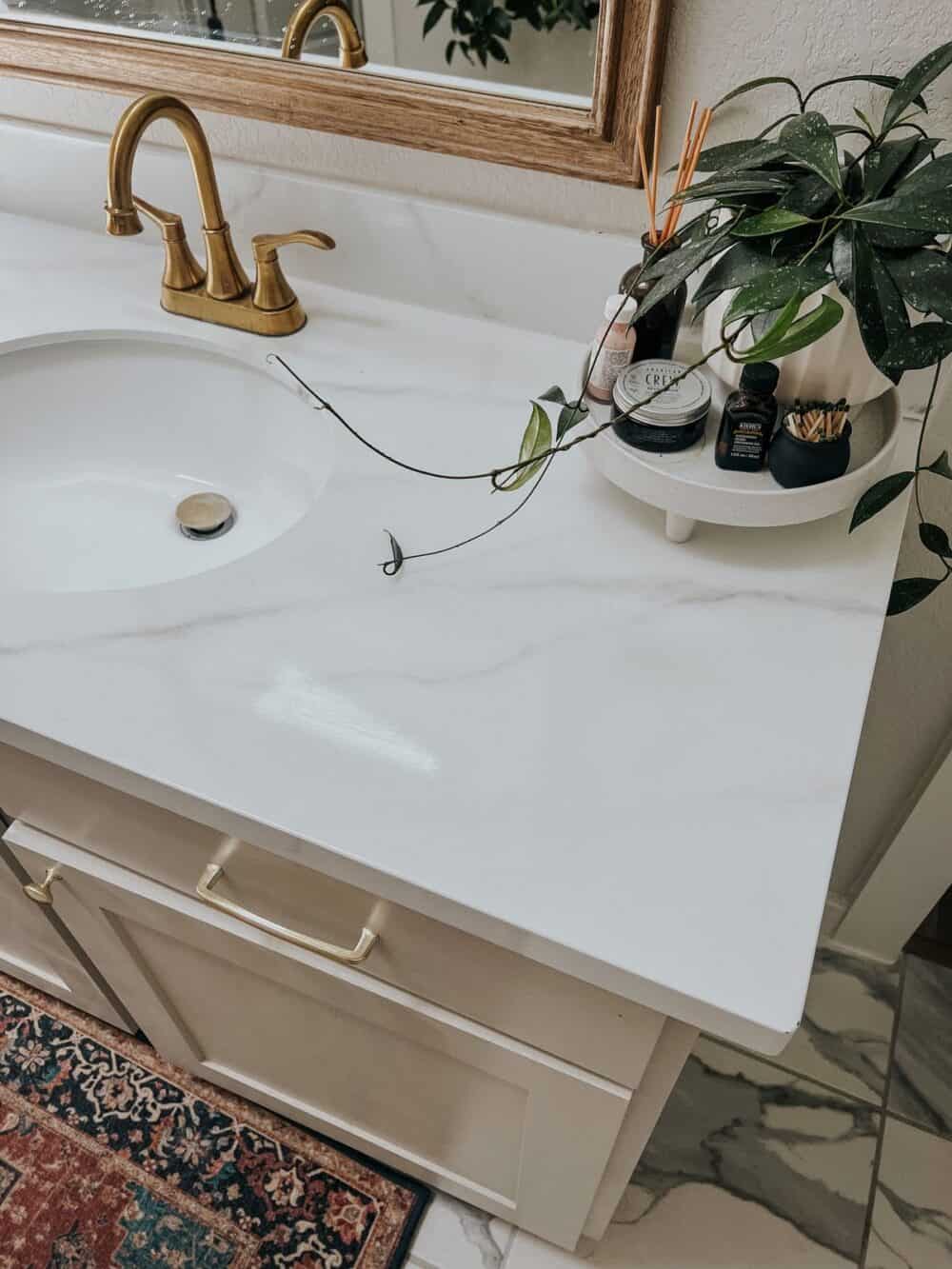 12. paint an ugly counter
Chances are, if you're buying a builder-grade house that you didn't get to design yourself, there's going to be a counter or two that you just don't love. Ours were the counters in the bathrooms (and the kitchen, if we're being honest, but it doesn't bother me that much – yet). Eventually I'd love to get around to fully replacing them, but I needed an interim solution to make me hate them a little less.
Enter a DIY epoxy countertop painting kit. Now my counters look like marble, I love them, and I get to wait a few more years before I have to save up to replace them. Win-win!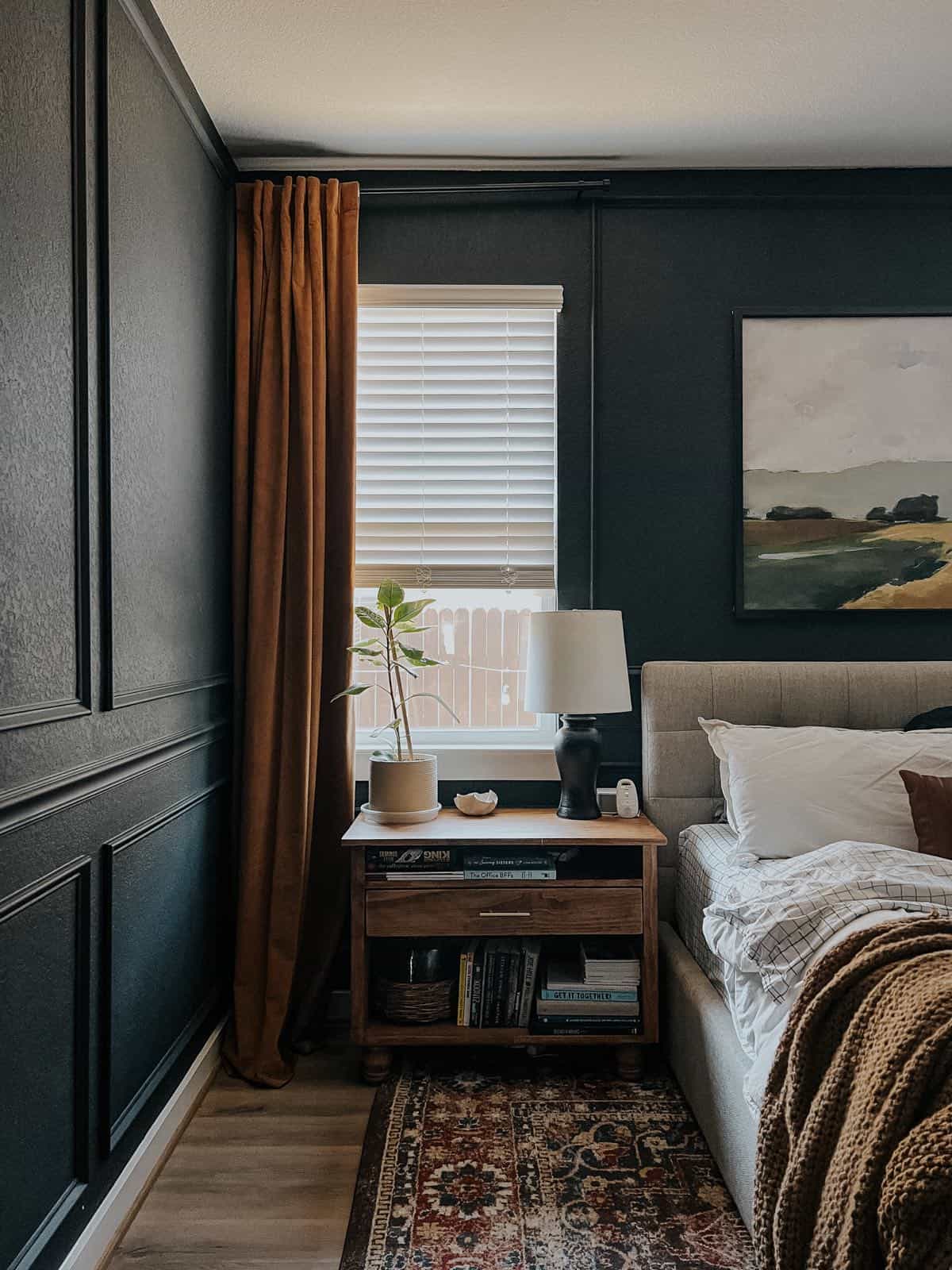 13. hang some curtains
Window treatments are always a great way to add some warmth and character to your home. Many new build homes come with blinds, but that's it. If they aren't your style, you can swap them out! Roman shades and wood shades both feel really custom and special, and can really make a room feel intentional.
Of course, curtains area also a must in most rooms, if you ask me! Layering in some beautiful curtains adds so much to a space, and I'd argue that it's one of the biggest (yet simplest) ways to make a difference in your home. Here's a detailed tutorial on how to do it.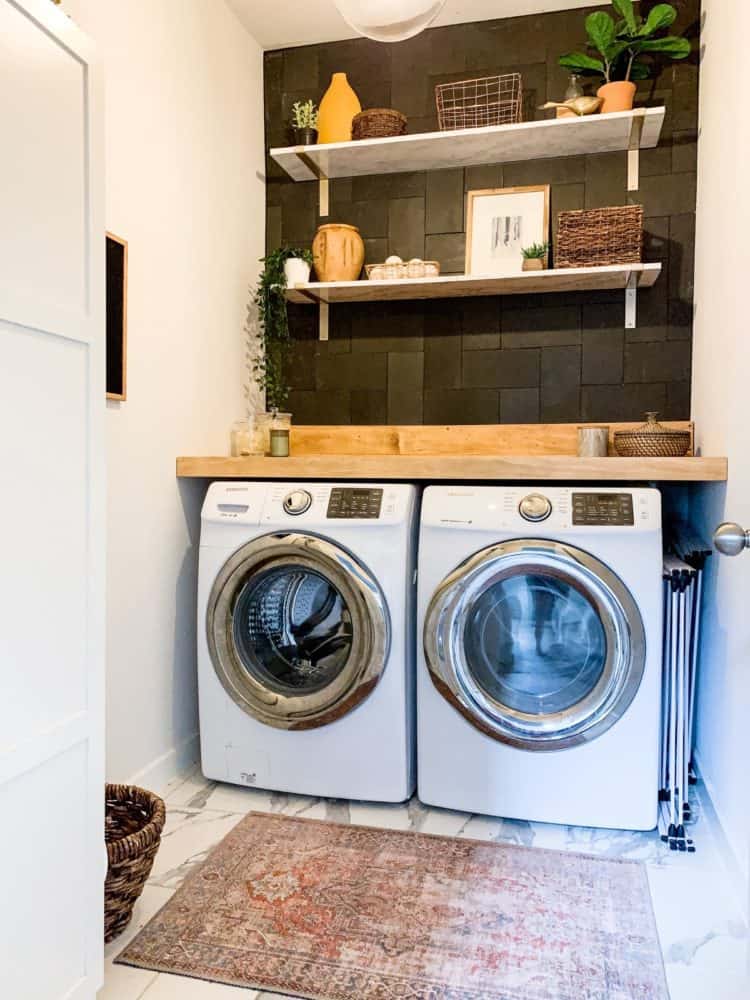 14. install some tile
We added a to-the-ceiling tile backsplash in our laundry room, and it made the room feel so much more special! Swapping out the backsplash in your kitchen for some new tile is also a really great way to make your mark on a home (I can't wait to do that in ours).
Think outside the box a bit when it comes to tile in your home – adding it to the walls of your bathroom or laundry room is a really unique way to add a little something special to your home. And it's such an easy project that can be really affordable, depending on the tile you choose!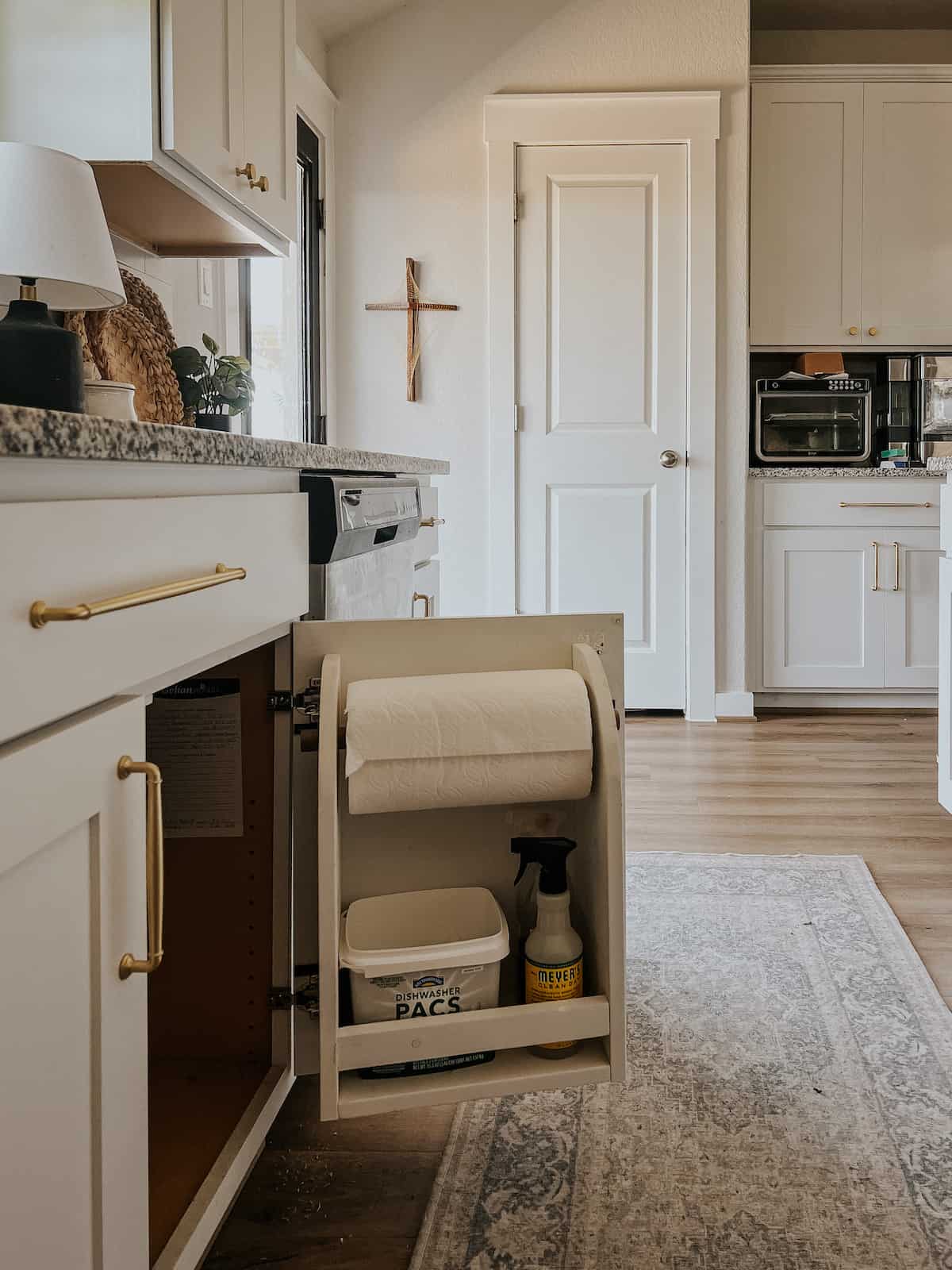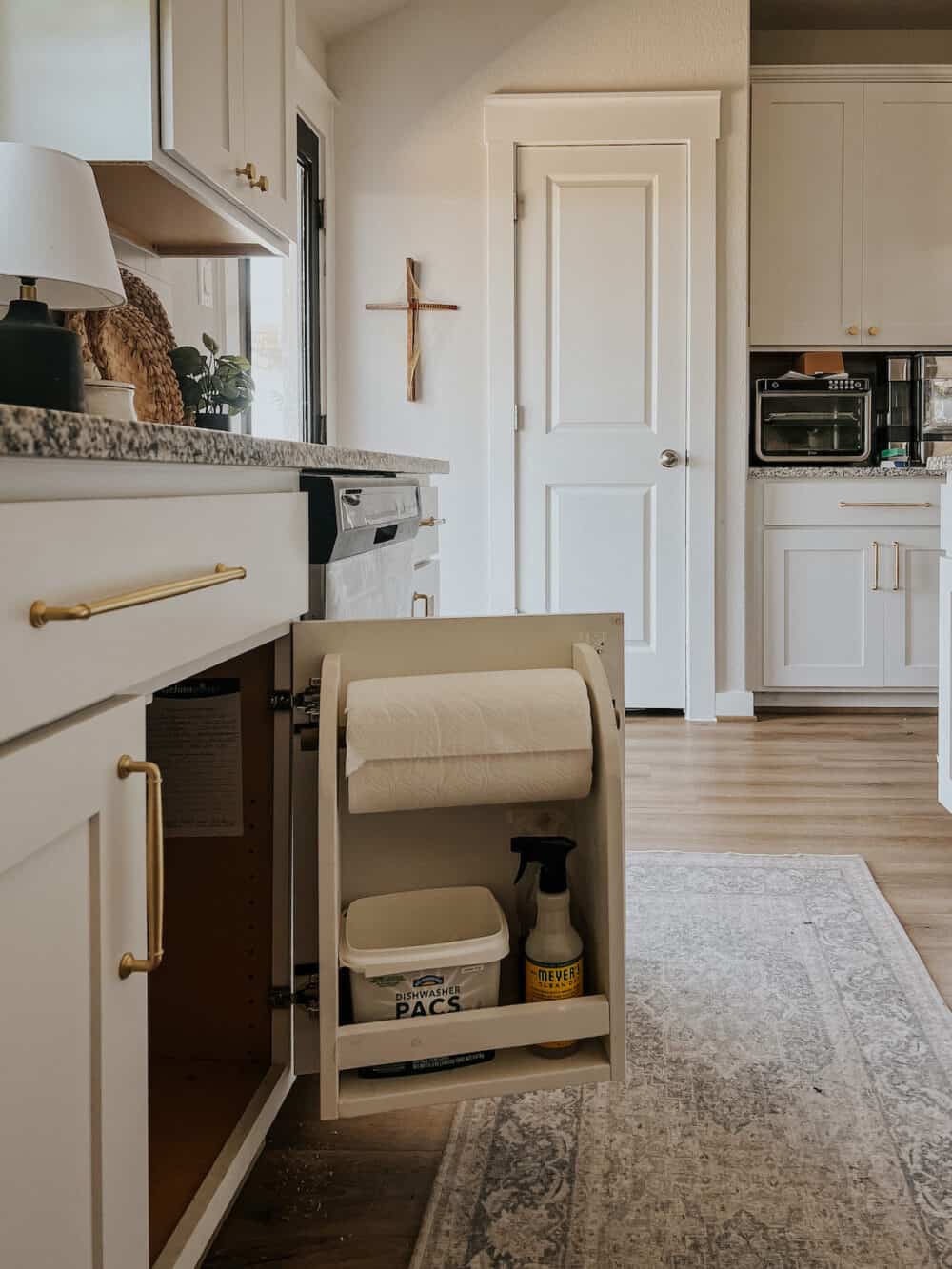 15. add some organization
And finally, if you've been here for any length of time you can probably guess that one of my personal favorite ways to leave my mark on a house is by adding some built in organization! I've done everything from built-in shelving in our entry closet to DIY pull-out drawers in the kitchen cabinets. It makes the house feel more custom and personalized to your needs, and it makes your life easier and more organized. What's not to love?!
What are your favorite ways to add some personality to your home?!