We're working on a backyard remodel and it's time to start gathering ideas! I'm sharing a few backyard ideas on a budget with you today – these cheap backyard ideas will give you tons of inspiration for creating a gorgeous backyard!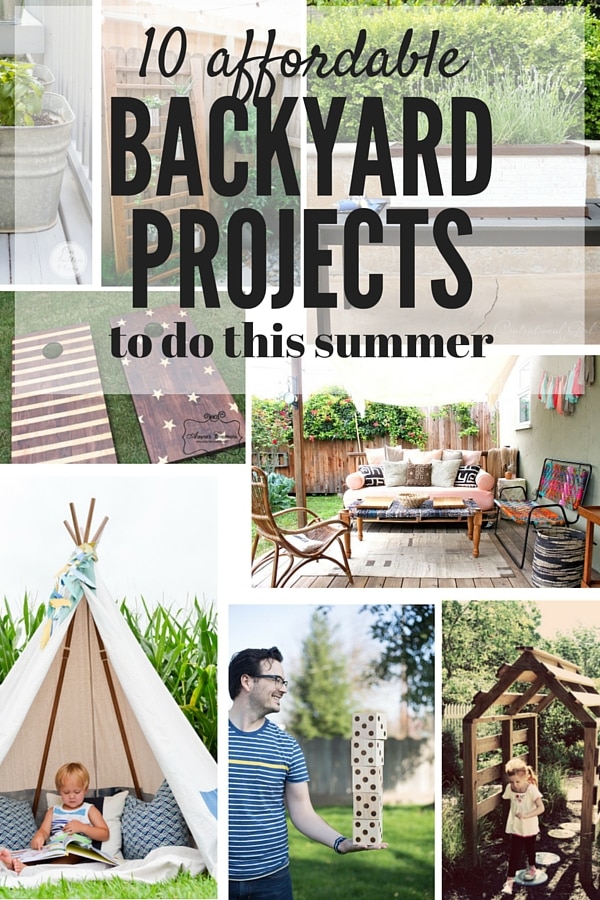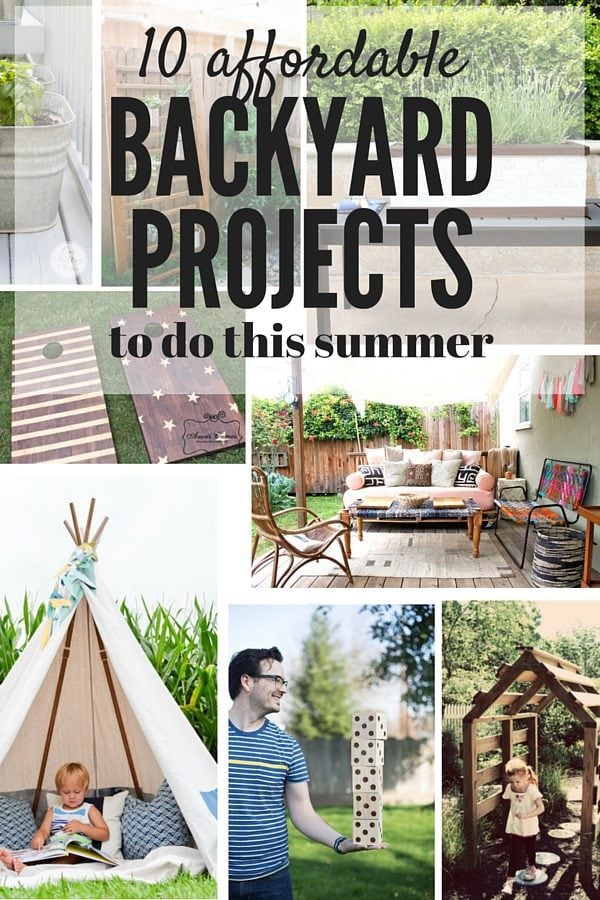 Corey and I have lived in this house for five years now and we're just now getting around to actually doing something about our backyard. We lucked out with a relatively nice-looking yard that really didn't need much, but we've waited far too long to start making some changes, and I've got big ideas!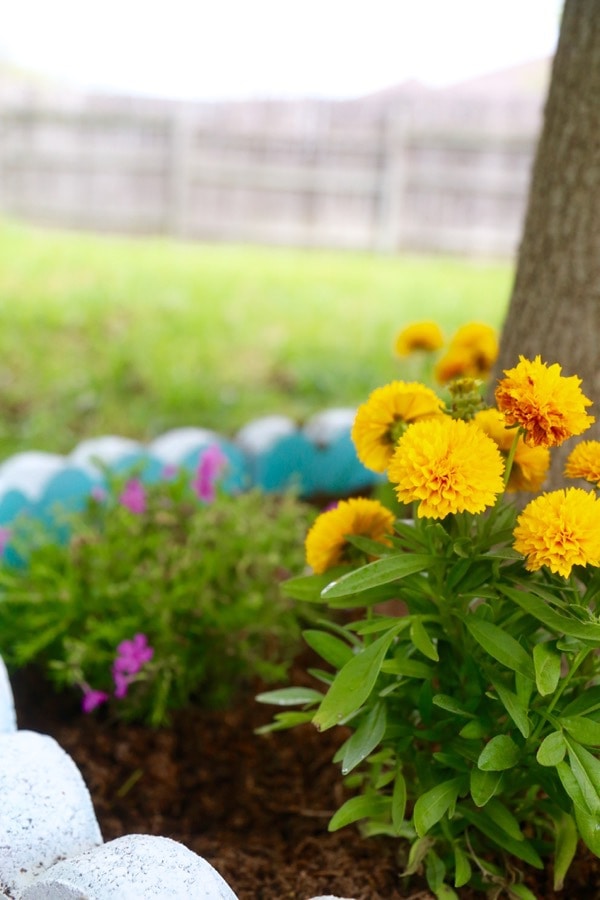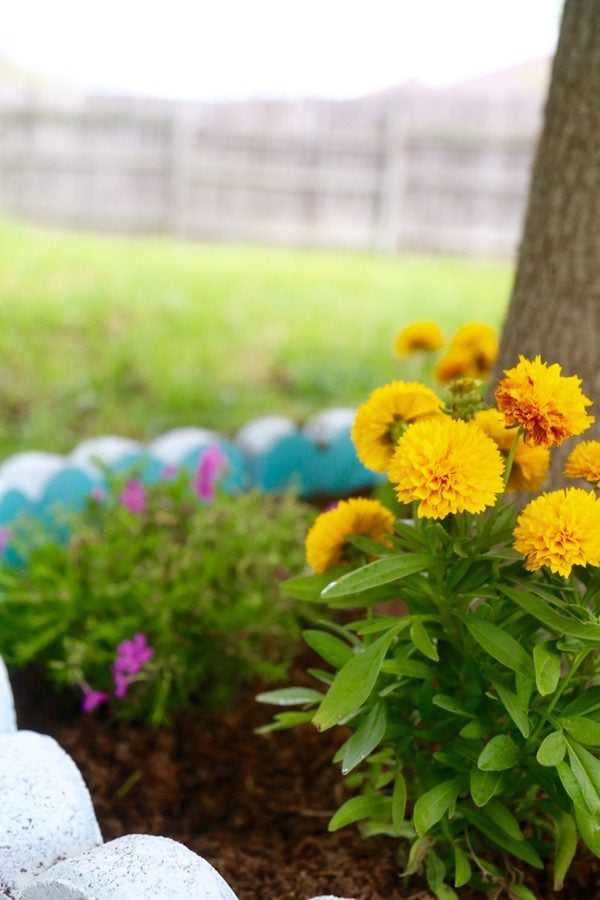 This post contains affiliate links. Click here to read my full disclosure policy. 
We still don't have any patio furniture out there (we're being very picky as well as very cheap, which is a pretty bad combination) but we've slowly started adding some pretty touches like a flower bed and an outdoor chalkboard for Jackson. I'm hoping to tackle at least one or two more projects back here this summer, and I thought it would be fun to share some of the inspiration I've been scoping out lately.
UPDATE: We finally added some furniture to our patio! Check out that project, along with the DIY playhouse we built for Jackson, our lawn mower shed, our tiered succulent planter, and our backyard bar cart. 
We're on a low budget for any changes happening to our yard right now, so these are my absolute favorite affordable and easy DIY projects to tackle in your yard this summer!
10 Backyard Ideas on a Budget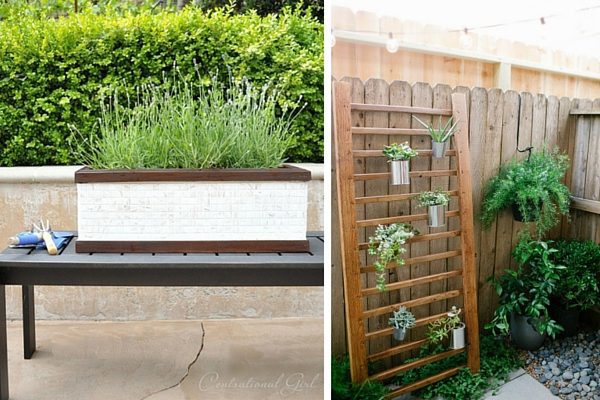 Mosaic Tile Window Box Planter via Centsational Girl // DIY Succulent Wall via Sugar & Cloth
I may or may not have gasped out loud when I saw that tiled planter. It is amazing! I'm dreaming of all the different ways I could apply this idea to other projects. I might just have to tackle a tiled planter sometime this summer! I also love the succulent wall – we have an old ladder in our workshop that we bought years ago with the specific intention of turning it into something like this, and it's just been sitting there waiting…maybe I should make that happen soon!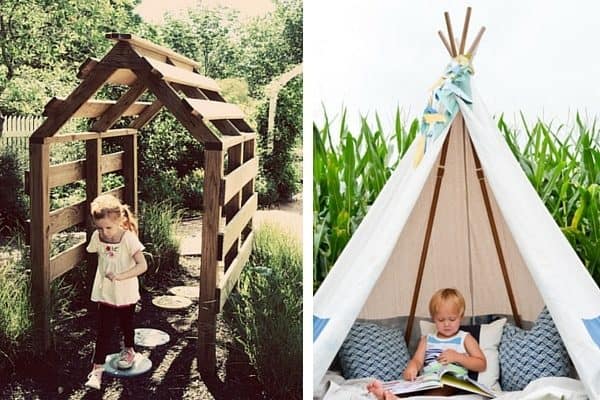 DIY Garden Arbor via Remodelaholic //  Outdoor Teepee via Project Nursery
How cute would that arbor be with vines growing all over it? I love the little pathway going through it too – so sweet! I also, of course, have a mild obsession with teepees right now and am dying to make one for Jackson.  I just think having fun little dedicated spots like these in the backyard for kids is a fantastic idea, and a great way to create kid-friendly spaces for them to play when you're out there. My dream kid-related backyard project? This playhouse!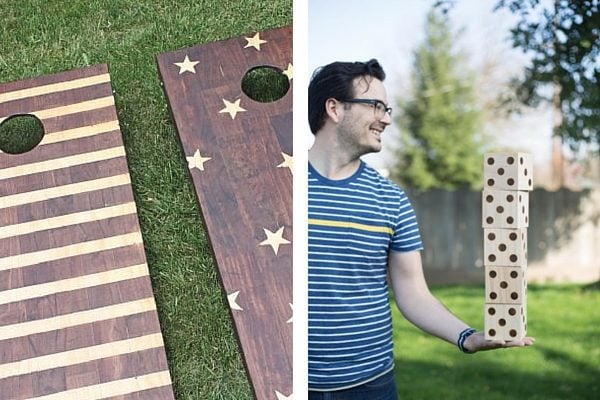 DIY Cornhole Boards via Alayna's Creations // DIY Yard Yahtzee via Momtastic
I love the idea of having some fun DIY games and activities for the backyard! Those giant dice look like so much fun (and I actually just saw some the other day at Crate & Barrel, if you don't want to make them yourself!), and who doesn't love Cornhole? I've also seen some fun ideas for a hopscotch path made with pavers (I'm seriously considering that project!), giant Jenga, and a huge Connect 4 game!
UPDATE: We made the DIY yard dice and a giant Jenga set!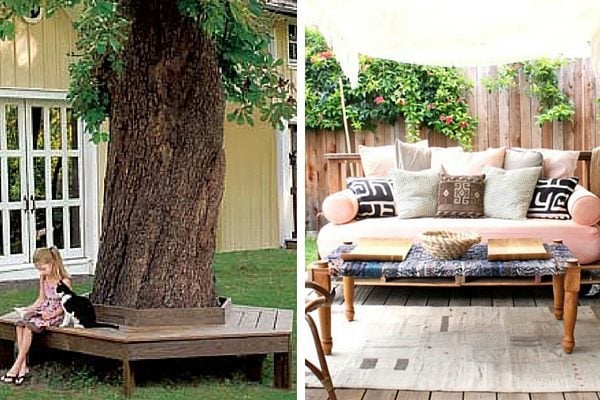 Tree Bench via This Old House // Pallet Daybed via Pretty Prudent
I've talked about building a tree bench around the tree in our front yard since the day we moved in, I just haven't done it yet. I think it would look so awesome, and I could see us spending a lot of time out there! And that pallet daybed? Could be a great solution for our current patio furniture dilemma – it's gorgeous!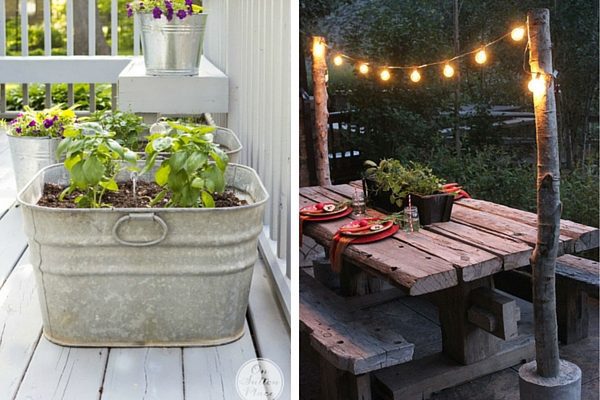 Wash Tub Herb Garden via On Sutton Place // DIY String Light Poles via Home Depot
I am currently working on a herb garden for us (more on that soon!), and I'm not using galvanized wash tubs but I love the idea! I also love those string light poles…how cool would a few of those look lined up on a patio? I'm always a sucker for string lights in the backyard – it creates such a magical effect!
Here are a few other outdoor posts you might find helpful!